One of the most popular places to visit in Tokyo is Asakusa, step into a different time with the historic Sensoji temple and enjoy traditional sweets and food on Nakamise Shopping Street.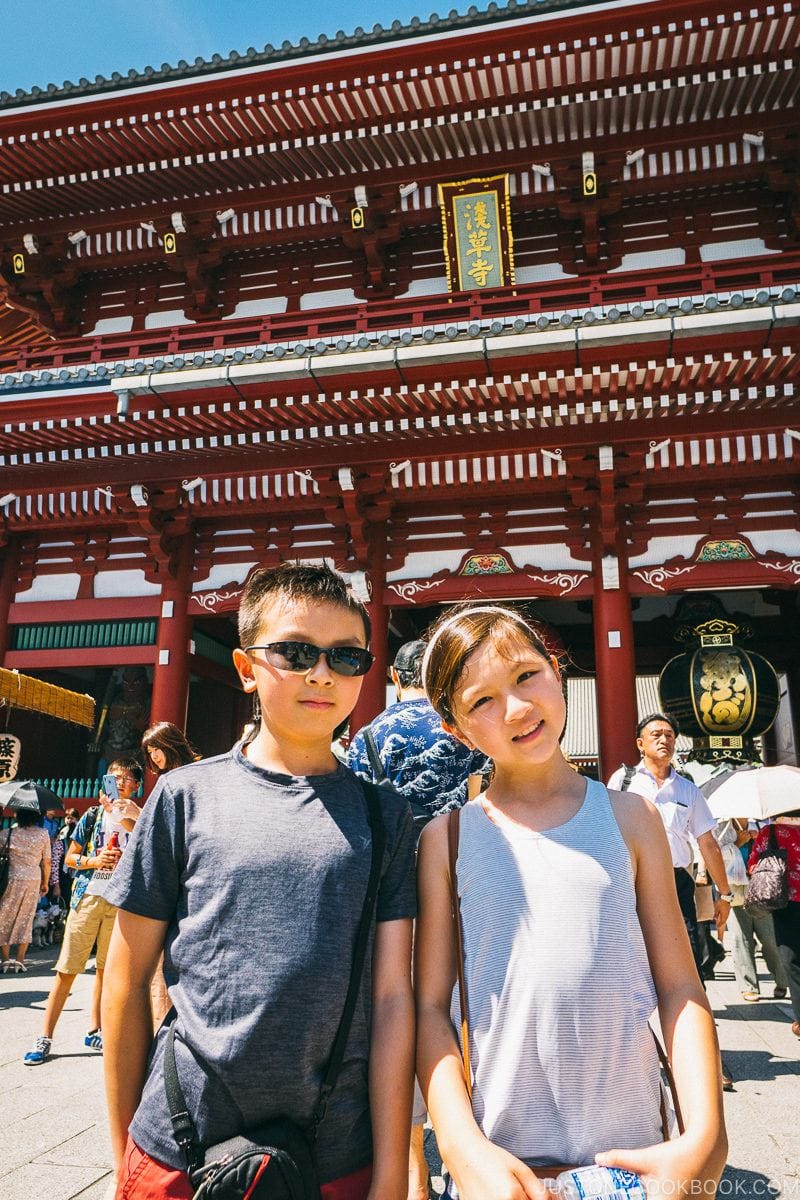 As we are getting close to the end of the Tokyo Travel Series, we'll cover Asakusa in this post. We actually shared our family's visit to Asakusa a few years ago and it's about time for an update. If you are interested in the rest of our Tokyo series, the link to the travel guides are below.
How to Get to Asakusa
Asakusa is located in the northeast corner of Tokyo and you can get to Asakusa Station via both the Ginza line and Asakusa line. Once you get there, it's just a short walk to Nakamise Shopping Street and Sensoji, the oldest temple in Tokyo.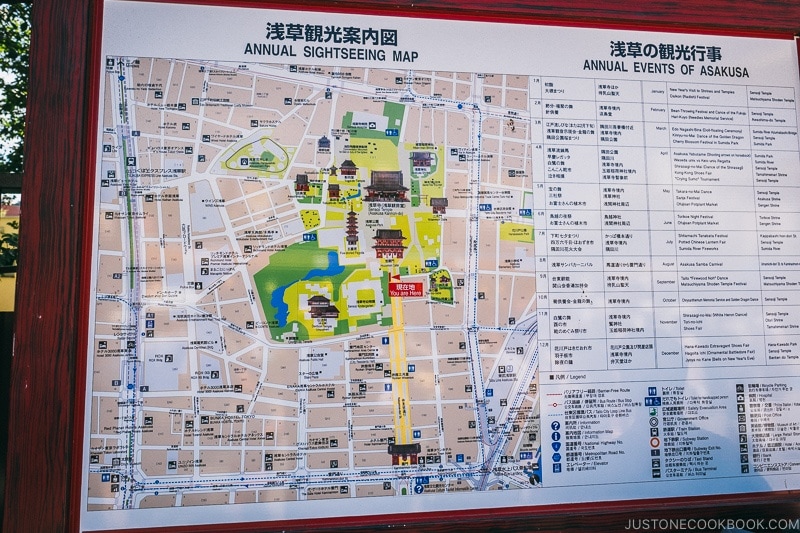 Exploring Asakusa 浅草
Asakusa is one of the most popular places for visitors to Tokyo with over 30 million visitors a year. Images of Kaminarimon Gate (雷門) appears frequently in media and tv shows about Japan and Tokyo. For this posts, we'll cover the shopping streets and restaurants in Asakusa area, Nakamise Shopping Street (仲見世商店街), Sensoji Temple (浅草寺), and fun activities for the entire family to do nearby.
If you're not sure where you go, you can stop by the Asakusa Culture Tourist Information Center (浅草文化観光センター). There's an observation deck on the top floor where you can take in the view of the area.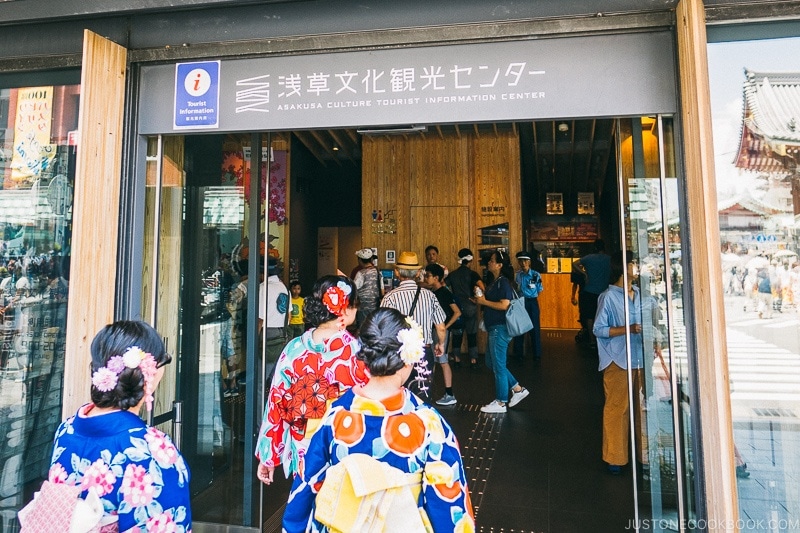 When you pass Asakusa Culture Tourist Information Center and cross Kaminarimon Street, you'll see Kaminarimon Gate (雷門). Don't go through just yet, head to the left and you'll discover many restaurants and shops.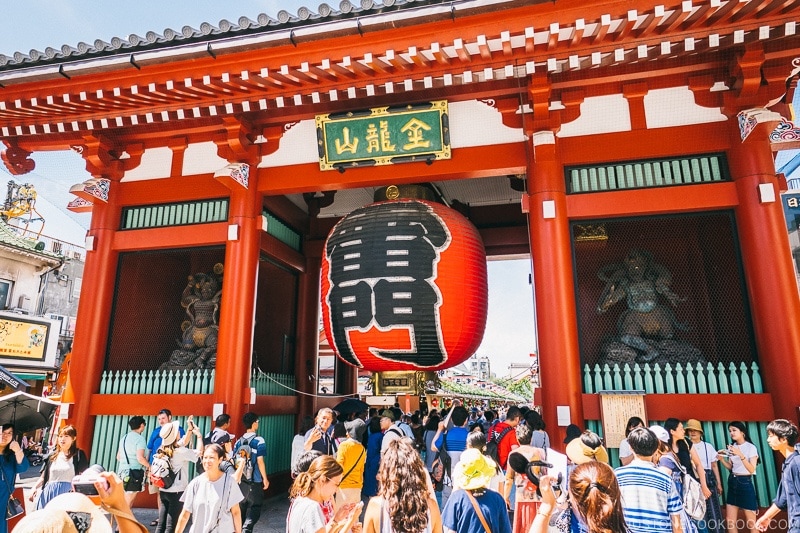 As you explore the street and shops just west of Kaminarimon Gate, there a variety of famous shops there that sells Japanese pastries like taiyaki and melon pan, and some unique souvenirs.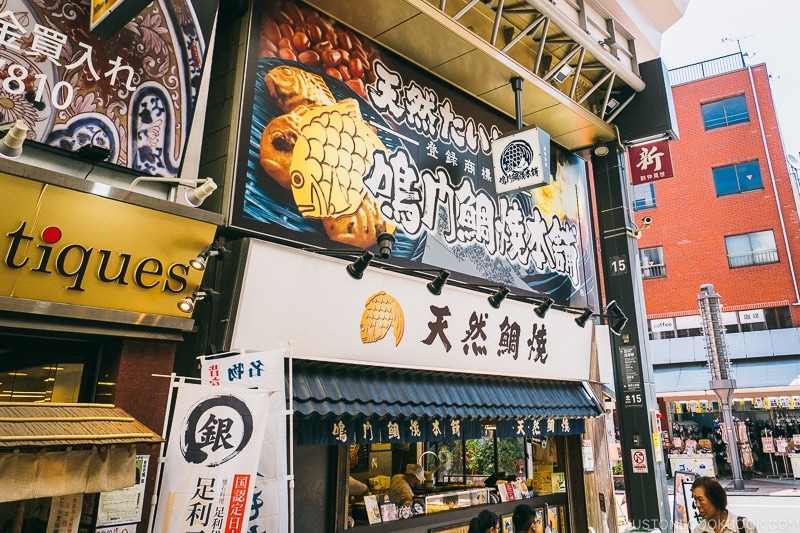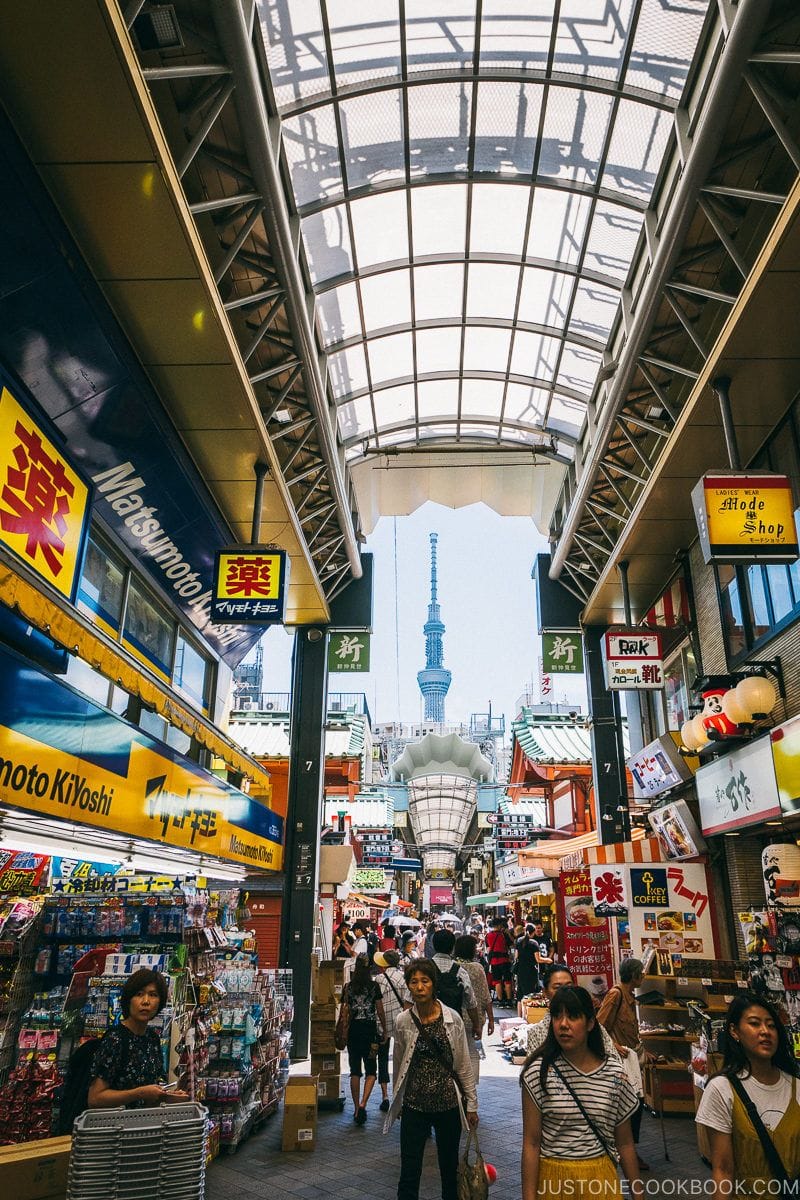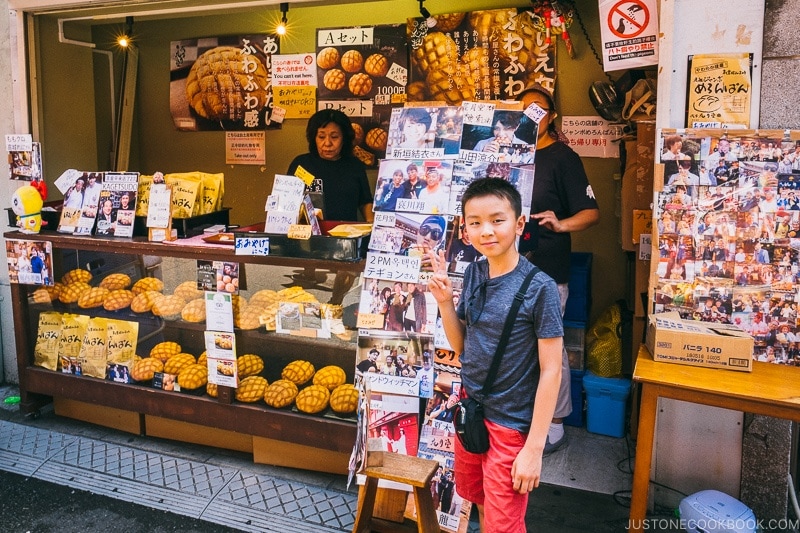 Besides shops and snack stalls, there are plenty of restaurant choices to explore as well.
Head back towards Kaminarimon Gate (雷門) and Nakamise Shopping Street (仲見世商店街) when you're done browsing.
Nakamise Shopping Street (仲見世商店街)
Nakamise Shopping Street or Nakamise Dori is the main approach to Sensoji Temple, there are about 90 shops sell traditional Japanese snacks and souvenirs. Just a word of caution, it could get really crowded so be careful if you have little ones.
Traditional Japanese Food on Nakamise Dori
As you walk along Nakamise Dori, you will notice many shops sell traditional Japanese sweets and snacks and some of them are made right there. The sweets include dango (団子), ningyoyaki (人形焼), yokan (ようかん), and candies.
On Nakamise Shopping Street and nearby area, you will find many shops that sell Ningyo yaki (人形焼). It's a sweet cake with red bean inside and comes in many different shapes. On the street, there are a few shops where artisans are making the cakes right there in the shop by hand. It's quite fun to watch. Other shops had machines that made them and it's similarly entertaining to see each of the red bean cakes being formed and packaged.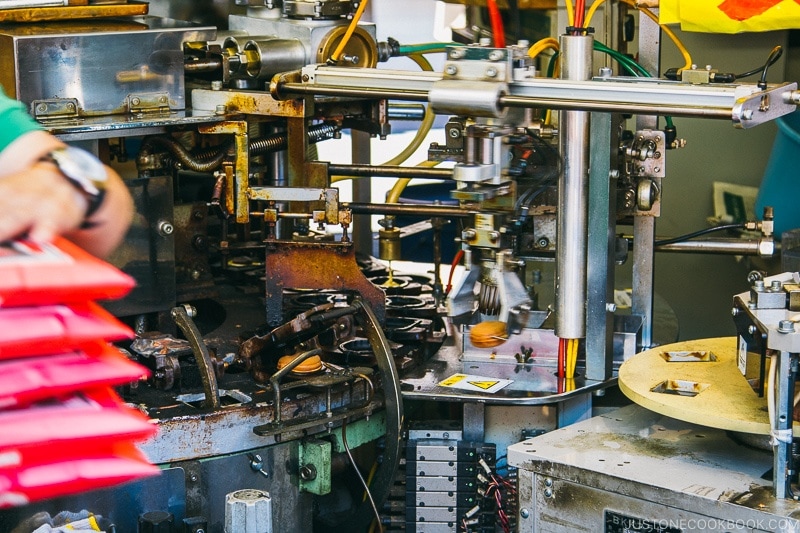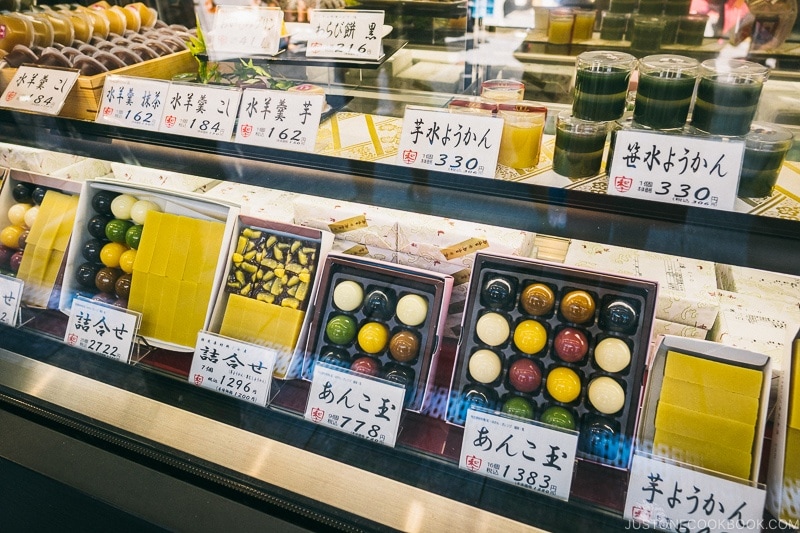 Besides the sweets, there are shops that sell traditional rice crackers – Senbei (煎餅).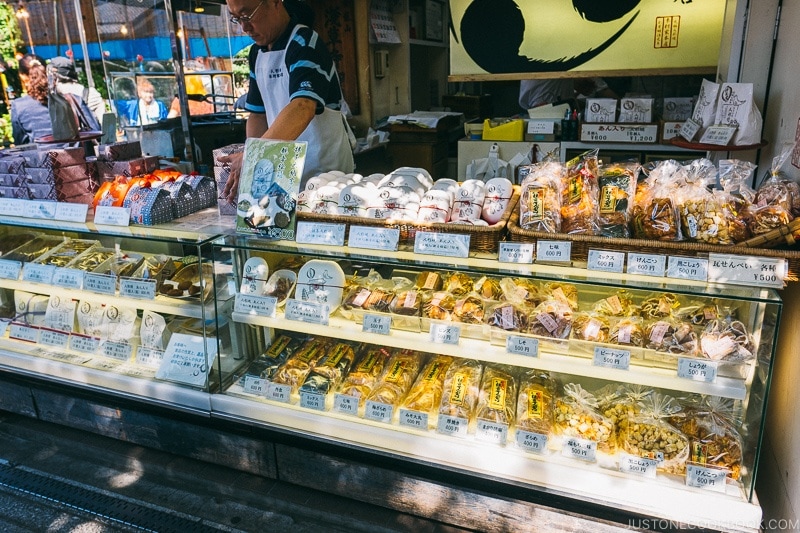 Each year on July 9 and 10th, Asakusa hosts Hozuki Ichi – Japanese lantern flower market. We happened to be there at the time and many vendors selling hozuki flower (Japanese lantern). Hozuki are used to guide the souls of the deceased family members during obon (お盆).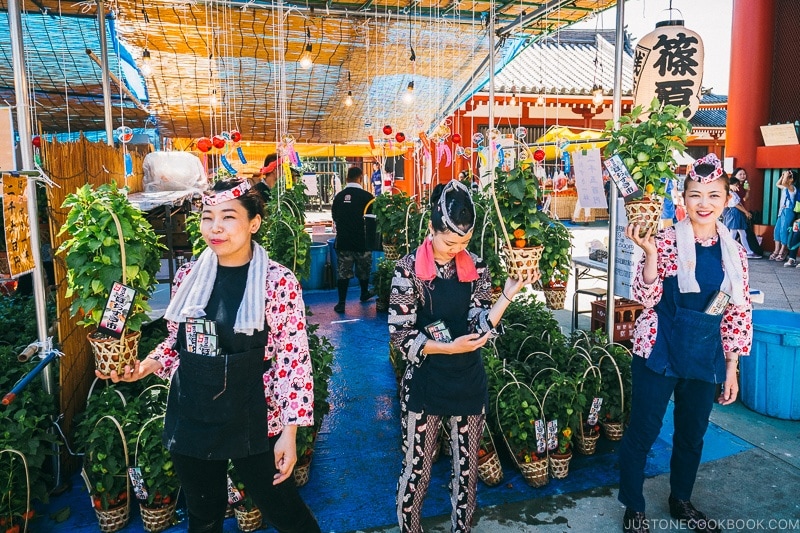 Sensoji 浅草寺
After you pass through Nakamise-dōri, you see the red gate, Hozomon (宝蔵門). Here, you can walk up to the burning incense and wave the smoke towards the part of your body you want to be blessed.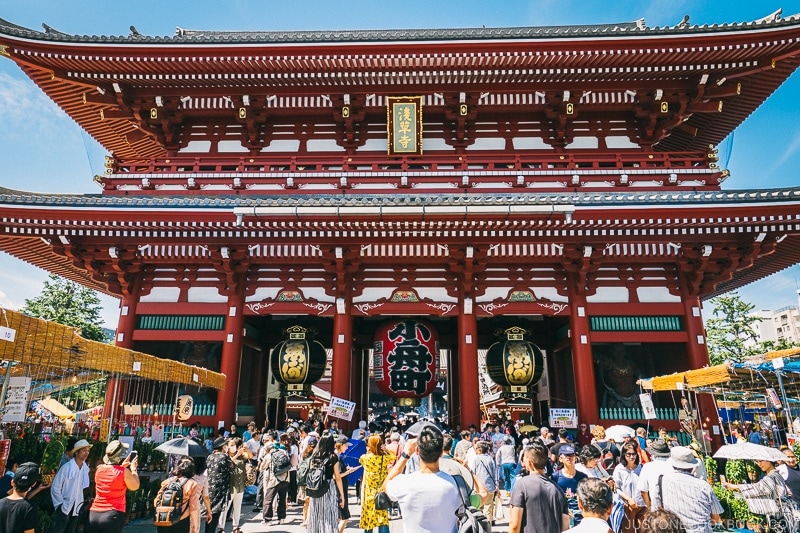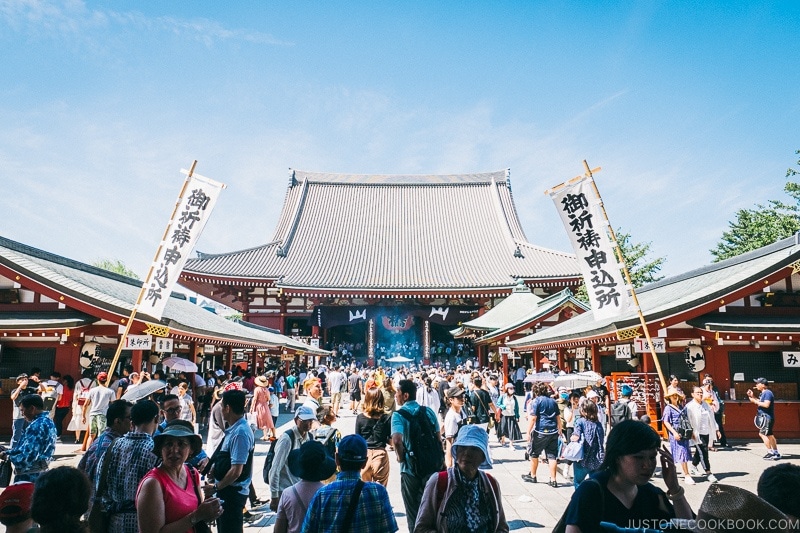 Before entering the main temple, make sure to rinse (or "purify") your hands and mouth first. The proper way is
Hold the ladle with your right hand and rinse your left hand
Hold the ladle with your left hand and rinse the right hand
Hand the ladle back to your right hand one more time and pour some water into your left hand and rinse your mouth (do not drink from the ladle).
Hold the ladle straight up, let the rest of water run down the wooden handle to purify, and put it back.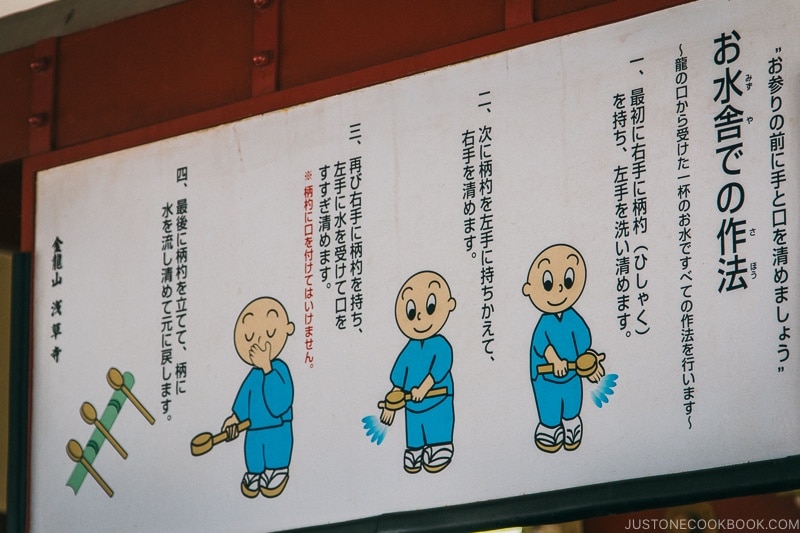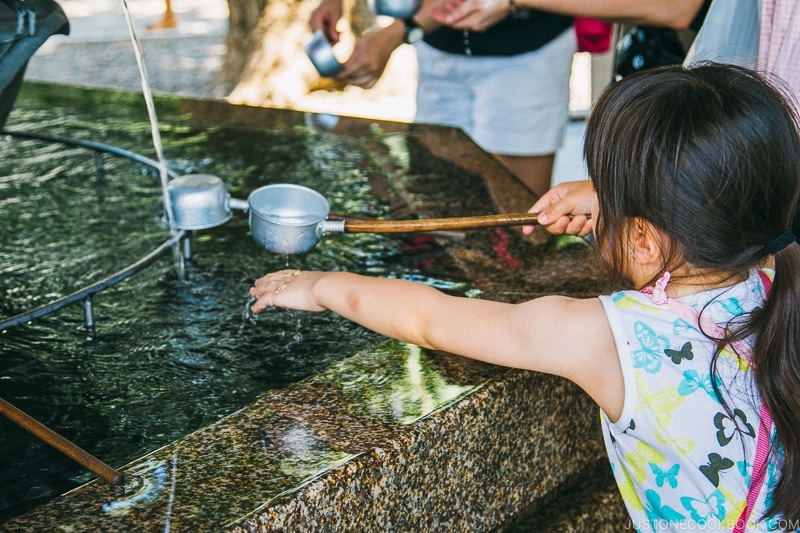 Kannondo Hall (観音堂)
As you arrive in the main hall, Kannondo Hall (観音堂), the god Kannon sits at the center surrounded by other gods. After you are done praying, you can get a Omikuji (おみくじ), and read your fortune. In the Japanese tradition, if you get a bad fortune (凶), roll up the paper and tie it up on the rack nearby. Pray to the bad fortune and hope the gods will protect you from harm. Looking back at the entrance from the main hall, you'll see the grand five story pagoda (五重塔) easily spotted from nearby areas.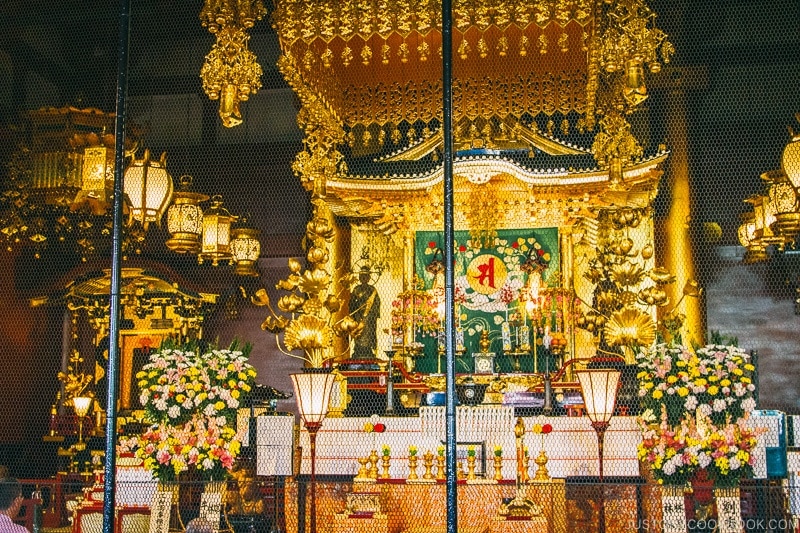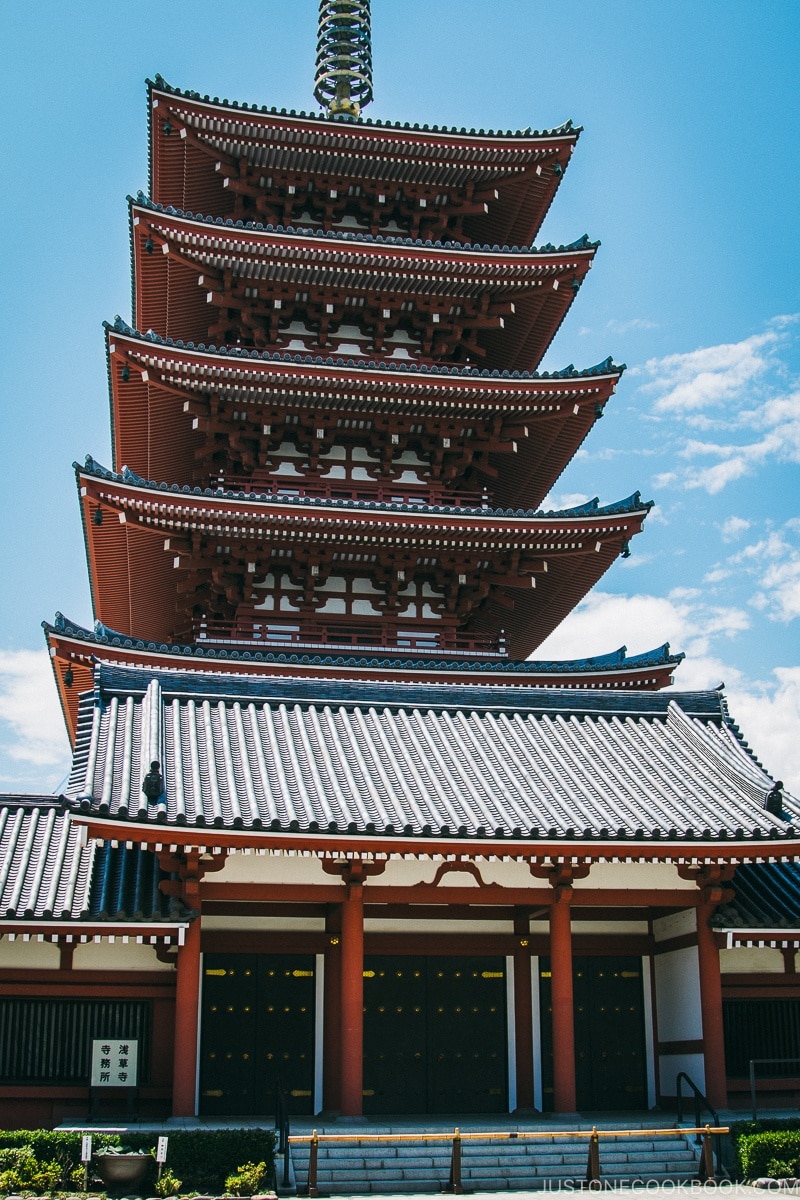 During the summer, Japan has many festivals and there were many festival food vendors serving various Japanese street food nearby the temple.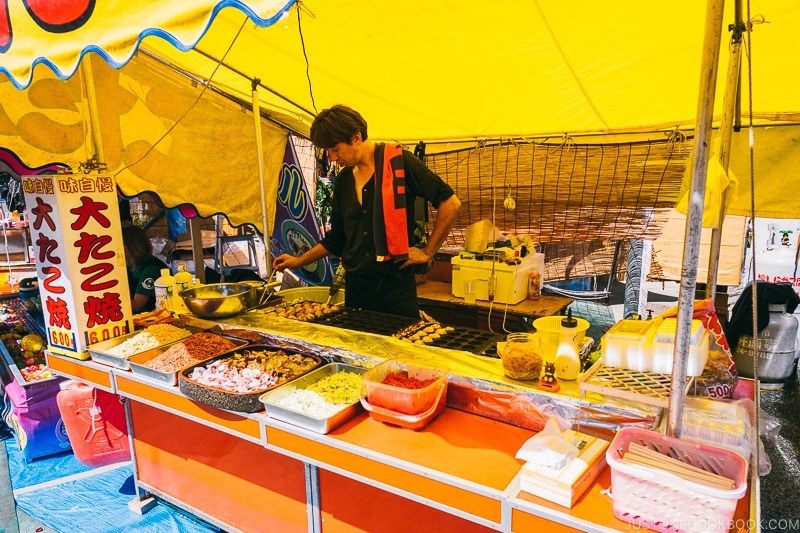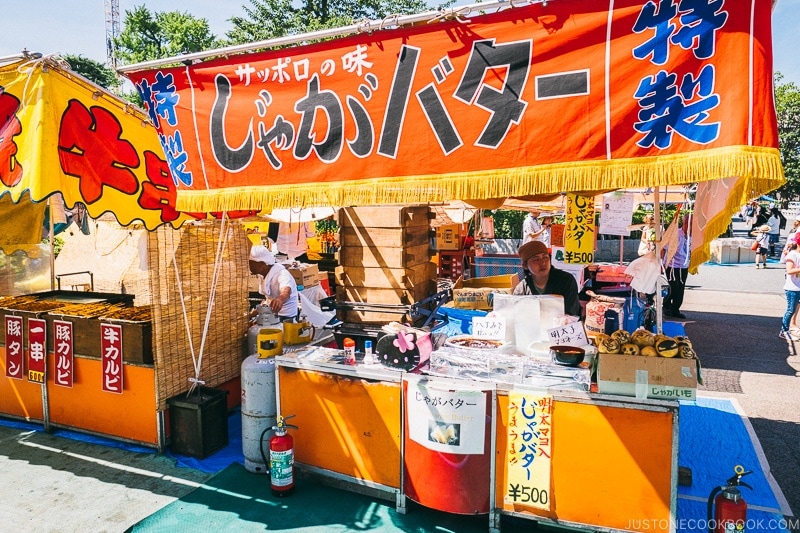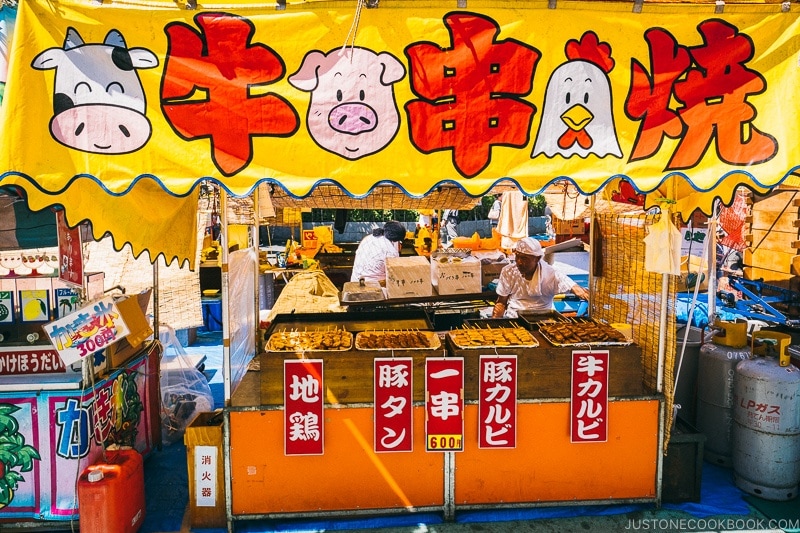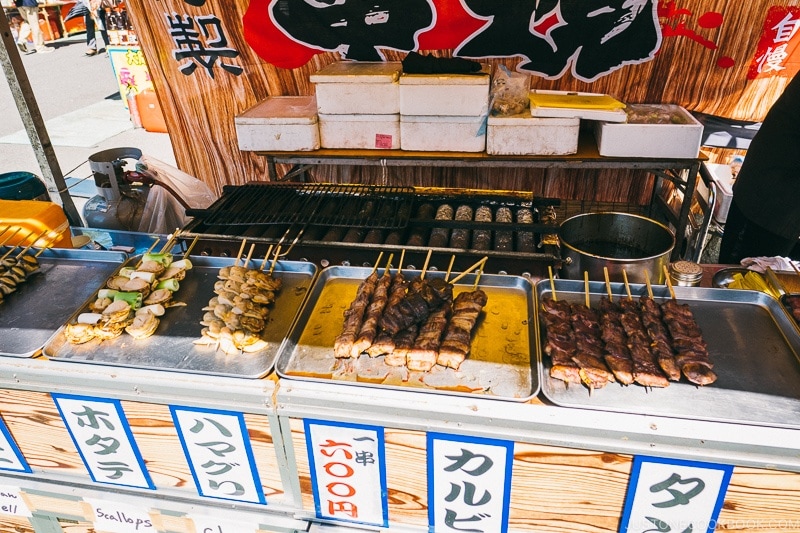 Asakusa Nishi-Sando Shopping Street
When you're done visiting the temple, head to the west and you'll find Asakusa Nishi-Sandō Shopping Street. If you have little ones, there are some traditional games they can play there including dart and catching gold fish.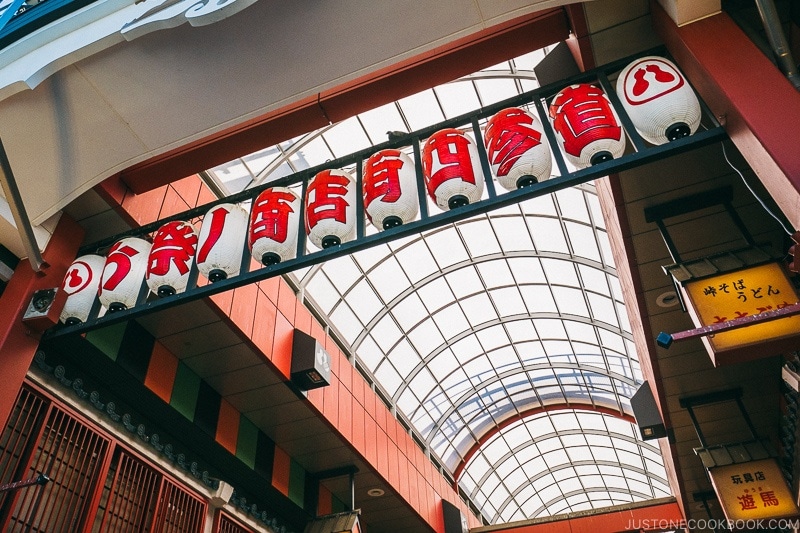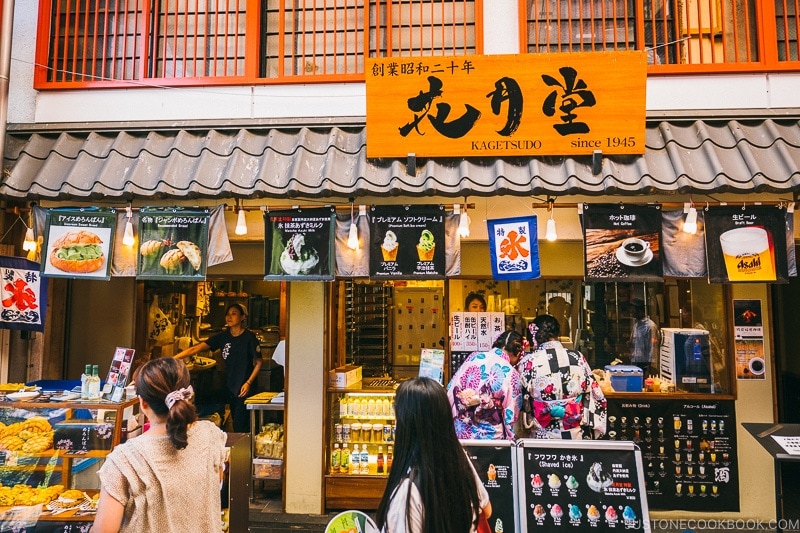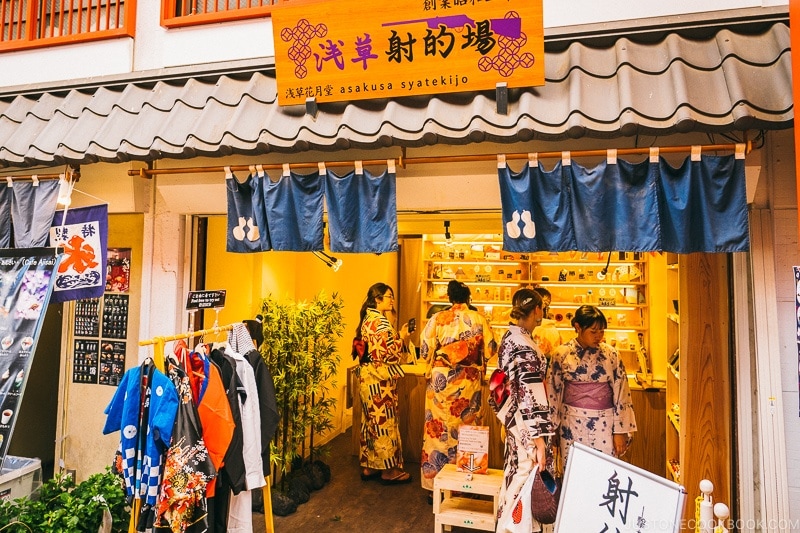 At the catching goldfish store, you're given a net made of paper and the goal is to catch as many goldfish as possible before the paper breaks. You can either take the goldfish home or exchange them for prizes.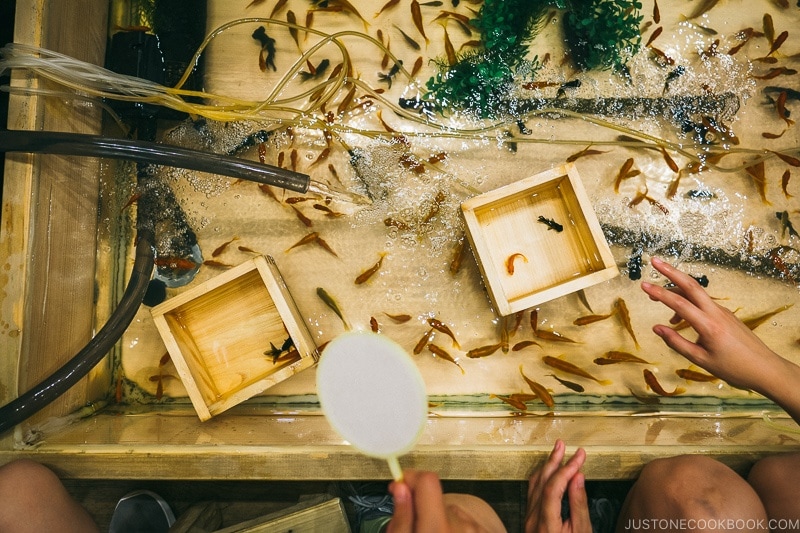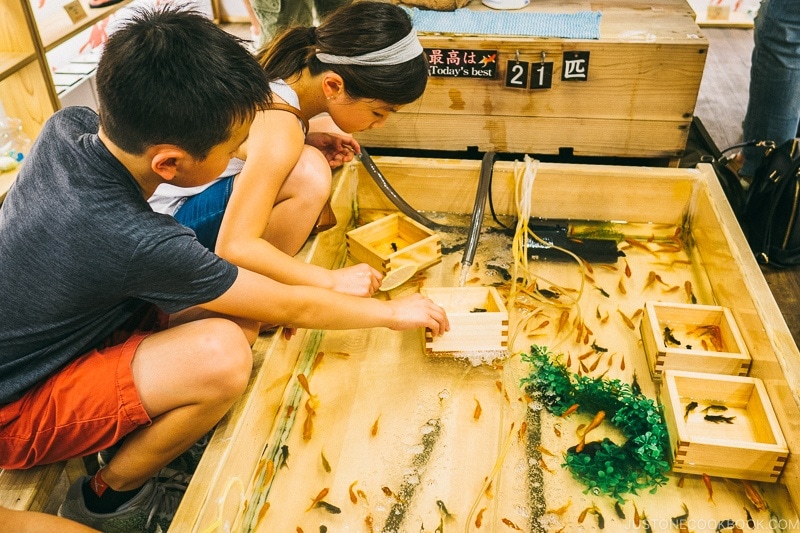 It was a really hot day when we visited Asakusa but our family still had a fun time. We actually went to Tokyo Skytree to eat some delicious sushi during the middle of our visit. More on that in the next post and we'll share the Tokyo Cruise ride to Odaiba soon.
As always, thank you for reading the Asakusa travel guide and we hope you find it helpful. If you are interested our other Tokyo adventures, check out the posts below. See you soon at Tokyo Skytree.