Take in bird's-eye view from top of TMG, devour sweets and pizza at NEWoMan, and finish off the night with yakitori and drinks on Memory Lane in this Shinjuku Travel Guide.
We often get asked by friends and readers on Japan travel tips and itineraries so we try our best to share our Japan experiences on the blog. However, one city we didn't have much travel content on was Tokyo. Why? Since Nami's family only lives 7 miles (15 km) from Tokyo and 15 miles (23 km) to Shibuya, it never seemed like a "Japan travel destination" for us.
As we get repeated request for Tokyo travel guide, we spent 6 days this past summer in Tokyo exploring different wards, activities to do, places to visit and eat. This is just the beginning of our Tokyo travel guide and we'll continue adding to these posts as we explore new adventure and experiences. We hope you will enjoy traveling throughout Tokyo with our family.
The reality is that it's impossible to finish exploring Tokyo in 6 days, or even possibly a month. There are simply way too many options for dining, sightseeing, and entertainment! This is our first effort to share Tokyo with you and we hope you'll enjoy our journey. There is something for everyone in Tokyo so pick and choose what your heart desires when you visit.
For the Tokyo travel guide series, we'll share the following posts:
Tokyo Metropolitan Government Building Observation Decks
Tokyo is a large city and it's easy to lose your orientation as the streets curves in every direction (vs. NY and LA), and subway maps are usually not drawn to scale. What better way to know a city than to visualize it from up top.
One of the most popular observatories in Tokyo is from the 45th floor of Tokyo Metropolitan Government (TMG) Building at 660 feet (202 meters) above ground. The best part, the view! The second best part, it's free! Nami and I have been to the TMG observatory more than 5 times and the views of Tokyo never gets old.
When you get to Shinjuku Station (or any subway station in Tokyo), there are usually multiple exits. Almost all the stations have a detail "exits" map and show you which exit you should take for where you want to go. Make sure to always take a look to understand what exit makes the most sense.
For the Tokyo metro exit at Shinjuku, there are 9 different ones. By looking at exit information, we know to take either A3 or A4 for TMG Observatory. If you arrive in Shinjuku on a different subway line, your exit map will look different than the one above.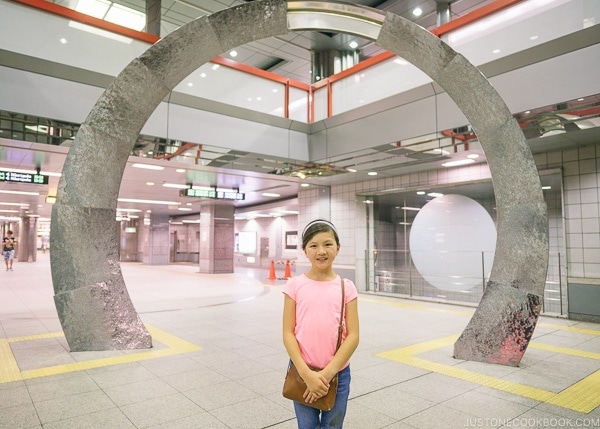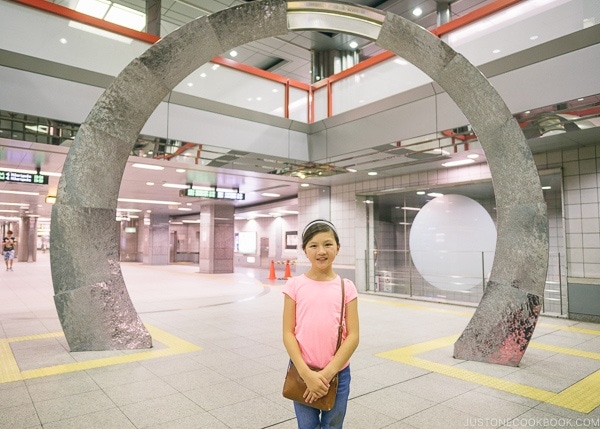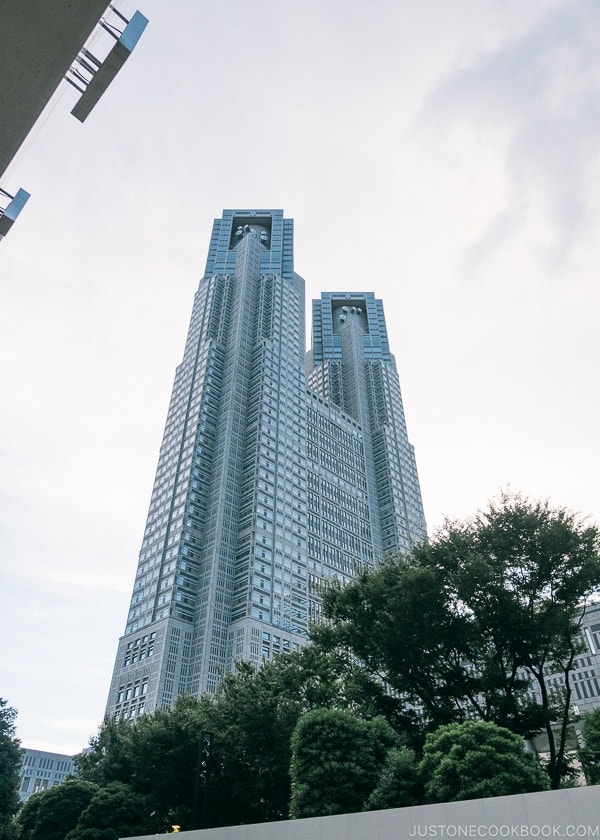 There are 2 observatories in TMG as there are 2 towers, the north tower, and the south tower. The South Observation Deck is closed on the first and third Tuesday of every month and the North Observation Deck is closed on second and fourth Monday of every month.
We recommend the South tower as a big part of the North Tower windows is taken up by a cafe/bar blocking free visitor access.
A quick 45 stories later in the elevator, we got to enjoy the 360º views of Tokyo.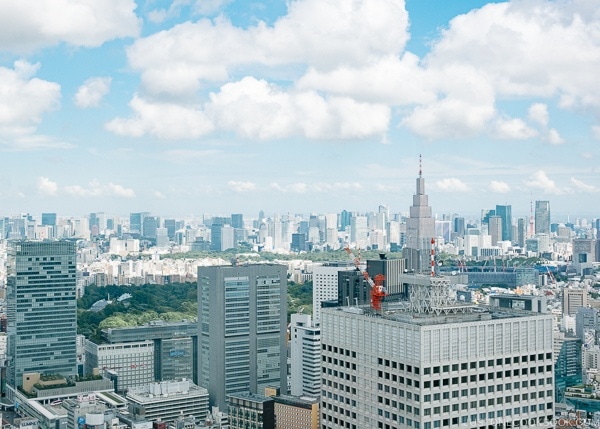 There was a special sale featuring products from every prefecture in Japan when we visited.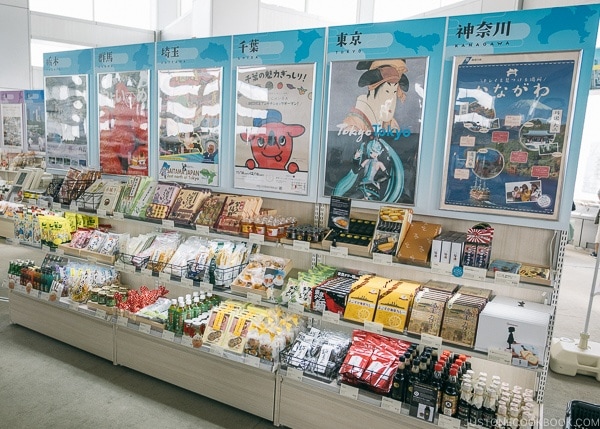 From Nami's prefecture (Kanagawa神奈川県), the specialties were Navy Curry, biscuit, and soy sauce.
There's also the standard gift shop on the observatory floor to purchase for friends and family.
Another great resource for visitors to Tokyo is the Tokyo Tourist Information Center on the first floor of TMG. You can get free maps, ask about accommodations, free wifi, and other tourist service help there.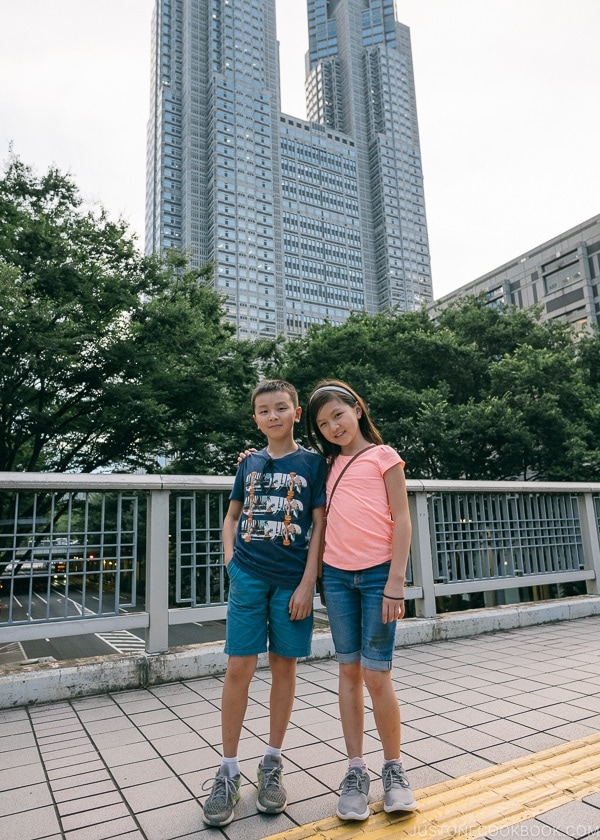 After visiting the TMG Observatory, you might want to grab a bite. There's probably every cuisine you can think of available in the Shinjuku area, but not every restaurant is open for lunch. We'll list the best lunch restaurants and other eateries from Tabelog for Shinjuku at the end of this post.
Department Stores – Shinjuku Travel Guide
If you forget any clothing at home for your trip, don't worry, there are plenty of shopping you can do in Shinjuku. Besides the various retail stores and Lumine, other mega department stores include ISETAN (Shinjuku ISETAN Food Floor), Takashimaya, Keio, and Odakyu. At each department store, there are many cafes and restaurants to relax in.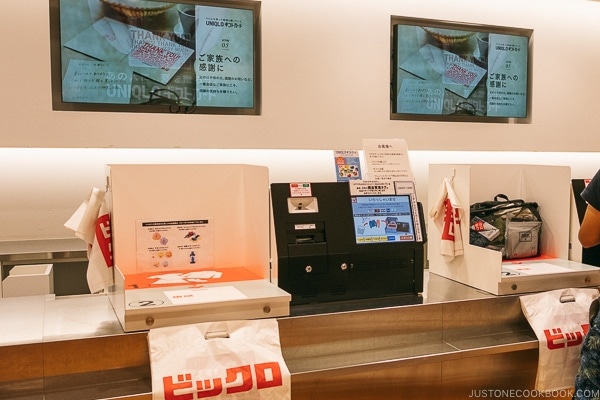 Besides the department stores, there are plenty of food, sweets, and restaurants on the streets.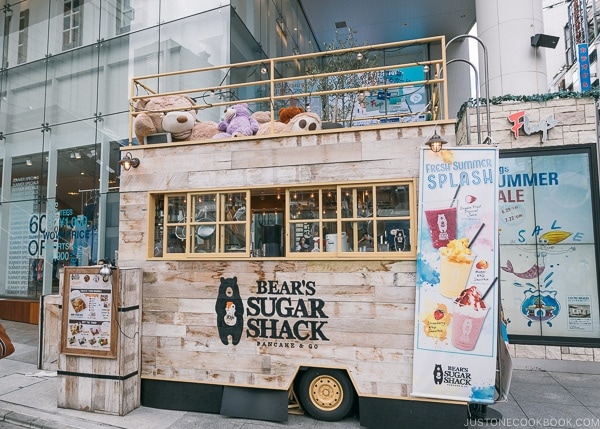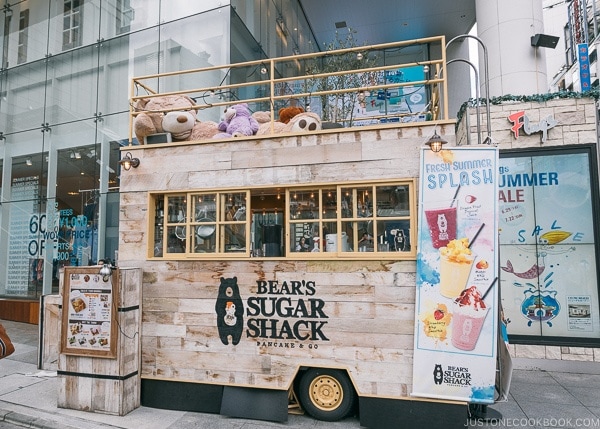 In large cities, there are drink vending machines everywhere. The machines usually take coins, 1000 yen bill, and IC cards like Pasmo. The newer machine like below has the digital display for the drinks and only takes IC cards. Welcome to the future?
When you walk in malls, department stores, shopping centers in Japan, the sweet options are endless.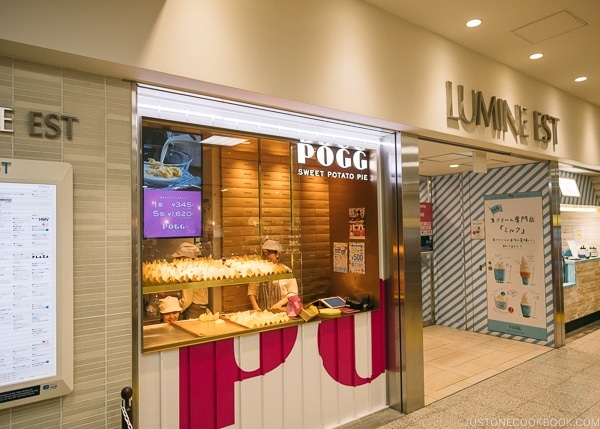 One of the more popular sweets recently is Bake Cheese Tart. One of the branches is in Shinjuku inside the Lumine building.
They had the regular flavor and matcha green tea.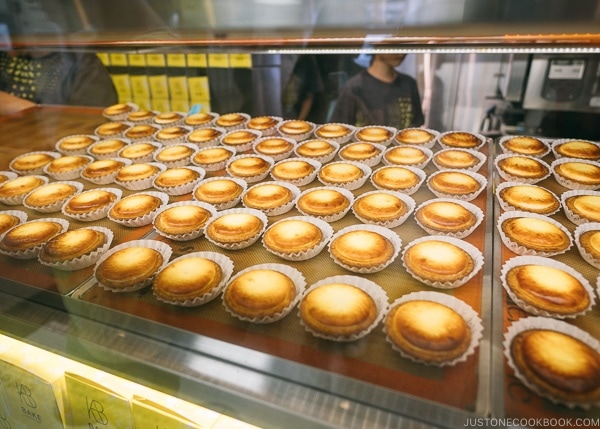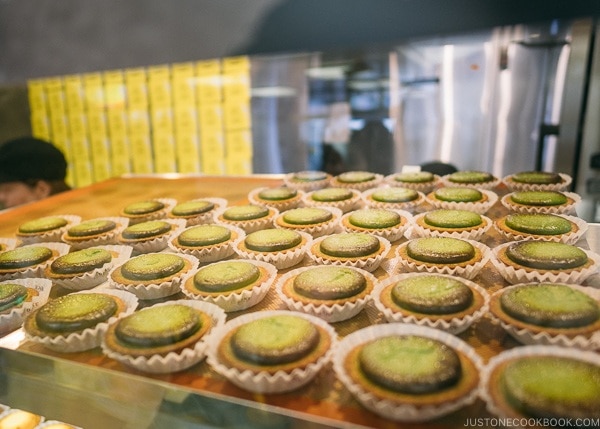 Besides clothing, sweets, restaurants, and other retail stores, there is also the electronic mega stores Yodabashi Camera and Bic Camera if you need any accessories for your camera, laptop, etc.
NEWoMan ニュウマン
One of the newer shopping plaza in Shinjuku opened by Lumine is NEWoMan. It's located to the south of the Shinjuku Station, across the street in the same building as Busta Shinjuku (bus terminal).
Inside NEWoMan there are fine dining restaurants, chocolate specialty shops, and our friend Anthony's 800 Degrees Pizzeria.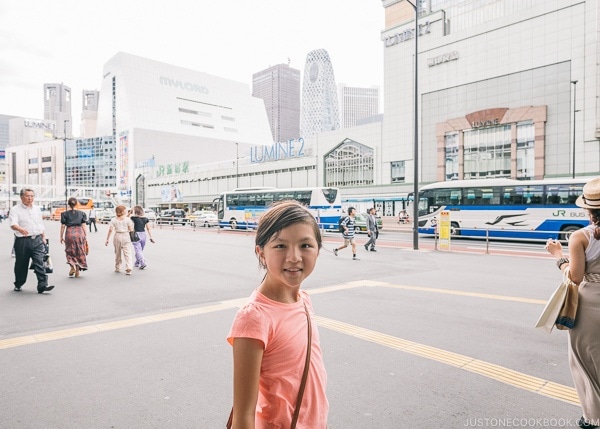 Places to Visit Near Shinjuku
Besides the stores in and around Shinjuku Station, there are a few spots nearby to grab dinners and drinks.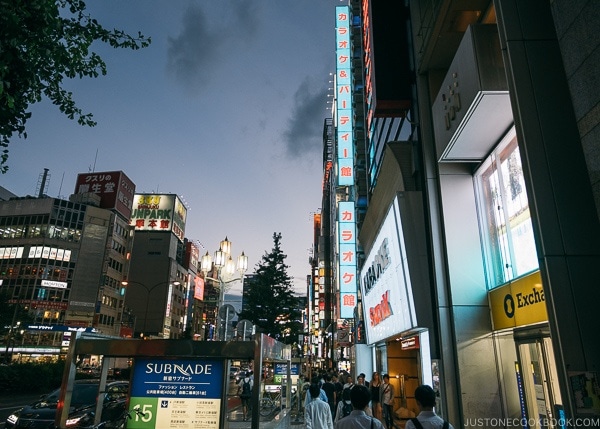 Golden Gai 新宿ゴールデン街
The first is Golden Gai (Golden Street) which has over 100 bars. The bars are usually small and only fit 5-6 people.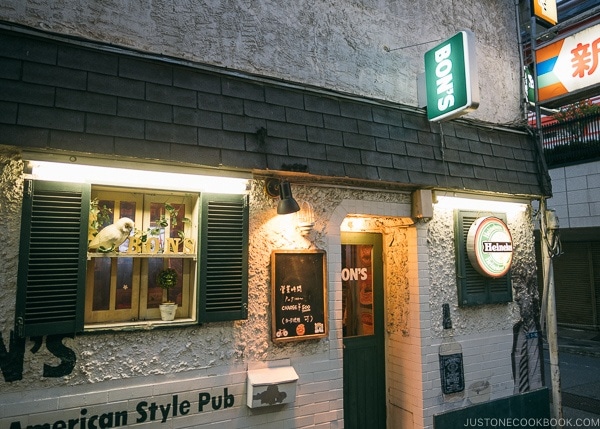 Toho Cinemas TOHOシネマズ
If you want to catch the latest movie, you can do so at Toho Cinema and say hi to life-size Godzilla on top of the theater.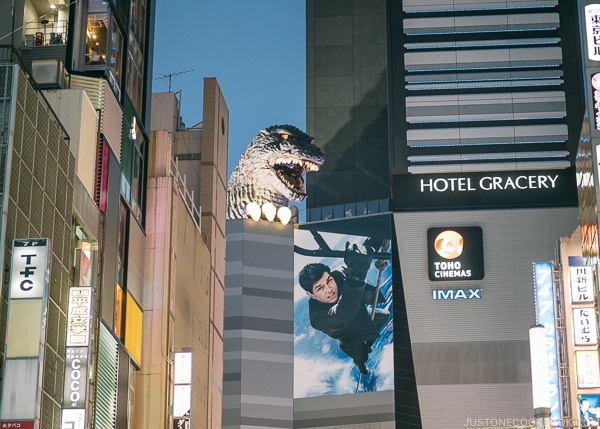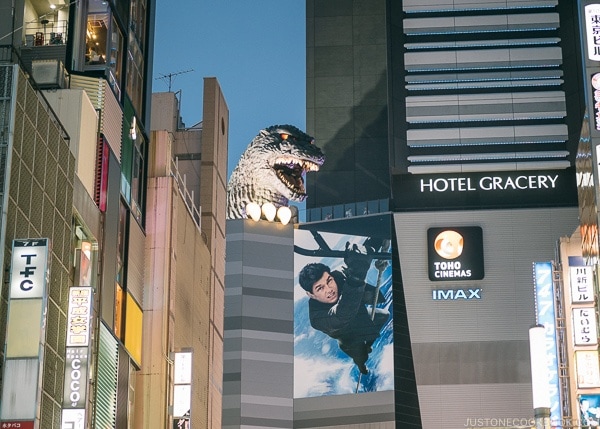 Kabukicho Ichibangai 歌舞伎町一番街
For more drinks and entertainment, stop by Kabukicho Ichibagai. There are restaurants, bars, theaters, and lots of nighttime activities.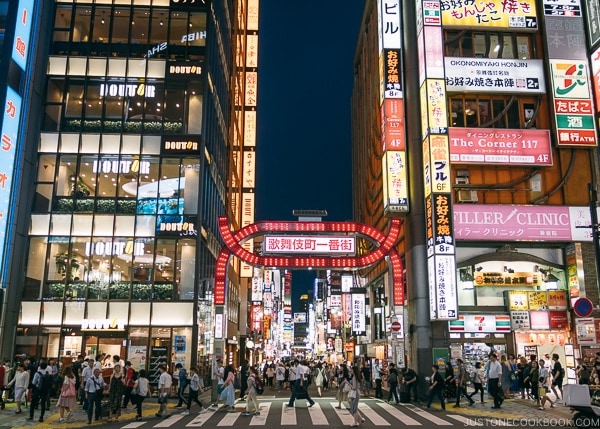 What to Eat in Shinjuku
Zauo ざうお – Fishing for Your Meal at Zauo Shinjuku
Yakitori Alley 思い出横丁 – Head over to Yakitori Alley for sake, beer, and grilled skewers.
Shinjuku Restaurants According to Tabelog Reviews (July 2018)
ボニュ

(French)

鳥茂

(grilled food)
オステリア・オリエーラ

(Italian)

鳥みつ

(Yakitori)
キュイジーヌ

[s]

ミッシェル・トロワグロ

(French)

ホルモン船 ホールちゃん

(grilled food)
ル サロン ジャック・ボリー

(French)

東京肉しゃぶ家

(Shabu Shabu)

匠

誠

(Sushi)

ニューヨーク・グリル

(American)
We hope you enjoyed the Shinjuku Travel Guide, if there are any spots you love and we missed mention it in the comments below. For more Japan travel guide click here and we'll see you soon in part 2, Meiji Jingu (明治神宮).
Follow us on Instagram!
Check out other Tokyo travel guide series: