Plan on visiting Tokyo DisneySea? Here are a few tips to enjoy your day at this magical theme park based on my family's experience.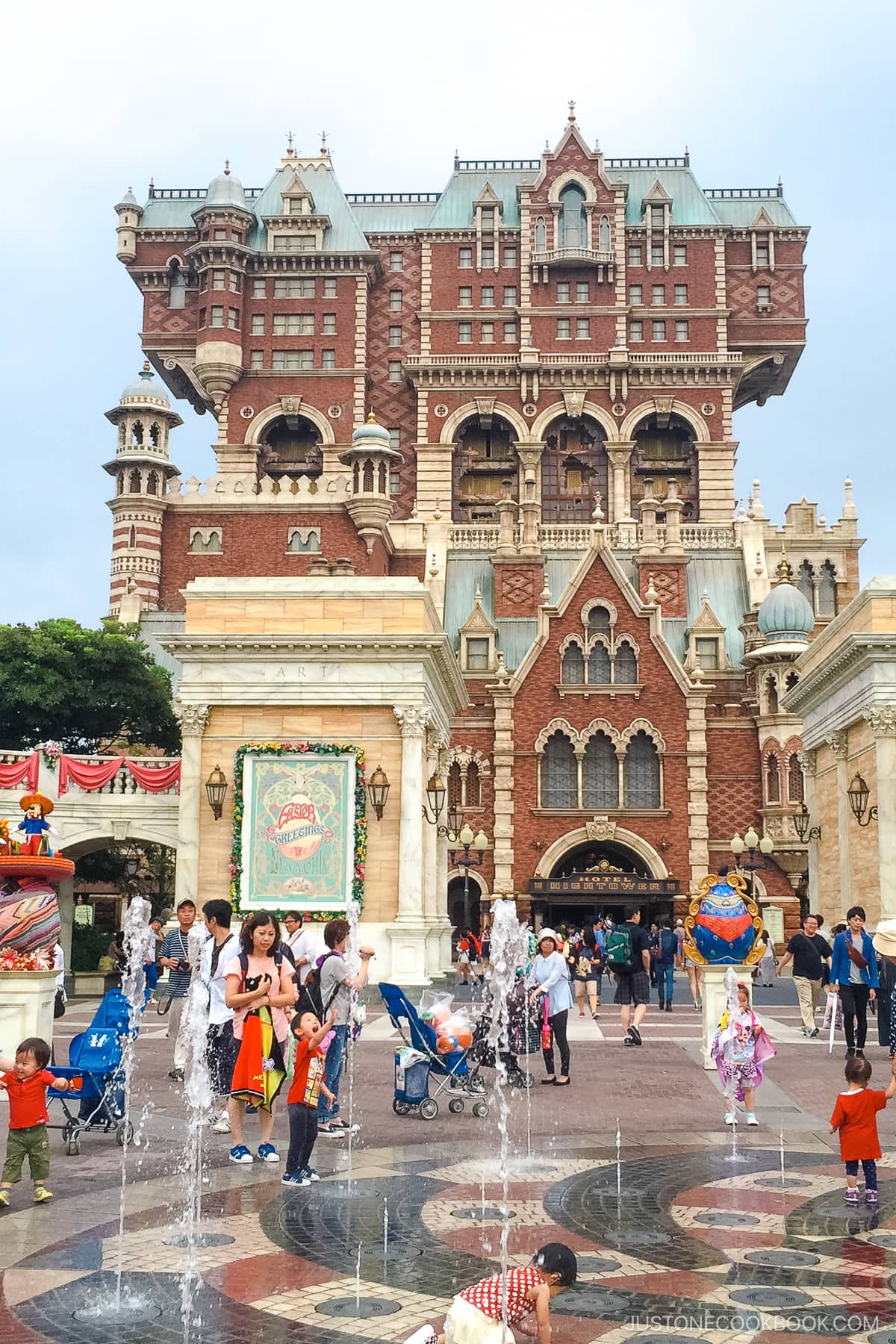 We had the amazing opportunities to visit Tokyo Disneyland and DisneySea with our children during our visits to Japan. The most special moment is when our son was watching the mesmerizing electric parade going by. He turned to us with a glisten in his eyes and said, "It's so beautiful I want to cry."
These memories are forever in our hearts. If you are visiting Tokyo and have some time to spare, we highly recommend making a stop at either park. Here are a few tips to enjoy your day at this magical theme park based on our family's experience.
What is Tokyo DisneySea
Tokyo DisneySea is a Disney theme park right next door to Tokyo Disney. Both the Disney Parks are owned by The Oriental Land Company, which licenses the Disney characters and themes from The Walt Disney Company. DisneySea as its name suggests is ocean and aquatic-themed.
Why Visit DisneySea
You might be wondering why our family chose to visit the theme parks in Japan despite living in California, where we have Disneyland Park and California Adventure. One of the main reasons is that the Disney resort in Japan is only 1 hour from Nami's house in Yokohama. In contrast, Los Angeles is a 7-hour drive for us.
The second reason is that Tokyo Disney is also significantly lower priced than the ones in the US. The ticket prices per day start at USD $ 65 for adults and USD $ 52 for children in Japan (as of 2023). Compared to over $100 for weekdays and $160+ on weekends for U.S. parks, it's quite a saving for a family. I know… crazy right?? You can check out current prices for Tokyo DisneySea here!
DisneySea is one of the most popular theme parks in the world with over 14 million visitors in 2019. It's not hard to see why, with its captivating attractions and unique experiences!
How to Get to Tokyo DisneySea
From Tokyo Station, board the Keiyo Line to Maihama Station, which will take approximately 15 minutes. Walk to Resort Gateway Station and board the Disney Resort Line (Disney resort monorail) to Tokyo DisneySea. The whole journey will take around 30 minutes. When planning your journey, I recommend downloading the Tokyo Disney Resort App, where you can purchase tickets and research everything about Tokyo Disney Sea!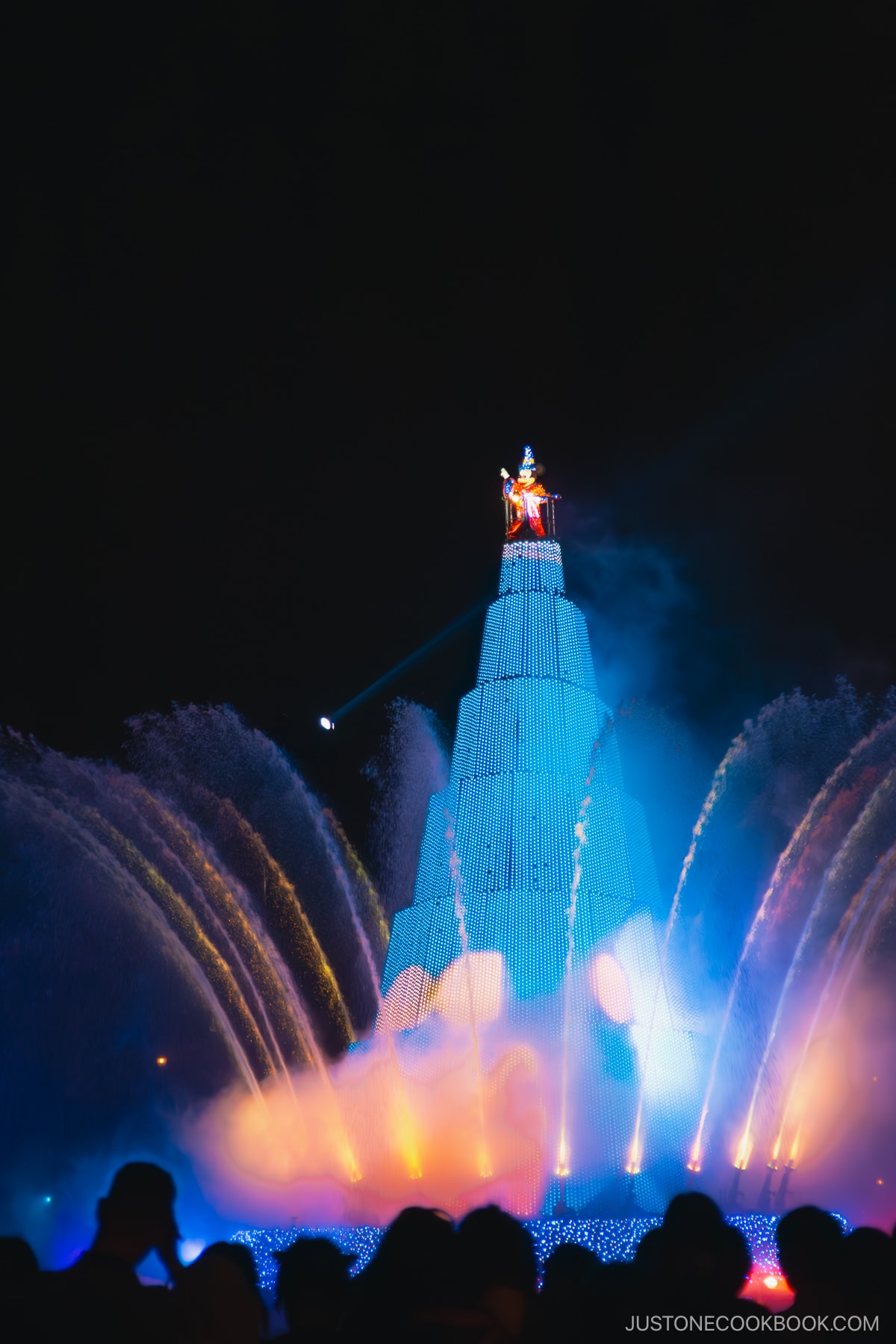 How to Get Around Tokyo DisneySea
Tokyo DisneySea is a uniquely designed theme park that features a loop layout showcasing 7 different aquatic-themed areas, from the classic American Waterfront scenery to the futuristic Port Discovery, and the jungles of the Lost River Delta to the Mysterious Island and Arabian Coast. As you go through the theme park, you'll be greeted with an exciting and characteristic experience in each area.
Tips For Navigating Tokyo DisneySea
For non-Japanese speakers planning a visit, here's a quick guide and some tips based on our own experience:
Height Restrictions
We visited Tokyo Disneyland when our daughter was only 5 and she was tall enough to go on every ride. We knew DisneySea was designed for an older crowd but were hoping she could get on all the rides. However, we were not so lucky as 11 of the rides had height restrictions and unfortunately, she was too short for 3 of the featured rides: Indiana Jones Adventure: Temple of the Crystal Skull, Raging Spirits, and Journey to the Center of the Earth. All three rides required a minimum of 117 cm or 3 ft 10 inches. If you are visiting with little ones, remember that they might not reach the height requirements for some of the featured rides.
Avoid Weekends and Japanese Holidays
Try to avoid weekends and visit before Japan's school goes on summer break in mid-July. We visited on a Friday and spent the night there. As we were leaving the resort area on Saturday morning around 10 AM, the parks were already at max capacity and weren't letting more people in until 6 pm.
Don't Waste Time Reserving Best Viewing Spot
The grand show at night is the climax of the DisneySea experience. All theme park goers try to grab a spot long before the show to get a good view. However, the show can be viewed from numerous locations around the Mediterranean Harbor. We recommend not wasting your time waiting for hours to save a good spot, and instead, use that time to enjoy more rides.
Language Assistance
For the most part, DisneySea is equipped with multilingual signs and maps for international visitors, so it shouldn't be a problem getting. However, if you don't speak Japanese, I recommend skipping the Turtle Talk. We waited almost 1 hour for the attraction, not knowing what it was. It's a turtle on screen that interacts with the audience in Japanese, so if you don't speak Japanese, it is not worth your time. 
Priority Pass
Tokyo Disneyland and DisneySea used to offer FastPass but it's been replaced by Priority Pass. To maximize your time and get in the most rides, make sure to utilize Priority Pass for the most popular rides.
Where We Stayed Near Tokyo Disney Resort
There are 3 Disney hotels connected to the theme parks (Ambassador Hotel, Hotel Miracosta, and Tokyo Disneyland Hotel), and another 6 official hotels surrounding the theme parks that can be accessed via the monorail line.
We've always stayed at Hilton Tokyo Bay, which is one of the 6 hotels surrounding DisneySea. Hilton Tokyo Bay has kids-friendly rooms, which our children love and they also let you use the Hilton Honors Points + Cash combination, which brings the cost of a room down. It's an excellent value for what you get and if you are lucky enough to get the rooms facing the bay, you have an amazing view of the Tokyo skyline!
What to Eat at Tokyo DisneySea
During our visits, we had the pleasure of eating at Magellan's, a very nice sit-down restaurant located in the heart of the theme park.
I remember that particular day, we were quite hungry and couldn't wait to eat. Magellan's food exceeded all expectations and was by far the most delicious we've ever had at a theme park! The menu had a wide range of dishes suitable for adults and kids but we indulged in some prosciutto, smoked salmon, roast chicken, ebi fry, and shrimp salad. Not your average theme park food! If you want to relax and enjoy some delicious food while visiting the park, I highly recommend Magellan's restaurant.
Around the theme park, you can also find various snacks, pizza, popcorn wagons, and more restaurants and cafes serving with Mickey Mouse-shaped plates!
What to do at Night in Tokyo DisneySea
The night-time scenery in DisneySea is just as magical as you might think, making it fantastic for leisurely walks and enjoying all the attractions.
For the grand show at night, the one we watched but is no longer playing was called Fantasmic. The show takes place over the water of the Mediterranean Harbor and lasts about 20 minutes. It combines dazzling visuals and a captivating story, great for people of all ages. A newer version of Fantasmic now plays at Disneyland in LA. At DisneySea, Fantasmic has been replaced by a new show called Believe! Sea of Dreams.
We recorded the last 5 min of the Fantasmic show (the best part). You can watch it on our YouTube Channel!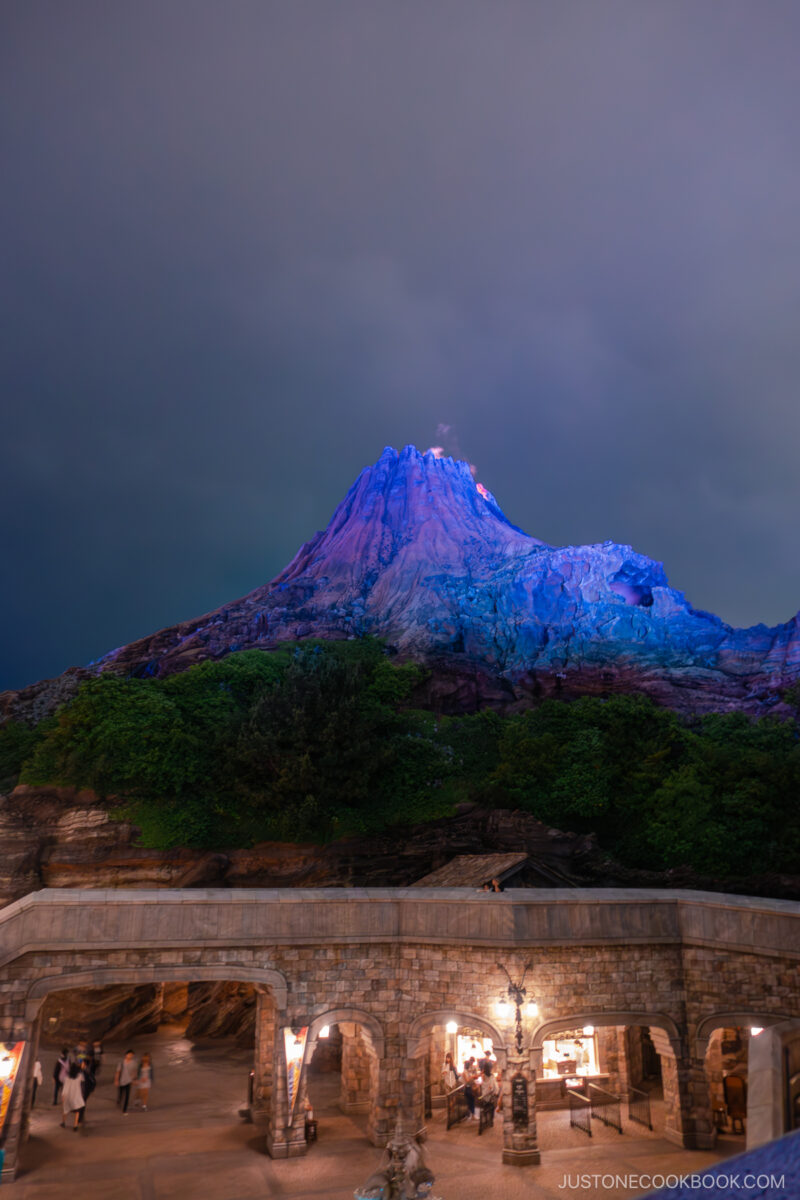 Our family had a really wonderful time at DisneySea. We hope our children will cherish these sweet memories as they grow older.
Visiting Tokyo? Check out our Tokyo Guides here.