Immerse yourself in some of Hokkaido's most breathtaking landscapes, indulge in sweets and treats in Otaru, Yoichi, and Shakotan, all while savoring the last of the summer sea urchins!
Summer in Hokkaido ends relatively early compared to the rest of Japan. To celebrate, I visited one of my favorite spots: Shakotan. We will stop by Yoichi, a small town famous for its wineries, Nikka Whisky Distillery, fruit, and seafood. I'll indulge in some uni (sea urchin) for breakfast (yes, you read that right – BREAKFAST!) and then pick up some freshly baked bread at one of Yoichi's most popular bakeries. I'll then head to Shakotan, driving along the Hokkaido coastline, while enjoying the last of the summer scenery. It's an action-packed day, filled with delicious food and breathtaking views, so let's get into it!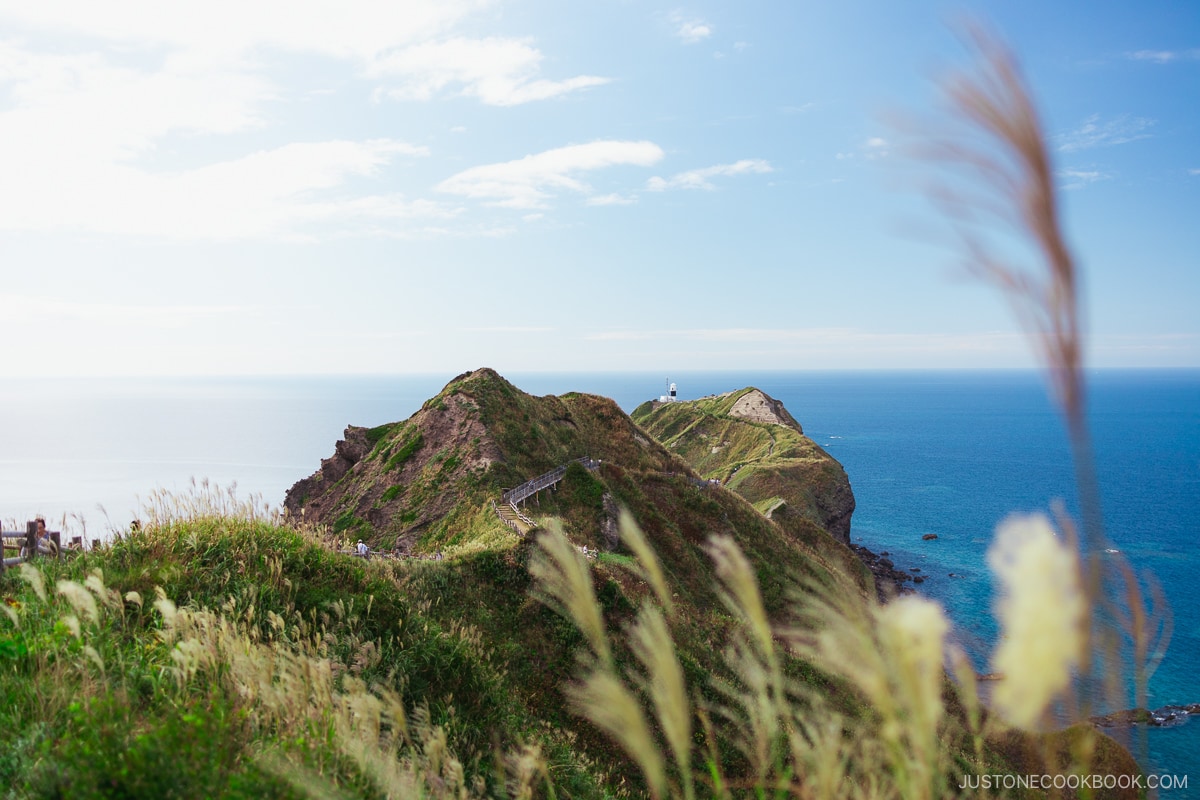 For this trip, I rented a car, which I highly recommend! Driving through Hokkaido's mountains and coastlines allows you to appreciate the breathtaking scenery at your own pace. Japan drives on the left-hand side of the road, so please be careful of this. The roads are very easy to drive as many of the signs have English written on them. One note is that if you drive from Sapporo city center, there are many one-way streets and trams so it can get a little confusing at times.
What to Do in Yoichi
Yoichi is a small coastal town located about an hour's drive from Sapporo and 30 minutes from Otaru. It's the perfect distance for a day trip from Sapporo. I'll delve more into Yoichi in a later post.
From Sapporo Station, you can board the Rapid Airport train to Otaru, which takes approximately 35 minutes. After you arrive at Otaru Station, change to the Hakodate Line towards Kutchan and you will arrive at Yoichi Station in another 25 minutes. Both trains will come to a combined total of 2,130 yen.
Whiskey and Wine
Yoichi is most notably known for the Nikka Whisky Distillery. Those of you who have been to Sapporo will probably recognize the giant Nikka whiskey sign in Susukino! The coastal town is also starting to get known for its wine. However, we'll get more into this later, so stay tuned!
Seafood in Yoichi
My first stop of the day was Kakizaki Shoten, a seafood market with a restaurant on the second floor. First, I had to indulge in uni-don (sea urchin rice bowl). Since moving to Hokkaido over four years ago, uni has quickly become one of my favorite foods. Let me share more about why Hokkaido uni is so special.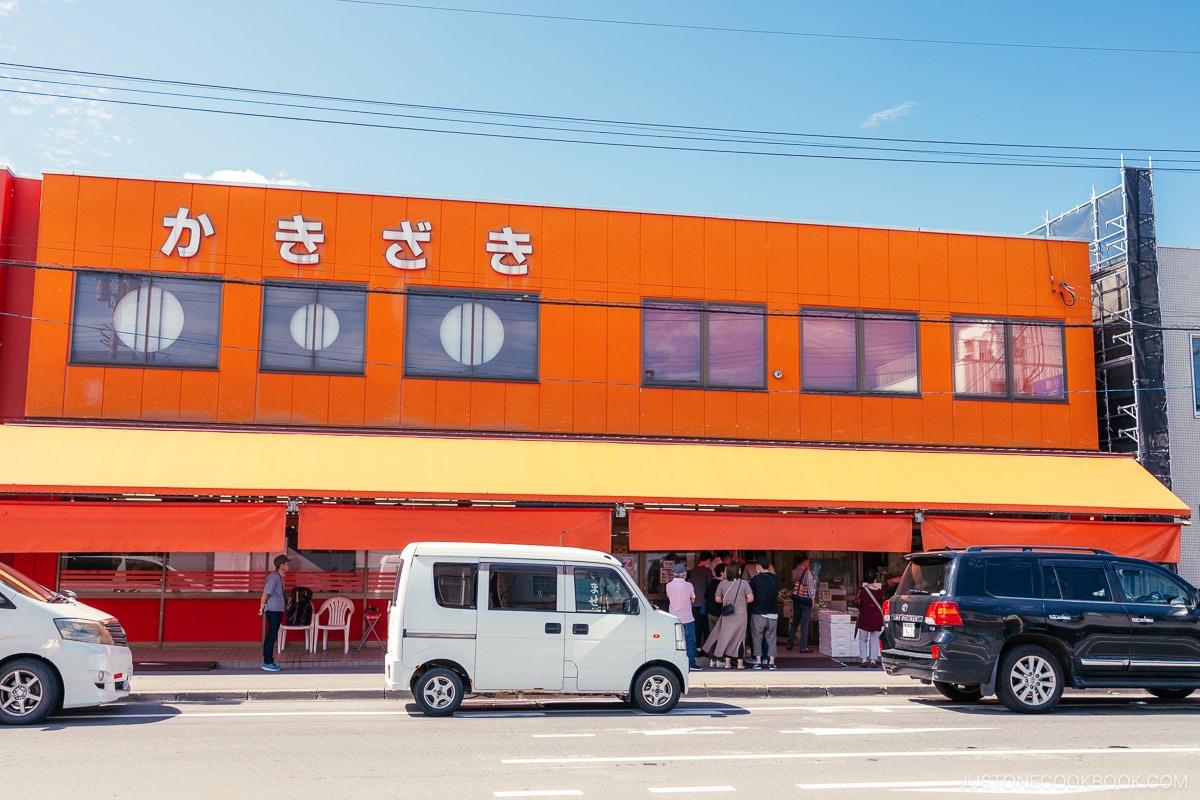 Hokkaido Uni
Hokkaido is well known for its delicious seafood, and in particular, its uni, which is now used by restaurants across the world. This is because of three main ocean currents flowing around the northern island. To the east is the Oyashio Current in the Pacific Ocean, and the Soya Current and Tsushima Current in the Sea of Japan to the west. These kombu-rich currents provide excellent conditions for uni to grow, especially since they love eating kombu!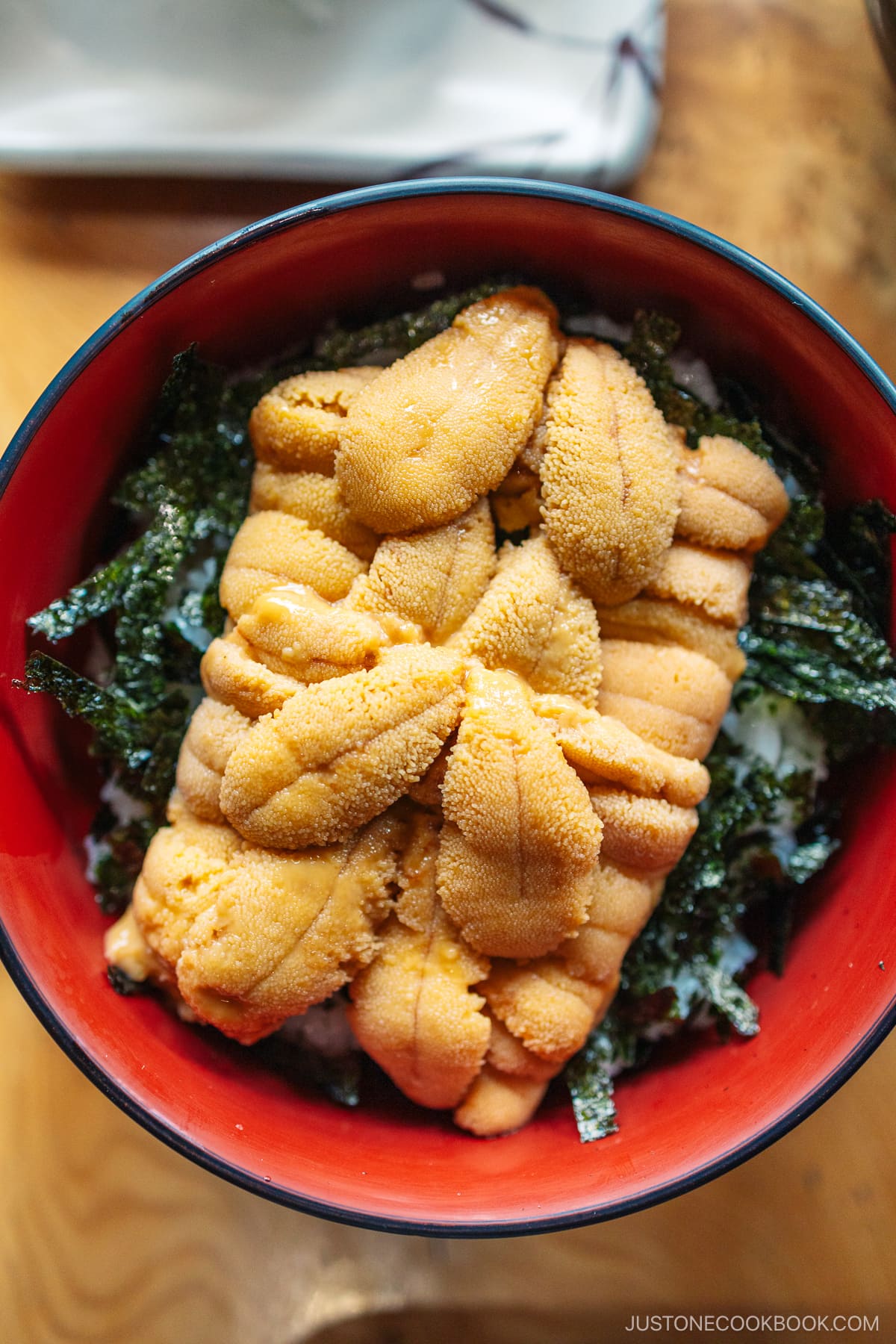 In addition, the cooler temperatures around Hokkaido cause the uni to be sweeter and tastier. While you can find uni all year round in areas such as Hakodate, Rishiri, and Rebun, the uni around Shakotan, Yoichi, and Otaru are on another level. From June to August/September (depending on the year), the warm climate and mineral-rich ocean waters create the sweetest, creamiest, and most desirable uni. Luckily, I made it just in time for the end of this year's season.
If you can't make it between June and August, they will have uni-don but will be using it from other areas of Hokkaido and not the ones you see in the picture.
The two most delicious types are called Kita-Murasaki and Ezo-Bafun Uni. The former is delicate with a firm but creamy and sweet taste. The latter is more densely flavored with a stronger sweetness and richness.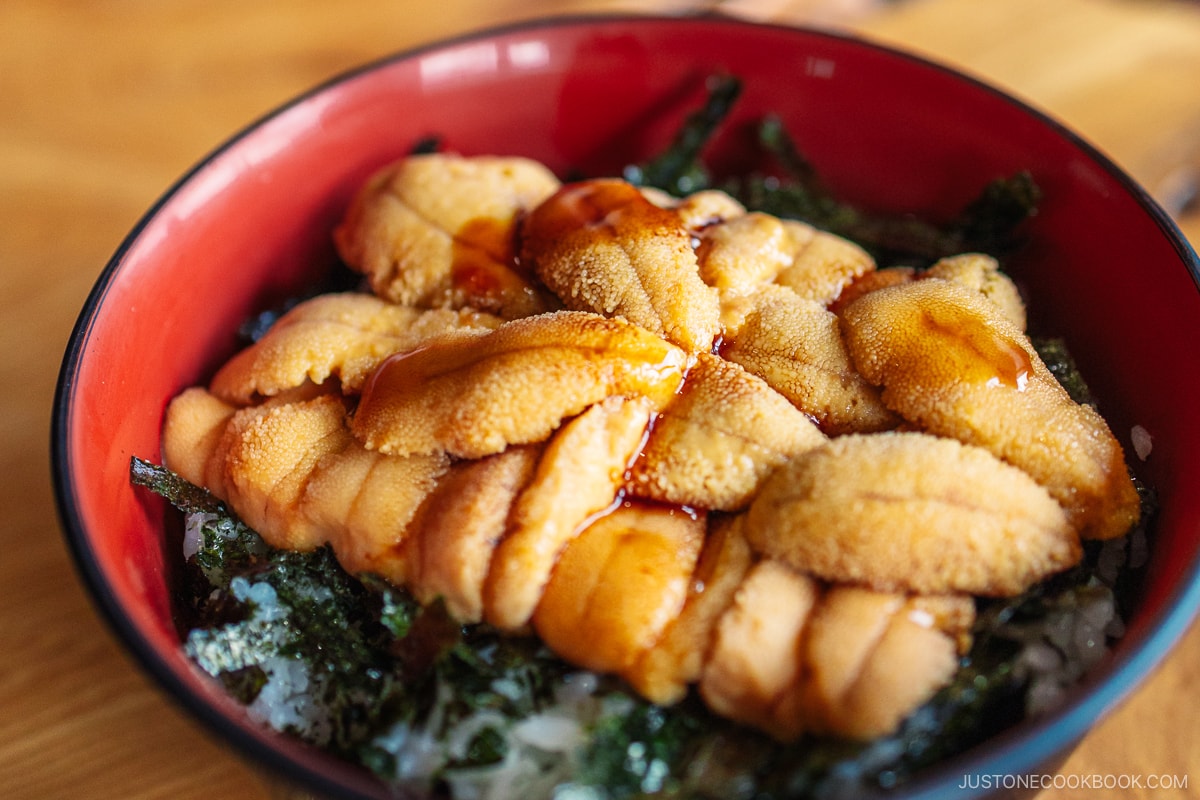 Kakizaki Shoten
Anyway, the restaurant opened at 10 am, and there was already a queue waiting. I think everyone had the same idea as I did and wanted the last of the uni! Kakizaki Shoten is well-known in the town and is typically filled with locals and also tourists from around the world.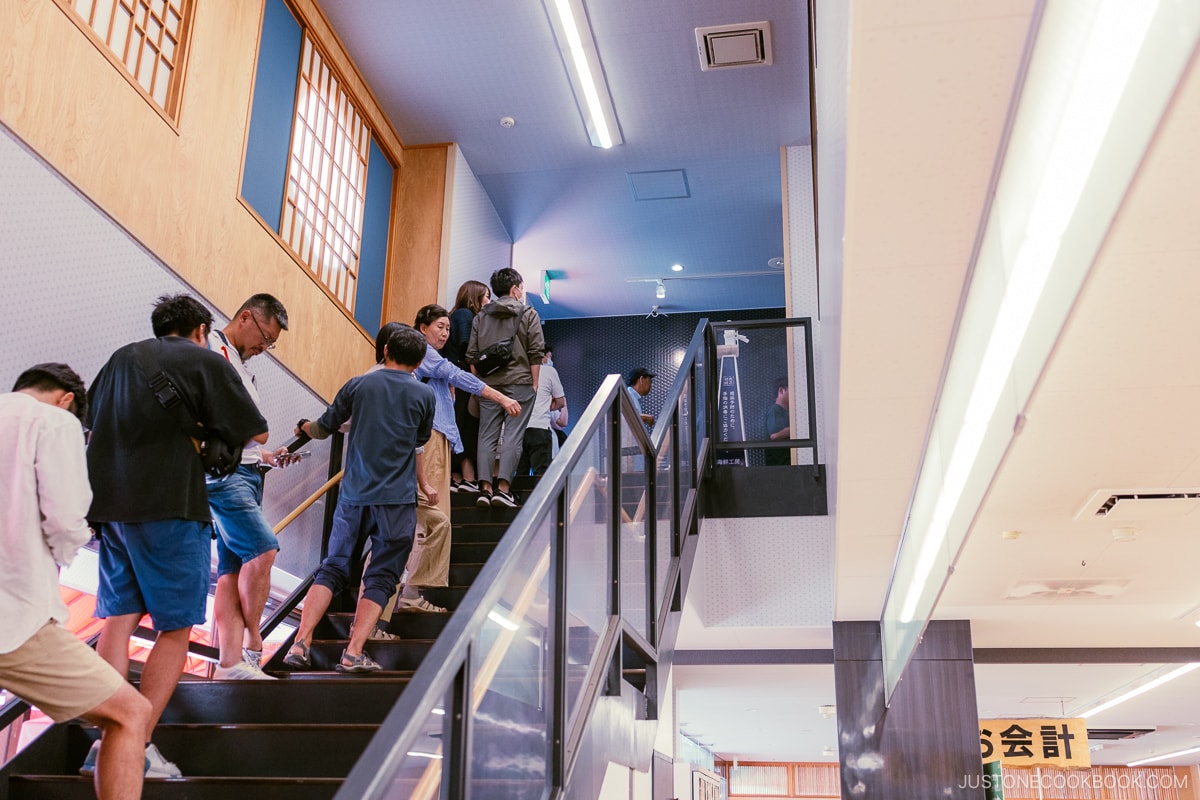 Around Shakotan, Yoichi, and Otaru, you can find restaurants serving uni-don everywhere. But there are a couple of things that make Kakizaki Shoten my go-to place. Firstly, the price. For this whole bowl of uni-don, it only costs around 4000 yen (USD$27 in 2023). In other places, you may find it going upwards towards 6000 yen ($41).
Secondly, they serve sumeshi (酢飯), also known as vinegared rice. A whole bowl of uni can become quite intense with its richness and sweetness. That's why I think sumeshi is so important. The slight sharpness from the vinegar helps to balance all the flavors so you can keep going bite after bite.
It also comes with some soy sauce to add a little saltiness and umami to the bowl. I can't go on enough about how much I love uni, and I hope all of you reading get to try it out.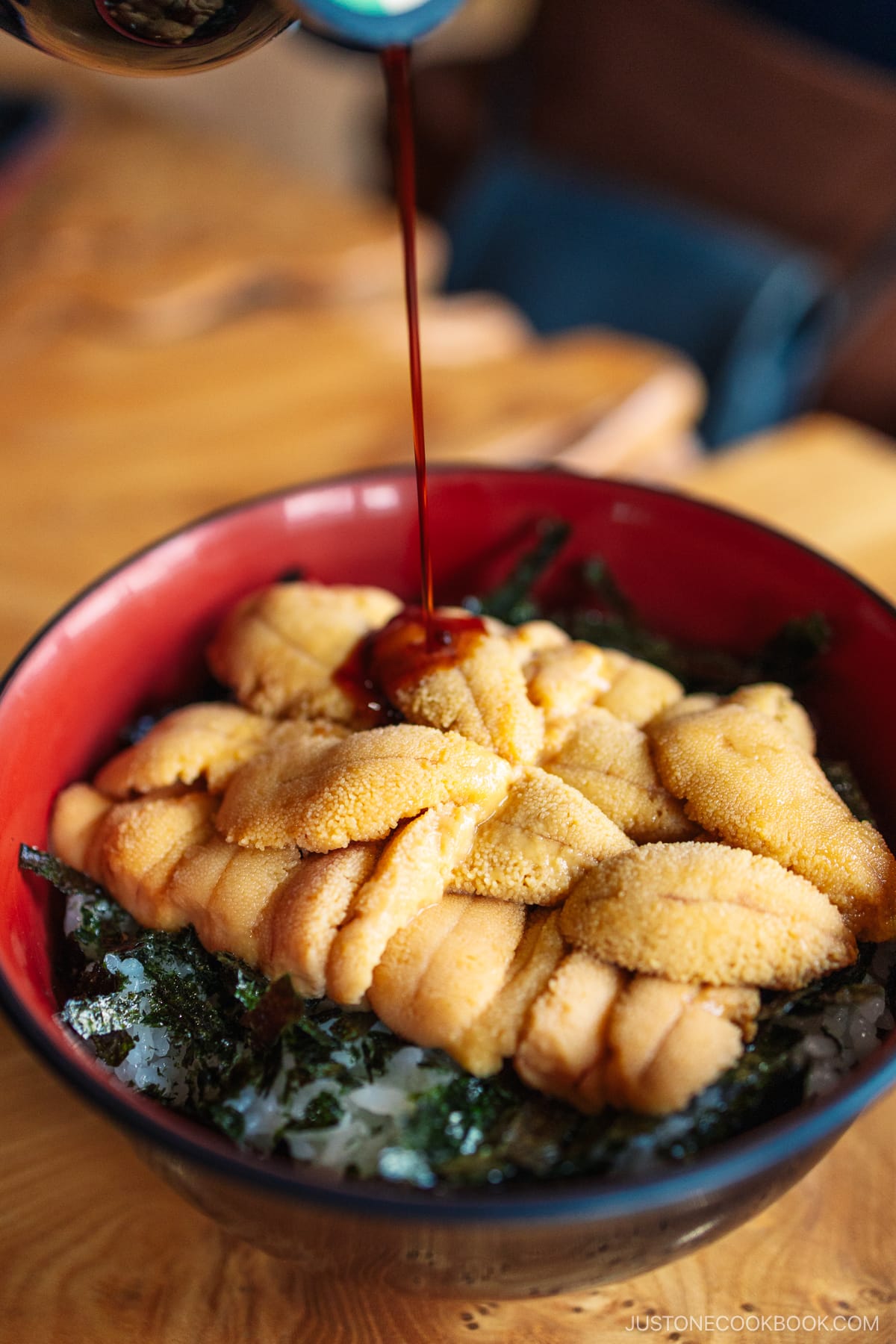 Kaisendon
My partner also enjoyed a kaisendon (海鮮丼), a fresh seafood bowl, topped with today's special crab! The dishes also came with some miso soup, which had a deep seafood undertone thanks to the incredible dashi they make using all the bones and shells of the seafood. You can find kaisendon throughout the year with different seasonal fish served throughout the year.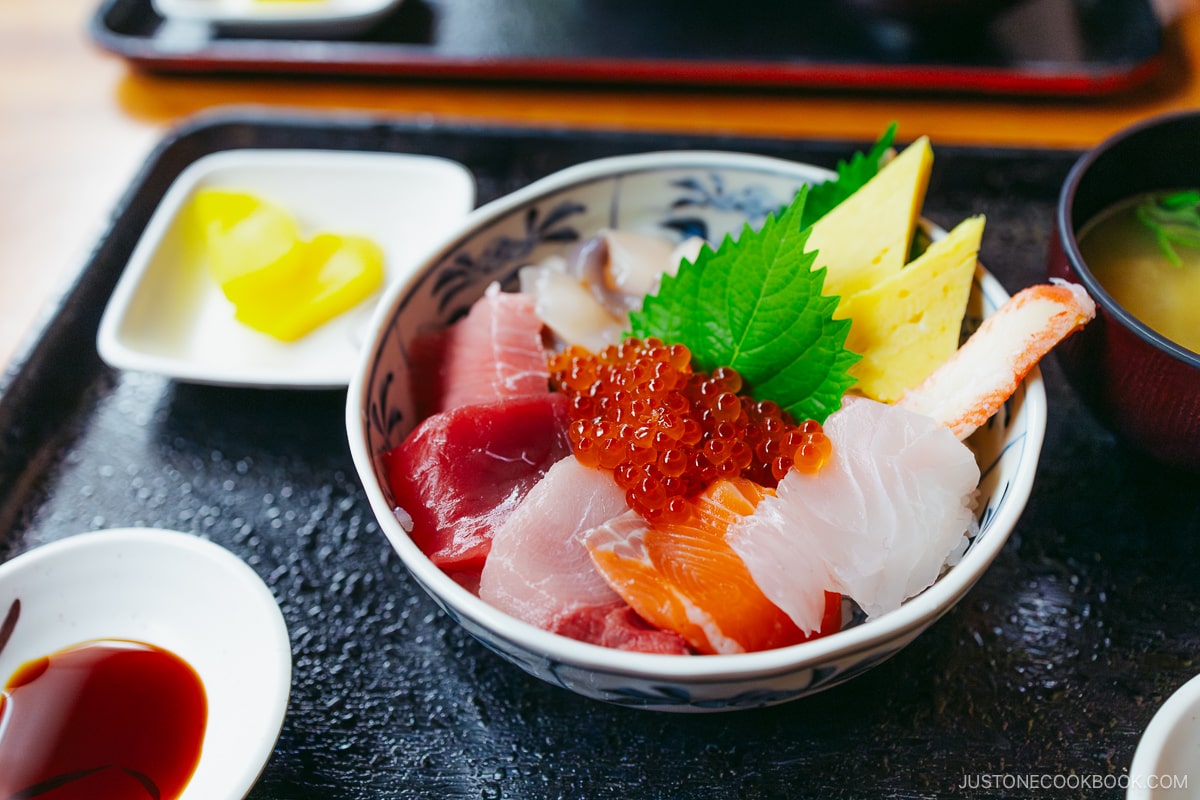 Finally, we couldn't resist one of our favorite sashimi dishes, scallops. Raw scallops may seem a little strange, but their succulent sweetness is unmatched.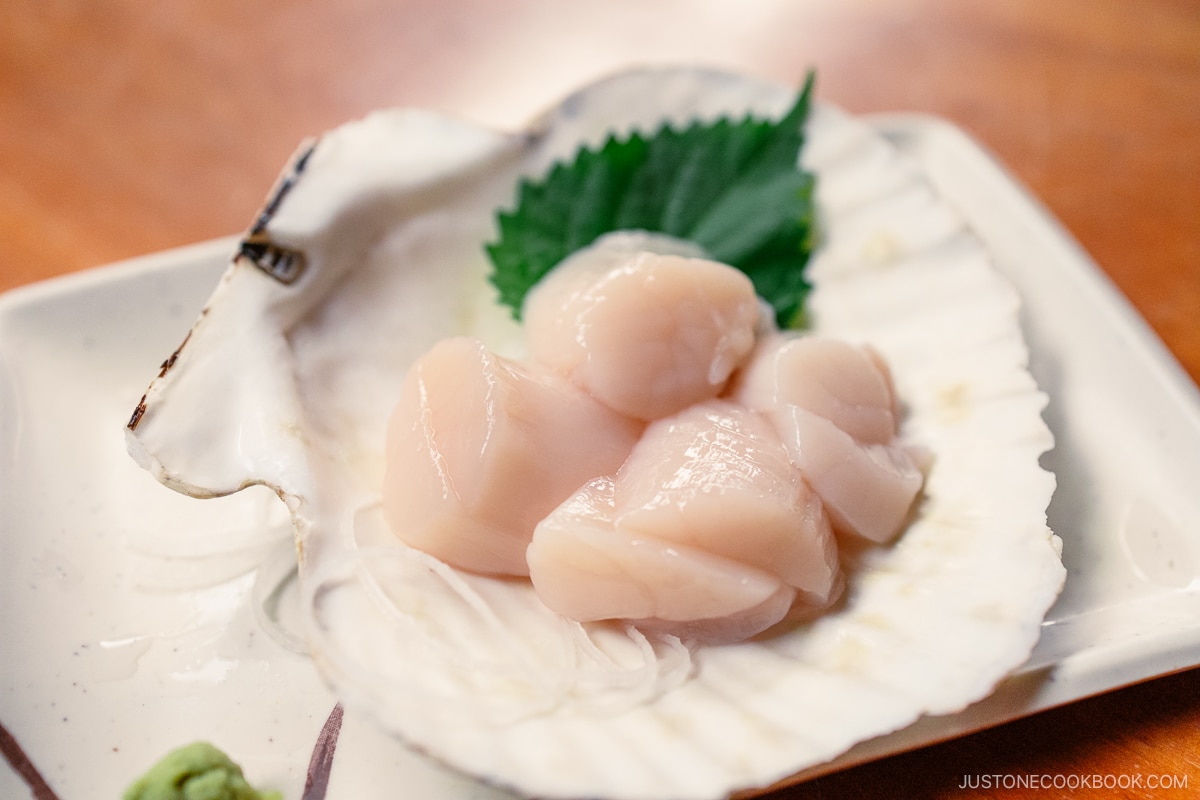 After finishing our meal, it was around 11:30, and there were even more people lining up, all the way outside the building!
On the ground floor is the fish market, where you can find some of the freshest and most delicious seafood, ranging from oysters and crab to dried hokke (Okhotsk Atka mackerel) and salmon roe.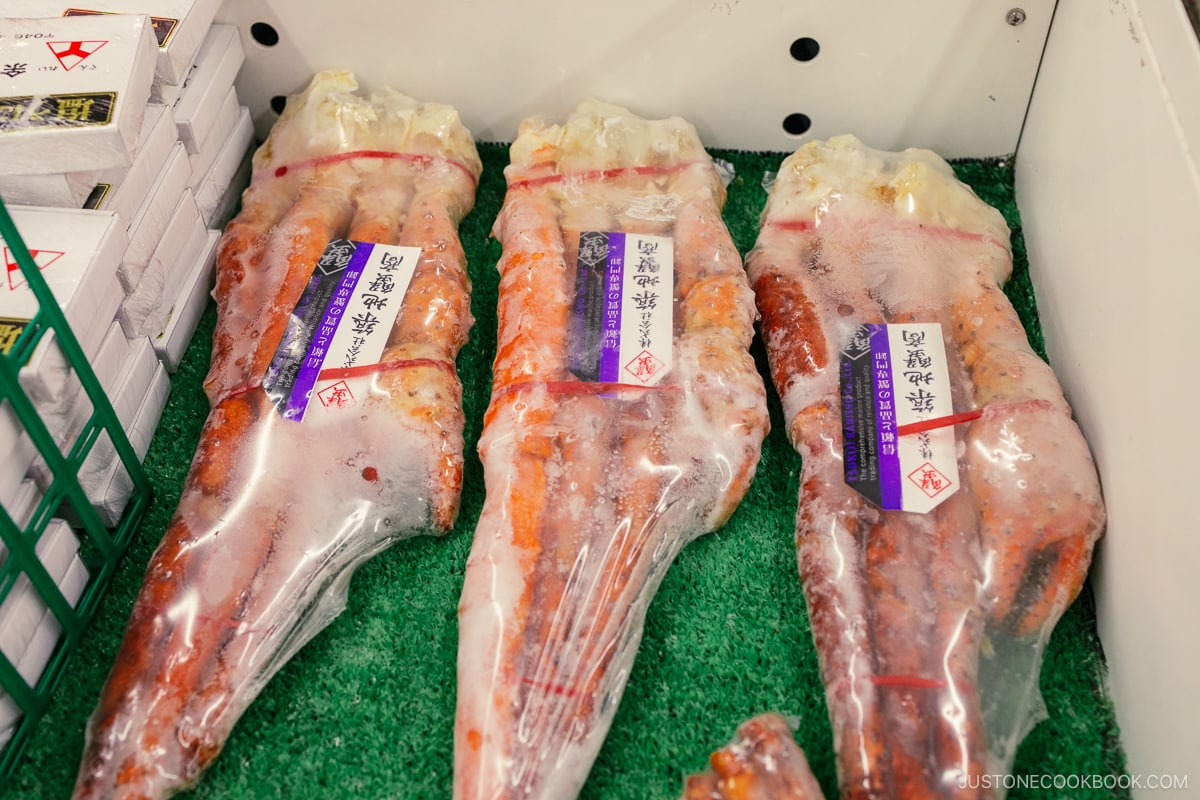 You can also get some fresh fruits and vegetables, locally made drinks and souvenirs.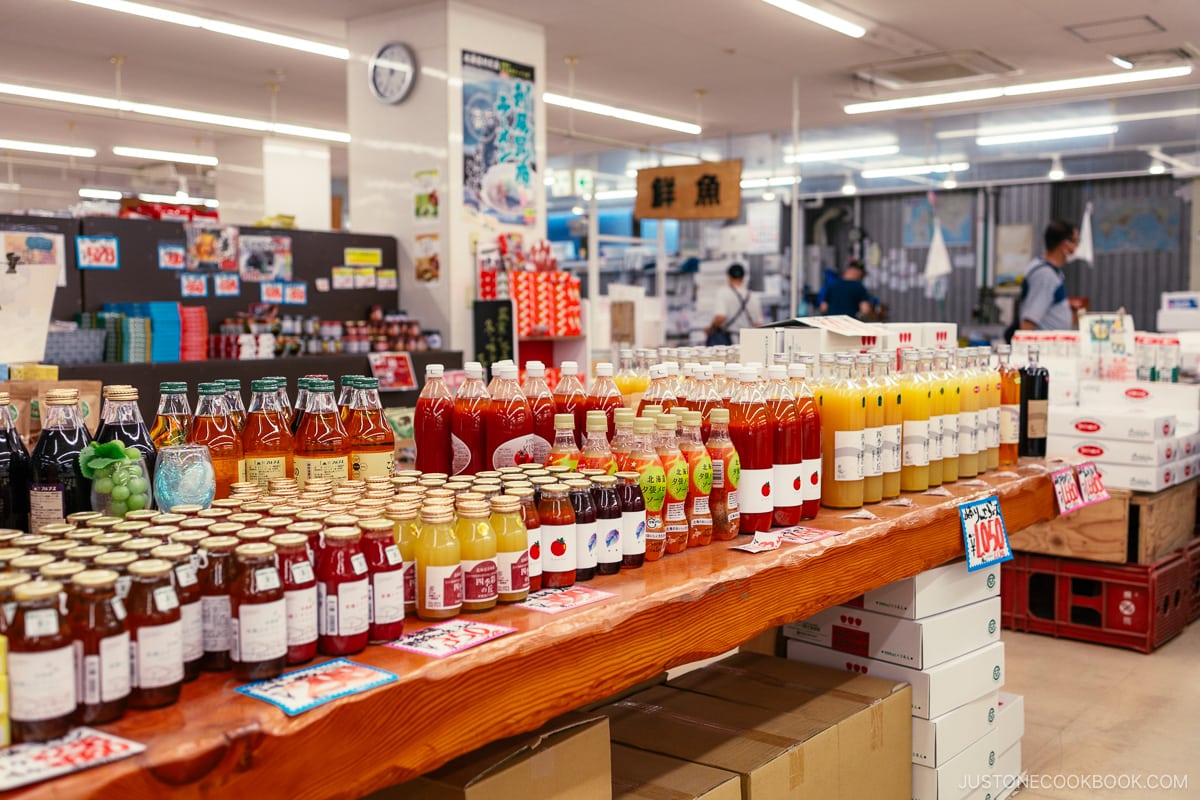 Bakery
After spending far too long eating and roaming the market, the next stop was Shakotan. We had had enough seafood for the day, so we picked up something for the road in case we got hungry. Close by is a small bakery called Backerei Yoichi, one of the more popular bakeries in Yoichi, with a small line forming just outside the shop when we arrived.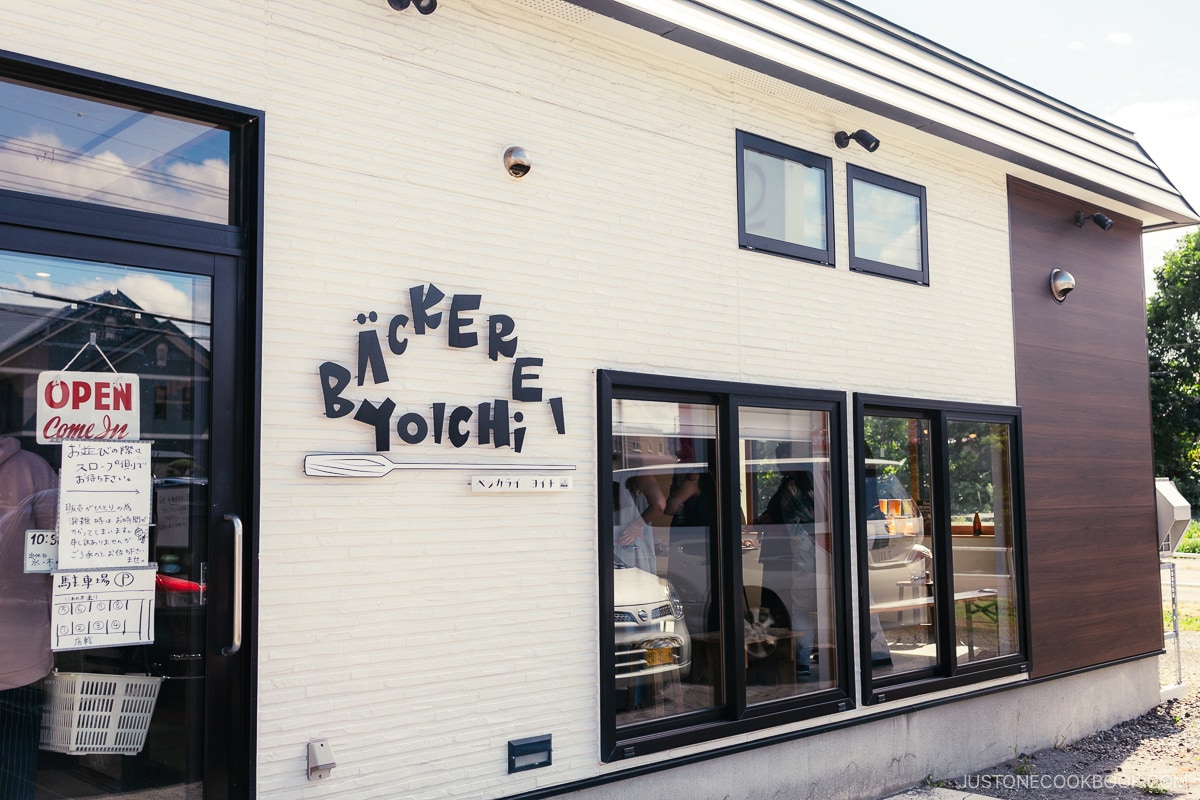 We had to wait a while, but it gave me a chance to admire all the bread. It was so busy that they were still baking fresh pieces of bread and pastries as they were selling, constantly restocking the counter.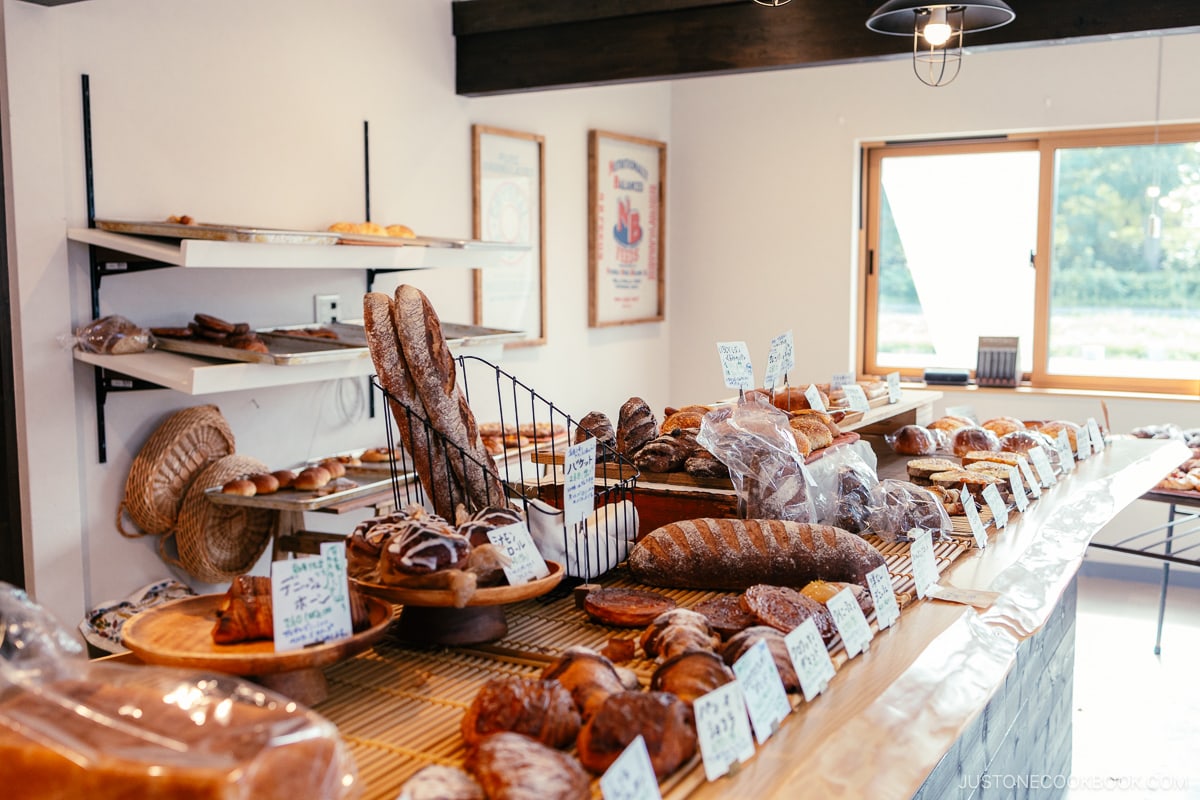 I picked up some croissants, a cinnamon roll, and this wine-pork hot dog!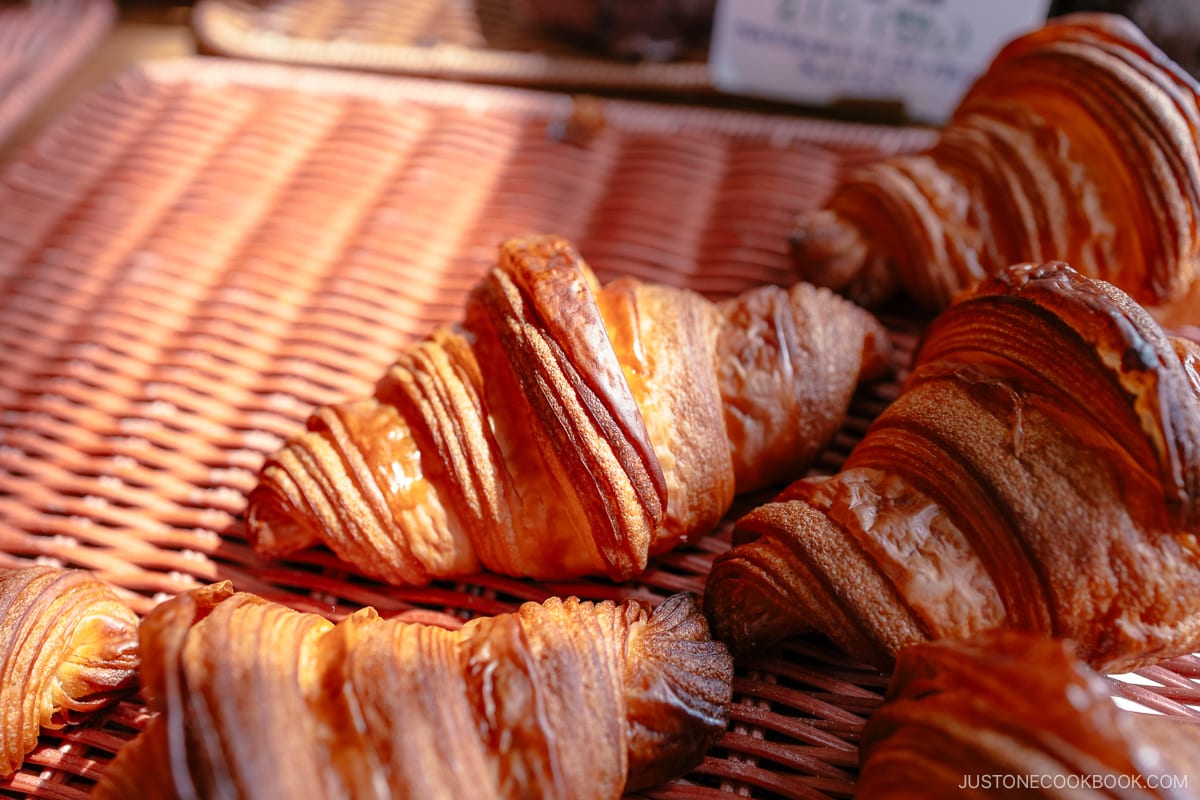 Shakotan Peninsula: Cape Kamui and Shakotan Blue
Now, it's on to Shakotan, which is just 20 minutes away from Yoichi by car. The area is known for "Shakotan Blue," a reference to the stunning clear blue oceans around the coastline.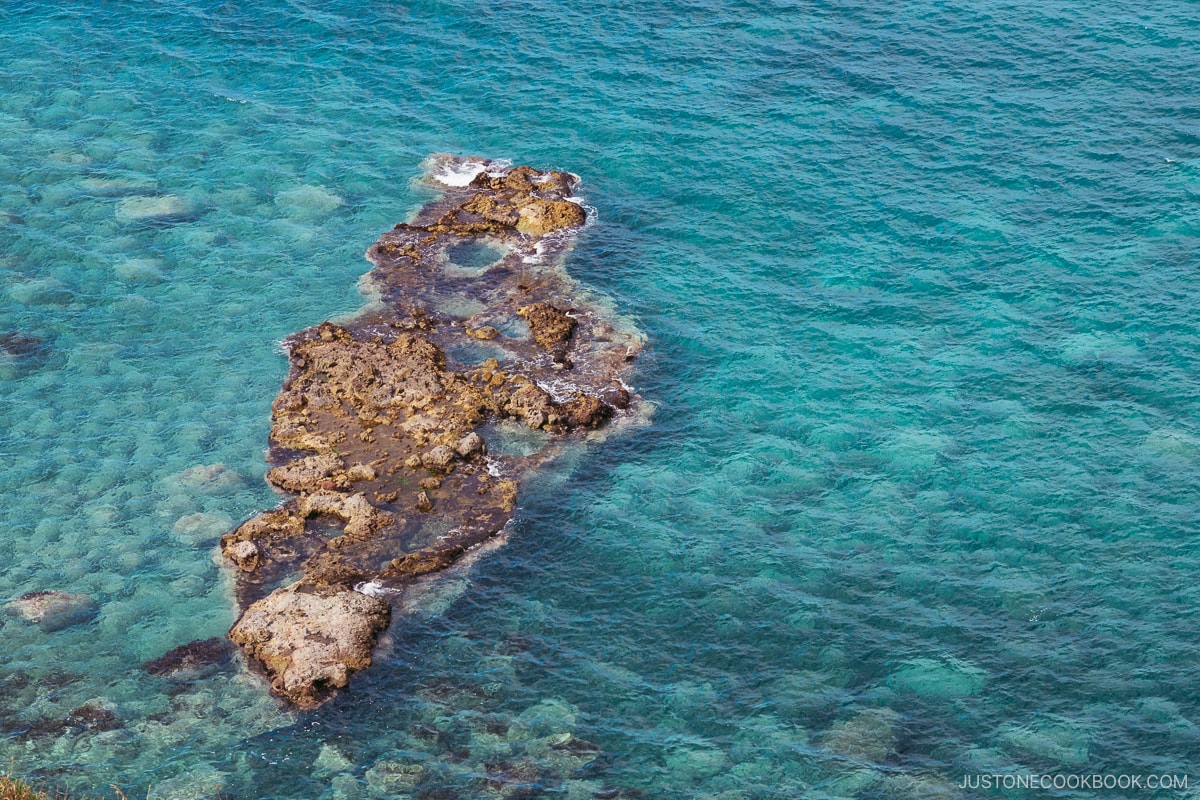 From Sapporo, there is only one bus available at 9:35 a.m. from Sapporo Station. It takes roughly 2 hours and 20 minutes and costs 2,420 yen to go to Cape Kamui. You can find more information on the bus details here (only available in Japanese). You can also make a reservation for the Scenic Cape Shakotan Tour by Chuo Bus here.
If you enjoy hiking, you can climb up Mt. Shakotan, which stands roughly at 1,255m. From the top, you can enjoy panoramic views over the Sea of Japan, Mt. Yotei in Niseko, and the Rumoi Ranges.
The Shakotan Peninsula is a part of the Niseko-Shakotan-Otaru Kaigan Quasi-national Park. It's the only ocean area in Japan that is designated as a part of a national park. If you love the water, you can even snorkel and sea kayak in the ocean waters.
History of Shakotan
Before we dive into the details, here's a quick history lesson on Shakotan. The area was first settled by Japanese immigrants in the Edo Period (1603 -1868). When the fortunes of samurai families started to decline, warriors gave up samurai life and moved to coastal regions to farm and develop the booming herring industry. Shakotan started to prosper, but unfortunately, due to overfishing through 1917, the population rapidly decreased. The modern-day Shakotan town was established in 1956 by a merger of the town of Bikuni and the villages of Irika and Yobetsu.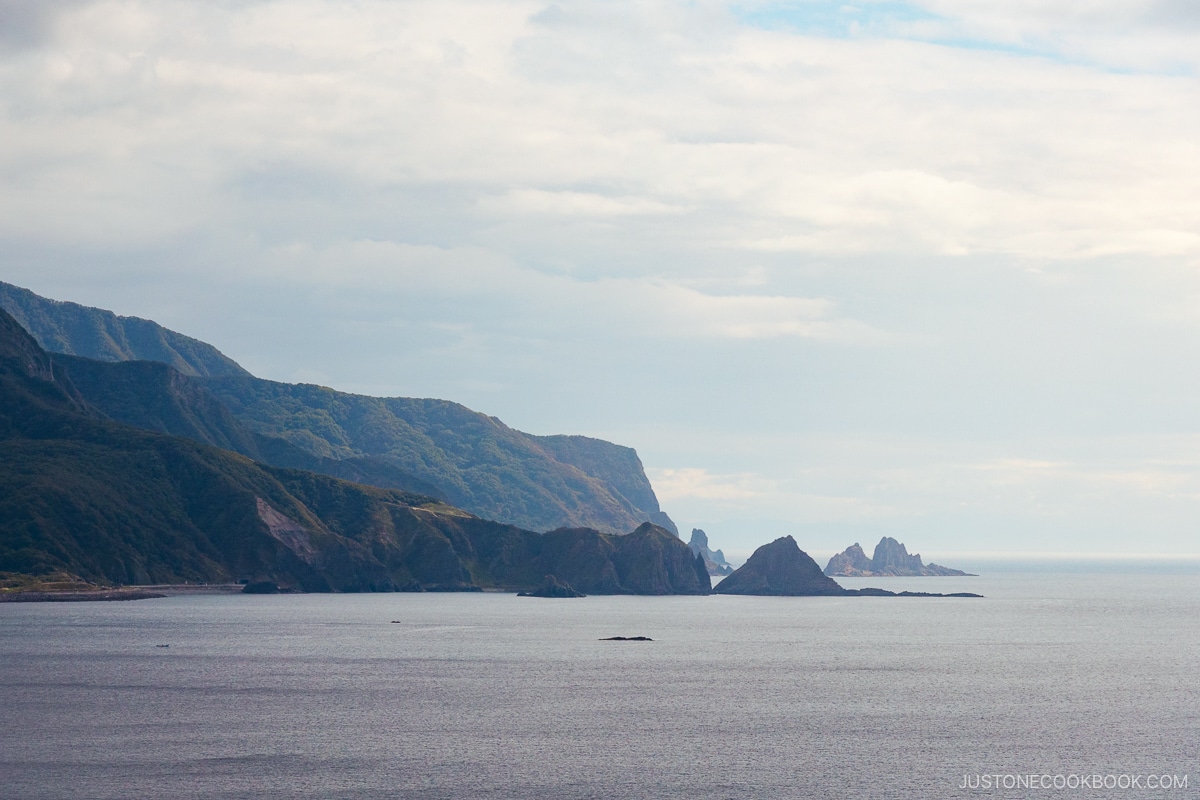 Ebisu Iwa & Daikoku Iwa
One of the spots you might not be able to find without a car is Ebisu Iwa & Daikoku Iwa. At first glance, there are just two rocks in the sea. However, as you descend the narrow, unassuming road, you are greeted by something special.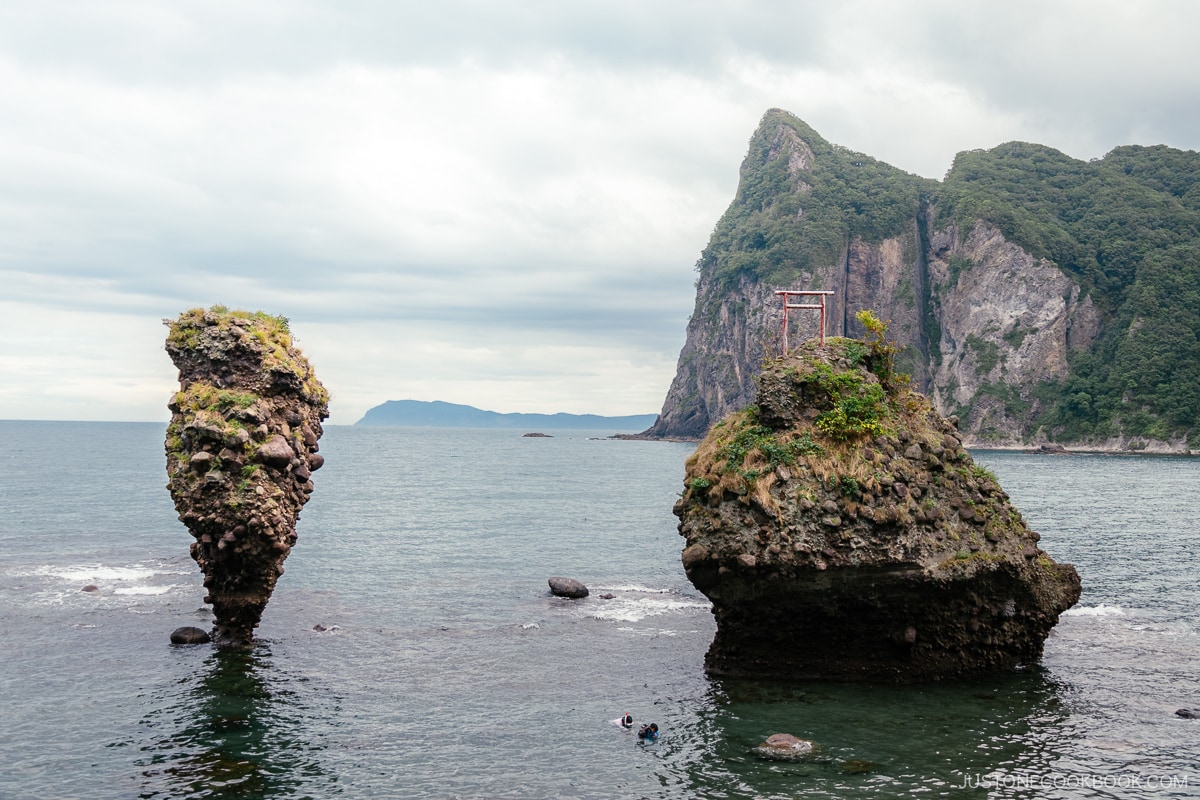 These two rocks are physical embodiments – Ebisu Iwa (恵比寿岩) and Daikoku Iwa (大黒岩). The left one is Ebisu, the god of fishermen, who is said to be chubby and is holding a fishing rod in one hand and a red sea bass in the other. To the right is the god of wealth, who is depicted holding a golden mallet. At the top of Daikoku Iwa, you can also find a torii gate!
I recommend going down to the beach to get a close view of them. There was a large group doing SUP and snorkeling, so I didn't get too close to avoid disturbing them.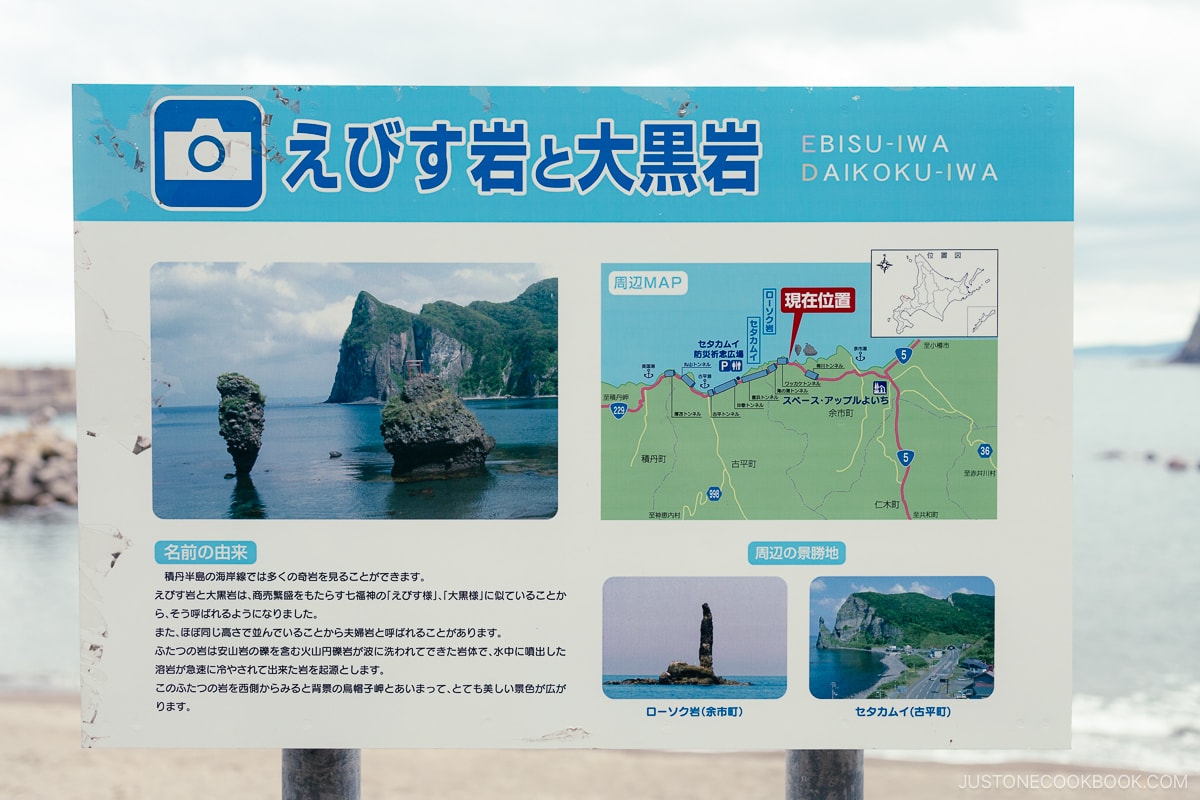 On the drive, we passed through winding roads, Bikuni Fishing Port, Cape Ogon, and Shimamui Coast. I highly recommend visiting Shimamui Coast if you have the time. I have been there in the past, and you can enjoy the clear blue waters up close! Unfortunately, the clouds were rolling in, so I skipped it this time to make it in time for Cape Kamui.
Cape Kamui
Now, on to the main attraction, Shakotan, Cape Kamui (神威岬), also called Kamui Misaki. The cliffs protrude from the west coastline of Hokkaido, offering unparalleled panoramic views over the Sea of Japan.
Along Cape Kamui is Charenka's Path, a 770-meter trail that leads you to the tip of the cape, taking around 20 minutes one way. While it sounds like a short distance, you have to traverse several slopes and steps, making it quite challenging, especially in the hotter summer months. Be prepared and bring enough water and a towel!
Before starting the walk, there is a small map showing all the landmarks around Cape Kamui.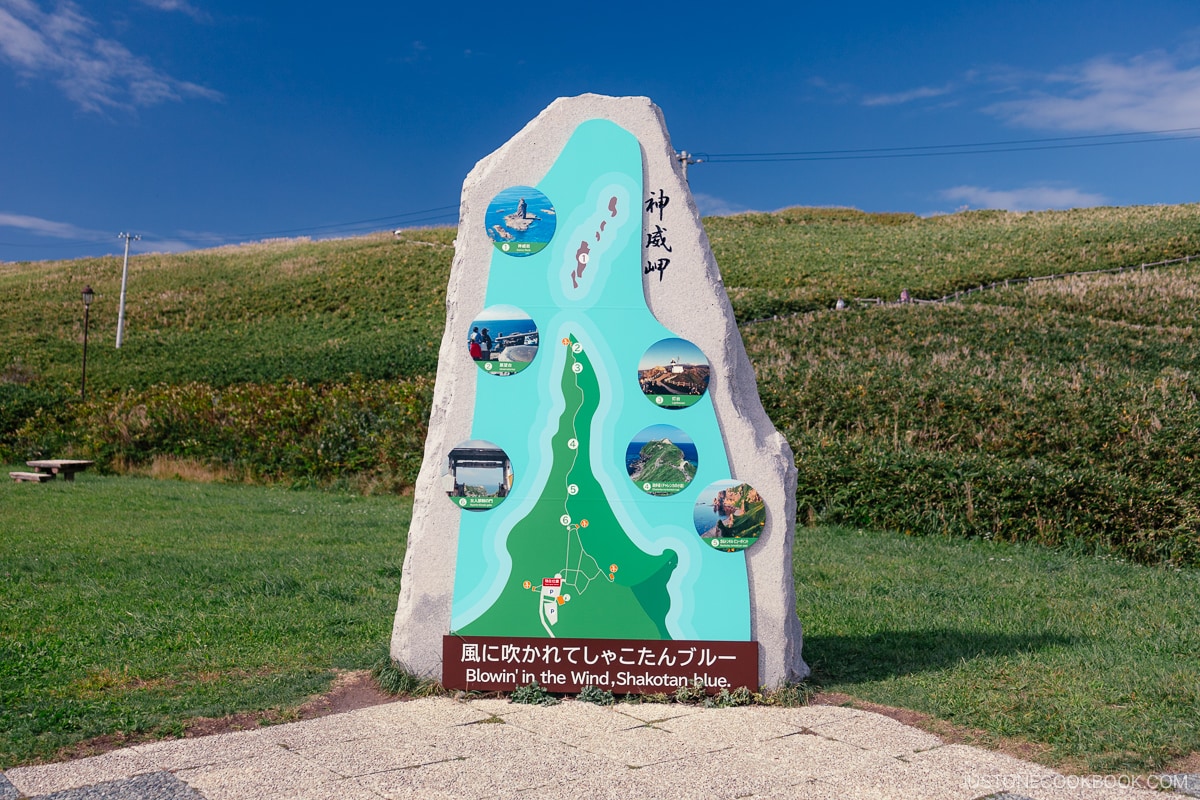 The start of Charenka's path is marked by this wooden torii-esque gate. Before you enter, you might see a sign saying no women allowed. This is based on the folklore of a lost lover.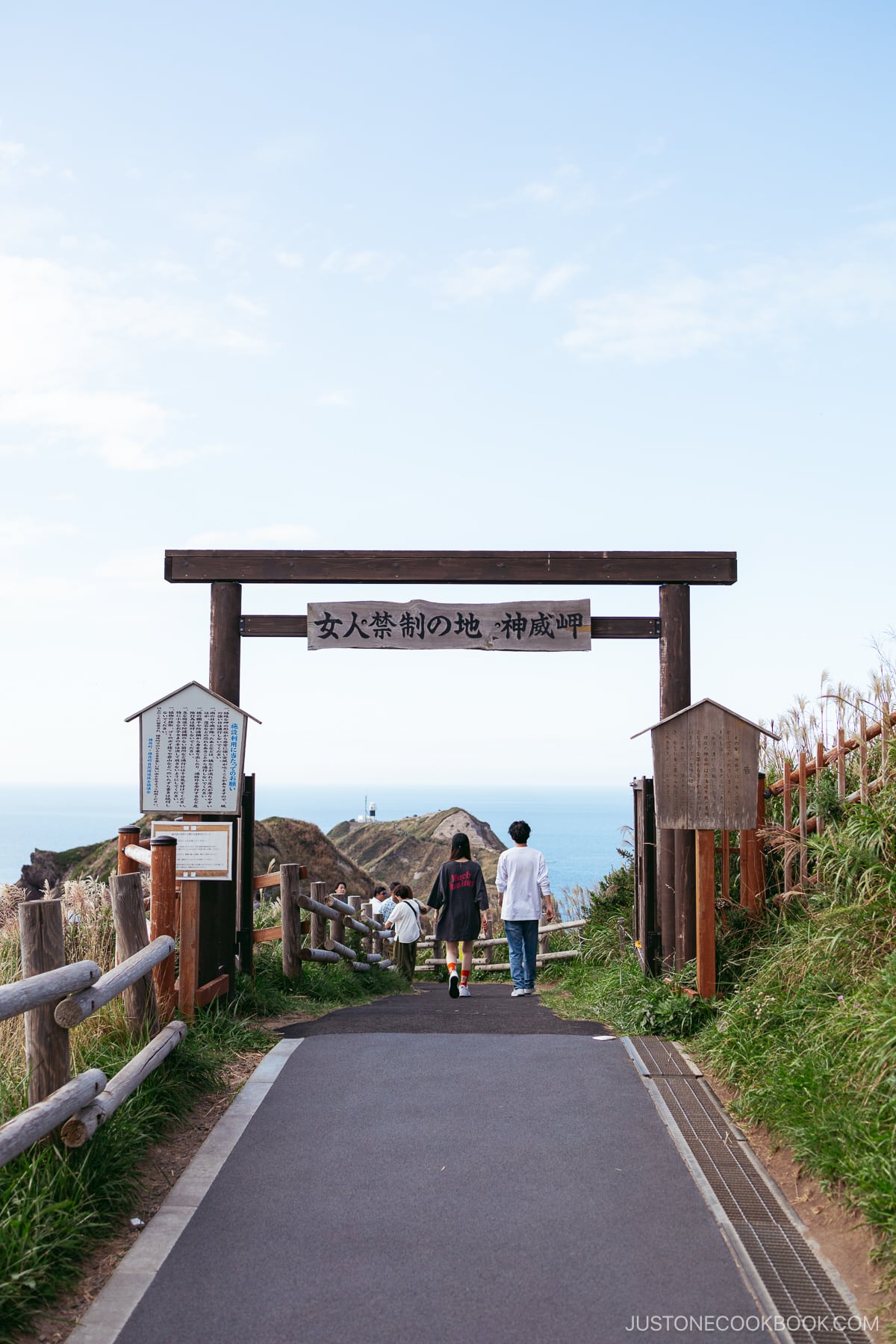 Charenka's Path Folklore
A man named Minamoto Yoshitsune fled from Oshu to Hokkaido. His lover, Charenka (the Ainu chief's daughter), who had been in love with Minamoto, was so lost and desperately chasing him that she threw herself from the sea. At the end of the cape is Kamui Rock, known as Kamuiwa, which is said to be the physical embodiment of Charenka's remorse and sadness. Years later, with Charenka's presence still lingering, a passing ship carrying a woman was overturned and sadly passed. It led to a ban on women for their safety during the Edo period.
Despite the sad folktale, thousands of visitors hike Cape Kamui, enjoying the beautiful scenery.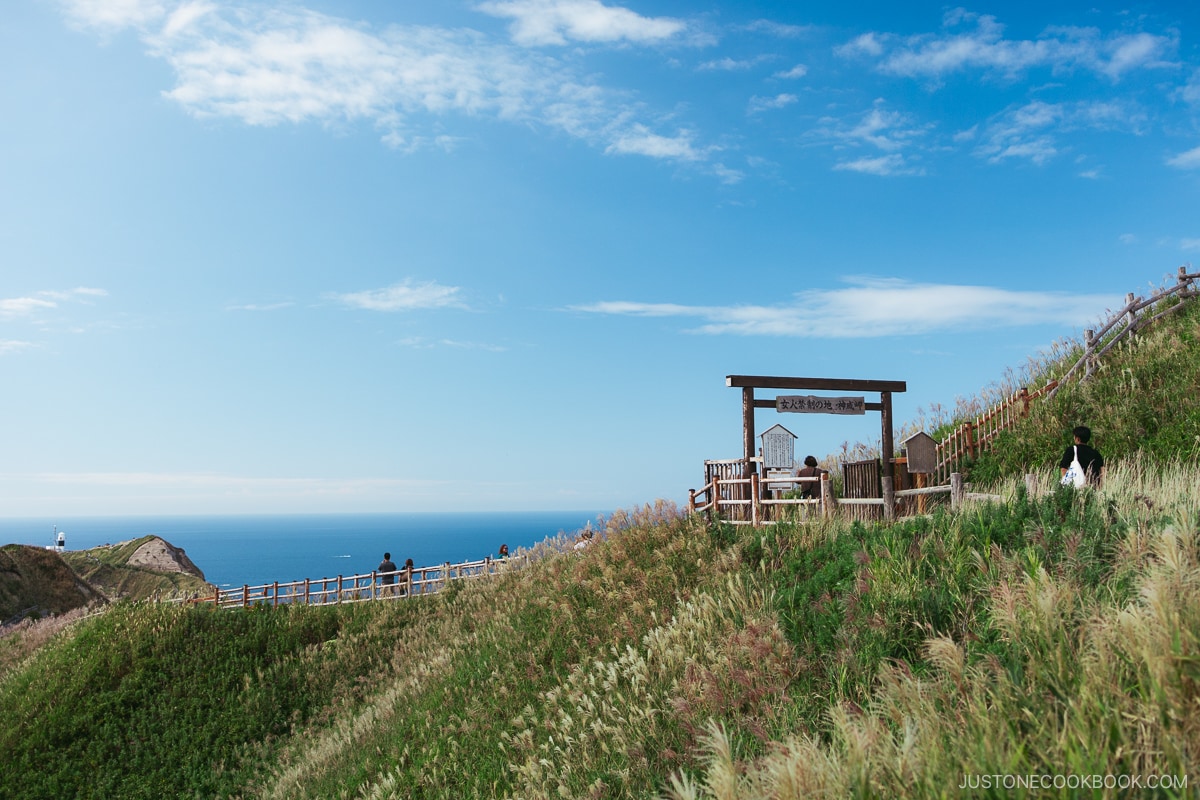 Even though it wasn't the sunniest of days, I saw the Shakotan Blue. I am still amazed every time I get to see it in person!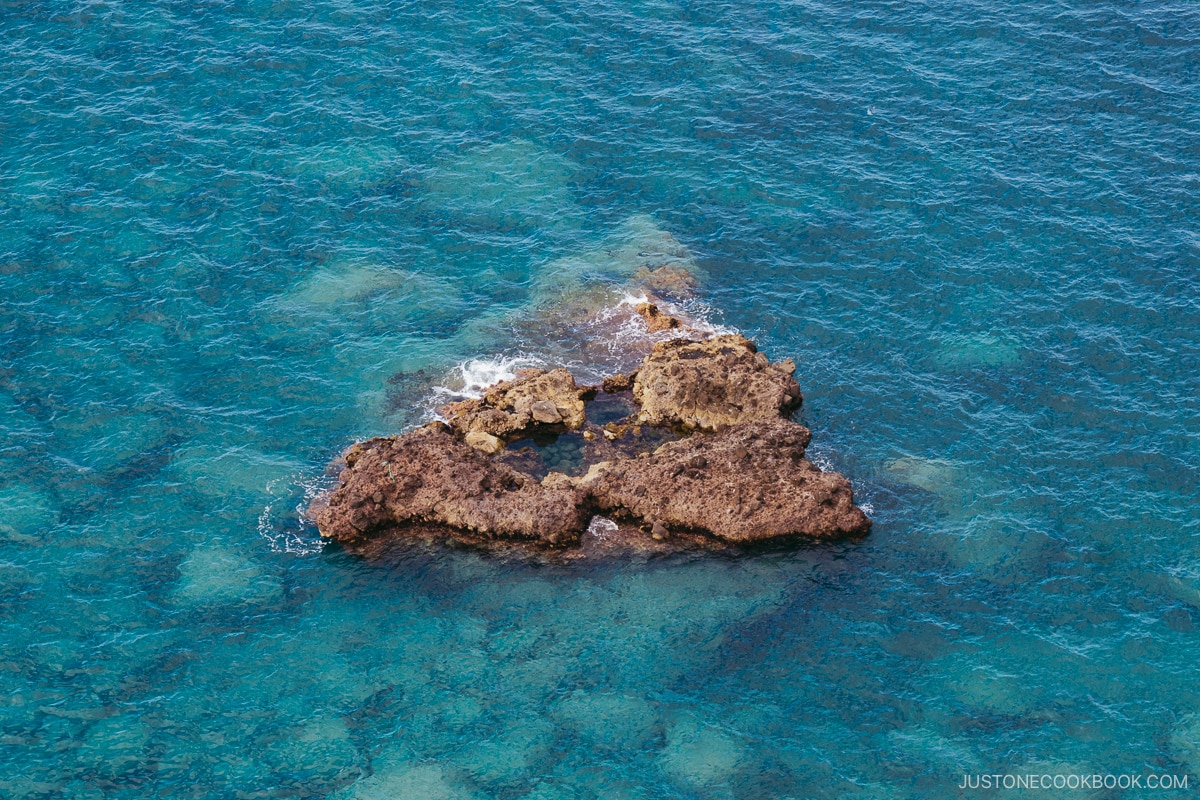 You can also see the cliffs of western Hokkaido!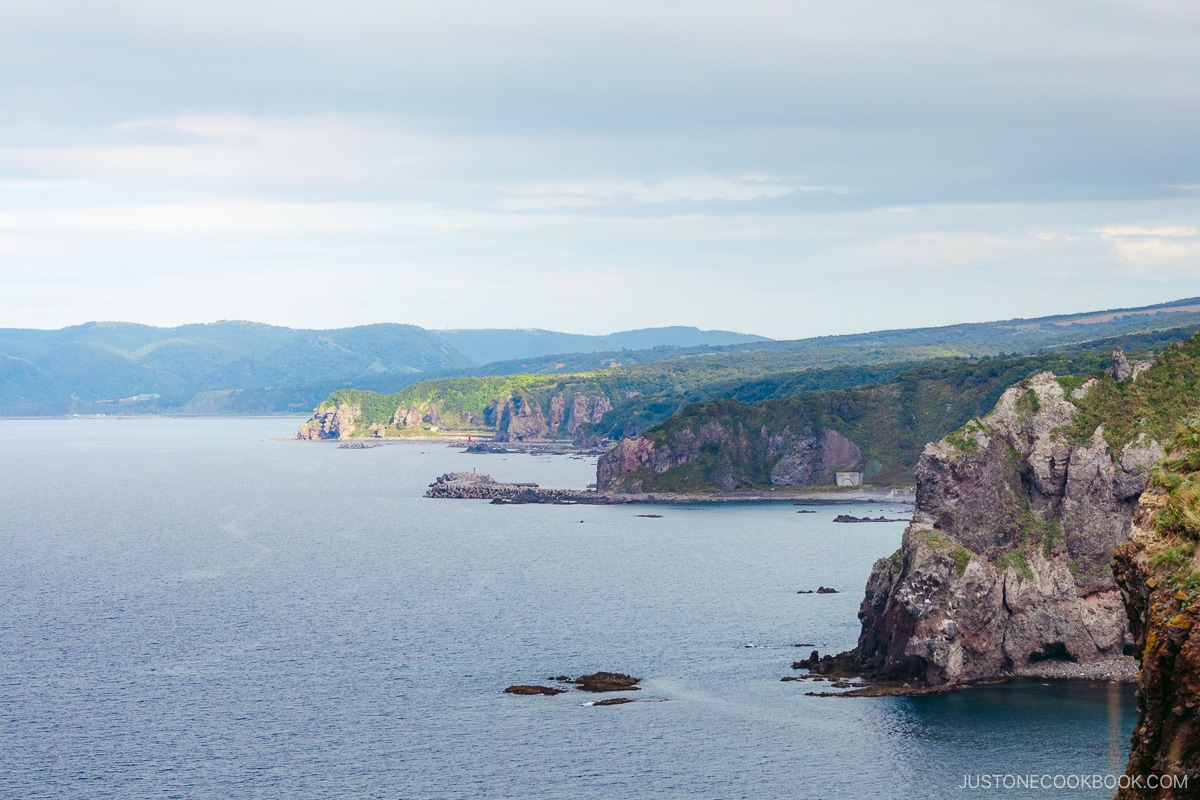 At the tip of the cape, you are greeted with a lighthouse and a view of Kamui Rock.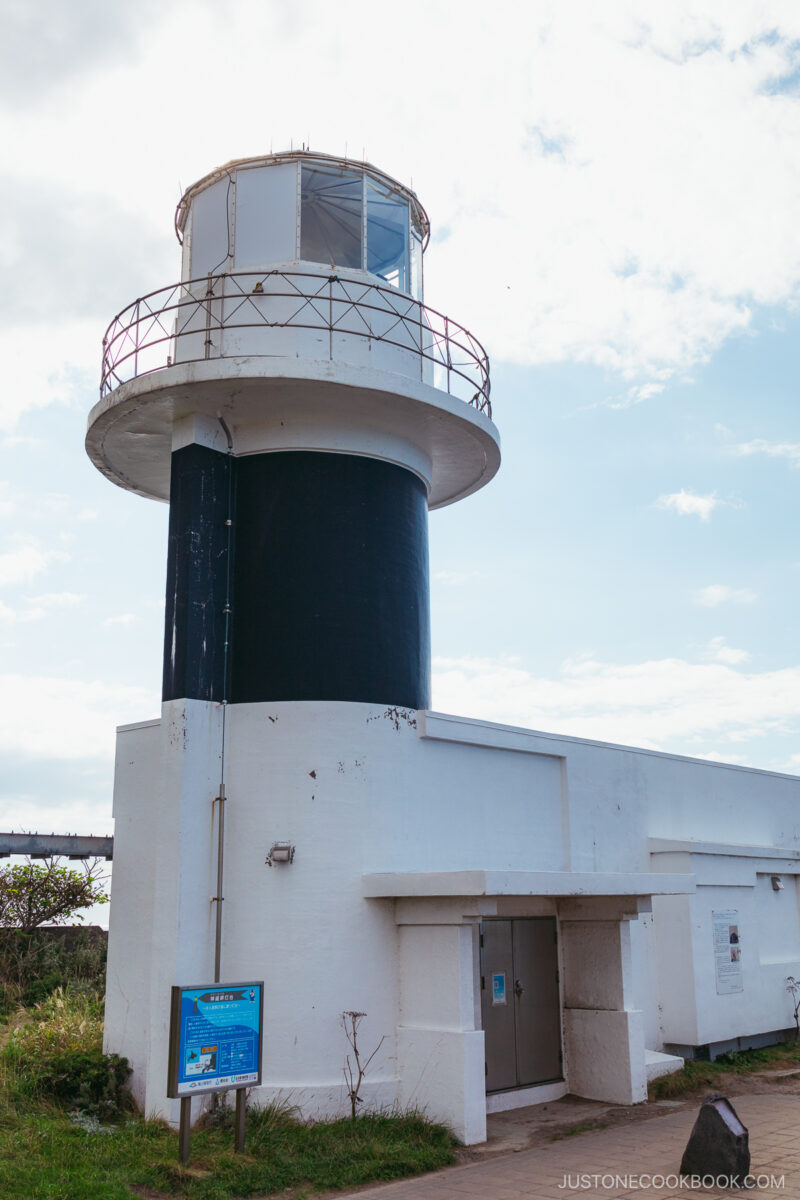 I took a minute and looked out, mesmerized by the waves and how the sea stretched off into the distance. It gave me a chance to appreciate Hokkaido's beautiful scenery as well as to catch my breath and cool off!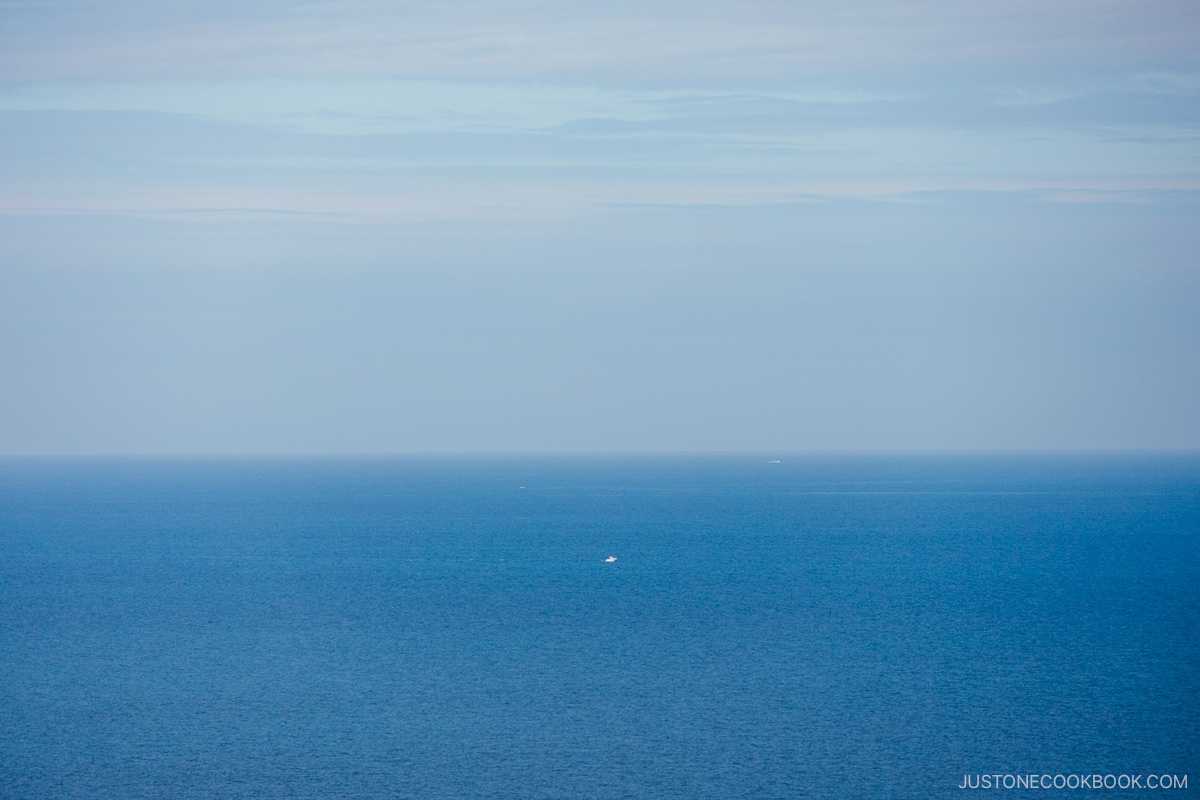 Cape Kamui is open all year round but Charenka's Path is only accessible from spring to fall. For the best scenery, I recommend visiting during the peak summer season in July. Although it is quite hot, the summer sun mixed with the lush greenery and stunning Shakotan Blue make for some of the most picturesque scenes in Hokkaido.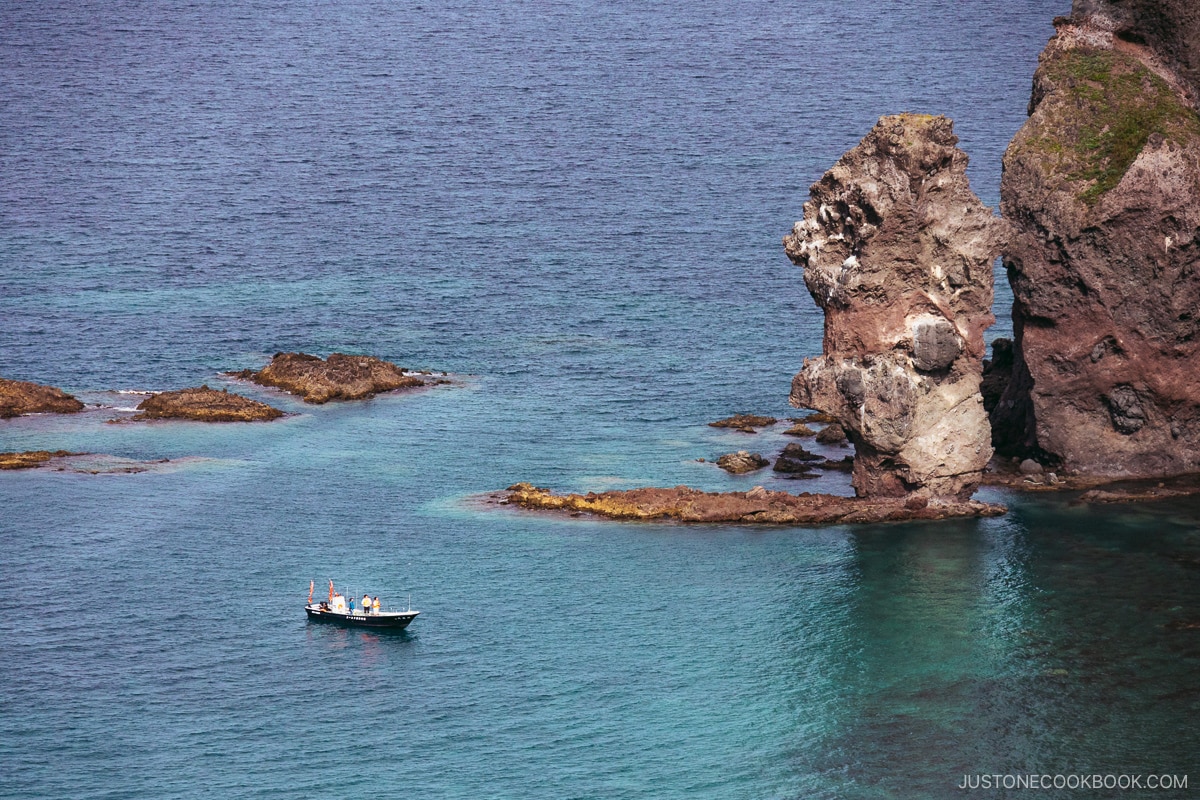 Otaru Soft Cream
After a long day of eating and exploring, there was only one way to end it – with soft cream. Aside from seafood, Hokkaido is well-known for its dairy. The wide-open grazing plains, cool climate, and fresh air make for ideal conditions for rearing cows. The northern prefecture now contributes more than half of all of Japan's milk production. Soft cream can be found everywhere and is enjoyed no matter the time of year.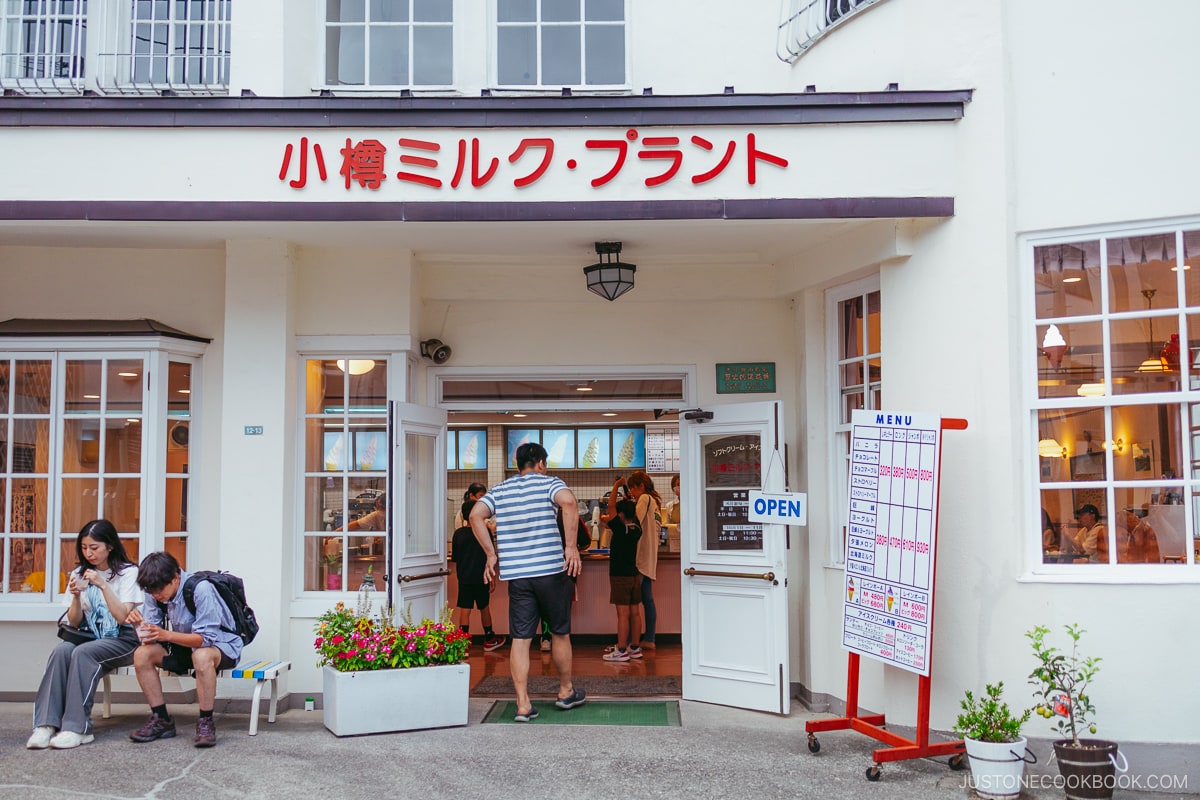 However, it seemed fitting to end our summer in style, with our favorite soft cream at Otaru Milk Plant. The building was originally an office for the production and sales of the milk plant that used to sit behind it in 1936. Now, it serves deliciously creamy soft serve that has customers lining up all day long.
There are so many different flavors, from classic vanilla to Yubari melon, as well as various sizes to choose from. Our favorite is Hokkaido milk. It's as close to the perfect soft cream as you can get, in my opinion. There's nothing too fancy about it, just high-quality Hokkaido milk that is irresistibly rich and creamy, with just the perfect amount of sweetness. I never get tired of eating soft cream.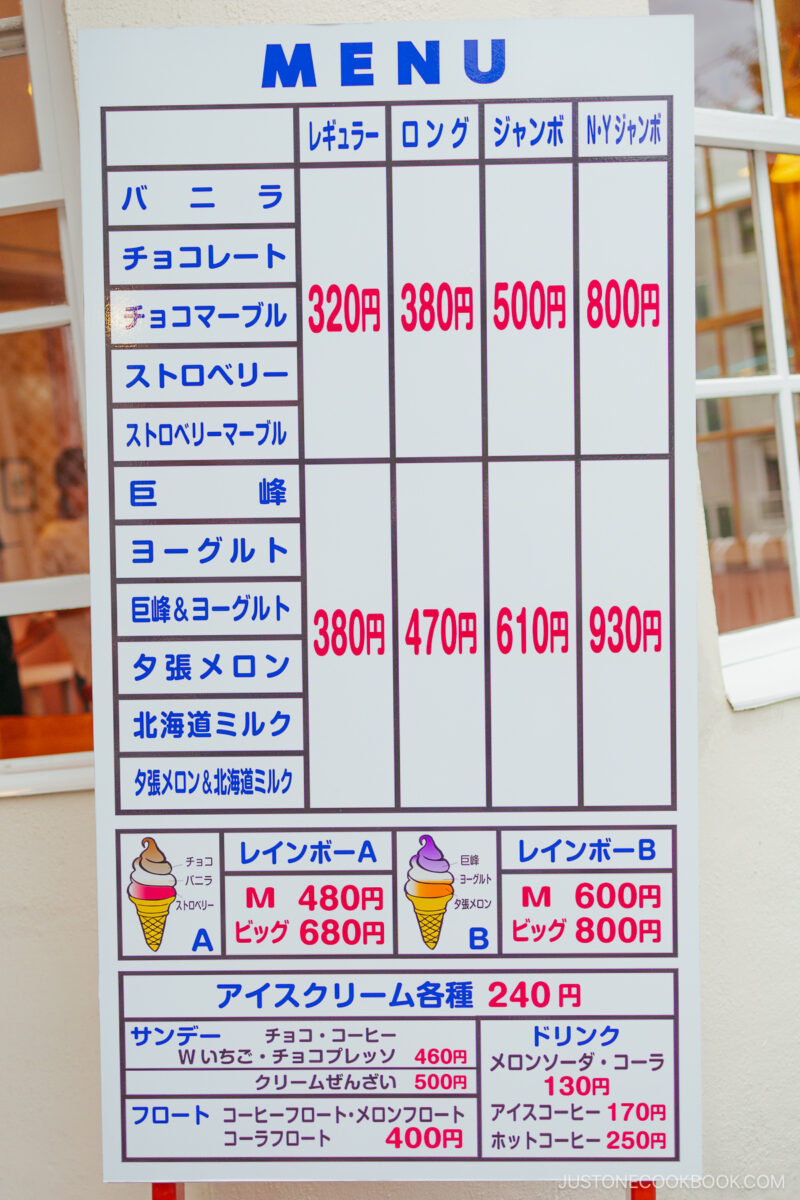 So that was my trip to Shakotan while enjoying various sweets and treats along the way. How did you enjoy my first post? I had just as much fun writing about it as I did eating! It was also the perfect send-off to Hokkaido's summer. Keep tuned for my next post, which will be about Yoichi's famous whisky distillery and wine!