There are many activities to do at Tokyo Skytree Town, you can go to the top of world's tallest tower, try one of many delicious restaurants, or check out the cool and unique Japanese products in the shops.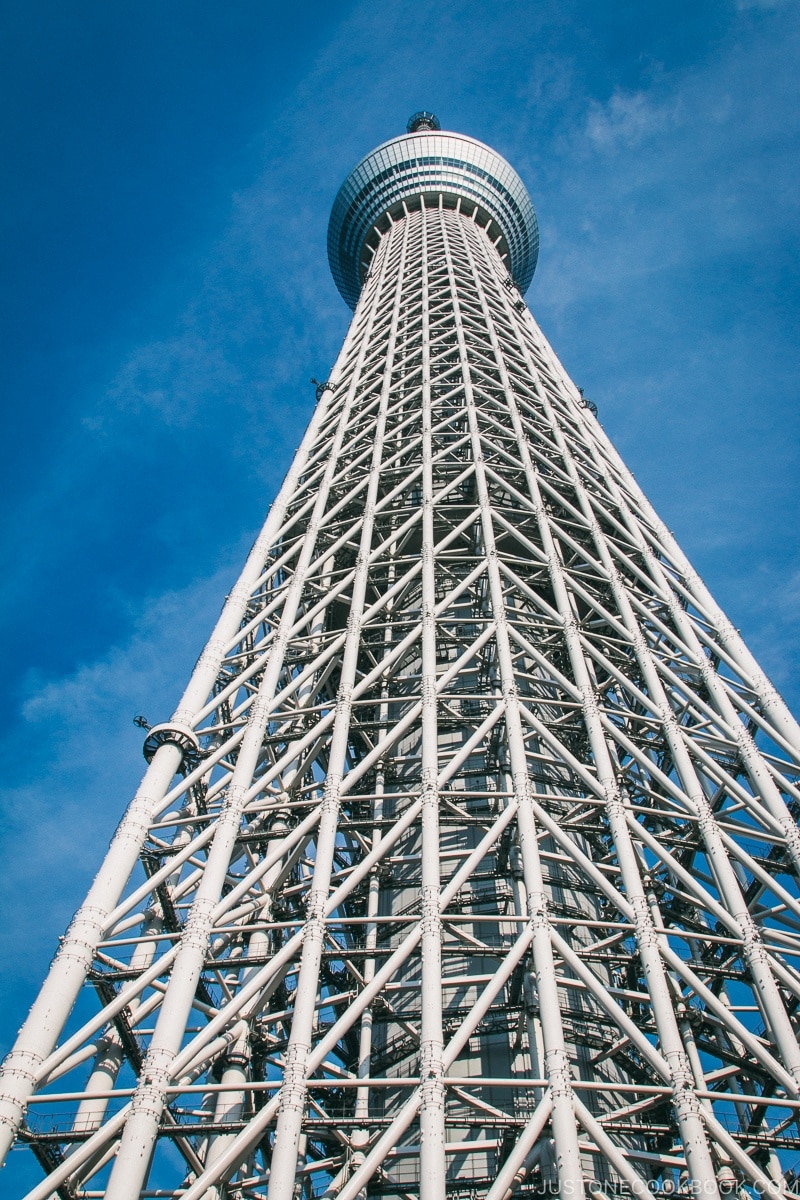 As we continue our Tokyo Travel series, we'll revisit Tokyo Skytree, where we first visited as a family in 2014. Our children were still young then so after waiting for 1.5 hours to go to the top of Tokyo Skytree and spending some time enjoying the views of Tokyo, we were ready to call it a day.
This time around as our children are older, we could actually browse through the restaurant floor and unique shops they had at Tokyo Skytree Town. Ready to tour Tokyo Skytree? Let's go! I'll cover Tokyo Skytree first and then Tokyo Skytree Town.
Tokyo Skytree 東京スカイツリー
Tokyo Skytree is very close to Asakusa (1 station away), if you are planning a day trip to Asakusa and surrounding areas, take a few hours from your trip to enjoy Tokyo Skytree Town.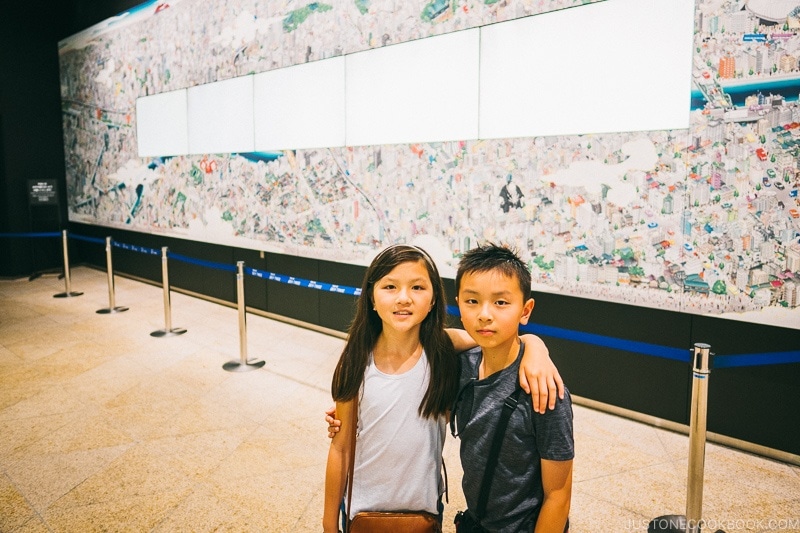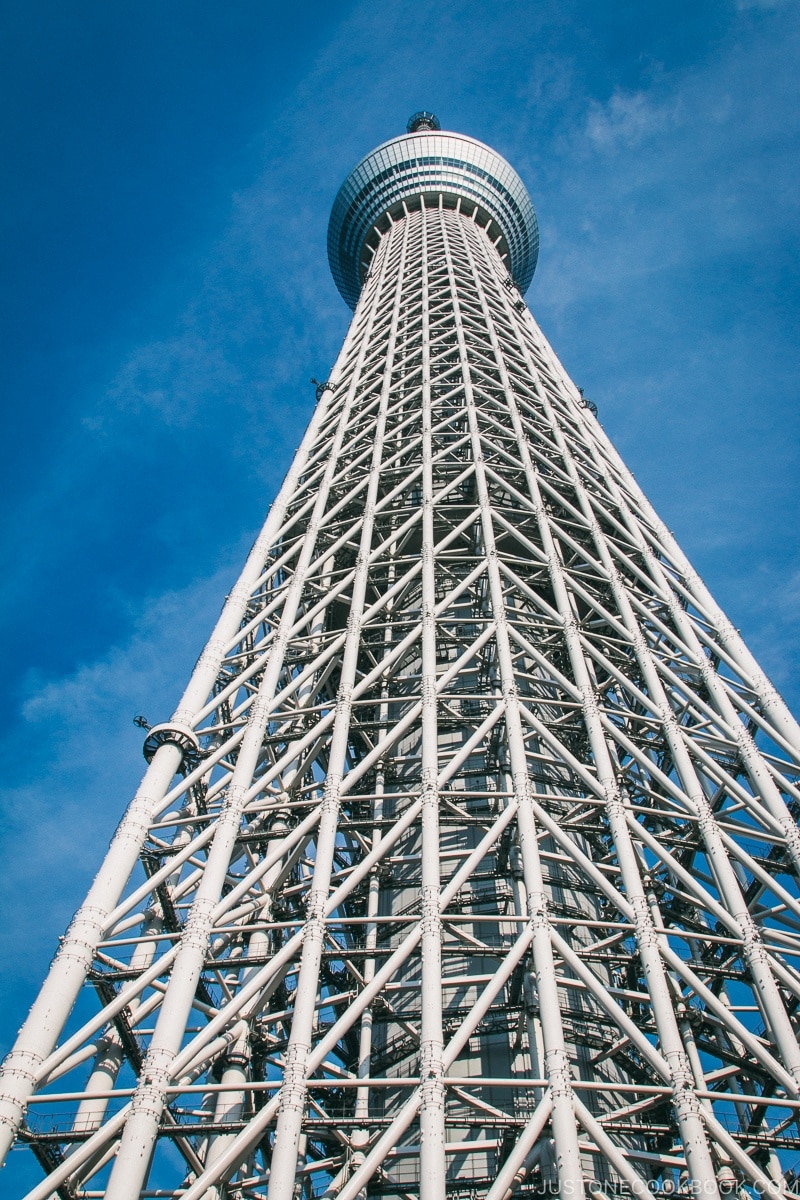 Tokyo Skytree was built as a television and radio broadcast tower, taking over responsibility from the older Tokyo Tower which is now surrounded by skyscrapers and not as effective as delivering the signals.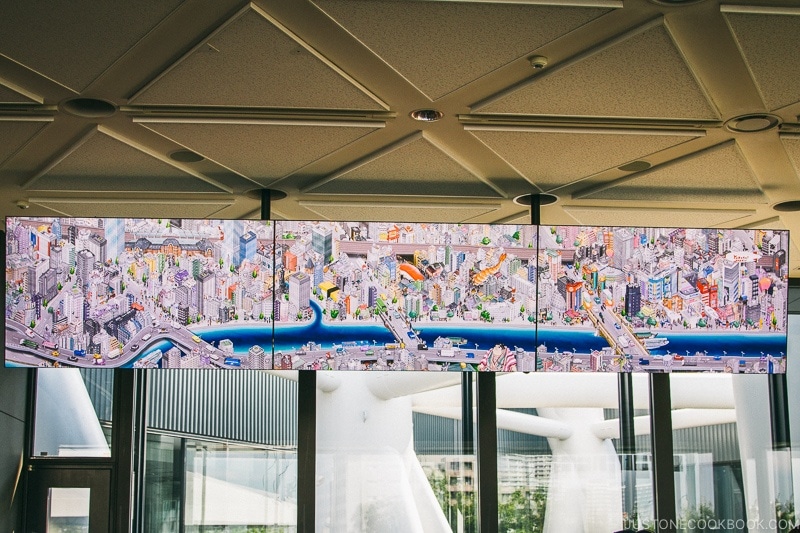 The tower was completed in 2012 and is currently the world's second tallest building and tallest tower (as of 2018). There are 2 observatory decks you can visit, and you will need to purchase an additional ticket to visit the higher observatory deck (Tembo Galleria) at 450 m (1,480 ft). The elevation of the lower deck is 350 m (1,150 ft).
We visited on a warm Saturday afternoon around 2 pm. The tower itself is in a plaza called Skytree Town, which also include an aquarium, dome theater, offices, gift shops, and restaurants in addition to the broadcast tower.
When we found the line for the observatory, the sign at the end of the line said 90 min wait. It almost made us give up but since we were there already we decided to grind through it and wait it out, just in case the sign was wrong. When we got in line to wait, it actually extended to the outside of the building.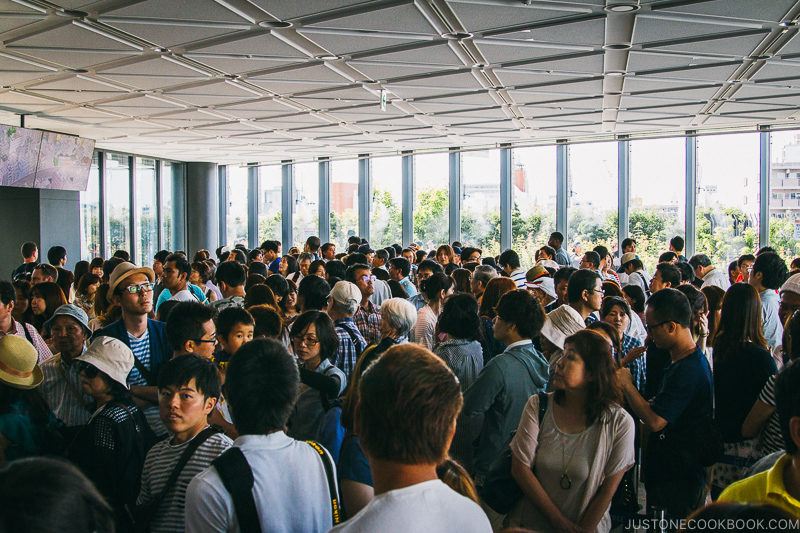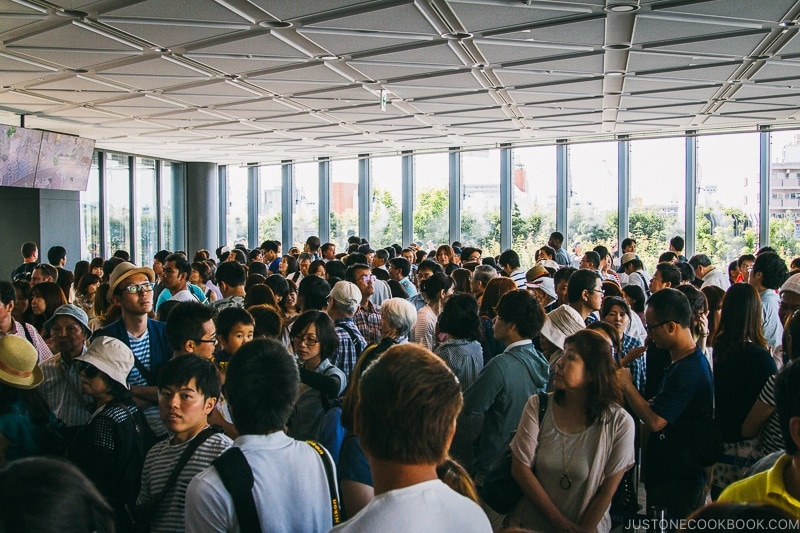 After 10 minutes or so, we finally entered the building. As we looked around, we could see the beautiful display of Super Craft Tree by designer Yukio Hashimoto.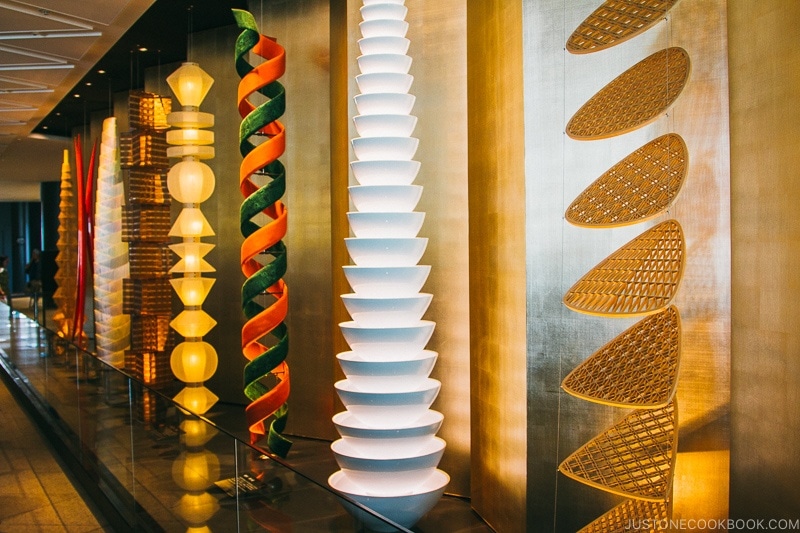 You can also see the steel structure that's supporting the tower from the large windows surrounding room.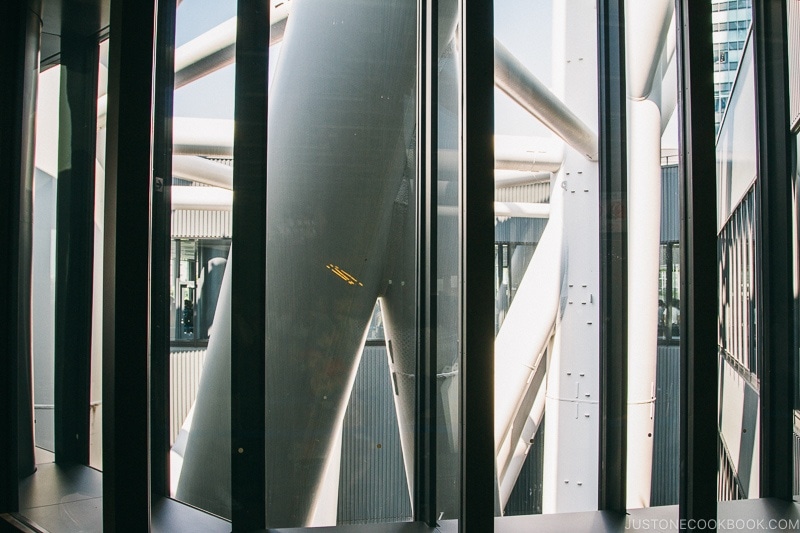 What seemed like an eternity has finally passed, we could hardly conceal our excitement to finally see the ticket counter. After purchasing the tickets to visit both observation decks, we thought the lines has ended. Not quite, there's a another short line to wait for the elevators.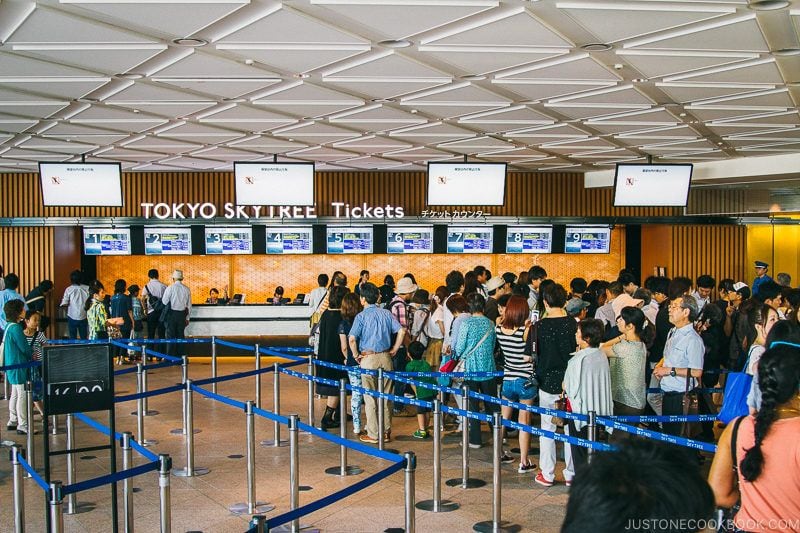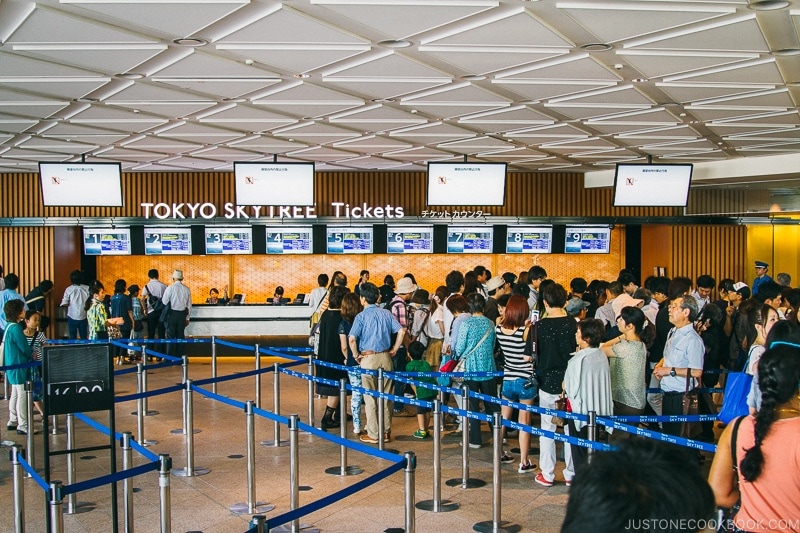 Tokyo SkyTree – Tembo Deck & Tembo Galleria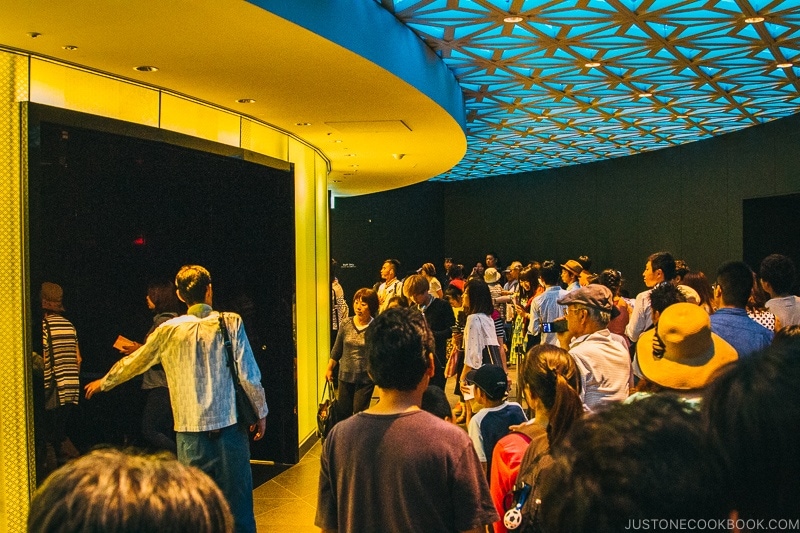 As we enter the elevator and it started to ascend, the lights inside darkened and the ceiling of the elevator had beautiful Japanese patterns that changed colors and brightness. Everyone in the elevator was entertained by the changing lights during the quick ride.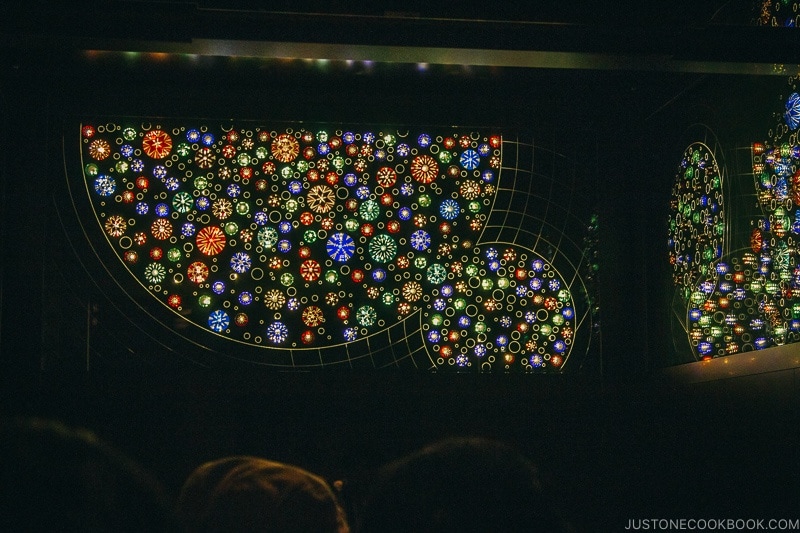 The first stop is the Tembo Deck at Floor 350, which also includes with ticket booth to Tembo Galleria and a cafe. There are 2 more levels, Floor 345 and 340 within the Tembo deck which houses the gift shop, Sky Restaurant, and a cafe. You'll go through these lower levels as you return to the lobby.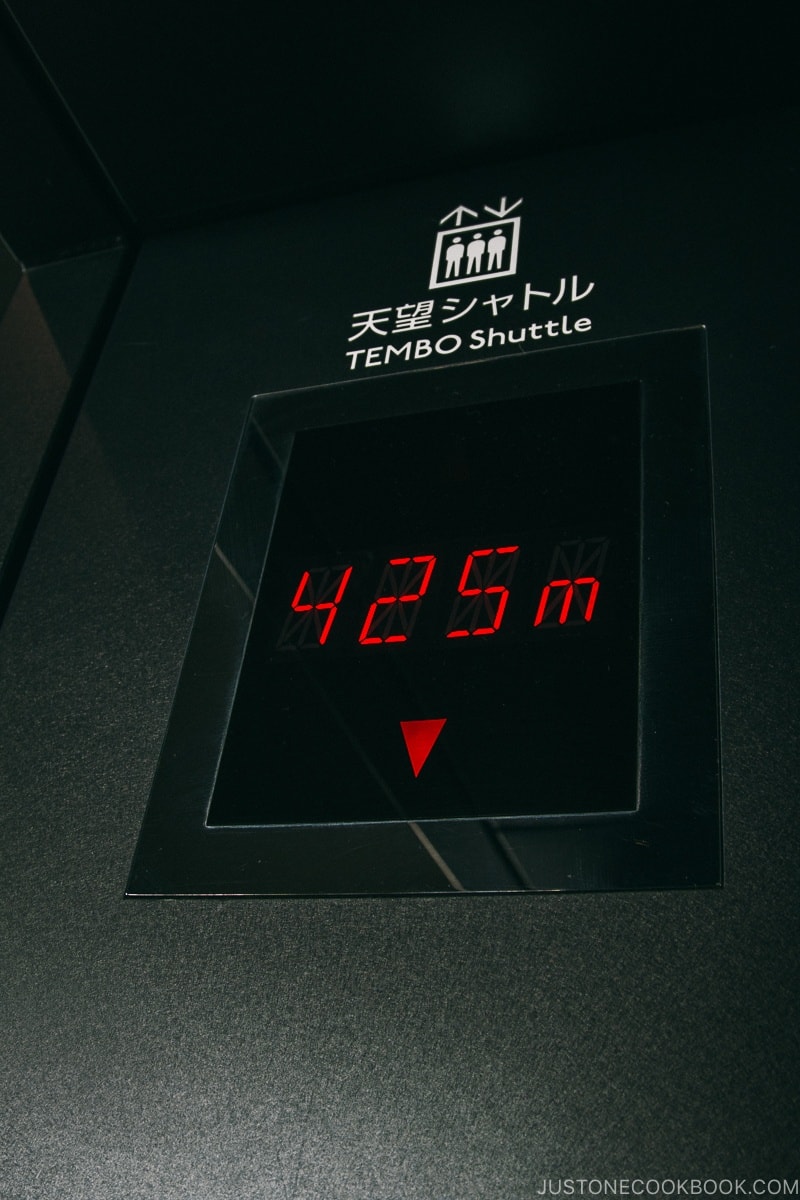 We went ahead and purchase the tickets to Tembo Galleria (Floor 445 and 450)to enjoy the breathtaking view. The elevator to the Tembo Galleria is quite thrilling, as you can see through the glass panel doors and ceiling.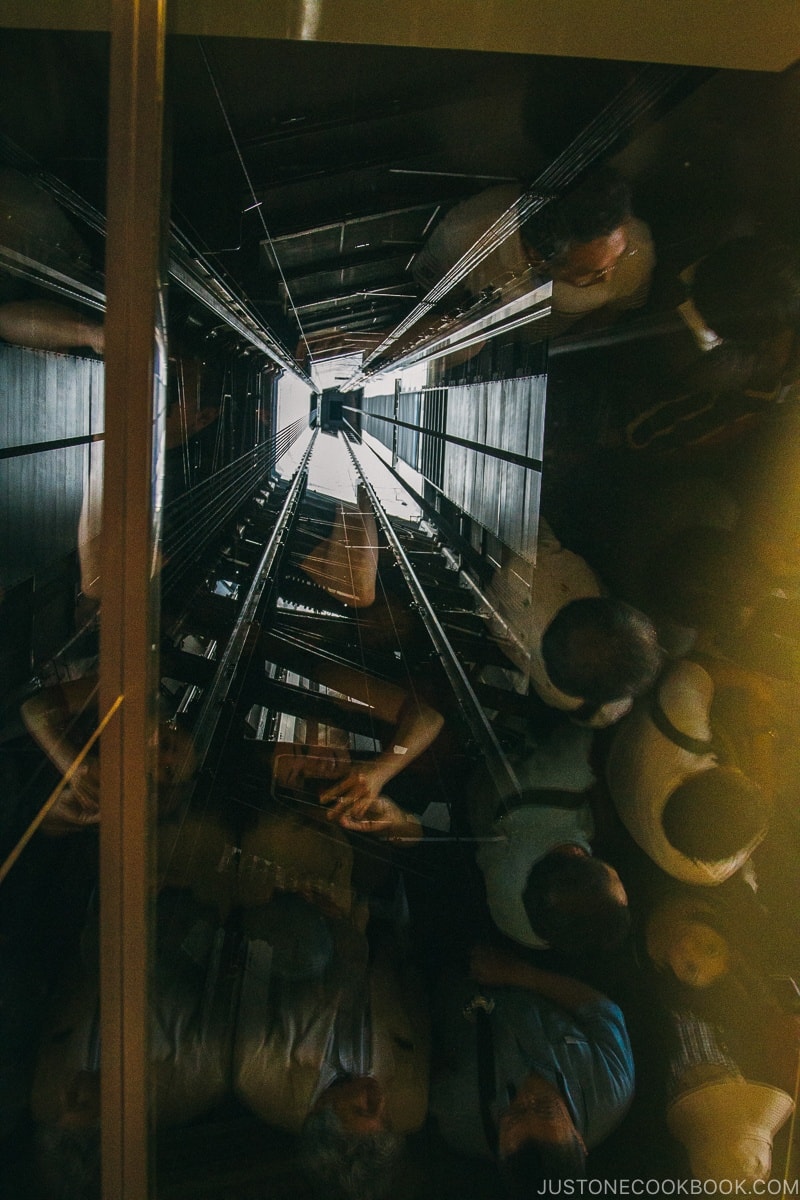 As we exit the elevator at Floor 445, the children squealed with delight and enjoyed the views. The elevator leads to a ramp to Floor 450.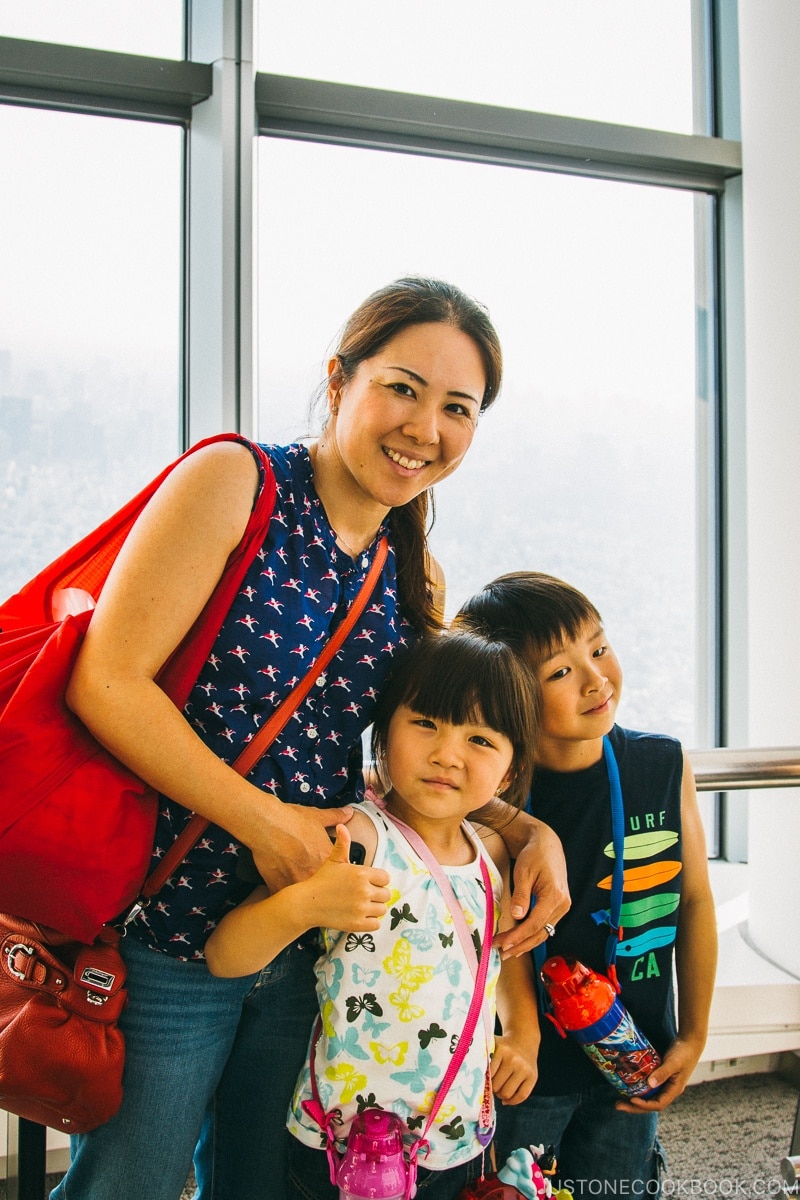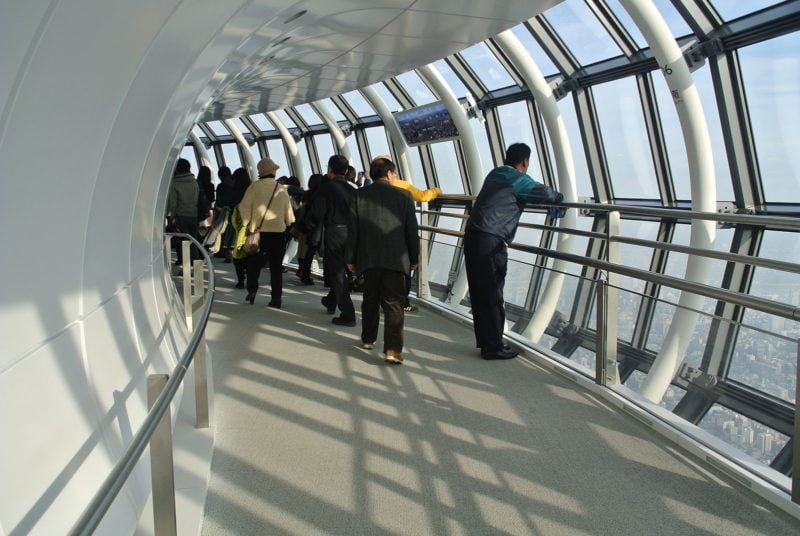 Sceneries from Tokyo Skytree
From the top of the tower and along the ramp, visitors get the unobstructed view of Tokyo.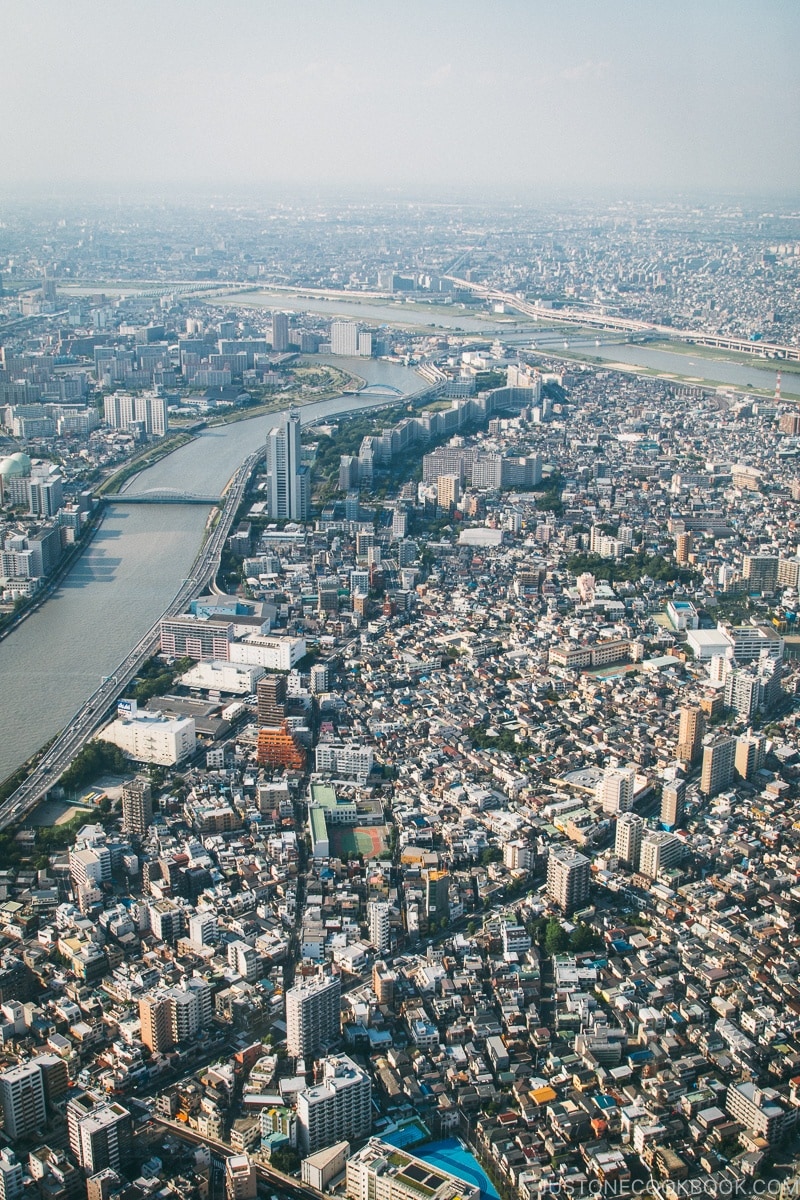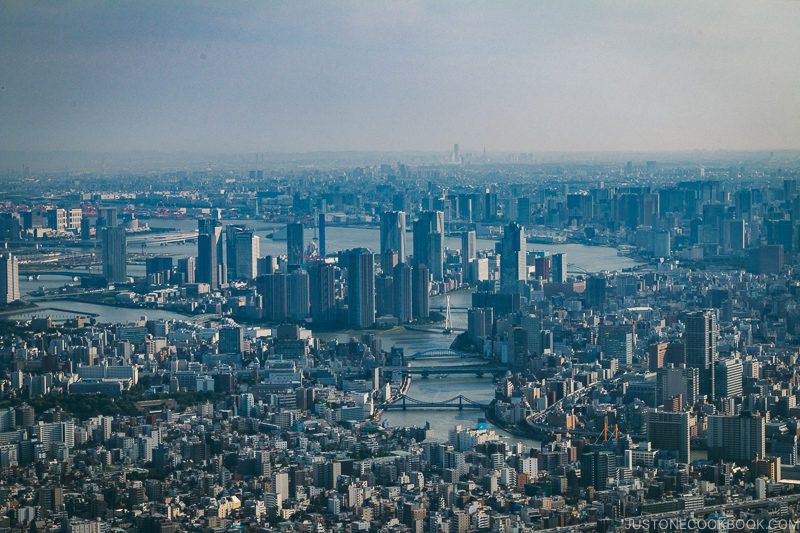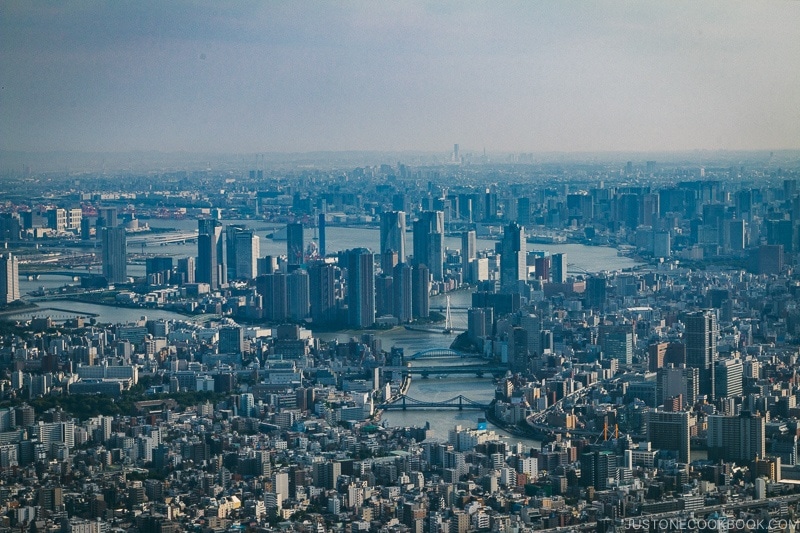 It's incredible as all the tall buildings now look like as if they were made of small Lego bricks.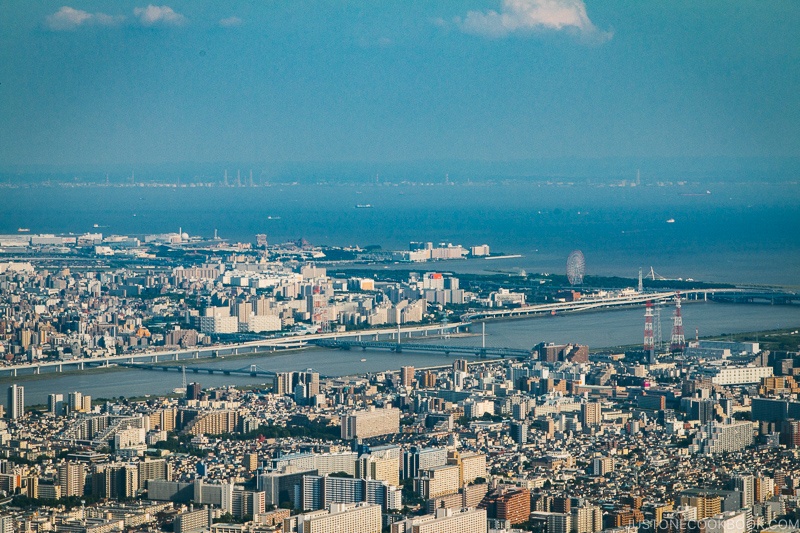 You can see Tokyo Disneyland and DisneySea in the direction of Chiba City. Other recognizable structures we could easily see are Tokyo Dome, Tokyo City Gov't Building, and Tokyo Tower.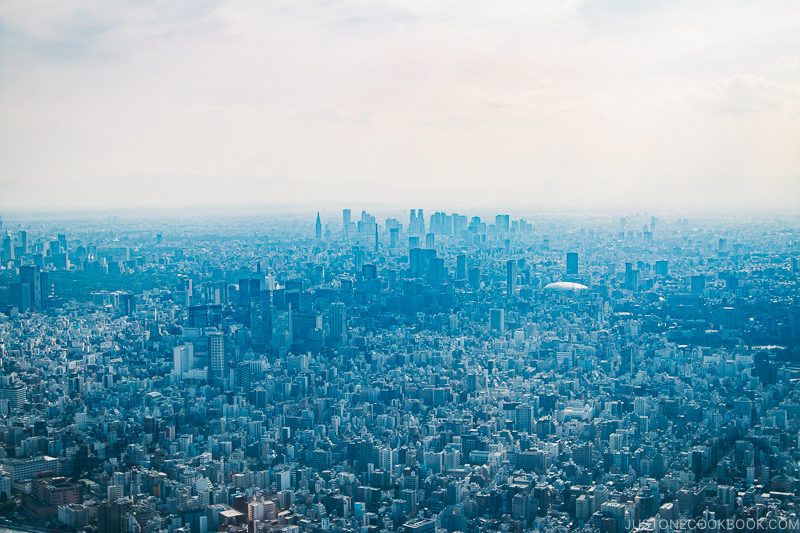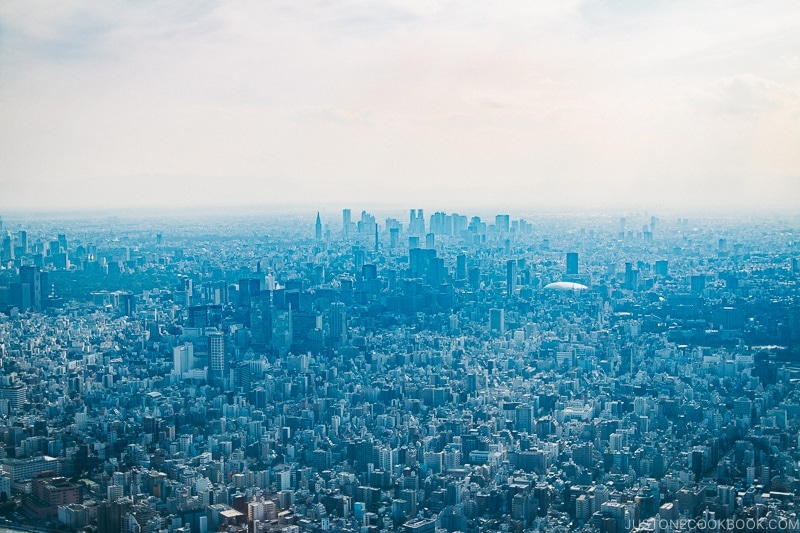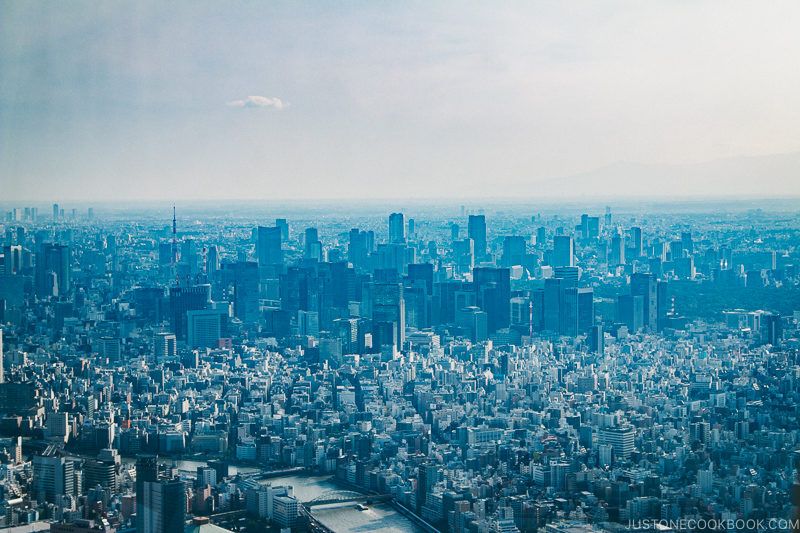 After spending some time seeing the different sights, it's time to head down. One of the coolest features as you journey towards the lobby is the glass floor on Floor 340. It's a bit nerve-wracking but definitely very cool to be able to look down.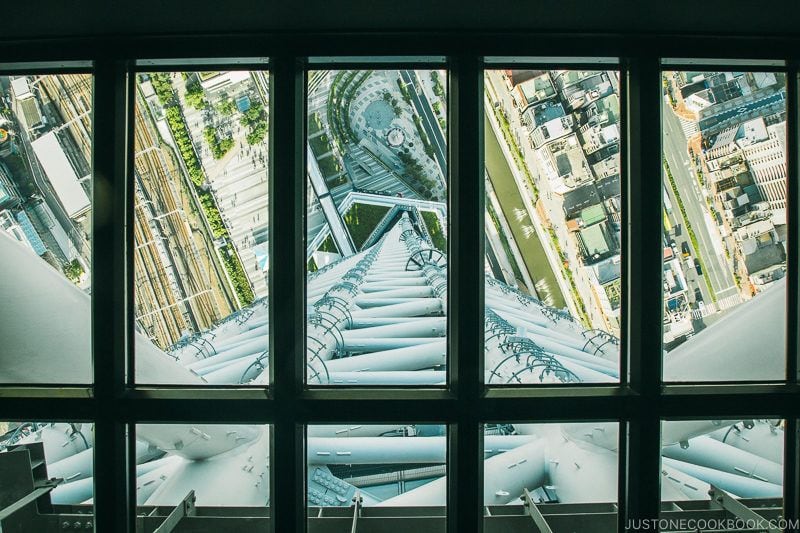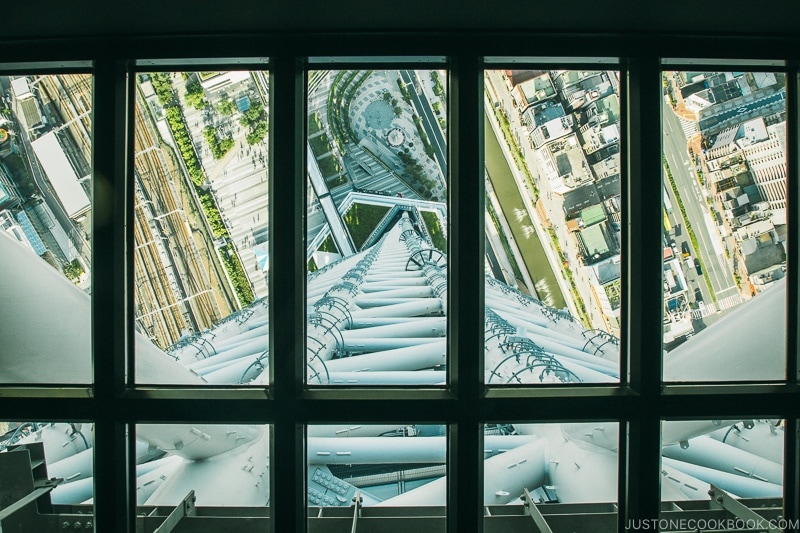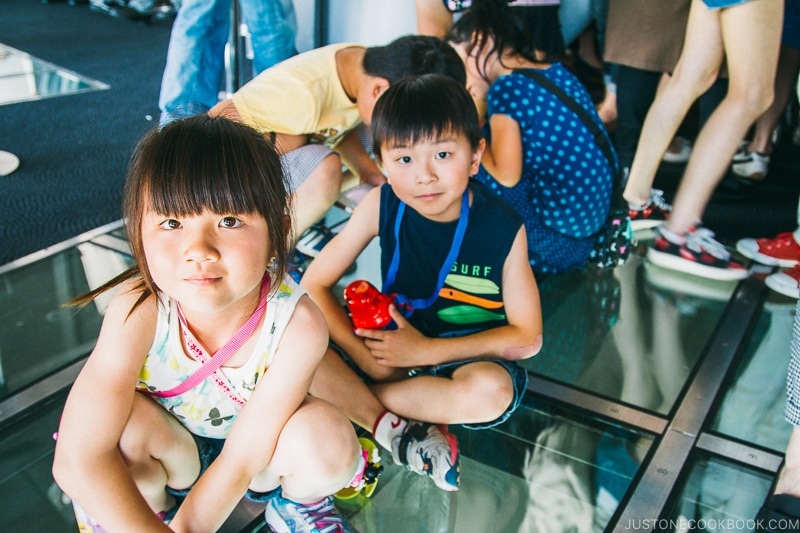 It was a memorable experience and we had a great time despite the super long wait.
Tokyo Skytree Town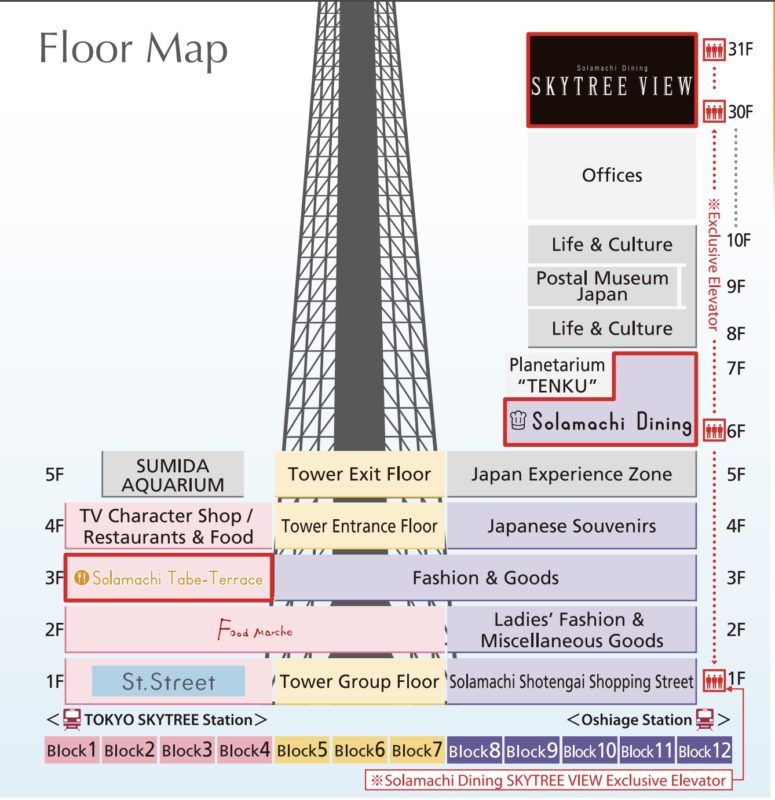 The purpose of our visit this past summer (2018) to Tokyo Skytree Town is so we can eat at Toriton sushi. It's a Kaiten sushi (sushi boat) restaurant that's from Hokkaido. We had such an amazing meal in Sapporo years ago we couldn't wait to go back when we found out it opened in Tokyo. Sushi at Toriton is not "fine dining" sushi but it's very affordable and tasty.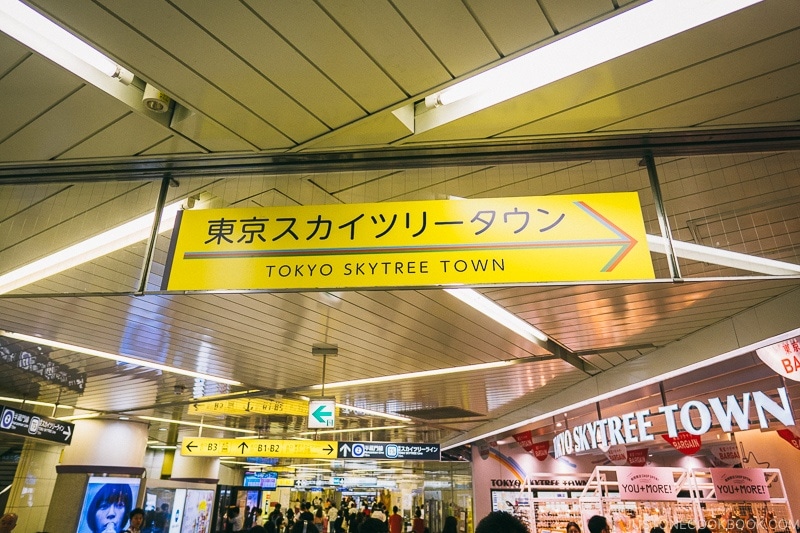 Kaiten Sushi Toriton トリトン
Toriton is a sushi chain and they have 13 restaurants in Hokkaido and 2 in Tokyo. The quality of their seafood is much better than most conveyor belt sushi restaurants and the ratio of fish to rice is very generous.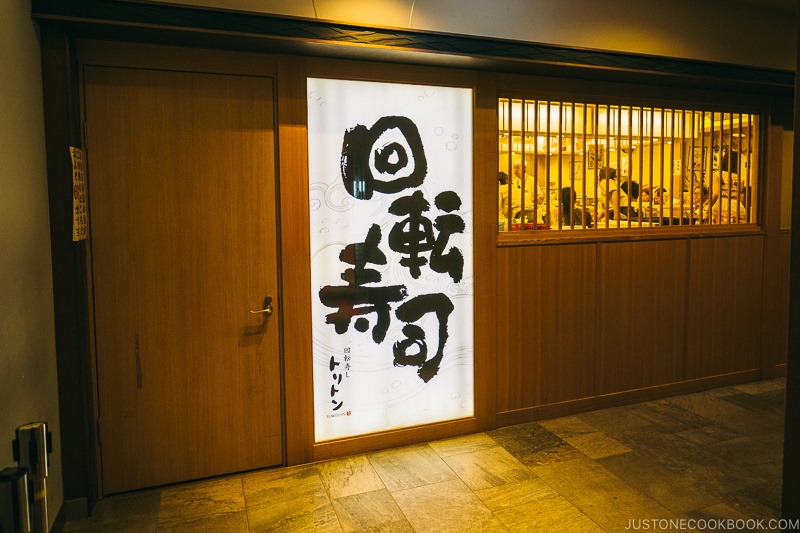 We arrived at Toriton at 11:30 am and the restaurant was already completely full and there were about 10 people ahead of us in line. Luckily we were able to get seated in about 15 min.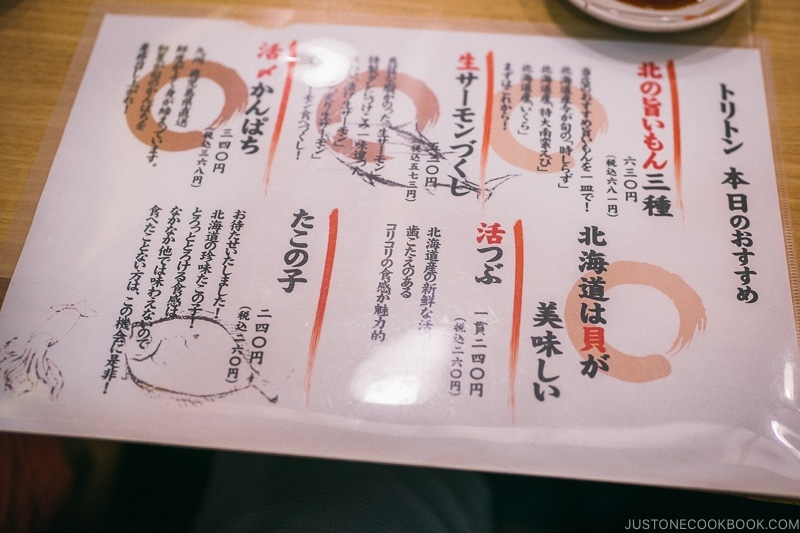 If you're not familiar with conveyor belt sushi restaurants (aka sushi boat restaurants), they are all over Japan and prices are affordable compared to traditional sushi restaurants. Each plate range from $1.50 – $6 dollars depending on the type of fish or food. You can read more about conveyor belt sushi restaurants here.
You can select the premade sushi you want off the conveyor belt or order what you like on a small slip of paper from the staff directly. The newer sushi boat restaurants have a digital menu on iPads and you can even select the language of your choice, whether you want wasabi or not, and whether it's for children. If you select the children's option they'll cut each sushi in half.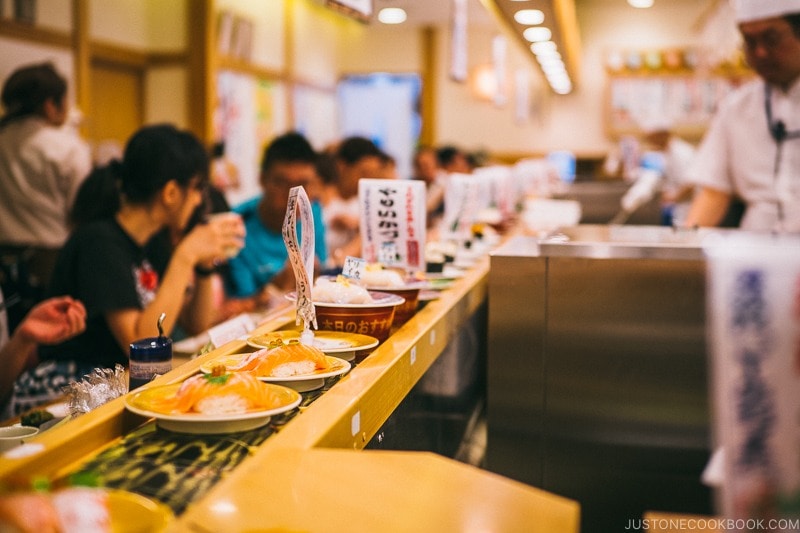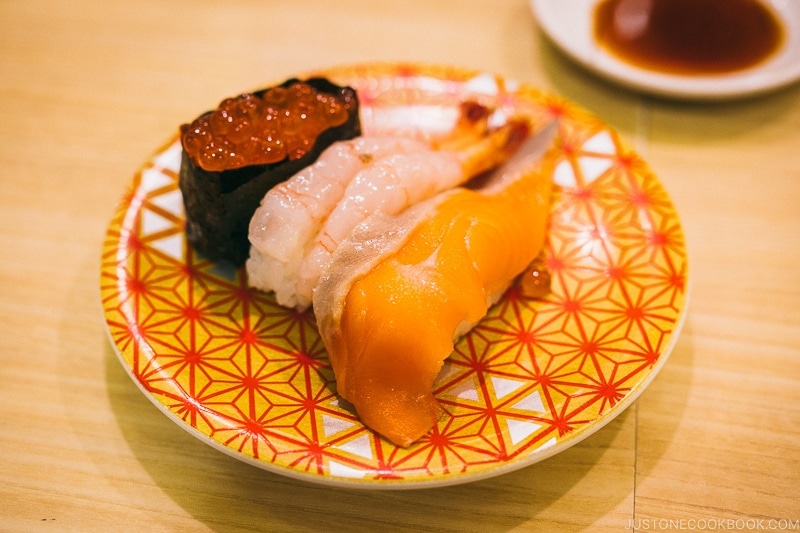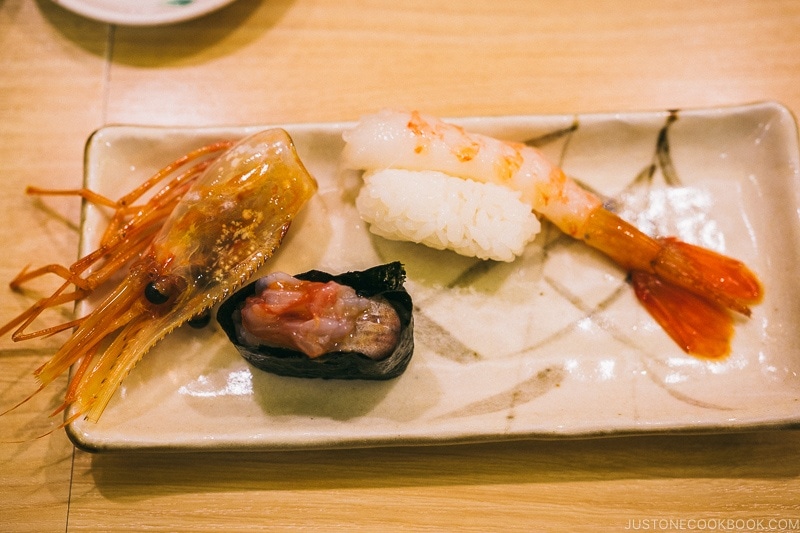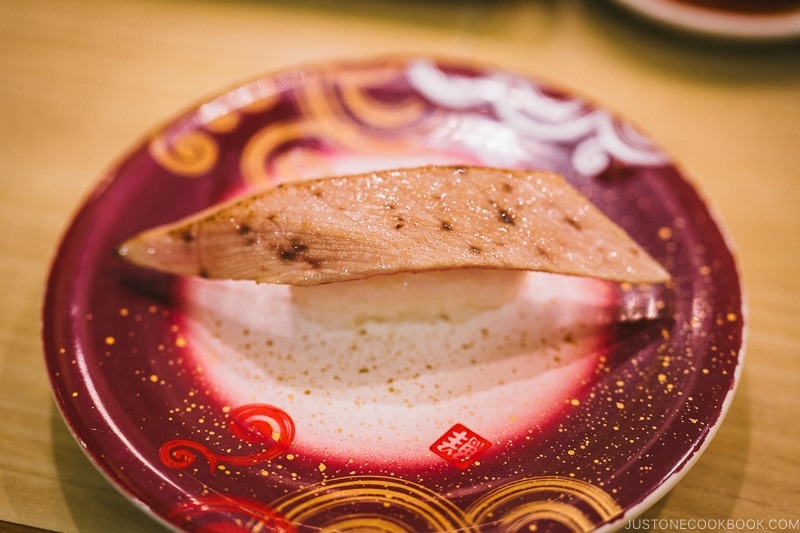 The sushi quality was outstanding and we were stuffed. The cost came out to $15 a person for our family which is much cheaper than eating sushi around San Francisco.
Solamachi Dining at Tokyo Skytree
Not a fan of raw fish? No problem there are a ton of dining options to choose from.
Besides Toriton, there are many other popular restaurants in the same area, including sukiyaki, shabu shabu, gyoza, and unagi restaurants.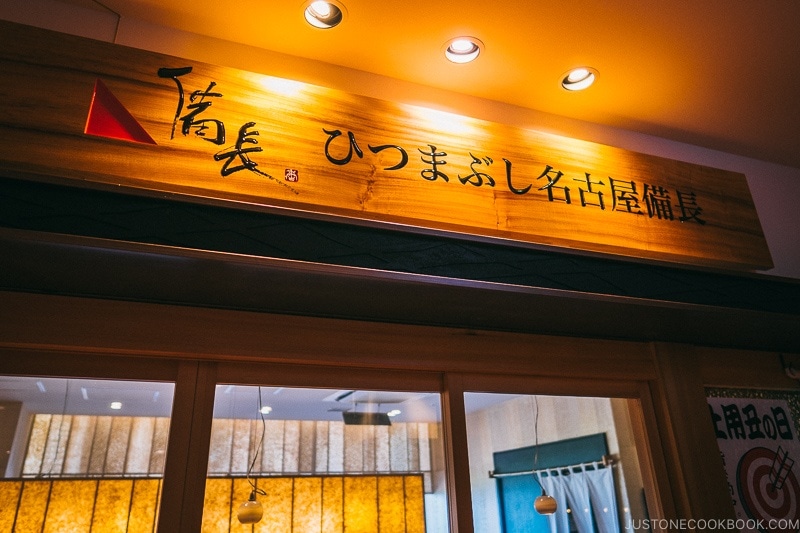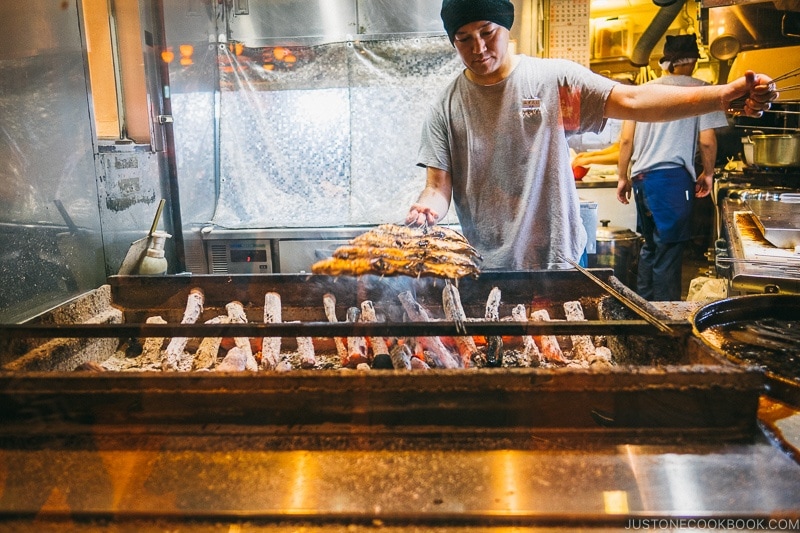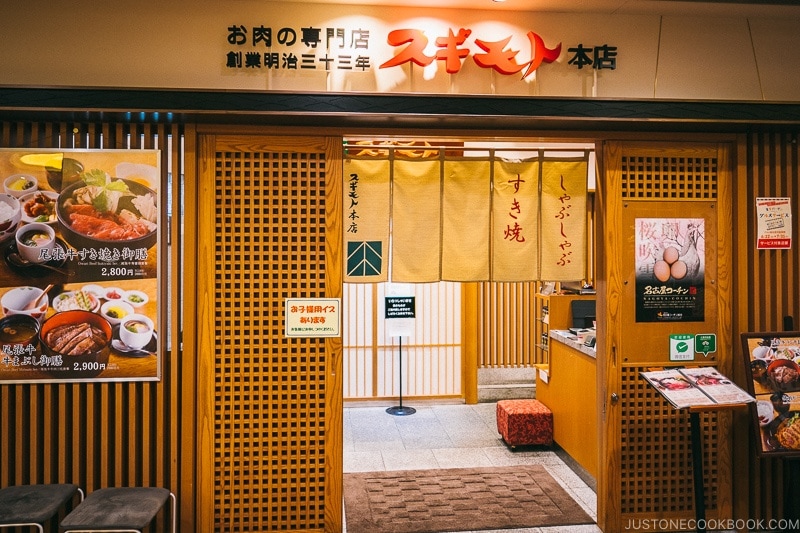 There's also a branch of Ginza Tenryu Chinese restaurant which we tried in Ginza.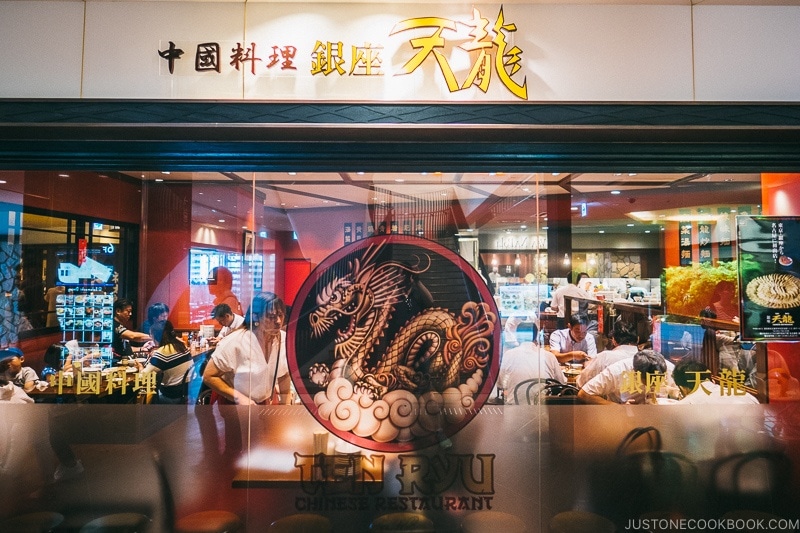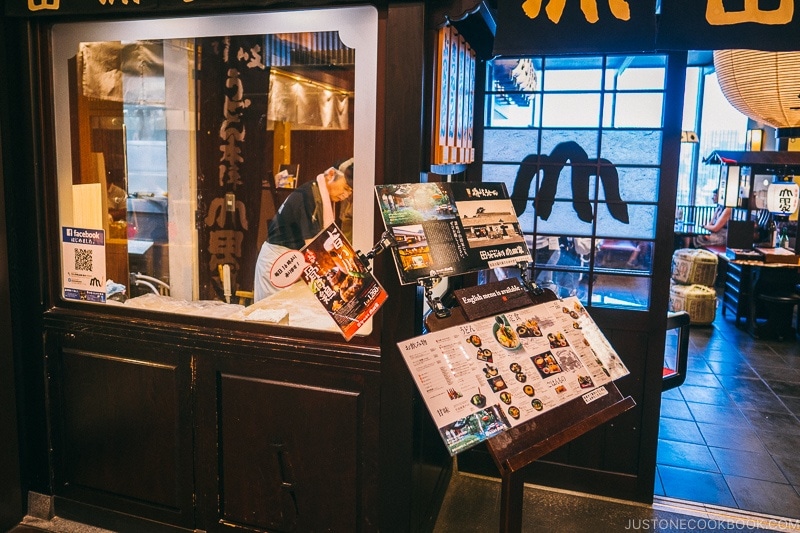 Japanese Souvenirs at Tokyo Skytree
Besides the many yummy restaurant selections, on the 4th floor, there's a selection of shops that carry unique Japanese souvenirs.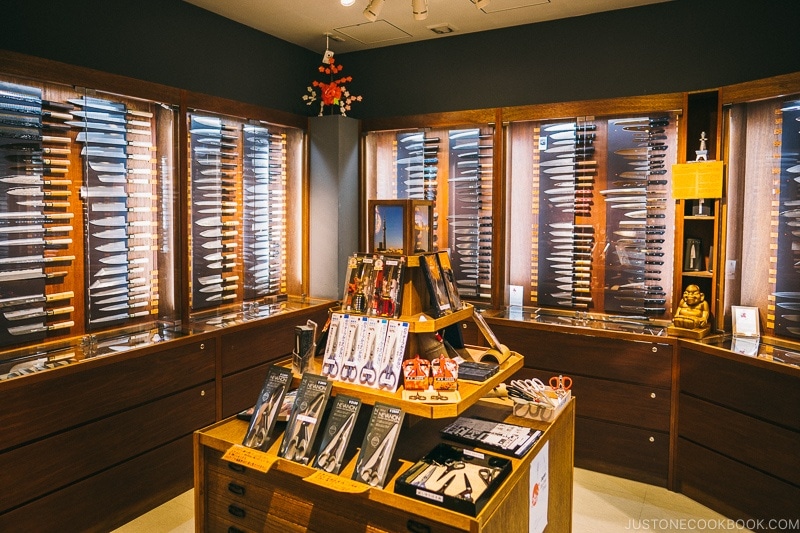 One of the shops even sells replica food, similar to what you would find in Kappabashi Dogugai.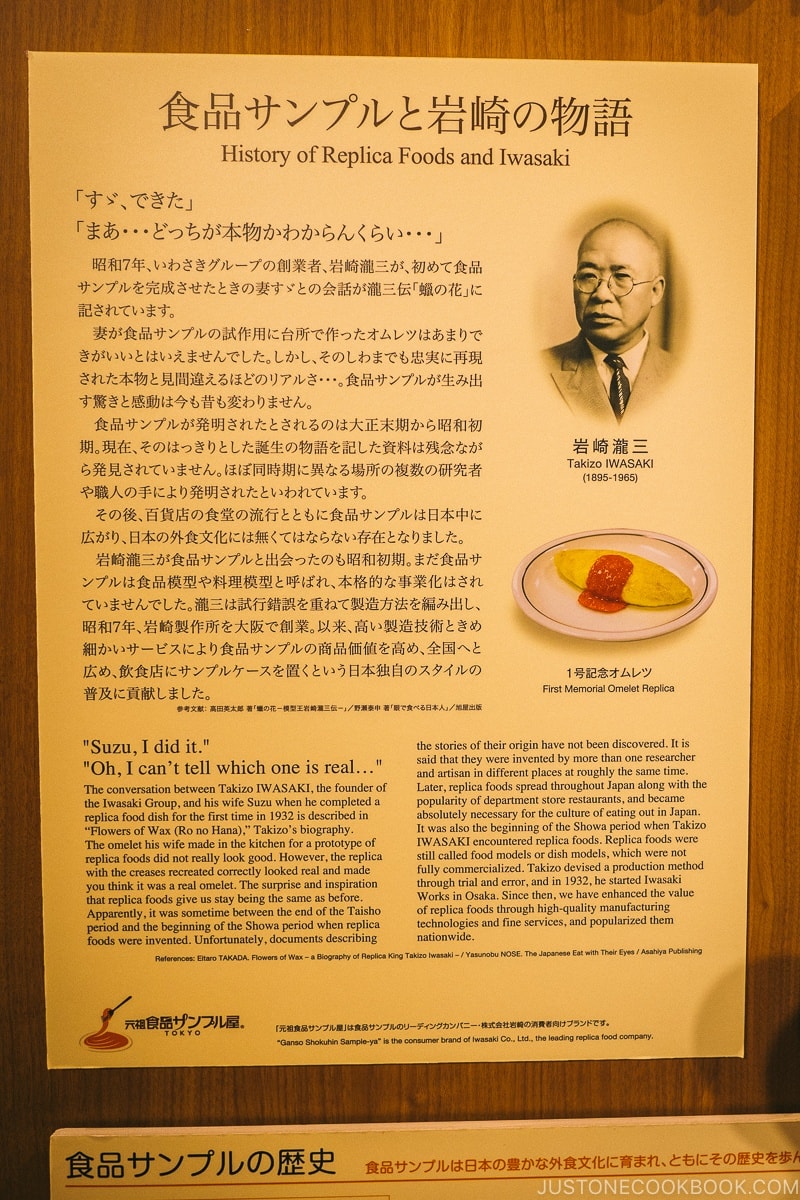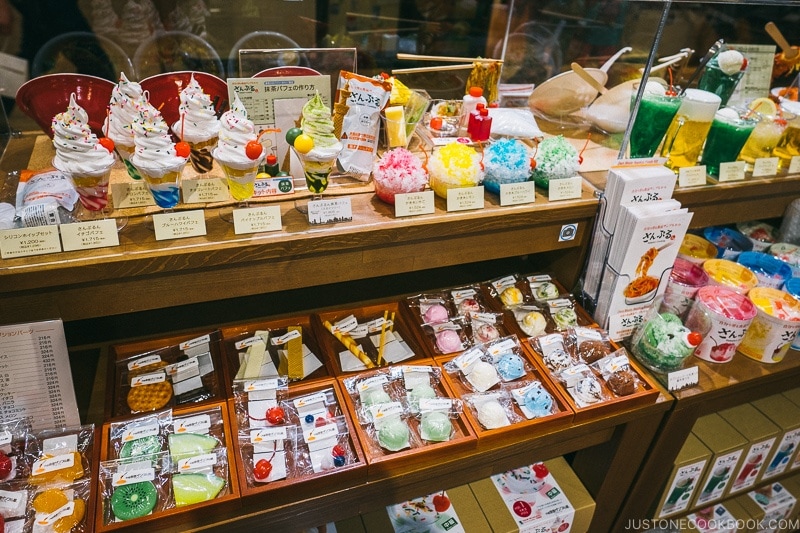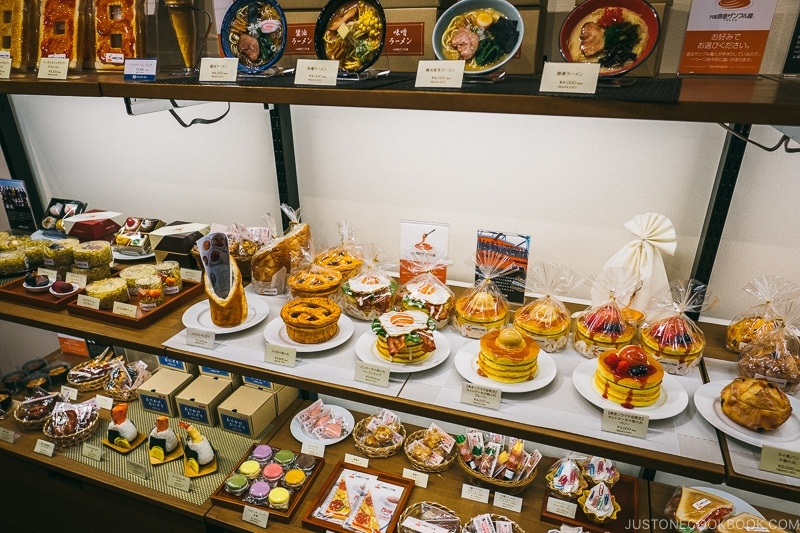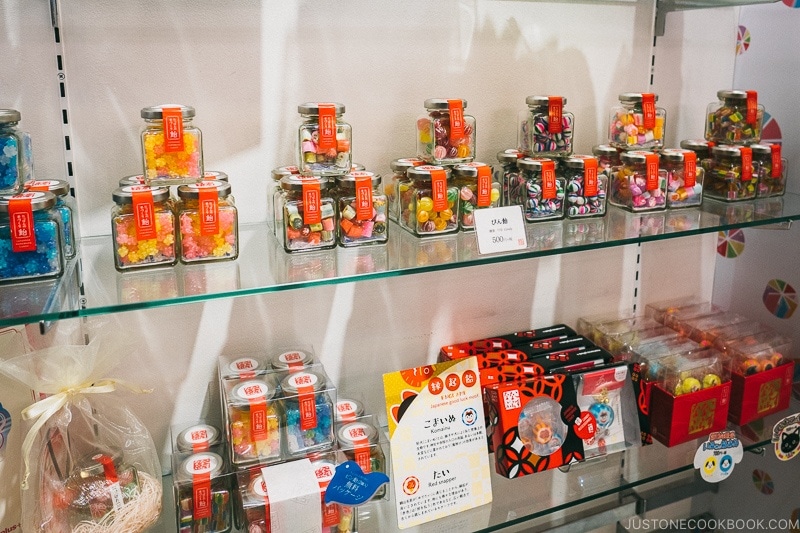 How about bringing home a cardboard statue of Godzilla and other ceratures?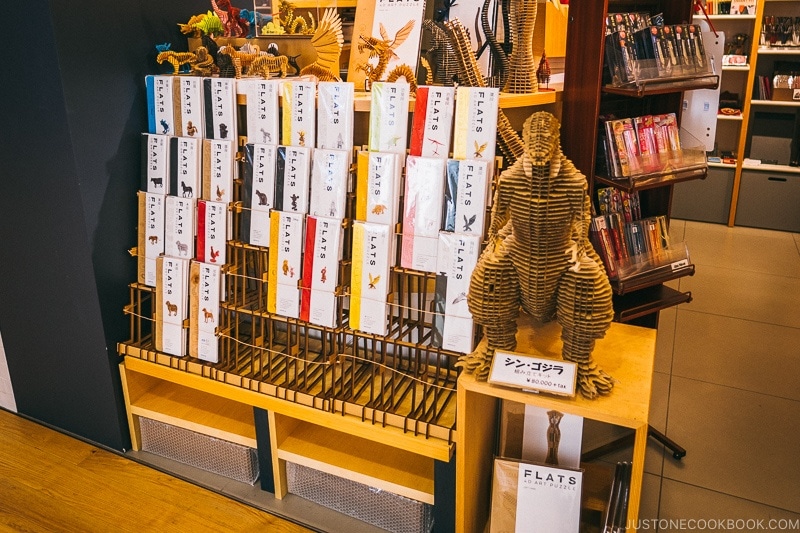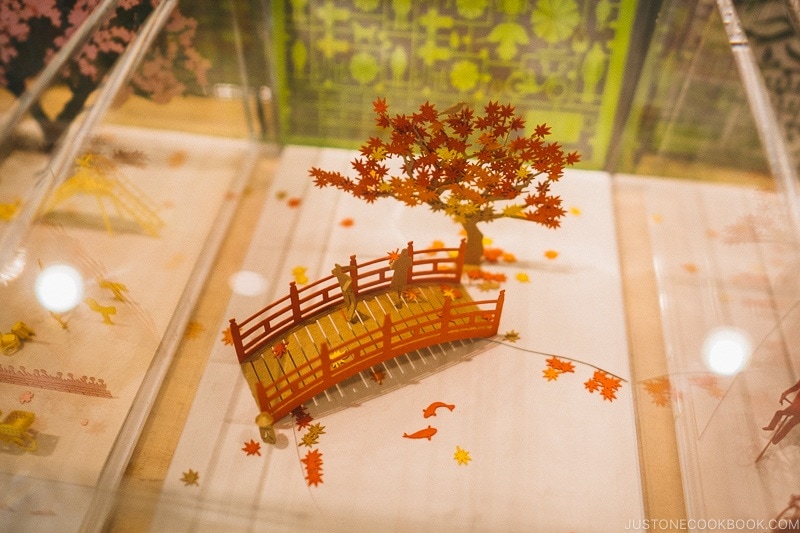 Besides restaurants, you can also shop for food, clothing, fashionable goods, etc in Tokyo Skytree Town.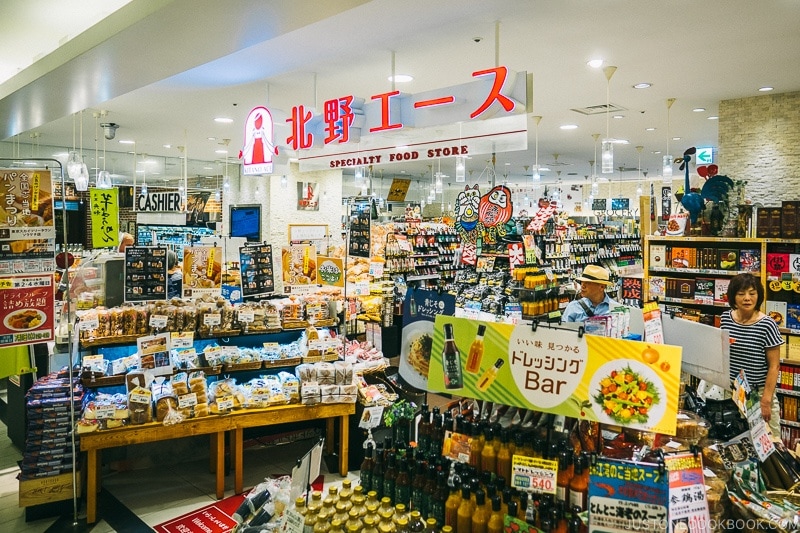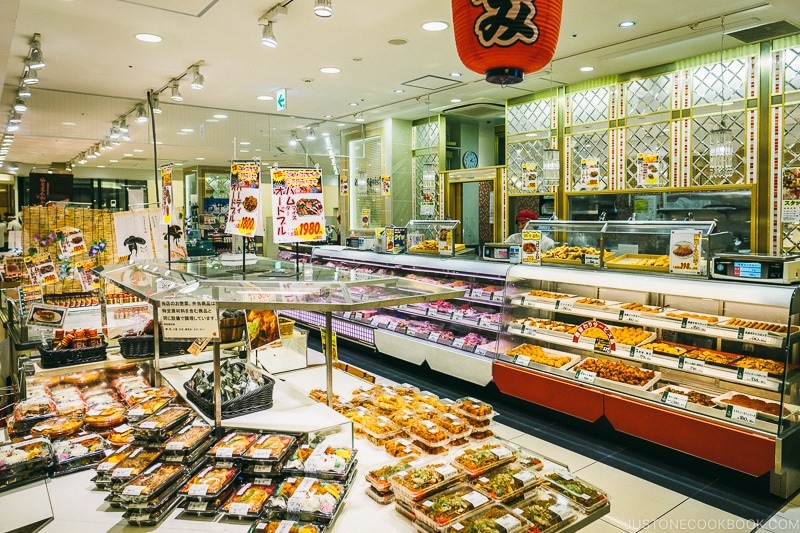 Sumida Aquarium
Lastly, if you have little ones who are bored from all the sightseeing, they might be interested in the Sumida Aquarium. It is not large compared to other aquariums in Japan but should keep younger children entertained for hours. Our son especially loves aquariums and we try to visit them whenever we go to a new city.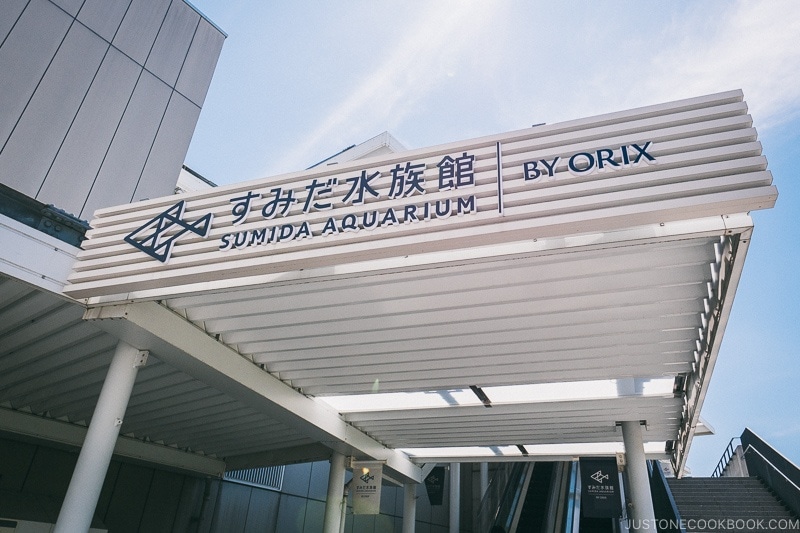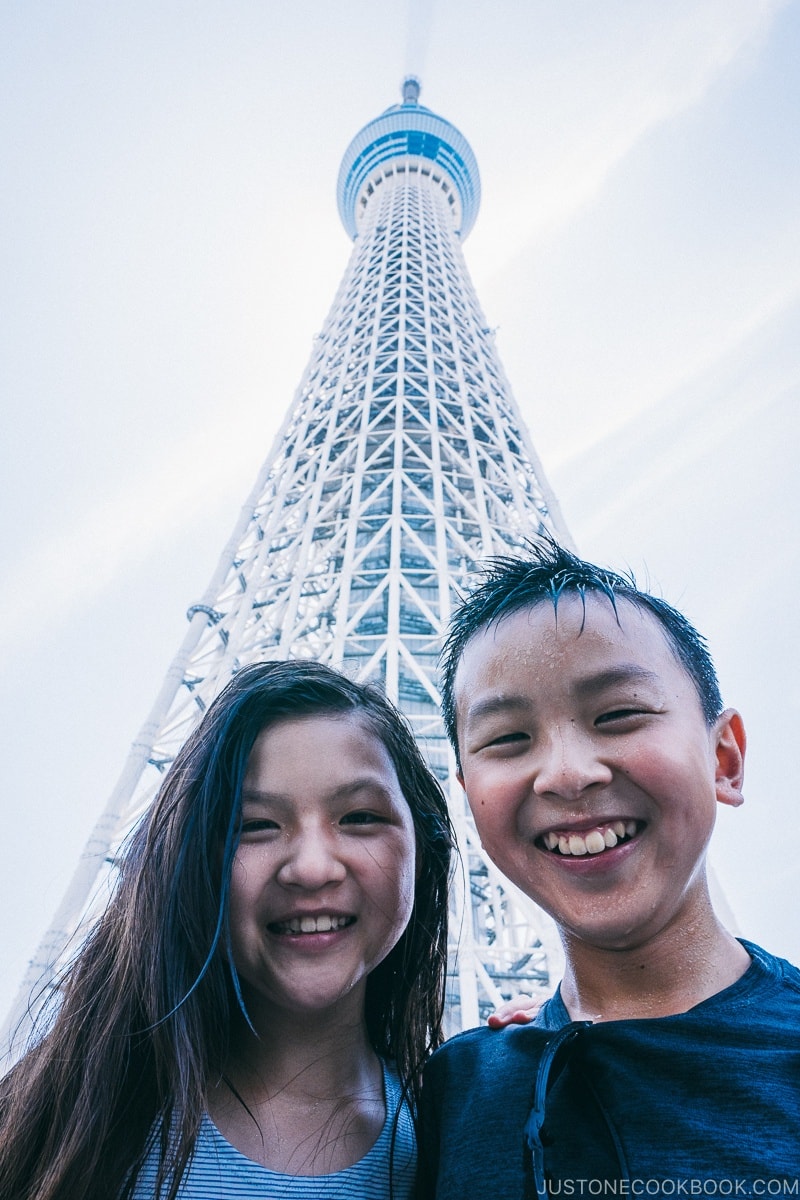 Thank you for reading our Tokyo Skytree Guide and hope you find it helpful and entertaining. Many of my friends are not able to fit in their itinerary when they go to Japan but I hope you can stop by to check out this really cool area. If you are interested in the rest of our 2018 Tokyo Series, here are the links below.
If you want to check out our travel tips, read 8 Top Travel Tips for Your First Time Visit to Japan.