One of the most popular destinations in Tokyo is Meiji Jingu (明治神宮), built to honor Emperor Meiji who modernized Japan and open its door to the west.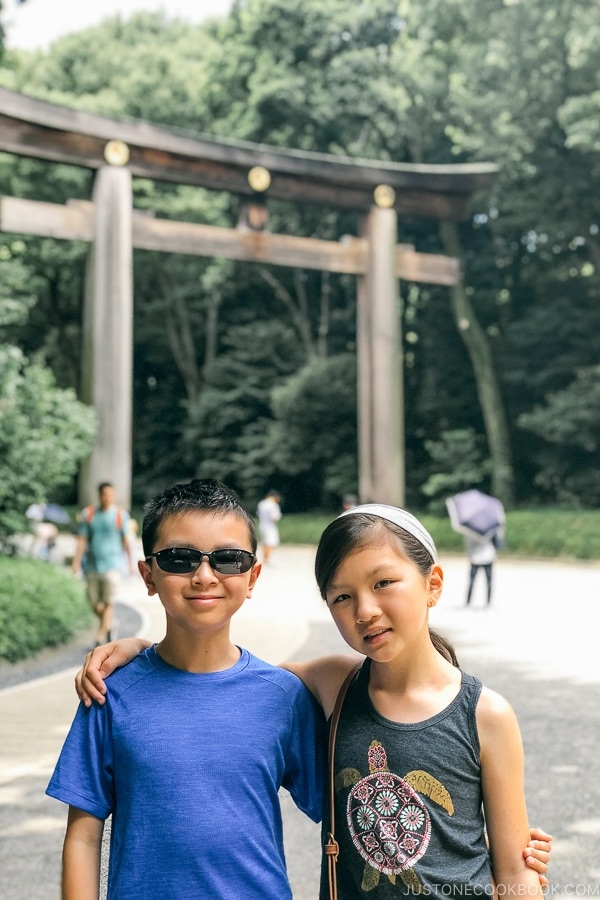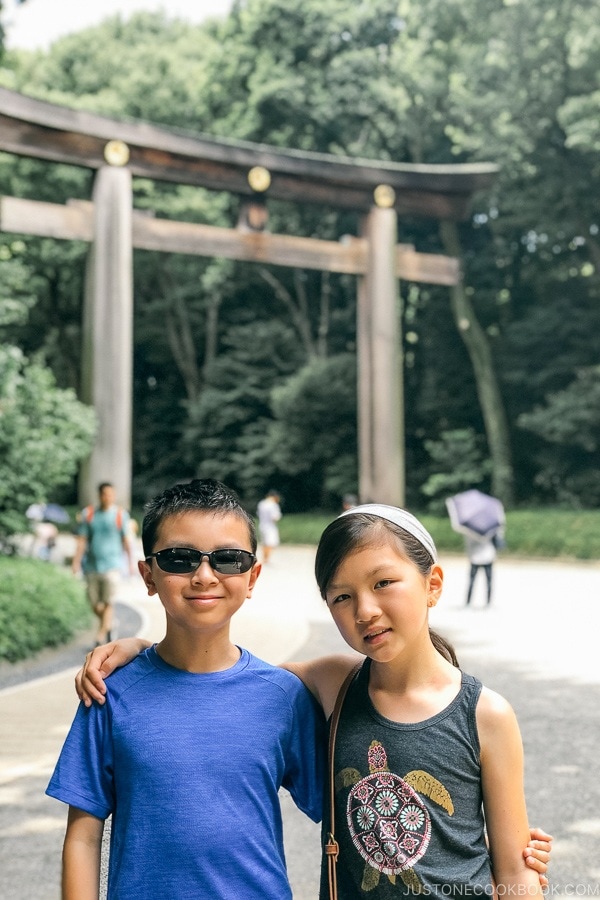 We often get asked by friends and readers on Japan travel tips and itineraries so we try our best to share our Japan experiences on the blog. However, one city we didn't have much travel content on was Tokyo. Why? Since Nami's family only lives 7 miles (15 km) from Tokyo and 15 miles (23 km) to Shibuya, it never seemed like a "Japan travel destination" for us.
As we get repeated request for Tokyo travel guide, we spent 6 days this past summer in Tokyo exploring different wards, activities to do, places to visit and eat. This is just the beginning of our Tokyo travel guide and we'll continue adding to these posts as we explore new adventure and experiences. We hope you will enjoy traveling throughout Tokyo with our family.
The reality is that it's impossible to finish exploring Tokyo in 6 days, or even possibly a month. There are simply way too many options for dining, sightseeing, and entertainment! This is our first effort to share Tokyo with you and we hope you'll enjoy our journey. There is something for everyone in Tokyo so pick and choose what your heart desires when you visit.
For the Tokyo travel guide series, we'll share the following posts:
You might notice there are many areas/wards/stations we missed in Tokyo from the above list, like Tokyo Station. It's because we simply ran out of time to cover and will add it in a future trip. If you have any specific requests, please comment below and we'll try to add it to our future itineraries.
If you join a tour group in Tokyo, Meiji Jingu is almost on every tour's itinerary. It's a Shinto Shrine built in 1920 dedicated to Emperor Meiji and Empress Shoken. The shrine is conveniently located just 15 – 20 minute walk from Shinjuku and Shibuya Stations.
Meiji Jingu Guide
After visiting the bustling Shinjuku, it's time to find some peace and green forestry in Tokyo. Meiji Jingu is a large park within Tokyo; the inner and outer park covers over 1,000,000 sq meters (~245 acres) and has 170,000 trees.
When you get to Meiji Jingu and after crossing the Jingu Bridge, you'll get to the first of the 3 Torii Gates towering over the walking path. The path into the shrine is really wide compared to other Japanese shrines.
Once you pass through the first torii gate, you'll see Meiji Jingu Inner Garden on your left. The garden has been there since 1600's and this is only part of the Meiji Shrine that requires a fee (500 yen).
Meiji Jingu Inner Garden 明治神宮御苑
The garden was visited often by Emperor Meiji and Empress Shoken as they have loved this tranquil sanctuary within Tokyo. The garden consists of seasonal flowers and plants, a large pond, and a teahouse.
When we visited in July, the iris garden just finished blooming so it was all green.
After visiting the inner garden, continue on the large path towards the main shrine.
On the path, you will soon arrive at the sake offered annually to the deities and wine barrel to be consecrated. Why the wine barrels? Emperor Meiji lead the example for modernization by enjoying Western food and wine.
As you continue on the pass, you see the second towering torii gate 12 meters high and made of Hinoki, from Taiwan.
Walk along the path a bit more and you'll come up on the third Torii Gate and the main Shrine building. For those of you who are not familiar with the distinction of shrines vs. temples in Japan, shrines are for Shinto religion and temples are for Buddhism.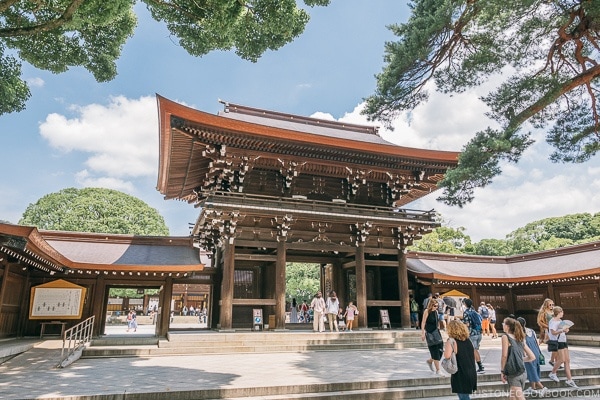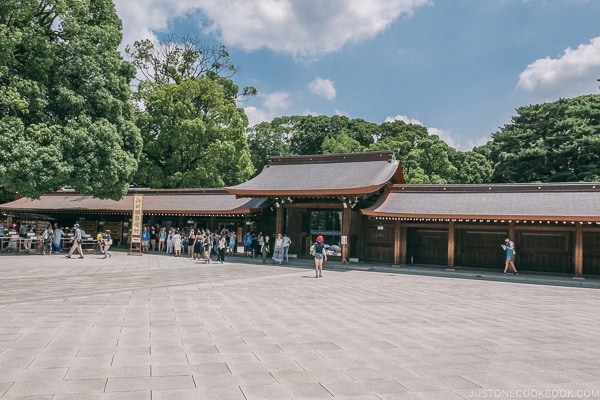 In the large courtyard, you'll find a few large camphor trees. You can purchase wooden plaques and write your wishes on them and pray to the deities.
The current shrine buildings were built in 1958 as the original ones were destroyed during the war. When you pray in a Shinto shrine, here are the correct process:
Put some coins into the offertory box.
Bow twice.
Clap your hands twice.
Make a wish if you like.
Bow once again.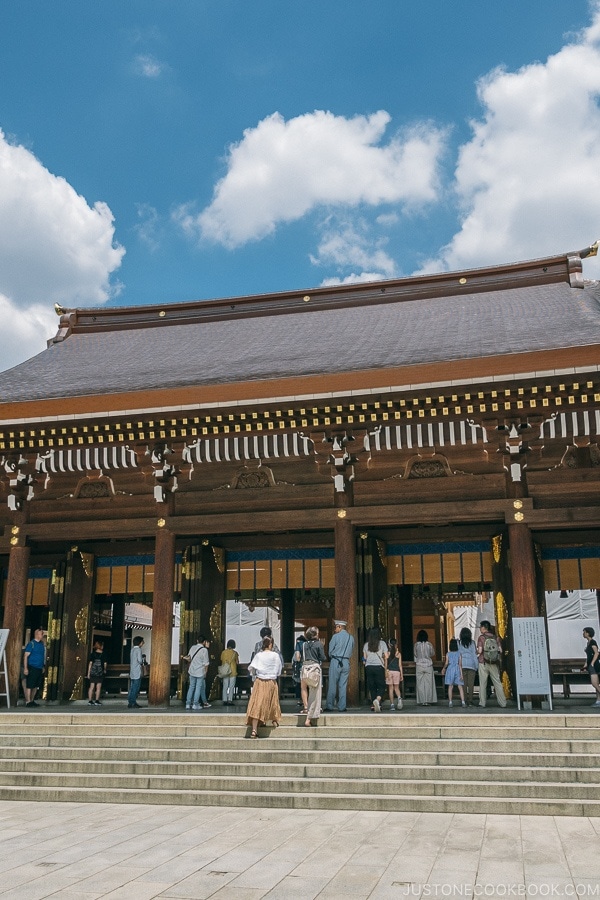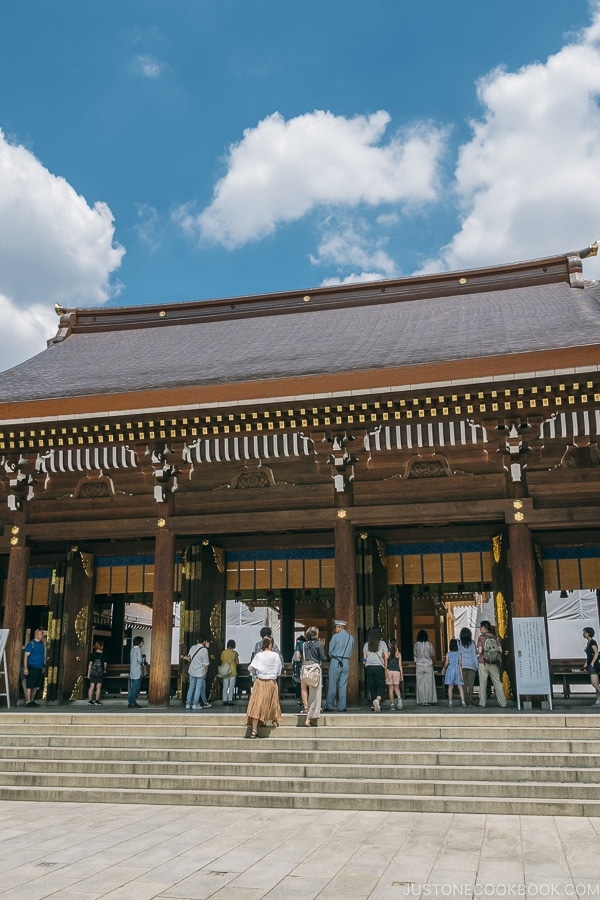 After visiting the Shrine and taking in the tranquility of the forest in this city environment, it's time to head to the fashion and culture headquarter of Japan, Harajuku and Omotesando. For more Japan travel guide click here, and to read Tokyo travel guide click here.
Check out other Tokyo travel guide series: