Best known for Ueno Park, Ueno is the home to many of Japan's National Museums. Bring the family and spend the day to explore the area including Ameyoko Market and try delicious Yoshoku restaurants.
We often get asked by friends and readers on Japan travel tips and itineraries so we try our best to share our Japan experiences on the blog. However, one city we didn't have much travel content on was Tokyo. Why? Since Nami's family only lives 7 miles (15 km) from Tokyo and 15 miles (23 km) to Shibuya, it never seemed like a "Japan travel destination" for us.
As we get repeated request for Tokyo travel guide, we spent 6 days this past summer in Tokyo exploring different wards, activities to do, places to visit and eat. This is just the beginning of our Tokyo travel guide and we'll continue adding to these posts as we explore new adventure and experiences. We hope you will enjoy traveling throughout Tokyo with our family.
The reality is that it's impossible to finish exploring Tokyo in 6 days, or even possibly a month. There are simply way too many options for dining, sightseeing, and entertainment! This is our first effort to share Tokyo with you and we hope you'll enjoy our journey. There is something for everyone in Tokyo so pick and choose what your heart desires when you visit.
For the Tokyo travel guide series, we'll share the following posts: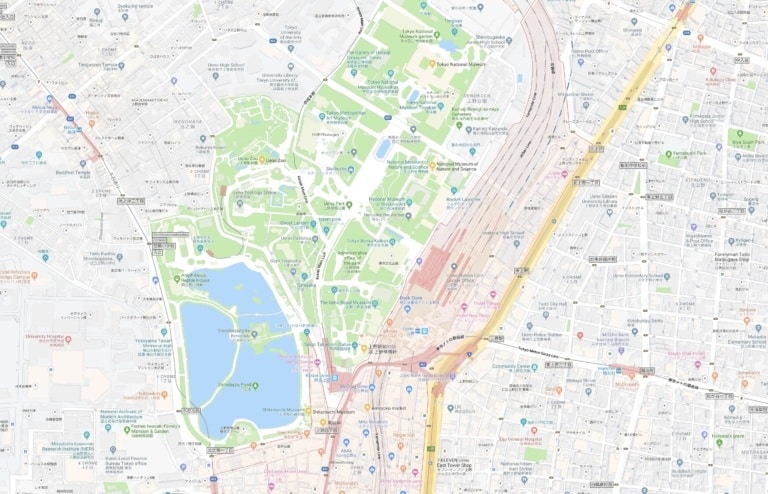 Ueno is located at the northeastern part f Tokyo and it's best known for Ueno Park. The park has National Museums, temples and shrines, a zoo, a large pond, and many activities for the entire family to do. Before exploring the park, let's eat some yoshoku (Japanese style Western Cuisine) and browse down Ameyoko (Ameya Yokocho アメヤ横丁) first.
Ueno Station 上野駅
The Ueno Station first opened in 1883 and the current station has been there since 1932.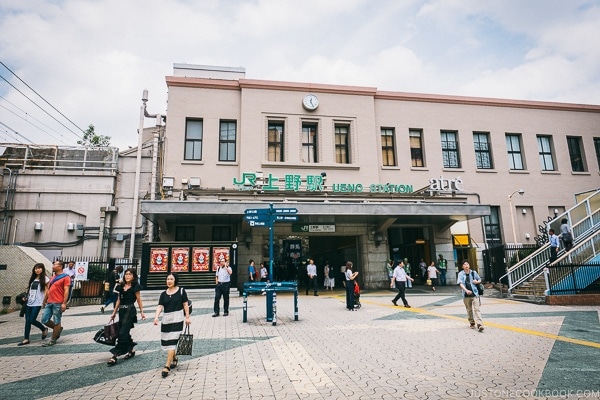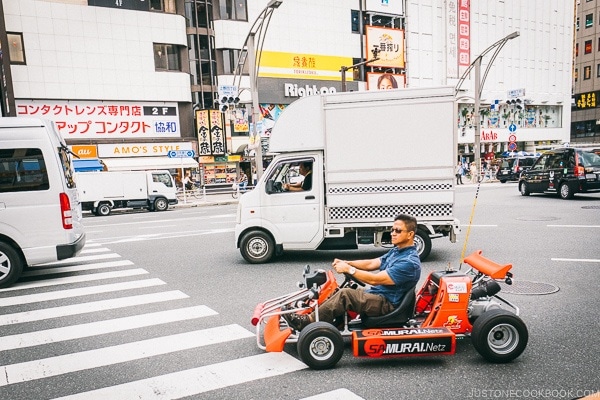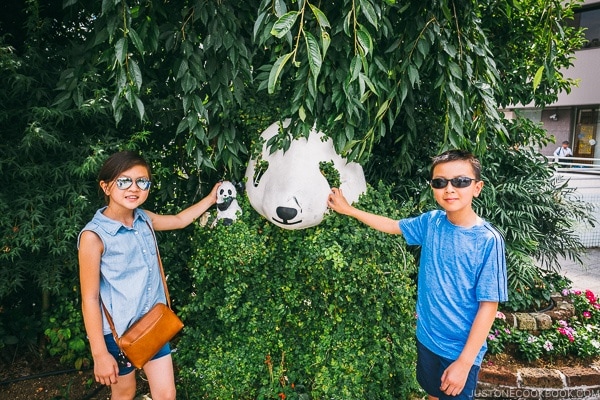 Seiyoken 上野精養軒
In Japan, there are many yoshoku restaurants and some of the really famous ones like Seiyoken and Kurofunetei 黒船亭 are in Ueno. Seiyoken is known for their Beef Stew and Hayashi Rice (recipe coming soon!), our son's favorite rice dish. We went to the Seiyoken branch in Ueno 3153 building as it's close by the station, and we wanted to visit ameyoko after. The original Seiyoken is located inside Ueno Park.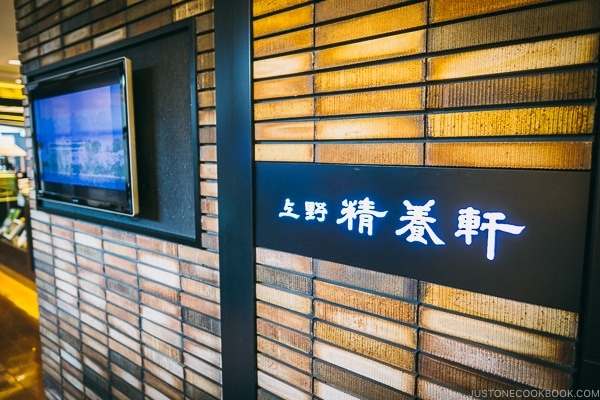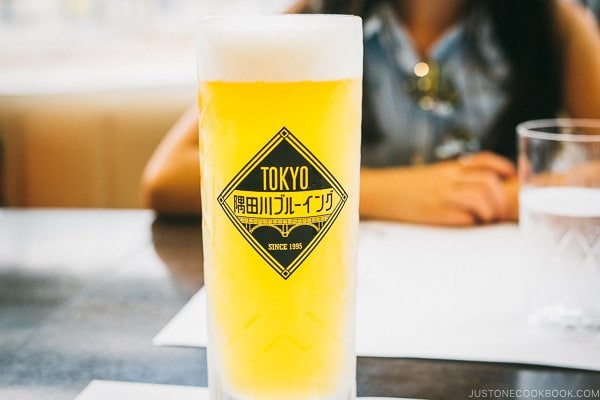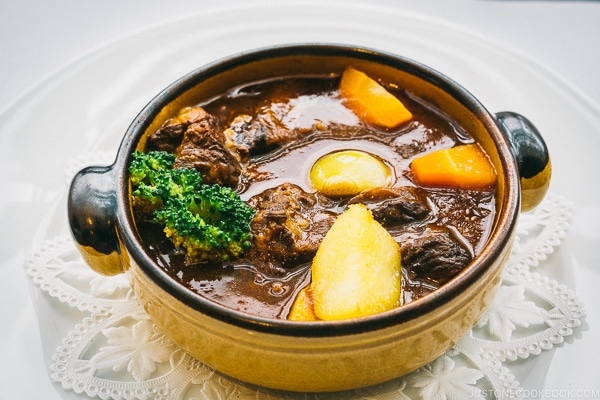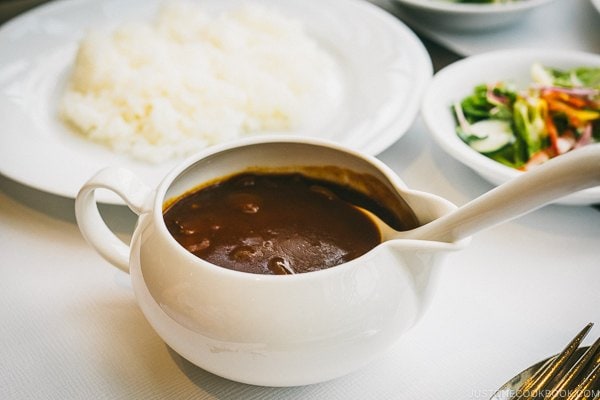 The meal was fantastic and we loved both the beef stew and hayashi rice. Our meal there inspired Nami to perfect her hayashi rice recipe which we'll share soon on the blog.
Kurofunetei 黒船亭
The other yoshoku restaurant with over 100 years of history is Kurofunetei. It's located in a nondescript building near the Shitamachi Museum so you have to look for it. We didn't get to try this time but the plastic sample food outside looked delicious!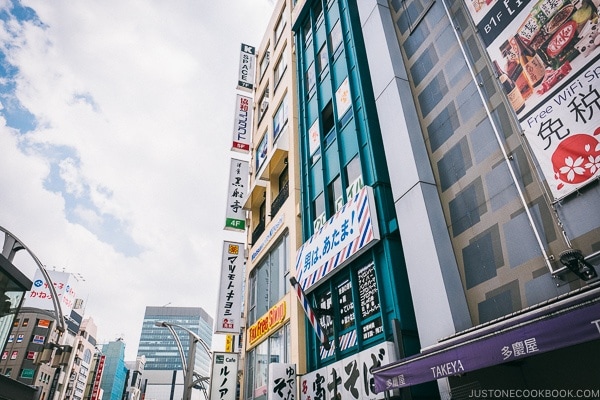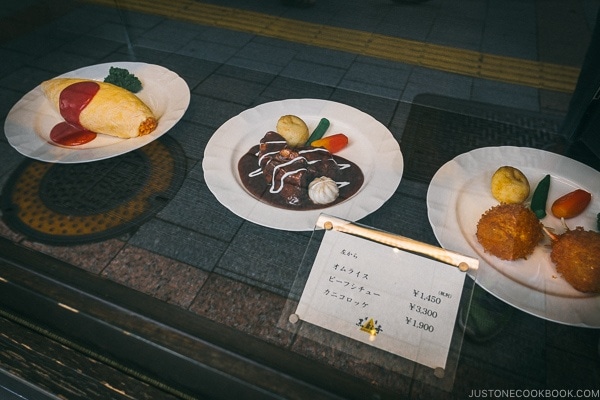 Ameyoko Market アメヤ横丁(アメ横)
Near the Keisei Ueno station is the Ameyoko market. It's an indoor/outdoor mall with restaurants, shops, and gift store filled with souvenirs you can bring home.
To keep the kids happy, we made a quick stop by Taito Station for them to play some games.
Ueno Park 上野公園
After browsing Ameyoko market, we head over the Ueno Park. Our first stop in the park is the Shinobazu pond. There's a temple in the middle of pond modeled after Hogon-ji in Lake Biwa in Shiga Prefecture.
You can rent paddleboats in the pond and our children actually did the boating last year.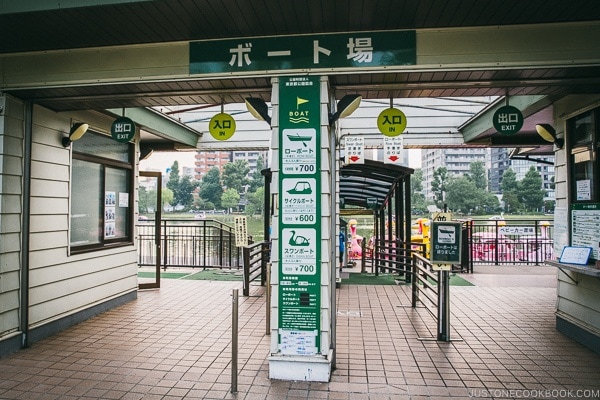 Ueno Park is filled with trees and especially popular during the cherry blossom season. Within the trees, there are shrines and temple you can visit, including Toshogu Shrine, Gojo Tenjinsha, and Kiyomizu Kannon-do.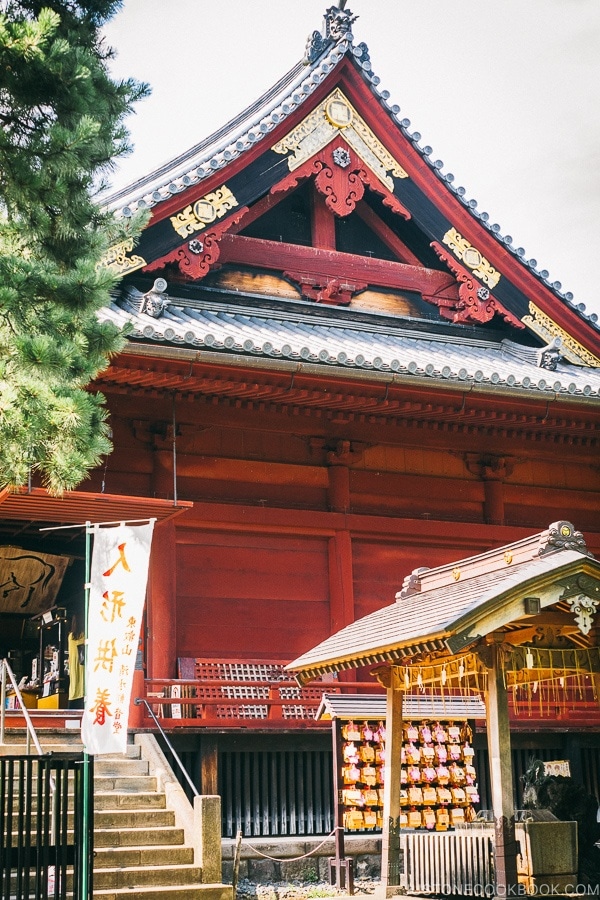 Museums and Zoo at Ueno Park 博物館・上野動物園
Last but the not least, many of Japan's National Museums are in Ueno Park, including Tokyo National Museum, National Museum of Nature and Science, and the National Museum of Western Art. Other museums in the park include the Tokyo Metropolitan Art Museum, The Ueno Royal Museum, and Shitamachi Museum.

Did it surprise you how much there is to do in Ueno? If you haven't spent much time in Ueno, take a day to browse through the park and enjoy the many cultural treasures the museums have to offer. Don't forget to try the yoshoku restaurants when you get hungry.
As always, thank you for reading my post and we'll see you see at Kappabashi Dogu-gai (Kitchenware Street) where Nami purchases the majority of her Japanese kitchen props each summer. If you are interested in our travel blogs, here is the rest of our Tokyo series.