Yatsuhashi is the most popular traditional Japanese sweet from Kyoto. You can make this delicious treat at home with just a few simple ingredients.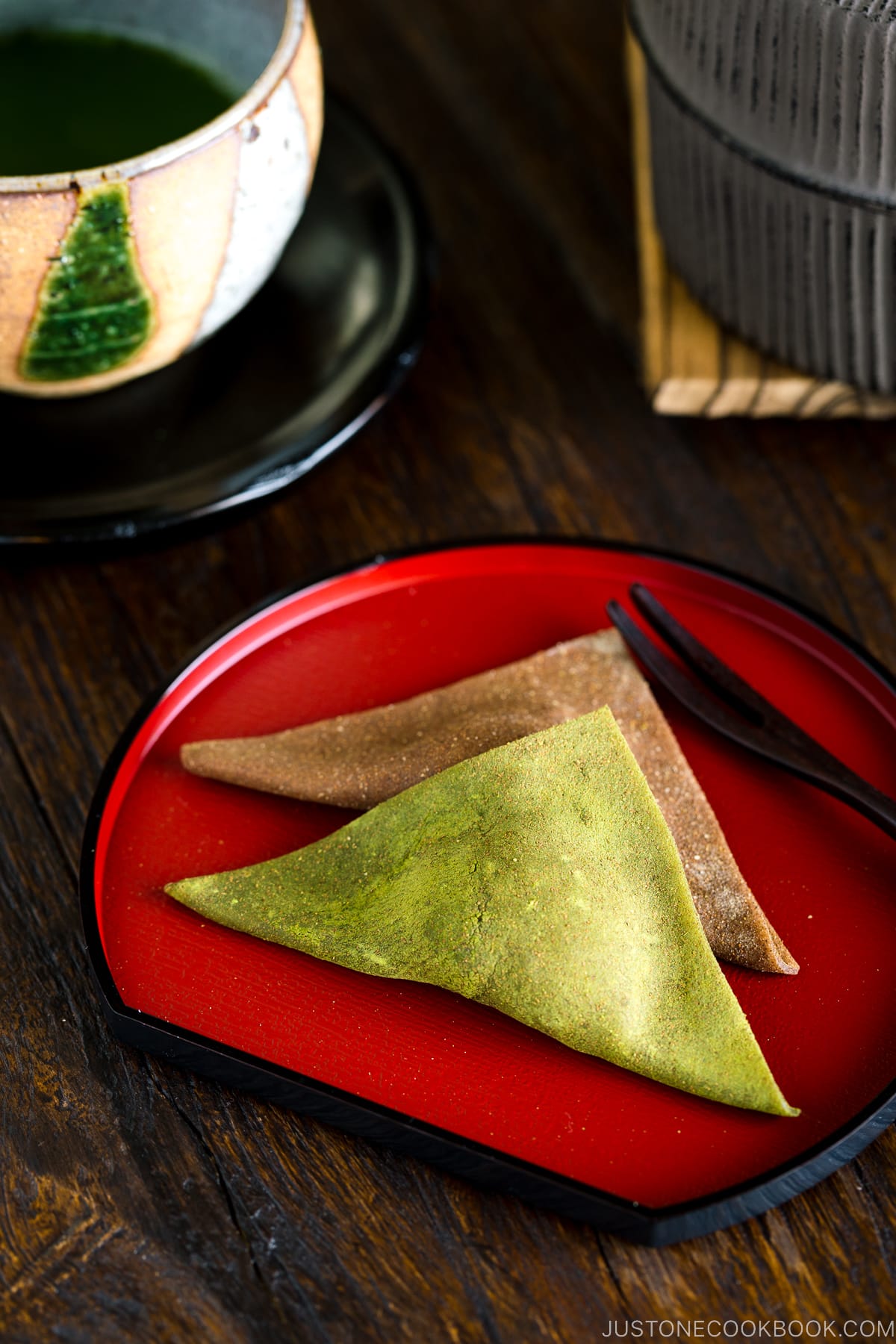 When you visit Kyoto (京都) – one of the most beautiful cities in Japan with ancient temples, gorgeous Japanese gardens, serene rock display, and fabulous food, you should also try its popular confectionery, Yatsuhashi (八ツ橋).
If you are not visiting Kyoto, no worries! I'm going to show you how to make it at home, so you can enjoy this delicious Japanese sweet without stepping foot in the city.
What Is Yatsuhashi?
Yatsuhashi (八ツ橋) is a Japanese confectionery that is made from rice flour, sugar, and cinnamon.
When you're in Kyoto, you'll notice every souvenir shop sells them. It's probably the most famous regional product from Kyoto. Since it's a very well-known gift from the city, you can purchase it even at international airports in Japan.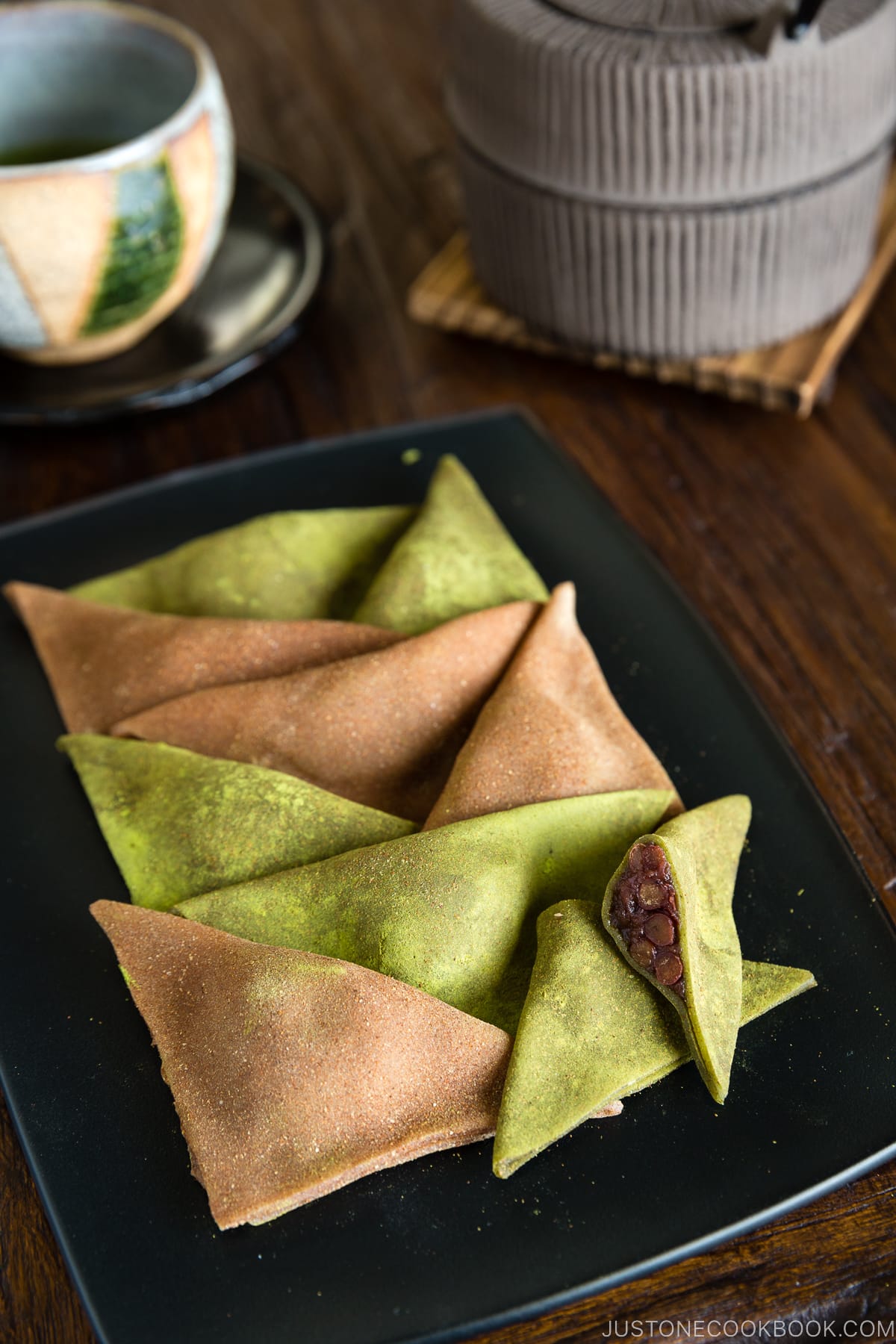 Yatsuhashi Three Ways
This traditional sweet is made in 3 different ways; baked, unbaked, and unbaked with Red Bean Paste.
When the mochi dough is flattened and baked until it gets hard, we simply call it Yatsuhashi. This is the most traditional type. The shape of the crackers is roundish and resembles a Japanese harp or a bamboo stalk cut in half lengthwise. The texture is very crispy and you may find it a bit hard to bite and break with your teeth. They usually come in cinnamon flavor, and you can smell and taste the intense cinnamon spice as you bite into the crackers.
The unbaked version is called Nama Yatsuhashi (生八ツ橋). The steamed mochi is rolled out and cut into a small rectangular shape, and it is enjoyed as is. There are different flavors for Nama Yatsuhashi. The most common ones are cinnamon and matcha (green tea powder) flavors.
Nama Yatsuhashi with Red Bean Paste (餡入り生八ツ橋) is the most popular kind these days. The square thin mochi is folded into a triangle and filled with red bean paste (tsubuan). Today I'm sharing this most popular recipe.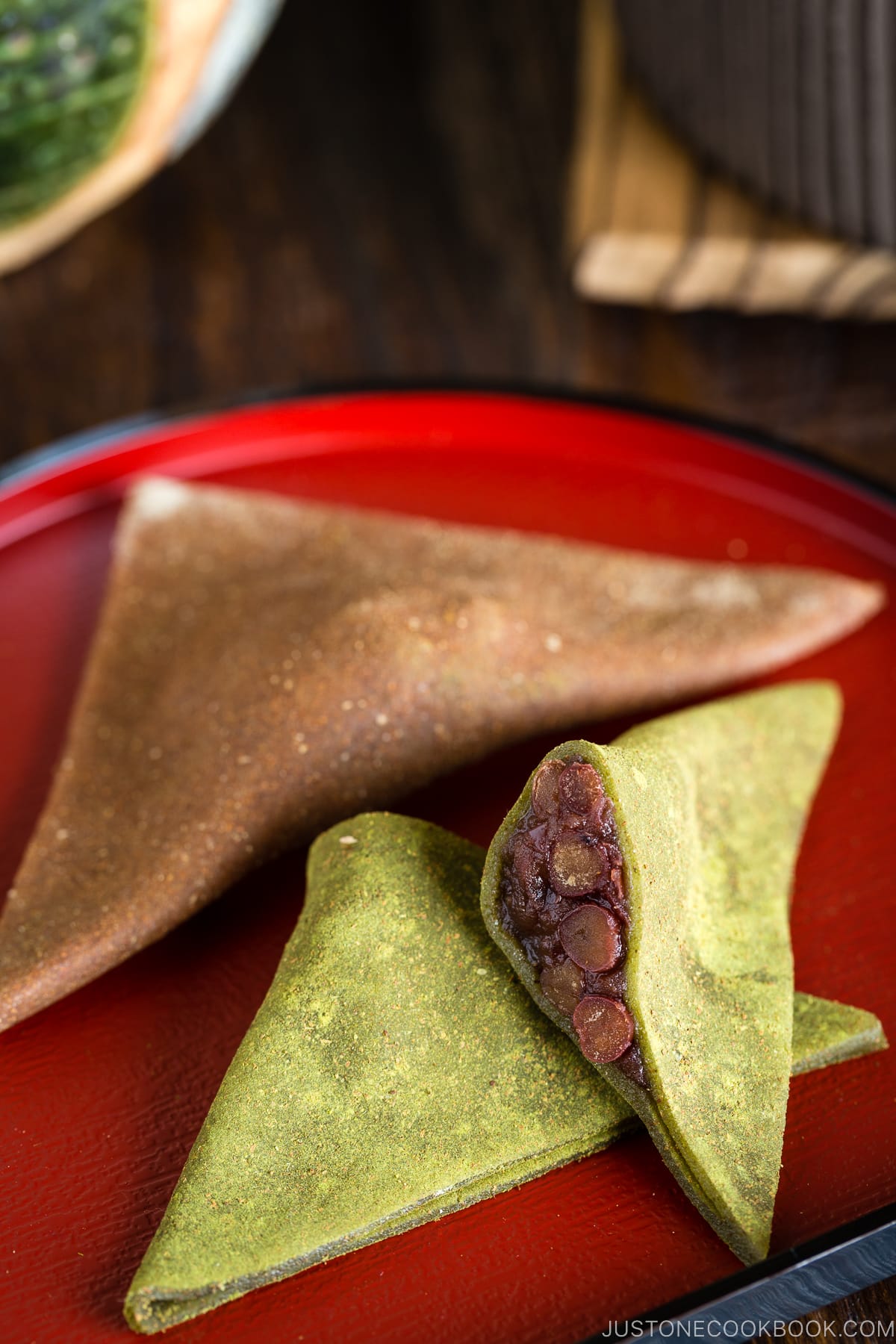 The Key Ingredients for Nama Yatsuhashi
The authentic version is made of 100% rice flour (米粉) – the flour made from short-grain Japanese rice (うるち米), not glutinous rice flour/sweet rice flour (もち米).
The majority of homemade Yatsuhashi recipes online require both Joshinko (上新粉) and Shiratamako (白玉粉).
Joshinko is a type of rice flour and its texture is very fine. When you cook it, it's not as elastic/pliable as mochi made from glutinous rice flour. Shiratamako is a type of glutinous rice flour.
Depending on the recipe, the ratio between these two flours could vary, and a lot of people use more Shiratamako than Joshinko. However, I used more Joshinko in this recipe to keep it closer to the authentic Yatsuhashi taste with 100% rice flour.
Where to Find Joshinko and Shiratamako
Joshinko and Shiratamako can be found in Japanese grocery stores or on Amazon.
When you look for shiratamako at a Japanese grocery store, keep in mind that the texture of shiratamako is rather coarse, despite it being glutinous rice "flour". Some pieces are as big as 1/8 inch (3 mm).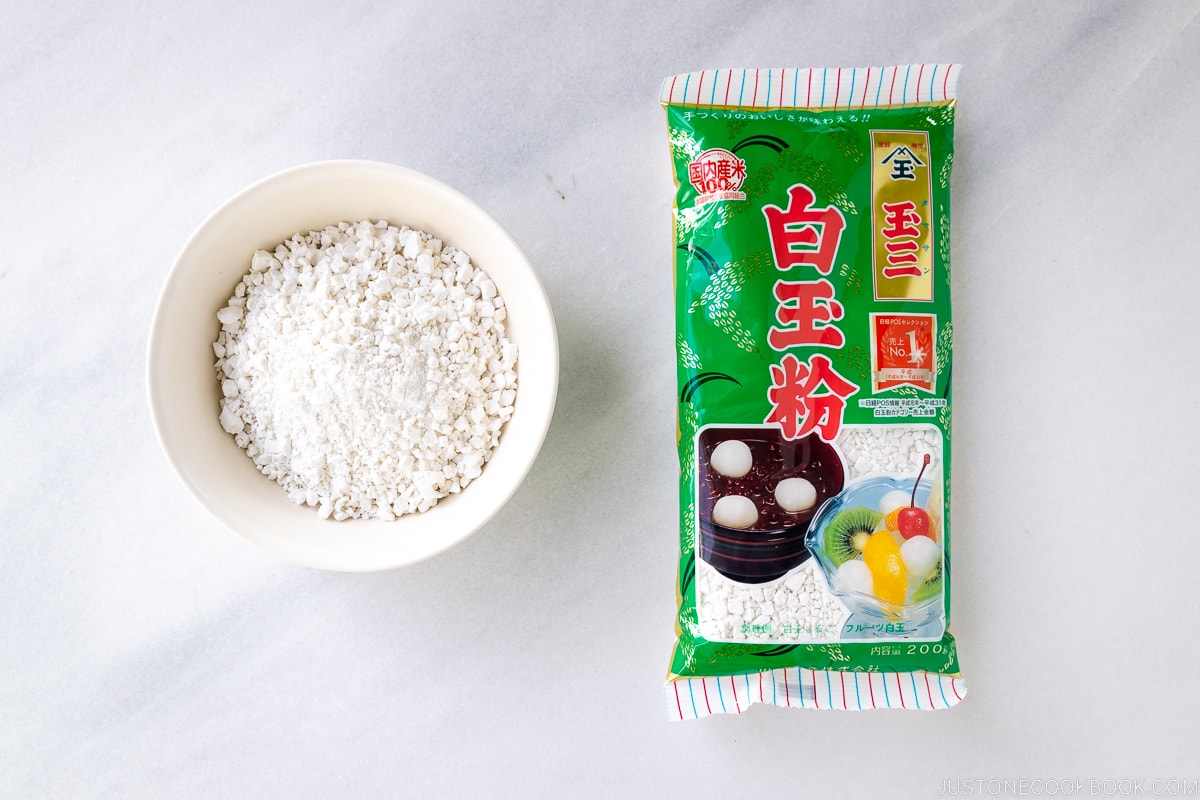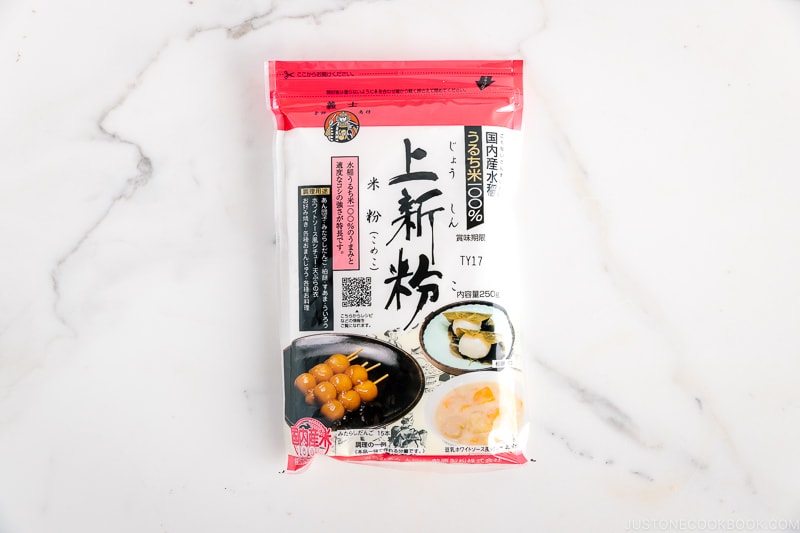 In Asian grocery stores, you can find other Asian rice flour and glutinous rice flour. However, they are not made from Japanese short-grain rice. I've heard from my readers that the taste and texture of the final dish are not the same.
If you cannot find Shiratamako, you can use another type of glutinous rice flour/sweet rice flour called Mochiko on Amazon or at some American grocery stores. However, please know that the result will not be the same.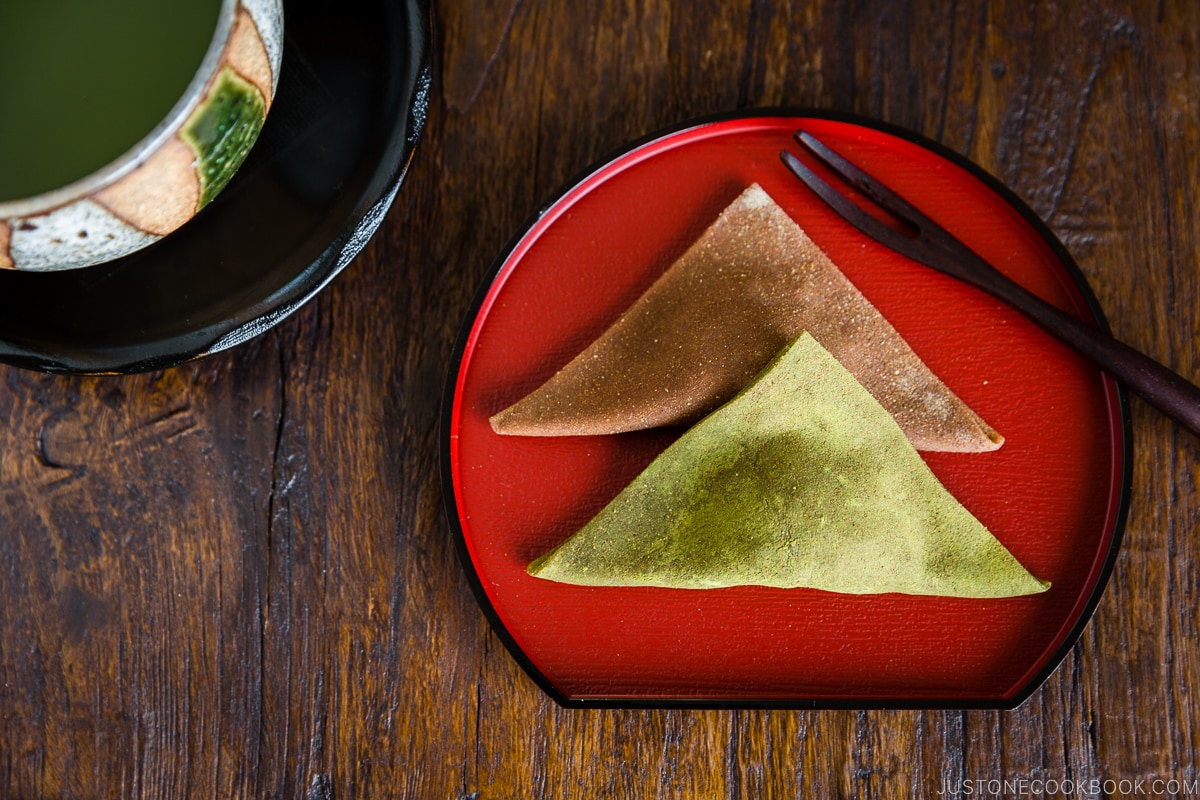 Wish to learn more about Japanese cooking? Sign up for our free newsletter to receive cooking tips & recipe updates! And stay in touch with me on Facebook, Pinterest, YouTube, and Instagram.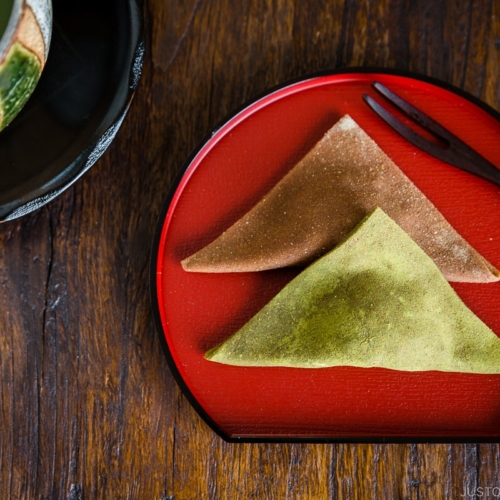 Yatsuhashi
Yatsuhashi is the most popular traditional Japanese sweet from Kyoto. You can make this delicious treat at home with just a few simple ingredients.
Japanese Ingredient Substitution:
If you want substitutes for Japanese condiments and ingredients, click
here
.
Instructions
Gather all the ingredients.

In a large (microwave-safe) bowl, add scant ¼ cup (30 g) shiratamako and ¼ cup + 1 tsp (65 ml) water. Whisk well to combine so that there are no lumps of flour. We mix these two first, before adding the rest of the dry ingredients.

Add ¼ cup + 2 tsp (60 g) granulated sugar and ¼ cup + 2 tsp (50 g) joshinko, mix well with a spatula. Sugar will make the dough watery. You should be able to see the bottom of the bowl for a second when you draw a line. Add more water to reach that consistency, if necessary.
Microwave Method
Loosely cover the bowl with plastic wrap and put it in the microwave. My microwave is 1400W and strong, so I reduced the power to half (P5) and then microwave for 1.5 minutes (if you microwave is 600W then you should heat it for 3 minutes). Take it out and mix evenly with a wet spatula. Cover with plastic wrap again and microwave for another 1 to 1.5 minute (adjust based on your microwave wattage).


It's ready once it becomes thick and sticky like soft mochi when you mix it with the wet spatula.
Stovetop Method
In a pot that is large enough to fit the bowl, put a steamer rack inside. Fill the bottom of the pot with water (make sure water won't reach to bowl when boiling) and bring to boil. Once boiling, place the bowl inside. Wrap the lid with a kitchen towel so that the condensation won't drop into the mixture. Cover the lid and steam for 12-15 minutes, until the mixture becomes mochi-like – sticky, white, and thick when you mix with a wet spatula.

Spread some soybean powder on the working surface.


Cut the dough in half. Keep the half in the bowl and cover with plastic wrap so it won't dry out.


Flatten the dough and sprinkle 2 tsp cinnamon powder.

Knead the dough to evenly distribute the cinnamon powder.

With a rolling pin, roll out the dough to thin sheet. Try to stretch it out into a rectangular (or square) shape, so it'll be easier to cut into squares.


Create a 3 x 3 inch (8 x 8 cm) square pattern with a cardboard paper. Place on the dough and cut out with a knife. Sprinkle soybean powder in between the wrappers so they don't stick together.


With leftover pieces, knead and roll flat again to create more pieces.


Combine 2 tsp matcha green tea powder and 1 tsp cinnamon powder. Whisk well together.

Flatten half of the dough that you kept in the bowl and sprinkle the matcha/cinnamon powder over the dough as you knead.


With a rolling pin, roll out the dough to thin rectangular sheet. Try to stretch it out into a rectangular (or square) shape, so it'll be easier to cut into squares.


Once you finish cutting the dough in squares, place 1 heaping teaspoon (15 g) of red bean paste in the center of the dough.


Fold into a triangle shape. If the dough edge won't stick, wet it with water and fold to seal. Enjoy within 24 hours.
To Store
Just like other mochi desserts, yatsuhashi will become hard and dry when it's stored in the refrigerator. Keep yatsuhashi in an airtight container and store it at a cool room temperature.
For Baked Yatsuhashi
Roll out the dough into a thinner dough and cut into inch ¾ x 2 ¼ inch (2 x 6 cm) strips. Bake them at 300ºF (150ºC) for 15-20 minutes. If you prefer it to be more crispy, keep it in the oven for a little longer. When they are crispy, remove them from the oven and let them cool. Store in an airtight container.
Nutrition
Calories:
93
kcal
·
Carbohydrates:
21
g
·
Protein:
2
g
·
Fat:
1
g
·
Saturated Fat:
1
g
·
Polyunsaturated Fat:
1
g
·
Monounsaturated Fat:
1
g
·
Sodium:
15
mg
·
Potassium:
89
mg
·
Fiber:
1
g
·
Sugar:
11
g
·
Vitamin A:
43
IU
·
Vitamin C:
1
mg
·
Calcium:
12
mg
·
Iron:
1
mg
©JustOneCookbook.com Content and photographs are copyright protected. Sharing of this recipe is both encouraged and appreciated. Copying and/or pasting full recipes to any website or social media is strictly prohibited. Please view my photo use policy
here
.