Are you a big fan of mochi (Japanese rice cakes)? Let's discover all the different types of mochi, including delicious recipes on how to make them at home!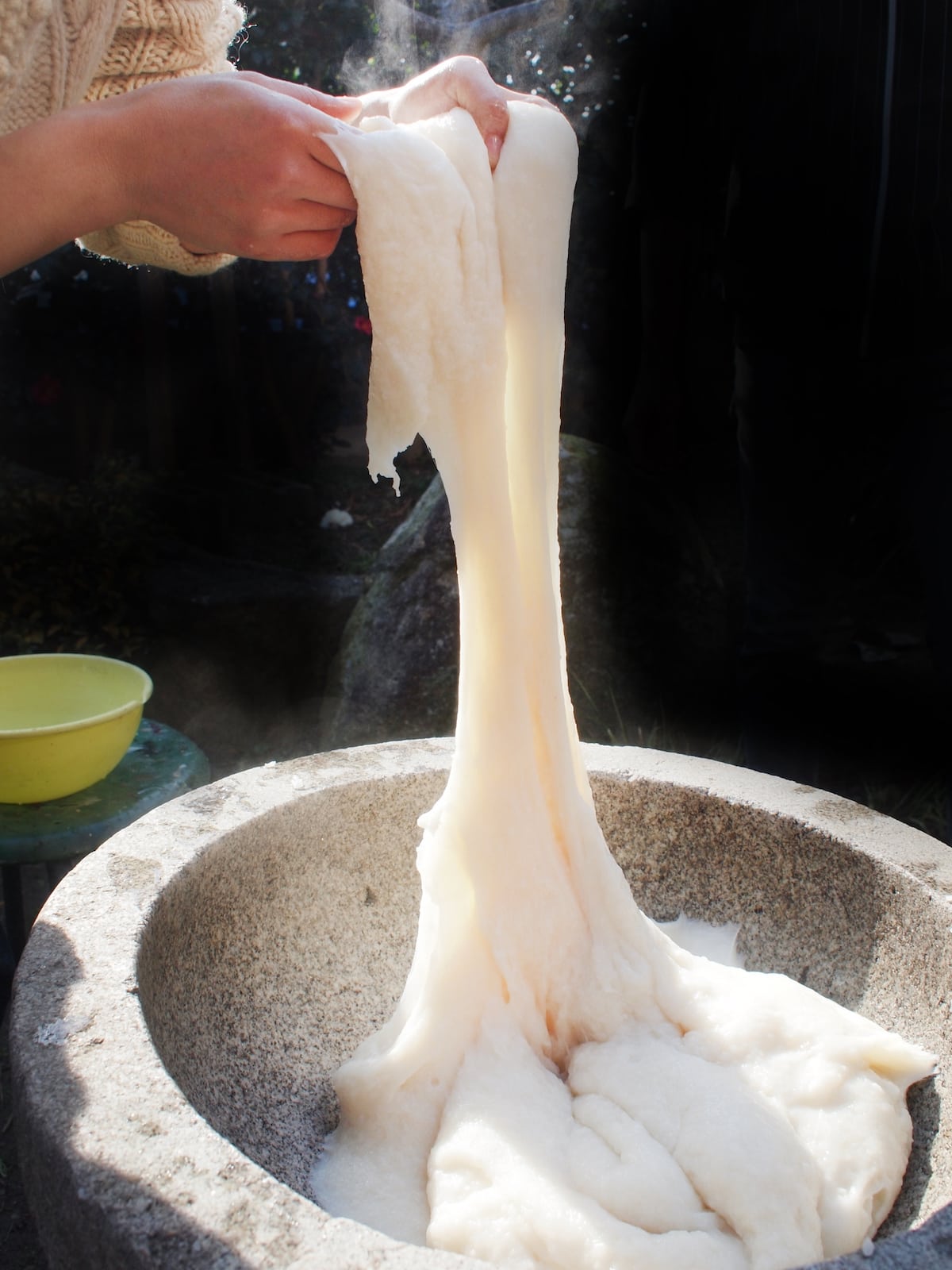 Squishy, gummy, and marvelously chewy, there's something inherently fun and tactile about mochi. But what exactly is mochi?
For the uninitiated, mochi refers to Japanese sweet rice cakes that have a deep history in the Japanese food culture. If you've only tried mochi ice cream that comes in a myriad of pastel colors or trendy mochi donuts that are shaped like a baby teething ring, there's more to mochi for you to experience and explore!
Here, we'll introduce various popular types of mochi, including recipes on how to make them. Let's take a look!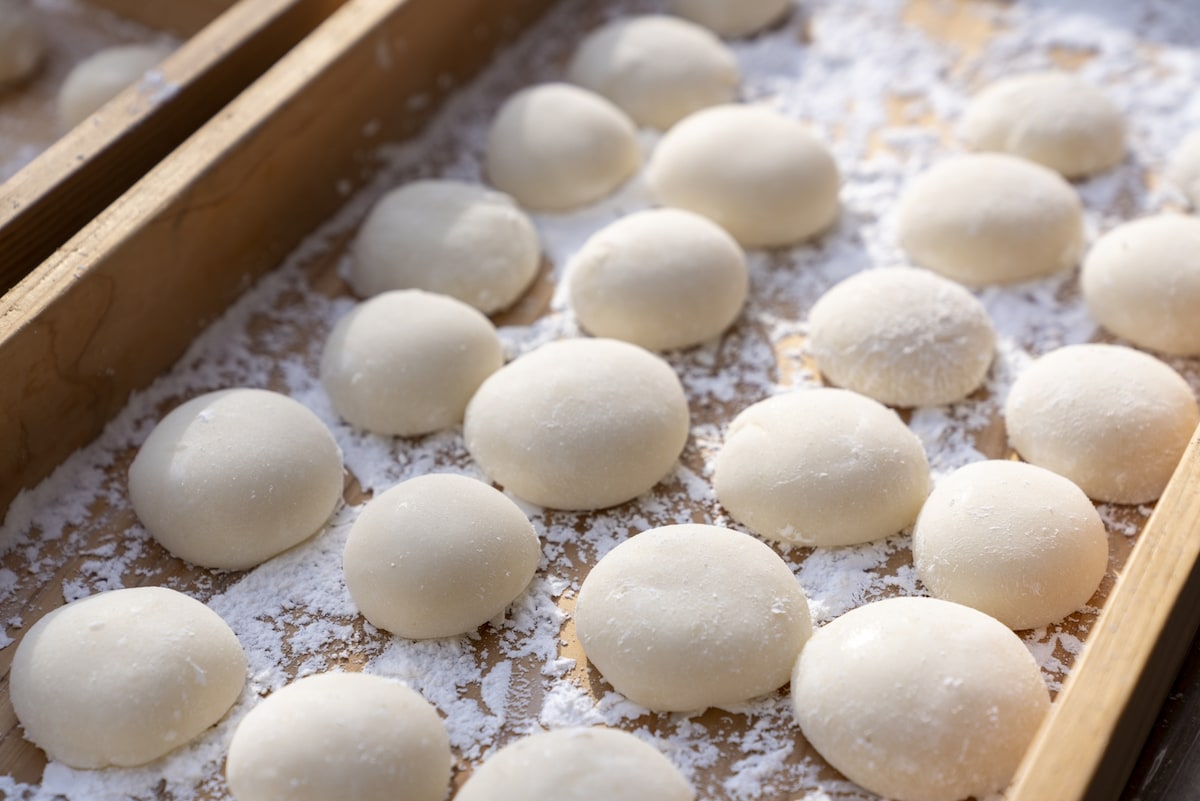 What is Mochi?
Mochi is commonly used as the umbrella term for all the different styles and flavors of Japanese rice cakes outside of Japan. In Japan, however, the definition of "mochi" can be a little murky and bemusing.
When the word 'mochi' or 'o-mochi' (with the honorific "o") is used, the Japanese would only associate it with traditional plain mochi, which can be served fresh and dried and with a sweet or savory filling. Specific names would be used for other mochi confectionaries (mochigashi). So you'd need to know what you are looking for before referring to all Japanese rice cakes as 'mochi.'
* In this post, we will refer to all rice cakes including mochi confectionaries as 'mochi.'
Traditionally, mochi is considered celebratory food and is eaten to bring good luck on special occasions. The tradition of eating and making mochi is closely tied to the cultural symbol of rice in Japanese society. Now eaten year-round, mochi still carries significant meanings for festivals, social events, and ceremonies, such as weddings, Children's Day, Mid-Autumn Festival, and Japanese New Year celebrations.
Thanks to its delicate quality, mochi can take on many forms and pair well with a great variety of flavors and ingredients. You can't deny the joy of taking a bite of mochi—whether it's glazed with savory soy sauce, used as a topping in udon noodle soup, filled with sweet red bean paste, or stuffed with strawberry ice cream.
What Is Mochi Made Of?
Mochi is made from a Japanese variety of short-grain glutinous rice (also known as sweet rice) called mochigome (糯米).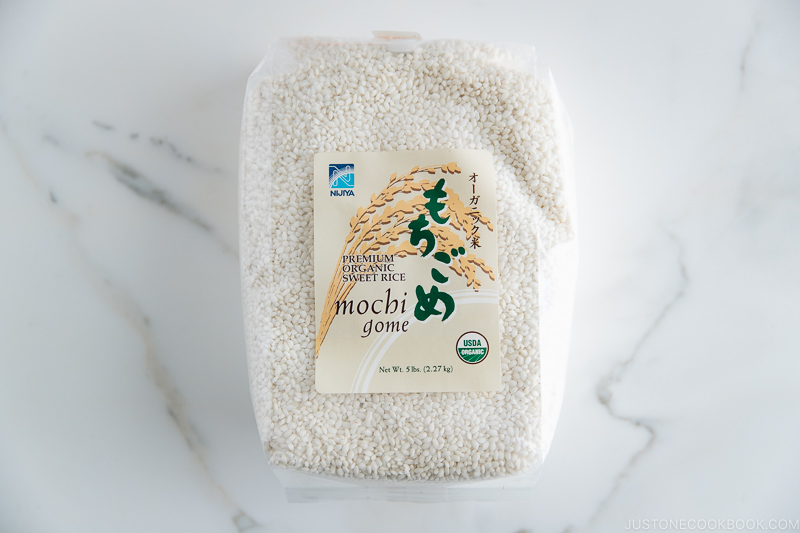 The glutinous rice contains amylopectin, a water-soluble component of starch, and when released into liquids, it gives mochi its beloved texture.
2 Types of Japanese Mochi
Plain mochi is made with only 2 simple ingredients: mochigome (short-grain glutinous rice) and water. It's the most basic and traditional style of Japanese rice cake, known for its subtle sweetness and chewy texture.
To make mochi, the glutinous rice is first soaked in water, then steamed, and finally mashed and pounded until smooth and formed into a typical round shape or other desired shapes.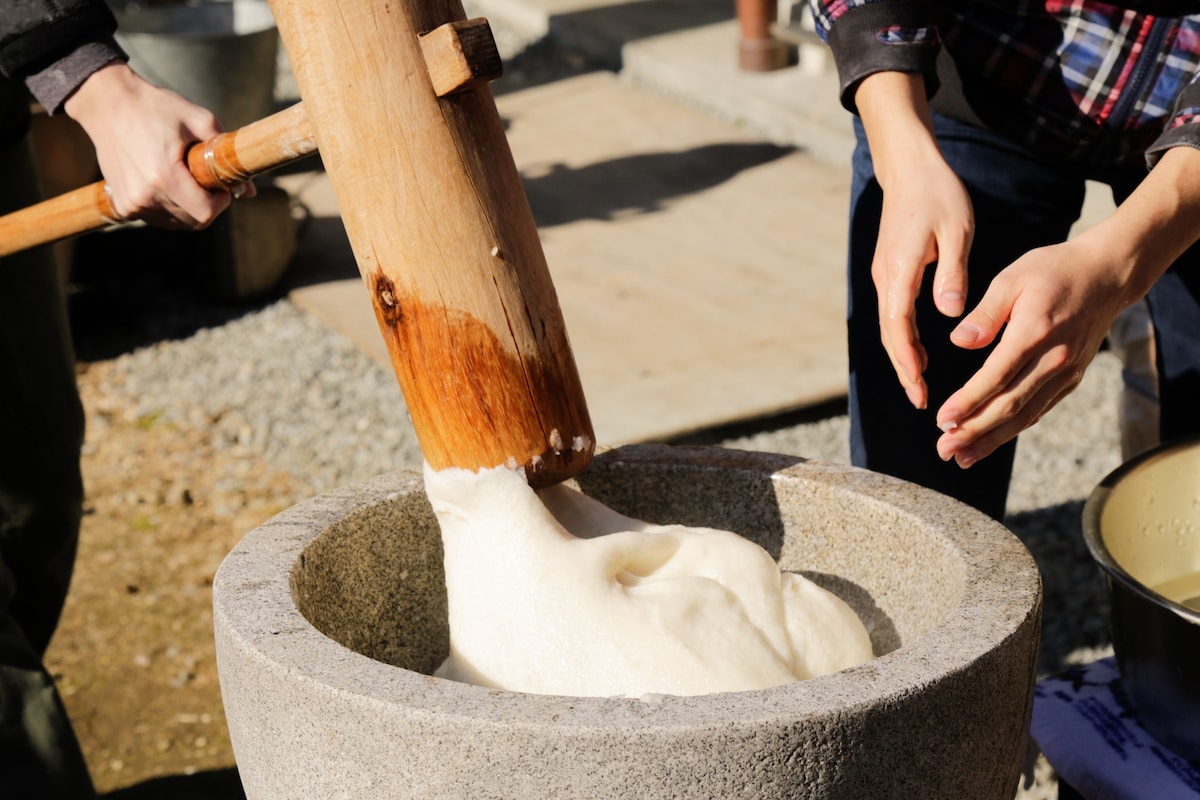 The traditional method of making mochi requires at least two people to handle a large Japanese stamp mill called usu (臼) and a heavy wooden pestle called kine (杵).
In the modern days, you can make mochi with a Japanese bread machine with a "mochi making" function, a mochi making machine, or a shortcut method by using a microwave.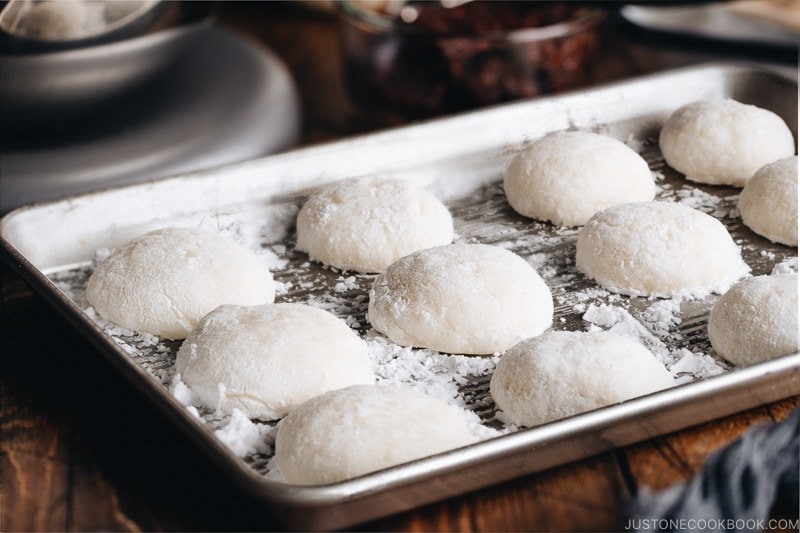 👉🏻 Wish to learn how to make plain mochi from scratch? My Homemade Mochi recipe shows you how to make it with a rice cooker and KitchenAid stand mixer. This is a fairly straightforward process and many of the JOC readers have tried it with success.
👉🏻 No time to make a fresh one? Get dried kiri mochi from Japanese grocery stores or Amazon! Kiri mochi or "cut mochi" is a shelf-stable dried mochi that comes in square and round shapes. Try toasting them in the toaster oven or a dry frying pan, and top a hot soup like this Chikara Udon or a dessert-style red bean soup like Zenzai. So amazingly good!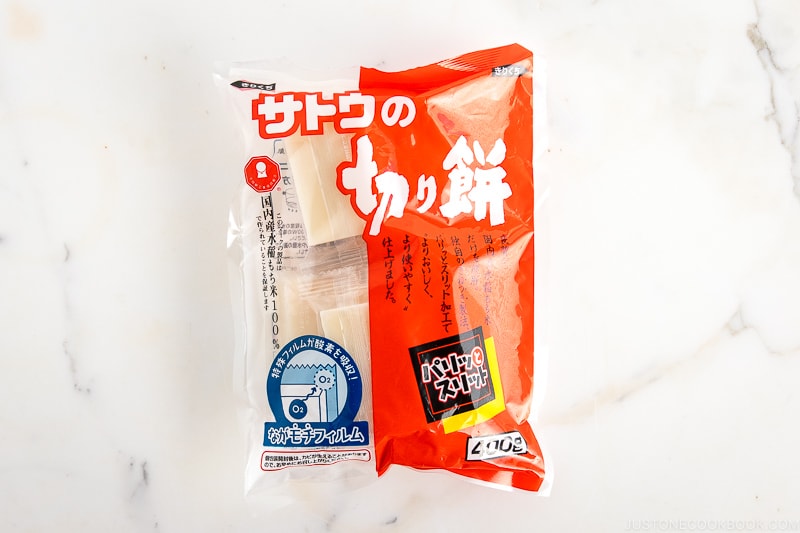 👉🏻 How do you eat plain mochi? You can enjoy it with savory or sweet toppings/fillings following my recipe.
👉🏻 Do you know about the Japanese New Year mochi decorations? Come in pairs, kagami mochi (鏡餅) are round-shaped, decorated rice cakes made as an offering to the deity of the New Year. At the end of the New Year's celebration, the Japanese have a tradition of performing a ceremony called kagami biraki which involves breaking the mochi. The ceremony marks significant events or transitions to new stages in life.
2. Gyuhi
Similar to mochi, gyuhi (求肥) is a mochi-like dough and it is an essential ingredient used in various Japanese sweets called wagashi (和菓子).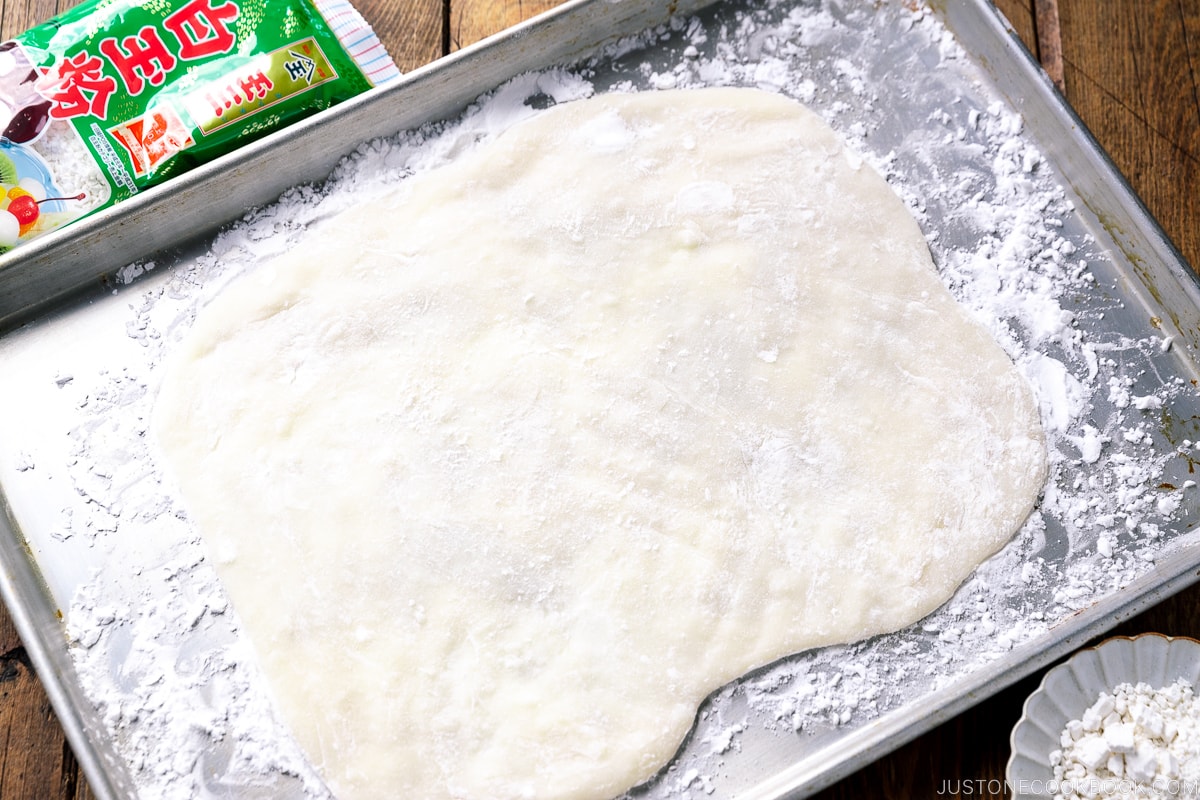 When people outside of Japan talk about mochi, it refers to this mochi-like dough or mochi-wrapped confectionery; however, the Japanese do not call this type of dough "mochi."
Gyuhi is made with glutinous rice flour such as shiratamako (白玉粉, chunkier flour) or mochiko (餅粉, fine powder). The soft, delicate dough is made by heating and kneading glutinous rice flour with water, sugar, and sometimes mizuame (水飴, starch syrup). Then, the dough t is used as the outer wrapping for traditional Japanese sweets like daifuku mochi.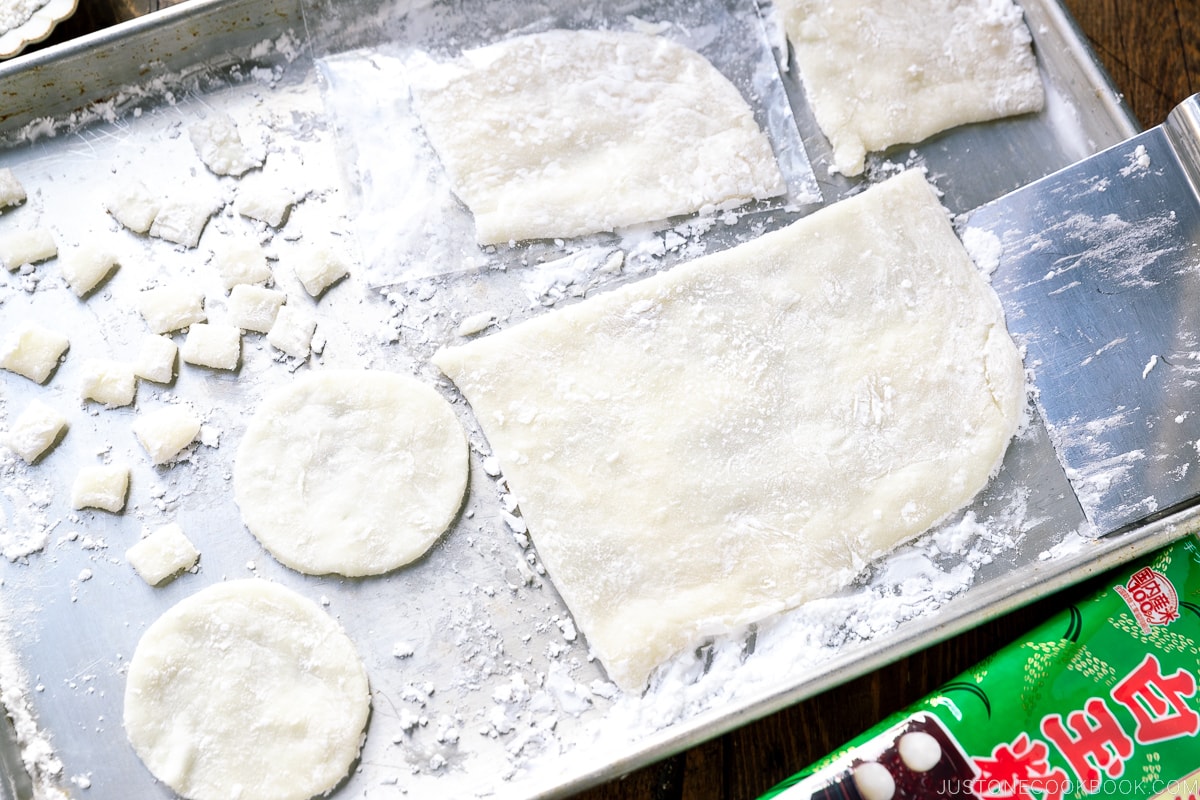 Gyuhi has a high content of moisture due to the sugar. As a result, it does not harden like the traditional plain mochi. Plain mochi requires cooking such as baking, boiling, or frying after a certain amount of time has passed, but gyuhi can be eaten as is without cooking.
Classic Mochi Sweets
Mochi sweets or mochigashi (餅菓子) are traditional Japanese confectioneries made from glutinous rice, non-glutinous regular white rice, kudzu starch, or bracken starch. Many kinds of mochi sweets are stuffed with red bean paste, but there are some that do not include the red bean filling.
Here are the classic mochi sweets in Japan.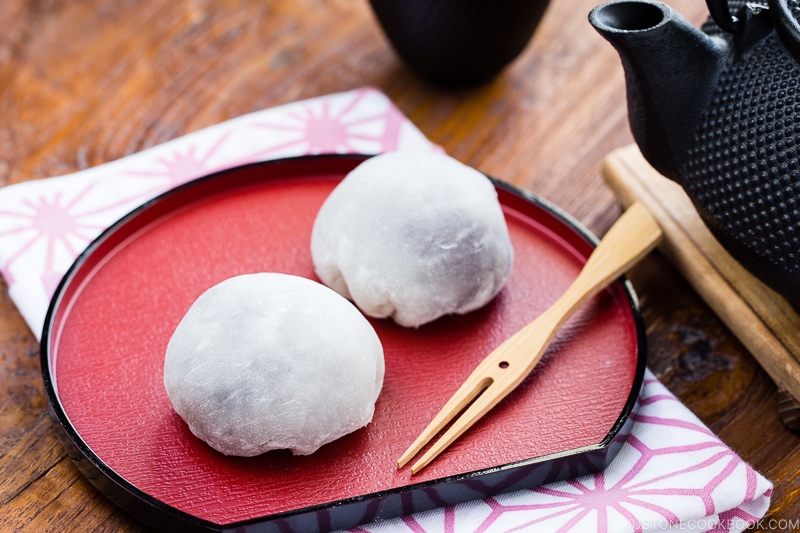 Daifuku (大福餅) is small, round mochi filled with sweet red bean paste or sometimes with white bean paste. You can make this popular sweet at home with a quick steam on the stovetop or in the microwave.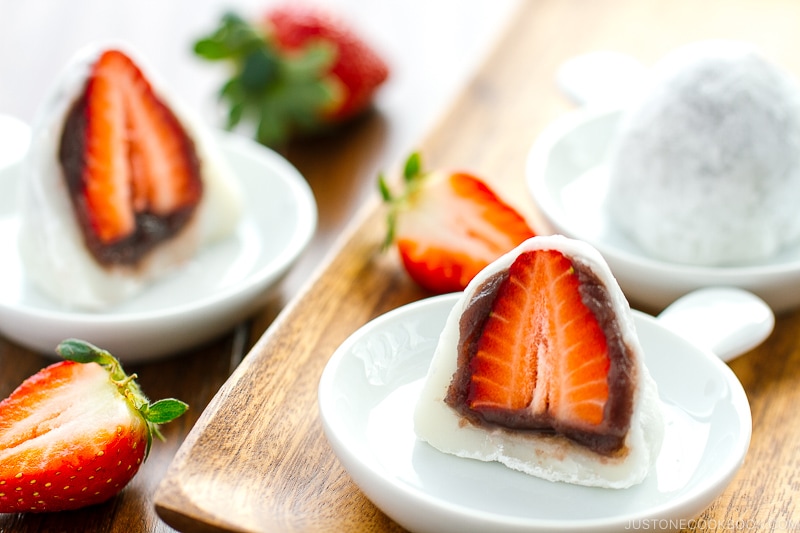 Ichigo daifuku (いちご大福) or strawberry mochi is a variation of daifuku that started to appear in the 1980s. The soft and chewy mochi is stuffed with fresh juicy strawberry and sweet red bean paste. This is particularly a popular dessert during springtime.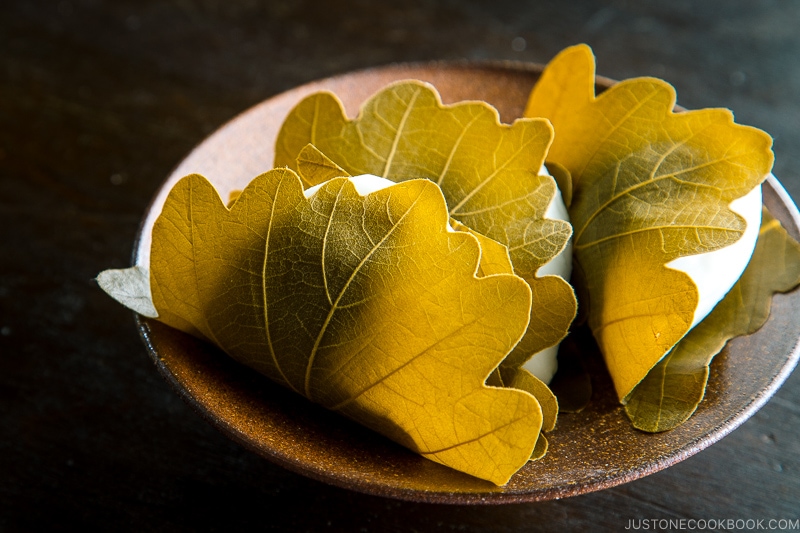 Kashiwa Mochi (柏餅) is a traditional mochi with red bean paste filling is wrapped with an oak leaf. It is enjoyed on Children's Day in Japan. The oak leaf is not edible, but it imparts a lovely fragrance to the mochi.
Sakura mochi (桜餅) is known for its pretty pink sakura color, and it's usually filled with sweet red bean paste and wrapped in a salty pickled cherry leaf. Sakura mochi is eaten on Girl's Day on March 3rd and enjoyed throughout the spring season in Japan.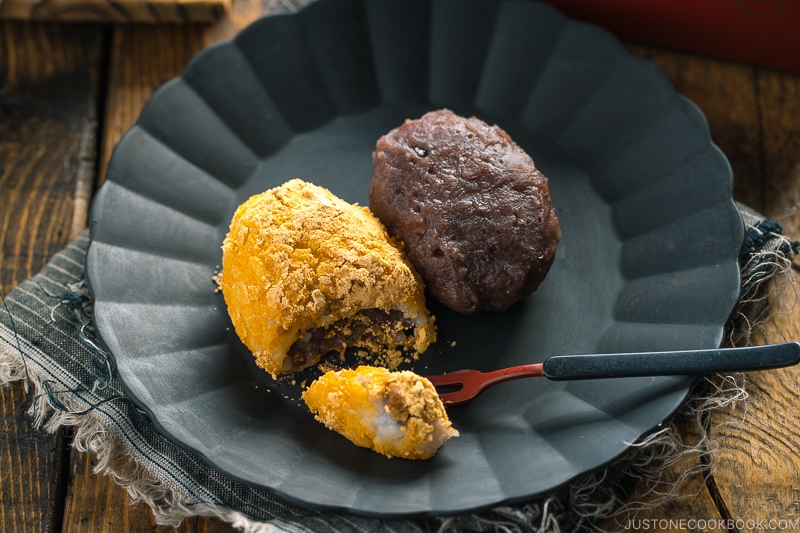 These Japanese sweet rice balls are offered to one's ancestors and eaten during the spring and autumn equinoxes in Japan. They are called botamochi (ぼたもち) in spring and ohagi (おはぎ) in autumn. The rice balls are formed into the shape of a small cylinder and covered with red bean paste on the outside. There are also variations where the rice balls are coated with sweetened soybean flour or sweetened ground black sesame and stuffed with red bean paste on the inside.
5. Chimaki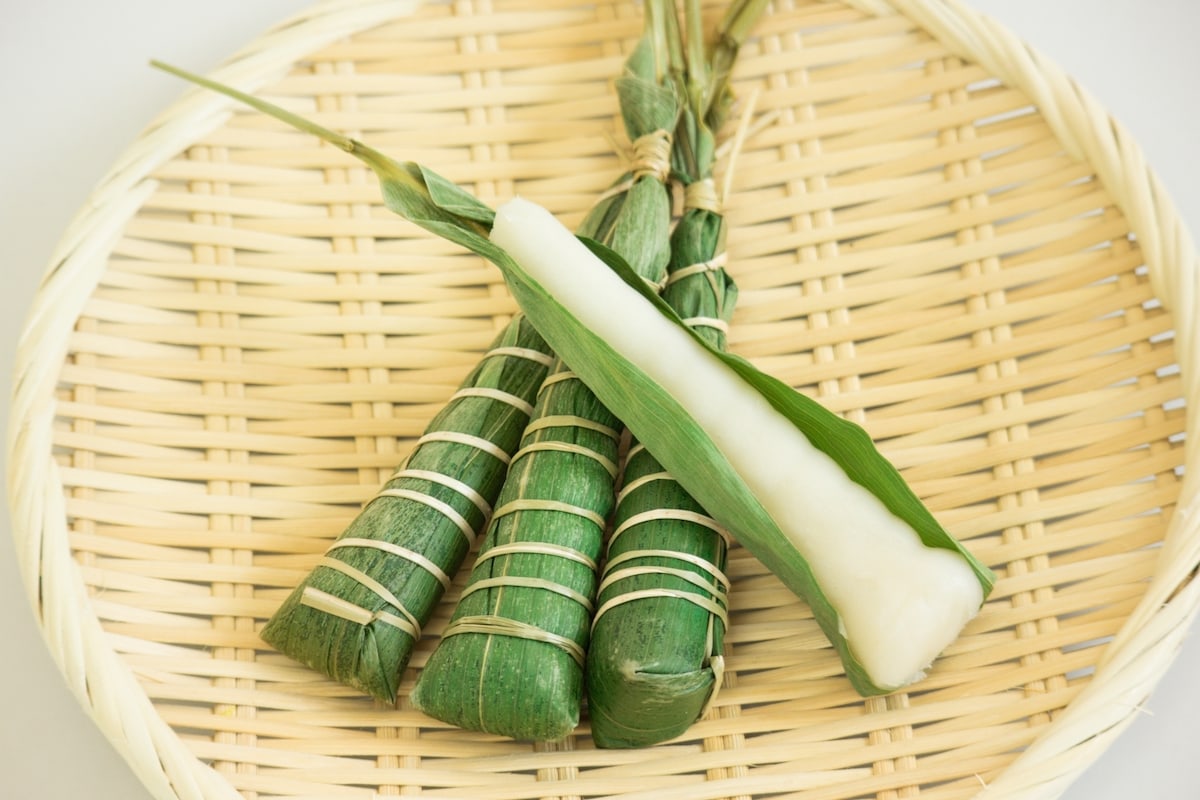 Chimaki (粽,ちまき) is s a rice cake confection that originated in China and was brought to Japan. Mochi is wrapped in bamboo leaves and eaten steamed or boiled. Chimaki is made with a sweet flavor in Japan, but in China and Taiwan, it is mixed with meat and eggs and eaten as a light meal rather than a snack.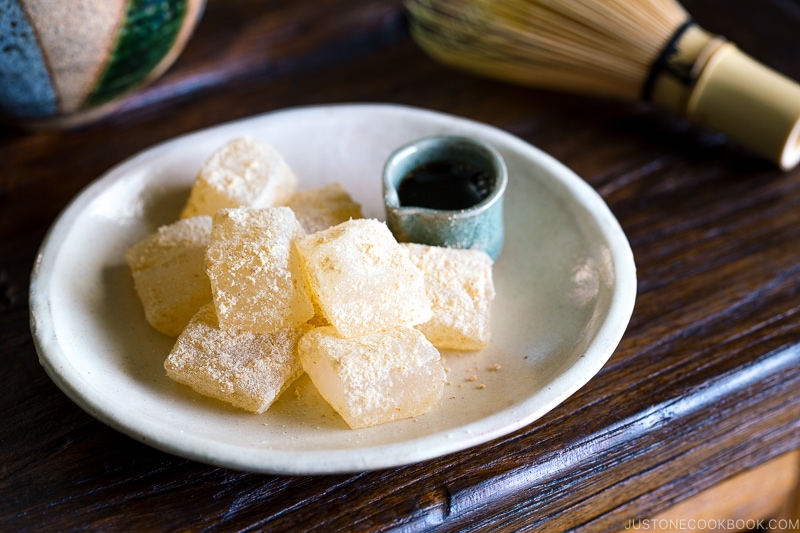 Made from bracken starch, warabi mochi (わらび餅) is deliciously chewy, jelly-like mochi covered with sweet and nutty soybean powder and drizzled with kuromitsu syrup. Most Japanese grocery stores carry warabi mochi, otherwise, it's a fun one to make at home.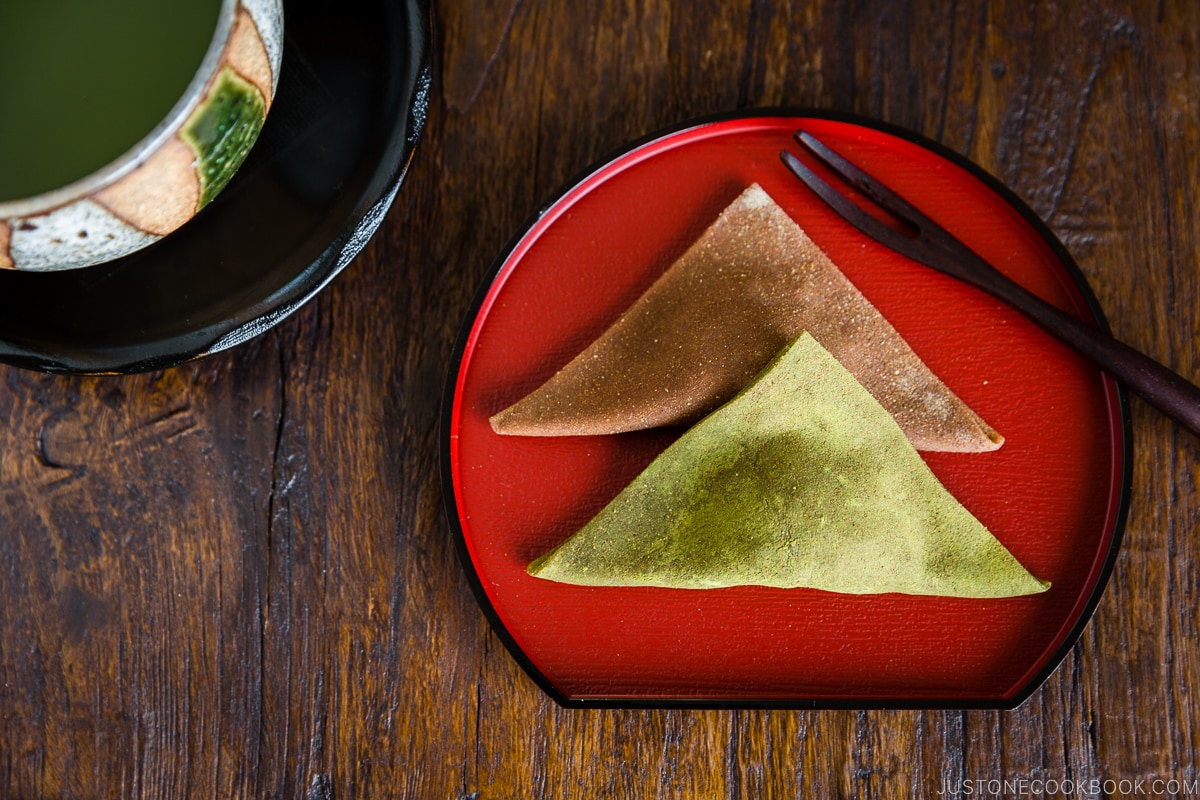 Yatsuhashi (八ツ橋) is the most popular traditional Japanese sweet from Kyoto. Every souvenir shop sells them, but you can easily make this at home as it requires only 4 simple ingredients: glutinous rice flour, rice flour, sugar, and cinnamon.
Modern Interpretation of Mochi
In addition to the traditional mochi listed above, you'll find many modern mochi desserts that carry the name "mochi." They are not necessarily made by pounding steamed glutinous rice but they are made with glutinous rice flour, which gives them the signature mochi-like chewy texture.
Here are just some examples of modern mochi treats: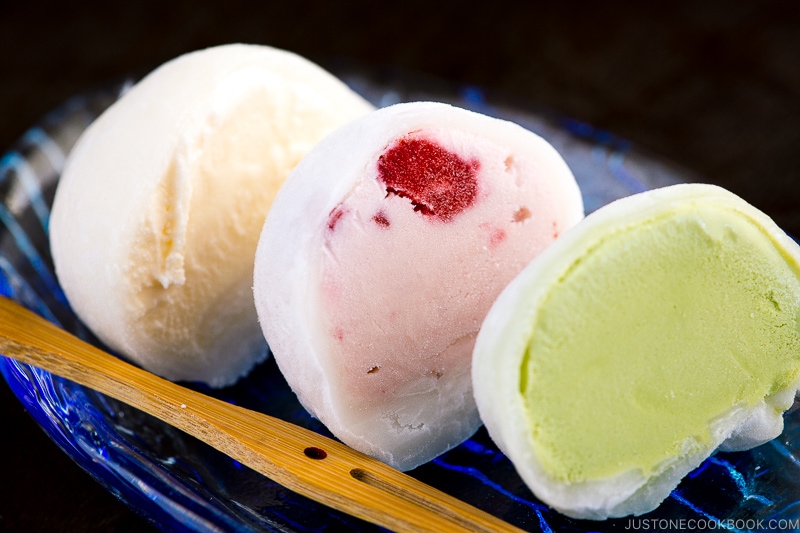 Mochi ice cream—made of sticky rice dumplings with an ice cream filling—is probably the most famous 'mochi' outside of Japan. This popular frozen dessert comes in an adorable round shape and is available in many pretty colors and flavors. It is actually the creation of a Japanese American women entrepreneur who expanded on the idea of traditional mochi sweets.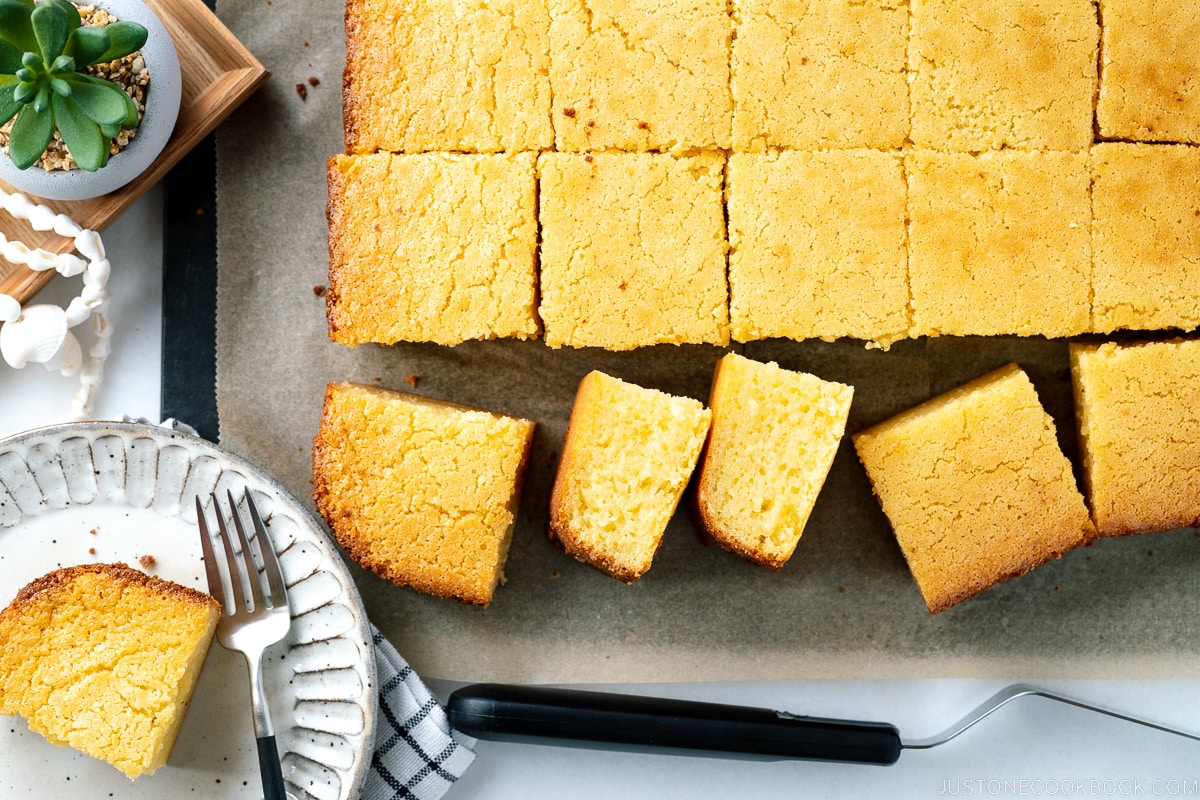 A classic treat in Hawaii, this perfectly chewy, custardy cake is made of glutinous rice flour (mochiko), condensed milk, and coconut milk. The inspiration comes from a hybrid of Filipino bibingka and Japanese mochi.
Mochi Donuts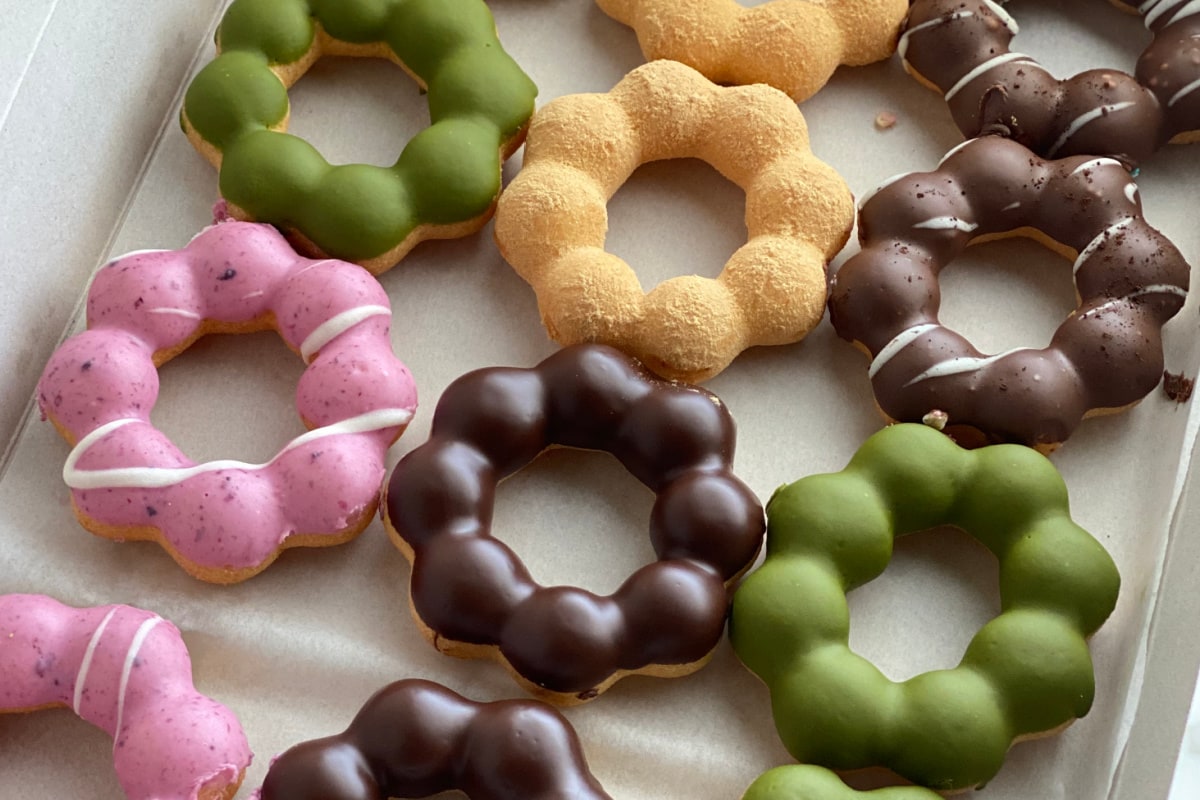 Mochi donuts offer you the best of both the donut and mochi worlds! These donuts made with glutinous rice flour were popularized and inspired by the famous bubble-ring-shaped Pon de Ring Donuts from Mister Donuts in Japan.
The Japanese often associate mochi-like texture with the phrase mochi-mochi, which describes a uniquely soft but elastic or even bouncy texture. Although Pon de Ring donuts have a mochi-like texture, they are made with tapioca flour and not with glutinous rice flour.
---
FAQs
Q: How to pronounce mochi?
Mochi is pronounced as [mo-CHI] in Japanese.
Q: Where can I buy mochi?
You can buy different types of mochi from Japanese or Asian grocery stores or online such as Amazon. Some of the popular store-bought mochi snacks available online include brown sugar boba mochi, fruit mochi daifuku, boba milk tea mochi, and tamari mochi snack bites.
However, if you prefer simple and traditional mochi made with 100% glutinous rice, we recommend buying kiri mochi. You can simply toast or grill it and enjoy it in so many different ways!
Q: What's the difference between mochi and dango?
Mochi is made by steaming and pounding glutinous rice, and dango is made by kneading and boiling glutinous rice flour. While both are chewy, mochi has a gooier texture.
Q: Is it true that mochi is a health hazard?
Yes, the sticky rice cake can be dangerous to eat if not cautious. The sticky gummy texture can lodge in your throat and can cause suffocation. Even the Japanese government issues public warnings every year. Therefore, please avoid serving it to the elderly with weak jaws or small children. Around 300 people above 65 years old die annually in Japan from choking on it, where roughly half occur during the first few days of January.
If you're concerned, cut mochi into smaller pieces, and chew very well and slowly.
---
How many types of mochi have you tried? What are some of your favorites? Share them with us in the comments below!
Wish to learn more about Japanese cooking? Sign up for our free newsletter to receive cooking tips & recipe updates! And stay in touch with me on Facebook, Pinterest, YouTube, and Instagram.