Hinamatsuri or Girl's Day in Japan is celebrated with special foods, such as chirashi sushi, clam soup, and strawberry daifuku.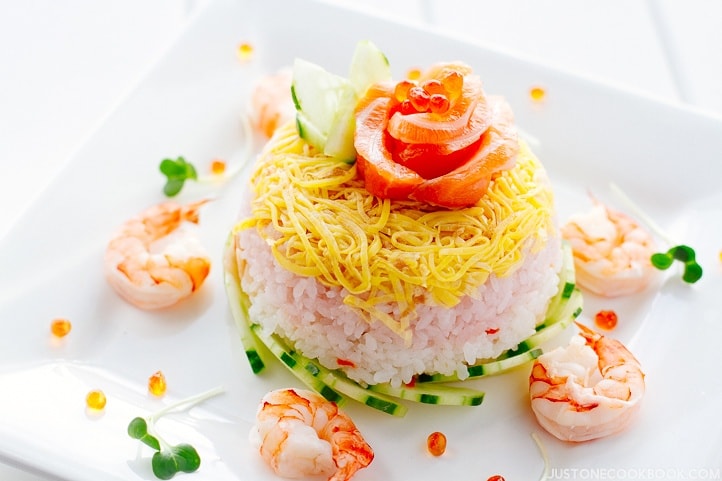 March 3rd is Girl's Day in Japan and we celebrate Hinamatsuri or Doll Festival (雛祭り), wishing and praying for the future happiness of all girls.
The families who have girls will display their special Hina Dolls or Hina Ningyo (雛人形) on this special occasion.  The miniature Hina Ningyo above was gifted by my best friend from Osaka long time ago, and I look forward to decorating with this ornament out every year.
When a baby girl is born, her parents or grandparents buy a set of Hina Ningyo or they pass their own set down to the girl.  These dolls are dressed in costumes originally worn in the royal court during ancient times, and are displayed on a terraced stand shown below (image courtesy of Wiki).
10 Popular Menus for Hinamatsuri

In addition to the doll display, the Japanese also eat spring- and pink color- theme foods and sweets on this day to celebrate.
The Japanese typically eat Chirashi Sushi on Girls' Day.  It's colorful and pretty, perfect for girls!  I also have a quick recipe with premade Chirashi Sushi Mix that is widely available in Japanese/Asian grocery stores.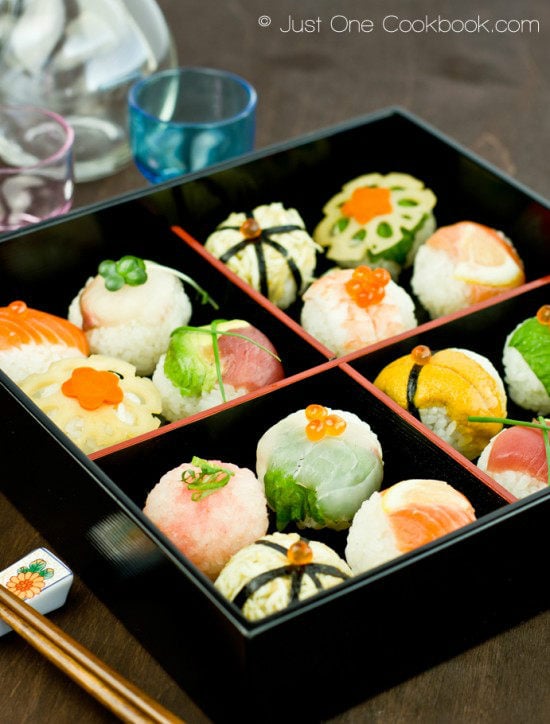 These colorful and beautiful sushi balls are called Temari Sushi, and they are perfect for celebrating Girl's Day!  It'll be a fun to set up a DIY Temari Sushi Party for your children or girls!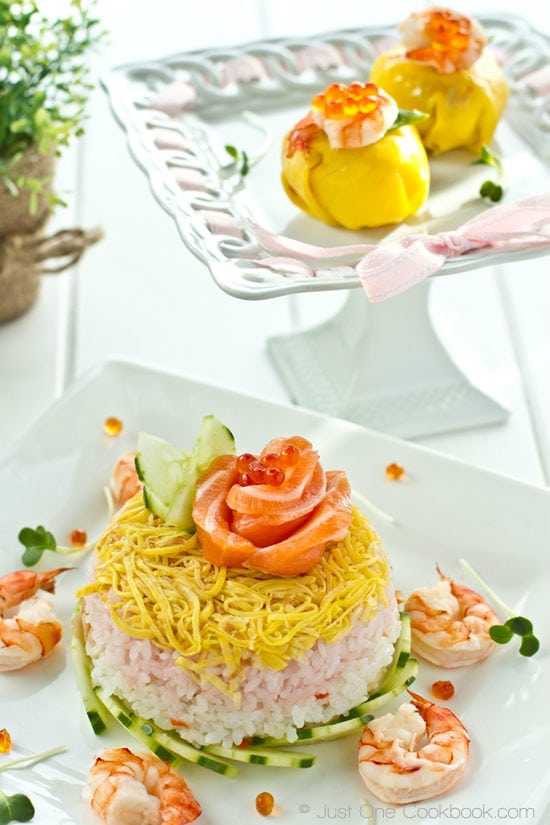 If you want to make your regular chirashi sushi a bit more special, you can make this Chirashi Sushi Cake!  It might look difficult to make but trust me, it's really easy!
If you are looking for a finger food recipe, Inari Sushi is a perfect dish!  Check out the recipe to see how I prepare this recipe.  It's slightly different from the traditional method. 😉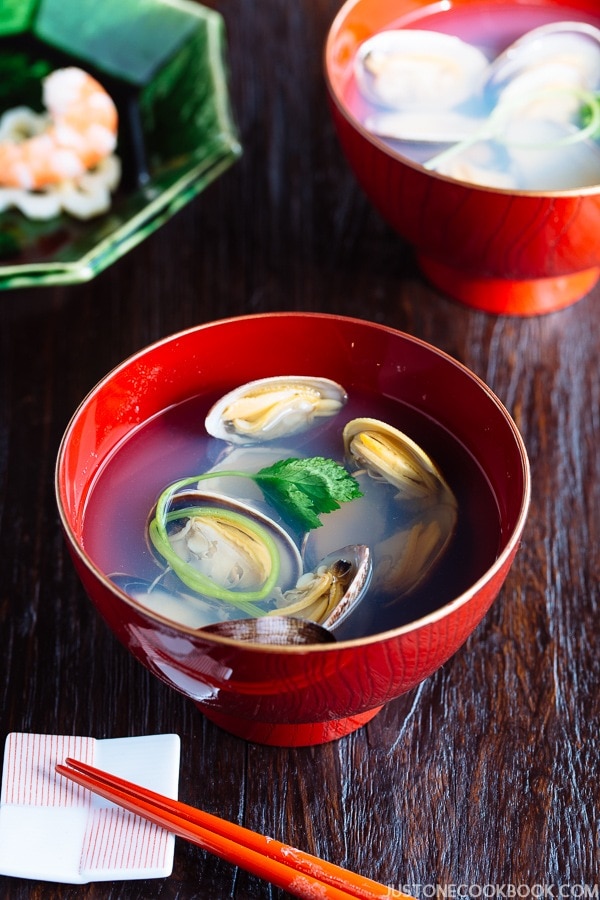 5. Ushio-jiru or Clam Soup うしお汁・はまぐりのお吸い物
Ushio-jiru is a clear soup made with seafood such as white fish or clams, and seasoned with only salt and sake.  Clear Clam Soup is the most popular soup to go with chirashi sushi.  I have a Clam Soup recipe that has miso flavor.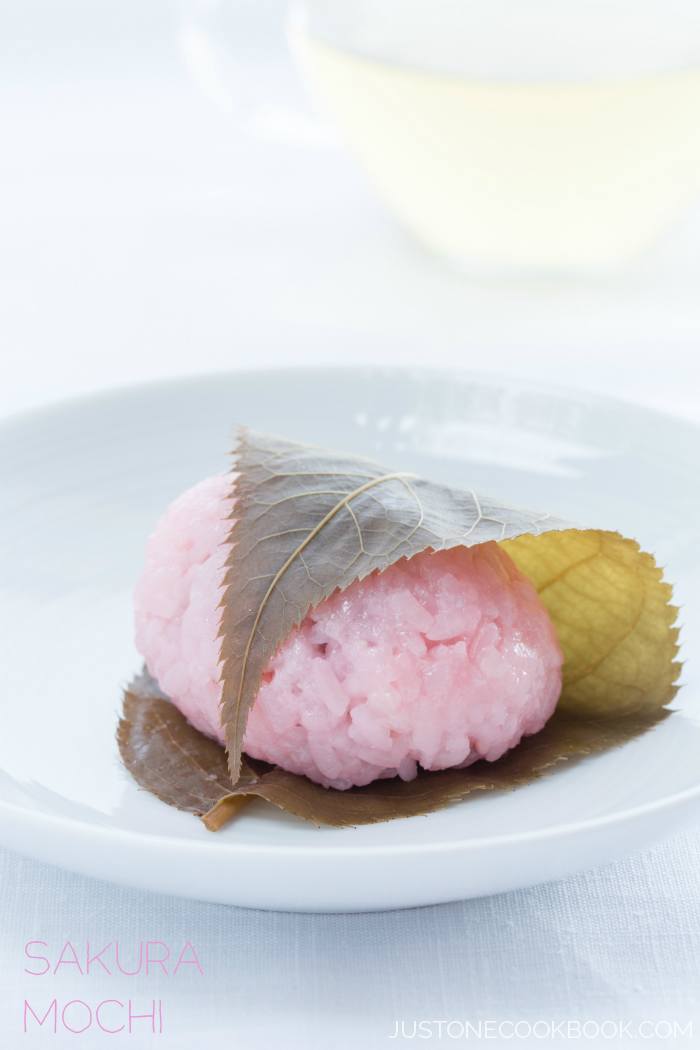 For desserts, you can enjoy spring-theme sweets such as Sakura Mochi.  The salt pickled cherry leaf gives nice contrast to the sweet red bean mochi.
Another popular dessert is Strawberry Daifuku.  Tangy and sweet strawberry wrapped with sweet red bean paste and soft and chewy mochi.  Japanese strawberries are in season during spring, so this spring-theme dessert is perfect for Girl's Day!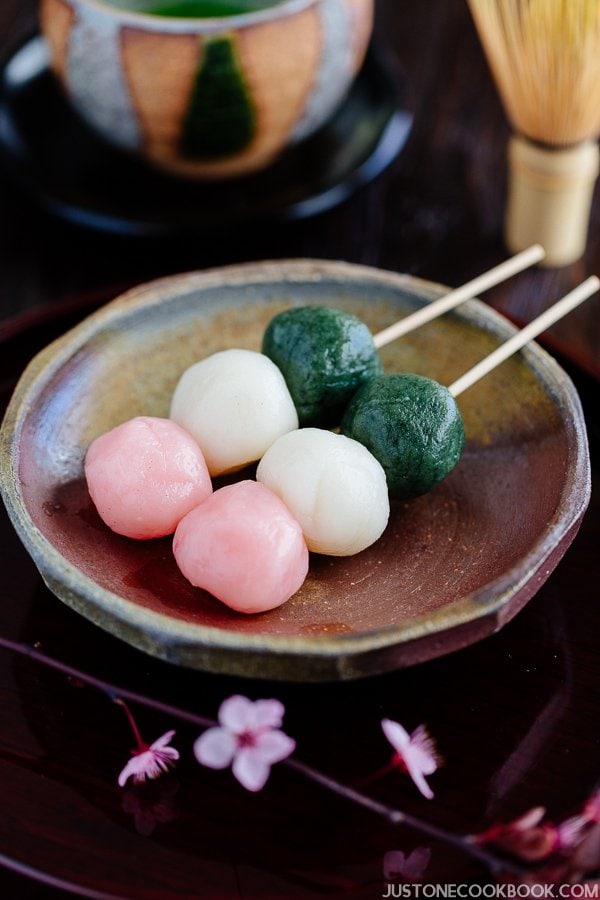 Hanami Dango is enjoyed during cherry blossom viewing and these three-color rice balls (Sanshoku Dango) is a popular treat in spring!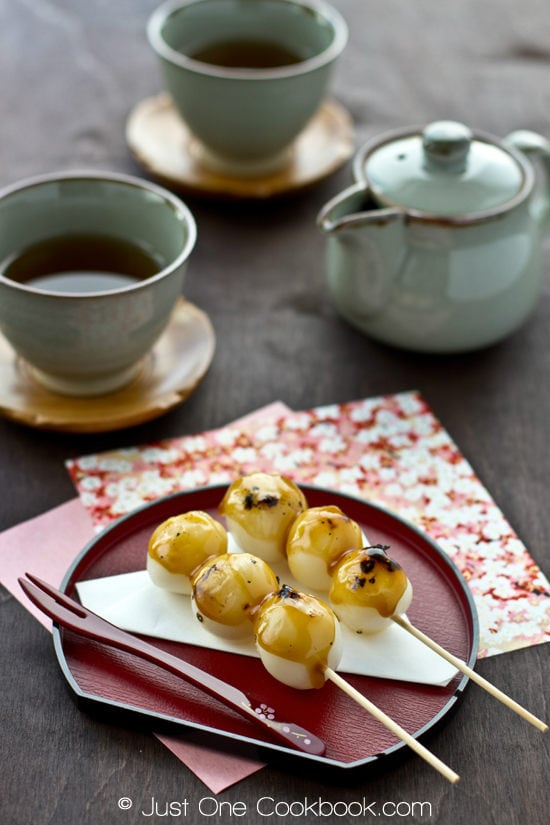 Classic Mitarashi Dango is much easier to make compared to Sanshoku Dango.  Enjoy the savory sweet glaze on top of chewy dango mochi!
10. Hina Arare 雛あられ
On Hinamatsuri, kids enjoy eating these rice crispy snacks called Hina Arare.  The rice crackers are coated with sugar but it's not too sweet and has a nice crisp texture.  You can purchase these colorful treats in Japanese grocery stores.
---
ENJOY HINAMATSURI!
We hope you enjoy these Hinamatsuri menus I put together.  Happy Hinamatsuri! ????
Sign up for the free Just One Cookbook newsletter delivered to your inbox! And stay in touch with me on Facebook, Pinterest, YouTube, and Instagram for all the latest updates.
Editor's Note: This post was originally published on Mar 1, 2013.