Kagami biraki is a traditional Japanese ceremony to break the ornamental mochi and eat it for good health and fortune for the New Year.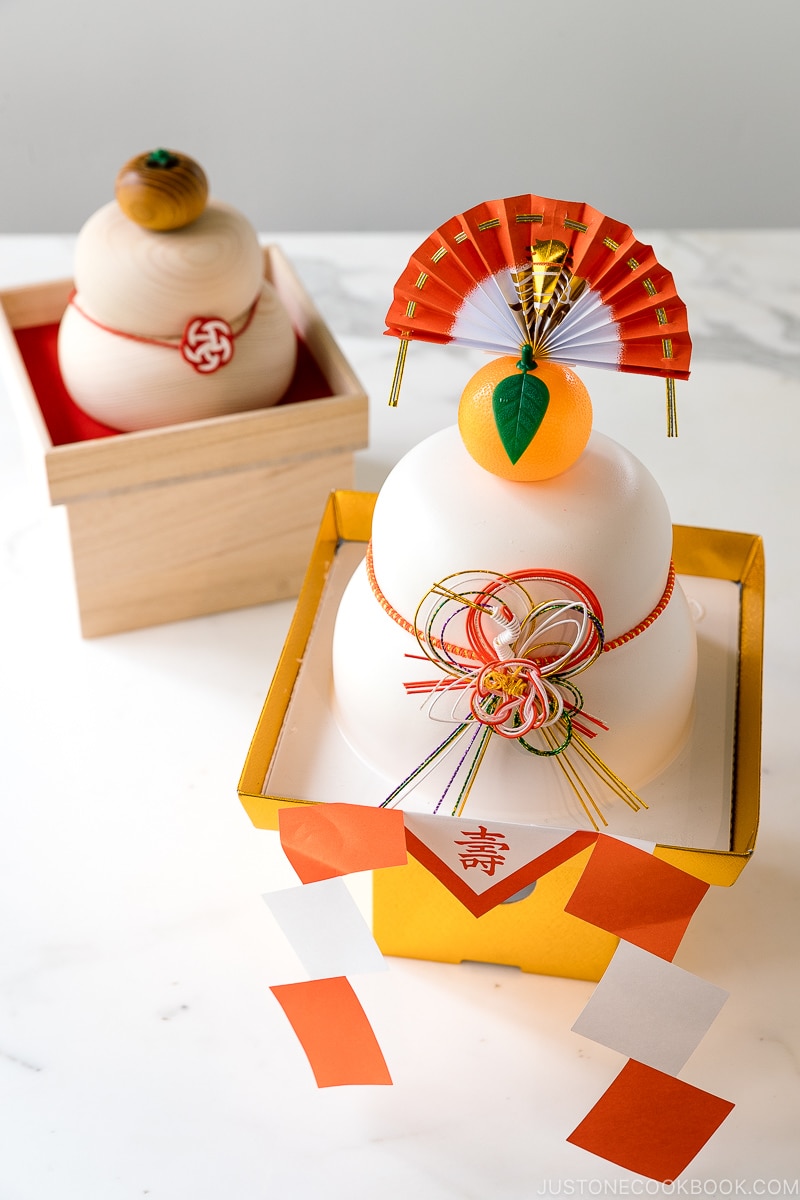 To finish off the Japanese New Year celebrations, kagami biraki (鏡開き), literally "opening the mirror," or breaking of the mochi is usually held on January 11th.
What is Kagami Biraki?
Kagami biraki is a ceremony that marks significant events or transitions to new stages in life. It originated from an act performed by the fourth Tokugawa shogun 300 years ago, during which he broke a sake barrel on the eve of war upon achieving victory. A new tradition was born to mark the beginning of something new.
The literal translation for kagami is "mirror," and biraki means "opening" or "to break." Why mirror? The name "kagami" is originated from its resemblance to an old-fashioned round copper mirror, which also had a religious significance, according to Japanese mythology.
In modern days in Japan, kagami biraki is performed at weddings, sporting events, housewarmings, opening days of new companies, and other celebratory occasions.
Kagami Biraki Celebration During the New Year
The most common kagami biraki celebration is held right after the beginning of the New Year and consists in breaking the kagami mochi (鏡餅), a pair of decorated rice cakes made as an offering to the deity of the New Year.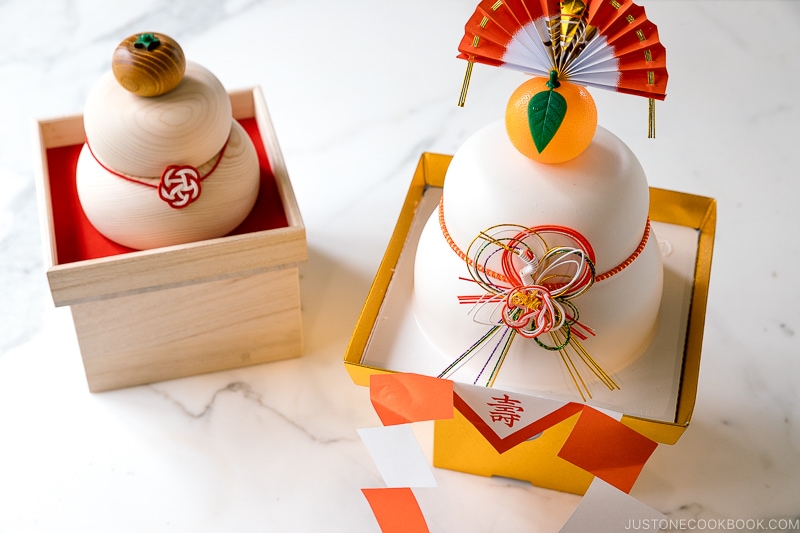 Originally, kagami biraki was celebrated on January 20th, but with the death of the third Shogun, Iemitsu in the Tokugawa shogunate, on January 20, 1651, it was changed to the 11th as odd numbers are considered auspicious in Japan.
There are slight differences with the date based on the region. In the western part of Japan, it's celebrated on January 15th. In Kyoto and the surrounding area, the tradition is celebrated on the 4th.
The ceremony involves removing the round-shaped mochi from the family altar and breaking them into smaller pieces before cooking them in dessert or soup to enjoy. Eating the mochi signifies a prayer for health and good fortune for the New Year.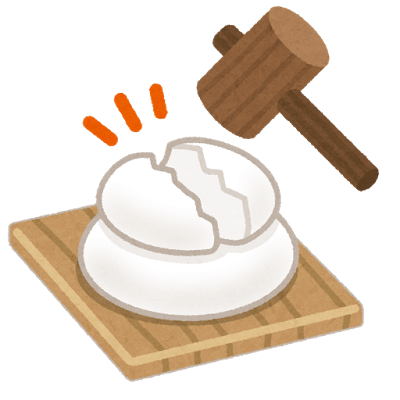 Ancient people believed the food once being offered to God would have special powers, and they wished for health by eating it with the blessing from God.
Do and Don'ts of the Ceremony
To break open the ornamental mochi, we would never cut it with a knife. The action reminds the Japanese people of seppuku (切腹), ritual disembowelment during the old times, and they believed it as a sign of bad luck. For that reason, the common way to break the mochi is with a wooden hammer or with your hands.
The words "kiru" (to cut) and "waru" (to break) have connotations of bad fortune and mishap; therefore, "hiraku"(open) — the original form of "Biraki" — is used in the sense of the opening of new opportunities.
Different Styles of Kagami Mochi Decoration
Traditionally, mochi was made fresh at home, including kagami mochi, which was made with two discs—one a little larger than the other.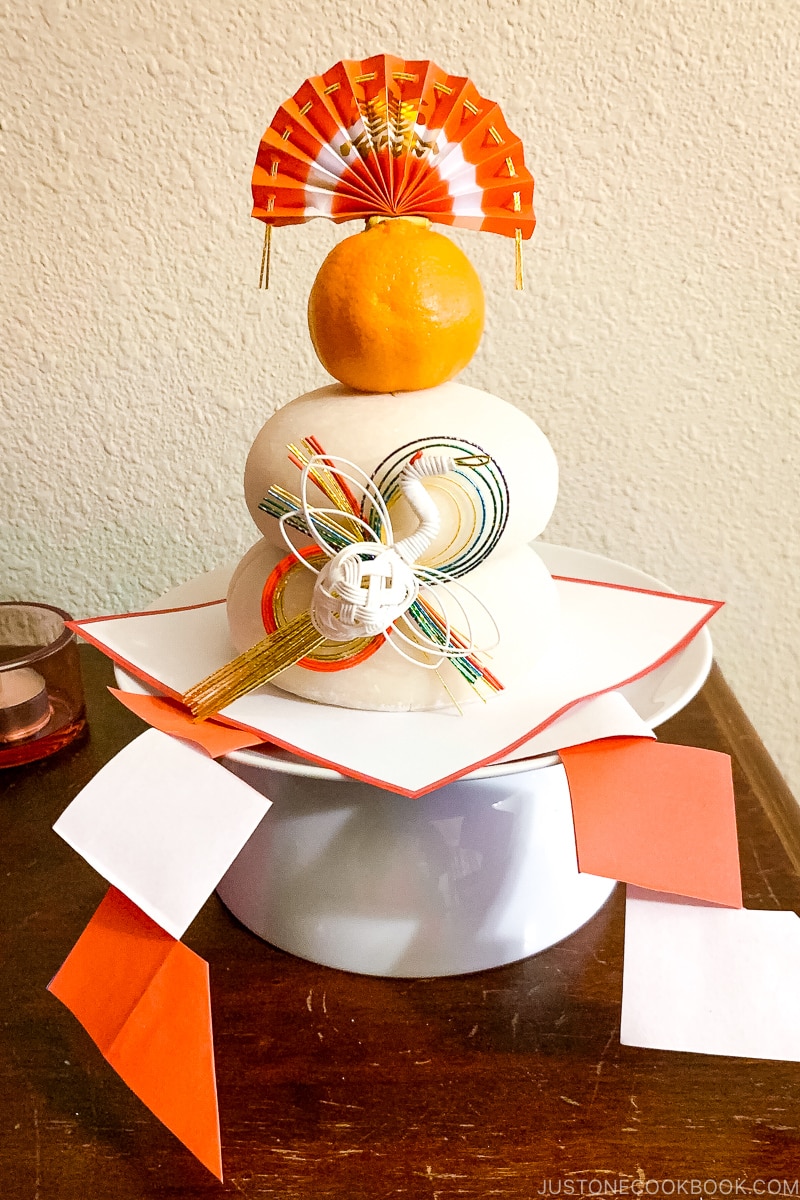 The mochi cakes are stacked on a decorated stand, adorned with an orange and a fan, and placed on the kamidana (a Shinto altar) or family altar. To maximize luck, some families even place the small kagami mochi in each room of the house.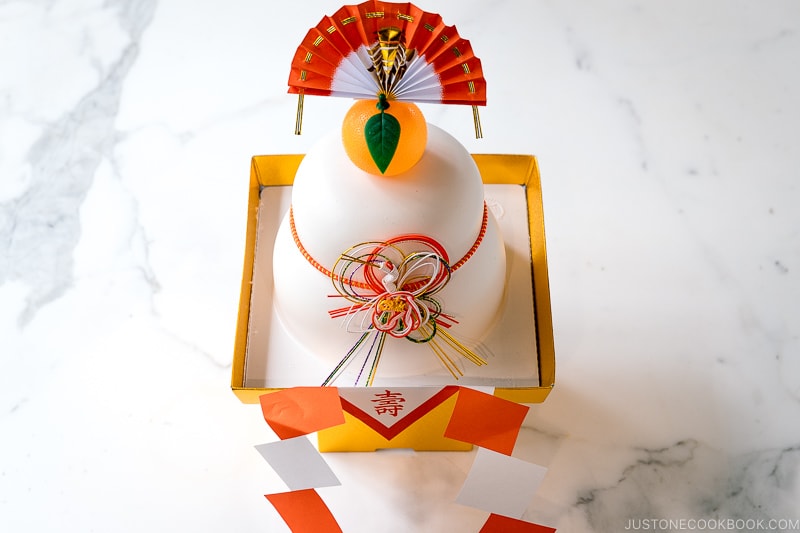 These days most families buy a plastic kagami mochi from grocery stores. Inside the kagami mochi mold, there are individually packaged small mochi pieces (we call this rectangular mochi kiri mochi) for convenience and better preservation.
Where to Buy Kagami Mochi Decoration
As I mentioned earlier, kagami mochi decorations can be purchased at Japanese grocery stores in December. Since this is very specific to Japanese celebration, I'm afraid general Asian grocery stores do not carry it. You may want to check Amazon to see if they carry it in the month of December.
To reduce plastic usage, I purchased this hinoki kagami mochi decoration for this New Year.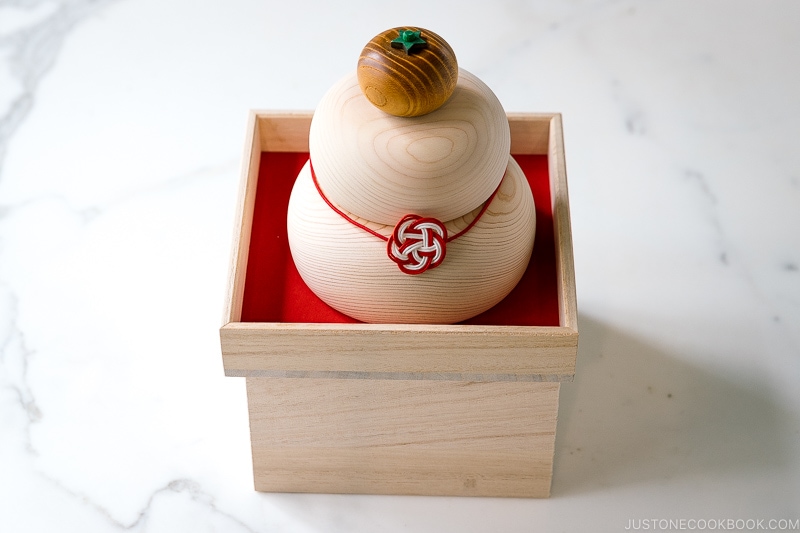 The best part is that you can store the decoration in one box.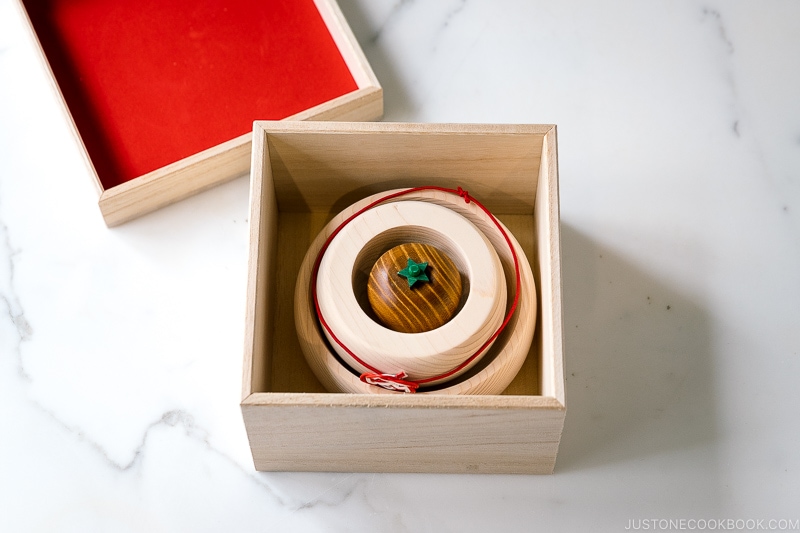 I like how simple and minimal this wooden kagami mochi looks. The store I purchased from currently sold out of the product. If I find a new source, I'll share the link in this post.
Recipes To Use Kagami Mochi
After the ceremony, we will use the broken mochi pieces to make Zenzai (Red Bean Soup with Mochi), Chikara Udon (udon noodle soup with mochi), or include it in Ozoni (New Year Soup).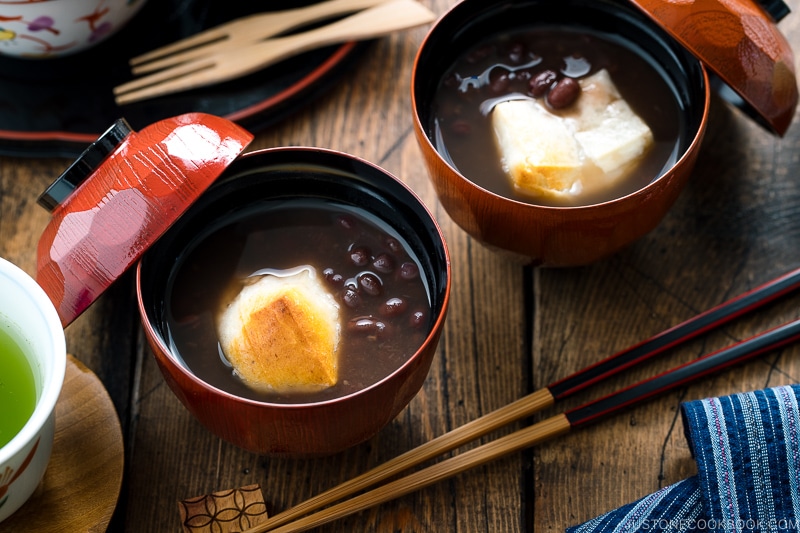 Red Bean Soup with Mochi (Zenzai / Oshiruko)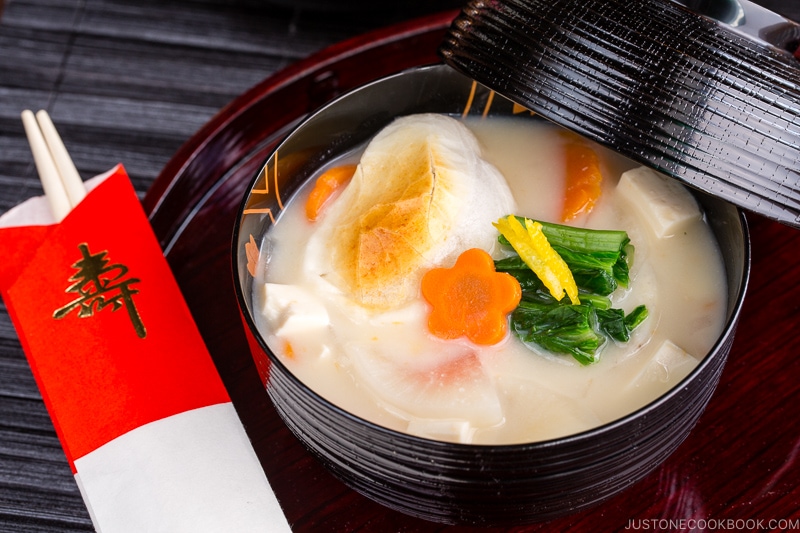 Kansai-style Ozoni (New Year Mochi Soup)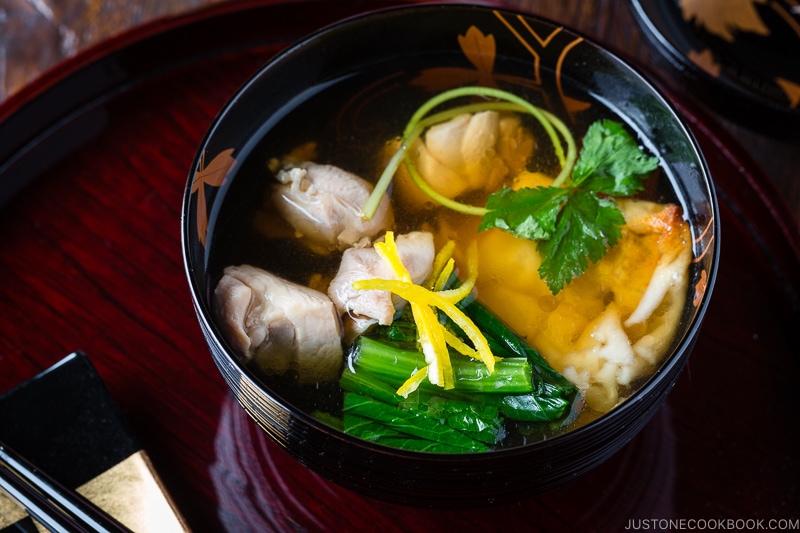 Kanto-style Ozoni (New Year Mochi Soup)
If you are tired of eating soups, try making rice cracker snacks!
More Kagami Biraki Celebratins!
Kagami Biraki in Dojo and Other Sporting Events
Kagami biraki ceremony is also a significant event in many dojos (traditional martial art schools such as judo, karate, jujutsu, kendo, aikido, etc.) to kick off the dojo's new year. The ceremony is usually held on on the second Saturday or Sunday of January so all students will be able to attend their first practice of the year. It marks a tradition of renewal, spirit, and devotion.
With the same vision in mind, many other sports communities in Japan also adopt the ceremony to mark a new season for their teams and to welcome new members.
The Other Kagami Biraki: Sake Barrel Ceremony
Another popular kagami biraki ceremony involves breaking the lid of sake barrel using a wooden mallet, and the sake is served and partook by everyone present at the event. The act to 'break open the lid' of the sake barrel' is similar to the act of breaking the mochi, and it represents an opening to harmony and good fortunate.
In the picture above, the lid of the sake is opened using a wooden mallet called kizuchi (木槌) and a wooden ladle hishaku (柄杓) is used to fill the square masu (升) cups with sake from the barrel.
At sake brewers, the lid of the sake barrel is called "kagami". This custom of opening the barrel is also called kagami wari (鏡割り) "mirror breaking" or kagami nuki (鏡抜き) "mirror pulling", but kagami biraki is commonly used for happy occasions.
You will find this version of kagami biraki more common at weddings, business openings, project completion ceremonies, graduation parties, or other events that are likely to involve sake drinking.
More on Japanese Culture & Traditions
Wish to learn more about Japanese cooking? Sign up for our free newsletter to receive cooking tips & recipe updates! And stay in touch with me on Facebook, Pinterest, YouTube, and Instagram.
Editor's Note: This post was originally published on January 10, 2017. It's been republished with new images in January 2022.