Japan is a magical place in the winter with snowy mountains, steaming hot springs, rich foods, and fiery festivals.  One of the best times to visit Japan during the cold months is right around the winter solstice when Japanese traditions are on full display to welcome the return of longer days.
Around December 20-23 each year, the North Pole tilts its furthest from the sun, bringing the shortest day and longest night of the year. This year it's December 21. On this winter day, Japanese will observe and celebrate tōji, the winter solstice.
The Origin of Toji – Winter Solstice
Rooted in the Chinese philosophy of ying & yang, the winter solstice in Japan symbolizes the harmony and balance of the life force. It is believed that the 'yin' of cold and darkness are at their most dominant on the shortest day of the year. Once the yin passes, the 'yang' of warmth and light will be upon us, and soon spring will return. Thus, winter solstice is a time to celebrate.
Embracing the winter cold before taking a hot bath, and praying for good health before eating auspicious foods, Japanese happily carry on the customs and traditions of the winter solstice.
Toji Customs – A day of Yuzuyu, Onsen, Kabocha, and Festivals

Yuzuyu – Hot Bath with Yuzu ゆず湯
A favorite tōji custom is taking a "yuzu-yu.", a hot bath with yuzu. A winter citrus fruit the size of a small lemon, yuzu is known for its cleansing, healing properties.  It also signifies good luck. Partaking in a yuzu bath on the winter solstice is believed to keep one from catching a cold and to ward off any bad spirits.
The best way to enjoy a yuzu bath is to simply toss in a few whole yuzu into your bathwater. The lovely fragrance of yuzu will instantly lift your mood.  The essential oil in yuzu also helps warm the body, and acts as a natural exfoliate to help soothe skin chapped by the winter's cold.
If you want to experience a yuzuyu in your home, you may be able to find yuzu fruit at your local Asian grocery store.  It's a fun tradition to adopt even if you're not living or traveling to Japan.
Onsen – Hot Springs 温泉
Japanese enjoy visiting an onsen anytime of the year, but this hot springs bath is an especially welcoming ritual during the winter solstice. Imagine your whole system being stimulated as you inch yourself into what feels like boiling water, your nerves and muscles slowly relaxing, and all the accumulated aches and pains melting away.  This is the Japanese definition of self care – a way to relax, unwind and rejuvenate.
Try creating your own version of an onsen at your home by adding in these soothing bath salts.
What's Delicious to Eat on Toji
Just like anywhere in the world, the coming of winter is also a time for family and friends to come together and enjoy seasonal foods and dishes.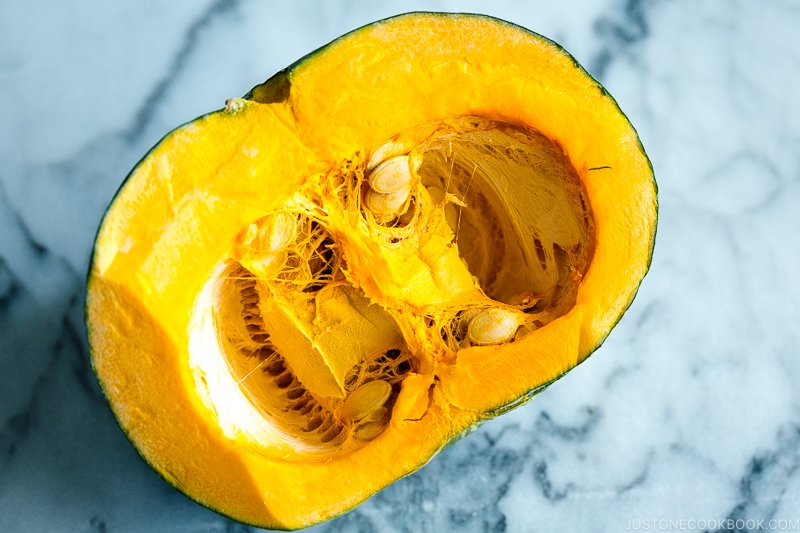 Kabocha
In the old days when vegetables were scarce during the winter months, kabocha squash was one of the staple foods to nourish the Japanese people.  For that reason, kabocha holds a special place during the winter meal in Japan – used to create rich, delicious dishes that fill the body with warmth and nutrients to prevent winter illness.
Some regions in Japan enjoy itokoni (いとこ煮), a simmered dish made of kabocha and adzuki beans. While kabocha is considered a good luck food, the red color of adzuki beans symbolize the sun which will protect one from evil.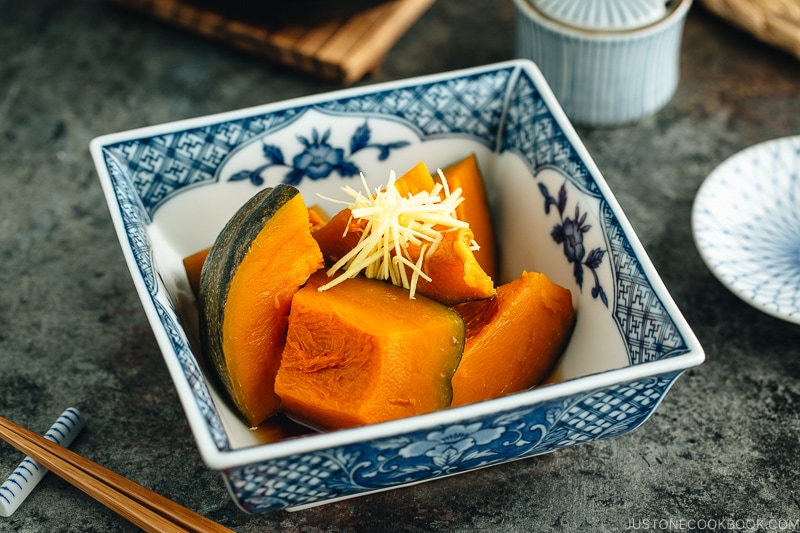 There are also plenty of delicious kabocha recipes, which you can cook up and enjoy for a strong and healthy year ahead.
Auspicious Vegetables (Unmori) 運盛り
Winter solstice is also a time to eat seasonal vegetables that have the auspicious, nasal sound of 'n' in their name. In Japanese, the 'n' sound is a rhyme for 'u-n' (運), which means fortune. This custom, aptly called Unmori, reflects the wisdom of eating healthy foods to keep one nourished over the winter.
Vegetables and foods such as daikon radish, nin-jin (carrots), ren-kon (lotus roots), ginnan (gingko nut) and udon noodles are just some of the auspicious foods with the 'n' sound that Japanese enjoy on this winter solstice day to bring good health and good wealth in the upcoming year.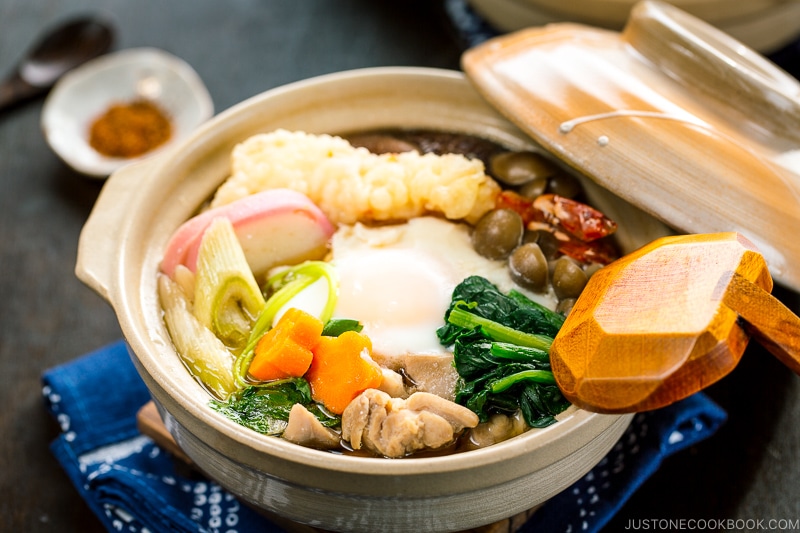 Here are some delicious recipes you can cook up on Tōji that feature these auspicious foods:

Winter Solstice Festival
Japanese people recognize the importance of each season and welcome the changing of the seasons with many traditions and festivals. The start of winter is no exception, when Japanese brave the cold to celebrate outdoors.
One of the famous festivals is Toji Matsuri or Tojisai (冬至祭), the Winter Solstice Festival, held by the Issan Shrine (一山神社) in Saitama City in Saitama Prefecture. At the shrine, visitors participate in 'hi-watari'(火渡り) – walking down a path in the middle of a bonfire, praying for the cleansing of their souls, and for good health for their family for the coming year. You can watch this ceremony in this video (fast forward to 34:00).
Toji – Winter Solstice in Your Country
How do you observe the winter solstice in your country?  Are there any interesting traditions that you and your family practice every year?  We'd love to hear in the comments.  If you don't have any traditions on the winter solstice, it may be time to enjoy a hot yuzu bath and a kabocha dish for dinner!