So juicy and tender, this classic Okinawan Braised Pork Belly dish called Rafute (ラフテー) is slow-cooked in Awamori (Okinawa distilled liquor), Okinawan black sugar, and soy sauce. It's a savory, sweet, home cooked meat dish with a melt in your mouth texture that is found on dinner tables throughout Okinawa, Japan.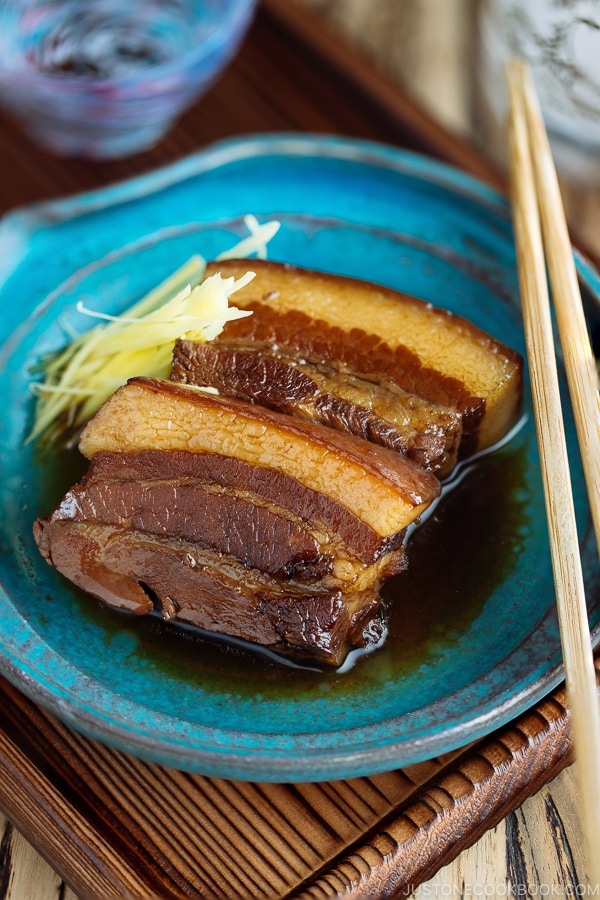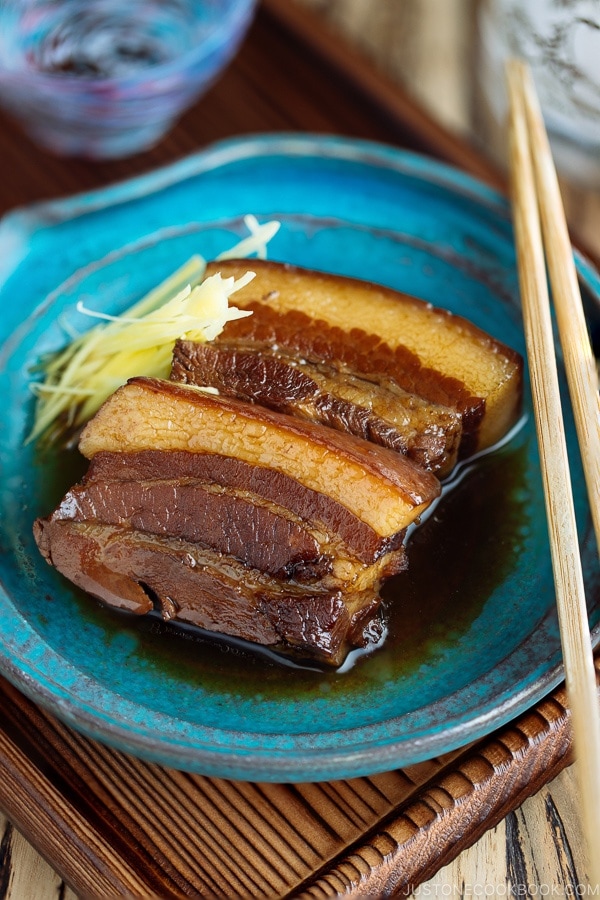 When you are in Okinawa, you have to try this braised pork dish called Rafute (ラフテー). We tried Rafute in different restaurants during our 5-day trip in Okinawa, and noticed that each place made their own variation. Despite its "fatty" look, this braised pork belly dish is surprisingly light as all the fat is rendered from long hours of cooking. It is so tender, it falls apart when trying to eat it with chopsticks. Rafute really is a must-try dish to experience on a trip to Okinawa!
Watch How to Make Rafute
So juicy and tender, this classic Okinawan Braised Pork Belly dish called Rafute (ラフテー) is slow-cooked in Awamori (Okinawa distilled liquor), Okinawan black sugar, and soy sauce.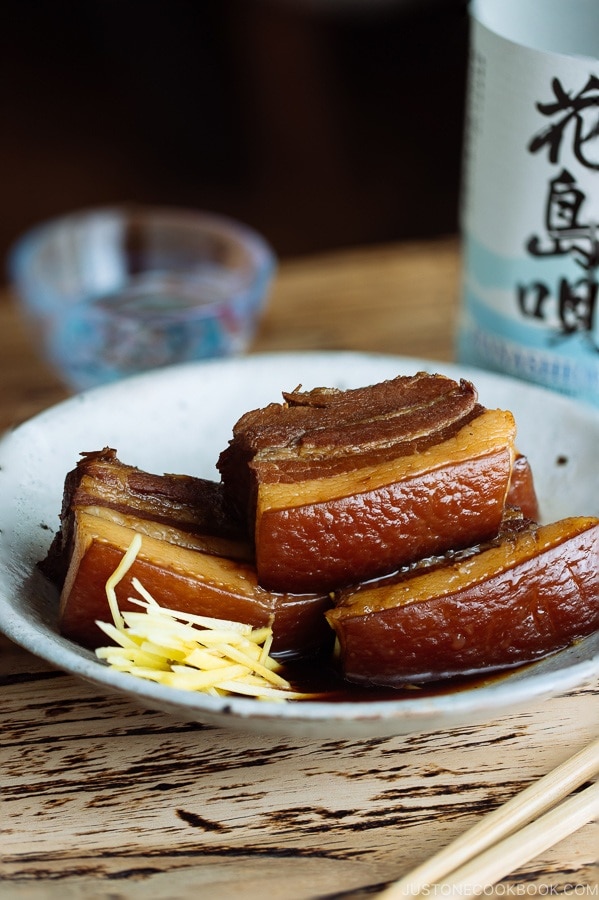 What's Rafute?
Rafute is a pork belly dish slowly-simmered in sweet and savory sauce, with an origin from a famous Chinese dish called Dong Po Rou (东坡肉/東坡肉), Chinese braised pork belly. Rafute has been eaten in Okinawa since the Ryukyu Kingdom (1429–1879) when it was served as a form of Okinawan Royal Cuisine. 
Rafute consists of the three most signature produce/products in Okinawa: pork, black sugar, and awamori (distilled liquor).
The slow cooking process yields the most tender and melt-in-your-mouth texture. While simmering, the fat renders and the pork belly soaks up all the delicious flavors. The skin and fat of the pork belly become gelatinous that even chopsticks can break down the meat easily. You don't have to worry about the meat being greasy at all.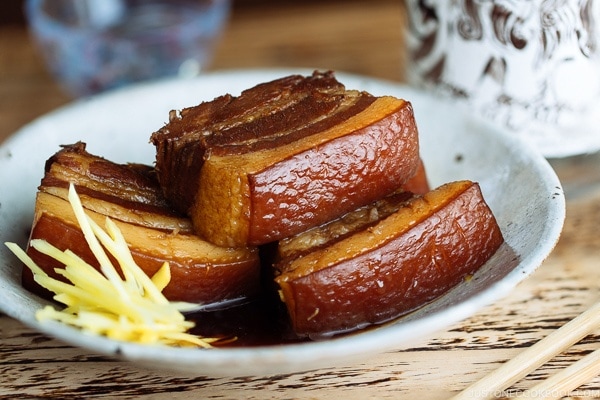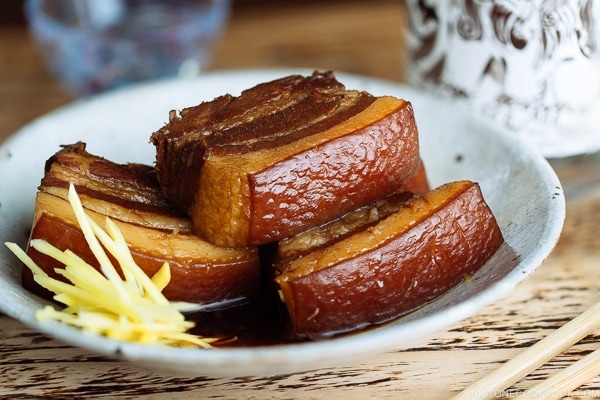 Differences Between Rafute and Kakuni
If you're familiar with the classic Japanese braised pork belly called Kakuni, you may wonder what makes Rafute different from Kakuni.
Well, these two dishes are pretty similar in appearance, as both are influenced by Chinese braised pork belly. While studying how to make Rafute, I noticed a few things that are different in the cooking process from a typical Kakuni recipe.
1. Use pork belly with skin on top
Typically, Japanese grocery stores sell pork belly without skin, so I had to go to an Asian grocery store to make this specific pork belly with skin. Each piece is much bigger, so I asked them to cut it into 2 lbs. You want to pick a leaner piece that comes with some meat but not too fatty. Ideally, it should have even layers of fat and meat.
2. Pre-boiling with just water
Just like Kakuni recipe, pork belly needs to be cooked on low simmer for 1-2 hours. During this time, Kakuni is almost always cooked with ginger and green onion. However, for Rafute, the majority of recipes use only water. You could add ginger and green onions, but I found it not necessary. The use of awamori was good enough to cook off the pungent meat flavor.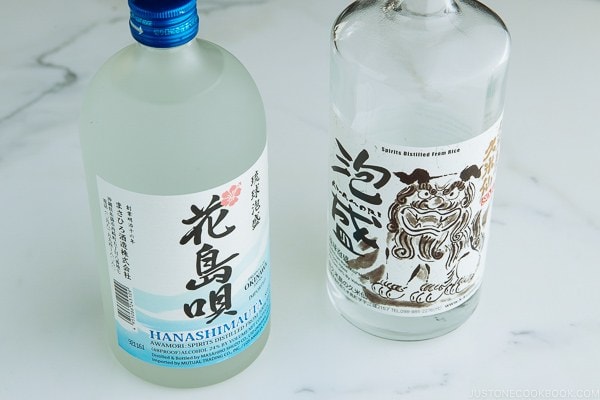 3. Use Awamori instead of Sake
If you have no access to awamori, the Okinawan distilled liquor (shochu), you can use sake instead. But I highly recommend using awamori for an authentic version. I think awamori and black sugar makes Rafute different from Kakuni, giving a complex sweetness to the pork.
4. Use "Black Sugar"
Traditional Rafute is made with Okinawa black sugar Kokuto (黒糖). As I couldn't find Okinawa black sugar in Japanese grocery stores here or on Amazon, I researched other alternatives for "black sugar" online and found out Muscovado sugar is a good choice (read more about this sugar here). Muscovado sugar is a type of partially refined to unrefined sugar with a strong molasses content and flavor.
I tried making Rafute with both granulated sugar (white sugar) and dark brown sugar to see the difference. Mr. JOC and I found that Rafute made with black sugar tastes far better than granulated sugar – more umami and complex flavors, and slightly better than dark brown sugar.
Since I used Muscovado sugar to make other Okinawan recipes including Sata Andagi (Okinawan Donuts) and Okinawa Soba, I encourage you to try finding this cane sugar to make these three Okinawan recipes.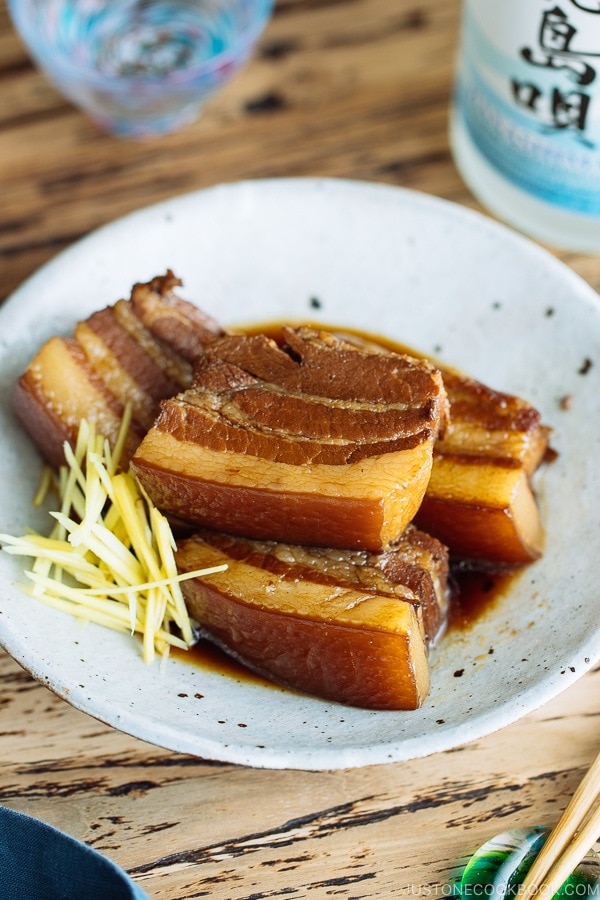 Substitute Tips to Make Rafute
Skin-on Pork Belly: You can use skin-on or skin-off pork belly depending on availability. You can use other cuts of the meat, but I believe it won't come out as good as pork belly.
Awamori: If your local Japanese grocery stores do not carry, then use sake or vodka. I still recommend using awamori.
Black Sugar: Unless you're in Okinawa or Japan, it's hard to get Okinawan black sugar. Muscavado sugar is the best substitute for this dish. Major grocery stores such as Trader Joe's, Walmart, Whole Foods or your local co-ops should carry Muscovado sugar. You can also buy it online on Amazon or other specialty stores. The sugar is also excellent in many other savory dishes like pulled pork, barbecue sauces, and marinades, so it would be a good buy.
Soy Sauce: Use regular Japanese soy sauce. I often get questions if I use dark or light soy sauce. In Japan, we don't have dark or light soy sauce as Chinese cuisine does. We do have dark-colored soy sauce (koikuchi shoyu, mostly used in Tokyo area) and light colored soy sauce (usukuchi shoyu, mostly used in Osaka area) but the texture is both thin and almost the same. You can read a little bit more about Japanese soy sauce here.
Also, I added soy sauce at 3 different times. The first time with the rest of seasoning ingredients, the second time after 1 hour of cooking, and the third and last time after 30 minutes. We do this for two reasons. First, we prevent the pork from getting darker color. Basically you don't cook pork with 5 Tbsp of soy sauce for 1.5 hour. Second, sugar is absorbed into the meat well before soy sauce or salt is added. If your flavor gets salty, it's hard to undo by adding sugar. Therefore, it's best to add salty condiments later on.
The long-simmering aside, Rafute is a fairly simple dish to make. The robust flavor makes it an iconic dish in Okinawa. You can enjoy it as an izakaya-style dish with some icy cold beer or as a savory dish to go along with fluffy steamed rice or noodles.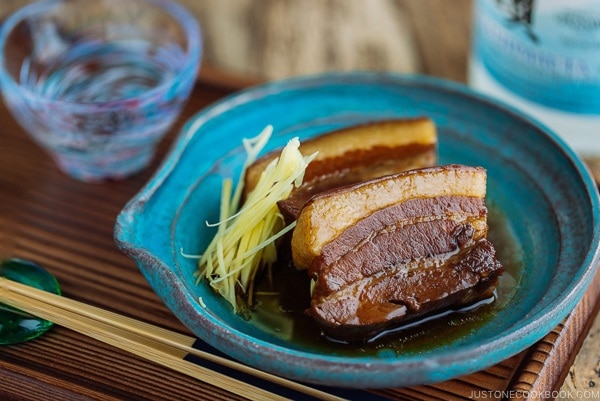 Don't want to miss a recipe? Sign up for the FREE Just One Cookbook newsletter delivered to your inbox! And stay in touch with me on Facebook, Pinterest, and Instagram for all the latest updates.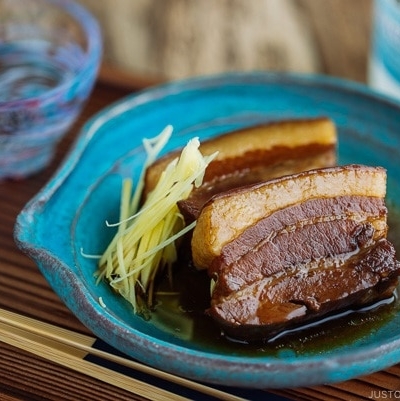 Rafute
So juicy and tender, this classic Okinawan Braised Pork Belly dish called Rafute (ラフテー) is slow-cooked in Awamori (Okinawa distilled liquor), Okinawan black sugar, and soy sauce. It's a savory, sweet, home cooked meat dish with a melt in your mouth texture that is found on dinner tables throughout Okinawa, Japan.
Video
Japanese Ingredient Substitution:
If you want substitutes for Japanese condiments and ingredients, click
here
.
Instructions
Gather all the ingredients.

Place the pork belly in a large pot (skin side up). Add cold water just enough to cover and bring to boil.

Boil for 1 minute and discard the water.

Rinse off scum and foam from the pork belly under cold water. Quickly rinse the pot, put the pork belly back in the pot, and fill with cold water.

Bring the pot to a boil once again, and skim off scum and foam. Then reduce the heat to a gentle simmer and cook uncovered for at least 1 to 1.5 hours. Leave the pot uncovered so the unwanted smell won't be trapped. If the water has evaporated and the pork belly is not covered with water, add in some boiling water. Keep skimming as needed.

Meanwhile, boil 4 cups water in a small pot. Once boiling, add 2 cups katsuobushi (dried bonito flakes).

Let it simmer for 15 seconds. Turn off the heat and let katsuobushi seep in the pot. Set aside. We'll be using this katsuobushi dashi shortly.

Slice the ginger and cut into julienne strips. Soak them in water for 10-15 minutes to remove some spiciness. Drain well and set aside for garnishing later.

After 1 to 1.5 hours of cooking pork belly, transfer the pork to a plate and cover with aluminum foil to keep it from drying. Let it cool until you can touch to slice. You can reserve the pork broth for Okinawa Soba, Champon, or soup (strain and freeze it).

Once the meat is cool enough for you to handle, slice the meat into 2-3 cm thickness. Add the pork belly slices in a heavy bottomed pot (I used Le Creuset).

Strain the katsuobushi dashi into the pot.

In the pot, add awamori, black sugar, and 2 Tbsp soy sauce. Please read the blog post about why we don't add all 5 Tbsp soy sauce at first.

Mix the liquid and make sure the pork belly is covered with the sauce. Bring it to a gentle simmer and skim off any scum and foam. Place Otoshibuta (drop lid) and cook over medium low heat for 1 hour.

After 1 hour has passed, add 2 Tbsp soy sauce, and cook for 30 minutes.

After 30 minutes have passed, add 1 Tbsp soy sauce and cook until the pork is very tender and the skin/fat are glossy and gelatinous, roughly 15 minutes. Serve the pork belly on a plate/bowl and pour some braising liquid. Garnish with ginger slices. Enjoy rafute with steamed rice and some vegetables. You can also serve on Okinawa Soba.
To Store
You can keep the leftovers in an airtight container and store in the refrigerator for up to 4 days and in the freezer for a month.
Nutrition
Nutrition Facts
Rafute
Amount per Serving
% Daily Value*
* Percent Daily Values are based on a 2000 calorie diet.
©JustOneCookbook.com Content and photographs are copyright protected. Sharing of this recipe is both encouraged and appreciated. Copying and/or pasting full recipes to any website or social media is strictly prohibited. Please view my photo use policy
here
.