Looking for a quick and delicious way to enjoy kabocha squash? Try this Japanese-style Roasted Kabocha Squash that's thinly sliced and oven-baked until slightly charred and fork-tender. Here, I show you how to lightly flavor it two ways: with shichimi togarashi spice blend and with sweetened soy sauce. These classic Japanese seasonings both enhance the natural sweetness and beautiful flavor of the kabocha.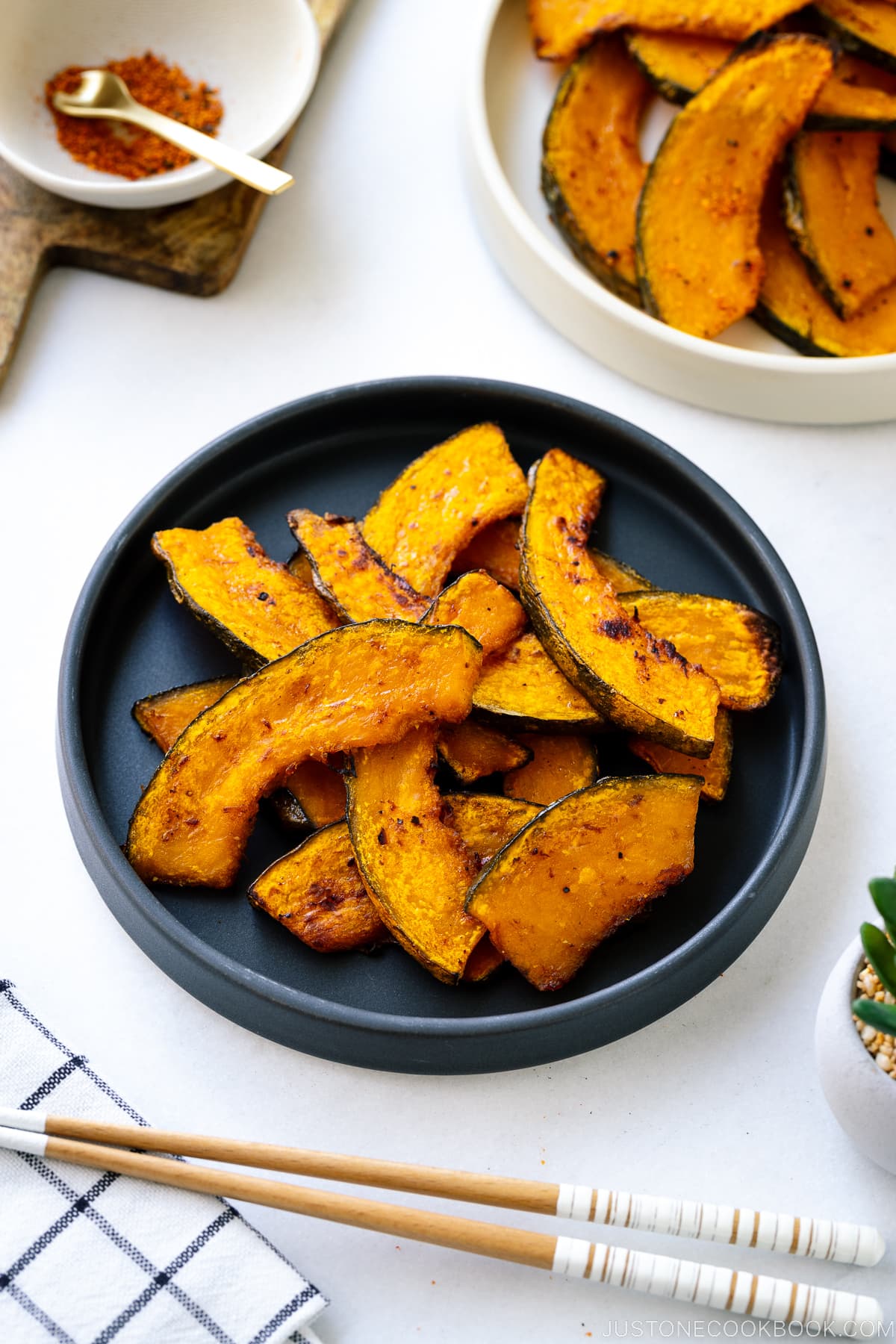 Come fall, I'm all about kabocha squash. One of the easiest and delicious ways to enjoy this seasonal gem? Simply roasting it in a hot oven. It roasts up beautifully, with edible crispy skin and an amazing caramelizing buttery texture. With simple Japanese seasonings, it makes the perfect fall dish to treasure. Here's how to cook roasted kabocha squash!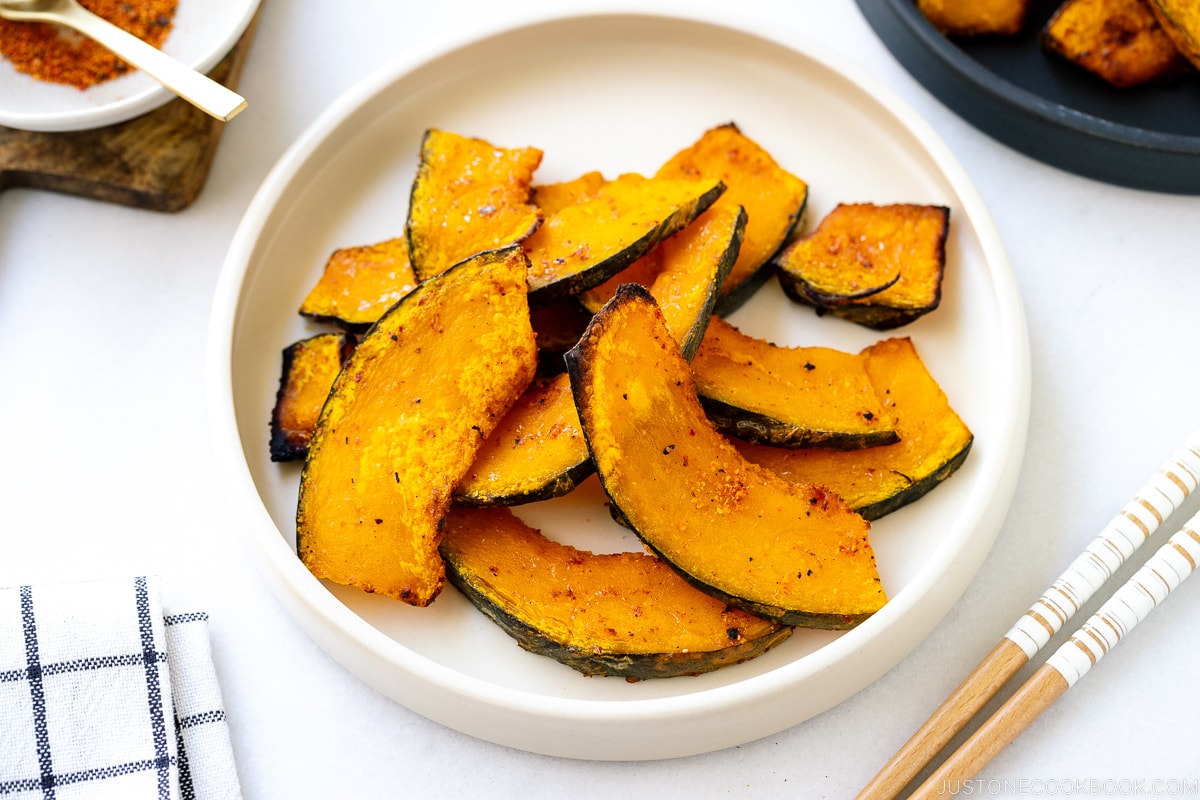 What is Kabocha Squash?
Kabocha (かぼちゃ, 南瓜), or Japanese pumpkin, is a beloved Japanese winter squash known for its exceptional sweetness, rich flavor, and versatility. It has a tough outer skin, but once cooked, the skin becomes edible and the flesh creamy, fluffy and tender. The flavor will remind you of a hybrid of sweet potato and butternut squash with a hint of roasted chestnut. Kabocha is also highly nutritious, which makes it a great addition to your diet for the season.
You can easily find kabocha squash in the US these days—either at farmers markets or mainstream grocery stores. Japanese grocery stores actually carry kabocha year-round!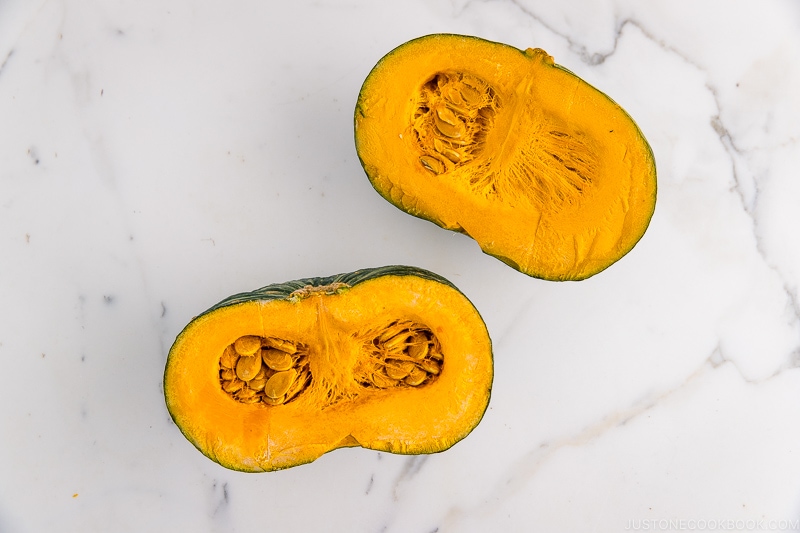 If you're new to kabocha, learn more about this Japanese squash here.
Popular Japanese Kabocha Recipes
Kabocha has long been a staple of Japanese cuisine, especially during the wintertime. There is a tradition of eating kabocha to stay strong and bring good luck during the winter solstice. So what are the most popular ways to enjoy kabocha in Japan? Here are the top 10 recipes.
Were you surprised that roasted kabocha is not on the list? Baking or roasting vegetables in the oven is not a common cooking method in Japan due to the small kitchen space. More people have a countertop oven in their kitchen these days, yet it is still a less common preparation.
Since I love roasted vegetables (I know, squash is technically a vegetable) during this time of year, I'll share how I prepare roasted kabocha for my family.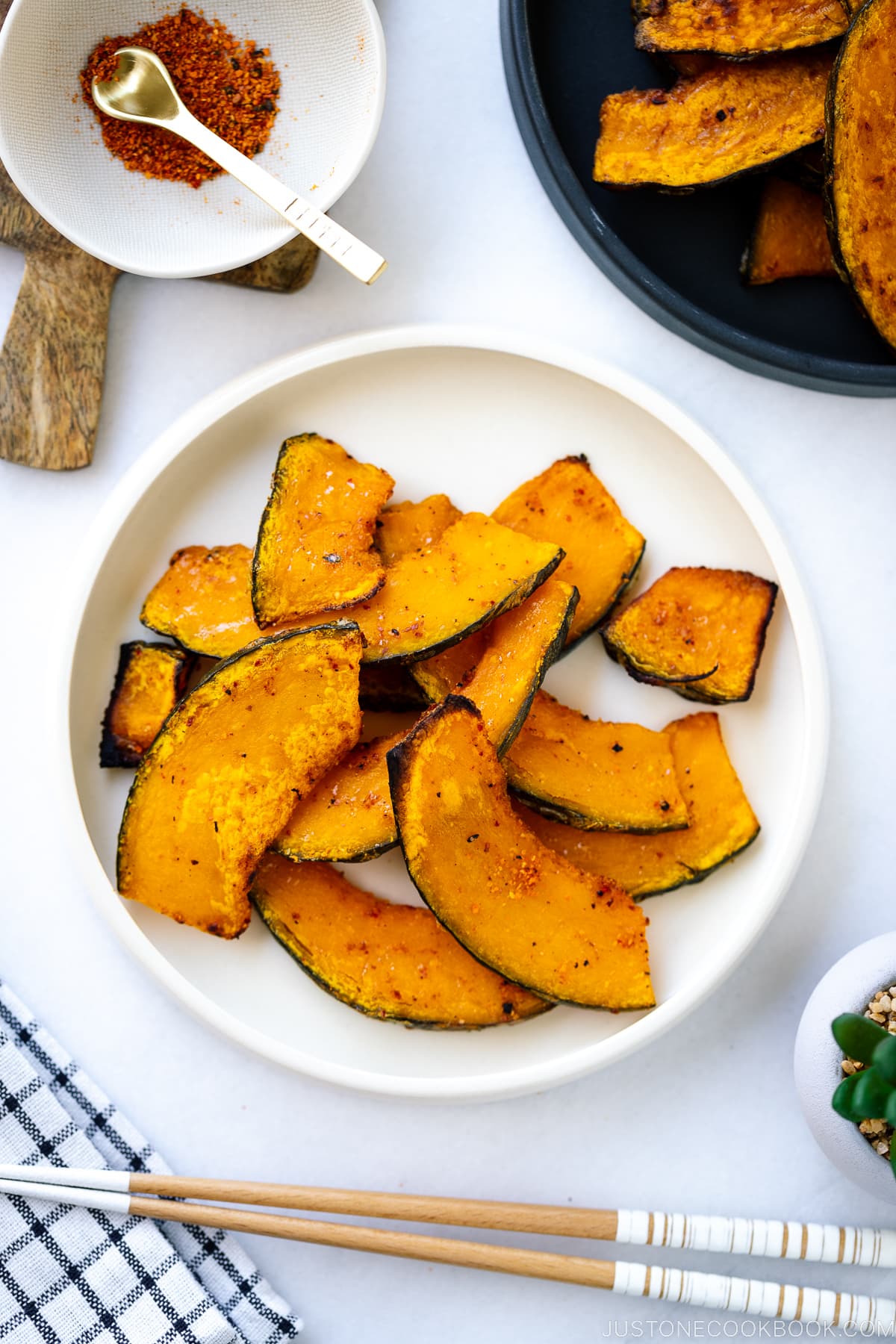 Japanese Roasted Kabocha – 2 Delicious Flavors!
As with all squashes, roasted kabocha squash is amazing with just salt and pepper, but I love to flavor it with a touch of Japanese flair. All you need:
As you see, it's really simple, yet it's effective to bring out the natural kabocha flavor. Kabocha already has a beautiful flavor on its own, so it's best to keep the seasonings simple and minimal. The squash itself is sweet enough and there's no need to sweeten it further with maple syrup.
If you have cooked Japanese dishes, you should have Japanese soy sauce already, and maybe shichimi togarashi, too. I hope you give both flavors a try!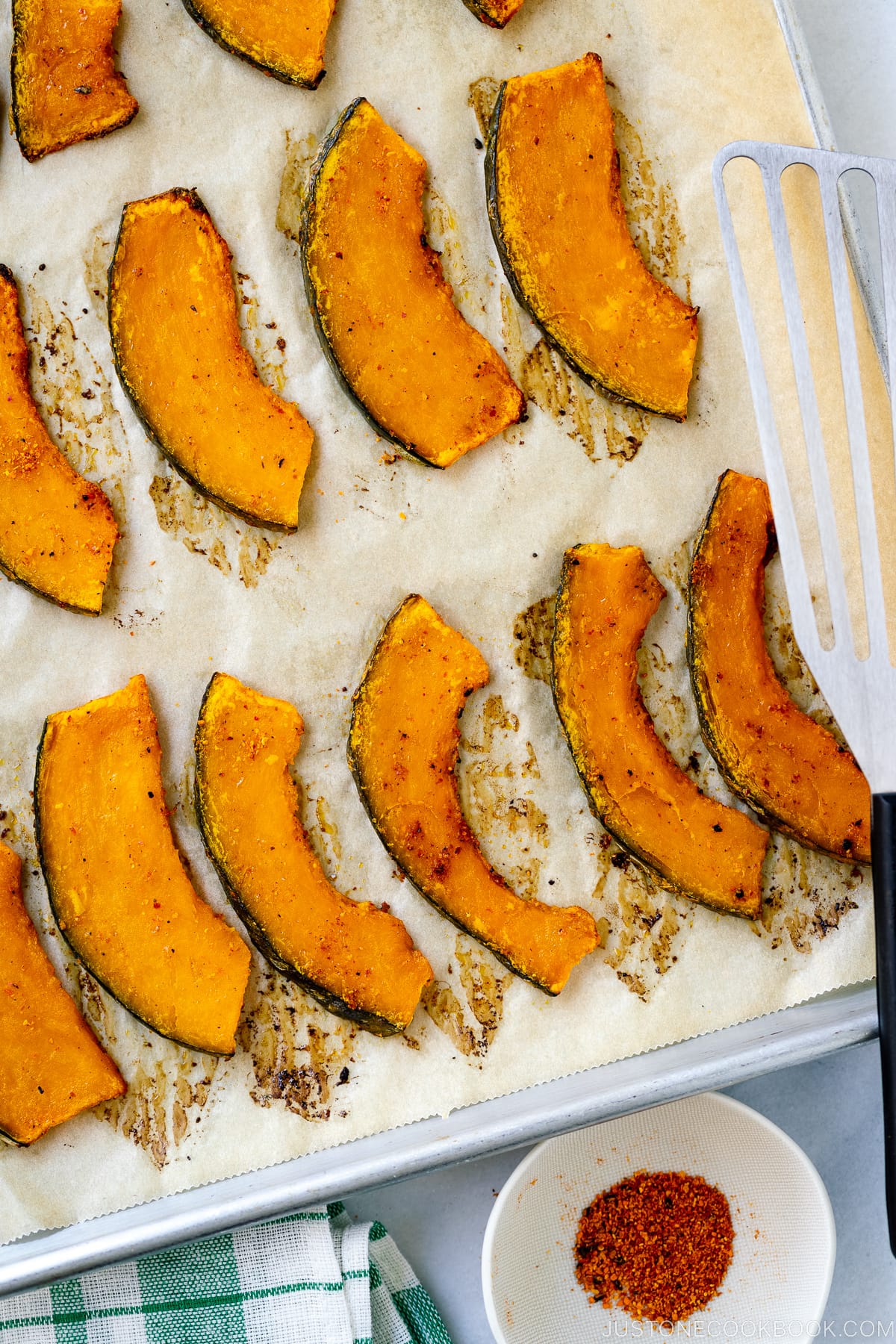 How to Cook Japanese Roasted Kabocha
Ingredients You'll Need
Kabocha
Salt
Black pepper
Oil
Flavor 1: Shichimi togarashi (Japanese seven spice)
Flavor 2: Soy sauce + a little bit of sugar
Overview: Cooking Steps
Remove seeds and cut kabocha. Yes, we cut it into thin wedges so that we can eat the roasted kabocha with chopsticks. If you are going to eat this dish with a fork, you can cut the kabocha into thicker slices, but the roasting time will be longer.
Toss the kabocha slices with oil, salt, and black pepper. Sprinkle shichimi togarashi (option 1) or add soy sauce and sugar (option 2) and toss to coat.
Bake the kabocha until tender.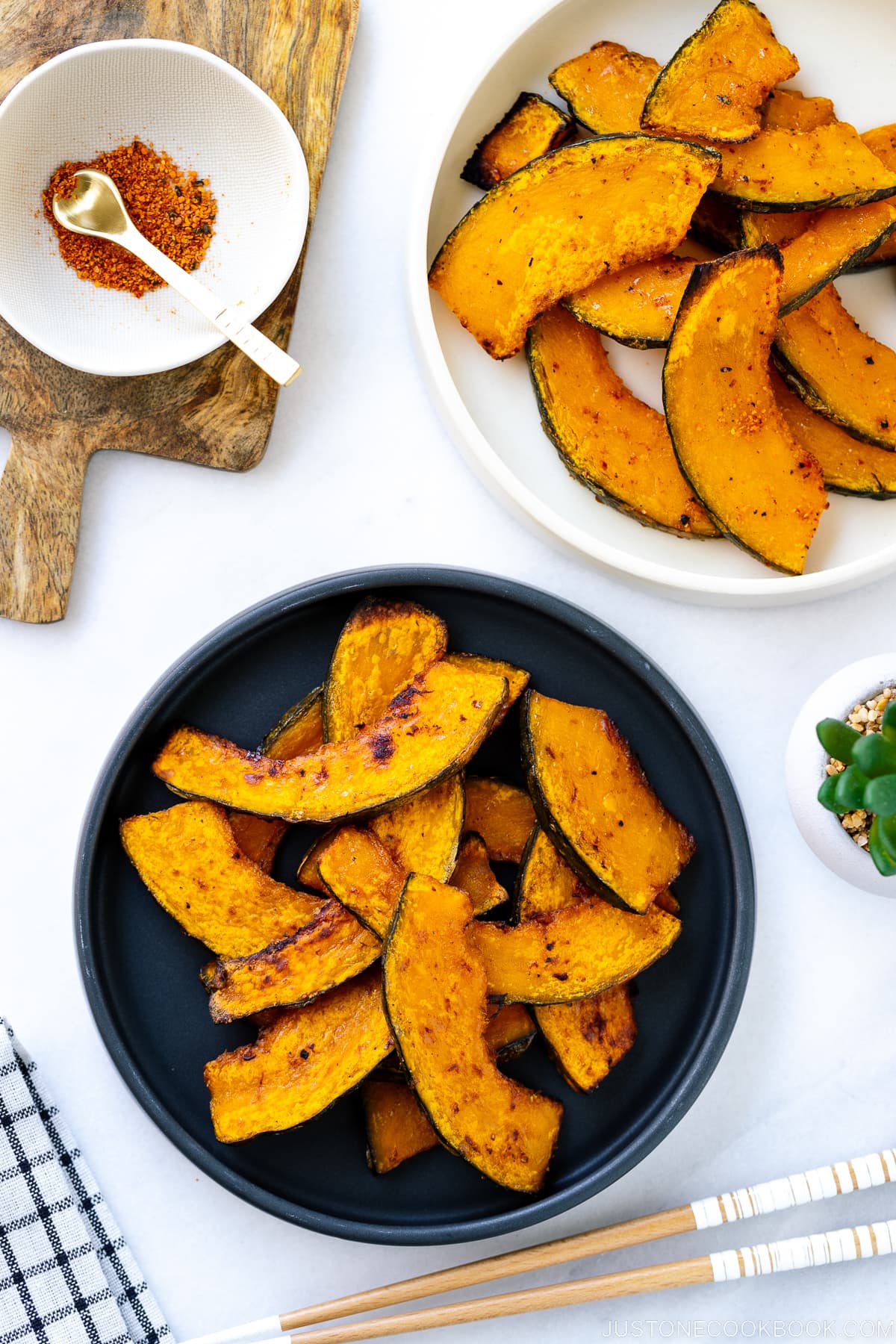 Tips to Make the Best Roasted Kabocha
Cut the kabocha into a uniform shape and size (a sharp knife is mandatory). Make sure the kabocha slices have an even thickness and size, as this will help to achieve perfect doneness at the same time. Read this post on how to cut kabocha.
Dry the kabocha with a paper towel to remove any excess moisture. It's important to keep the vegetable dry for roasting, so it roast up nice and crisp.
Use your hands and a big bowl to toss the kabocha and coat it with oil. You can also do this on the baking sheet if you're making one flavor of the roasted kabocha. Kabocha slices should be well-coated with a thin layer of oil. Don't just drizzle the oil from the bottle and start baking.
Roast at 450ºF (230ºC) for 15 minutes, and then broil for 2-3 minutes for deep char. I recommend using a higher baking temperature than the usual 425ºF (218ºC) for roasting vegetables. So you get a nice char and the kabocha doesn't get too mushy.
Rotate the baking sheet halfway through. Don't forget to switch around the baking sheet if you're baking two sheets in the oven at the same time.
Broil or bake on a higher rack for extra nice char. For crispy edges, switch to a broiler or bake extra few minutes toward the end.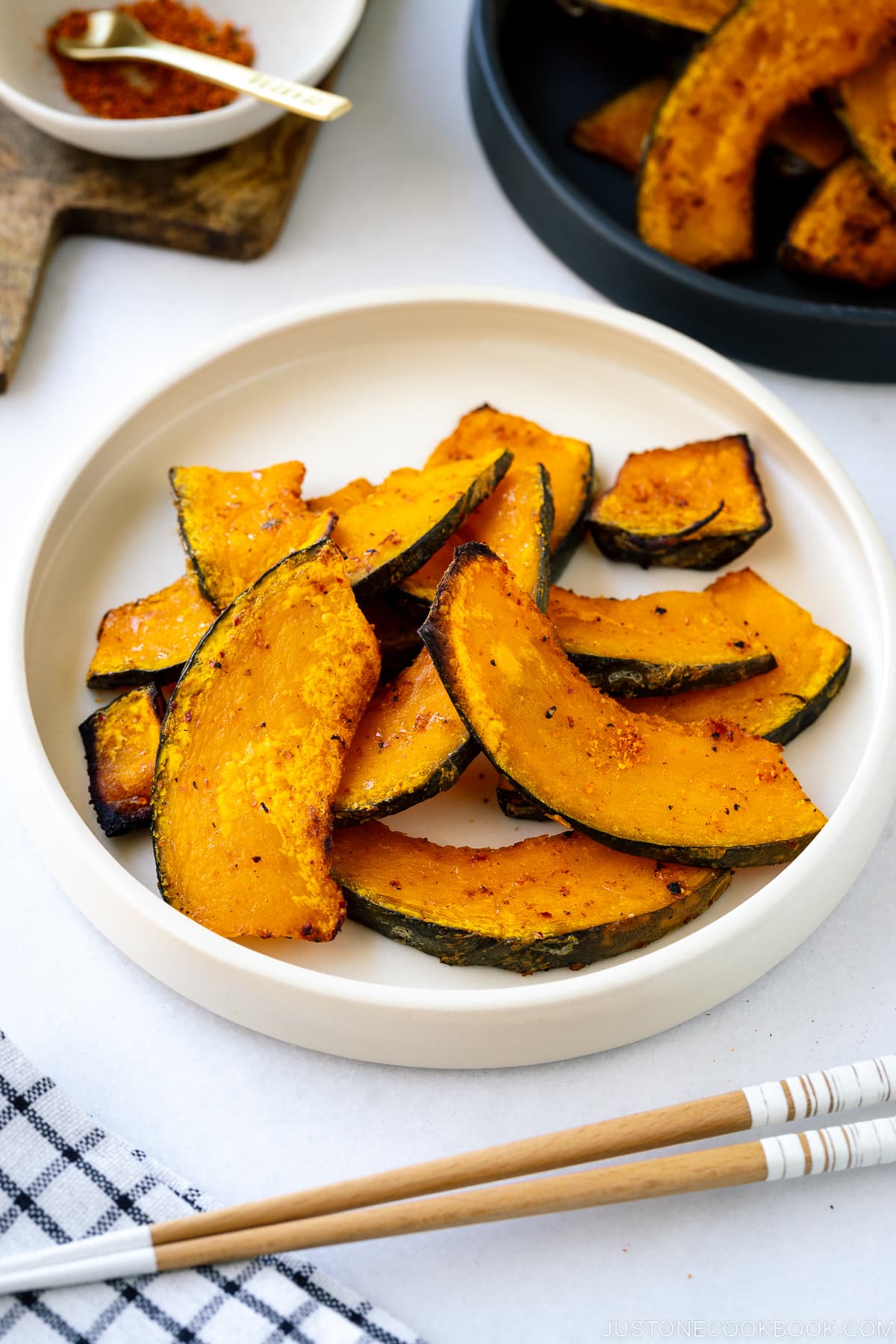 What to Serve Roasted Kabocha with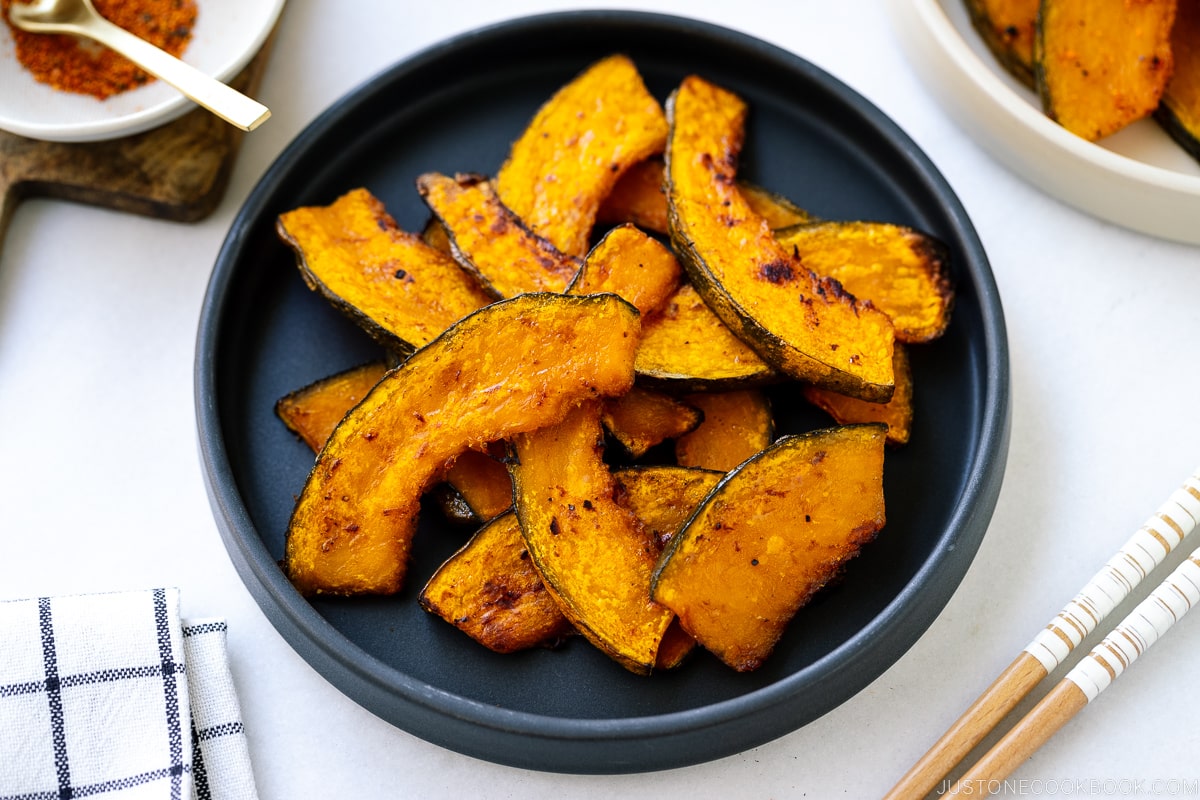 Wish to learn more about Japanese cooking? Sign up for our free newsletter to receive cooking tips & recipe updates! And stay in touch with me on Facebook, Pinterest, YouTube, and Instagram.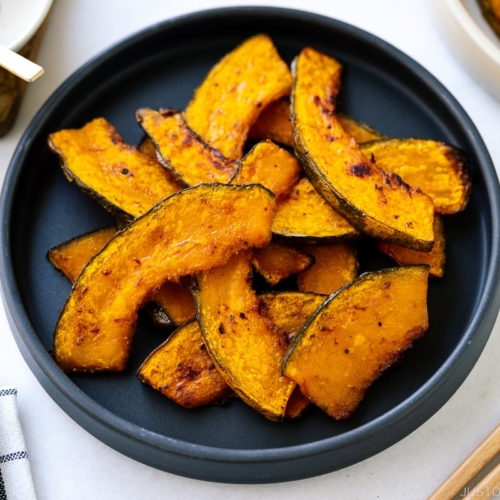 Japanese Roasted Kabocha Squash
Looking for a quick and delicious way to enjoy kabocha squash? Try this Japanese-style Roasted Kabocha Squash that's thinly sliced and oven-baked until slightly charred and fork-tender. Here, I show you how to lightly flavor it two ways: with shichimi togarashi spice blend and with sweetened soy sauce. These classic Japanese seasonings both enhance the natural sweetness and beautiful flavor of the kabocha.
Video
Ingredients
1¾

lb

kabocha squash

(about a quarter of a large kabocha; 1½ lb or 680 g after discarding the seeds)

2

Tbsp

neutral-flavored oil (vegetable, rice bran, canola, etc.)

(or extra virgin olive oil)

½-¾

tsp

kosher salt (Diamond Crystal; use half for table salt)

¼

tsp

freshly ground black pepper
For the Shichimi Flavor
For the Sweetened Soy Sauce Flavor
2

tsp

soy sauce

(use GF soy sauce for gluten free)

½

tsp

sugar
Japanese Ingredient Substitution:
If you want substitutes for Japanese condiments and ingredients, click
here
.
Instructions
Gather all the ingredients. Set two oven racks at the upper top and lower middle positions. Preheat the oven to 450ºF (230ºC). For a convection oven, reduce the cooking temperature by 25ºF (15ºC).
To Prepare the Kabocha
Using a spoon, scrape out and discard the seeds from the kabocha. The kabocha skin is edible and nutritious, so rinse and pat it dry with a paper towel.

Cut the kabocha in half widthwise, cutting through the middle of the U-shaped piece. Cut off the stem end, if any. Tip: When the kabocha pieces are shorter, the knife can slice through more easily.

Slice the kabocha thinly, about ⅛ to ⅕ inch (3-5 mm) thick.

Transfer the kabocha slices to a large bowl. Add the oil, salt, and pepper.

Using your hands (or a spoon), toss the kabocha with the oil and seasonings to coat well. Then, transfer half of the slices to another bowl.
To Add the Shichimi Togarashi
Sprinkle the shichimi togarashi over the kabocha slices in one bowl and toss to coat.
To Add the Sweetened Soy Sauce
Add the soy sauce and sugar to the kabocha slices in the other bowl and toss everything well.
To Roast the Kabocha
Prepare two baking sheets lined with parchment paper. Place the shichimi-flavored kabocha slices in a single layer on one baking sheet and the soy sauce-flavored kabocha on the other. Don't crowd the baking sheets. Tip: If you'd like a deeper char on the kabocha slices, do not use the parchment paper and bake directly on the baking sheet. This way, you can safely broil the kabocha slices longer without worrying about any paper catching on fire.

Place the baking sheets in the oven on the upper and lower racks (you'll switch their positions later). Bake at 450ºF (230ºC) for 10 minutes. Then, take out the two baking sheets.

Using tongs, flip the kabocha slices. Put the baking sheets back into the oven, rotating the directions of the pans and switching their positions on the upper and lower racks for even baking. Bake for an additional 5 minutes or until the kabocha is fork-tender. If you cut the slices thicker than I did, it may take slightly longer to cook. Next, switch to the Broil setting and broil high for 2-3 minutes until slightly charred. Tip: Make sure the upper rack is at least 4 inches away from the heating element so your parchment paper doesn't catch on fire. Watch it closely.

Remove the upper baking sheet from the oven. Next, move the lower baking sheet to the upper rack and broil high for 2 minutes.

Let the first baking sheet cool on a wire rack. After 2 minutes, take out the second baking sheet and let it cool on a wire rack.

Transfer the Japanese Roasted Kabocha Squash to two plates and enjoy!
To Store
You can keep the leftovers in an airtight container and keep them for 3 days in the refrigerator or for up to a month in the freezer.
Nutrition
Calories:
123
kcal
·
Carbohydrates:
16
g
·
Protein:
2
g
·
Fat:
7
g
·
Saturated Fat:
1
g
·
Polyunsaturated Fat:
4
g
·
Monounsaturated Fat:
2
g
·
Trans Fat:
0.04
g
·
Sodium:
311
mg
·
Potassium:
602
mg
·
Fiber:
3
g
·
Sugar:
4
g
·
Vitamin A:
2399
IU
·
Vitamin C:
21
mg
·
Calcium:
49
mg
·
Iron:
1
mg
©JustOneCookbook.com Content and photographs are copyright protected. Sharing of this recipe is both encouraged and appreciated. Copying and/or pasting full recipes to any website or social media is strictly prohibited. Please view my photo use policy
here
.