Try something different for the holidays this year with this rich and creamy Kabocha Pie with a dollop of freshly whipped cream and a hint of rum.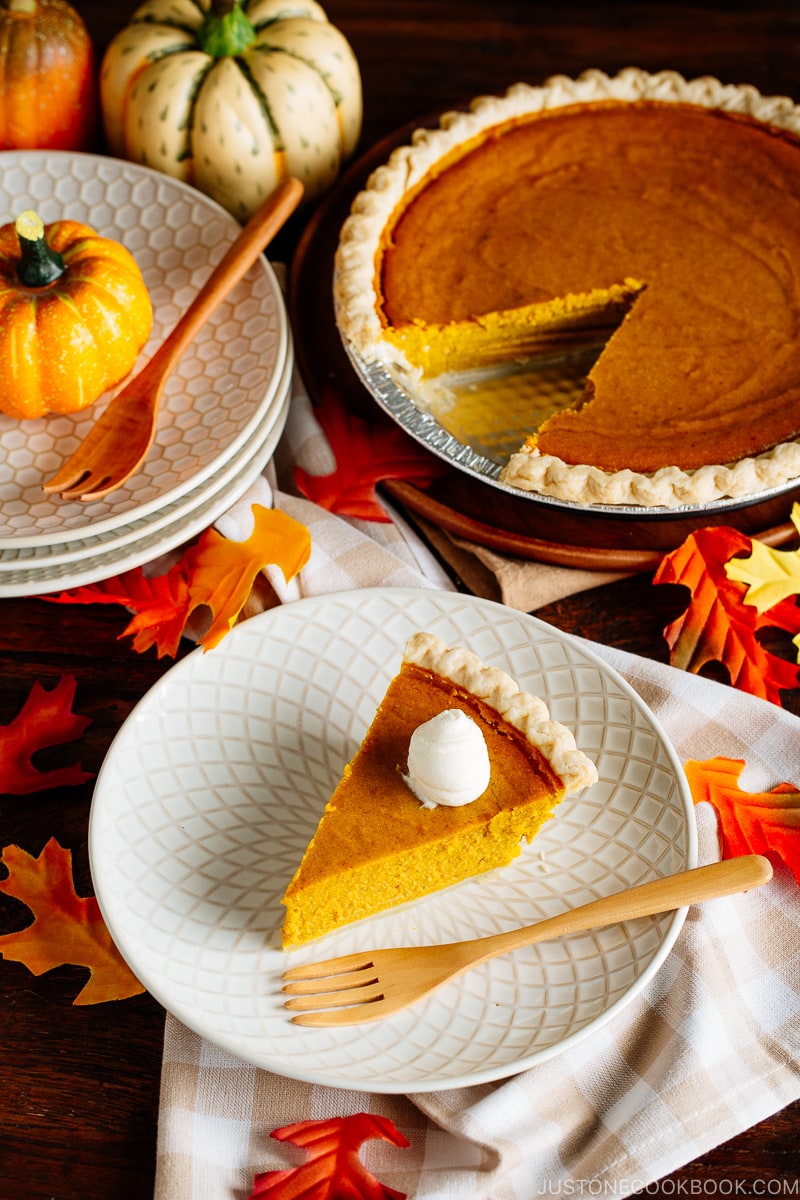 Thanksgiving is in less than a week, and if you haven't decided on what dessert to serve, I got you covered. This decadent Kabocha Pie (かぼちゃパイ) is super easy to make and will impress your holiday dinner guests!
Watch How To Make Kabocha Pie かぼちゃパイの作り方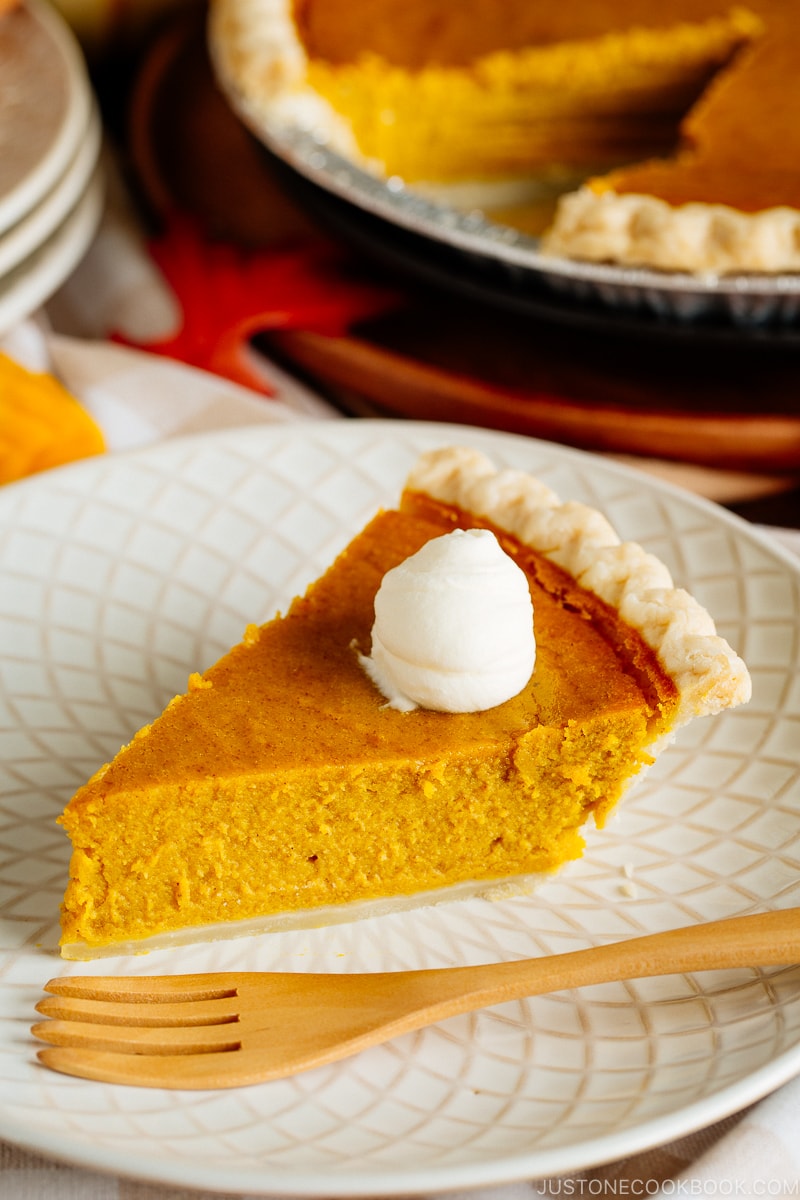 3 Hacks for Easy Kabocha Pie
1. Use the Frozen Pie Shells or Pie Crusts
Store-bought pie crusts are great for a beginner baker. Making your own pastry shell can be challenging and time-consuming, especially if you've never tried making it before. For this Kabocha Pie recipe, you can purchase a ready-made pie shell from your grocer's freezer.
What brand should you buy? Personally, I like Wholly Wholesome Organic Traditional 9″ Pie Shells because even without blind baking (read the next section), the bottom of the crust does not get soggy! The crust texture is light and flaky with a crisp edge, and it has toasty buttery flavors that are quite delicious. It also comes with on a pie dish so you don't need to purchase additional pie trays.
I've also tried Trader Joe's pie sheet and it's one of our favorites as well. But Trader Joe's Pie Crusts are pastry sheets, which requires your own pie dish. If you don't bake often, the pie shell I mentioned above might be a better choice.
2. Steam Kabocha 
Most of you probably roast/bake pumpkins and squash in the oven. However, in Japan, steaming or microwaving kabocha is the mainstream. Maybe it's because we don't have an American-size oven and roasting is not a common cooking method in Japan.
From my own cooking experience, I recommend steaming kabocha. It only requires 15 minutes of steaming (vs. 45-60 minutes of roasting/baking at 400F). Also, steaming helps retain the moisture content in the kabocha during the cooking process.
3. Use Pumpkin Pie Spice
For those of you who're not in the U.S., pumpkin pie spice is an American spice mix commonly used in pumpkin pie and pumpkin spice latte (or pumpkin smoothie for a healthier version). It's a really convenient spice to have during the holiday season.
It is generally a blend of powdered cinnamon, nutmeg, ginger, cloves, and allspice. If you can't get this spice, you can mix 1 tablespoon ground cinnamon, 2 teaspoons ground ginger, 1/2 teaspoon allspice, 1/2 teaspoon ground cloves, and 1/2 teaspoon ground nutmeg for about 2 tablespoons of homemade pumpkin pie spice blend.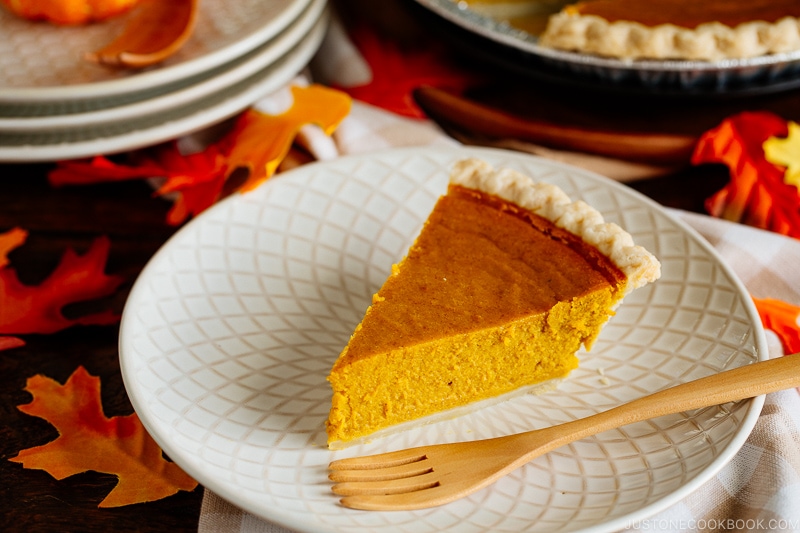 Prebake or Not to Prebake Pie Crust
Pre-baking the pie crust before adding the filling is called "Blind Bake" and most of the pies, tarts, and quiches call for pre-baking.
This technique is used to make sure the bottom of the pie is crisp and will hold up the soggy contents. Also, it's good to pre-bake when your pie is going to spend minimal time in the oven.
One drawback of blind bake is that you will need to account for an additional 1 hour or so to the cooking process. 15-20 minutes to blind bake, then another 30 minutes for the crust to cool before adding the filling and bake again. While it requires extra cooking time, the investment is well worth it to prevent soggy bottoms and blown out pie crust.
For this recipe, I skipped the blind bake process. The pie crust I used held up the filling very well and the bottom of the crust never got soggy with the kabocha filling. If you're using pie shells/crusts that are known for soggy crusts, I definitely recommend pre-baking. I put the instruction for pre-baking in the recipe.
3 Cool Kitchen Tools
1. Stainless Steel Steamer Basket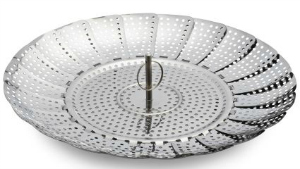 If you don't have a steamer basket, I recommend you to invest in this stainless steel steamer basket that can be in pans and pressure cookers.
You can steam vegetables, eggs, and even fish! I especially like it because it's dishwasher friendly and collapsible for easy storage! You can use how I used the stainless steel steamer basket in the kabocha pie video.
2. Food Processor 
If you do a lot of pureeing, a big food processor like this is very helpful. I used to have a smaller food processor so I had to puree vegetables in batches.
This 14 cup food processor is big enough for most of the pureeing job I have to do.
One negative thing about this food processor is that it's quite big and takes up a big space in your kitchen cabinet.
3. Fine Mesh Strainer
For those of you who don't own a food processor or blender, this fine mesh strainer or a similar one is a cool tool to have!
In Japanese cooking, we use this fine mesh strainer instead of a food processor or blender because there is no space in a typical Japanese kitchen for these gadgets. 🙂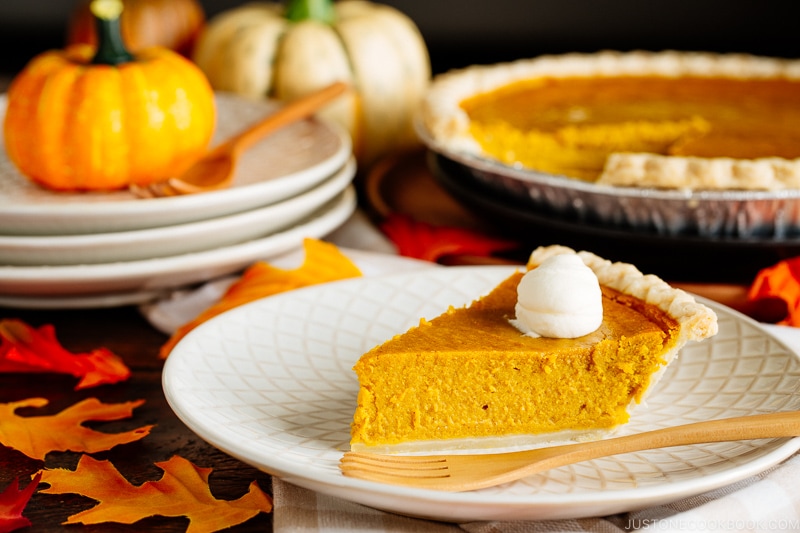 Japanese Ingredient Substitution: If you want to look for substitutes for Japanese condiments and ingredients, click here.
Wish to learn more about Japanese cooking? Sign up for our free newsletter to receive cooking tips & recipe updates! And stay in touch with me on Facebook, Pinterest, YouTube, and Instagram.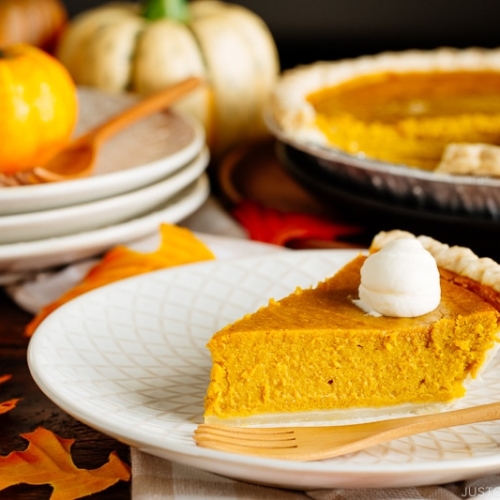 Kabocha Pie
Try something different for the holidays this year with this rich and creamy Kabocha Pie with dollop of freshly whipped cream and a hint of rum.
Video
Servings:
1
(9" or 23 cm) pie
Ingredients
2.5

lb

kabocha squash

(with seeds and skin)

2

Tbsp

unsalted butter

2

Tbsp

sugar

1

large egg yolk

2

large eggs (50 g each w/o shell)

⅓

cup

brown sugar

(packed)

2

tsp

pumpkin pie spice

½

tsp

Diamond Crystal kosher salt

1

Tbsp

rum

¾

cup

heavy (whipping) cream

(¾ cup + 4 tsp)

1

pie crust

(you can use my Tart Crust recipe for your pie crust)
Whipped Cream:
1

cup

heavy (whipping) cream

2

Tbsp

sugar
Japanese Ingredient Substitution:
If you want substitutes for Japanese condiments and ingredients, click
here
.
Instructions
Gather all the ingredients.

[Optional] Blind Baking – Please read the blog post first
Preheat the oven to 400ºF (200ºC). For a convection oven, reduce cooking temperature by 25ºF (15ºC). Take out the pie crust from the freezer and thaw for 10 minutes.

When the pie crust has softened a little bit, prick both bottom and sides of the pie crust with a fork, make sure not to poke through. This allows steam to escape and prevents bubbles from forming from the bottom of the crust. Alternatively, you can use pie weights. Bake the pie crust for 15-20 minutes or until golden brown. Remove from the oven, let it cool until room temperature.

Kabocha Pie
Put 1 cup of water into the pan (I use a wok) and place the steamer basket on top.


With a very firm chef's knife, cut kabocha in half and scoop out seeds. Cut kabocha into 1 ½ inch (4 cm) cubes.

Place kabocha cubes in a steamer basket and cover with lid. Turn heat to high and steam for 15 minutes.


After 15 min, check if kabocha ready by inserting the skewer into a thick kabocha cube. If it goes through smoothly, then they're done. Otherwise, keep steaming and check back in 1 minute. Remove the steamer basket from the pan. When the kabocha is cool enough for you to touch, remove the skin with a knife.


Transfer the kabocha to a food processor or blender. Puree kabocha until smooth. Since the kabocha was steamed and contains a good amount of moisture, you don't need to add any liquid. However, if the kabocha has been sitting out too long and seems dehydrated, add 1 Tbsp water at a time to help it puree. My kabocha yields about 3 cups (675 g). For this recipe, you will need 2 cups (450 g) of pureed kabocha.

If you don't have a food processor or blender, transfer kabocha to a large bowl and mash with a fine mesh strainer like this to pass through kabocha for finer texture. You can also use a potato masher but it won't be as refined.


Preheat the oven to 400ºF (200ºC). For a convection oven, reduce cooking temperature by 25ºF (15ºC). Take out the pie crust from the freezer and thaw for 10 minutes.

In a large bowl, combine 2 Tbsp (30 g) unsalted butter and 2 Tbsp (30 g) granulated sugar. Whisk until it's a creamy consistency.

Add 1 egg yolk and 2 eggs, one at a time and whisk well to combine before adding next one.


Add 2 cups (450 g) pureed kabocha and mix well to combine.

Add ⅓ cup (72 g) brown sugar, 2 tsp pumpkin pie spice, and ½ tsp kosher salt into the bowl and mix all together.

Add 1 Tbsp rum and ¾ cup + 2 Tbsp (200 ml) heavy whipping cream and whisk well.

Pour the filling into the pie crust. Tap the crust on the counter a few times to make sure there is no air gap in the fillings.


Bake at 400ºF (200ºC) for 15 minutes and then reduce oven temperature to 350ºF (180ºC) and bake for 50 minutes, or until the skewer inserted near the center comes out clean. If you pre-baked the pie crust, you might need to shield the edges with foil to avoid the crust becoming too brown and overdone.

Cool on a wire rack for 2 hours before serving.
To Serve
Serve the pie with a big dollop of fresh whipped cream (recipe follows).
To Make Whipped Cream
Place a metal mixing bowl and metal whisk into the freezer for 10 to 15 minutes (If you don't use an electric mixer, this step helps you to make whipped cream faster). Add 1 cup (240 ml) heavy whipping cream and 2 Tbsp sugar into the mixing bowl. Whisk just until the cream reaches stiff peaks.

Store any unused portion in an airtight container for up to 24 hours. When ready to use, re-whisk for 10 to 15 seconds.
To Store
You can keep the leftover pies in an airtight container and store in the refrigerator for up to 3 days.
Nutrition
Nutrition Facts
Kabocha Pie
Serving Size
1 9-inch pie
Amount per Serving
% Daily Value*
* Percent Daily Values are based on a 2000 calorie diet.
©JustOneCookbook.com Content and photographs are copyright protected. Sharing of this recipe is both encouraged and appreciated. Copying and/or pasting full recipes to any website or social media is strictly prohibited. Please view my photo use policy
here
.