Kabocha croquettes (korokke) is our family's fall favorite. Crispy on the outside and naturally sweet and savory on the inside, it's like a party in your mouth! These croquettes will disappear in no time.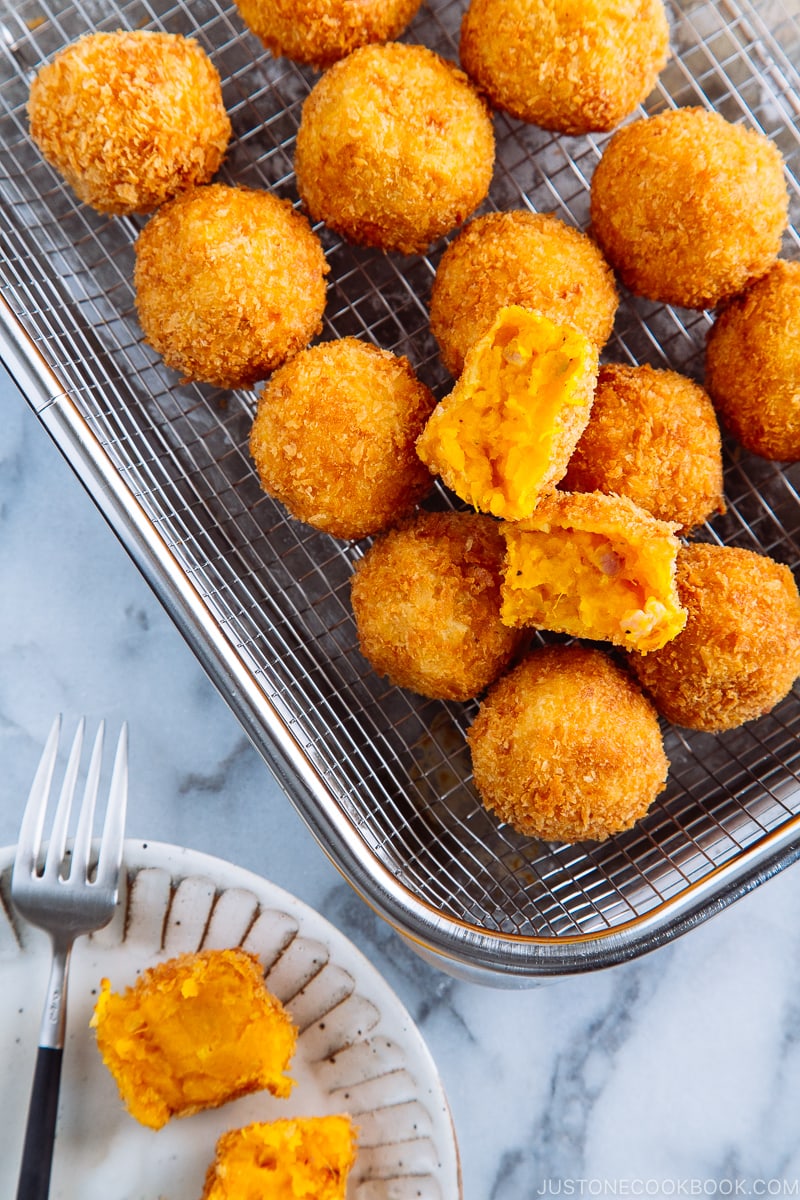 When the autumn rolls in and all kinds of pumpkins and squash start to pile up in the front of the grocery store, I grab my favorite of all, Kabocha, and make these Kabocha Croquettes. In Japan, we call this Kabocha Korokke (かぼちゃコロッケ).
What are Kabocha Croquettes?
They are simply croquettes made with kabocha instead of the more common filling of potatoes. They are one of my favorite fall dishes to make. The outside of the panko-crusted croquettes is crispy, while the soft mashed kabocha inside is sweet and tender. These croquettes have just the right balance of savory and sweet.
Kabocha (かぼちゃ, 南瓜) is a type of squash and here in North America, it's also called kabocha squash. I am not sure why, but in Japan, it is known as "pumpkin" instead of squash. I learned that it's called kabocha pumpkin in Australia (am I right?).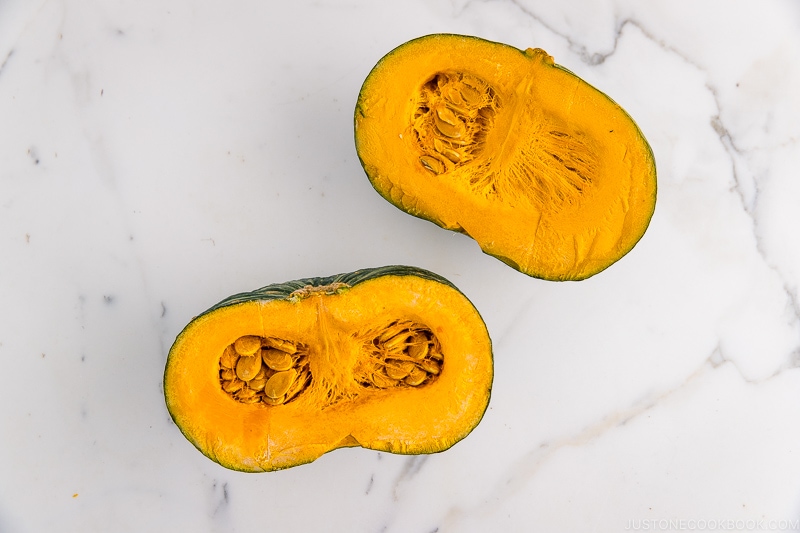 Kabocha is notorious for its really tough green skin. When you cut the green kabocha squash in half, it's almost a surprise the incongruity of the bright orangey flesh.
Kabocha is naturally sweet, much sweeter than butternut squash or sweet potatoes. If you like making sweets, don't miss my Kabocha Pie – it's a good twist on regular pumpkin pie.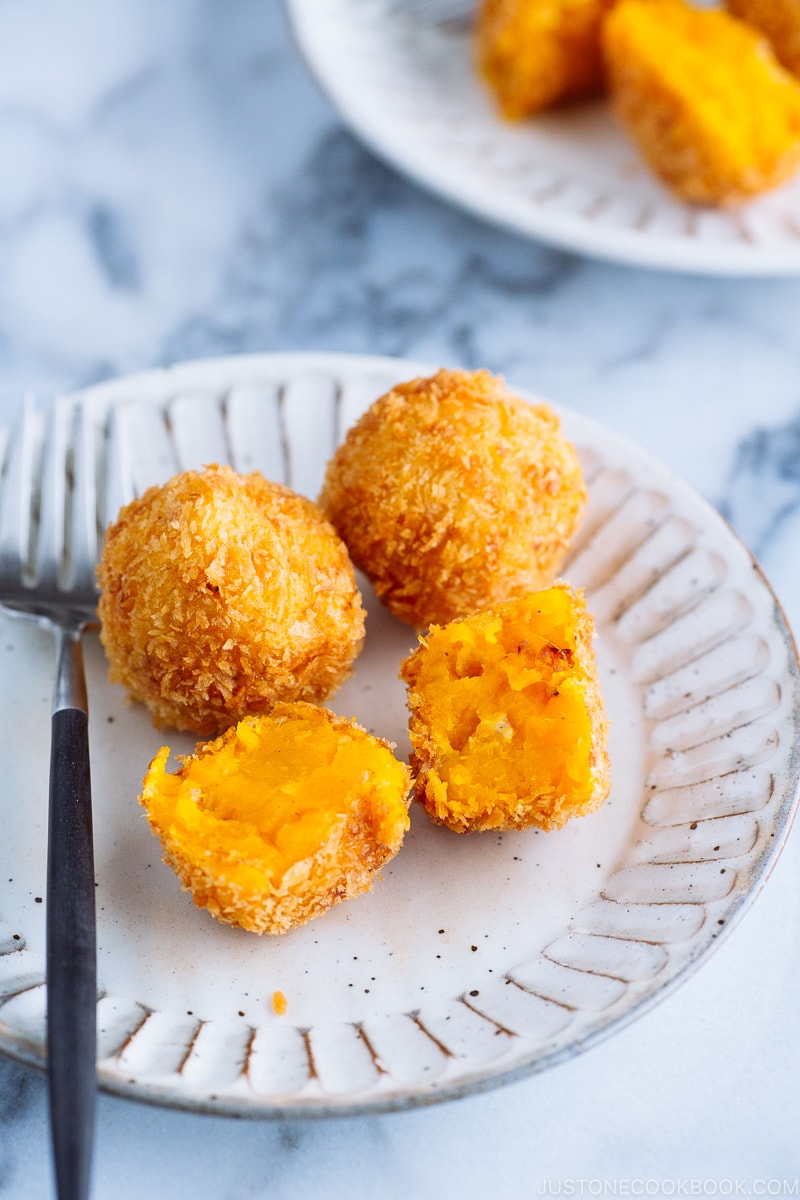 5 Tips to Make the Best Kabocha Croquettes
This recipe is so simple (did you see the recipe?), and that's why each ingredient plays an important role. Ingredients need to be fresh and high quality, so the dish comes out wonderfully, along with a little bit of love from your cooking.
1. Use the butter
I've tried both olive oil and butter to saute onion, and I have to say using butter is a game-changer. It's such a subtle thing, yet you'll notice the difference at the end. Trust me on this.
2. Use bacon
So I have tried different types of meat in these kabocha croquettes, and my family's favorite turned out to be bacon. If you are familiar with kabocha recipes on Just One Cookbook, yes, I did add bacon to the Kabocha Salad too! The flavor and texture of bacon go well with mashed kabocha – much better than ground meat.
3. Keep an eye on the moisture
You can steam the kabocha as I did, or use the microwave or boiling method. But the key is to make sure the kabocha is not wet when you are about to mash it. If you see too much moisture, you may want to put the cooked kabocha in the pot and let it evaporate on low heat. The sautéed onion and bacon in butter has plenty of fat and moisture to form the kabocha into a ball shape later on. Some onions also have more moisture content. If it does, try to evaporate it before mixing it with mashed kabocha.
4. Deep fry at 340 ºF (170 ºC)
Remember, kabocha is already cooked. That means all you need to do is to fry the croquettes until they are golden brown. Insert your long cooking chopsticks and see if there are small bubbles around them. Once you see the bubbles, put a few croquettes in the oil. Don't put too many croquettes at once as the oil temperature will go down as soon as you put croquettes in the oil. Turn once or twice until they are golden brown.
5. Add salt at the end
You might eat these kabocha croquettes with tonkatsu sauce as most panko-crusted deep-fried foods are served with tonkatsu sauce in Japan. Personally, I don't think it's a good match. Instead, sprinkle some good salt AFTER deep frying. It can be good quality sea salt or Himalayan pink salt. It brings out the kabocha flavor to the max!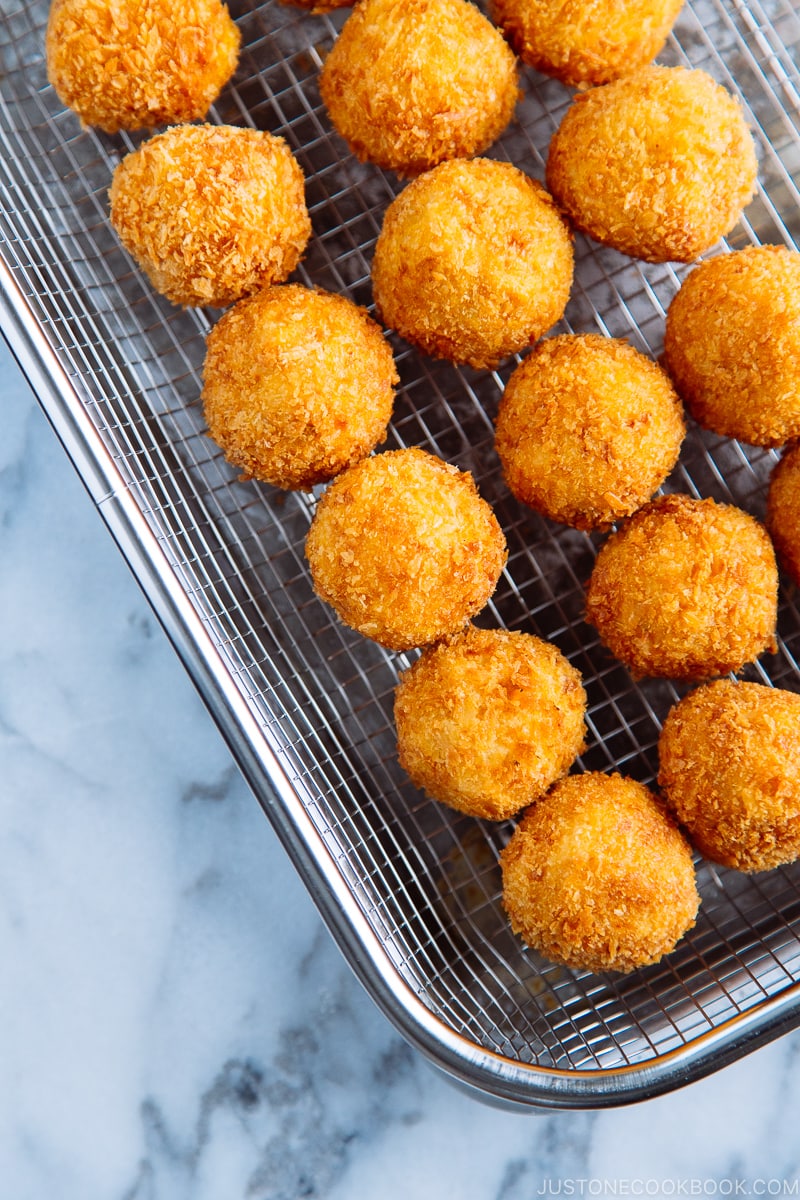 Make Kabocha Croquettes into Vegetarian
To have extra oomph, I added some bacon pieces; however, you can easily make your kabocha croquettes into a vegetarian dish by skipping the bacon – easy as that!
Bake or Deep Fry?
Last but not least, I know you'll probably ask me if you can bake this dish instead of deep-frying, so let me answer first. Either works. Many people prefer not to deep fry at home (and I hear you – all that smell, mess, and oil), so try baking them instead. Use my pre-toasting panko technique found in Baked Croquette, Baked Tonkatsu, Baked Chicken Katsu, etc.
However…(you knew I'd say this?) there is nothing like biting into freshly deep-fried croquettes. I am a self-proclaimed croquette connoisseur, and I have to tell you the deep-fried version will always win. So if you feel okay about deep frying, definitely take this deep fry path!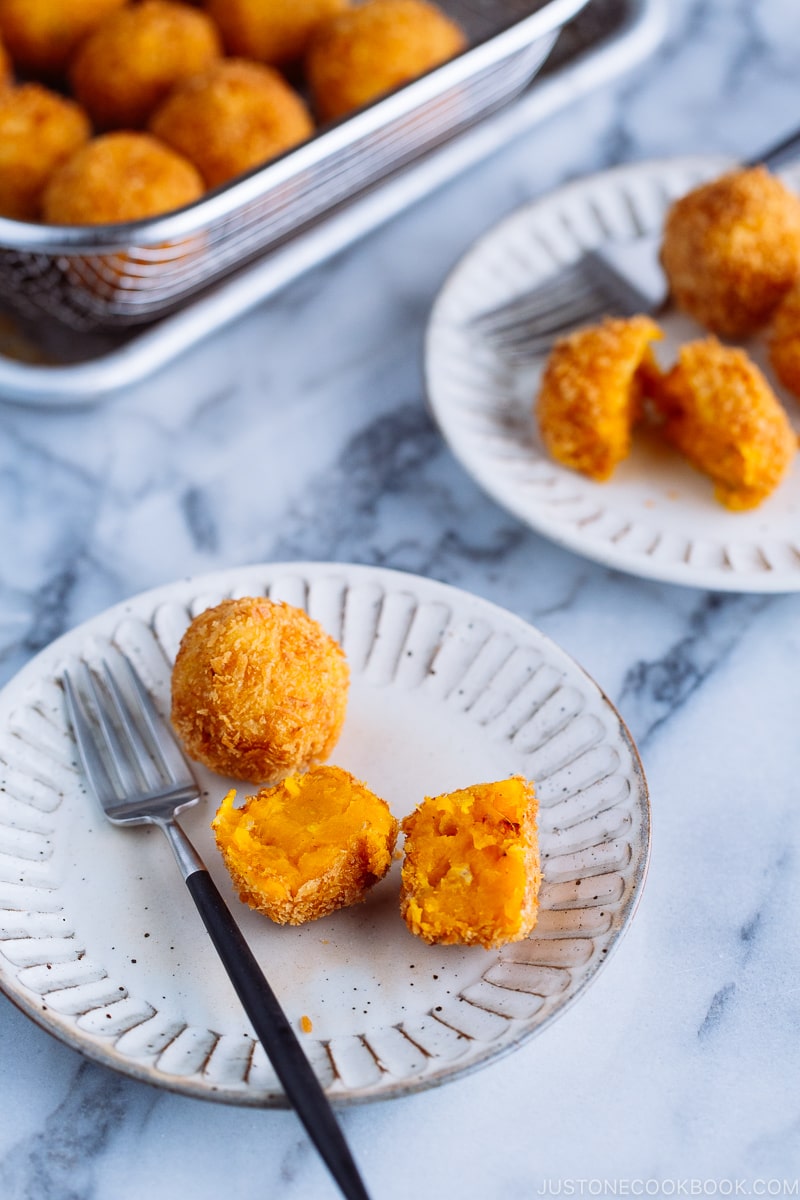 Other Delicious Kabocha Recipes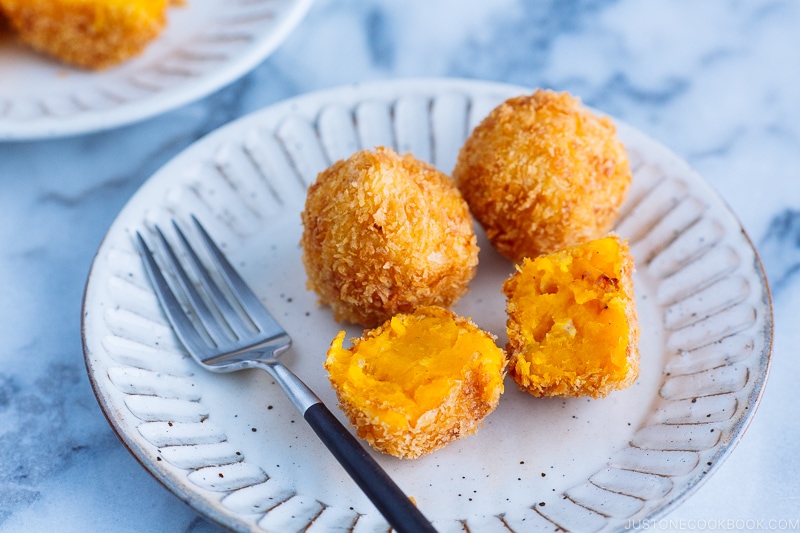 Wish to learn more about Japanese cooking? Sign up for our free newsletter to receive cooking tips & recipe updates! And stay in touch with me on Facebook, Pinterest, YouTube, and Instagram.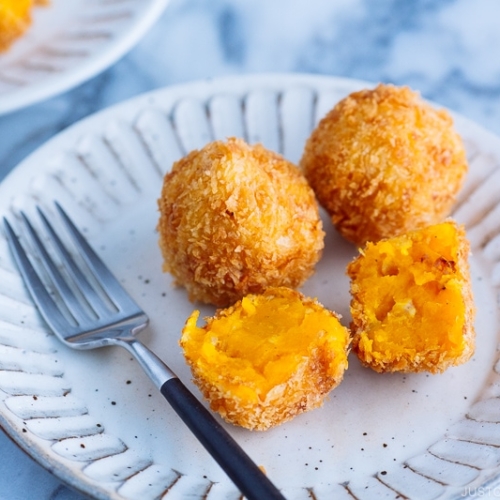 Kabocha Croquettes
Kabocha croquettes (kabocha korokke) is our family's fall favorite. Crispy on the outside and naturally sweet and savory on the inside, it's like a party in your mouth! These croquettes will disappear in no time.
Ingredients
1½

lb

kabocha squash (

½

kabocha with seeds)

3

slices

bacon

½

onion

(

3

oz,

85

g)

½

Tbsp

unsalted butter

⅛

tsp

freshly ground black pepper

3

cups

neutral oil
For the Breading
¼

cup

all-purpose flour (plain flour)

1

large egg (50 g each w/o shell)

(beaten)
Japanese Ingredient Substitution:
If you want substitutes for Japanese condiments and ingredients, click
here
.
Instructions
Gather all the ingredients.

Remove seeds and pith from

1½ lb kabocha squash

and cut into big chunks, about 2-inch (5-cm) pieces.

Set up the steamer (I use this steamer basket inside the Dutch oven here). Steam the kabocha for 20 minutes or until tender (enough that you can mash with fork) but don't overcook.

While steaming the kabocha, mince

½ onion

. Slice parallel to the grain, slice against the grain (image 1), cut into cubes (image 2), and chop into even smaller pieces (image 3).

Cut

3 slices bacon

into small bits. For better texture, I like the bacon to be about ¼ inch (6 mm).

Heat

½ Tbsp unsalted butter

in a large frying pan over medium heat. Add the onion and sauté for 2–3 minutes, and add the bacon. Cook until the onion is translucent, tender, and nicely brown. Set aside until the kabocha is done steaming.

Remove the kabocha from the pot and let cool until you can touch (but still warm). Remove the skin using a knife or spoon. Kabocha skin is edible and you don't have to remove it. However, your kabocha croquette will be dark in color instead of a bright orange color.

Transfer all the kabocha in a large bowl and mash with a fork.

Add the onion and bacon mixture to the mashed kabocha. Try to avoid adding excess oil, which could make the mixture too wet. Season with

½ tsp Diamond Crystal kosher salt

and

⅛ tsp freshly ground black pepper

.

Combine well together. Using a cookie scoop, make it into ball shape. I can usually make 15–18 balls with ½ kabocha (1½ lbs with seeds).

Cover with plastic wrap and refrigerate for 15 minutes to kabocha balls become firmer.

Add

1

Tbsp water to

1 large egg (50 g each w/o shell)

(beaten). Coat kabocha balls in

¼ cup all-purpose flour (plain flour)

.

Then coat with the egg mixture, and finally

½ cup panko (Japanese breadcrumbs)

.

Cover with plastic wrap and rest in the refrigerator for 30 minutes. During this time, the flour absorbs moisture. As a result, it'll splatter less in the oil and the batter becomes stickier and won't come off while deep-frying. Also, if you deep-fry the food when it's still warm, the steam inside the filling will get hot and try to escape, which will end up exploding in the hot oil.

When it's almost 30 minutes, start heating up 3 cups neutral oil to 340ºF (170ºC) in a pot. Insert the long chopsticks, and when you see small bubbles appear around them, it's ready to deep fry the croquette. The filling of the croquette is cooked already, so all you need is to fry the coating until golden brown.

Transfer golden kabocha croquette to a wire rack or a plate lined with paper towel. Sprinkle some salt such as sea salt or Himalayan pink salt.
To Store
Once it's cooled completely, you can put the leftovers in an airtight container and store in the refrigerator for 3 days and in the freezer for up to a month.
Nutrition
Nutrition Facts
Kabocha Croquettes
Amount per Serving
% Daily Value*
* Percent Daily Values are based on a 2000 calorie diet.
©JustOneCookbook.com Content and photographs are copyright protected. Sharing of this recipe is both encouraged and appreciated. Copying and/or pasting full recipes to any website or social media is strictly prohibited. Please view my photo use policy
here
.