Here is your quick guide to Japanese cooking techniques. We break down the four basics integral to Japanese cuisine, so you're ready to amp up your kitchen skills.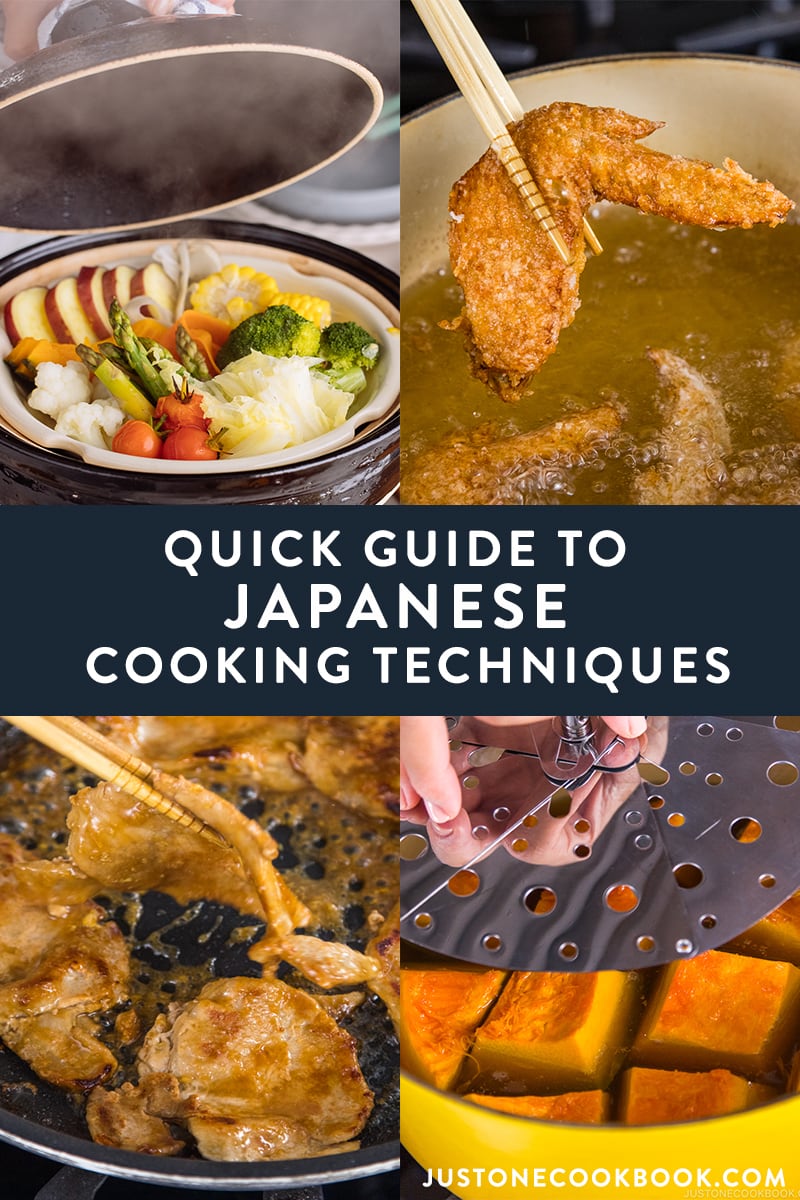 Japanese cuisine Washoku (和食) has a distinctive culinary style all of its own. The cooking is simple: no complex processes, heavy sauces, fiery spices, or fragrant herbs. All seek to preserve the produce's natural flavors, textures, colors, and nutrients.
Mastering the cooking techniques is fundamental for making good Japanese food at home. Once you're armed with the basic know-how, you can easily recreate Japanese food at home with locally sourced ingredients.
So, let's get started!
Four Main Styles of Japanese Cooking Techniques
There are hundreds of cooking techniques in Japanese cuisine, but we can group them into four main categories.
Niru (煮る) – "simmer in liquid"
Yaku (焼く) – "cook in direct or indirect heat"
Musu (蒸す) – "steam"
Ageru (揚げる) – "deep fry"
---
1. Niru (煮る) "Simmer"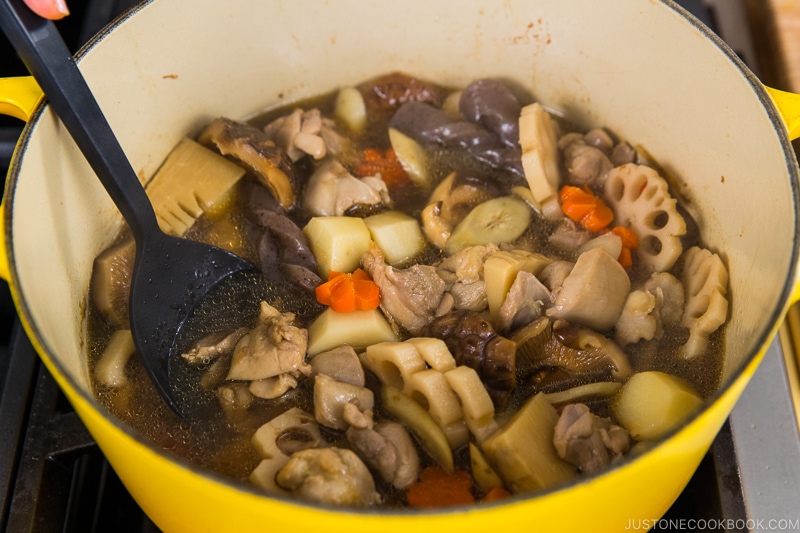 First things first, what exactly is 'niru' or simmering? It is a cooking technique that uses a lower/moderate heat to soften foods in liquid gently.
The lower heat penetrates food slowly and helps to incorporate flavors while retaining the shapes. It's less intense than boiling but a little more aggressive than poaching.
The Japanese simmer or 'niru' technique usually starts with dashi (Japanese soup stock). However, it can be further defined by many distinctive styles utilizing different seasonings, ingredients, temperatures, etc.
It is a well-tested cooking technique that requires seasoned knowledge of timing and selection of the best ingredients in their seasonal prime. You can cook any ingredients – from vegetables, meat, seafood to tofu – using the 'niru' or simmer technique.
Many different approaches fall under 'niru'. Here are some of the basics:
Nimono (煮物) – the umbrella of Japanese simmering
Takiawase (炊合せ・焚合せ)
Fukumeni (含め煮)
Nikorogashi (煮ころがし)
Itameni/Irini (炒め煮・炒り煮)
Tsukudani (佃煮)
Misoni (味噌煮)
Nitsuke (煮付)
Nimono (煮物)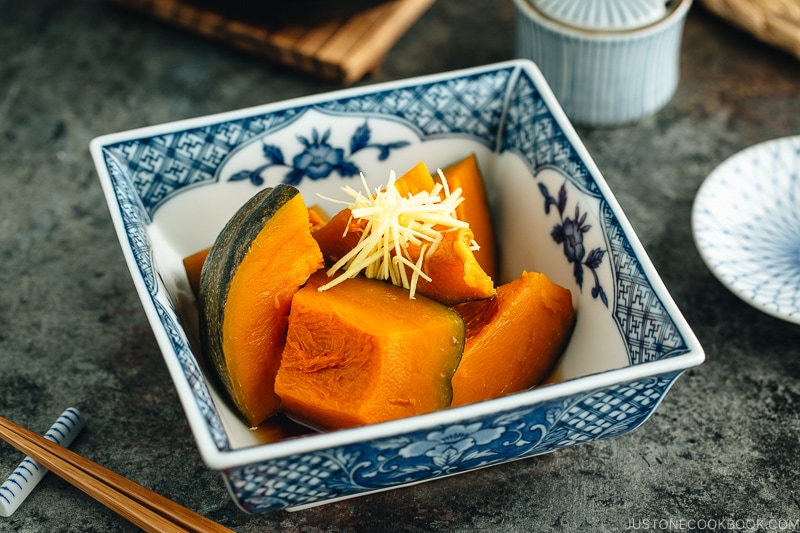 Nimono (煮物) refers to all simmered foods, where the ingredients are cooked until the liquid evaporates.
The simmering liquid is a base of dashi, sake, soy sauce, and a sweetener (mirin, sugar, or both). The liquid should not be soupy and drown the ingredients, although some dishes will have some broth left, which is spooned over the final dish before serving.
Most nimono dishes are the comfort food for the Japanese and the cornerstone in "mom's/grandma's home cooking" and Kaiseki Ryori (Japanese fine-dining cuisine).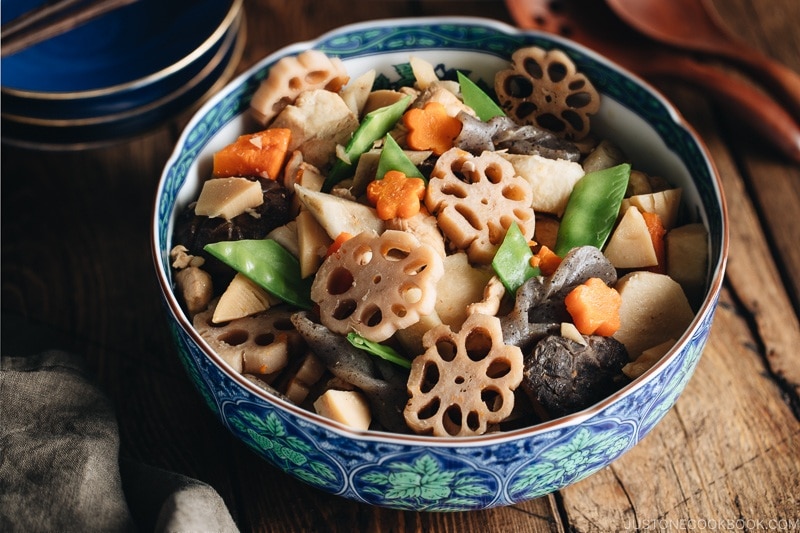 The most classic homey nimono is Nishime (煮しめ) or Chikuzenni (筑前煮), where various ingredients are cooked together in one pot and simmered in their juices. We serve the dish for everyday meals and celebratory occasions such as the Japanese New Years' feast.
Kaiseki Ryori is perhaps the most essential course that showcases the chef's skills. Through nimono dishes, s/he perfectly presents the guests with the seasonal ingredient in its purest yet tastiest nature. When the dish is served in a bowl, it is called Futamono (蓋物, "lidded thing") or Nimonowan (煮物椀, "nimono bowl").
🔪 Cook JOC Nimono Recipes:
Takiawase (炊合せ・焚合せ)
A Kansai style of cooking where the ingredients are simmered separately to retain their distinctive flavor, color, and texture, then quickly cooked together in a light broth.
Fukumeni (含め煮)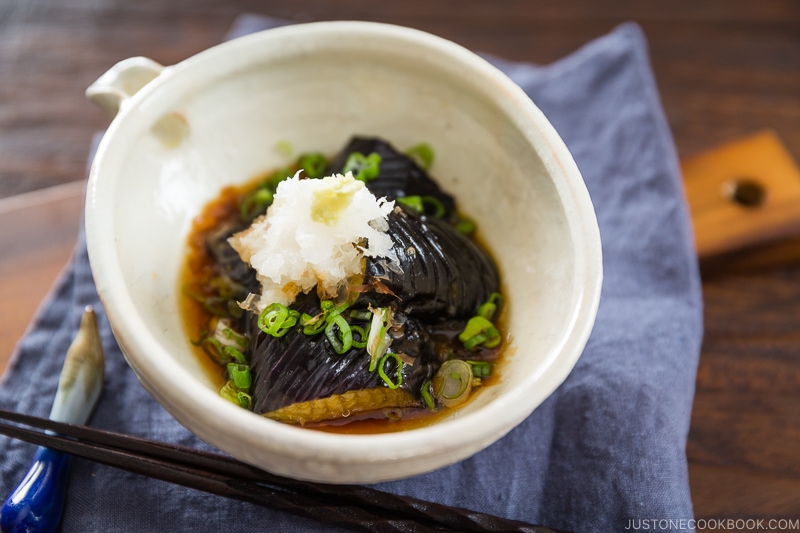 A vegetarian dish where hearty vegetables such as daikon, kabocha squash, eggplant, and Koya dofu are slowly simmered in plenty of lightly seasoned broth and then left to cool to soak up the flavors. When the ingredients are cooked in a thin dashi broth, it is called Nibitashi (煮浸し).
🔪 Cook JOC Fukumeni Recipes:
Nikorogashi (煮転がし)
Korogasu (転がす) means "to roll, tumble," and this nimono is just that – ingredients such as potatoes, taro and konnyaku are cut into large round chunks, then tossed and cooked in a sweet-savory sauce.
Itameni/Irini (炒め煮・炒り煮)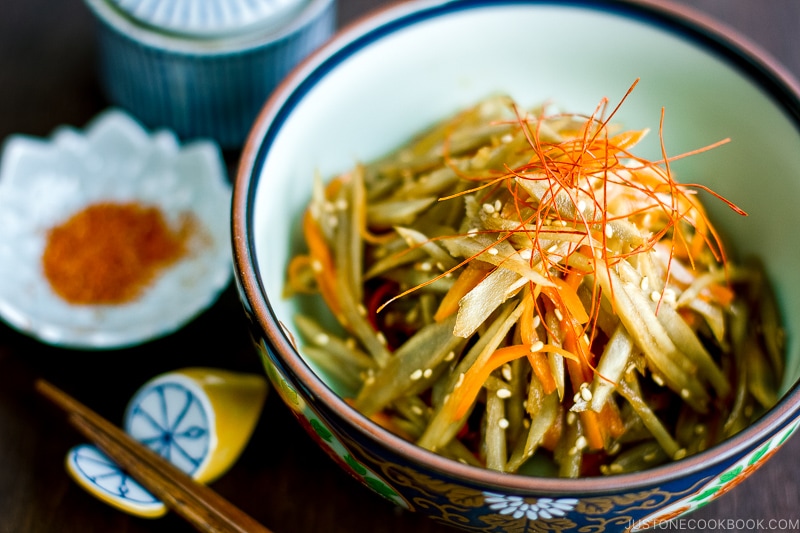 Ingredients that are stir-fried in oil, then simmered in a strongly seasoned sauce until the liquid has evaporated, leaving a shiny glaze.
🔪 Cook JOC Itameni/Irini Recipes:
Tsukudani (佃煮)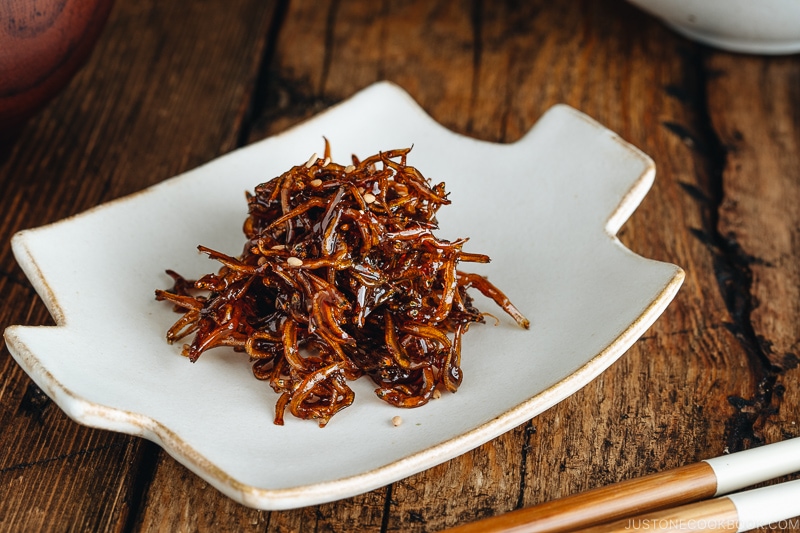 A companion to rice, instead of eaten on its own, Tsukudani consists of fish, shellfish, meat, seaweed, or vegetables simmered in a sweet and savory sauce for a long time, resulting in a very concentrated flavor. The name originates from Tsukuda (佃) in eastern Tokyo, where it was first made.
🔪 Cook JOC Tsukudani Recipes:
Misoni (味噌煮)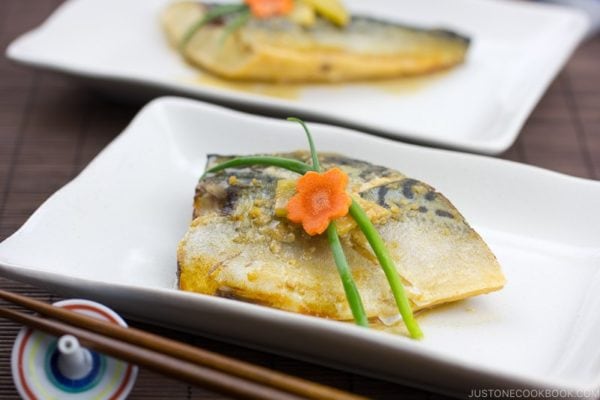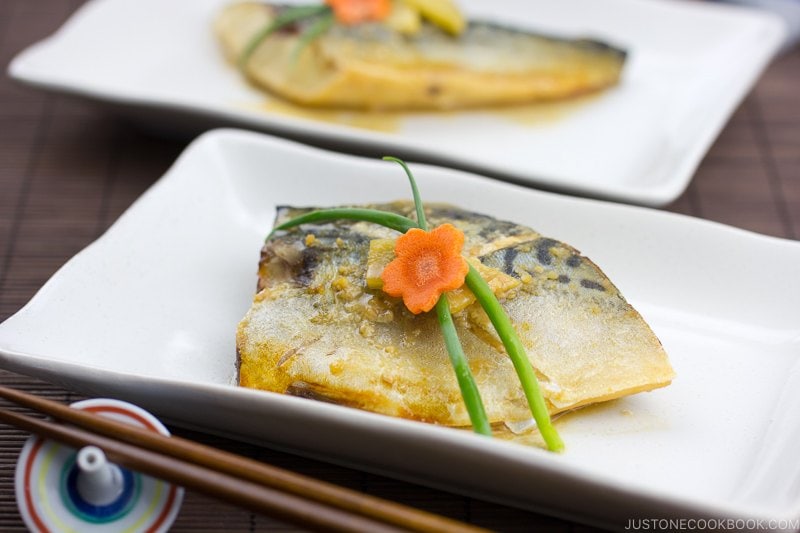 Oily fish such as mackerel are often cooked in a Misoni, a blend of miso, dashi, mirin, soy sauce, and fresh ginger. The heavy miso flavor and ginger mask the strong taste of oily fish.
🔪 Cook JOC Misoni Recipes:
Nitsuke (煮付)
Nitsuke is a sake-based simmer, applying usually to white fish, both whole fish and fillets. The sake helps remove the fishy odor and tenderizes the flesh, and the alcohol cooks off.
🔪 Cook JOC Nitsuke Recipes:
---
2. Yaku (焼く) "Cook in Direct/Indirect Heat"
The simplest and the oldest form of cooking, 'yaku,' includes all manners of cooking by exposing ingredients to direct or semi-direct heat. This includes grilling over an open fire, frying in a pan, or roasting in an oven. The method removes the bitterness, draws excess moisture, and brings out the inherent flavors.
While the Japanese use charcoal grilling, there are no aromatic smoky flavors like in American BBQ. The charcoal is smokeless, odorless, and emits high heat for quick grilling, which is perfect for bite-sized cuts of meat and vegetables or small whole fish.
Shioyaki (塩焼)
Teriyaki (照焼)
Yuanyaki (幽庵焼)
Kushiyaki (串焼)
Shioyaki (塩焼)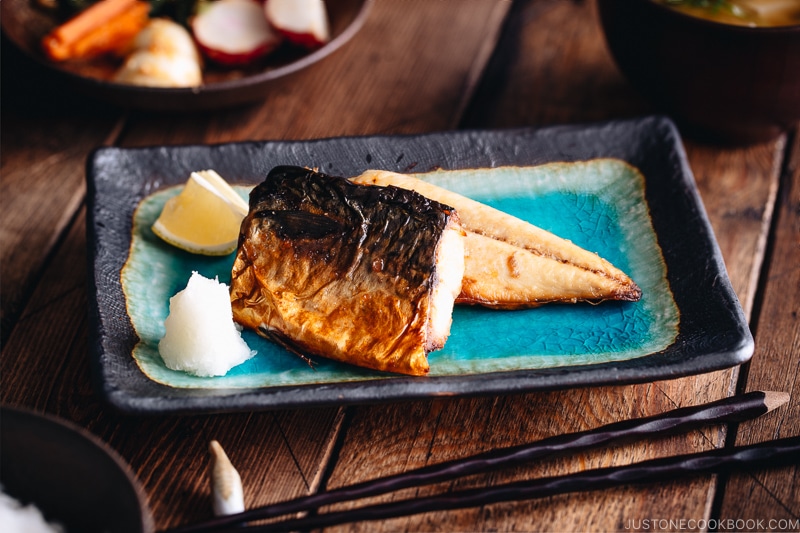 Salt is the only seasoning in Shioyaki "salt cooked" foods, where fish, lobster, squid, and shellfish are salted immediately before grilling. For fatty fish like mackerel and hamachi, salt draws moisture and oil out of the flesh before grilling.
🔪 Cook JOC Shioyaki Recipes:
Teriyaki (照焼)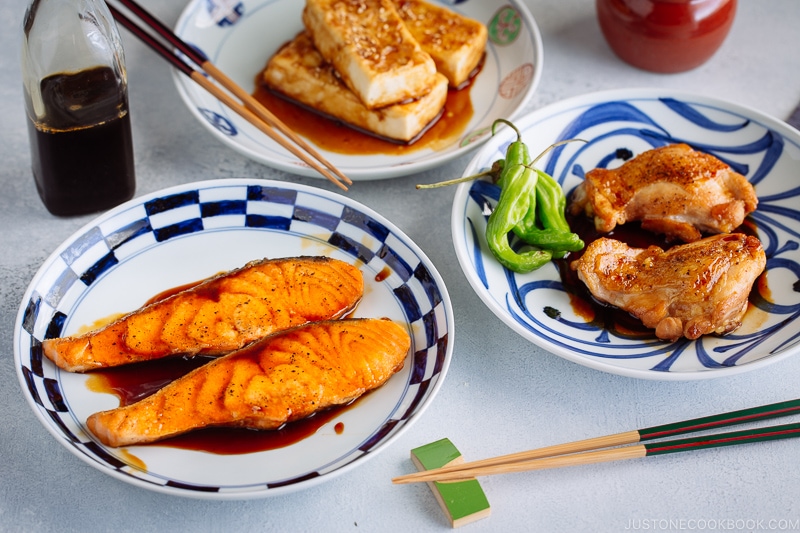 Teriyaki refers to the method of cooking where a protein is cooked for a shiny glaze, hence the "teri" (照り, literally "shiny" or "glossy") and not the name of the sweet and savory sauce. Teriyaki is made by cooking a protein 70-80% through, then basting in a mixture of sake, mirin, soy sauce, and sugar. In Kansai, it can be referred to as Tsukeyaki (付焼き).
🔪 Cook JOC Teriyaki Recipes:
Yuanyaki (幽庵焼)
Yuanyaki is a technique where fish is marinated in a Yuan base containing sake, soy sauce, and yuzu slices (or other citrus fruits). White miso can be added for a flavor boost. This marinade is commonly used for white fish such as Spanish mackerel (鰆), butterfish (真名鰹), and sea bream (鯛), although it can also be used for oily fish and chicken.
Kushiyaki (串焼)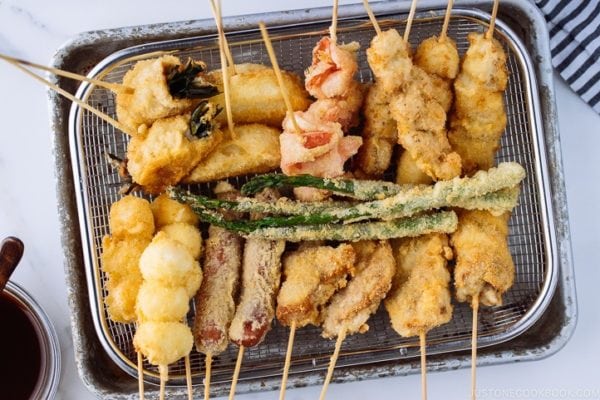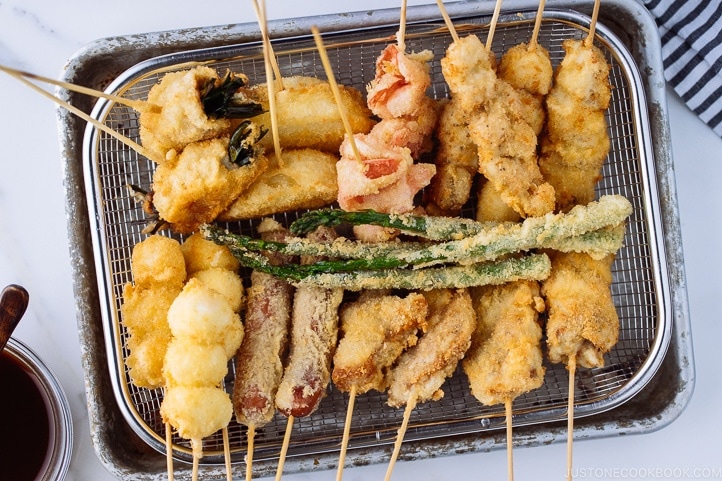 A standard method of grilling is to thread food on metal or bamboo skewers. However, grilling large hunks of meat, whole legs of lamb, or spit roast cooking is non-existent in traditional Japanese cooking. Instead, the foods are cut into manageable sizes for easy handling and eating. Bamboo skewers are usually used for chicken, tofu, and vegetables, whereas stainless steel skewers are used for whole or fish fillets.
Skewering is an art form in Japanese cooking, as the final presentation is vital. Not only is efficient cooking essential so that the skewered food is cooked through on all sides, but it must also look appetizing.
Fish is the most difficult as the skin is highly delicate and shrinks immediately when exposed to heat, ruining the shape. If not tended carefully, the fins and tails also scorch easily.
For that reason, the Japanese developed a method of skewering whole fish such as sea bream called Uneri-gushi/Odori-gushi (うねり串・おどり串, "wave skewering," "dance skewering") to look as if the fish are still swimming. Smaller fish are skewered together in parallel or spread out like a fan for even cooking.
🔪 Cook JOC Kushiyaki Recipes:
---
3. Musu (蒸す) "Steam"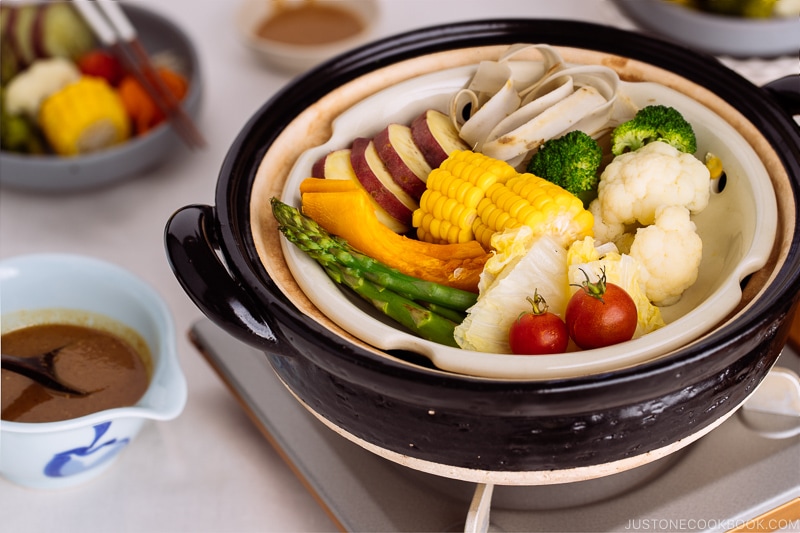 Placing ingredients in a tightly closed pot and cooking them in steam preserves the subtle flavors, aroma, and nutrients for tender and moist results. The standard steamers are wood or metal, resembling stacked boxes in professional settings. In home kitchens, circular Chinese-style steamers set over a wok or improvised steamers in pots are used.
The most important rule is to heat the steamer to create plenty of steam. The water must be roaring and emitting enough steam to envelop in a hot mist. A cold steamer will cook the foods unevenly and may discolor the surface, resulting in a sad and half-cooked mess. Another thing to note is that steaming is not a long process; with enough steam, the food should quickly cook through. Pierce the foods to check for doneness and avoid overcooking.
The typical proteins suitable for steaming are fish, chicken, and vegetables. They are usually cooked unseasoned and served with a dipping sauce or a savory topping. But there are other steamed dishes worth noting.
Okowa (御強), Sekihan (赤飯)
Chawanmushi (茶碗蒸し)
Okowa (御強), Sekihan (赤飯)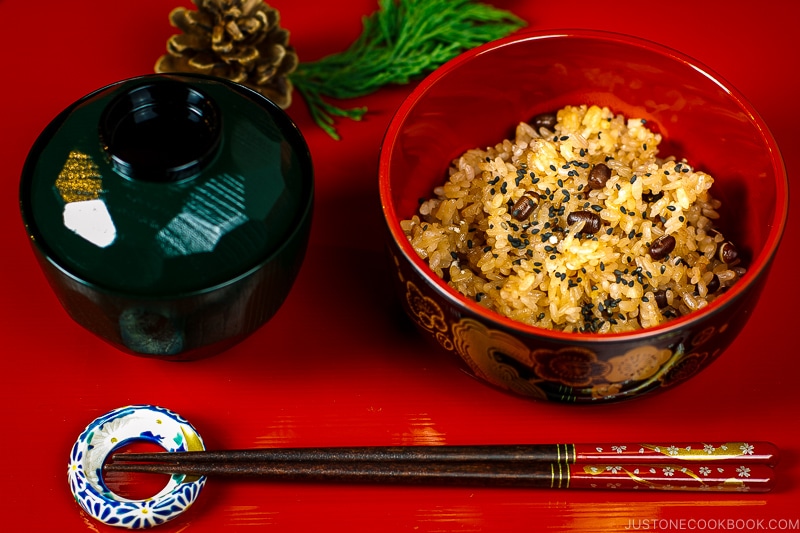 Both are steamed rice dishes made of glutinous rice AKA mochigome (糯米). They have a characteristic chewy and sweet taste compared to plain white rice and are eaten on festive occasions. Okowa is steamed rice mixed with meat, fish, or vegetables. As glutinous rice was a luxury, it was only served on special occasions. Sekihan is a type of Okowa with azuki beans.
Chawanmushi (茶碗蒸し)
The exception to high-heat quick cooking is Chawanmushi, Japanese steamed egg custard. These cups are steamed in low heat as high heat will form tiny bubble holes in the custard, destroying the delicate texture and flavor. Chawanmushi is an enriched egg concoction containing chicken, shrimp, various seafood, and vegetables, which can be found by digging into the cups. It can be served piping hot or chilled at high-end restaurants and home.
🔪 Cook JOC Chawanmushi Recipes:
---
4. Ageru (揚げる) – "Fry"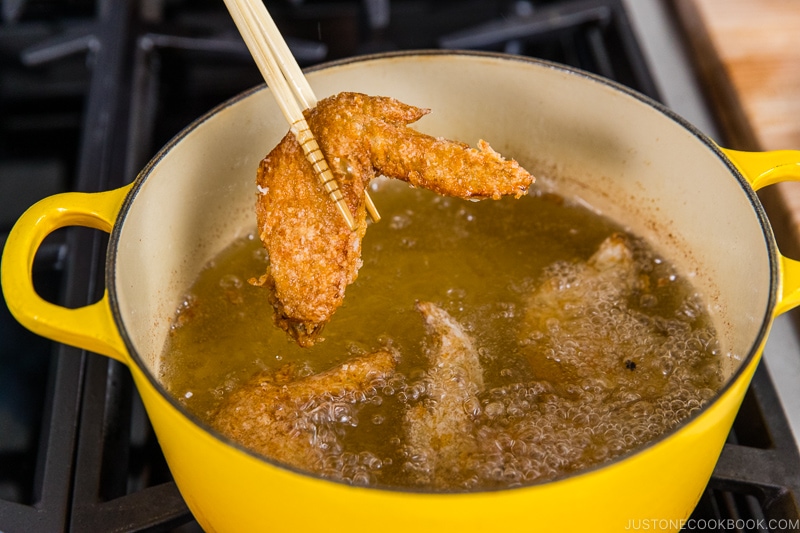 The technique of deep frying is not native to Japan; the Europeans and Chinese first introduced it. The classic deep-fried Japanese food Tempura (天婦羅) originates from the Portuguese in the Muromachi era (1336-1573).
Deep frying may seem simple, but it's a fine art that requires perfect control of the amount of oil, temperature, and batter.
While it's best to savor the full, high-level experience of deep-fried food at specialty restaurants, you can still enjoy it at home! It is a skill that most Japanese home cooks embrace wholeheartedly despite limited kitchen space.
Do you wish to cook up some mouthwatering deep-fried foods? Just follow these tips.
The categories of deep-fried foods depend on the type of coating used and are the following:
Su-age (素揚げ)
Kara-age (唐揚げ・空揚げ)
Koromo-age (衣揚げ)
Katsu (カツ), Furai (フライ)
Su-age (素揚げ)
Su-age (literally "naked frying") is deep-fried foods without being dredged in flour or batter. As the food absorbs oil on direct contact, this technique is unsuitable for soft or watery foods that will become floppy or splatter in oil.
The best are those that retain their shape and color even when deep-fried, such as small freshwater fish, green beans, and slices of sturdy vegetables such as kabocha, lotus root, daikon, and taro. Proteins like small fish, shrimp, and chicken wing tips can also be su-age.
Kara-age (唐揚げ・空揚げ)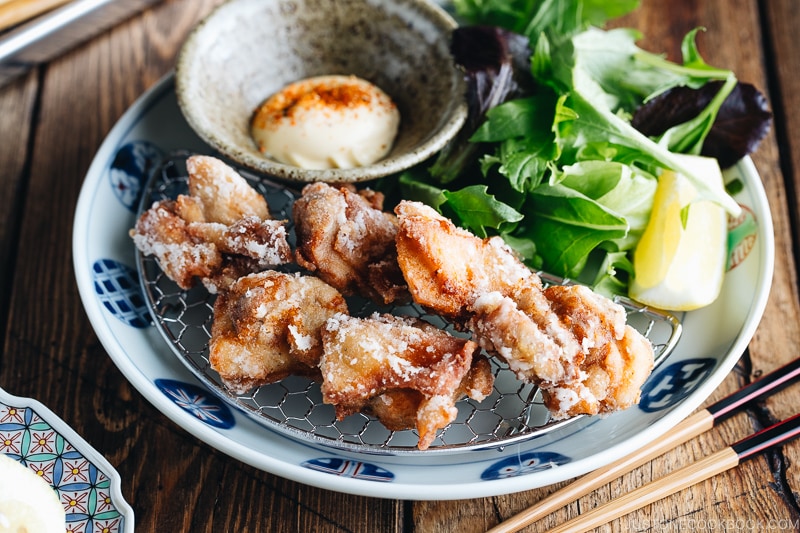 Kara-age (literally "Chinese frying" or "empty frying") refers to foods dusted in wheat or rice flour, kuzu starch, cornstarch, or potato starch flour, then deep fried. Kara-age include chicken, tofu, flatfish (カレイ), and even vegetables.
Tatsuta-age (竜田揚げ) is similar to kara-age, although the protein is first marinated in a soy sauce-mirin mixture, coated in potato starch, and then deep-fried.
🔪 Cook JOC Karaage Recipes:
Koromo-age (衣揚げ)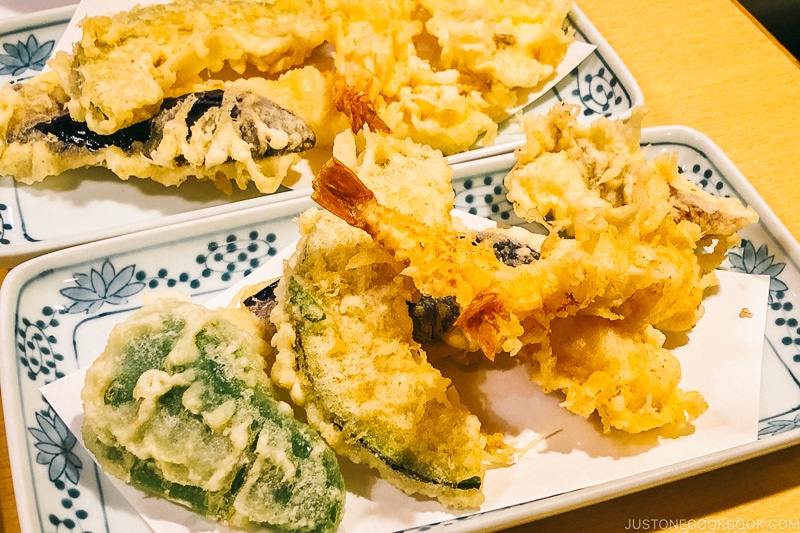 Koromo-age (literally "robe frying") is battered and deep-fried food.
Quality koromo-age is airy, light, and crispy, achieved by a loosely mixed and lumpy batter. A smooth pancake-like batter becomes a heavy and thick coat of armor, which masks the flavor of the fried food.
The most iconic batter-fried food is Tempura (天麩羅). Deep-frying ingredients are prepared in large amounts of oil at a high temperature for rapid cooking. Its allure is in its contrast of textures – the crisp outer coating with the tender ingredients within.
Tempura is typically eaten at specialty restaurants and casual soba and udon shops in Japan. But you can easily make tempura at home!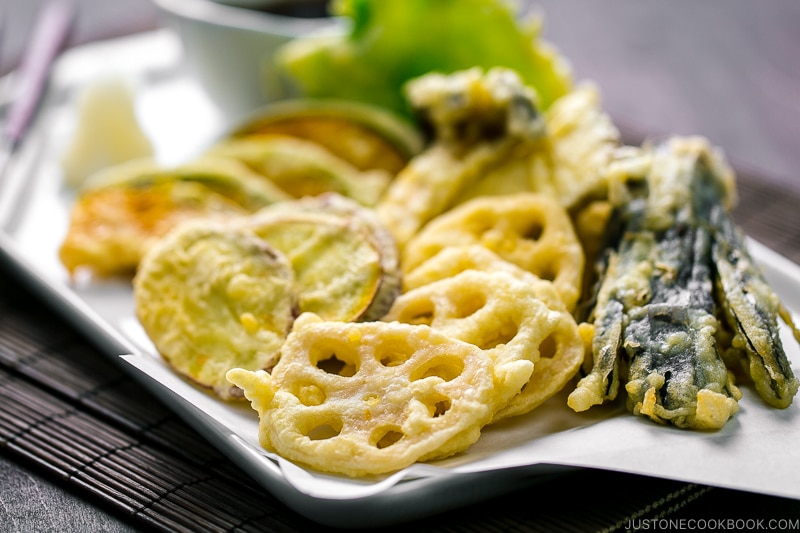 🔪 Cook JOC Koromoage Recipes:
Katsu (カツ) & Furai (フライ)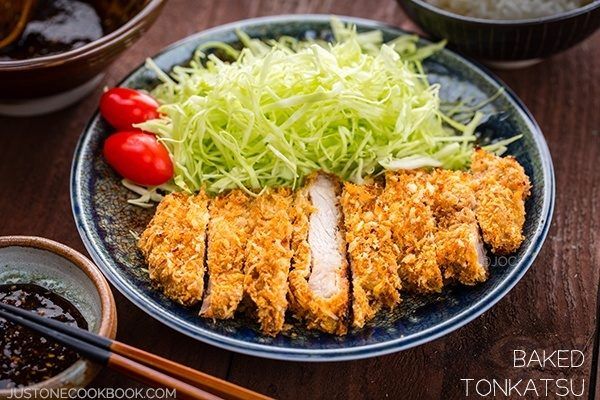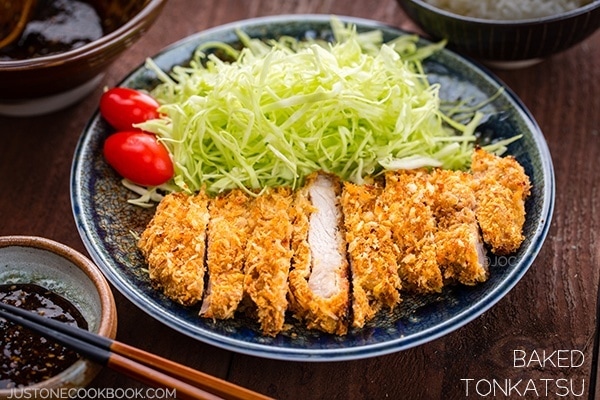 Katsu refers to meat dredged in panko (Japanese breadcrumbs) and then deep fried. You may already be familiar with Tonkatsu (トンカツ), fried pork cutlets. In addition to pork, you can find other variations of Katsu (the Japanese transliteration and shortened name for cutlet (カツレツ)) made with chicken, beef, ham and ground meat.
Seafood and vegetables can also be given the same panko treatment but are called furai (フライ, transliteration of "fry").
🔪 Cook JOC Katsu & Furai Recipes:
---
Helpful Kitchen Tools For Cooking Japanese Food At Home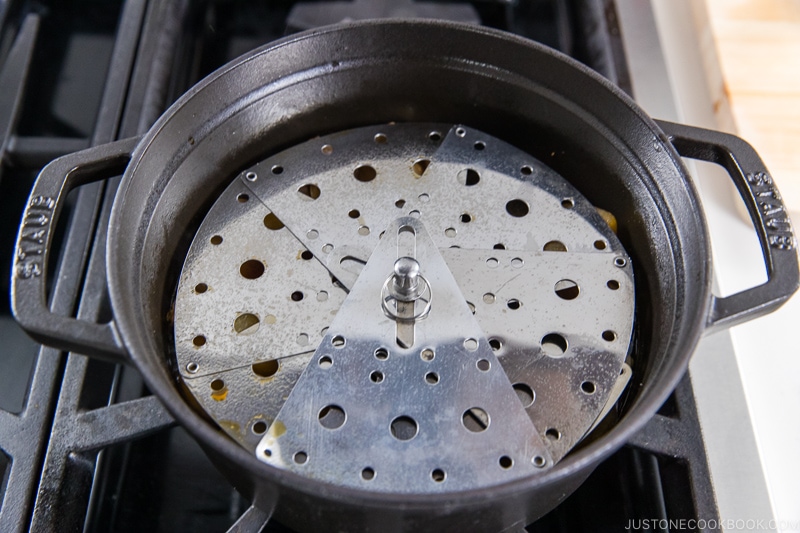 Here's a list of helpful Japanese kitchen tools that can help to make your cooking more enjoyable and efficient. Click here to learn more.
---
Hope you found this guide to Japanese cooking techniques helpful! Have you tried all four cooking methods? Any favorites? Leave a comment below if you have any questions.
Sign up for the free Just One Cookbook newsletter delivered to your inbox! And stay in touch with me on Facebook, Pinterest, YouTube, and Instagram for all the latest updates.