Love teriyaki dishes? From chicken teriyaki to teriyaki salmon to teriyaki tofu, we've rounded up some of the best teriyaki recipes you and your whole family will love.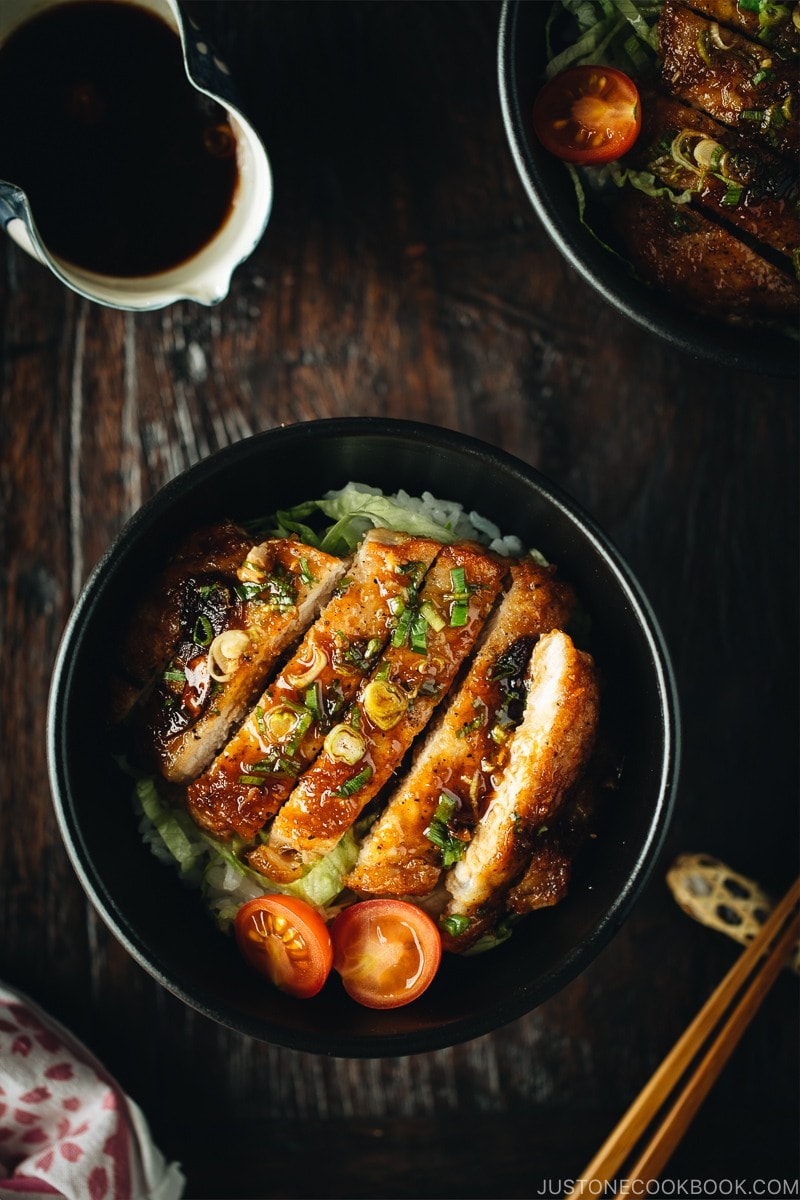 Savory, salty, sweet and umami-rich, teriyaki dishes are probably one of the most beloved Japanese food outside of Japan. You may think teriyaki is a sauce, but teriyaki 照り焼き in Japanese actually refers to cooking methods – either grill, broil or pan-fry, and finish up in a sauce or glaze until the dish has a nice and delicious luster. It can be applied to many ingredients such as chicken, beef, fish, pork, and tofu.
Here you'll find some of the best teriyaki recipes prepared in the authentic Japanese cooking method, including the all-time favorite chicken teriyaki, teriyaki salmon, teriyaki wings, and teriyaki burger! Once you try them, you'd never go back to the store-bought sauce when preparing your teriyaki recipes at home. Hungry? Let's make some real-deal teriyaki recipes now.
17 Mouth-Watering &

Authentic Teriyaki Recipes

to Make at Home
Before we start, let's learn how to make the authentic teriyaki sauce. This homemade sauce recipe will be the backbone of all your teriyaki dishes and it is how we make it in Japan. All you need is just 4 simple ingredients: sake, mirin, soy sauce, and sugar. Use gluten-free soy sauce for the gluten-free version.
Juicy and tender chicken glazed in a flavorful homemade sauce, this classic Chicken Teriyaki prepared in the authentic Japanese cooking method will be on your dinner routine. No bottled teriyaki sauce needed!
Get your Omega-3 intake with this Teriyaki Salmon recipe with an authentic Japanese homemade teriyaki sauce. Pair it with white wine for a relaxing weekday dinner.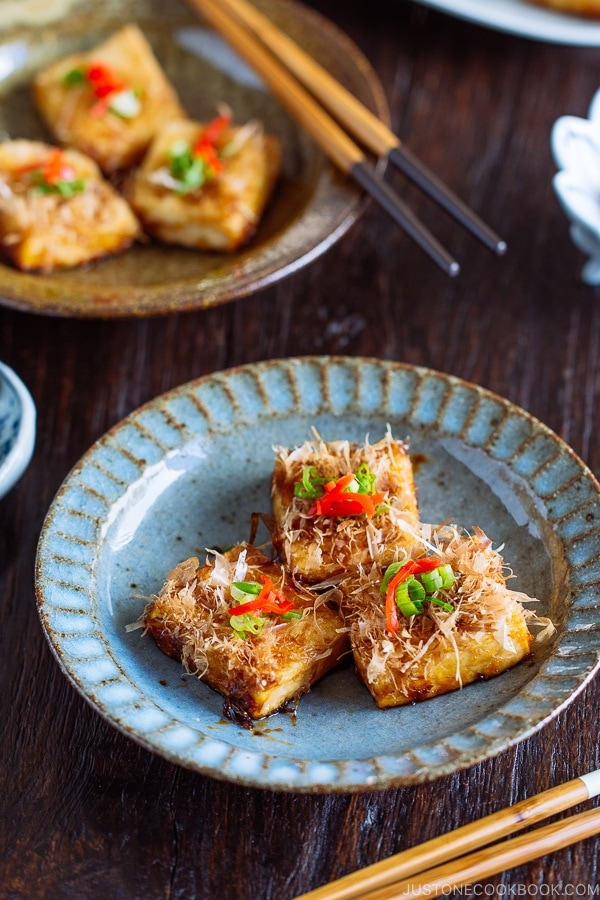 Crispy on the bite, yet delicately soft, this pan-fried Teriyaki Tofu is incredibly flavorful! Enjoy as an appetizer, or as a main dish with rice. This is the game-changer recipe to make for that person in your family who is so certain they do not like tofu.
Say goodbye to boring weeknight dinner with this classic Beef Teriyaki recipe! Over here, tender beef steak is grilled until slightly charred and glazed with a sweet-savory homemade Japanese teriyaki sauce. Enjoy with a fresh citrus salad and Japanese steamed rice, it will satisfy even the biggest of appetites.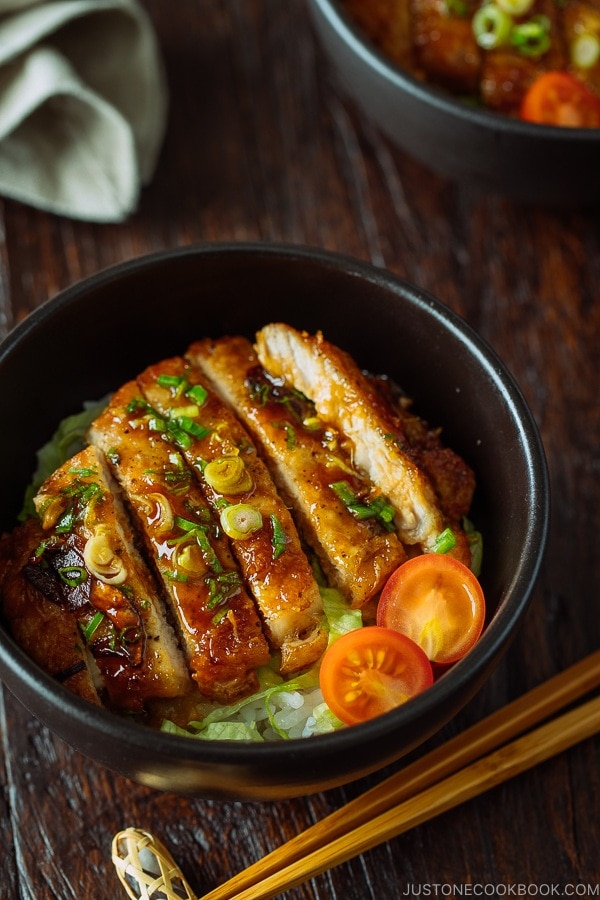 Love a good rice bowl recipe for weeknight dinner? This Teriyaki Pork Donburi will answer your call. Under the delicious grilled pork with teriyaki glaze is a bed of shredded lettuce and steamed rice. Everything is cooked in one frying pan which makes an easy cleanup.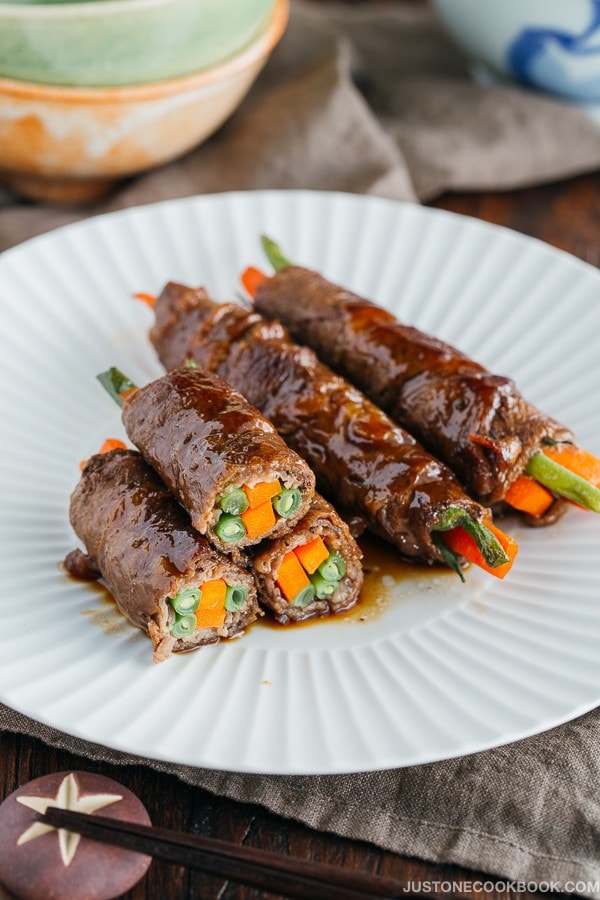 Teriyaki Steak rolls or Beef Rolls (牛肉巻き) are staples in Japanese home cooking and bento recipes. You can literally stuff the steak rolls with anything! A great recipe to use up your leftover vegetables.
Cooked in one pot and finished up in the broiler to get the perfect char, these Teriyaki Wings are sticky and finger-licking delicious! They are unbelievably easy to make too. Serve the wings at your BBQ, potlucks or holiday parties.
Yellowtail Teriyaki, or Buri no Teriyaki, is a staple fish dish you can find in many Japanese households. Before you pan-fry the fish in a frying pan, lightly coat it with flour to give it a crispy texture. It's simple and elegant, with the perfect glaze of teriyaki sauce.
If you have any leftover teriyaki salmon, use the extra fillet to make this delicious teriyaki salmon onigirazu. Sandwiched in steamed rice, grilled asparagus and wrapped in nori, it makes a great work or school lunch.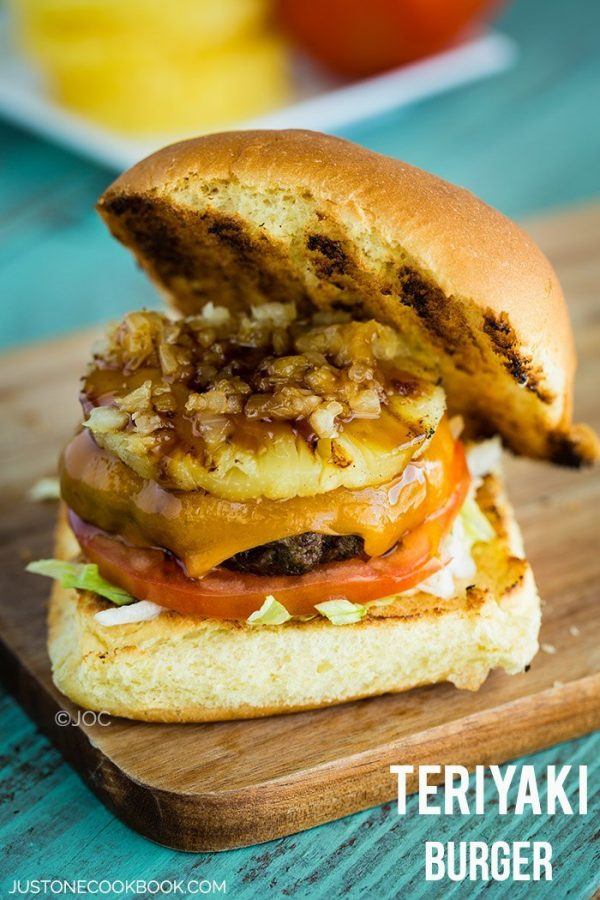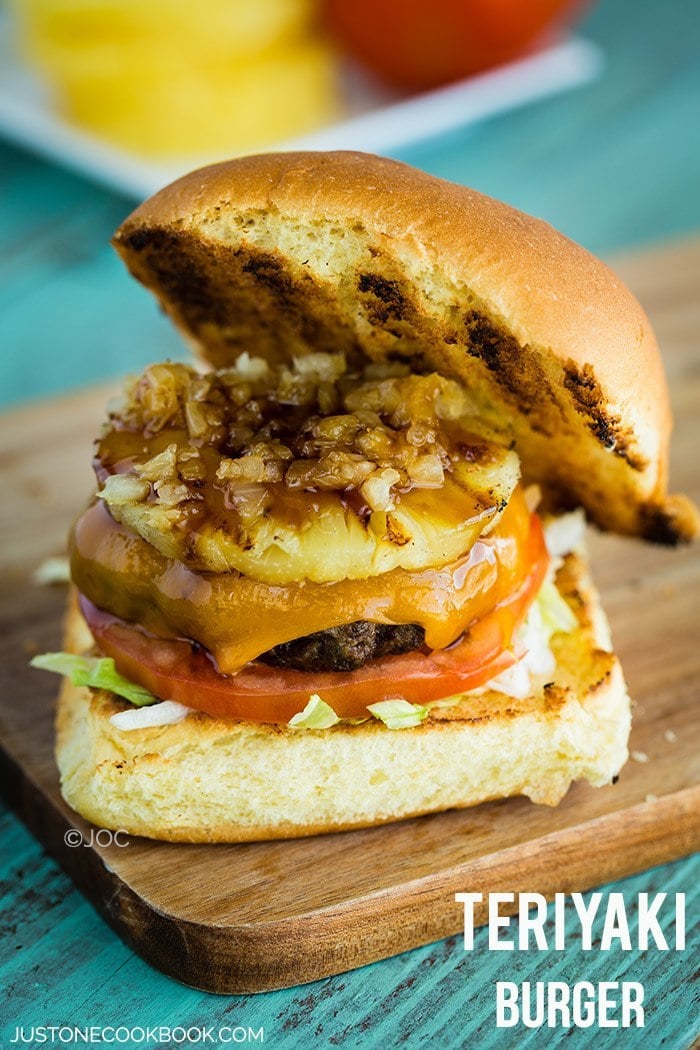 Teriyaki Burger may sound very American, but it's actually first created by a Japanese burger chain Mos Burger in 1973. Top the burger with a slice of grilled pineapple for a touch of Hawaiian flavor.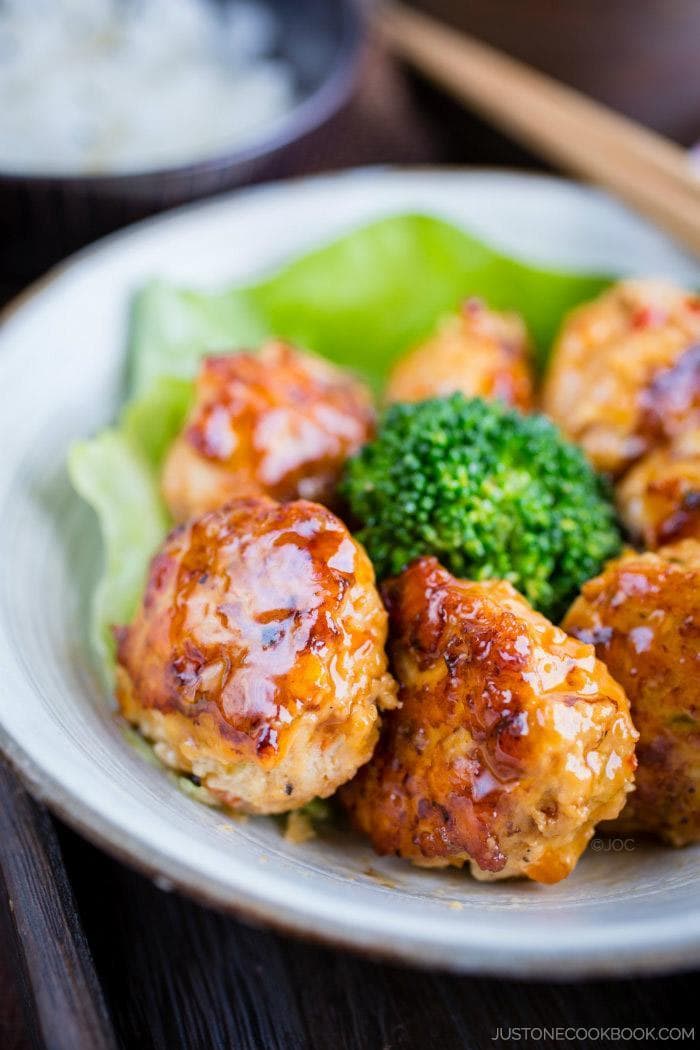 We can never go wrong with meatballs when comes to feeding a family with children. These soft and juicy teriyaki chicken meatballs take only 30 minutes to make. What makes the meatballs extra fluffy and delicious? Click over to the recipe to find out!
Bite-size drummettes bath in a savory teriyaki sauce with the addition of orange marmalade, this is my own rendition of teriyaki chicken. A favorite with the kids!

Sanma 秋刀魚 or pacific saury is a popular seasonal fish in the fall. When it's in season, Japanese will cook up various dishes featuring the fish, including this Sanma Teriyaki recipe. The sauce adds a ton of flavor and goes well with rice. A simple fish dish you can easily make at home.
Thinly sliced pork coated with potato starch or cornstarch and pan grill over a hot skillet, these Teriyaki Pork Balls are a delicious change when you want something different than usual chicken or beef balls.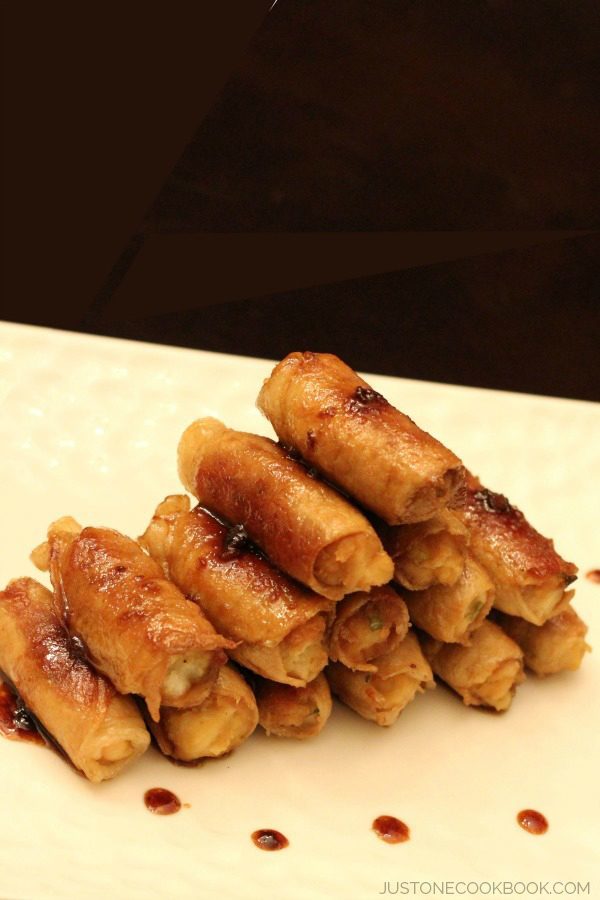 Mashed potato with rolled up sliced pork. This combination alone is enough to make you drool! They are even better when they are pan-fried until really crispy and coated with a delicious sauce.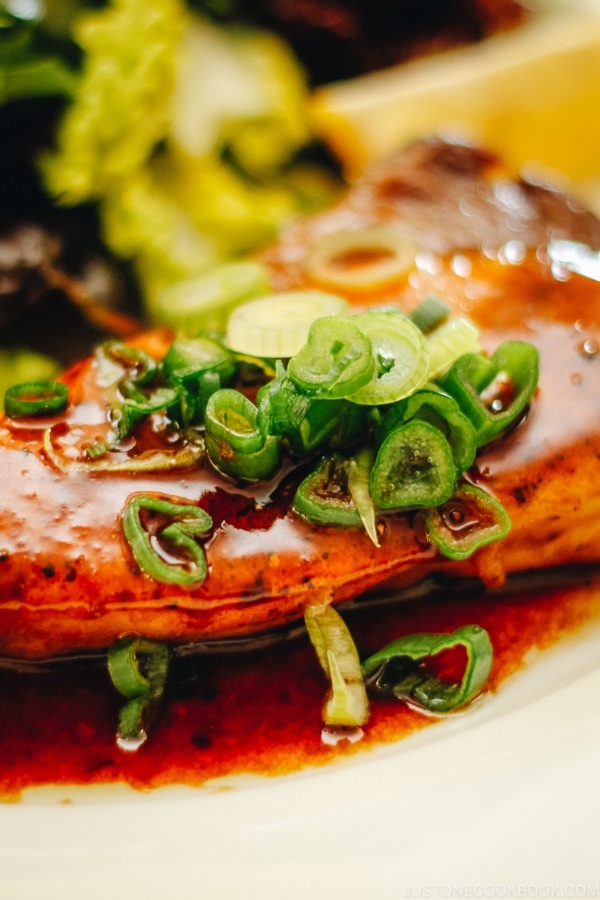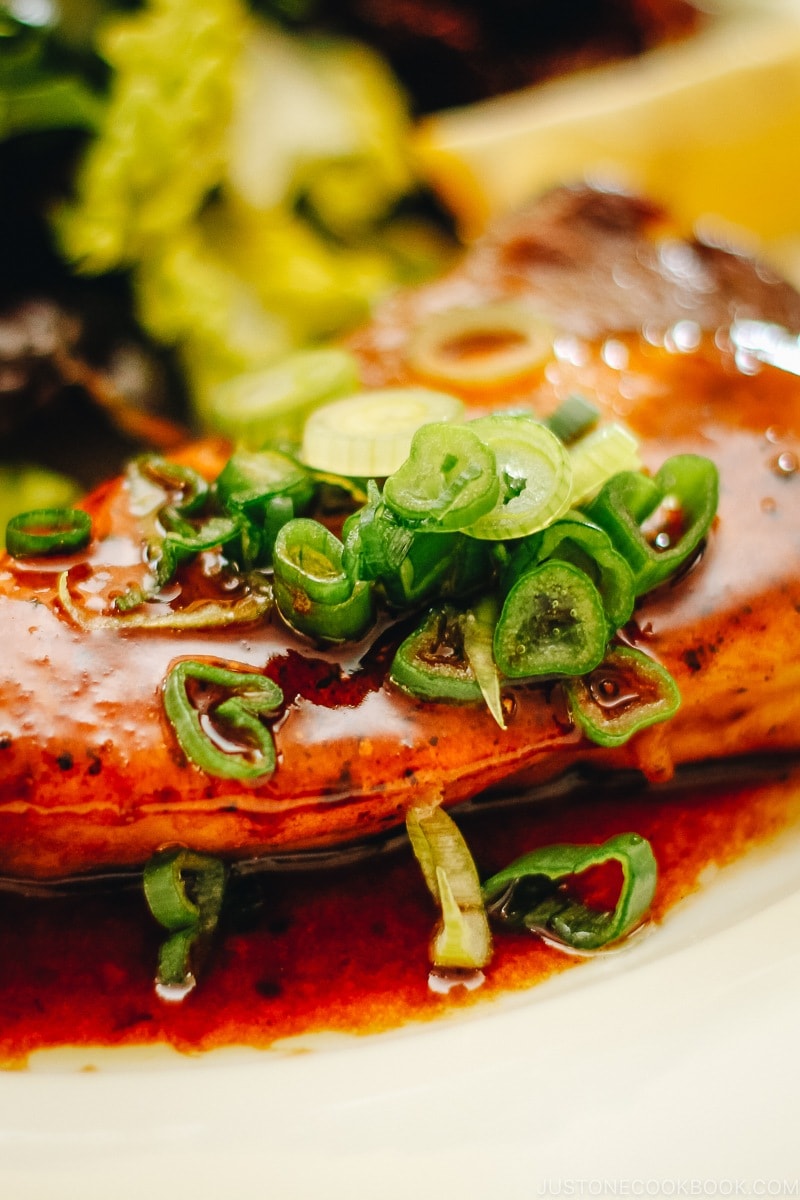 Another popular fish dish you can find in Japan. Hamachi Teriyaki is lightly coated with flour before pan-fried in a hot pan. You'll be surprised how easy it is to cook fish at home.

More Delicious Teriyaki Recipes?
Check out this link and browse more recipes!