Smothered with sweet-savory homemade teriyaki sauce, this Pan-Fried Teriyaki Tofu Bowl is amazingly easy and delicious! It's also a great way to incorporate tofu into your weeknight dinner rotation. Bonus: I'll show you the best way to cook crispy tofu.
Tofu is a magical substance in the Japanese food world. This collection of Japanese tofu recipes is yummy proof!
Today's Teriyaki Tofu Bowl (照り焼き豆腐丼) is a super-simple yet satisfying recipe. Crispy pan-fried tofu glazed in the beloved teriyaki sauce and served over fluffy rice with veggie. It has to be one of the dynamic one-bowl meals for vegetarians, vegans, and omnivores alike.
Why You'll Love This Teriyaki Tofu Bowl
In addition to being simple and easy, it's also:
Best texture — It's all about texture when comes to making tofu. I'll teach you how to achieve crispy shells with tender, creamy bites.
Affordable, practical, and pantry-friendly. Couldn't love it more!
Great intro dish for anyone new to tofu
Flexible — You can use whatever grain or other vegetables you like.
This Teriyaki Tofu Bowl consists of 3 simple components:
Teriyaki tofu
Steamed rice (white or brown rice, cauliflower rice for low carb, or any grains you prefer)
Broccoli Blanched with Sesame Oil (or other veggies such as bell peppers, edamame, bok choy, etc)
If you have some frozen cooked rice from the freezer, you just need to microwave it while pan-frying the tofu. Talk about a meal-prep-friendly, speedy dinner!
A Quick Note
I do want to mention that while most people in the US (or anyone who follows food trends) are familiar with teriyaki tofu bowls, the dish is not exactly a thing you can find in Japan.
To be clear, there are endless variations of rice bowls (or what we call the donburi) in Japanese cuisine, but we don't typically serve cubed tofu over steamed rice in such a manner.
Instead, we serve thick slices of tofu as "tofu steak" such as my Teriyaki Tofu recipe as a standalone side to complement a well-rounded ichiju sansai Japanese meal.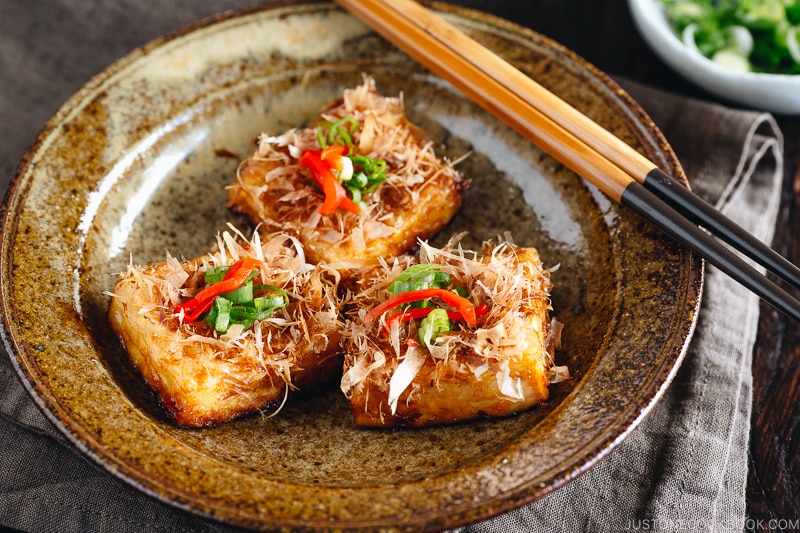 Anyhow, I can see why teriyaki tofu is being incorporated into a rice bowl format! By serving bite-sized crispy tofu over a bowl of rice and veggies, it makes a quick weekday meal that comes together in a flash. For these reasons, I'm on board!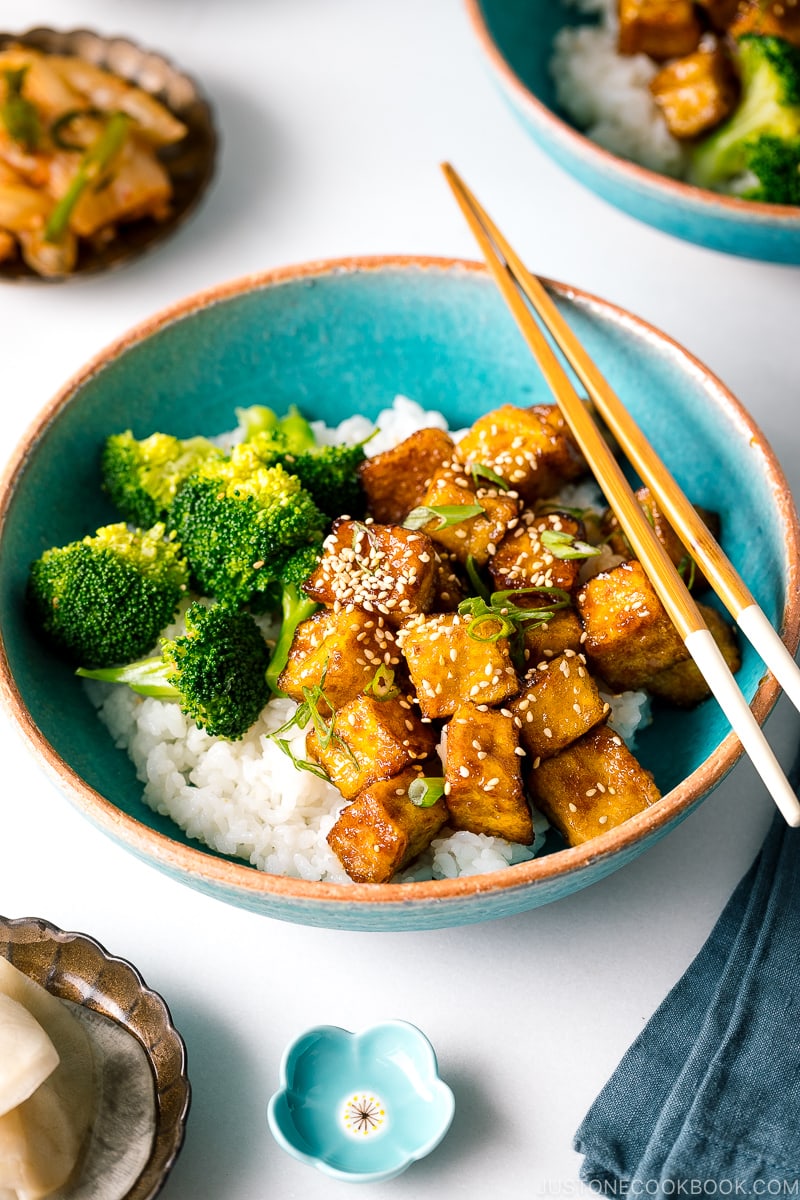 How to Make Teriyaki Tofu Bowl
Ingredients You'll Need
Medium-firm tofu (I'll explain later why this firmness works the best)
Potato starch (More on the Tips section below)
Homemade teriyaki sauce: sake, mirin, soy sauce (or gluten free soy sauce), and sugar
Garnishes: chopped green onion (or cilantro) and sesame seeds
Overview: Cooking Steps
Press the tofu and make the homemade teriyaki sauce.
Coat the tofu cubes with potato starch.
Pan-fry the tofu and coat well with the teriyaki sauce.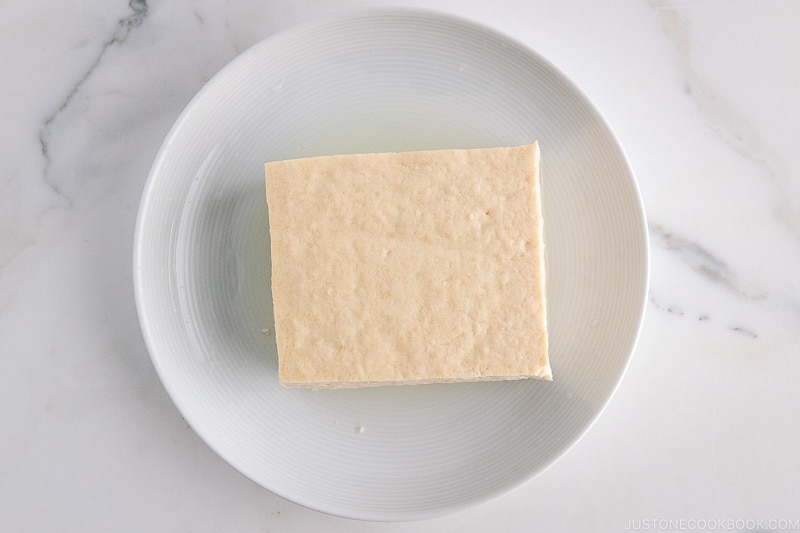 Why Do We Need to Press the Tofu?
There are a few reasons why it's important to drain the tofu before using it.
Reason 1: About 90% of tofu is made up of water. Pressing the tofu helps release the water, and as a result, it improves the taste of the tofu and the overall texture of the final dish.
Reason 2: The tofu is less likely to break and lose its shape. Well-drained tofu keeps its shape even during pan-frying or simmering, which is what we're after for the presentation of a dish.
Reason 3: Tofu can absorb more flavors after draining the water.
📝 Good to know: You can even control the texture and flavor of tofu by changing the draining time according to the dish.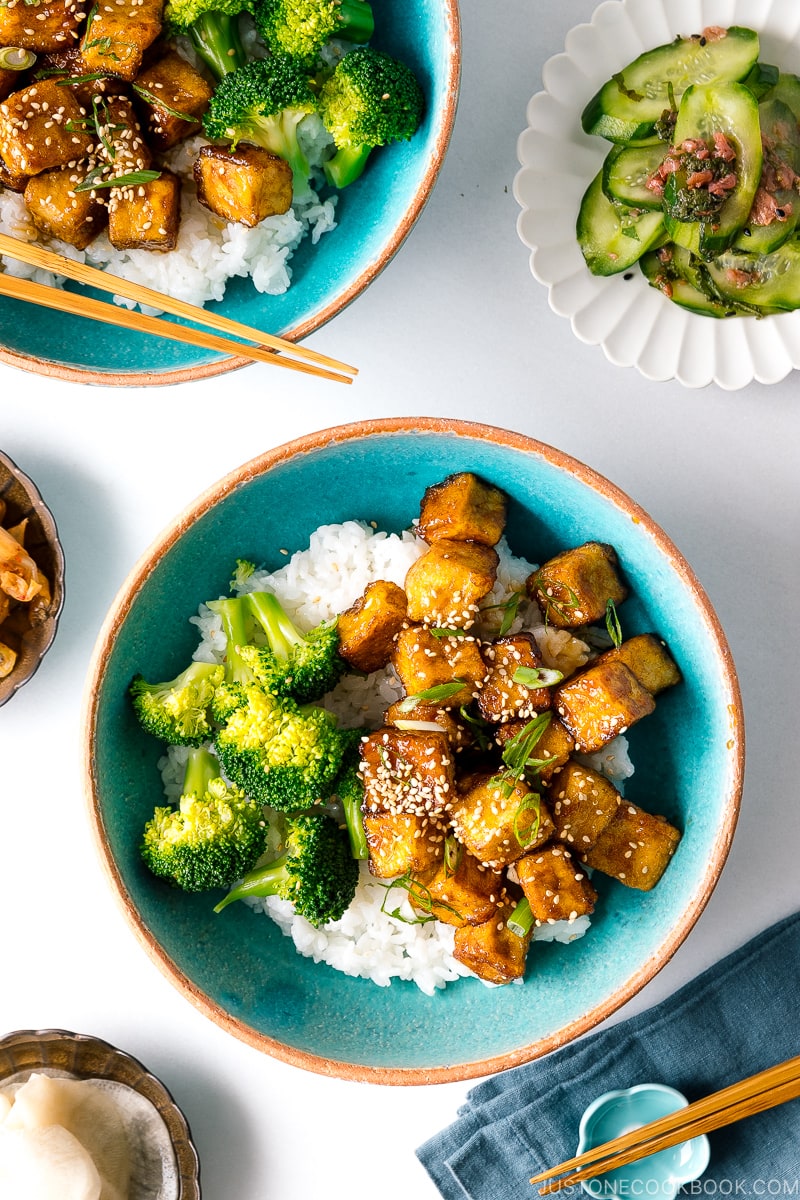 5 Tips to Make the Best Teriyaki Tofu Bowl
Tip 1: Use medium-firm tofu
I've used different types of tofu for pan-fried recipes, and I find medium-firm tofu (momen dofu 木綿豆腐) offers the best texture.
Why? Medium-firm tofu is firm enough that it won't crumble easily yet it keeps enough moisture that it stays tender and fluffy after pan-frying. I usually let it drain for 30-45 minutes, but you can extend it if you like your tofu to be on the firmer side.
Many people use extra-firm tofu when it comes to pan-frying or baking, but I feel the texture of the tofu is too tough and dry.
This is my personal preference, so feel free to use firmer tofu if preferred.
Tip 2: Pressing the tofu with weight
If you leave the tofu on the countertop, water naturally starts to come out from the tofu. When you apply pressure on the tofu, it drains the water out faster, resulting in a firmer texture.
You can purchase a tofu press if you eat pan-fried or stir-fried tofu often. It's a convenient and effective way to drain as much water as possible. However, if you don't plan to use it often, you can always use an old fashion way of putting a heavy object on top of the tofu.
Wrap the tofu around with paper towels so that excess moisture will be absorbed. Then place a flat board such as a cutting board, tray, or plate, which helps distribute the weight.
Your weight should be heavy enough to press down evenly across the top of the tofu, but not so heavy that the tofu would crumble. I use a marble mortar but a large can of food is a perfect weight.
Tip 3: Use potato starch
In Japan, potato starch, or what we call katakuriko (片栗粉), is the most common starch we use to coat ingredients for pan-frying or deep-frying. The potato starch creates a nice crispy shell around the food, absorbs all the delicious flavors from the sauce, and thickens it at the same time.
The closest substitute and the popular counterpart is cornstarch. It looks similar, but when you touch it, you could immediately tell these two starches apart.
When I did recipe testing for Karaage (Japanese fried chicken) using these two starches, I realized potato starch coating is significantly better than cornstarch for yielding the best crispy texture; therefore, I highly recommend potato starch for this recipe as well.
I do not have experience in using other types of starch, so I can't advise on other substitutes.
Tip 4: Pan-fry the tofu with patience
Since uncooked tofu is edible right out of the package, you can speed up the browning process by cooking on relatively higher heat.
Why browning? It gives an additional layer of delicious charred flavor, makes the food more appealing, and creates a crispy shell.
Don't flip the cubed tofu frequently; give enough time for each side of the tofu to have good contact with the hot frying pan so it will brown properly.
Tip 5: Stop cooking the sauce once it starts to thicken
The potato starch coating on the tofu will absorb and thicken the delicious sauce quickly. Once you see the sauce thickens, remove the pan from the stove. The sauce will continue to thicken as more moisture evaporates.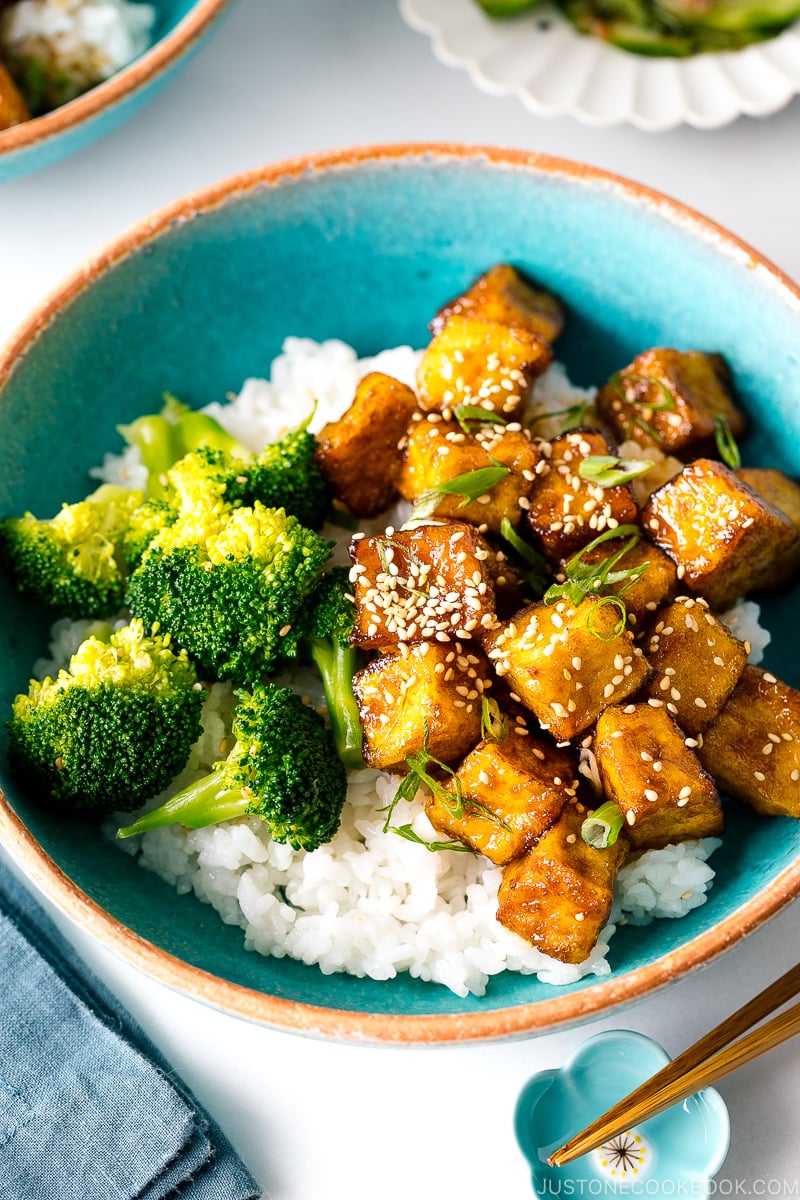 Side Dishes to Serve with Teriyaki Tofu Bowl
You can serve the Teriyaki Tofu Bowl as it is but for a more elaborate meal, here are my suggestions:
Soups
Japanese Pickles
Vegetable Sides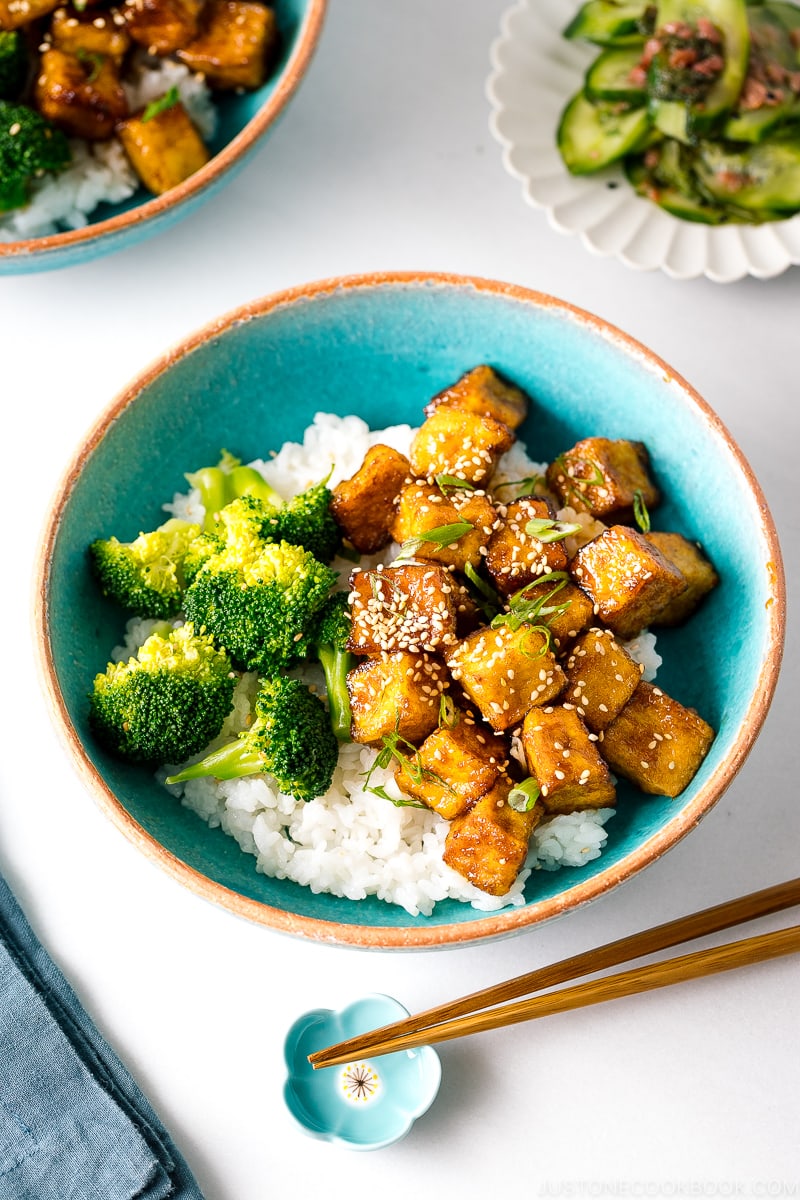 Other Quick & Easy Rice Bowl Recipes
Tableware from Musubi Kiln
I've partnered with a great ceramic online shop from Japan called Musubi Kiln. You will get 10% off with a coupon code JUSTONECOOKBOOK for your purchase. In this post, I've used:
Chrysanthemum Usuki Round Plate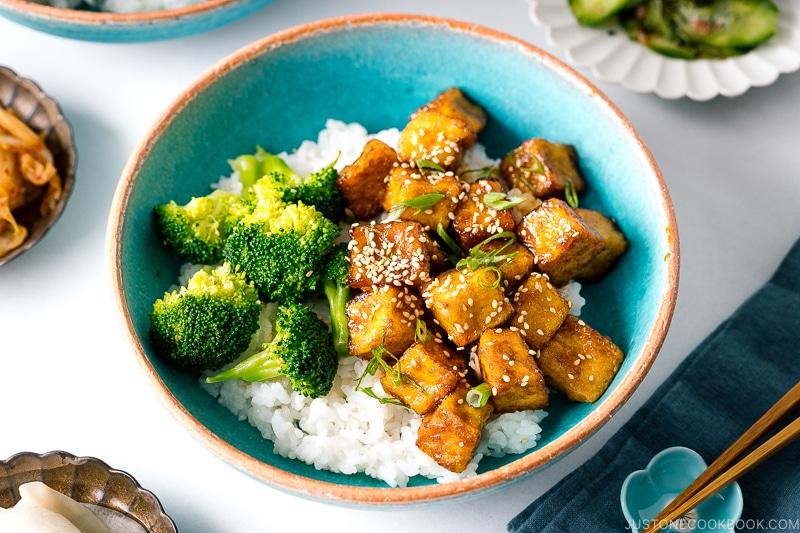 Wish to learn more about Japanese cooking? Sign up for our free newsletter to receive cooking tips & recipe updates! And stay in touch with me on Facebook, Pinterest, YouTube, and Instagram.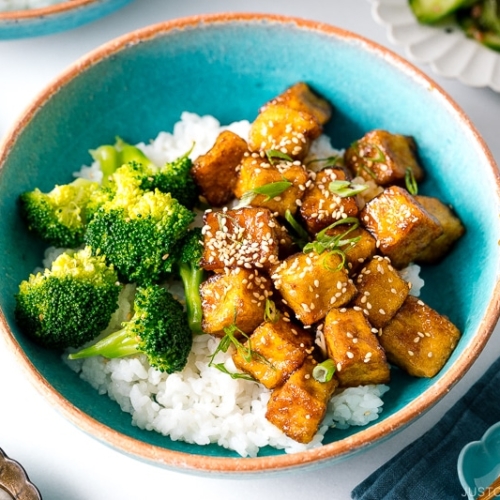 Pan-Fried Teriyaki Tofu Bowl
Smothered with sweet-savory homemade teriyaki sauce, this crispy Pan-Fried Teriyaki Tofu Bowl is amazingly easy and delicious! It's also a great way to incorporate tofu into your weekly menu rotation.
Video
Ingredients
For Serving
2

servings

cooked Japanese short-grain rice

(typically 1⅔ cups (250 g) per donburi serving)

1

green onion/scallion
Japanese Ingredient Substitution:
If you want substitutes for Japanese condiments and ingredients, click
here
.
Instructions
Before You Start: For the steamed rice, please note that 1½ cups (300 g, 2 rice cooker cups) of uncooked Japanese short-grain rice yield 4⅓ cups (660 g) of cooked rice, enough for 2 donburi servings (3⅓ cups, 500 g). See how to cook short-grain rice with a rice cooker, pot over the stove, Instant Pot, or donabe.
To Drain the Tofu (30 Minutes Before Cooking)
Open the package of

14 oz medium-firm tofu (momen dofu)

and drain out the water. Next, wrap the tofu block in a paper towel (or tea towel) and place it on a plate or tray. Now, press the tofu: First, put another tray or plate or even a cutting board on top of the tofu block to evenly distribute the weight. Then, place a heavy item* (I used a marble mortar but a can of food works) on top to apply pressure. Let it sit for at least 30 minutes before using. *The weighted item should not be so heavy that it will crumble or crush the tofu block but heavy enough that it will press out the tofu's liquid.
To Prepare the Ingredients
Gather all the ingredients.

To make the homemade teriyaki sauce, whisk the

¼ cup sake

,

¼ cup mirin

,

¼ cup soy sauce

, and

4 tsp sugar

in a (microwave-safe) medium bowl. If the sugar doesn't dissolve easily, microwave it for 30 seconds and whisk well. Set aside.

Cut

1 green onion/scallion

diagonally into thin slices.

After 30 minutes of draining the tofu, remove the paper towel and transfer the tofu to the cutting board. First, cut the tofu block in half widthwise.

Next, cut the tofu into roughly ¾-inch (2-cm) cubes.

Put

⅓ cup potato starch or cornstarch

in a shallow tray or bowl and gently coat the tofu cubes with the potato starch. Set aside.
To Pan-Fry the Tofu
Heat a large frying pan on medium-high heat. When it's hot, add 1½ Tbsp of the

3 Tbsp neutral oil

(keep the rest for the next batch) and distribute it evenly. Add the first batch of tofu cubes to the pan, placing them about 1 inch (2.5 cm) apart from each other so it's easy to rotate the tofu cubes without sticking to each other.

Fry the cubes on one side until golden brown, then turn them to fry the next side. Repeat until all sides are brown and crispy. Transfer the fried tofu cubes to a plate or tray lined with a paper towel.

Add the next batch of uncooked tofu to the pan and fry until crispy and golden brown on all sides. Add more of the remaining oil as needed to help brown the tofu faster.

Remove all the fried tofu to the plate/tray.

Wipe off any remaining oil in the pan with a paper towel. Then, transfer the tofu back into the pan.

Add the teriyaki sauce to the pan; the sauce will start to thicken immediately. Quickly toss the tofu cubes in the sauce to coat, then turn off the heat and remove the pan from the stove. Tip: The sauce will continue to thicken with the residual heat, so if you want to keep some sauce in the pan, be sure to turn off the heat as soon as the tofu is coated.
To Serve
Divide

2 servings cooked Japanese short-grain rice

into individual large (donburi) bowls. Serve the tofu and blanched broccoli over the steamed rice. Garnish the tofu with green onions and

½ tsp toasted white sesame seeds

.
To Store
You can keep the leftovers in an airtight container and store in the refrigerator for 3 days. Since the texture of the tofu changes when frozen, I don't recommend storing the tofu in the freezer.
Nutrition
Nutrition Facts
Pan-Fried Teriyaki Tofu Bowl
Amount per Serving
% Daily Value*
* Percent Daily Values are based on a 2000 calorie diet.
©JustOneCookbook.com Content and photographs are copyright protected. Sharing of this recipe is both encouraged and appreciated. Copying and/or pasting full recipes to any website or social media is strictly prohibited. Please view my photo use policy
here
.