Okra with Ginger Soy Sauce is a quick, tasty 3-ingredient side dish that pairs well with any Japanese or Asian meals! You can also use various kinds of vegetables like broccoli or asparagus instead of blanched okra.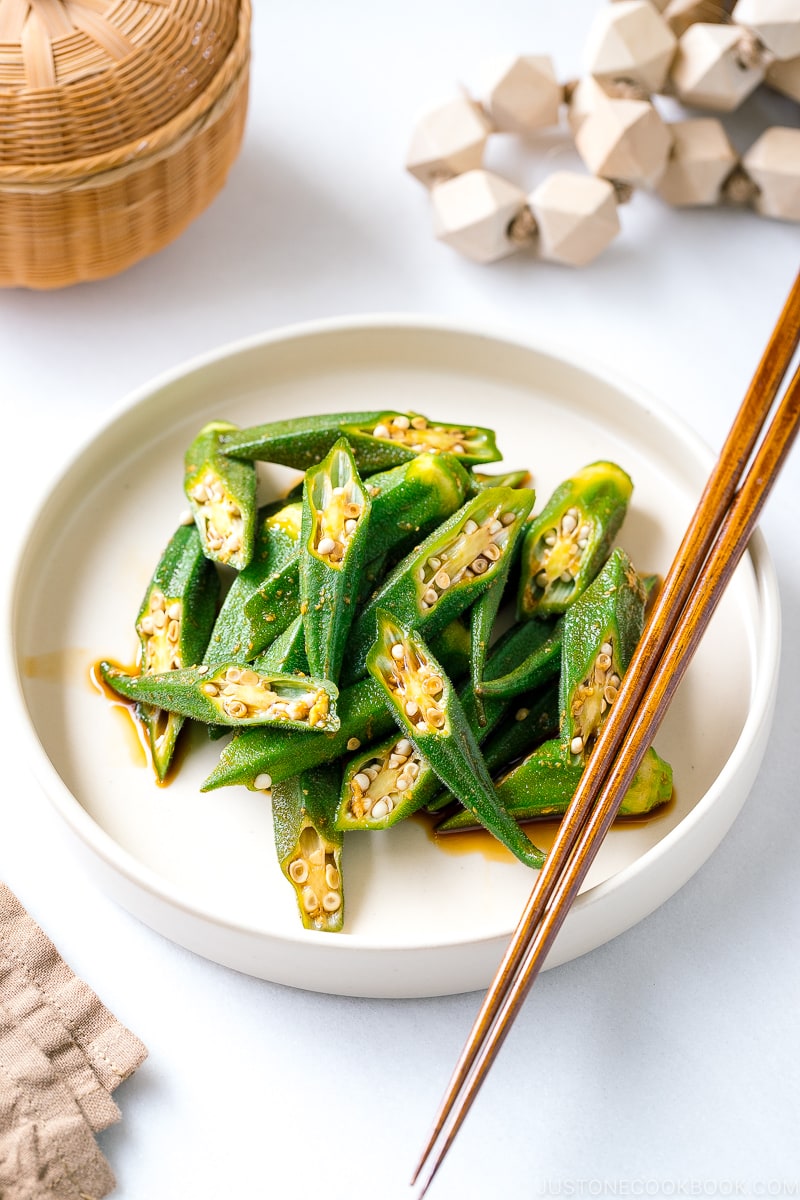 My readers across the globe voiced that they often struggle to make easy side dishes that are quick to make and can be served alongside Japanese meals. If you are feeling the same way, don't give up. I've shared some delicious solutions in this roundup, and I have a new one for you!
Today's recipe—Okra with Ginger Soy Sauce (オクラの生姜醤油和え)—requires only three ingredients. I used okra but you can use whatever veggies you have on hand. Not only it is versatile and so easy to pull off, but the recipe also partners well with just about any main you put on the table. You'll love the simplicity and the flavors it delivers.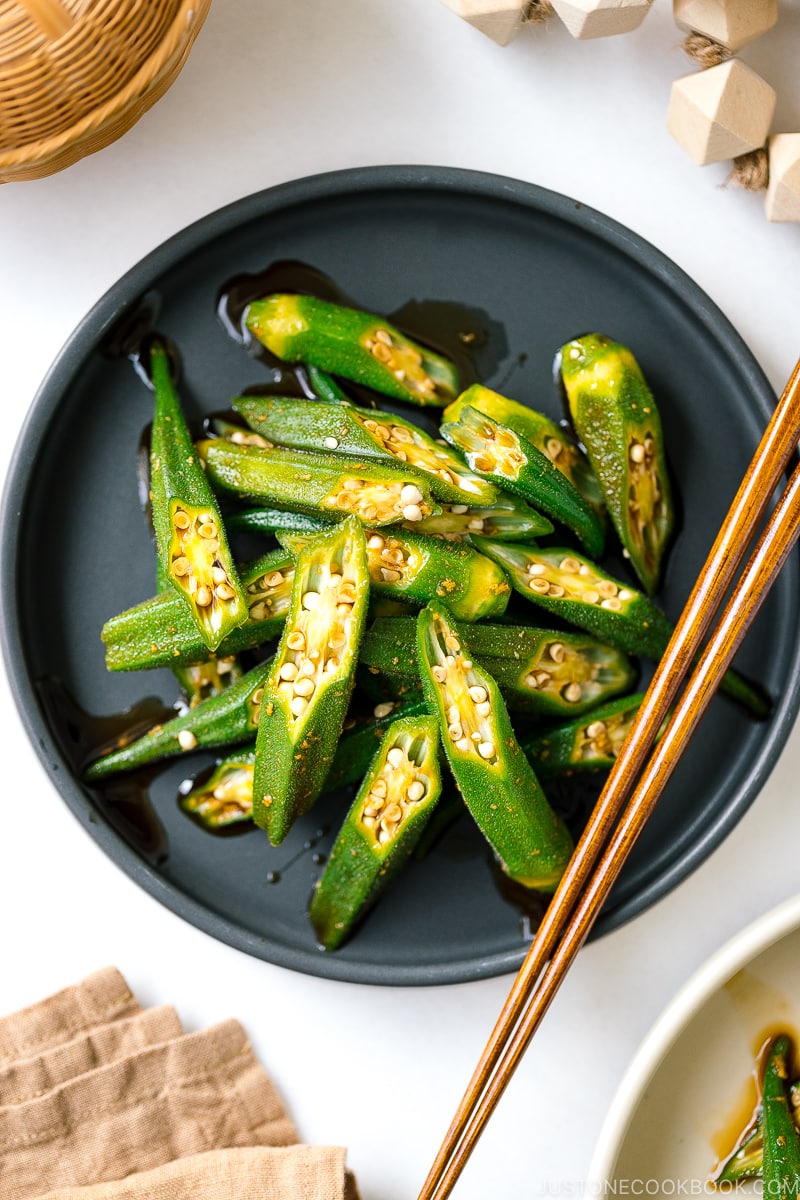 What is Okra with Ginger Soy Sauce
Simply put, this dish is made of blanched okra dressed with ginger-flavored soy sauce. In Japanese, we call it okra no shoga-joyu ae (生姜醤油和え).
Ginger soy sauce or shoga-joyu (生姜醤油) is a staple flavoring used in everyday Japanese cooking. It's basically a simple mixture of soy sauce with finely grated ginger bits and juice. We use it as a dipping sauce or as a dressing for cooked or uncooked ingredients. The zesty heat from the ginger elevates the saltiness and umami of soy sauce, making it a pleasant addition to vegetables (or proteins).
Quick Overview of This Dish
Flavor: Ginger and soy sauce both have strong flavors, so they pair amazingly well without overwhelming each other. If you love the spicy kick from the ginger, you can definitely add more, but I usually use 1/4 teaspoon of grated ginger for a tablespoon of soy sauce.
Texture: The texture of the dish relies on the vegetable you decide to use. Here, I used okra as they are already in season in California. Slimy foods like okra and natto are good for you, so I try to incorporate more into our family's diet. This ginger soy sauce goes well with many kinds of veggies and proteins. You'll find some of my favorites below.
Time: You can make the sauce literally in less than a minute! The rest is up to the type of vegetable you use. You could use uncooked fresh veggies, or a veggie that needs a quick blanch or stir-fry before dressing it with the sauce.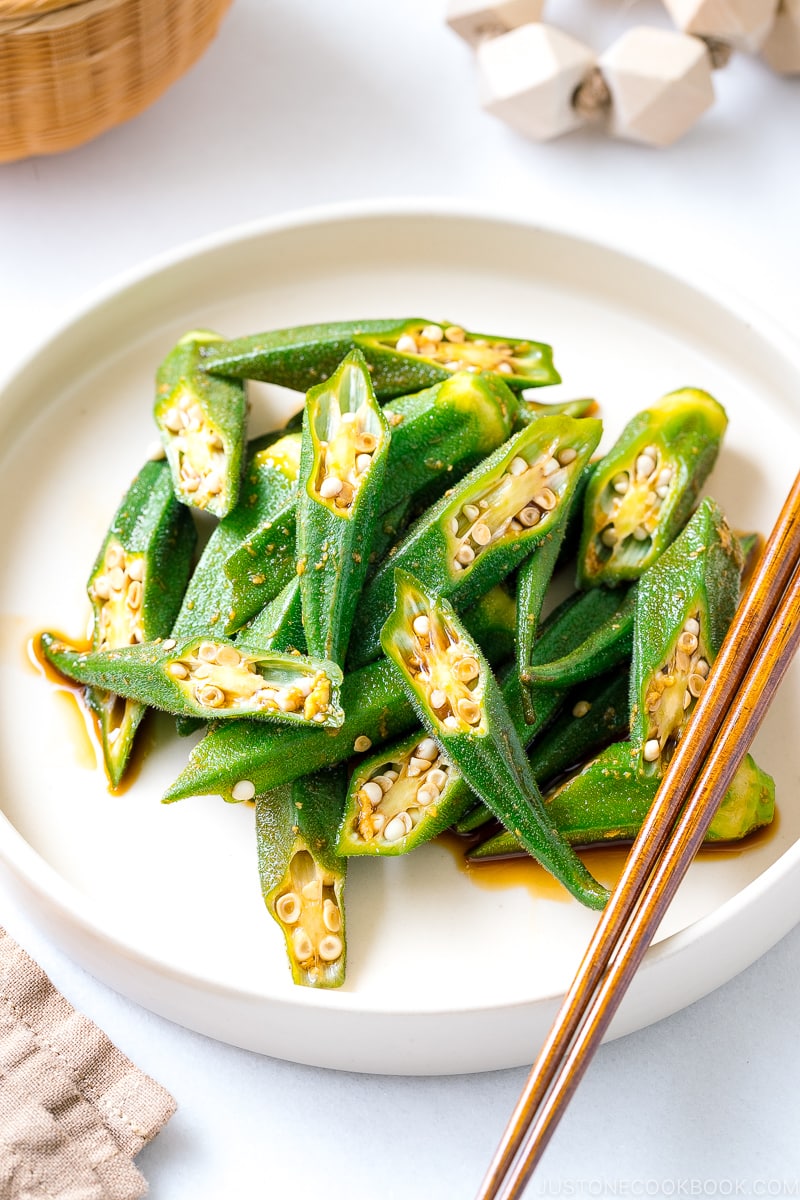 How to Make Okra with Ginger Soy Sauce
The Ingredients You'll Need
Okra or other ingredient (please read more below)
Soy sauce (use gluten-free soy sauce if needed)
Ginger
That's it. It's seriously quick and easy!
The Cooking Steps
Prepare the okra (see the 3 steps below).
Grate the ginger and mix it with soy sauce.
Toss the okra with ginger soy sauce together.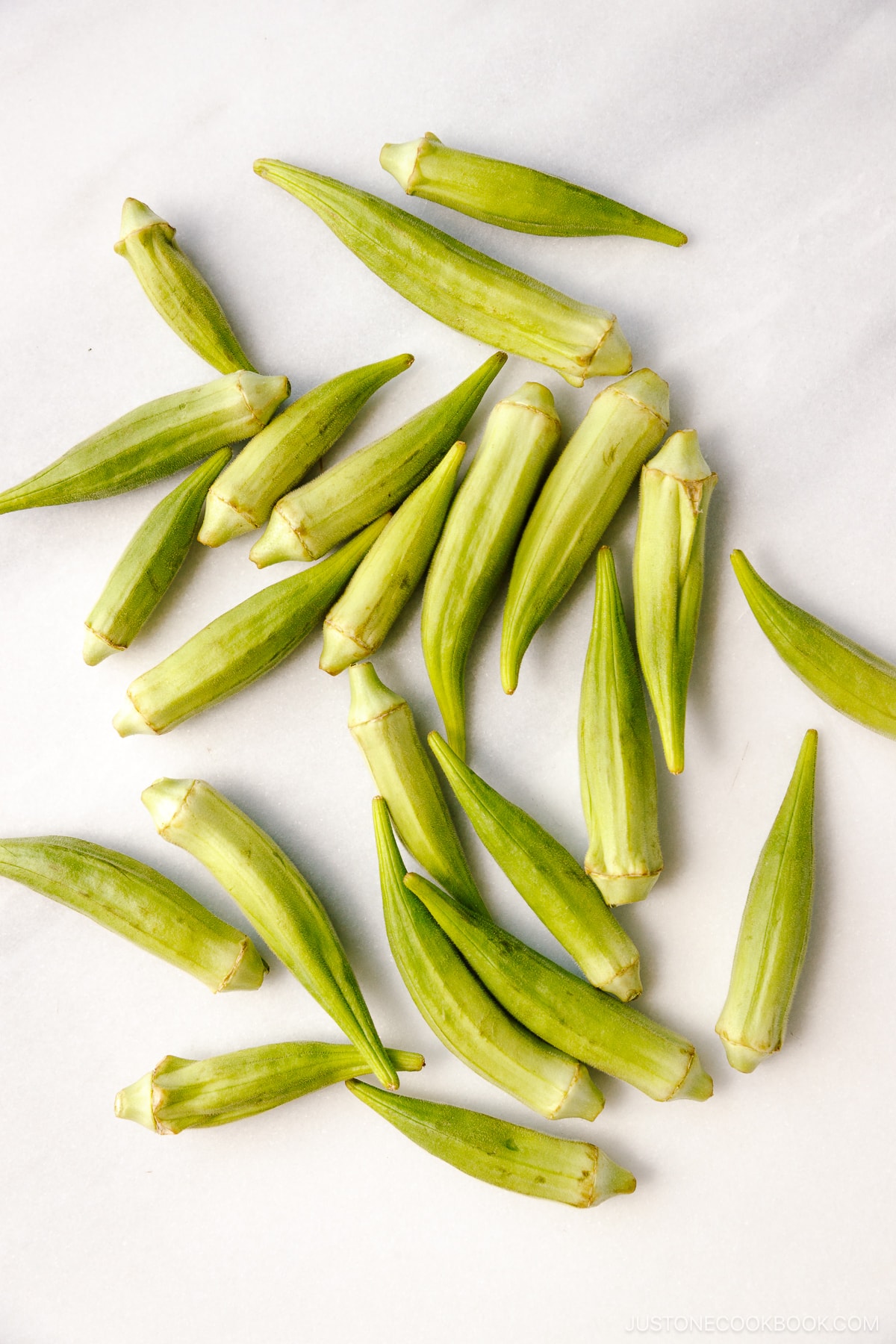 3 Cooking Steps to Prepare the Okra
You might find some of these steps (the first two) unnecessary, but I'd like to share how the Japanese typically prepare the okra (even just for your information). We believe these small prepping steps will improve the flavor and texture of the food and reduce waste.
Step 1: Remove the calyx (tough part).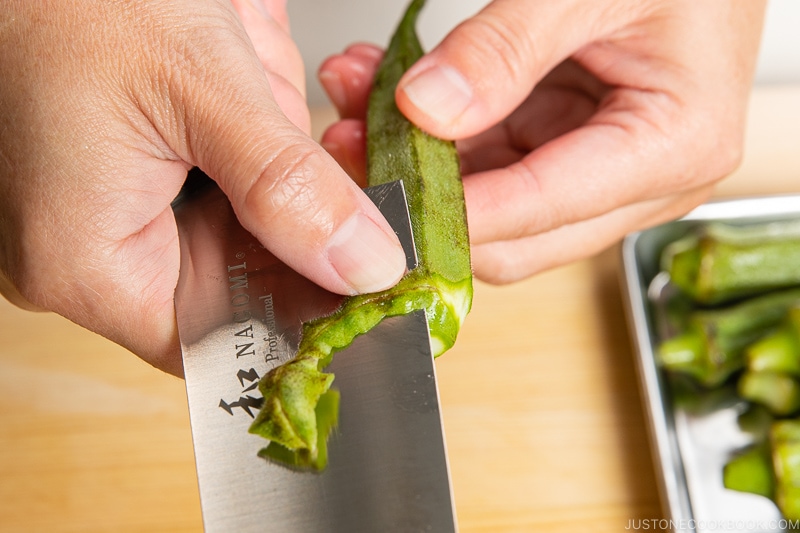 Don't cut off the entire tough end of the okra. Once the okra is cooked (blanched), the top ends are totally edible! All we need to do is to remove the tough calyx.
Step 2: Salt the okra (2%) and rub them.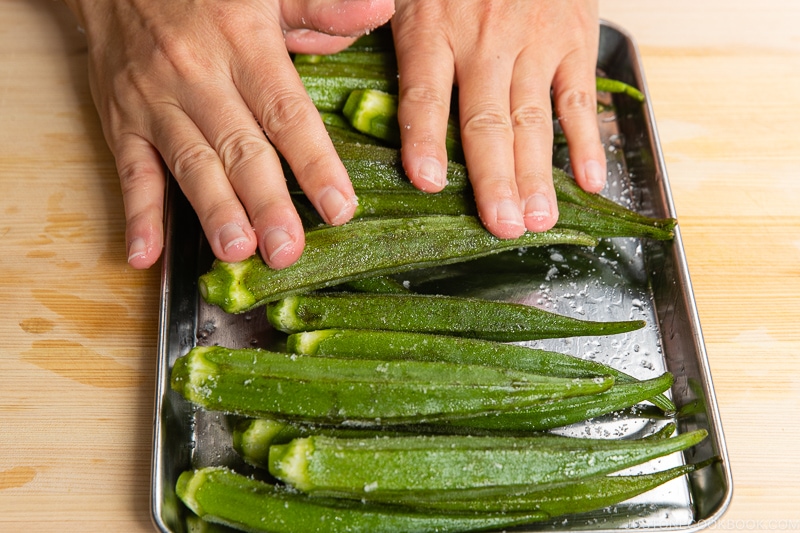 Sprinkle salt over the washed okra (roughly 2% salt: 2 g salt for 100 g okra). Then roll them on the cutting board (or a tray) with your hands. The rubbing motion will remove the fine hairs on the okra and improve the texture.
The salt also helps bring out the brightness of the green okra color.
Step 3: Blanch for 2-3 minutes.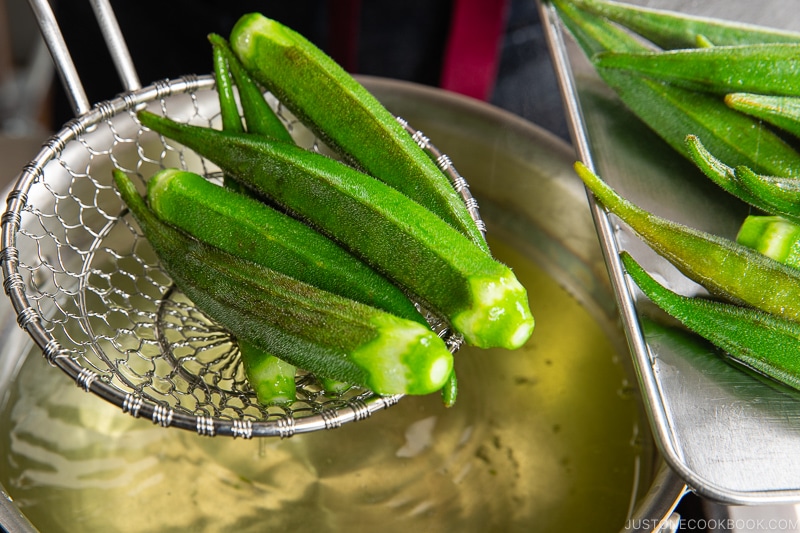 Blanch the okra for 2-3 minutes. Adjust the cooking time based on the thickness of the okra: 1-2 minutes for small ones and 3-4 minutes for large ones. Toss the blanched okra with ginger soy sauce while they are hot/warm so that they will absorb more flavor.
If you love okra, you should also check out my Okra Ohitashi (Japanese Okra Salad) recipe!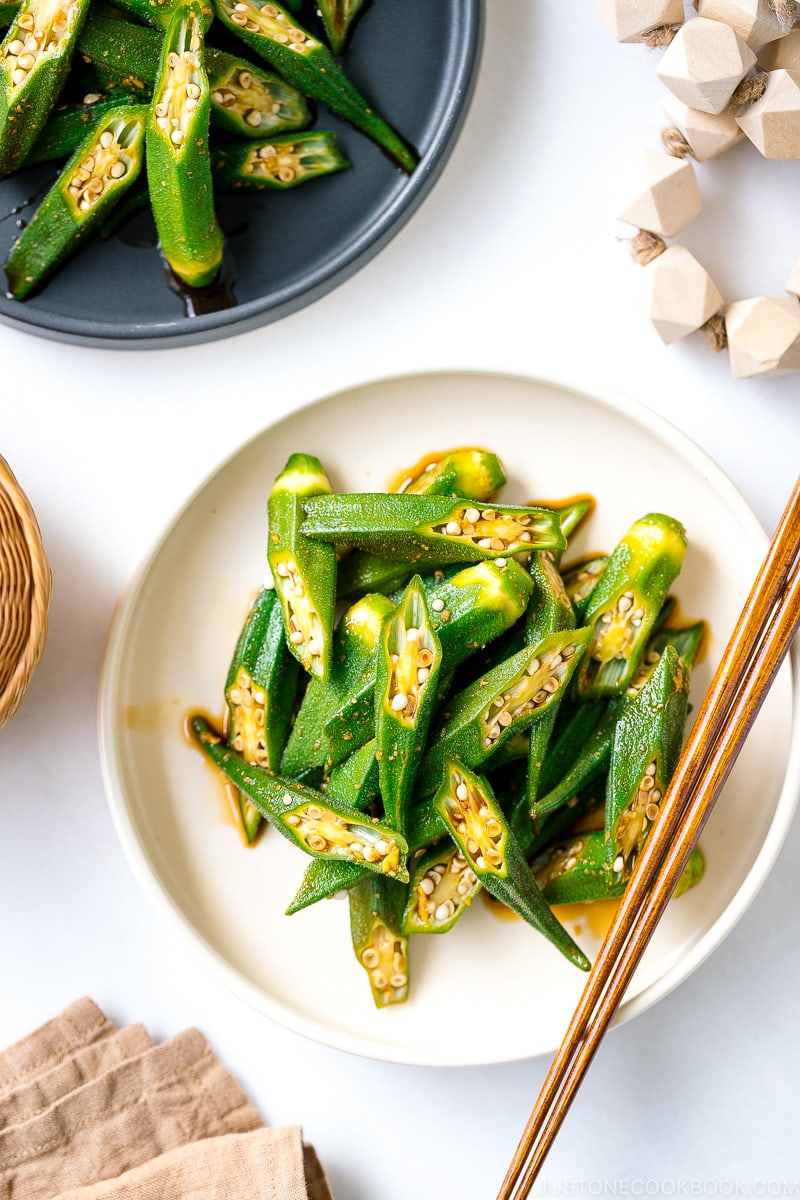 No Okra? Here Are Other Ingredients You Can Use
Because the ginger soy sauce has a salty, bold taste with a spicy kick, I think it's best to choose vegetables that have some thick, sturdy texture, or ones that have a strong flavor to balance out the sauce. In general, I don't recommend using delicate leafy salad types of vegetables for this recipe.
Vegetables
Here are some vegetables that I recommend and have personally tried:
Asparagus (blanched* or stir-fried**)
Bean sprouts (blanched)
Bok choy (blanched or stir-fried)
Broccoli (blanched, stir-fried, or steamed)
Cabbage (blanched, stir-fried, or steamed)
Eggplant (grilled)
Green beans (blanched, stir-fried, or steamed)
Kale (blanched or stir-fried)
Komatsuna (blanched or stir-fried)
Snap peas (blanched or stir-fried)
Spinach (blanched or stir-fried)
Shishito (grilled)
* Blanch in salted water
** Stir-fry with a little bit of cooking oil
Non-Veggies
Other non-vegetable ingredients that I recommend and have personally tried:
Chicken (boiled or steamed)
Deep-fried tofu (atsuage or aburaage) (grilled)
Fish (salmon, troute, cod, tilapia, catfish) (steamed)
Mushrooms (shiitake, enoki, shimeji, king oyster, etc) (sauteed)
Shirasu (tiny anchovies) (blanched)
Silken tofu (chilled or hot)
Squid (boiled or grilled)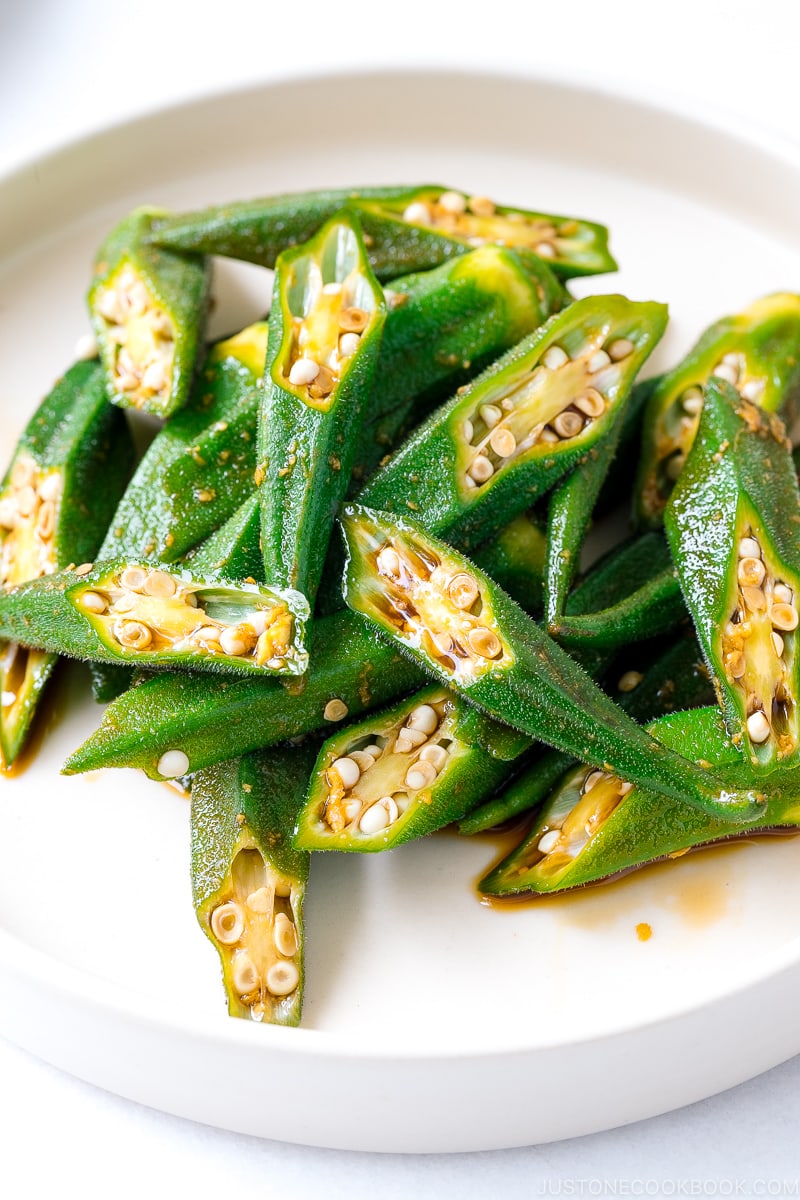 What to Serve with This Dish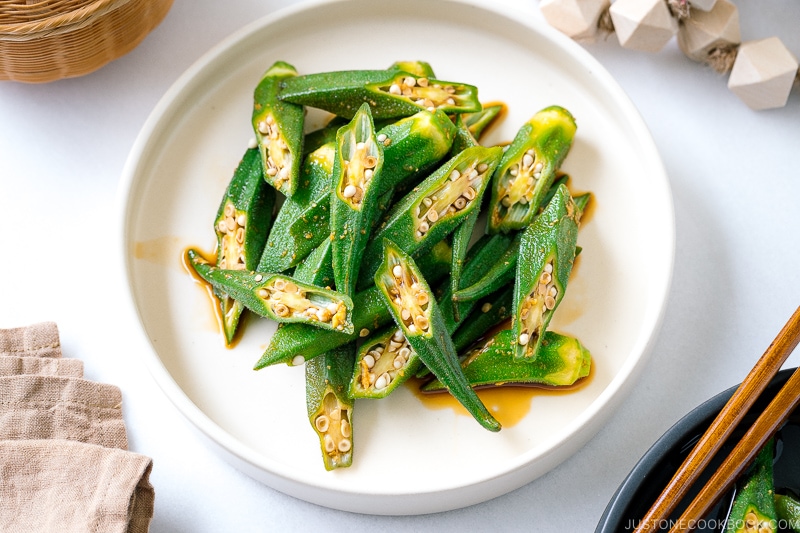 Wish to learn more about Japanese cooking? Sign up for our free newsletter to receive cooking tips & recipe updates! And stay in touch with me on Facebook, Pinterest, YouTube, and Instagram.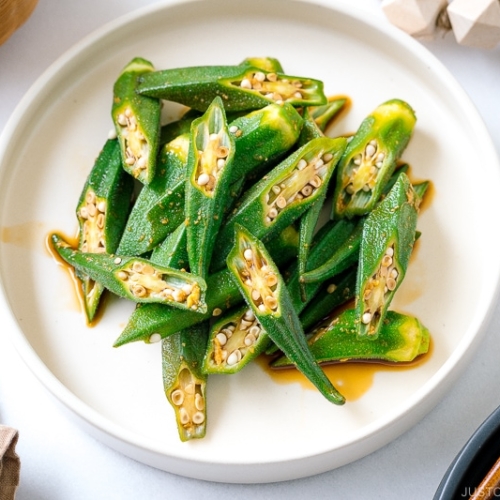 Okra with Ginger Soy Sauce
Okra with Ginger Soy Sauce is a quick 3-ingredient side dish that you can whip up when you need one more dish! You can use various kinds of vegetables instead of blanched okra.
Ingredients
For the Ginger Soy Sauce (Shoga-joyu)
2

Tbsp

soy sauce

½

tsp

ginger

(grated, with juice; from a 1-inch, 2.5-cm knob)
Japanese Ingredient Substitution:
If you want substitutes for Japanese condiments and ingredients, click
here
.
Instructions
Gather all the ingredients. Bring a medium pot of water to a boil over medium-high heat.
To Make the Ginger Soy Sauce
Peel the ginger and grate it (I love using my ceramic grater) and measure

½ tsp ginger

grated, with juice.

In a large bowl, combine

2 Tbsp soy sauce

and the grated ginger. Taste it and add more grated ginger or ginger juice (which has a milder taste than the ginger bits) if desired. Set aside.
To Prepare the Okra
With a knife, cut off the stems of

9 oz okra

but don't remove the entire top. Then, peel off the tough calyx around the top of the okra.

Sprinkle

1 tsp Diamond Crystal kosher salt

over the okra and rub them between your hands and the cutting board (or tray) for 15–20 seconds. You don't need to rinse the salt.

The water should be boiling by now. Blanch the okra in the boiling water for 2–3 minutes. If the okra are small, blanch them for 1–2 minutes. If they are big, blanch for 3–4 minutes.

Drain the okra in a sieve as soon as they are tender. Be careful not to overcook.
To Dress the Okra
Cut the okra diagonally in half or thirds depending on their length. They should be bite-sized pieces. Transfer the okra to the bowl with the ginger soy sauce.

Dress the okra with the sauce. You can serve them chilled or at room temperature. Serve the okra on individual plates.
To Store
You can keep the leftovers in an airtight container and store in the refrigerator for up to 2 days.
Nutrition
Nutrition Facts
Okra with Ginger Soy Sauce
Amount per Serving
% Daily Value*
* Percent Daily Values are based on a 2000 calorie diet.
©JustOneCookbook.com Content and photographs are copyright protected. Sharing of this recipe is both encouraged and appreciated. Copying and/or pasting full recipes to any website or social media is strictly prohibited. Please view my photo use policy
here
.