From the classic agedashi tofu to the boldly flavored mapo tofu, here are our absolute best Japanese tofu recipes that you'll enjoy to its full potential.
It's a well-known fact that tofu is an indispensable ingredient in Japanese cuisine. There are so many reasons why we can't live without it. Take inspiration from some of our popular recipes that shine a spotlight on tofu's versatility and virtues. Many of them are vegetarian and vegan friendly. We hope you enjoy it!
---
14 Best Japanese Tofu Recipes You'll Love
Crispy deep-fried tofu served in a flavorful umami sauce, Agedashi Tofu is a popular appetizer you can find at izakaya and Japanese restaurants. It requires deep-frying, but the process is easier than you think. This recipe is guaranteed to convert any tofu haters.
A classic Japanese salad made of creamy mashed tofu, green beans, nutty sesame seeds, and savory miso. Feel free to switch out the green beans and use any seasonal greens on hand.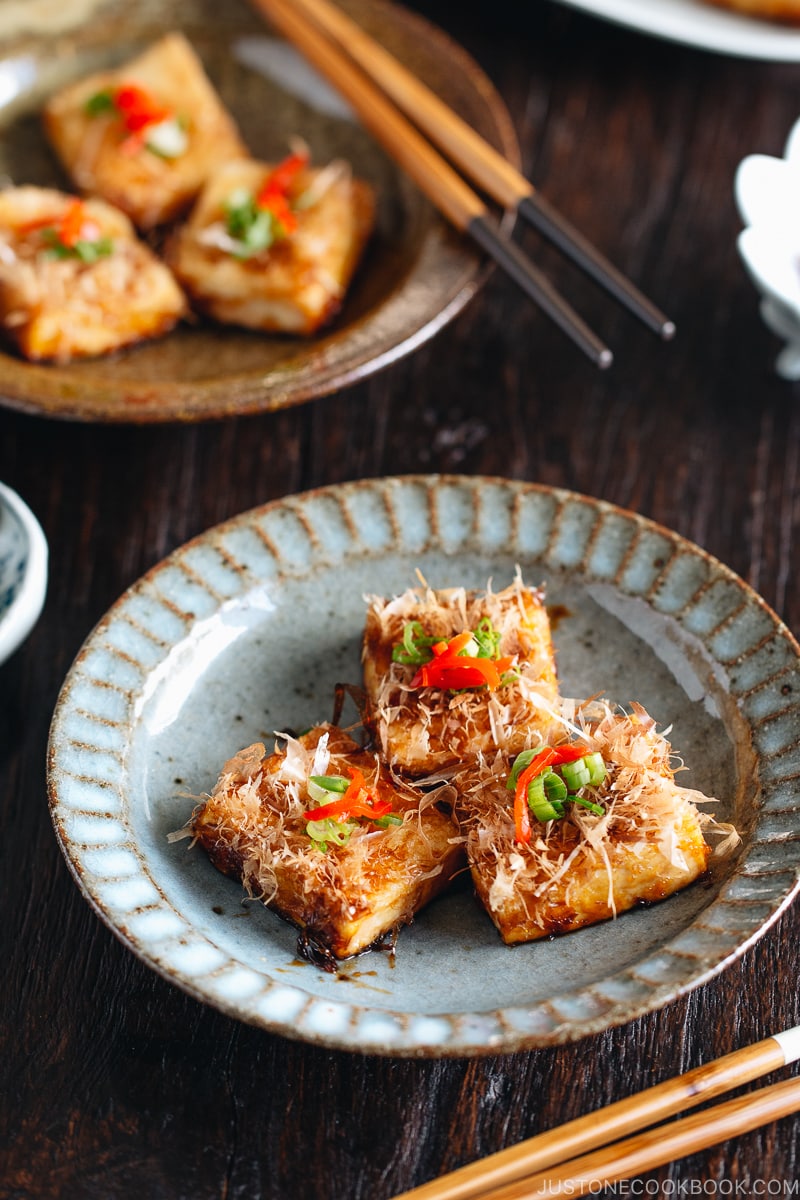 Crispy on the bite, yet delicately soft, this pan-fried Teriyaki Tofu is incredibly flavorful! It's a dynamic recipe for anyone to try, with easy options to turn the dish into vegan or gluten-free. Works great as an appetizer, side dish, or as a main dish.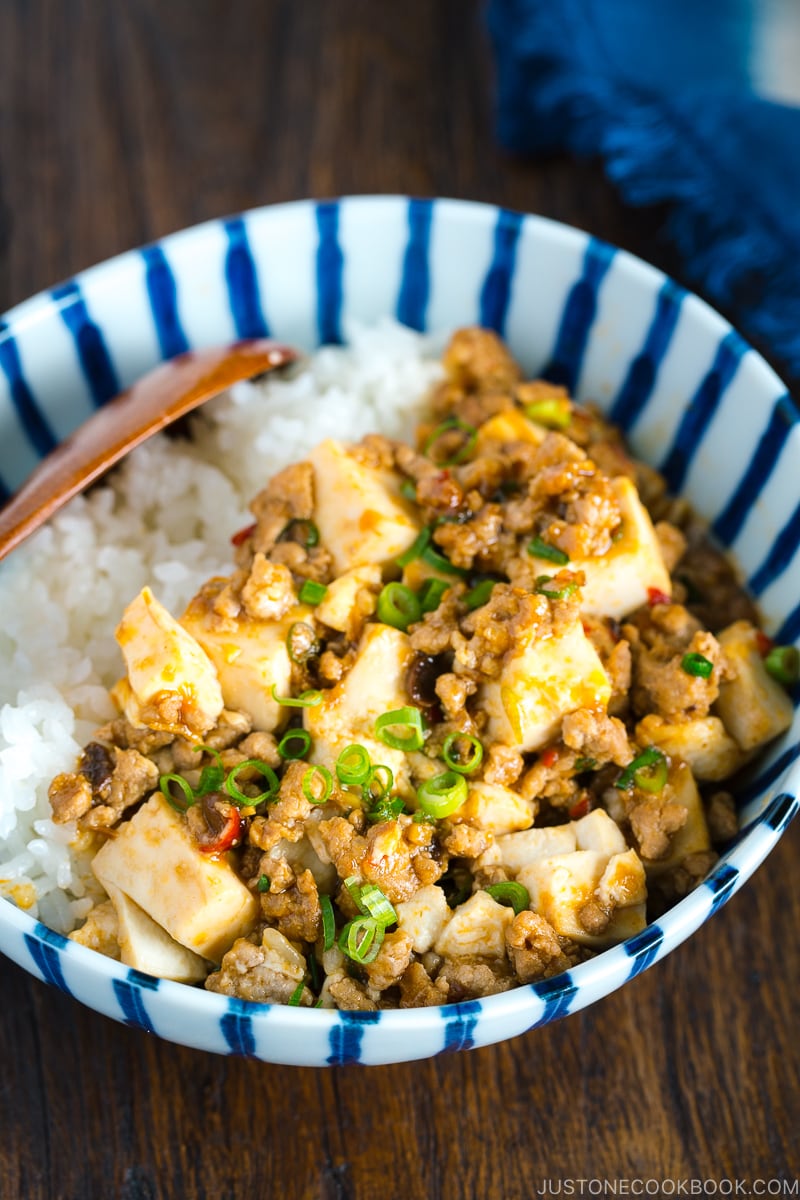 This Japanese Mapo Tofu (Mabo Dofu) is less spicy than the Sichuan counterpart but no lack of flavors. We love serving it in donburi-style aka 'one-bowl meal' for easy cleanup. Everything is ready in 30 minutes!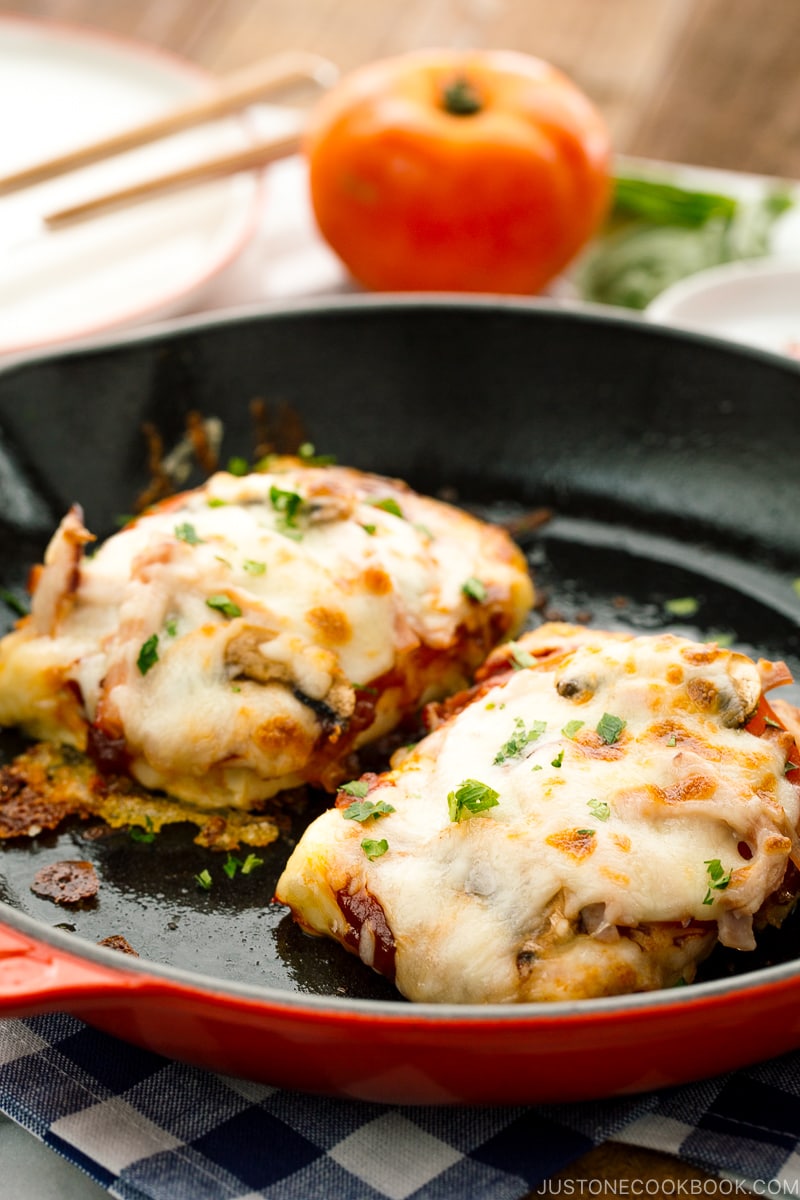 Instead of pizza dough, this Japanese version of Tofu Pizza uses crispy pan-fried tofu as the base crust and is topped with melted mozzarella cheese, mushrooms, tomato slices and basil leaves.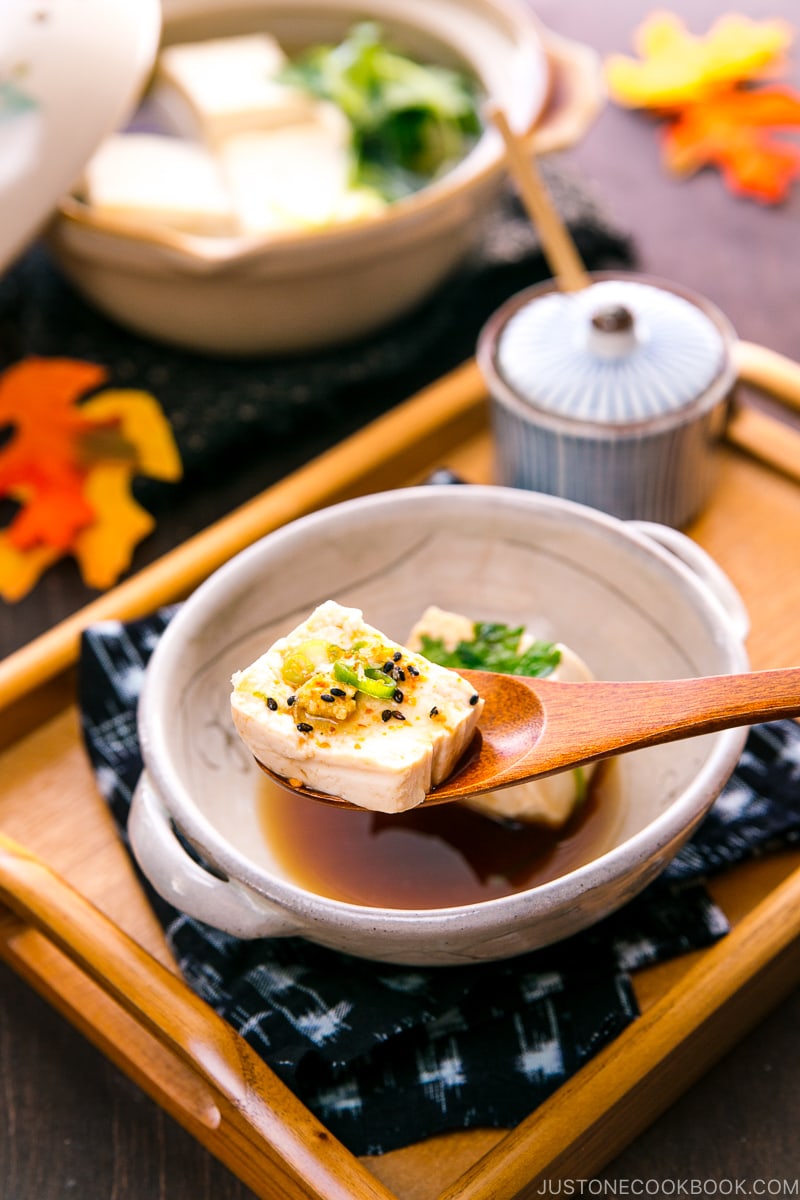 Hot Tofu, or Yudofu (湯豆腐) is the perfect example that showcases the simplicity of Japanese cooking. You'll need only minimal ingredients to make a beautiful rustic dish that can lift your mood instantaneously. If you like, bulk it up with vegetables, mushrooms, or other fun ingredients.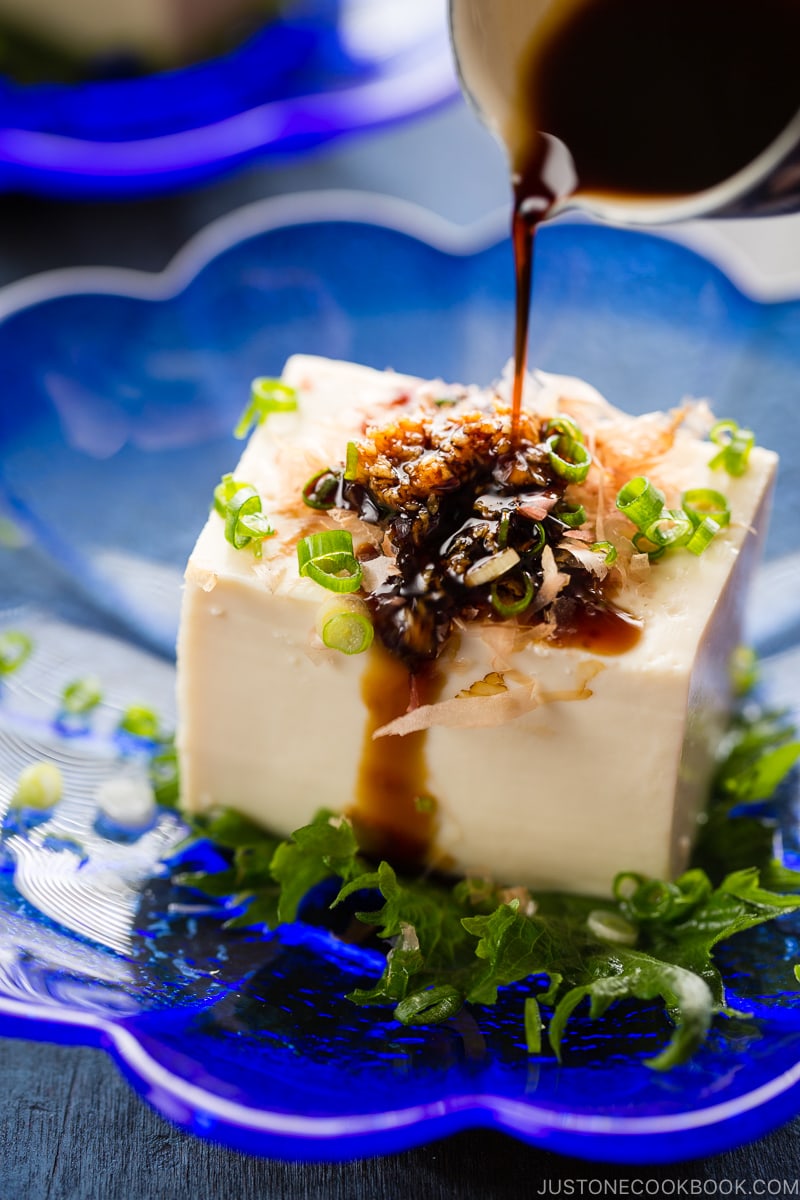 Known as Hiyayakko, this Japanese Chilled Tofu highlights the smooth and silky texture of tofu and its ability to pair with just about anything. Switch up the toppings to keep things interesting.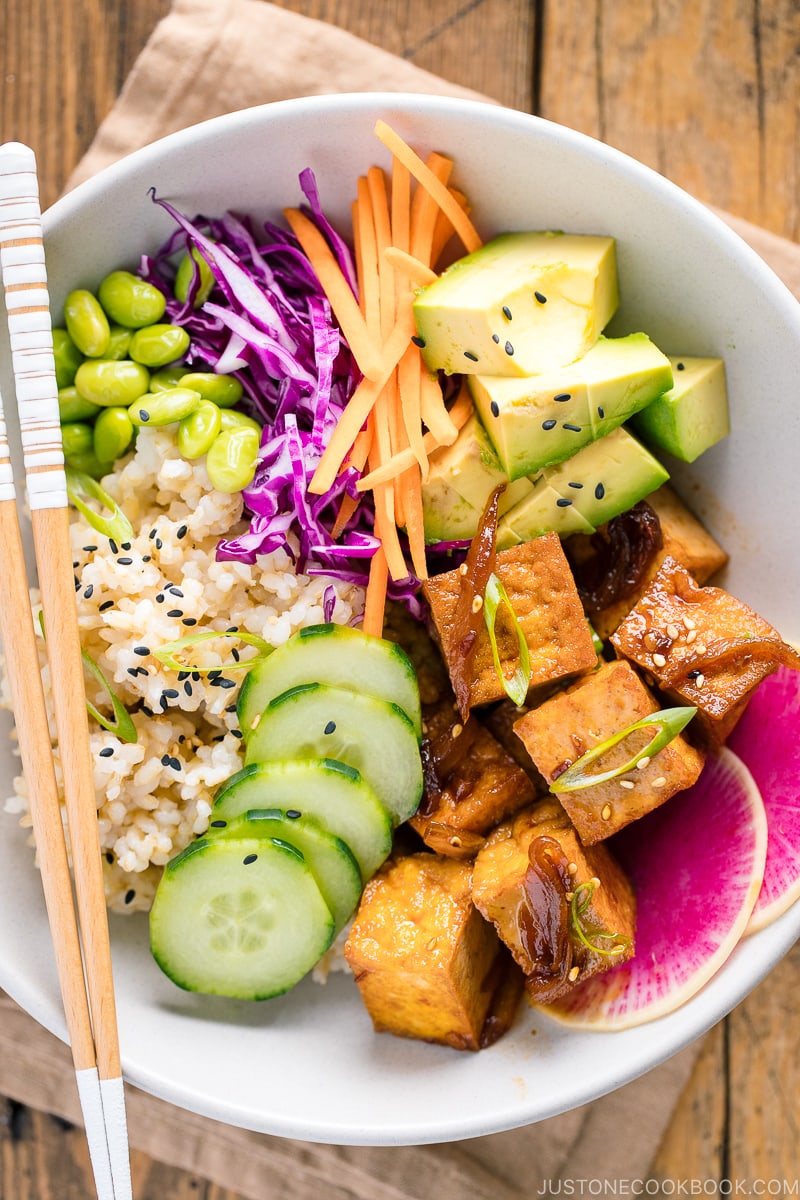 With pan-fried tofu, vibrant vegetables, and brown rice, this Vegan Poke Bowl makes the perfect midweek meal. It's wholesome, delicious, and super easy to make. The sauce lends a refreshing savory flavor.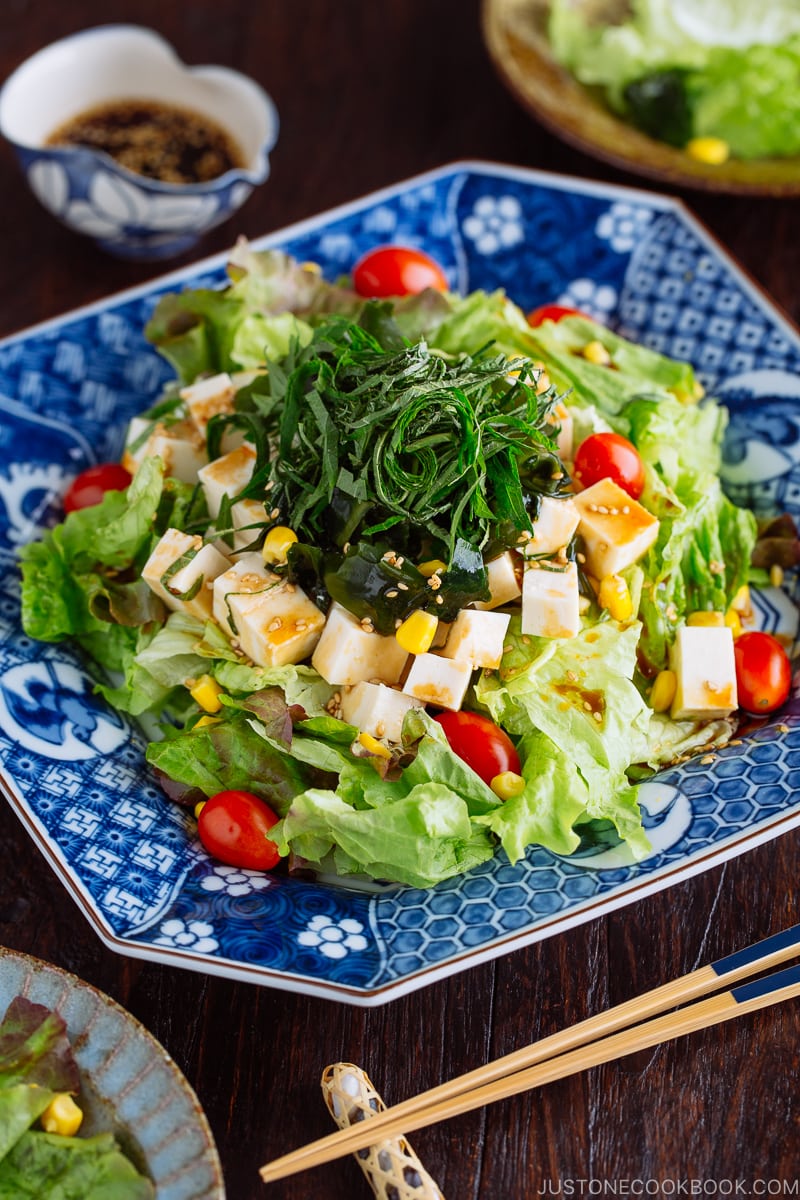 This is the salad for long, summer days. Piled high with leafy greens, sweet corn, wakame seaweed, shiso, and tofu, it goes well with many Japanese and Asian dishes but filling enough on its own. You'll love the tangy ponzu sauce too. So make a big batch!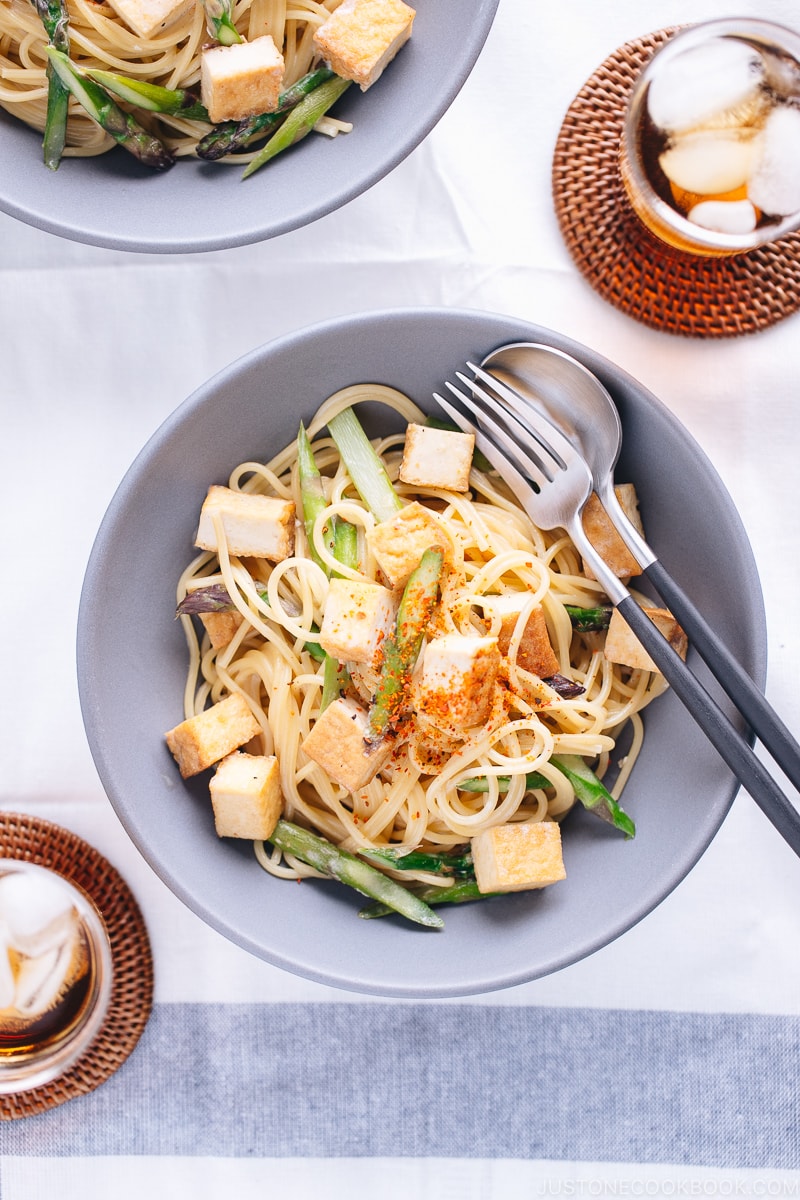 Featuring protein-rich tofu and seasonal greens, this simple miso pasta makes a satisfying plant-based dinner. Soy milk lends an unexpected sweetness and creaminess to the dish.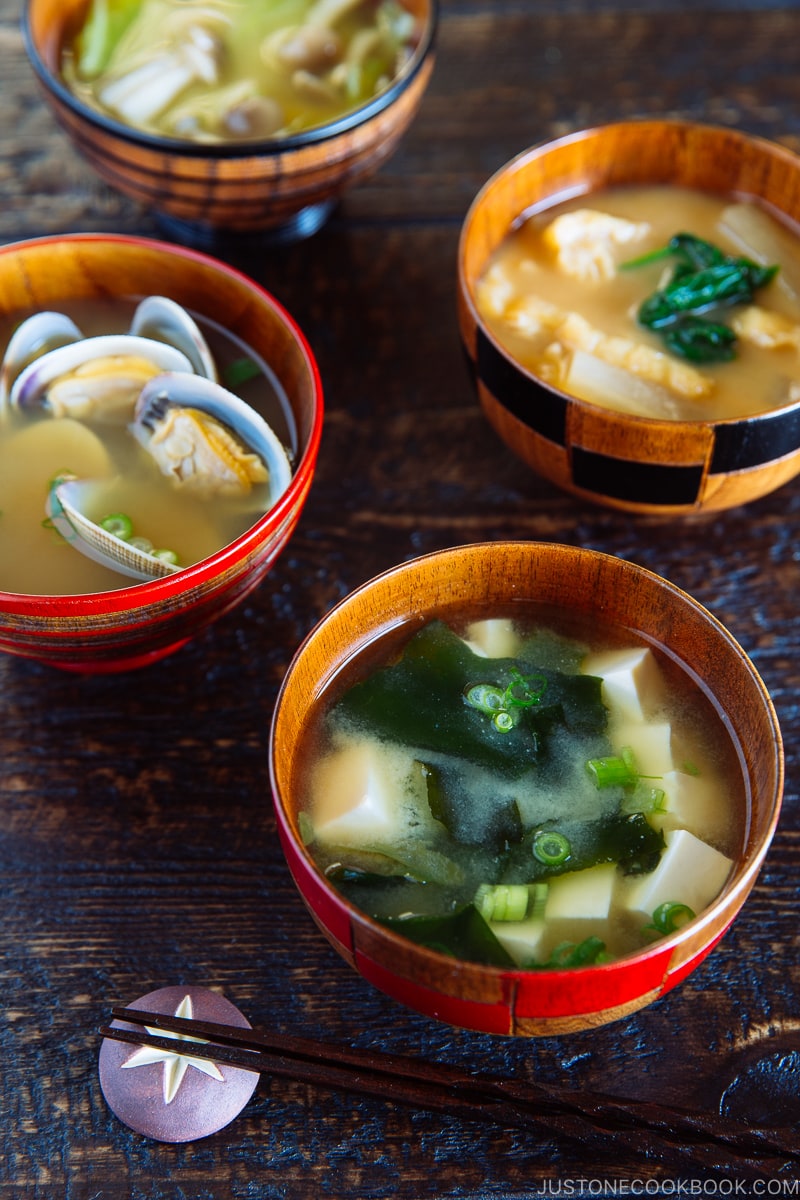 Have some leftover tofu that needs using up? Whip up a quick bowl of classic miso soup that can warm you right up. It's great as a light lunch, afternoon power snack, or a side for dinner.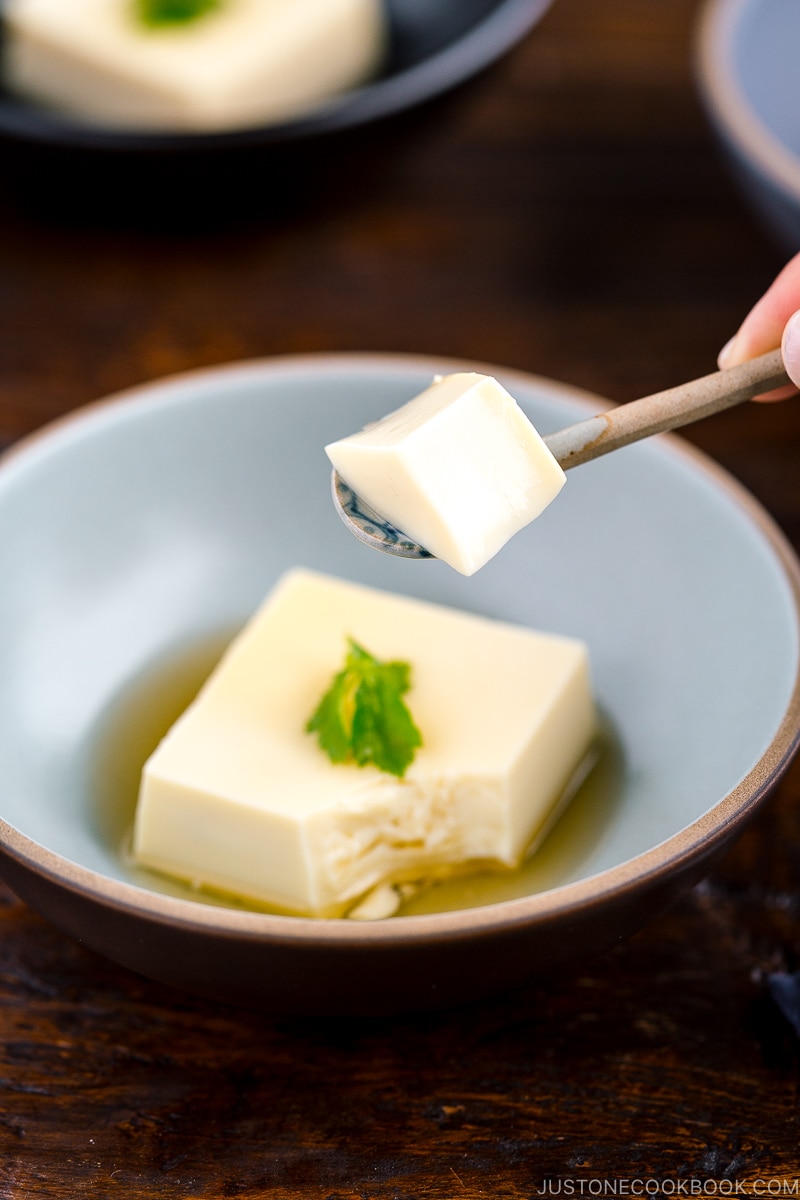 Velvety tofu made with eggs and dashi. The savory custard egg mixture is steamed, chilled, then served with savory broth. Enjoy the refreshing flavors while it melts away in your mouth.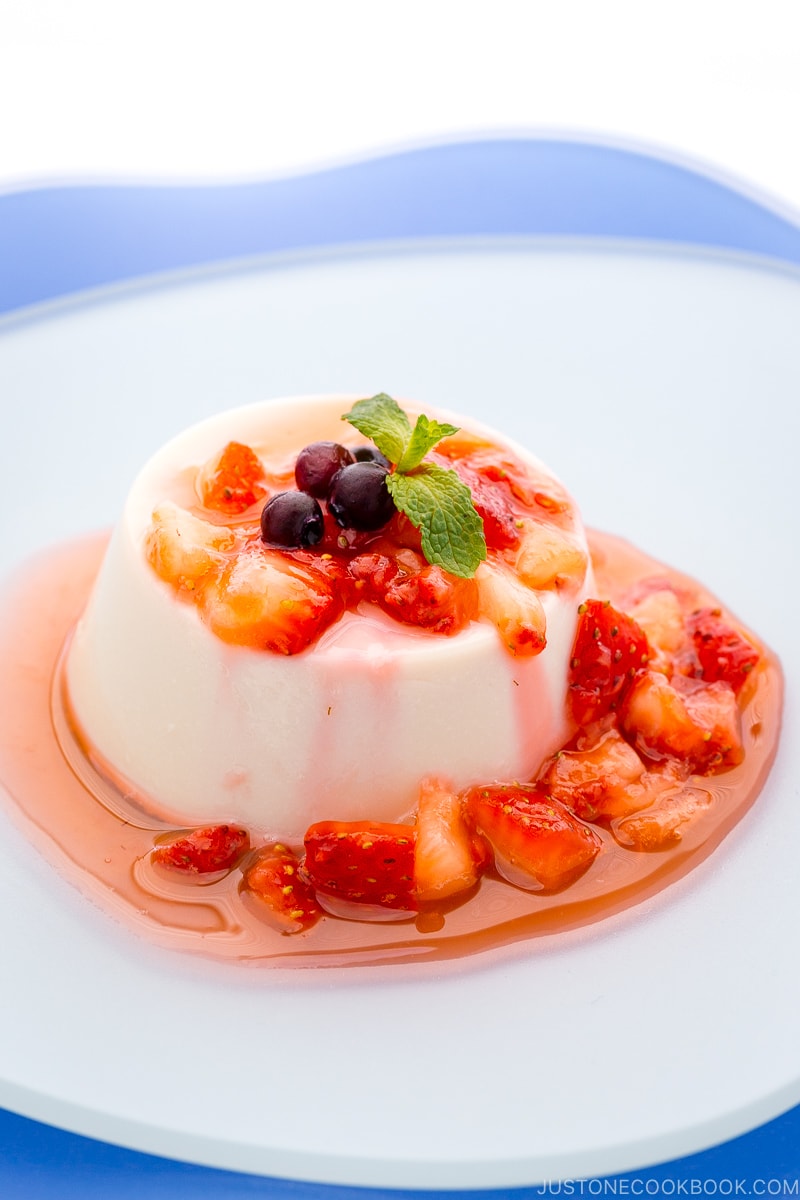 Blend up silken tofu with honey and soy milk for an extremely classy dessert. To finish off, dress it with a sweet-tart strawberry sauce!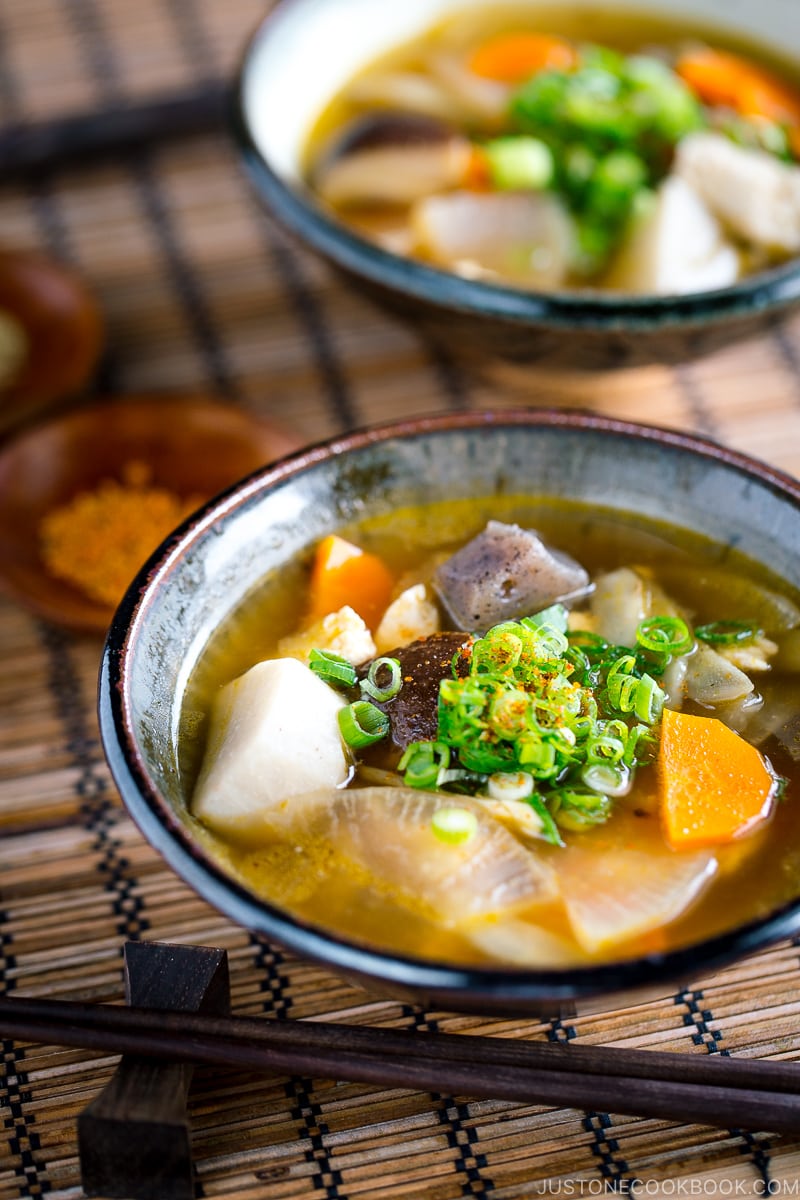 While this soup delivers its flavors from the use of root vegetables, shiitake mushroom, and kombu stock, tofu plays the mainstay of protein and texture. This is a winner if you're looking for a simple, meatless meal on a cold night.
Have you tried any of the tofu recipes above? Do you have a favorite? Let us know in the comments below!
---
Learn More About Tofu
Sign up for the free newsletter delivered to your inbox and stay in touch with me on Facebook, Pinterest, YouTube, and Instagram for all the latest updates.