A spicy Korean stew made with kimchi (Korean fermented cabbage), tofu, and mushrooms, Kimchi Chigae will warm you right up and keep the chill at bay.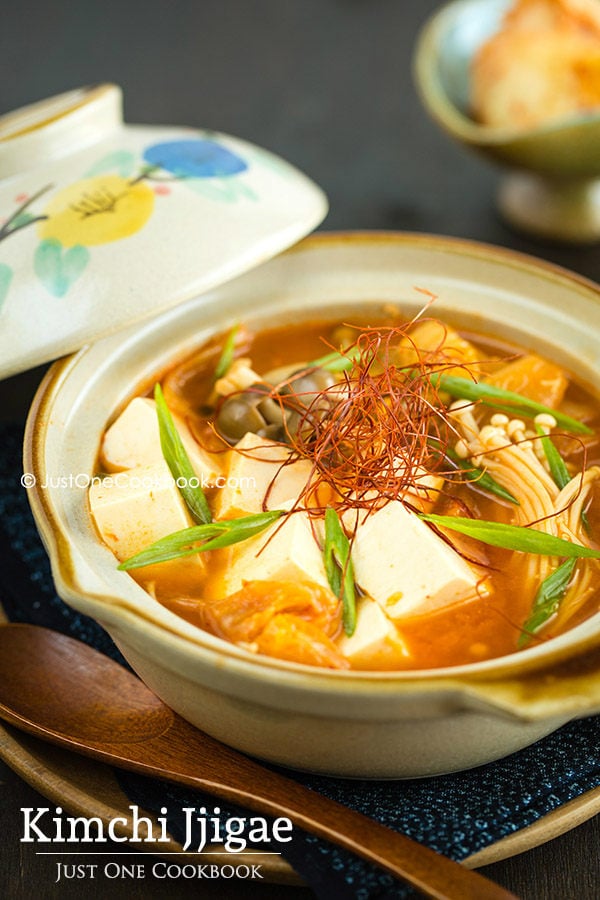 Although the Bay Area is experiencing summer-like weathers these past weeks, I do feel the season is slowly changing when the chilly wind blows in the evening.  Fall is almost here.
I'm usually late to post seasonal recipes, but for once I'm ready to share this delicious dish to keep you warm.  The dish is called Kimchi Chigae or Kimchi Jjigae.
Kimchi Chigae

– A spicy stew with many variations
This stew-like Korean dish is made with kimchi (or kimchee) and other ingredients, and today I made a simple version with abundant silky tofu in it.  The stew is full of flavor from sweet, salty, sour, and spicy flavors from the kimchi, traditional Korean fermented napa cabbage.
There is a lot of room for variation with this dish; you can add protein (meat and fish) and/or other favorite vegetables.  If you want to keep it simple like mine, it only takes a little more than a half an hour from start to finish.
Many Japanese like to add "Japanese" ingredients like miso in Kimchi Jjigae to add an additional layer of complexity to the flavor.  Also the closest substitute to Korean chili paste (gochujang) in Japanese pantry to add body but not too much heat.  This hearty spicy stew is served bubbling hot and it's perfect for upcoming cold days! The soft silky tofu not only melts in your mouth, it also keep the dish sizzling to the very last bite.
To get the Kimchi Jjigae recipe, click here over at the Hikari Miso's website.  Enjoy!
Note: The consistency of Minute Miso is more liquid than typical miso.  If you cannot find Minute Miso, you can substitute with 1 Tbsp. miso paste (awase miso or white miso preferred) and 1 Tbsp. dashi/water for 2 Tbsp. Hikari Miso's Minute Miso.
Hikari Miso products are now available on Amazon. You can also buy Hikari Miso products in Japanese grocery stores (my local Japanese and Asian stores carry their product).
Disclosure: This post is sponsored by Hikari Miso.  To read more about my partnership with Hikari Miso, click click here.