Cure your winter blues with a steamy pot of Japanese Kimchi Nabe. Made with anchovy broth, kimchi, pork belly, and vegetables, this soup pot is hot and sour with a good kick of spice that warms you right up!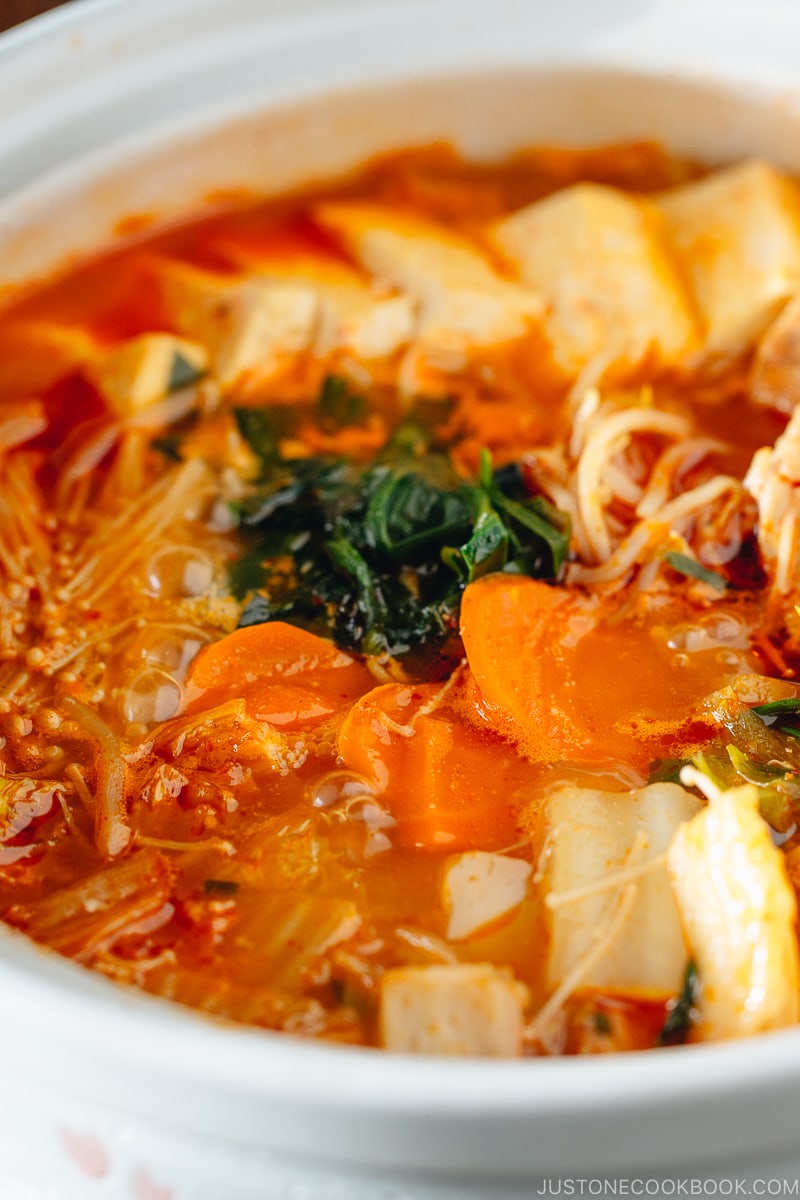 As cold weather continues in most of the Northern hemisphere, I'd like to share another Japanese hot pot recipe with you.
Today we're cooking Kimchi Nabe (キムチ鍋). Back in the early 2000s, Japanese TV stations started to broadcast Korean drama series. At that time the Japanese were exposed to more Korean foods that were relatively new to them. One of the Korean dishes that became popular in Japan was Kimchi Jjigae, Korean Stew.
Japanese started to make their version at home and in restaurants and called it Jjigae Nabe (チゲ鍋). Then they learned that Jjigae and Nabe have similar meanings and that the word "Jjigae" in Japanese implies spicy Korean food. So these days people call it Kimchi Nabe.
Now you are probably wondering if Kimchi Nabe is the same as Kimchi Jjigae, or how different they are. So let's get started.
Kimchi Jjigae vs. Kimchi Nabe
First thing first. Are they the same or different? The quick answer is yes and no.
Kimchi Jjigae was introduced to Japan but after some time, the Japanese people adjusted the flavors to their liking (less spicy) and added more vegetables to this dish that are not used in Kimchi Jjigae. Also, the Japanese use a big donabe for this dish and treat it like a nabe (hot pot) instead of a single serving Korean stew.
As a result, this dish is no longer authentic Kimchi Jjigae anymore. So yes, it's similar but not authentic enough to call Kimchi Jjigae.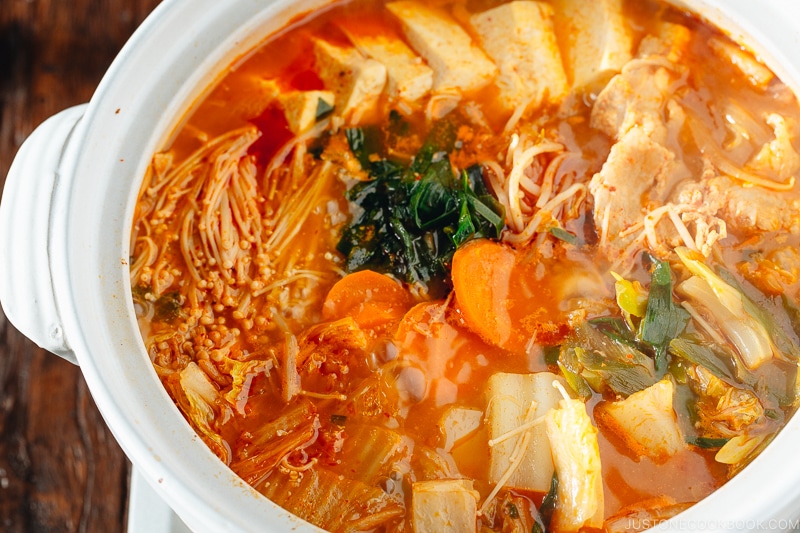 So… How did the Japanese adopt Kimchi Jjigae?
Each household makes this dish differently, but here are some of the "general" changes that I could think of:
Ingredients
Just like other hot pot dishes, napa cabbage leaves are added to Kimchi Nabe in addition to kimchi. Kimchi Jjigae includes napa cabbage kimchi but does not include raw napa cabbage leaves.
Typical hot pot ingredients are added to Kimchi Nabe, including napa cabbage, enoki mushrooms, Negi (long green onion), shiitake mushrooms, carrots, shirataki noodles, deep-fried tofu, and other hot pot ingredients.
One thing that Kimchi Nabe does not usually include, but Kimchi Jjigae sometimes includes is an onion. Onion is not a common vegetable to add to a Japanese hot pot (but we do put green onion or long green onion (Negi).
For the majority of Kimchi Nabe enjoyed in Japan, (Japanese) miso is added to the broth for more savory umami flavors and less intense spiciness.
At the end of the meal (we call Shime, 〆), Japanese people like to put rice or udon noodles (sometimes ramen/Chanpon noodles) in Kimchi Nabe.
Cooking Method
To make Kimchi Jjigae, aged kimchi is used and it's cooked with meat first to remove some pungency before adding broth. The Japanese kimchi sold in Japan is not as pungent and spicy as one in Korea; therefore, kimchi is often added directly to the broth of Kimchi Nabe.
Ingredients are added to Kimchi Nabe in an organized way so that each ingredient stays in one location (think of a slice of pie) and avoids mixing up with other ingredients.
How To Serve
Unlike Kimchi Jjigae that is served in a single pot, Kimchi Nabe is cooked in a large donabe, Japanese earthenware pot, and served at the table.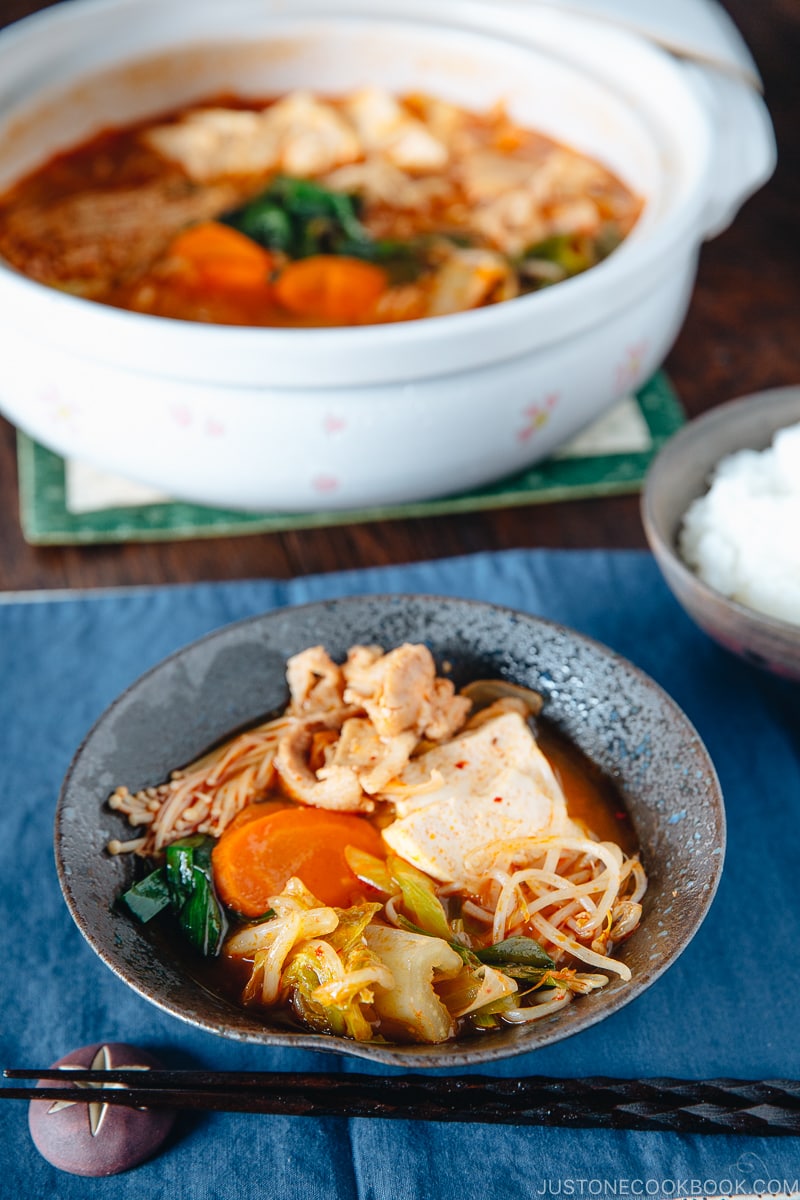 My Kimchi Nabe
I received quite a number of requests for the Kimchi Nabe recipe from my readers so I hope you like my version.
As I live in the U.S., and I'm more exposed to Korean foods, I decided to implement the Korean approach and cooked meat, kimchi and onion first. I use Korean kimchi instead of Japanese kimchi made in Japan, so I believe this method works best for my Kimchi Nabe.
Then I seasoned and added soup stock. Speaking of stock, I could have made it with typical Japanese dashi made of kombu and katsuobushi (bonito flakes). However, to make it a tiny bit closer to the original Kimchi Jjigae flavor, I used iriko (dried baby sardines/anchovies) and kombu. You could substitute with chicken broth as well, but I really encourage you to make your own broth with kombu and anchovies (or even bonito flakes).
If you don't eat spicy food, reduce the amount of kimchi, gochujang, and gochugaru. The soup has good flavor from dashi already so removing the amount of spice won't affect the final result too much.
Premade Nabe Soup Stock
Some people asked about premade nabe soup stock that is sold in Japanese grocery stores including Kimchi Nabe and Yosenabe, or Chanko Nabe. Those premade soup stocks seem convenient as all you need to do is to pour the soup broth into your pot and add fresh ingredients to it.
However, they include preservatives, MSGs, and unknown ingredients that I can't pronounce if you look at the ingredients on the back. I highly recommend and encourage you to make your own nabe soup broth. If you make the soup stock (dashi) the previous day or before going to work, it's really easy to put it together when you are ready to eat.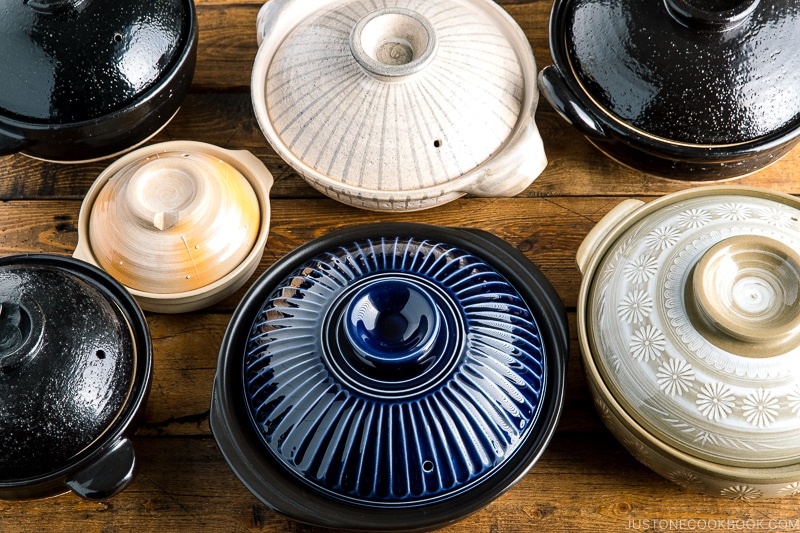 How to Season Your Donabe
By the way, if you have a donabe earthenware pot and don't know how to season or take good care of it, I recommend checking out this post.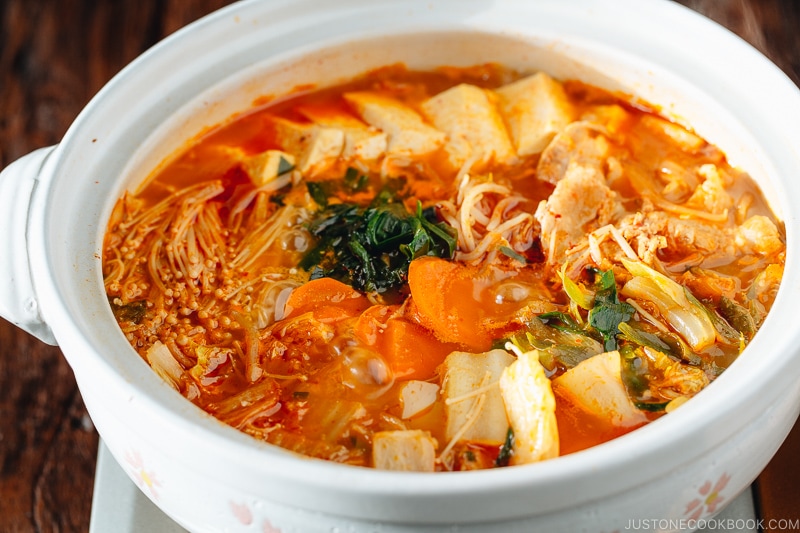 Wish to learn more about Japanese cooking? Sign up for our free newsletter to receive cooking tips & recipe updates! And stay in touch with me on Facebook, Pinterest, YouTube, and Instagram.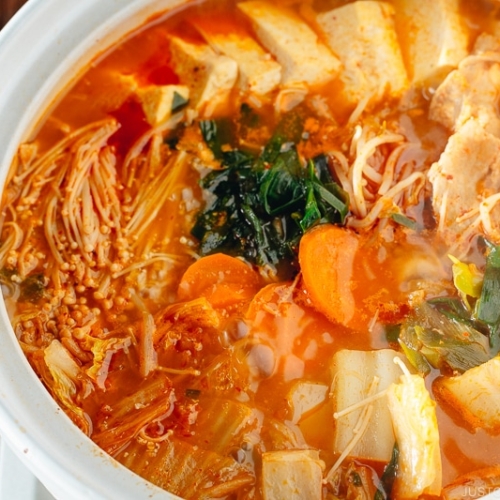 Kimchi Nabe
Cure your winter blues with a steamy pot of Japanese Kimchi Nabe. Made with anchovy broth, kimchi, pork belly, and vegetables, this soup pot is hot and sour with a good kick of spice that warms you right up!
Video
Ingredients
Seasonings
1

Tbsp

sake

1

Tbsp

sugar

4

Tbsp

kimchi juice

1

Tbsp

soy sauce

1

Tbsp

miso

(you can use any type of miso)

½

tsp

kosher salt (Diamond Crystal; use half for table salt)
Japanese Ingredient Substitution:
If you want substitutes for Japanese condiments and ingredients, click
here
.
Instructions
Gather all the ingredients.
Make Dashi:
This is an extra step and not everyone follows this method, but I highly recommend removing the head and guts from the anchovies to reduce the bitter flavor in dashi (watch how I do it in this video).

Gently clean the kombu with a damp cloth (but don't wipe off the white powder – that's umami!). In a small saucepan, put 4 cups water, kombu, and anchovies.

Bring it to boil on low heat. It's best to slowly infuse water with kombu and anchovies. Once boiling, cover and keep on low heat and simmer for 10 minutes.

Once you are done simmering dashi, strain through a fine sieve. With leftovers, you can make candied anchovies and simmered kombu, and set aside the dashi.
Prepare Ingredients:
Meanwhile, start prepping ingredients. Thinly slice the onion. Cut tofu into small blocks.


Cut napa cabbage into 2" (5 cm) pieces widthwise (cut from bottom to leafy side). The bottom part of napa cabbage is thicker so cut these pieces into smaller pieces lengthwise (See how I do it in the video).


Slice the Tokyo Negi (or green onions/scallions) diagonally into ½" (1.3 cm) pieces and slice the carrot diagonally into ¼" (0.6 mm).


Cut garlic chives into 2" (5 cm) pieces. Discard the bottom of enoki mushrooms and loosen them up.


Rinse bean sprouts and place all the vegetable ingredients on a plate. Cut the sliced pork belly into 2" (5 cm) pieces and set aside.
Make Kimchi Nabe:
In a large donabe (4-5 serving) or pot, heat 1 Tbsp. sesame oil over medium-low heat and add the sliced pork belly. Stir fry the meat until no longer pink.


Add kimchi and onion and stir fry for 5 minutes.


Then add 1 Tbsp sake and 1 Tbsp gochujang.

Add 1 tsp gochugaru and 1 Tbsp sugar and mix it all together.


Add kimchi juice and dashi and make sure it's mixed evenly.


Cover and bring to boil. Once boiling, reduce heat to low and cook for 5 minutes.


Add 1 Tbsp soy sauce and 1 Tbsp miso. Mix all together and make sure the miso is completely dissolved.

Add the rest of ingredients and cover to cook on medium heat for 10 minutes, or until all the ingredients are tender.


Taste the soup and add kosher salt if necessary (I added about ½ tsp). Each miso has different saltiness so you really need to taste the soup to adjust the flavor.

To Store
You can keep the leftovers in an airtight container and store in the refrigerator for 3 days.
Nutrition
Calories:
696
kcal
·
Carbohydrates:
23
g
·
Protein:
25
g
·
Fat:
57
g
·
Saturated Fat:
19
g
·
Polyunsaturated Fat:
10
g
·
Monounsaturated Fat:
25
g
·
Cholesterol:
66
mg
·
Sodium:
938
mg
·
Potassium:
584
mg
·
Fiber:
4
g
·
Sugar:
6
g
·
Vitamin A:
921
IU
·
Vitamin C:
20
mg
·
Calcium:
405
mg
·
Iron:
3
mg
©JustOneCookbook.com Content and photographs are copyright protected. Sharing of this recipe is both encouraged and appreciated. Copying and/or pasting full recipes to any website or social media is strictly prohibited. Please view my photo use policy
here
.