Enoki has long white stalks and small caps that grow in clusters. It's a popular ingredient in many Asian cuisines and is used in soups, stir-fries, hot pots, stews, curries, and more.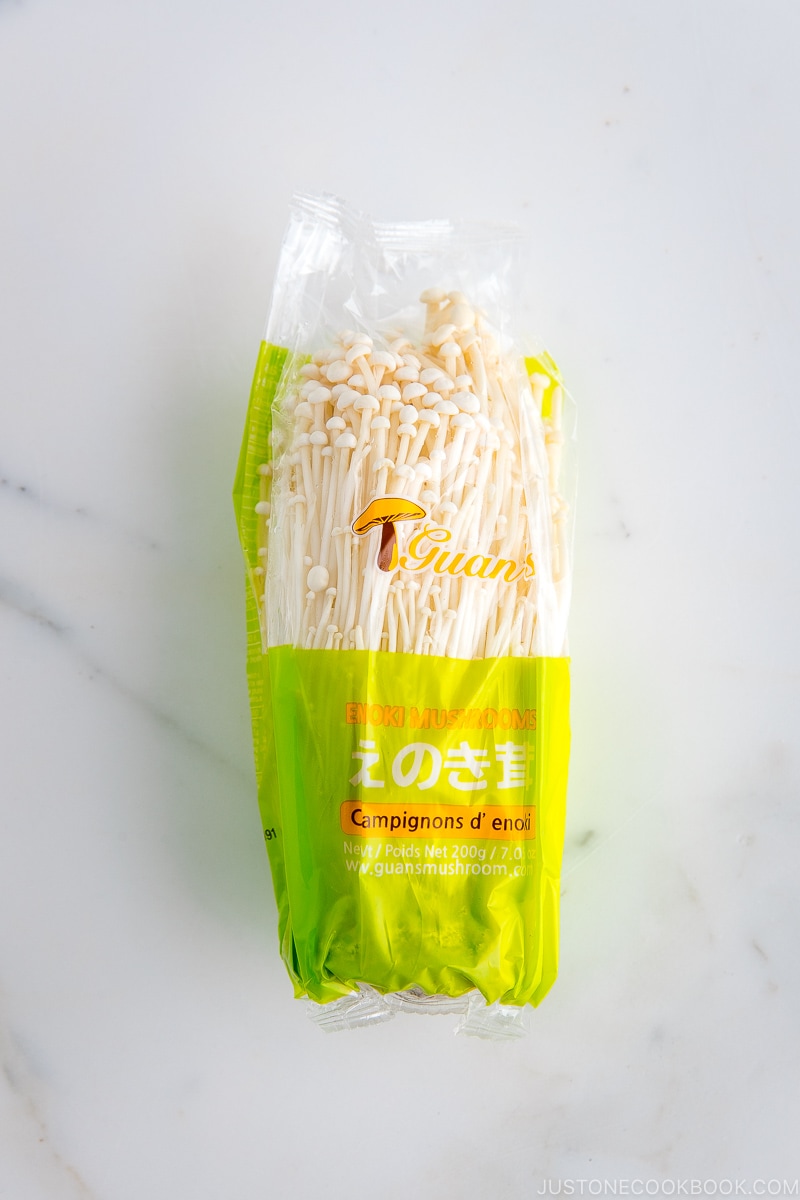 Enoki mushrooms (えのきたけ・榎茸) are cream-colored mushrooms with tall, thin stalks and tiny caps. It grows in clumps and is often sold in this form. In Japanese cuisine, they are stir-fried, simmered, braised, topped over a bowl of ramen or rice, and cooked in hot pot dishes.
The Japanese also use it to make nametake (なめたけ). It's a sweet-savory, tasty side dish and condiment seasoned with soy sauce, sake, and mirin.
What Is Enoki
Enoki (Flammulina velutipes) is a mushroom with long, slender stems and tiny caps. It's native to East Asia but is cultivated worldwide, both in the wild and grown commercially. You can find it year-round.
Other names are golden needle mushrooms, lily mushrooms, winter mushrooms, snow puff mushrooms, velvet foot, and enokitake.
What Does It Taste Like
Enoki has a mild, earthy, nutty, umami flavor and a slightly chewy and crunchy texture when cooked.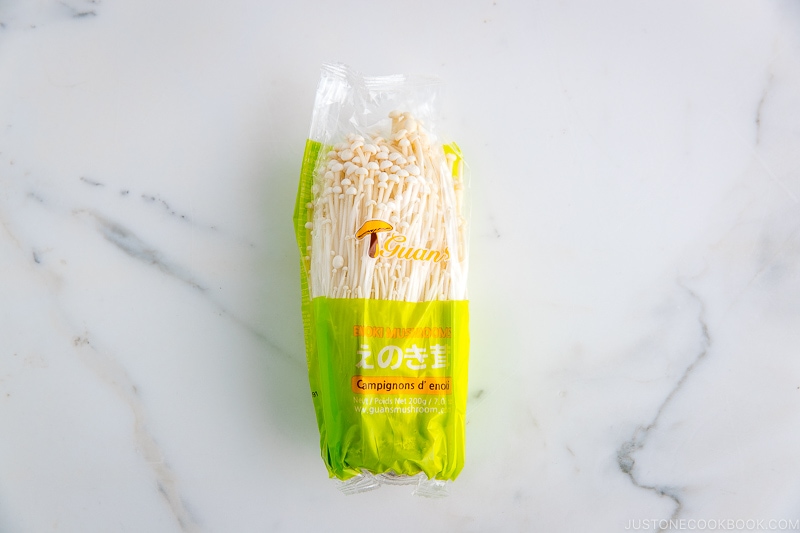 How To Use Enoki
Trim off the root base and separate into individual strands or smaller clumps. If you see dirt attached, swish it in a bowl of clean water and pat dry. Like other types of mushrooms, it's a great source of fiber and nutrients for vegetarians, vegans, and anyone reducing their meat intake.
Add to omelets, broths, and pasta dishes, wrap in bacon, or stir-fry in a pan with vegetables for a tasty meal. You can use it to miso soup, nabe hot pot dishes, or deep-fry in tempura.
It cooks quickly, so add it to the end of cooking to avoid overcooking.
Recipes Using Enoki Mushrooms
Where To Buy
Find it at Japanese and Asian grocery stores or specialty food stores. It's sold in bundles or shredded. You may also find enoki dried.
How To Choose The Best
Select ones that are dry and firm to the touch with a fresh appearance, as opposed to slimy, soggy, or discolored.
How To Store
Like other mushrooms, enoki needs to breathe. Remove the plastic package, store it in a paper bag, or wrap it in paper towels. Store in the crisper drawer of your refrigerator for up to a week. You can also freeze enoki in a ziplock bag after you cut off the root base and separate the clumps.
Substitutions
You can replace enoki with any mushroom, such as king oyster, shiitake, cremini, or maitake.
Health Benefits
Enoki is also appreciated for its medicinal benefits and thus is used in traditional medicine.
It's a low-calorie protein and complex carbohydrate source that contains dietary fiber, niacin, calcium, potassium, selenium, copper, phosphorus, and iron. It also has anti-inflammatory properties, can reduce high cholesterol, lower blood pressure, and improve immune systems.
You could also use it as a low-carb noodle replacer. Blanch or steam the mushroom and swap it with your usual noodle of choice.
---
Wish to learn more about Japanese cooking? Sign up for our free newsletter to receive cooking tips & recipe updates! And stay in touch with me on Facebook, Pinterest, YouTube, and Instagram.