Made with simple, everyday ingredients, these Stir-Fried Tomatoes and Eggs are incredibly tasty and satisfying! It makes a perfect vegetarian meal over steamed rice or a colorful side to go with your main meal. The dish is ready in 10 minutes.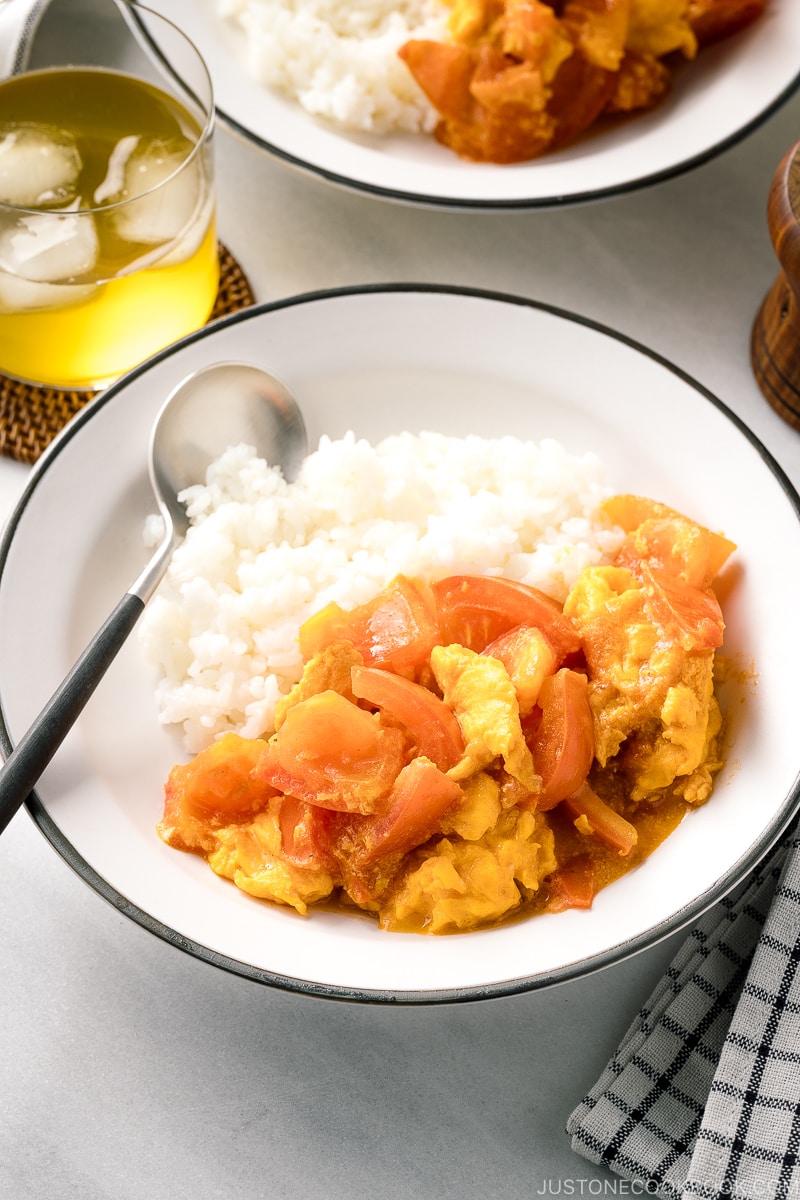 Looking for lunch or dinner recipes that come together in just minutes? Let's make some simple yet delicious stir-fry. This humble dish—Stir-Fried Tomatoes and Eggs (トマトと卵の中華炒め)—is one of those reliable recipes that I keep in my back pocket for weeknight staple. It's quick, easy, and budget-friendly!
My kids especially love the simple combination of sweet and tart sauciness of the tomatoes with creamy, fluffy eggs. When served over fragrant steamed rice, this classic homey meal cannot be more satisfying!
What is Stir-Fried Tomatoes and Eggs
I believe anyone who is familiar with Chinese cuisine or Chinese takeout would instantly recognize the dish. Commonly known as 番茄炒蛋 fan qie chao dan, the tomato egg stir fry is a traditional, homestyle Chinese dish that's enjoyed at home, at school canteen and office cafeteria, and at restaurants. The recipe I'm sharing is considered a chuka ryori, the Japanese adaptation of Chinese cuisine.
As it is amazingly simple, you'll find that the Japanese version of stir-fried tomatoes and eggs is closely similar to the original Chinese dish. Because it is a home-cooked dish, every family makes it differently.
At its simplest, the stir-fry is made with tomatoes and eggs with light seasonings, but some people also add in chopped garlic, ginger, cornstarch, ketchup, or tomato paste, or garnish with green onions. The only distinct difference I can think of between the Japanese and Chinese tomato egg stir fry is the use of sake vs Shaoxing rice wine.
My recipe demonstrates how most Japanese home cooks prepare this popular Japanese-Chinese dish.
How to Make Stir-Fried Tomatoes and Eggs
Ingredients You'll Need
Eggs
Tomatoes — use naturally sweet tomatoes!
Condiments: oil, sesame oil, salt, white pepper powder, soy sauce, and sake.
That's it!
I usually serve the stir-fry over steamed rice. You can make the rice ahead of time. Otherwise, it's always good to keep a few containers of the cooked rice in the freezer (and this is how to store the cooked rice).
Overview: Cooking Steps
Prepare ingredients—beat the eggs and cut the tomatoes.
Cook the eggs first and remove from the wok or pan.
Cook the tomatoes until almost tender and season them.
Put the cooked eggs back in to the wok/pan and toss everything together.
Serve the dish on a plate or over the steamed rice.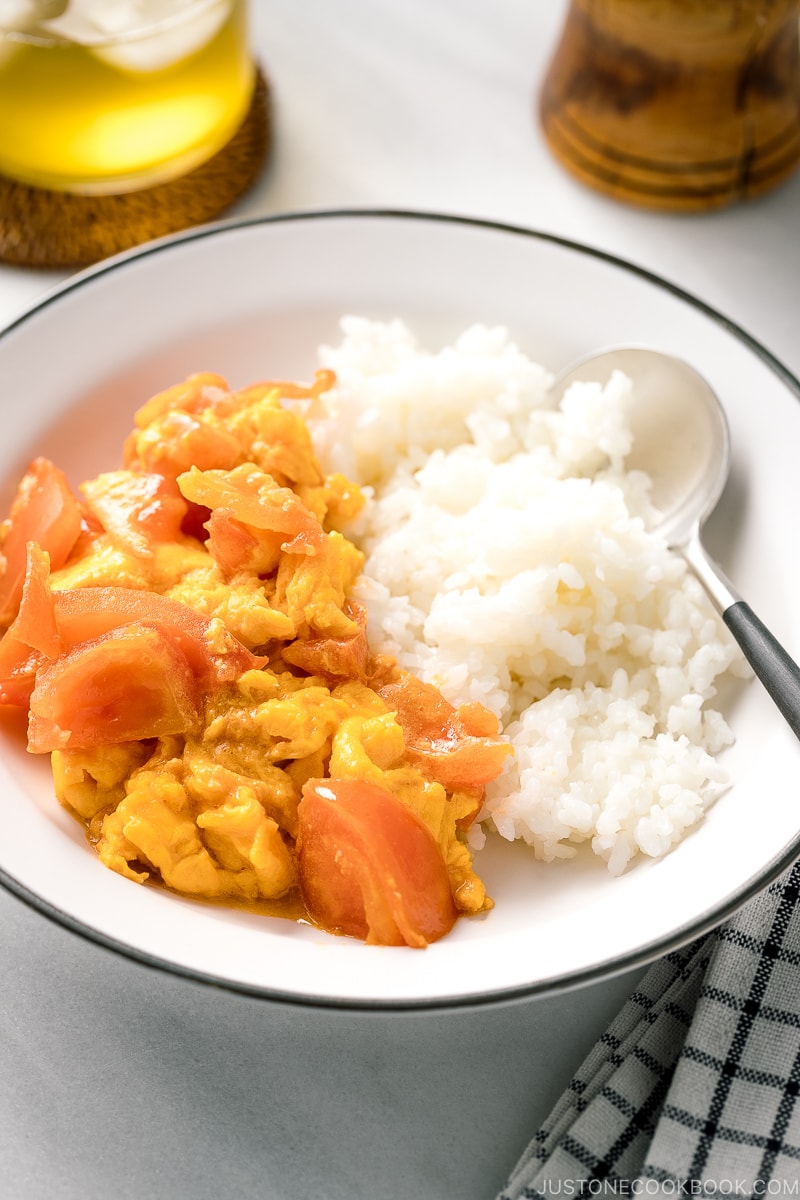 5 Helpful Cooking Tips
Use naturally sweet tomatoes. As always, quality makes a big difference in taste, especially in a simple recipe like this. A big portion of this dish comes from the tomato flavor; therefore, you want to use good quality tomatoes! In-season garden fresh tomatoes are the best. If you only have okay/not-so-great tomatoes, you'll need to add extra sugar to help bring out the flavor or balance the sourness.
Get all the ingredients ready. A successful stir-fry relies on speed and timing. So have your eggs lightly beaten and seasoned, tomatoes cut, and the seasonings ready to go.
Season each ingredient. We want everything to be nice and well-seasoned.
Gently cook the eggs with a good amount of oil. You will need a decent amount of oil to cook the fluffy eggs. Hot oil helps to distribute heat and prevent the eggs from sticking to the pan. When you pour in the beaten eggs, careful not to move them around too much. Let the eggs set for a few seconds until you see them float to the top of the oil. Then gently swirl the loosely set egg around to continue cooking the rest. Keep the curds nice and big, and don't over scramble them into small pieces. Remove from the wok immediately when the eggs are almost set but still soft.
Don't overcook the tomatoes. Overly mushy tomatoes in this dish are a no-no and the same goes to under-cooked tomatoes. We want the juices to come out enough so it caramelizes into a delicious sauce, while making sure the tomatoes retain some of their shapes. If you prefer the dish to be more saucy, you can use 1 more tomato.
I hope you give this stir-fry a try! It's something about tomatoes, eggs, and rice that tick the checkmarks for comfort food.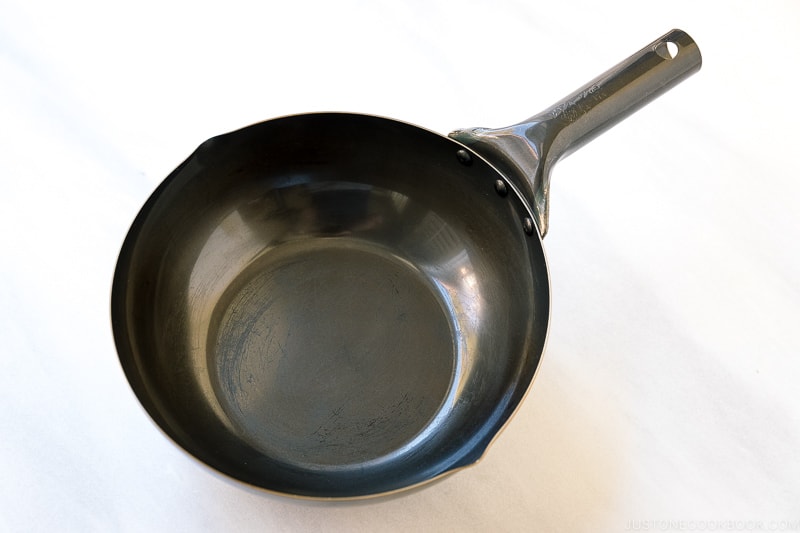 Kitchen Tools from MTC Kitchen
I've partnered with MTC Kitchen to introduce quality kitchen tools for your everyday Japanese cooking. You will get 10% off with a coupon code JOC10 for your purchase. In this post, I've used:
Other Quick and Easy Stir-Fry Dishes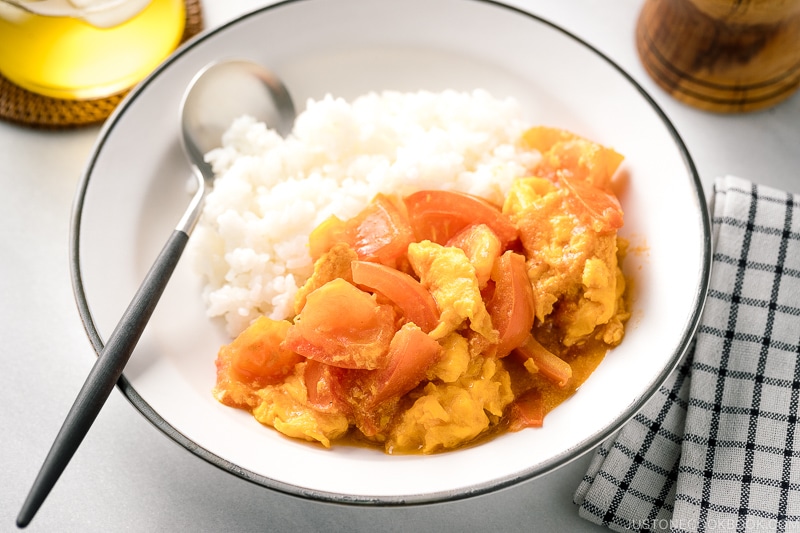 Wish to learn more about Japanese cooking? Sign up for our free newsletter to receive cooking tips & recipe updates! And stay in touch with me on Facebook, Pinterest, YouTube, and Instagram.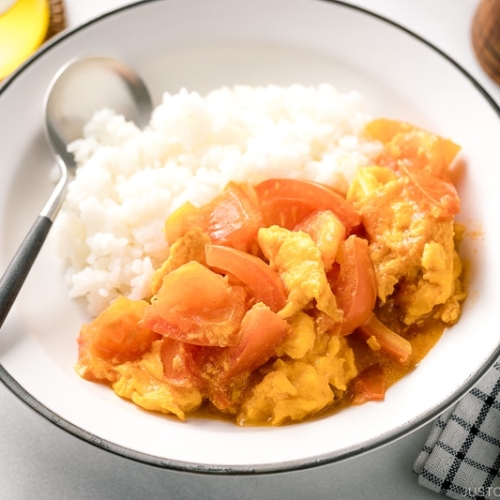 Stir-Fried Tomatoes and Eggs
Made with simple, everyday ingredients, these Stir-Fried Tomatoes and Eggs are a tasty, satisfying, and comforting dish prepared in under 10 minutes! It's such a perfect vegetarian meal over steamed rice or a colorful side dish to go with your main meal.
Video
Japanese Ingredient Substitution:
If you want substitutes for Japanese condiments and ingredients, click
here
.
Instructions
Gather all the ingredients.

In a medium bowl, combine

3 large eggs (50 g each w/o shell)

, half of the

¼ tsp Diamond Crystal kosher salt

, and half of the

⅛ tsp white pepper powder

and whisk together.

Cut

2 tomatoes

into wedges and cut them in half crosswise. If your tomatoes are smaller than mine, keep them as wedges.

Heat a wok or large frying pan over medium heat. When the wok is hot, add

2 Tbsp neutral oil

and swirl it around to coat the entire surface of the wok. Add the beaten eggs once smoke starts to appear from the edge of the wok.

With a blunt-end wooden spatula, swirl the loosely set egg around the pan to continue cooking the rest of the egg. When the bottom of the egg is set but the top is not yet fully cooked, transfer it back to the bowl.

Add

1 Tbsp toasted sesame oil

to the wok, then add the tomatoes. Stir-fry to coat them with the oil.

Season the tomatoes with the remaining Diamond Crystal kosher salt and white pepper powder.

Add

½–1 Tbsp soy sauce

and

1 Tbsp sake

and let the tomato cook a bit longer, about 1 minute.

When the tomatoes are slightly wilted and tender but still maintain their shape, add the egg back to the wok and quickly toss everything together.

Taste and adjust the seasoning if needed. I added slightly more soy sauce and white pepper. Serve the stir-fried tomatoes and eggs over steamed rice as a meal. You can also serve it as a side dish without steamed rice.
To Store
You can keep the leftovers in an airtight container and store in the refrigerator for up to 3 days.
Nutrition
Nutrition Facts
Stir-Fried Tomatoes and Eggs
Amount per Serving
% Daily Value*
* Percent Daily Values are based on a 2000 calorie diet.
©JustOneCookbook.com Content and photographs are copyright protected. Sharing of this recipe is both encouraged and appreciated. Copying and/or pasting full recipes to any website or social media is strictly prohibited. Please view my photo use policy
here
.