Okara (Unohana) is a popular Japanese home-style simmered dish made of assorted vegetables, shiitake mushroom, hijiki seaweed, and soy pulp. It can be a satisfying vegan dish – thanks to the protein-packed soy pulp.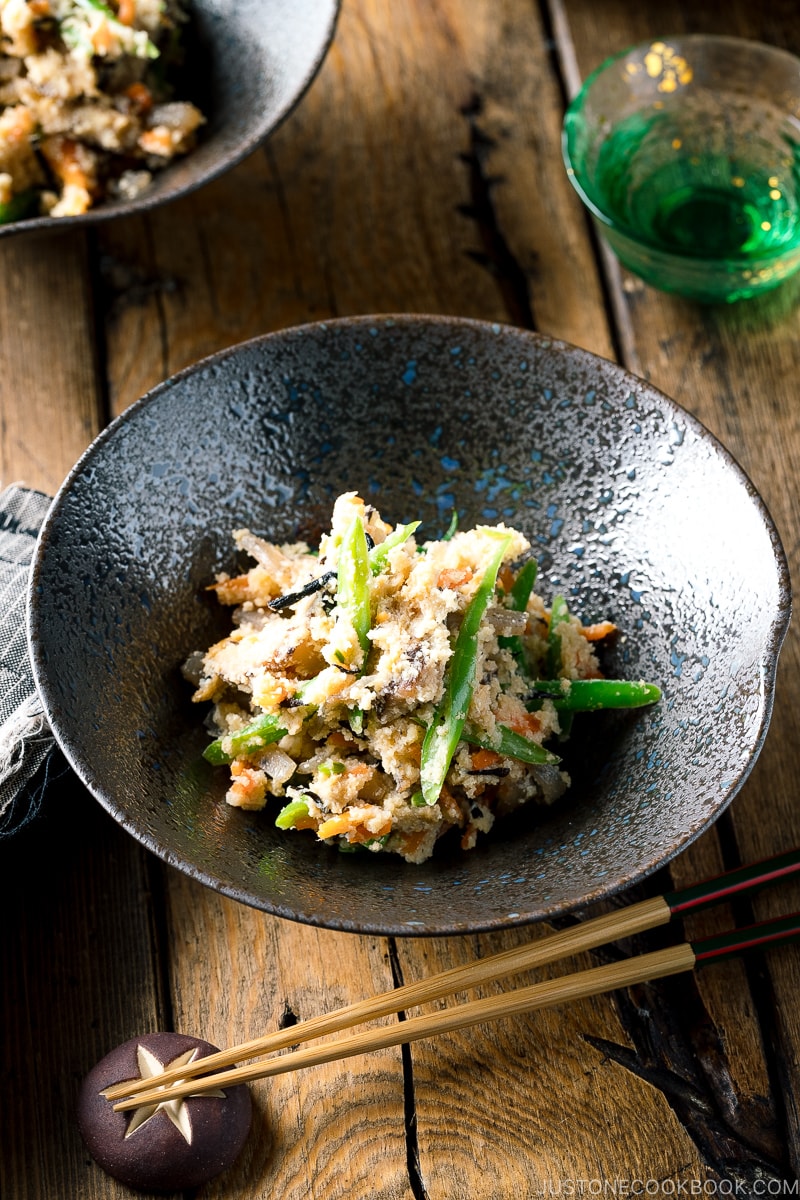 It is my desire to shine a spotlight on Japanese home cooking because there is a whole universe to discover. Many of the dishes are not served outside of Japan, but they are well-deserving on your everyday dinner.
Today's recipe, Okara (おから) or Unohana (卯の花), is a classic Japanese home cooked dish that I really enjoy. Made with a colorful mix of vegetables, it's humble yet really tasty and so-good-for you!
Assuming that you had never seen or heard of the dish, I must start with the main ingredient — okara.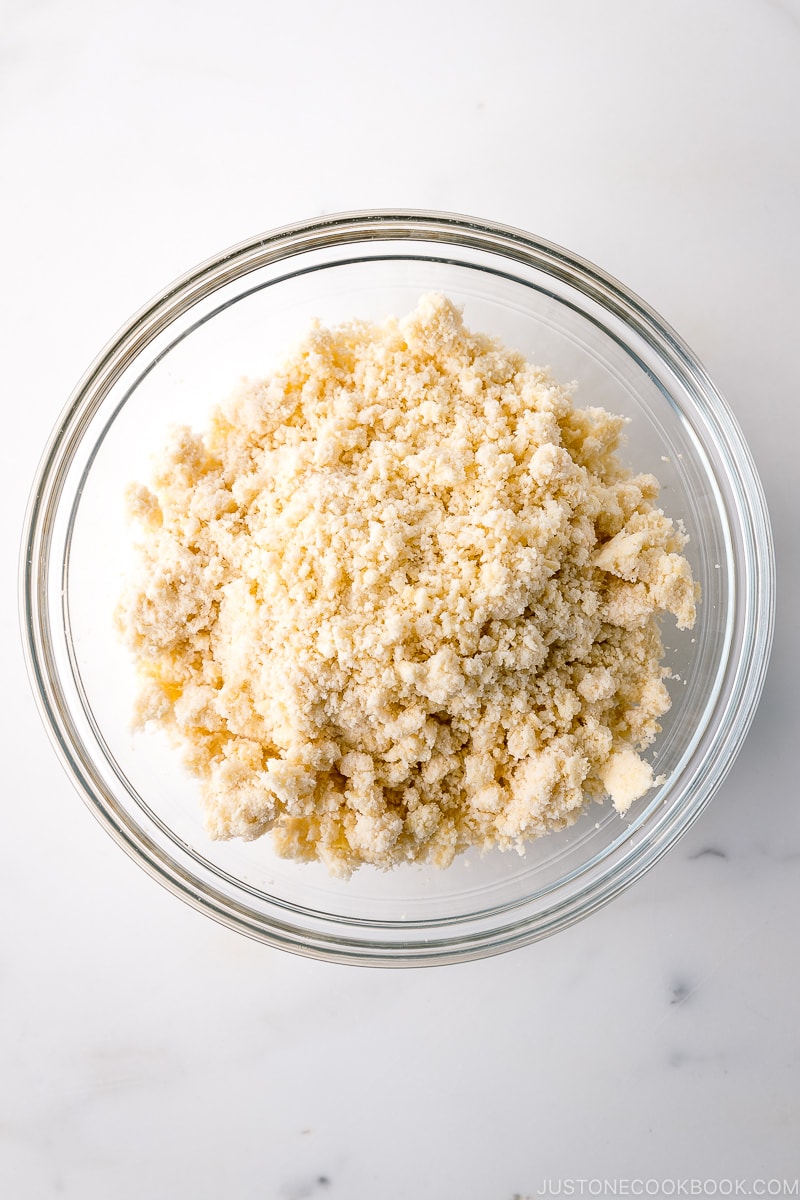 What is Okara
To make homemade soy milk (or tofu), soybeans are first soaked in water, then finely ground, and boiled. When you strain it with a cloth, the filtered liquid you get is fresh soy milk and what remains on the cloth is soy pulp called okara (おから).
Okara is creamy beige in color, dry, and very crumbly. It has almost no taste, so it absorbs seasonings very well. A fantastic soybean byproduct, okara is used in many traditional Japanese, Korean, and Chinese cuisine.
Okara has seen an increase in popularity in plant-based recipes because it makes a good source of protein, iron, calcium, and omega-3 fatty acids compared to other plant food.
Vegans/ Vegetarians? It's time to add okara/ soy bean pulp into your diet!
Where to Get Okara
My local Japanese grocery store occasionally has complimentary bags of okara (Nama Okara 生おから) that customers can pick up.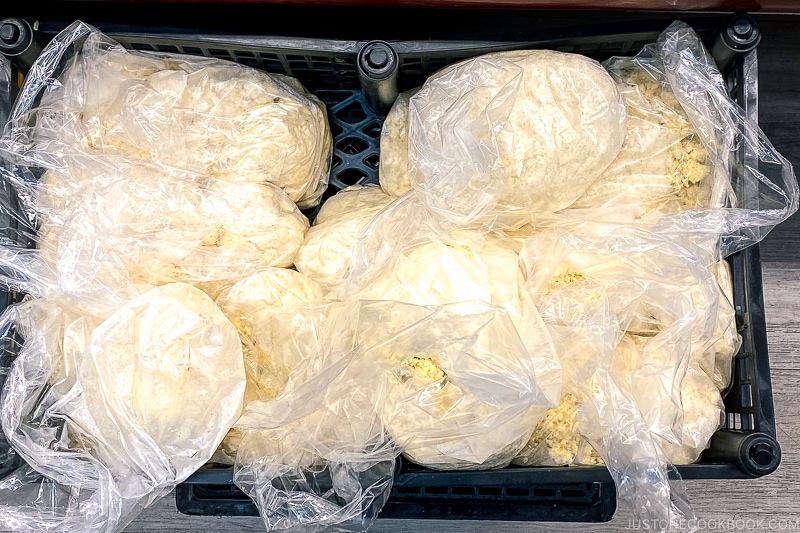 Maybe they are from the local tofu company. I don't always see it, but when I find it, I always get one bag home.
You can always make soy milk or tofu at home, and you will have fresh raw okara as a byproduct! It's on my to-do list some day.
How to Store Okara
The expiration date of raw okara is very short, and this is why it's best to freeze it! This is what you should do:
Divide the okara into small batches (¼ lb each) and wrap in plastic.
Place in a freezer storage bag, removing air completely.
Store in the freezer for about 1 month!
How to Use Frozen Okara
If you keep the frozen okara in your freezer, it's pretty convenient.
Thaw frozen raw okara in the refrigerator overnight.
Frozen okara also can be added to simmered or stir-fried foods while still in the frozen state.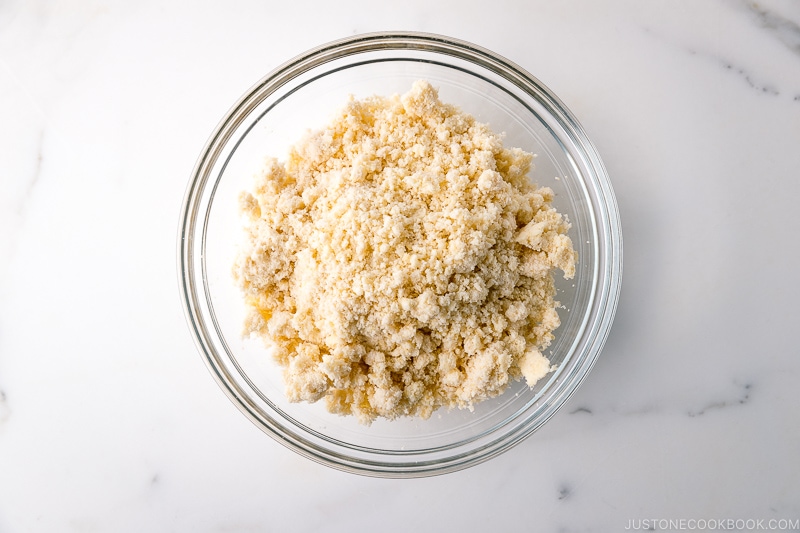 What Can I Make with Okara/ Soy Pulp?
Now you know what Okara is, where to get it, and how you store it, let's see what you can make with it.
In Japan, there are a few popular okara recipes and I hope to share these recipes one by one when I get a chance.
Okara no Irini (also known as Unohana) – Today's recipe
Okara Hambagu
Okara Salad
Okara Cookies.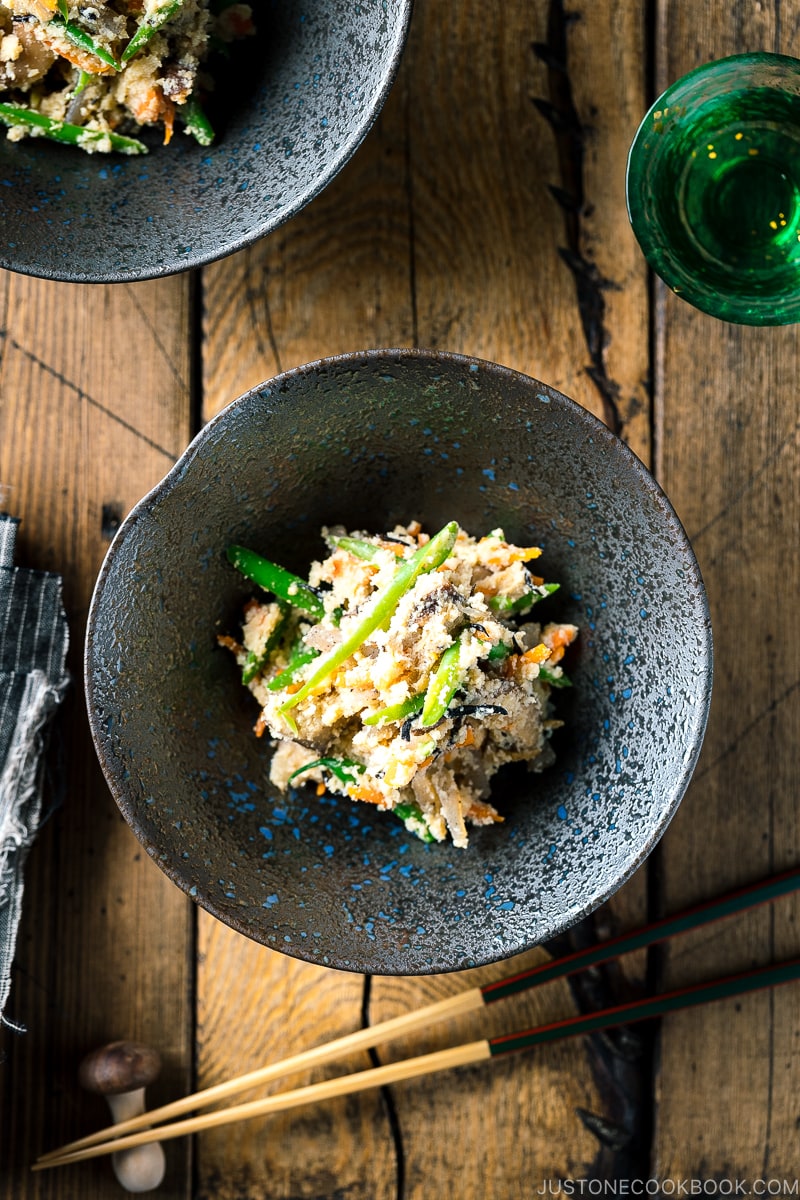 Delicious Okara (Unohana) Recipe
This recipe goes by a few different names depending on the regions. In the Kanto (Tokyo) region, we call it Unohana (卯の花). In the Kansai and Tohoku regions, it's called Kirazu (きらず, 雪花菜). However, in most areas in Japan, this dish is called Okara no Irini (おからの炒り煮) or just Okara for short.
'Irini' is a Japanese cooking technique where ingredients are first stir-fried, then simmered in a seasoned sauce until the liquid has evaporated.
Here, vegetables, shiitake mushrooms, hijiki seaweed, konnyaku, and okara are simmered together in a sweet and savory, dashi-based sauce.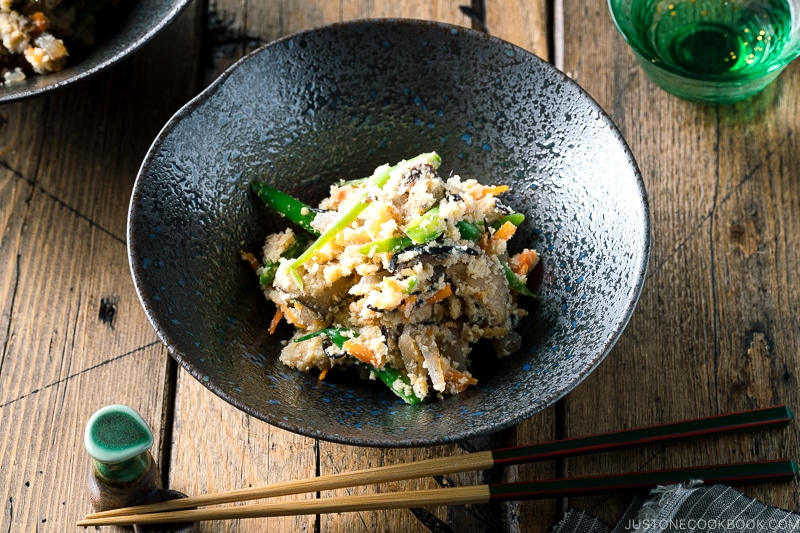 How to Make Okara (Unohana)
Ingredients
Besides okara/ soy pulp, which is the main ingredient, you can be flexible with the rest of the ingredients. For example, my mom would add gobo (burdock root) and negi (leek, scallion) to what I already add.
Okara
Carrot
Dried shiitake mushrooms
Dried hijiki
Green beans
Seasonings: light-color soy sauce (usukuchi shoyu), sake, mirin, sugar, and salt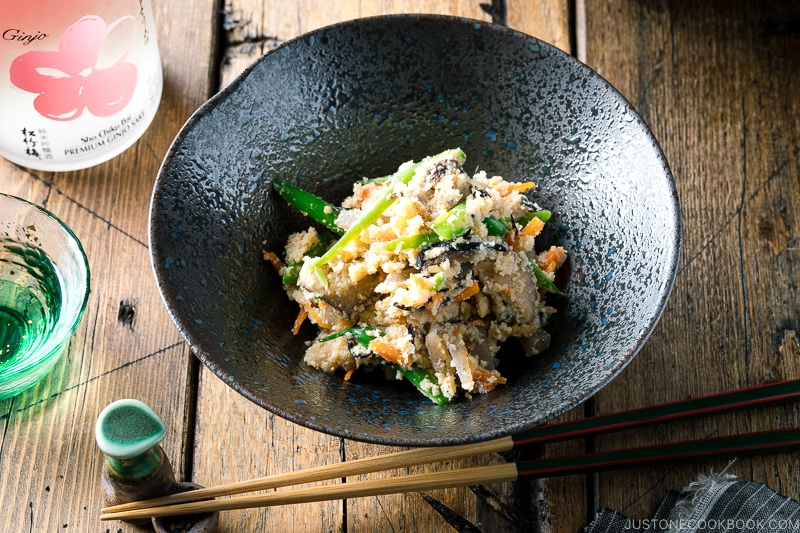 Quick Overview
Cut all the ingredients (Some of them require blanching).
Stir fry the okara (Why? I'll talk about it under the 5 tips section).
Cook the ingredients in the seasoning sauce.
Add the okara and let it absorb all the flavors and let it simmer.
Add the green beans and serve warm, room temp, or chilled!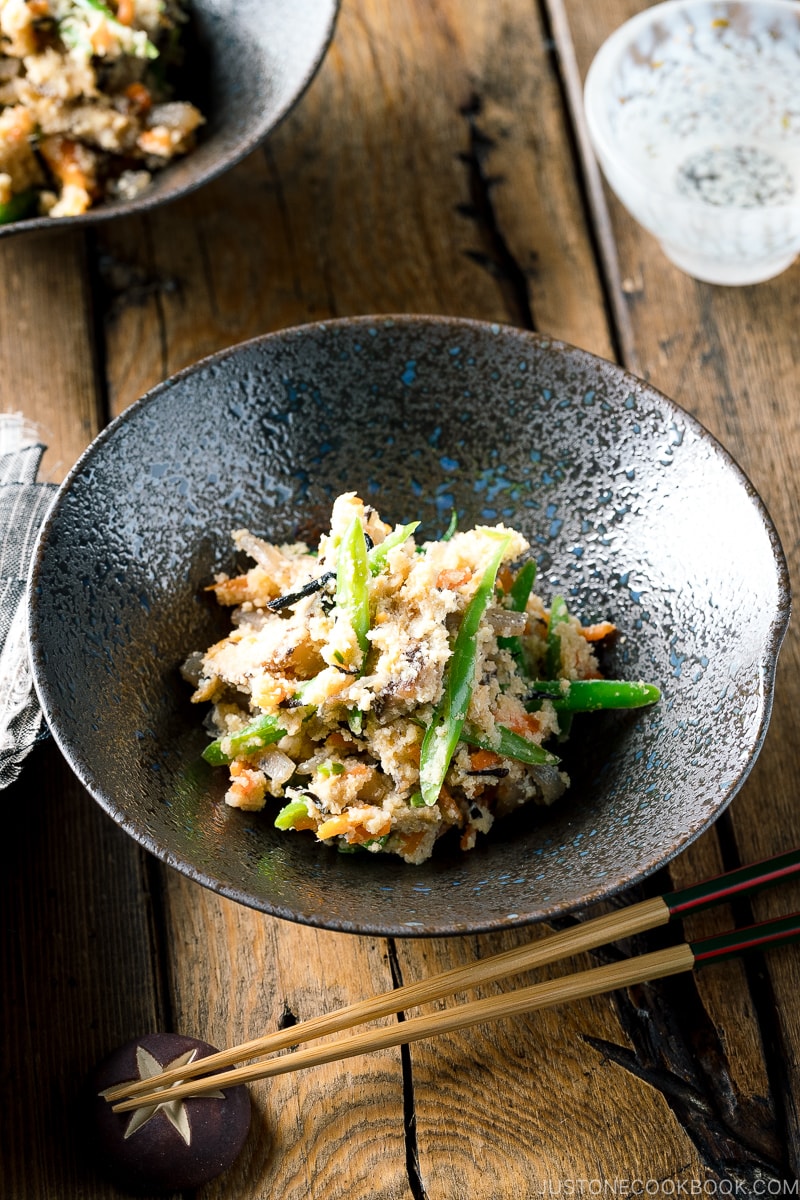 5 Tips to Make the Best Okara (Unohana)
1. Must Use Dried Shiitake Mushrooms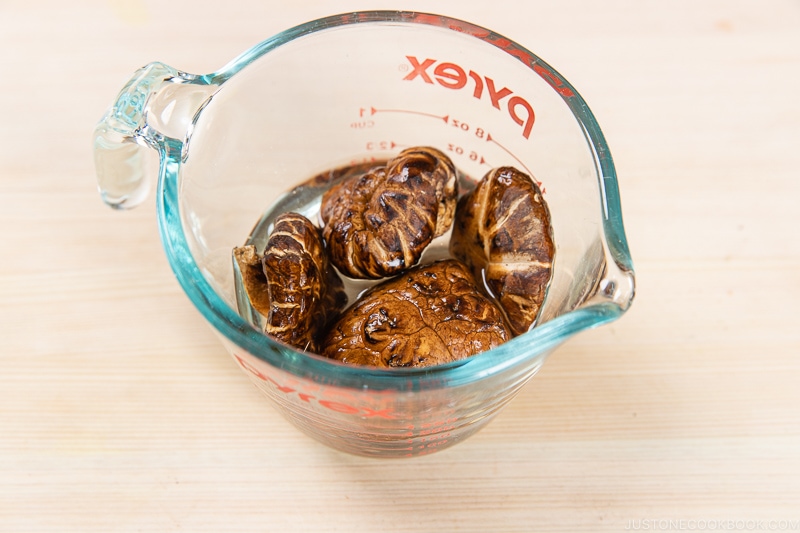 Dried shiitake mushrooms are packed with umami and deep flavor. They can transform an otherwise a plain vegetable dish. With the hydrated mushrooms and shiitake dashi (the reserved liquid from hydrating the mushrooms), the okara will have an even more flavorful result.
If you have the access, you must also add aburaage (fried tofu pouch). The chewy texture and juicy flavor of the fried tofu are the best. I always add aburaage in Takikomi Gohan (Japanese mixed rice) too! It's a magic ingredient when you want a bit more savoriness.
2. Cut the ingredients into uniformed shapes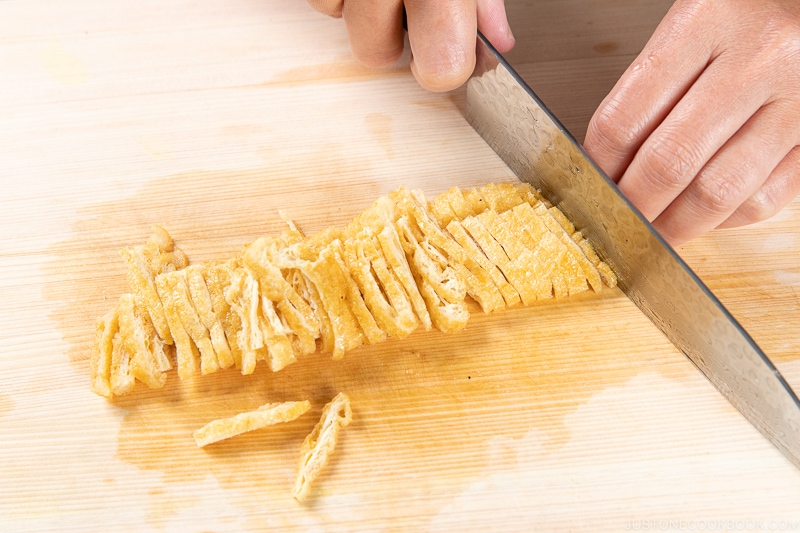 I often highlight this basic cooking tip in many of my recipes as it is important. And of course, no exception for this recipe as well.
Besides flavors, the mouthfeel texture when you bite into the food gives you the impression and experience of the dish. Little details make a difference.
Uniform size ingredients help you cook evenly, too, which adds to the overall satisfaction.
3. Stir-Fry the Okara till Dry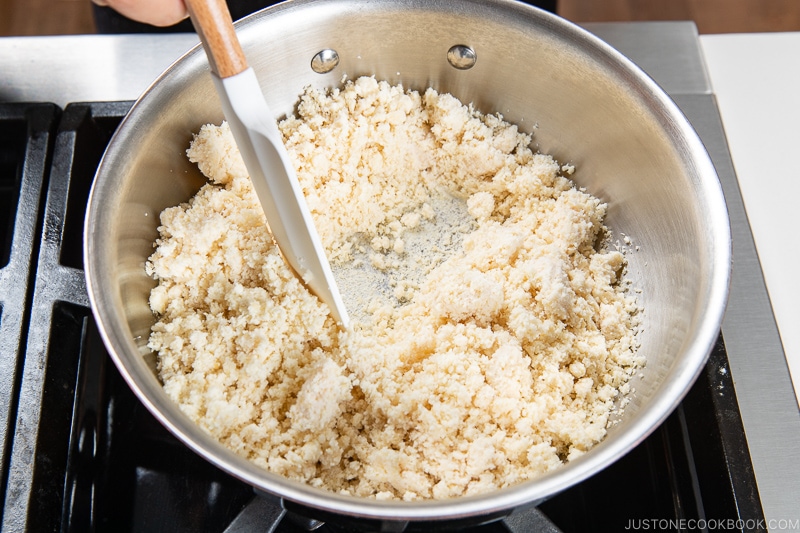 The raw okara contains moisture and stir frying helps to dry out the soy pulp. Once it is nicely dry, you can add it with the rest of ingredients for simmering. The dried texture allows okaru to absorb the seasonings better.
Some recipes say you can skip this extra step, but I find it quite crucial.
4. Use Usukuchi Soy Sauce (If Possible)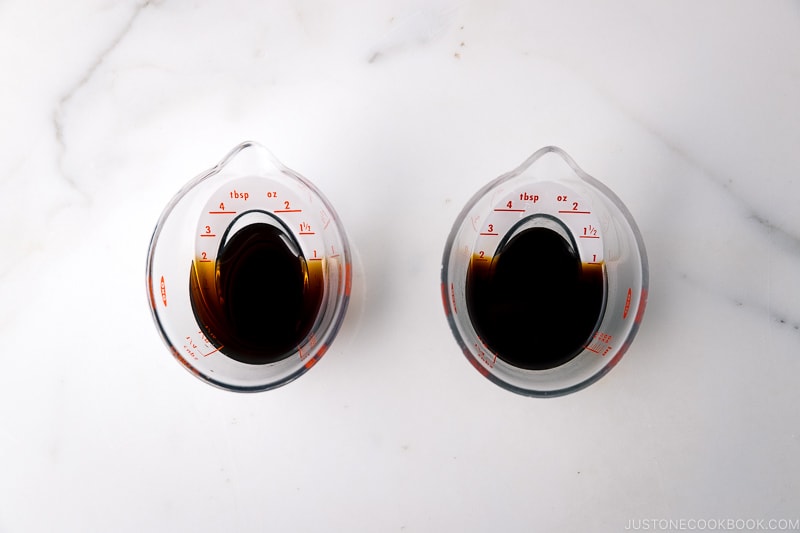 You want the color of the vegetables to pop, so I recommend using a light-color soy sauce (usukuchi shoyu). It also has less sodium than the regular soy sauce, so you don't have to worry about the flavor being overwhelmed.
I've tried using regular soy sauce during testing, and it tastes fine but the okara was darker in color. In my opinion, the presentation is less attractive. If you don't mind the dark look, you can definitely use the regular Japanese soy sauce.
5. Simmer the ingredients in the seasoned sauce before adding Okara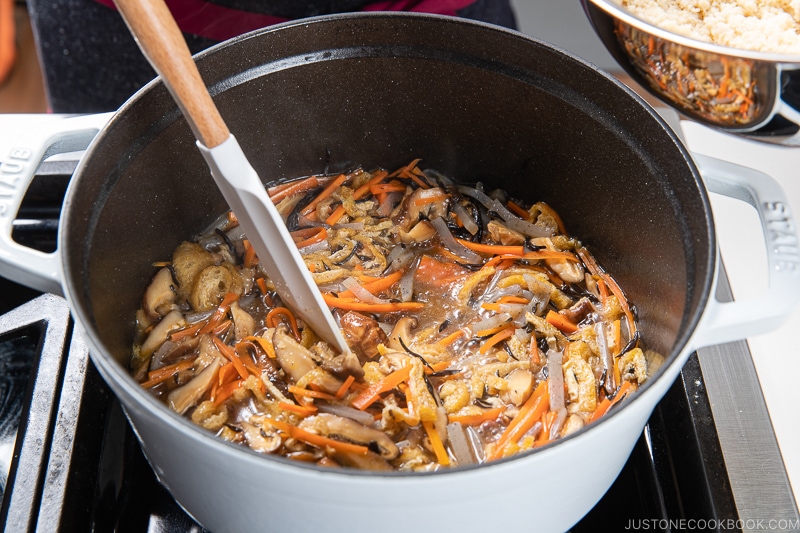 There are different ways to make okara in terms of cooking order, but this is how I make mine.
I like to give the vegetables, shiitake mushrooms, aburaage, and konnyaku a head start in simmering. Give them some time to absorb all the seasonings before the okara takes in all the flavors.
What Sake and Mirin to Use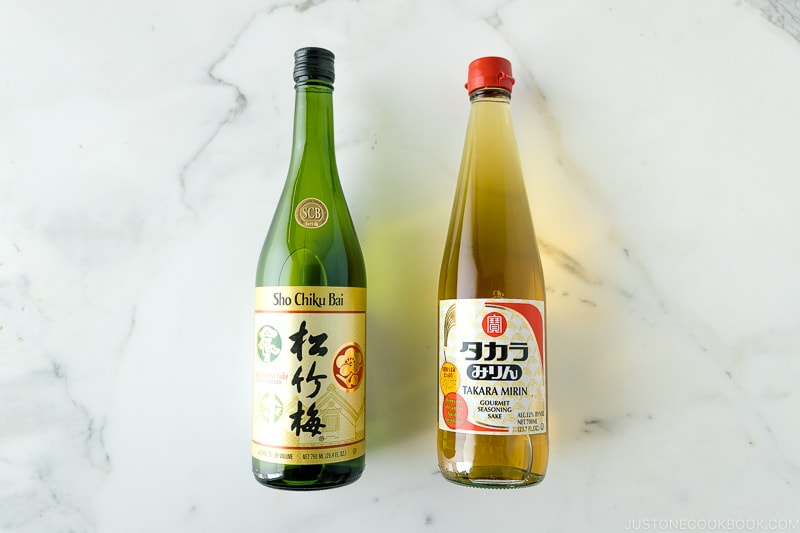 Many of you ask me what type of sake and mirin I use for my recipes so I'd like to talk about them here.
For sake, I use Sho Chiku Bai Classic Junmai Sake for cooking. This is a drinking sake and not a cooking sake. You can learn about the different types on my sake pantry page.
For mirin, I use Takara Mirin. Takara Mirin is made with premium sake, rich in natural amino acids, containing alcohol and additional natural sweeteners. Learn moore about mirin here.
Pairing Okara with Sho Chiku Bai Premium Ginjo Sake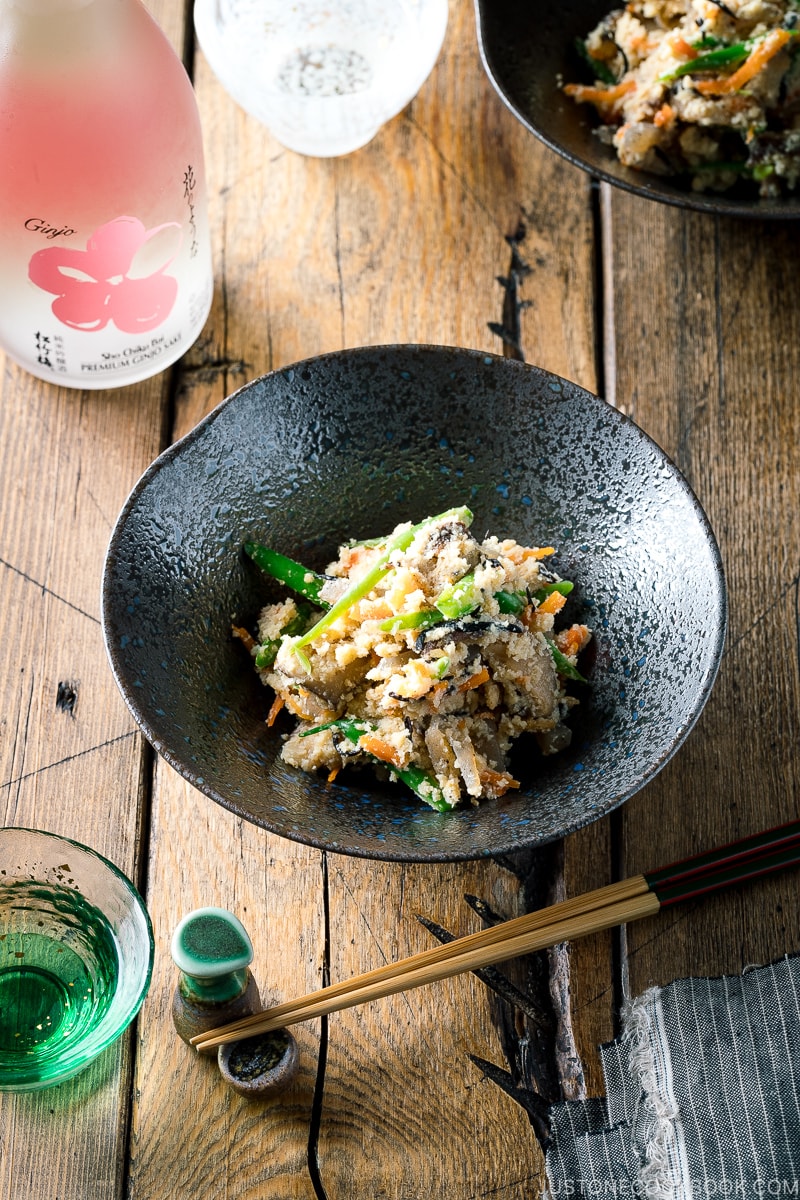 All the different ingredients for okara work together in harmony, each contributing its own flavor and texture resulting in a wonderful dish. For this earthy vegetable side, we recommend pairing it with Sho Chiku Bai's Premium Ginjo Sake.
This well-balanced alcoholic drink is fruity and dry, with a light, delicate and smooth body. The flavor profile is approachable enough for a novice and interesting enough for any sake experts.
As you enjoy each mouthful of okara, the chilled ginjo sake refreshes the palate with hints of melon and floral notes, with just the right amount of sweetness to round up the simmered sauce.
I hope you enjoy the okara with this delicious sake!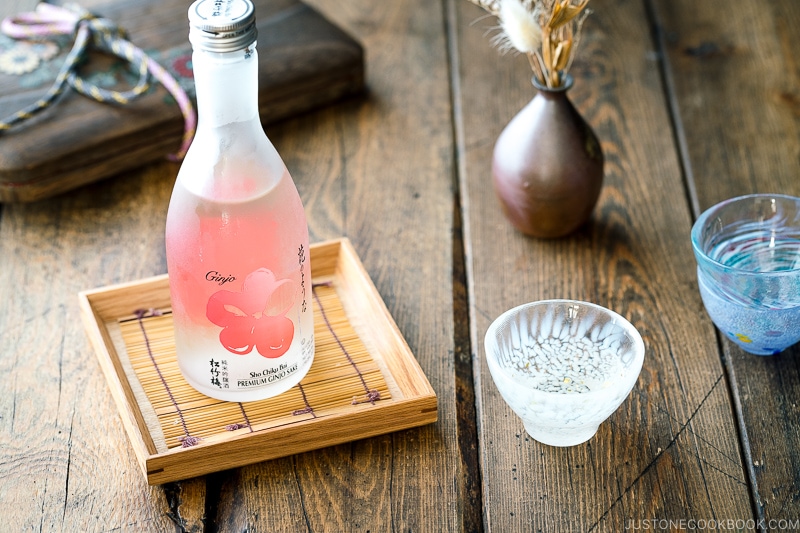 Sign up for the free Just One Cookbook newsletter delivered to your inbox! And stay in touch with me on Facebook, Pinterest, YouTube, and Instagram for all the latest updates.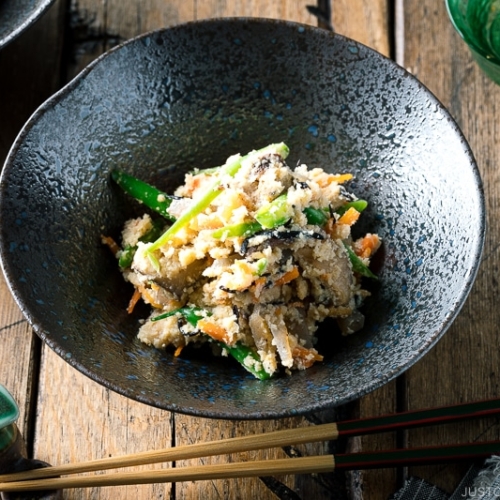 Okara (Unohana)
Okara (Unohana) is a Japanese home-style simmered dish made of soy pulp, vegetables, shiitake mushroom, and hijiki seaweed. It can be a tasty and satisfying vegan dish with using kombu dashi!
Japanese Ingredient Substitution:
If you want substitutes for Japanese condiments and ingredients, click
here
.
Instructions
Gather all the ingredients.
To Prepare Ingredients
Soak the dried shiitake mushrooms in ½ cup water (I use a 2-cup measuring cup). Place a heavy object (I use a small bowl) over the mushrooms so they will be submerged completely. Set aside.

In a small bowl, combine hijiki seaweed and 4 Tbsp water. Set aside to rehydrate.

Cut the konnyaku into ¼ inch (6 mm) slices, about a pencil width. Then cut in half widthwise.

Cut into thin ¼ inch (6 mm) strips.

Bring a medium pot of water to a boil. Meanwhile, snap/trim the ends of the green beans, if they haven't been trimmed.

When the water is boiling, add the green beans and blanch for 2 minutes. The remaining heat will continue to cook, so careful not to overcook. Drain and transfer them to a plate/tray.

In the same boiling water, add aburaage and blanch for 10 seconds on each side, flipping once. Transfer to the plate/tray.

In the same boiling water, add the konnyaku. Cook for 2-3 minutes to remove astringency. Drain and transfer it to the plate/tray and set aside. You will use the same pot, so rinse quickly.

When the aburaage is cool enough to handle, cut in half lengthwise and cut into thin strips (similar to konnyaku shape).

Peel and cut the carrot into 2-inch (5-cm) pieces. Then cut into thin slabs.

Then julienne into thin strips (like konnyaku and aburaage).

Cut the green beans diagonally so the strips will be the same shape as other vegetables.

By this time, the hijiki seaweed should be rehydrated. Drain well and set aside.

In the same medium pot, add the okara (no need to add oil) and stir fry on medium-low heat for 5-6 minutes.

The okara may stick to the pot (especially if you're using stainless steel like mine), but don't worry. I usually use a silicone spatula to scrape it off. When the okara is dry and crumbly, remove it from the heat and set aside.

By this time, the dried shiitake mushrooms should be rehydrated and soft. Squeeze the liquid from the mushrooms and save the liquid in the measuring cup. We'll be using the liquid in the next step. Discard the tough stem of the mushrooms and thinly slice the mushroom caps.

Now the shiitake dashi (reserved shiitake liquid) should be down to about ⅓ cup. We will combine this shiitake dashi with the ⅔ cup dashi prepared in advance. Altogether, you will have 1 cup of dashi. Shiitake dashi may contain some debris, so I recommend straining it over the measuring cup to catch any impurities.
To Cook Okara (Unohana)
In a medium pot, heat 1 ½ Tbsp sesame oil on medium heat. When it's hot, add the carrot and coat it with oil.

Then add shiitake mushrooms, aburaage, konnyaku, and hijiki seaweed.

Stir all together for 1-2 minutes. Then add 1 cup dashi.

Add 2 Tbsp mirin, 1 Tbsp sake, 2 Tbsp usukuchi soy sauce (use light-color soy sauce if possible), and 2 Tbsp sugar.

Mix all together, reduce the heat to medium-low, and cover to cook for 4-5 minutes. We cook covered so we don't lose the cooking liquid.

Open the lid and add the okara.

Stir to combine the okara with other ingredients. The okara will quickly absorb all the moisture. Keep stirring and cook on medium-low heat for 4-5 minutes.

Add ½ tsp salt and check the flavor. If not strong enough, add a bit more salt.

Continue to cook until the liquid on the bottom of the pot is completely evaporated. Add the green beans 1-2 minutes before finishing.

Quickly mix all together and don't overcook. Serve warm, room temperature, or chilled.
To Store
You can keep the leftovers in an airtight container and store them in the refrigerator for 3 days or in the freezer for a month.
Nutrition
Nutrition Facts
Okara (Unohana)
Amount per Serving
% Daily Value*
* Percent Daily Values are based on a 2000 calorie diet.
©JustOneCookbook.com Content and photographs are copyright protected. Sharing of this recipe is both encouraged and appreciated. Copying and/or pasting full recipes to any website or social media is strictly prohibited. Please view my photo use policy
here
.