Crispy and crunchy on the outside and juicy tender meat on the inside, this delicious Gluten Free Karaage (Japanese fried chicken) is for everyone, including ones with gluten intolerant.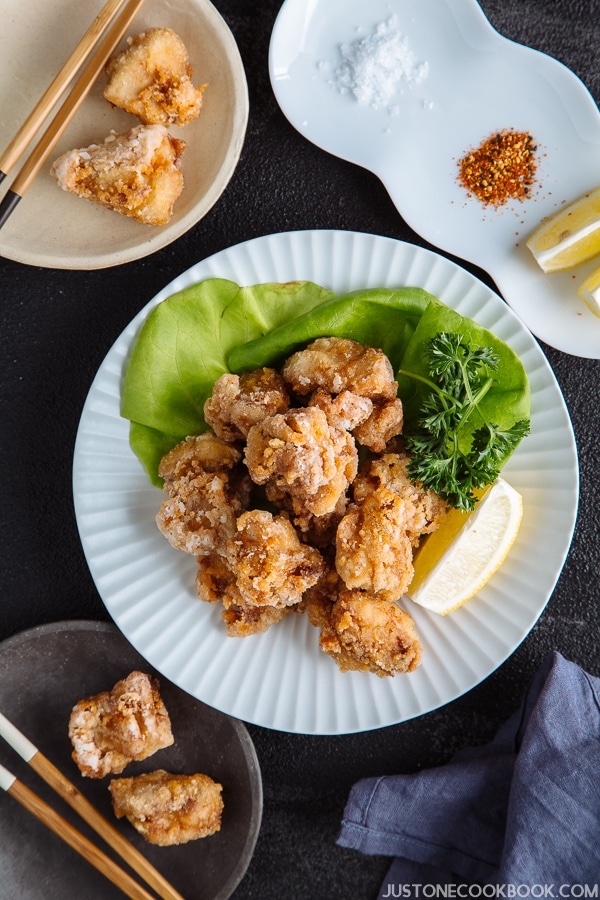 Karaage (唐揚げ) is a Japanese version of fried chicken, famous for its juicy meat and crispy shell. It's one of the popular appetizers at Japanese restaurants and izakaya (tapas) style restaurants, but in Japan it's also enjoyed as a main meal at home or teishoku (Japanese set-meal) style restaurants.
Some dishes are harder to convert into gluten free option, but not for today's recipe. This Gluten Free Karaage (グルテンフリー唐揚げ) is so easy to make that I honestly feel this karaage is much better in texture than my regular karaage that uses soy sauce and flour.
So if you were going to make karaage for everyone, including someone who are gluten intolerant, don't make two versions, just make this recipe!
Watch How to Make Gluten Free Karaage
Watch my "Gluten Free Karaage" video on YouTube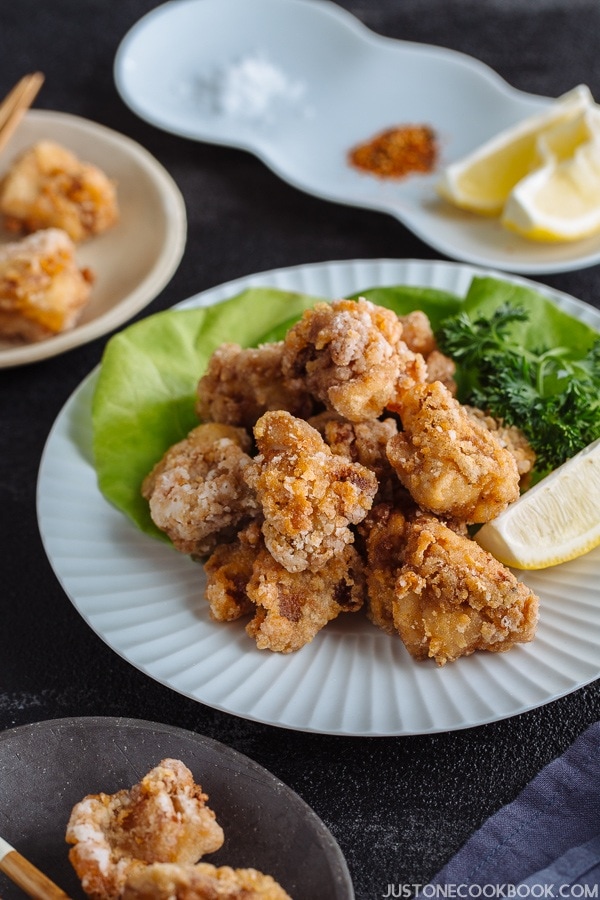 What Makes It Gluten Free?
Usually Karaage is marinated with soy sauce (not GF), and then dusted with flour (not GF) or potato starch (GF), or the combination of the two. Everyone has different methods and recipes to make a rather simple fried chicken recipe.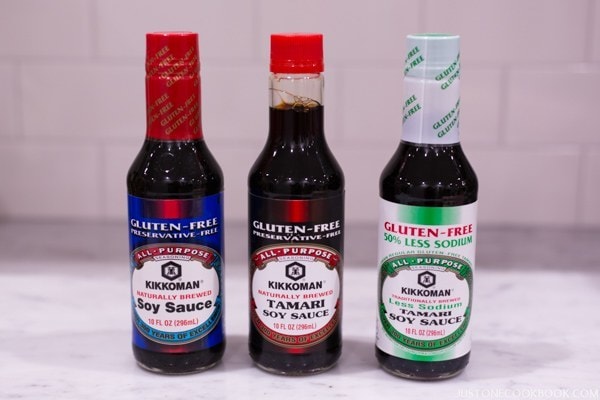 For the gluten free version, I use Gluten Free Soy Sauce, and then I coated with the combination of rice flour (GF) and potato starch (GF).
Potato starch gives crips texture while rice flour creates such exceptional crunchy outer layer for the chicken. You are not missing anything from the regular version of karaage. In fact, I really think it yields a much more superior texture.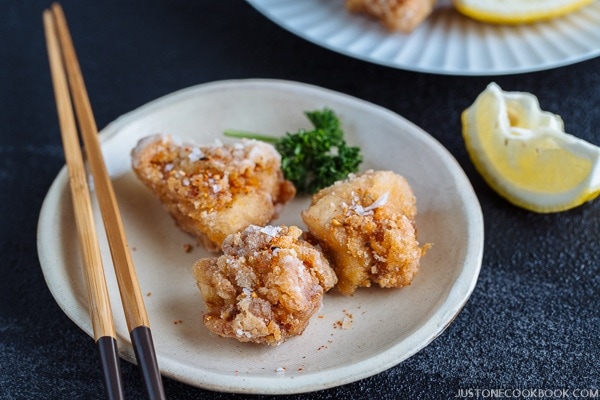 3 Tips for the Best Gluten Free Karaage
1.Use Skin-On Chicken Thigh
If you are looking for the authentic and ultimate experience to enjoy chicken karaage, you have to get skin-on chicken thigh. It is a necessity, not an option. Again, not skinless, not chicken breasts.
Although it's higher in calorie, chicken skin contains a good amount of heart-healthy unsaturated fat. Cooking the chicken with the skin on helps keep the meat moist and flavorful.
American butcher sells skin-on chicken thighs with bones, so you have to ask the butcher to remove the bones for you, or you can do so easily at home.
2. Rice flour to Potato Starch ratio
For regular karaage, the chicken is marinated, and then coated with wheat flour, potato starch, or the combination of both. However, for gluten free version, we are using rice flour instead of wheat flour, just like Gluten Free Tempura recipe. I personally like the combination of rice flour and potato starch (ideally potato starch, not corn starch), and after I've played with the ratio, I like somewhere between 4 to 1 (4 parts potato starch, 1 part rice flour). You can try with different ratio and see which ratio gives you the crispiest crust for chicken karaage.
3. Double Fry
Double frying is a must, and here's the reason why. After the chicken pieces have gone through the first fry and cooled, moisture inside the meat moves to the surface, and that's when the crispy shells get soggy. Therefore, you deep fry for the second time to make them extra crunchy again.
Also, while resting for the second fry, inside the chicken will continue to cook with remaining heat. The chicken will get drier if you continue cooking with high heat, so double frying do the job for both inside and outside the chicken.
Pro Tips – How to Enjoy Gluten Free Karaage
Now that you have learned how to perfect gluten free karaage, you want to know how to enjoy it, in authentic Japanese style!
Here are some variations on how you can enjoy every piece of the chicken karaage.
1. Classic style – lemon juice
Karaage is always served with lemon wedges so you can squeeze some lemon juice over the karaage. Lemon juice helps with the digestion and gives a sour note that diminishes the fat sensation of fried food.
2. Everyone's favorite – Japanese mayonnaise
Next to lemon wedges, there is always a generous squirt of Japanese mayo (homemade recipe here). The Japanese loves (Japanese) mayonnaise. Deep fried foods like karaage, calamari and chicken katsu always go well with Japanese mayo.
3. Make it light (so we can eat more!) – ponzu sauce
The Japanese likes deep fried foods but to make it lighter, ponzu sauce (homemade recipe here) is often used as a dipping sauce for deep fried foods. Often, grated daikon and green onions are added to the ponzu sauce.
A winning crowd pleaser, you want to serve these ultra crunchy gluten free karaage at your next party. And don't forget to bring out the beer (or sake)!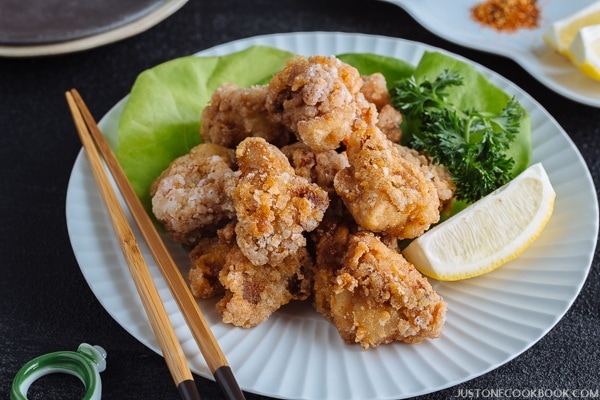 Don't want to miss a recipe? Sign up for the FREE Just One Cookbook newsletter delivered to your inbox! And stay in touch with me on Facebook, Google+, Pinterest, and Instagram for all the latest updates.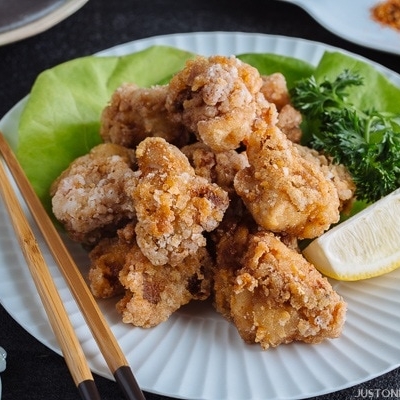 Gluten Free Karaage
Crispy and crunchy on the outside and juicy tender meat on the inside, this delicious Gluten Free Karaage (Japanese fried chicken) is for everyone, including ones with gluten intolerant.
Video
Ingredients
1.1

lb

boneless, skin-on chicken thighs

kosher salt (Diamond Crystal; use half for table salt)

freshly ground black pepper

4

Tbsp

potato starch or cornstarch

1

Tbsp

rice flour

2 ½

cup

neutral-flavored oil (vegetable, rice bran, canola, etc.)
Japanese Ingredient Substitution:
If you want substitutes for Japanese condiments and ingredients, click
here
.
Instructions
Gather all the ingredients.

Peel and grate ginger and crush (or mince) the garlic. In a large bowl, whisk all the ingredients for the marinade.

Cut each skin-on chicken thigh into 5 to 6 pieces, about 1 ½ inch pieces.

Lightly season the chicken with kosher salt and freshly ground black pepper.

Add the chicken to the marinade. Coat and rub the chicken with marinade using your hands/tongs. Set aside for 30 to 60 minutes.

In a medium bowl, combine potato starch and rice flour and whisk well.

In a pot, heat the oil to 340ºF (170ºC). I use a smaller 1 ½ QT pot, so that oil is deep enough and I don't have to use much oil. Use a thermometer or wooden chopsticks to see if the oil is ready (See How to Deep Fry Foods).

When the oil is hot, drain the chicken well from the marinade and coat each piece with the flour mixture.

Deep fry for 90 seconds, or until the chicken is light golden color. Work with a few pieces at a time, so the oil temperature won't drop quickly. I worked with 3 to 4 pieces at a time.

Transfer the chicken to a wire rack to drain excess oil. Let the chicken cook with the remaining heat while you work on the rest of the chicken.

Once the chicken is all deep-fried for the first round, use a fine-mesh sieve to pick up crumbs to keep the oil clean. If you don't do this step, the crumbs get darker, and then the oil gets darker.

Increase the heat and bring the oil to 350ºF (180ºC). Deep fry the chicken for the second time for 45 seconds or until crispy and golden brown. Transfer the chicken to a wire rack to drain excess oil.

Serve the chicken immediately with lemon wedges, parsley, lettuce, and shichimi togarashi. If you like, squeeze the lemon before you eat and sprinkle shichimi togarashi for spice.
Nutrition
Calories:
864
kcal
·
Carbohydrates:
16
g
·
Protein:
43
g
·
Fat:
69
g
·
Saturated Fat:
33
g
·
Polyunsaturated Fat:
9
g
·
Monounsaturated Fat:
20
g
·
Trans Fat:
1
g
·
Cholesterol:
245
mg
·
Sodium:
872
mg
·
Potassium:
664
mg
·
Fiber:
1
g
·
Sugar:
1
g
·
Vitamin A:
195
IU
·
Vitamin C:
1
mg
·
Calcium:
32
mg
·
Iron:
2
mg
©JustOneCookbook.com Content and photographs are copyright protected. Sharing of this recipe is both encouraged and appreciated. Copying and/or pasting full recipes to any website or social media is strictly prohibited. Please view my photo use policy
here
.
Full Disclosure: This post was sponsored by Kikkoman USA. Thoughts and opinions stated are my own.