Wonderfully crisp on the outside, chewy and flaky on the inside, this Gluten-Free Korean Veggie Pancake is a treat! It's filled with veggie goodness and easy to make. You'll love it as the perfect appetizer, side, or snack any time of the day. The soy dipping sauce makes every bite even better!
Savory pancakes are one of the genius ways to use up any vegetable scraps you have laying in the refrigerator. This Gluten-Free Korean Veggie Pancake demonstrates how you can turn simple ingredients into something quick and good.
This is a crowd-pleaser, even those who are gluten intolerant can enjoy it. My family devours it the moment the veggie pancake gets to the table.
Korean Pancakes in Japan
Korean pancake or jeon (pan-fried battered food in Korean) is a very popular food in Japan, and it goes by a different name called Chijimi (チヂミ).
Japanese people love everything Korean – from TV dramas to music, to fashion, and to food. With a delicious crunch and tenderness, the Korean pancake craze is here to stay, and it's becoming a staple dish for Japanese home cooks to make for the family.
When we make it at home, we usually reach for any available vegetable scraps left in the refrigerator. Because that's the beauty of it. You can use whatever you have, and modify to your version.
In my recipe today, I used the 3 most universally common ingredients: onion, carrot, and scallion.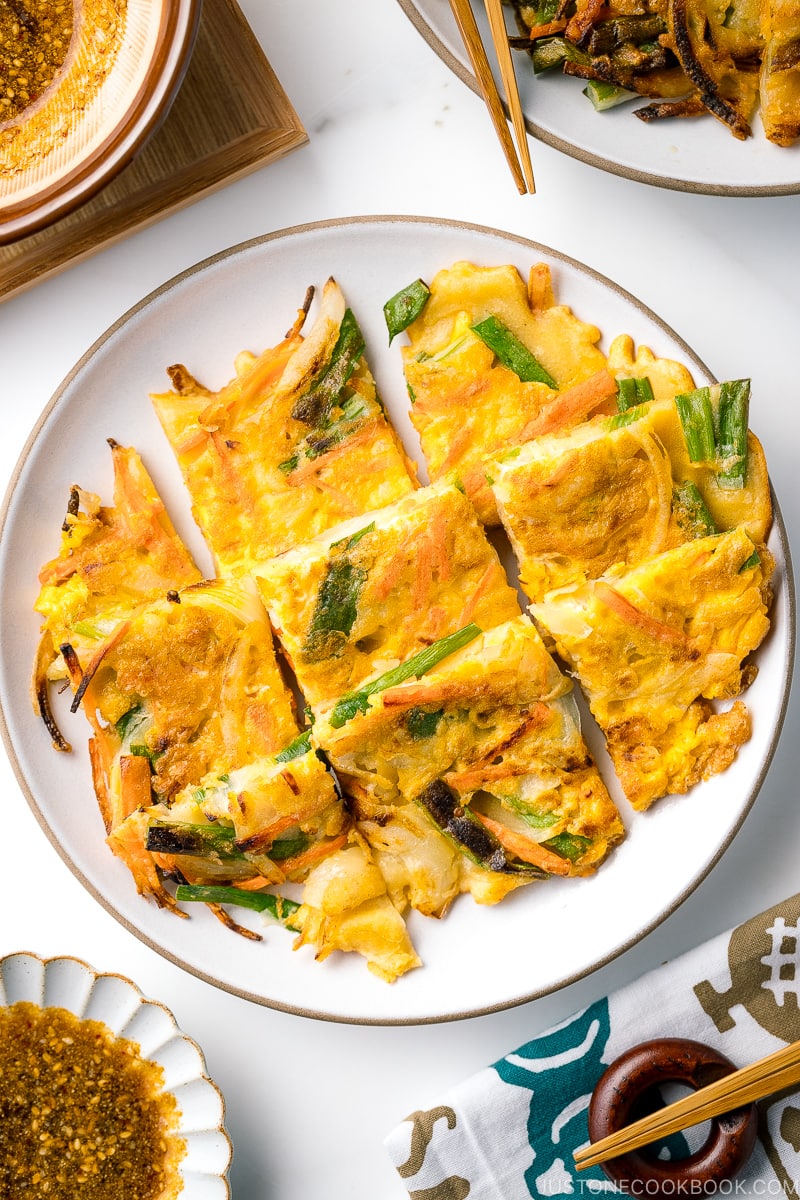 Making Gluten-Free Korean Pancakes
I have a Korean Pancake recipe with shrimp and scallions on the blog, but for this recipe, I wanted to make it gluten-free.
It took me several trials to perfect the pancake batter that is:
flavorful
crispy around the edges with a chewy tenderness on the inside
and gluten-free (without too much work)
At the end of my testing, my family and I concluded the best batter was made with the combination of this gluten-free flour and rice flour. The gluten-free flour is made of garbanzo bean flour, potato starch, whole grain white sorghum flour, tapioca flour, and fava bean flour, and the pancake batter was a lot tastier than a simple quick homemade mix of rice flour, potato starch, and tapioca starch.
Bob's Red Mill Gluten-Free All-Purpose Baking Flour on Amazon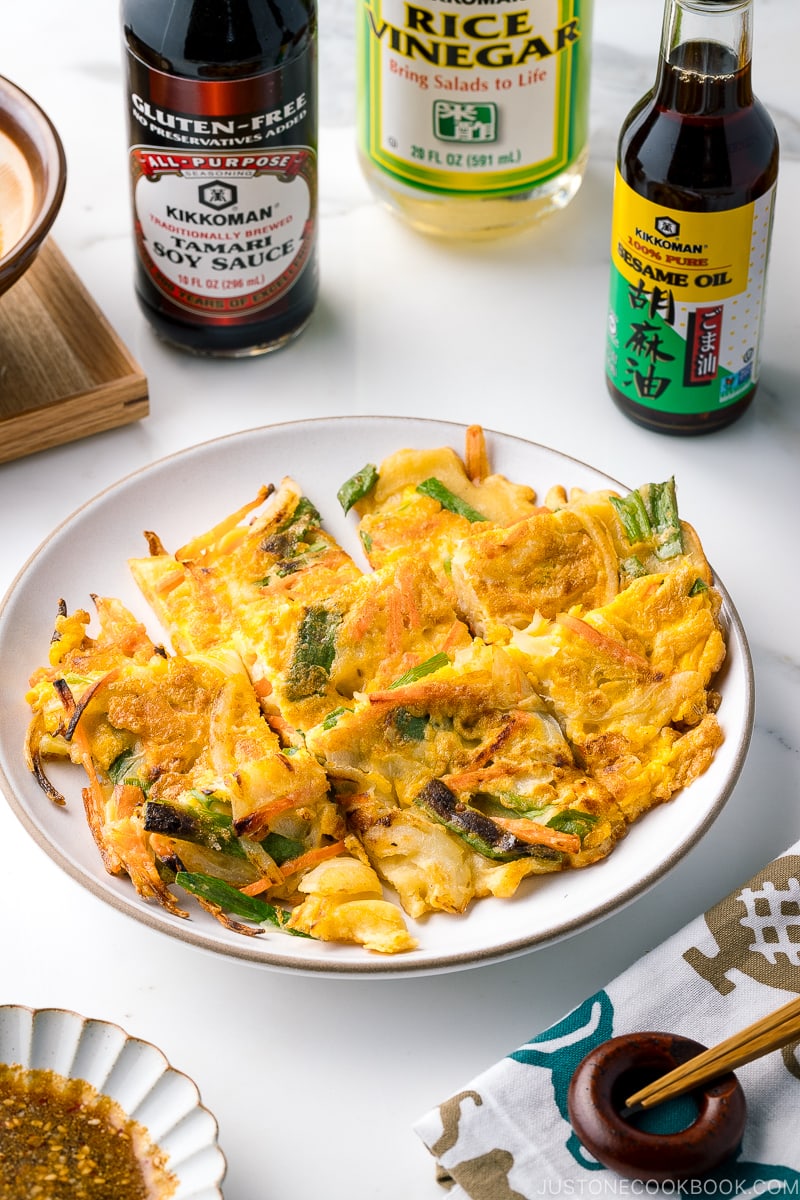 Savory Soy Dipping Sauce
The dipping sauce is the ideal complement to the Korean pancakes. The savory pancakes are already delicious as they are, but I highly recommend dipping them in the sauce for an extra punch of flavors.
You'll need just 5 simple pantry ingredients to whisk it together.
Soy sauce
Rice vinegar
Sesame oil
Sesame seeds
Gochugaru (Korean pepper flakes) (if you like it spicy)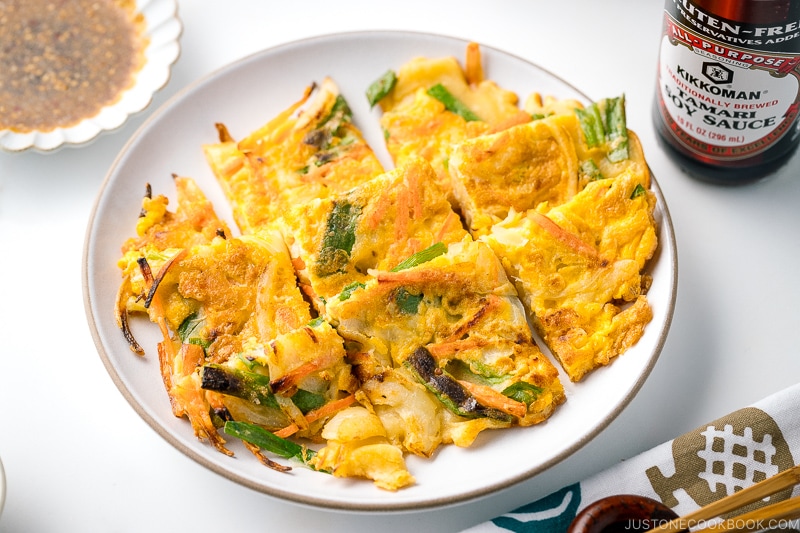 Gluten-Free Tamari Soy Sauce
I love using gluten-free tamari soy sauce from Kikkoman USA whenever I make gluten-free recipes.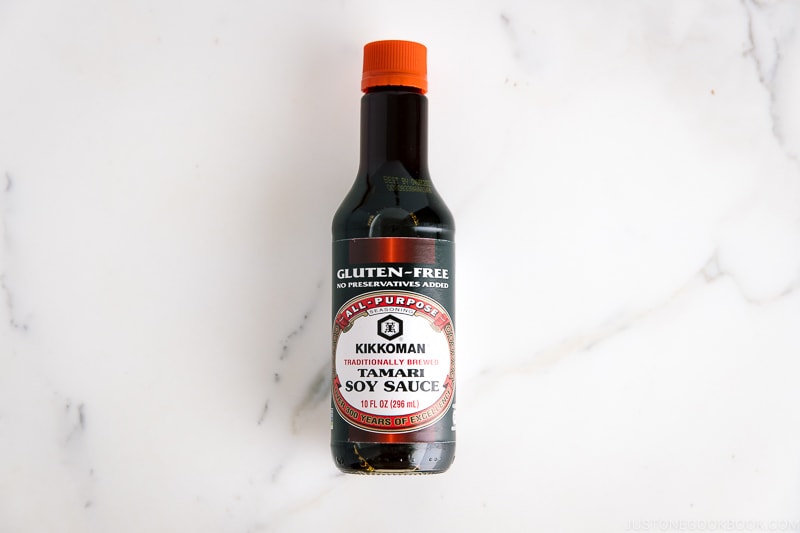 Instead of wheat, the gluten-free soy sauce is made from rice, soybeans, and salt. It is preservative-free.
You can find the gluten-free soy sauce in the Asian aisle in major grocery stores, including Target, Walmart, Whole Foods, or your local large retailers. You can also purchase it on Amazon.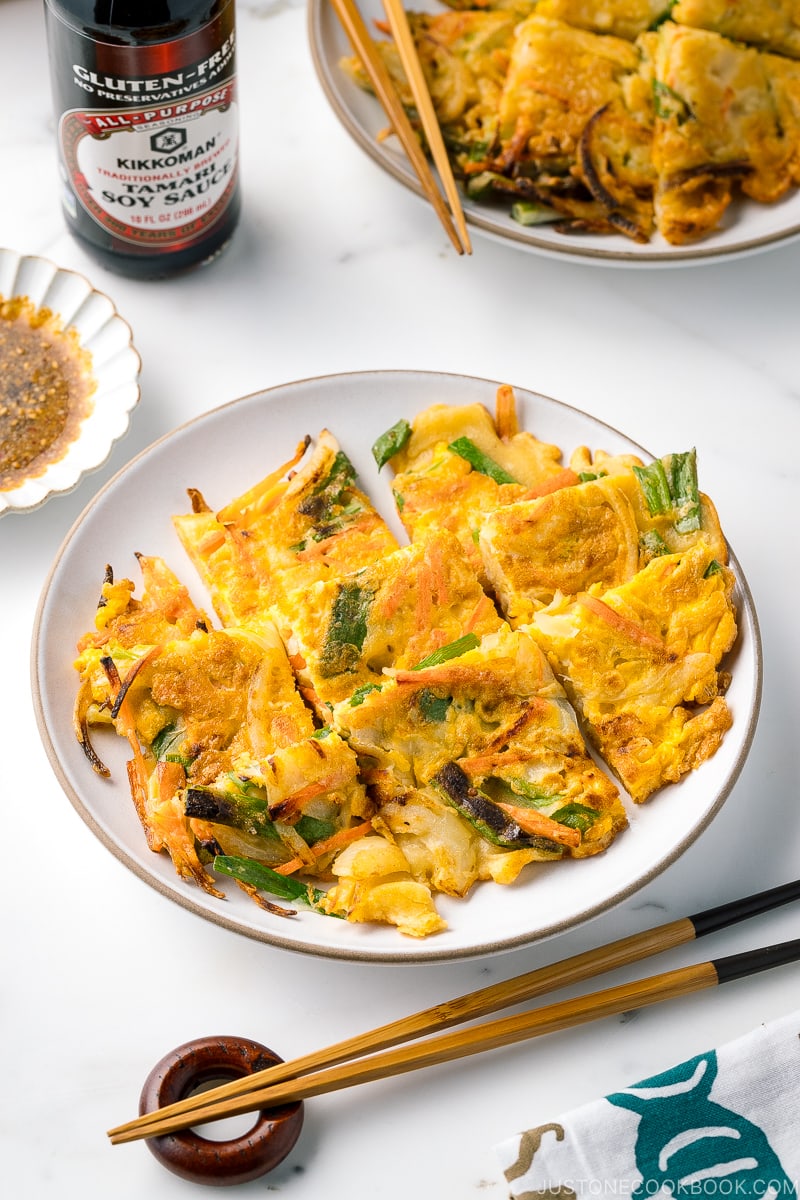 How to Make Korean Pancakes
Here's the quick overview of the cooking process:
Make the dipping sauce.
Cut ingredients.
Make the batter.
Add in the ingredients to the batter and mix all together.
Fry the pancake on both sides. Enjoy it with the dipping sauce!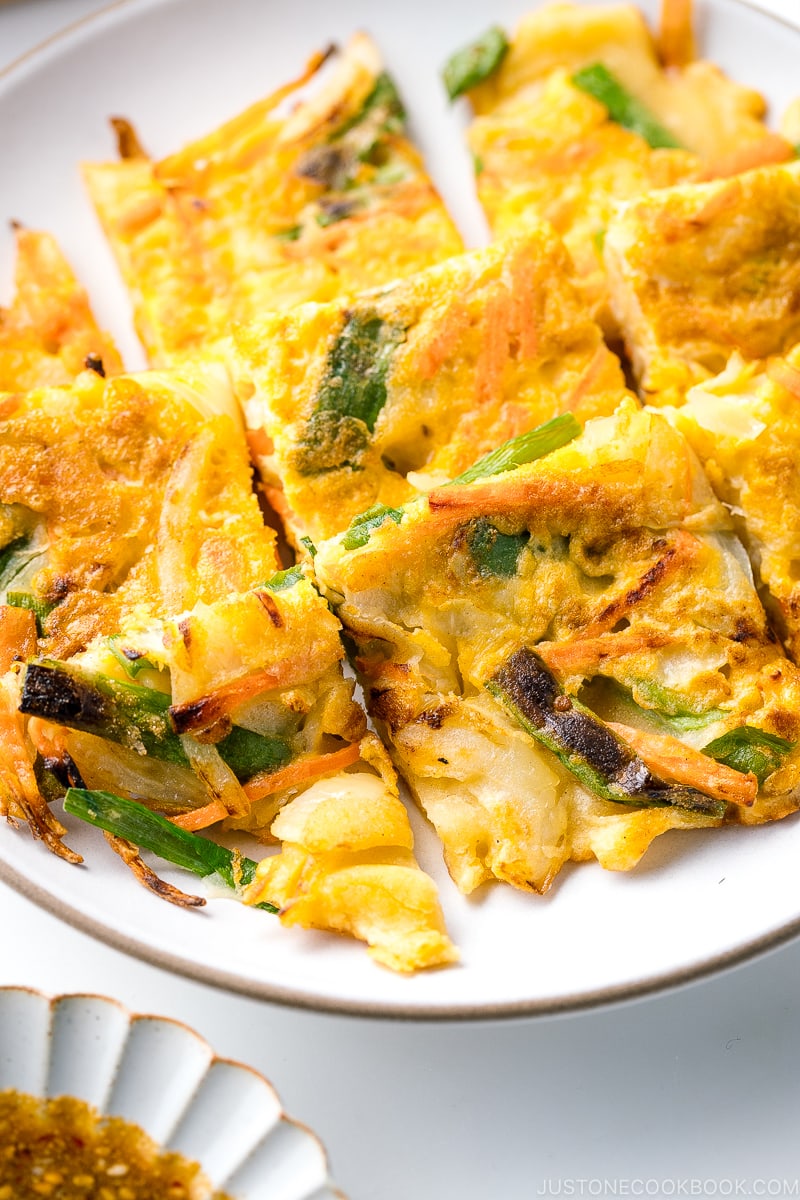 Helpful Cooking Tips for Korean Veggie Pancake
1. Choose ingredients that are easy and fast to cook
If you're new to making savory pancakes, I'd avoid ingredients that are hard to cook.
For example, many Japanese versions of Korean Pancakes include thinly shredded gobo (burdock root). But if you're not good at julienning gobo, it's best to avoid because it takes forever to cook thick pieces of gobo.
2. Cut the ingredients thinly
Because the ingredients are mixed in with the batter and will be cooked at the same time, you want to make sure they are cut into thin, uniformed sizes.
Onion, carrot, and some denser ingredients should be cut thinly so that they get cooked faster. You can always use a mandoline slicer or julienne peeler or simply use thin vegetables like garlic chives and scallions.
3. Don't be shy on oil
I've tried making the pancakes with less oil, but the result is less satisfying. You can only achieve the crispy crunchy edges by frying the batter in the hot oil. So don't skimp on it.
The amount of oil varies depending on the size of the pan, but you should add enough to the pan to move it around. 2 mm depth of oil is a good amount to start.
To add a touch of a fragrant nutty aroma, I use dark roasted sesame oil and non-toasted sesame oil for my recipe. You can mix canola (vegetable) oil and roasted sesame oil, too.
4. Make smaller pancake first
If you are not comfortable about flipping the pancake in the frying pan, start by making smaller size pancake first. It's the matter of practice, and you'll get better.
Your spatula should be big and flexible enough to scoop the pancake and flip.
5. Be patient
Let the pancake batter sits untouched until it firms up. If you flip too early, the batter will break. It should be golden, crunchy, and looks delicious before you flip, and ONLY ONCE.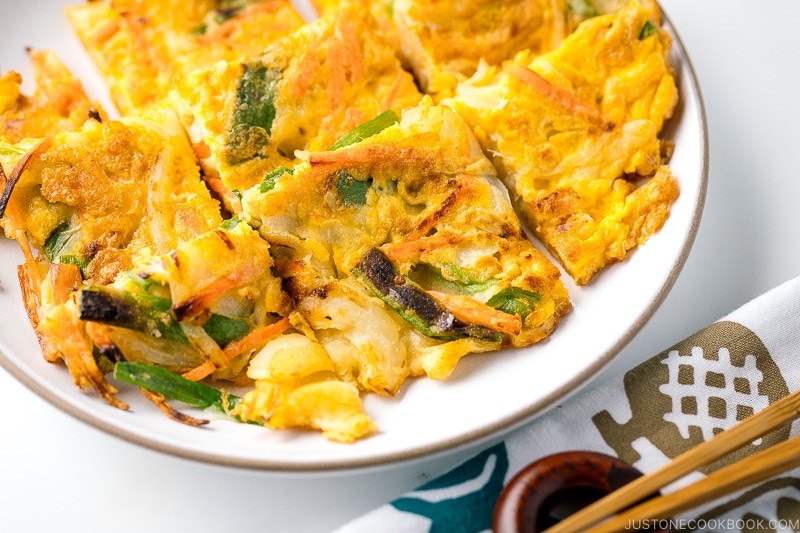 Ideas for Variations
Chinese chives (garlic chives)
Seafood mix such as shrimp and squid
Shredded kale
More Savory Pancakes You'll Love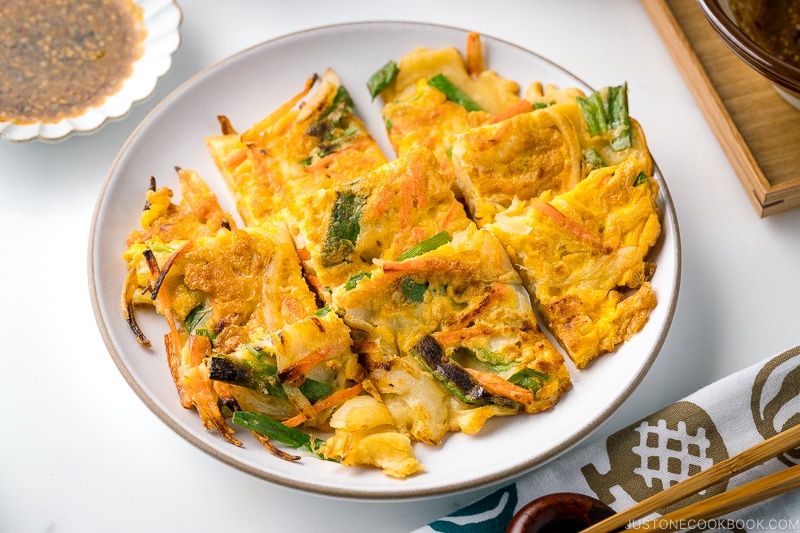 Wish to learn more about Japanese cooking? Sign up for our free newsletter to receive cooking tips & recipe updates! And stay in touch with me on Facebook, Pinterest, YouTube, and Instagram.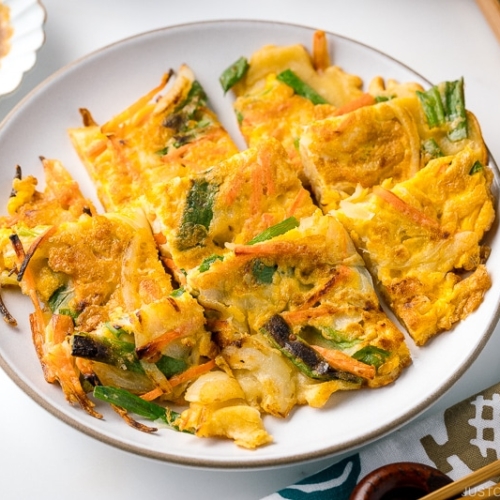 Gluten-Free Korean Veggie Pancake
Crisp on the outside, chewy and flaky on the inside, this Gluten-Free Korean Veggie Pancake is a treat! It's filled with veggie goodness and easy to make. You'll love it as the perfect appetizer, side, or snack anytime of the day. The soy dipping sauce makes every bite even better!
Video
Ingredients
For the Soy Dipping Sauce
For the Vegetables
½

onion

6

green onions/scallions

1

carrot
For the Batter
¾

cup

gluten-free flour

(I love Bob's Red Mill GF All-Purpose Baking Flour; read the post for details)

¼

cup

rice flour

⅔–¾

cup

water

(adjust according to your flour)
Japanese Ingredient Substitution:
If you want substitutes for Japanese condiments and ingredients, click
here
.
Instructions
Gather all the ingredients.
To Make the Soy Dipping Sauce
Grind

1 Tbsp toasted white sesame seeds

in pestle and mortar, leaving some sesame seeds unground to add a texture.

Add the rest of the sauce ingredients:

2 Tbsp soy sauce

,

2 tsp rice vinegar (unseasoned)

,

1 Tbsp water

,

½ tsp toasted sesame oil

, and

¼ tsp gochugaru (Korean pepper flakes)

. Mix it well together. Set aside.
To Prepare the Ingredients
Slice

½ onion

as thinly as possible so it will cook faster.

Cut

6 green onions/scallions

into 2-inch (5-cm) pieces. Cut the white parts of the green onion in half lengthwise so they will cook faster.

Cut

1 carrot

into 2-inch (5-cm) pieces. Slice each piece into thin slabs.

Then, cut the slabs into julienned strips. Set all the ingredients aside in a tray or plate. If the vegetables are wet, you may pat dry with a paper towel so it won't the moisture won't dilute the batter.

Beat

1 large egg (50 g each w/o shell)

in a small bowl and set it aside.
To Make the Batter
Combine

¾ cup gluten-free flour

,

¼ cup rice flour

, and

½ tsp Diamond Crystal kosher salt

in a large bowl.

Mix well with chopsticks and gradually add

⅔–¾ cup water

.

Mix the batter as you continue to add the water slowly. The consistency should be thinner than a pancake batter but slightly thicker than a crepe batter.

Add the chopped vegetables to the batter and mix well together. Scoop the batter from the bottom to mix.
To Fry the Pancakes
Cook one pancake at a time. Heat a large frying pan over medium to medium-high heat. When it's hot, add 1 Tbsp neutral oil and 1 Tbsp roasted sesame oil.

Mix the batter one more time and ladle half of the mixture (or a quarter, if you're doubling the recipe) into the frying pan. Spread it evenly into a thin round shape, making sure it's flat and there's no hole.

Pour half of the beaten egg (or a quarter, if doubling the recipe) on top. Cook until the bottom is golden brown, about 4–5 minutes. If the pancake is browning too fast (or too slow), adjust the heat to lower (or higher).

Flip it over and cook for another 3–4 minutes.

Once the bottom is golden brown, transfer to a cutting board.
To Serve
Cut into small squares and transfer to a plate. Repeat the process with the remaining batter. Serve hot with the dipping sauce.
To Store
You can keep the leftovers in an airtight container and store them in the refrigerator for up to 4 days and in the freezer for a month. Reheat in the oven or toaster oven till crisp.
Nutrition
Nutrition Facts
Gluten-Free Korean Veggie Pancake
Amount per Serving
% Daily Value*
* Percent Daily Values are based on a 2000 calorie diet.
©JustOneCookbook.com Content and photographs are copyright protected. Sharing of this recipe is both encouraged and appreciated. Copying and/or pasting full recipes to any website or social media is strictly prohibited. Please view my photo use policy
here
.