Hayashi Rice, sometimes called Hashed Beef, is a popular Western-style stew made with tender beef, onions, and mushrooms in a demi-glace sauce. This hearty and delicious stew is served with steamed rice and only exists in Japan despite it being a Western-style dish.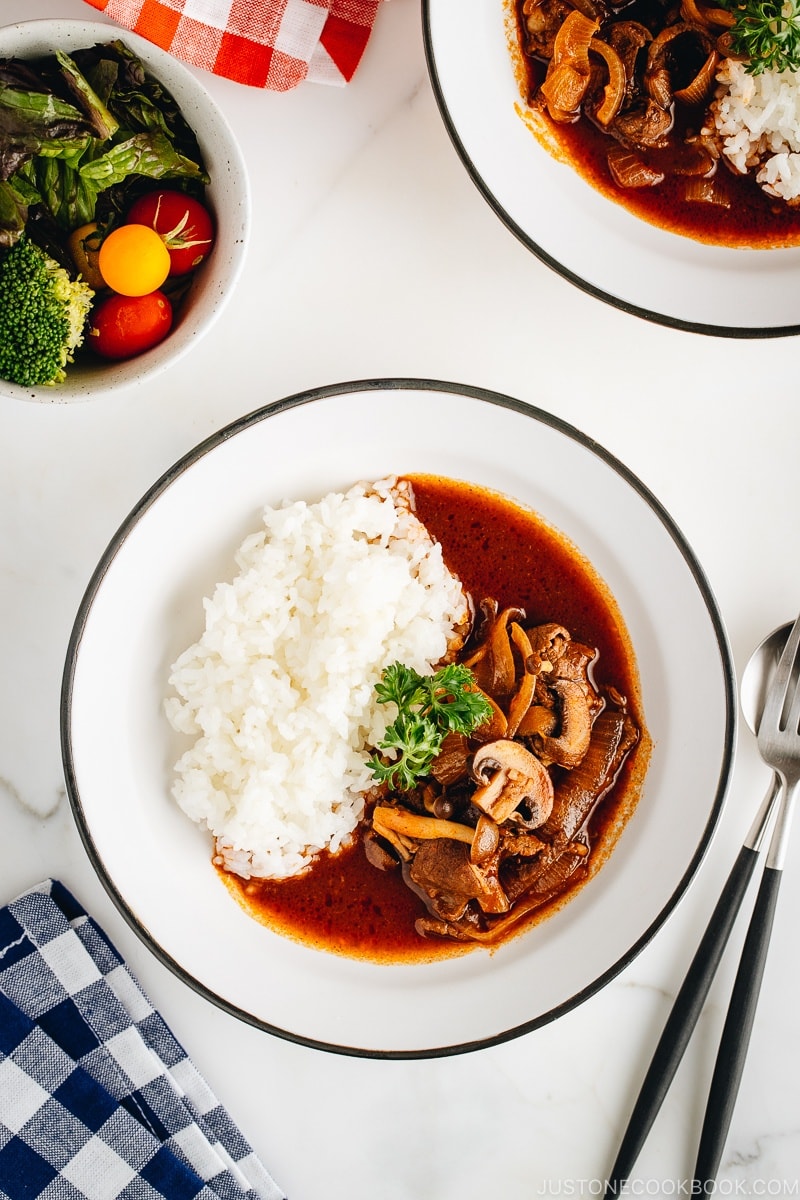 One of my son's favorite Japanese food is Hayashi Rice (ハヤシライス). He has such passion for the stew that he can talk about how much he loves the tender beef and the delicious demi-glace sauce in great animation. It can be entertaining to watch a kid talk about food sometimes. There is so much excitement, and it warms my heart knowing that all the hours spent in the kitchen is greatly appreciated. I digress a little, but let's get back to Hayashi Rice, a family staple and a comfort dish for all ages in Japan.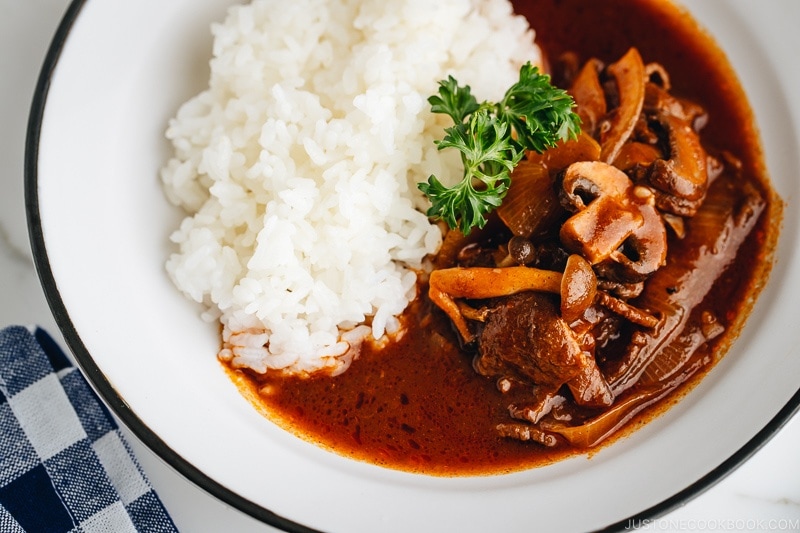 What is Hayashi Rice?
Hayashi rice (ハヤシライス), sometimes called Hashed Beef (ハッシュドビーフ), is a popular and common Western-style dish in Japan but ironically "unknown" in Western countries.
Hayashi Rice usually consists of thinly sliced beef, onions, and button mushrooms cooked in a demi-glace sauce. This beef stew-like Hayashi Rice is served alongside steamed rice, like how Japanese Curry and Cream Stew are served.
Origin of The Name "Hayashi"
There are some theories regarding the origin of the name of this dish:
The name was given by Yuteki Hayashi, the first president of the publishing company Maruzen (丸善).
The name was produced by a cook named Hayashi who often served this dish as staff meals at the Ueno Seiyōken (上野精養軒), a popular yoshoku restaurant in Tokyo Ueno. We tried the hayashi rice there this past summer.
The name "Hayashi" is simply derived from the British dish "hashed beef", and it is served over steamed rice so people started to call it Hayashi Rice.
The last one seems to be the most popular theory, as this dish is still called Hashed Beef sometimes.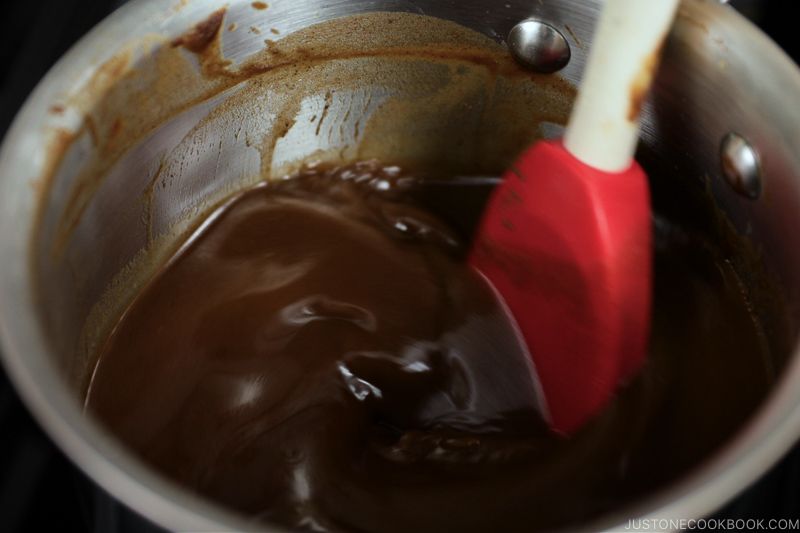 What is a Demi-Glace Sauce?
Demi-glace sauce is French for "half glaze", which is by definition a mixture of half brown stock and half Espagnole sauce that is reduced by half.
Espagnole sauce (sometimes called brown sauce) is a classic brown sauce made from the stock of which mirepoix (onions, celery, and carrots), a bouquet garni, and tomato puree are added and then thickened with roux. After making the Espagnole sauce, you will use it to produce a demi-glace.
Demi-glace was introduced to Japan with the arrival of French cuisine during the Meiji era (1868-1912). The sauce is used to make Hayashi Rice and other Western-style dishes. I have a separate blog post/recipe for my homemade shortcut demi-glace sauce. Don't worry, the step is not difficult at all, but it does require some time to make (mostly inactive time).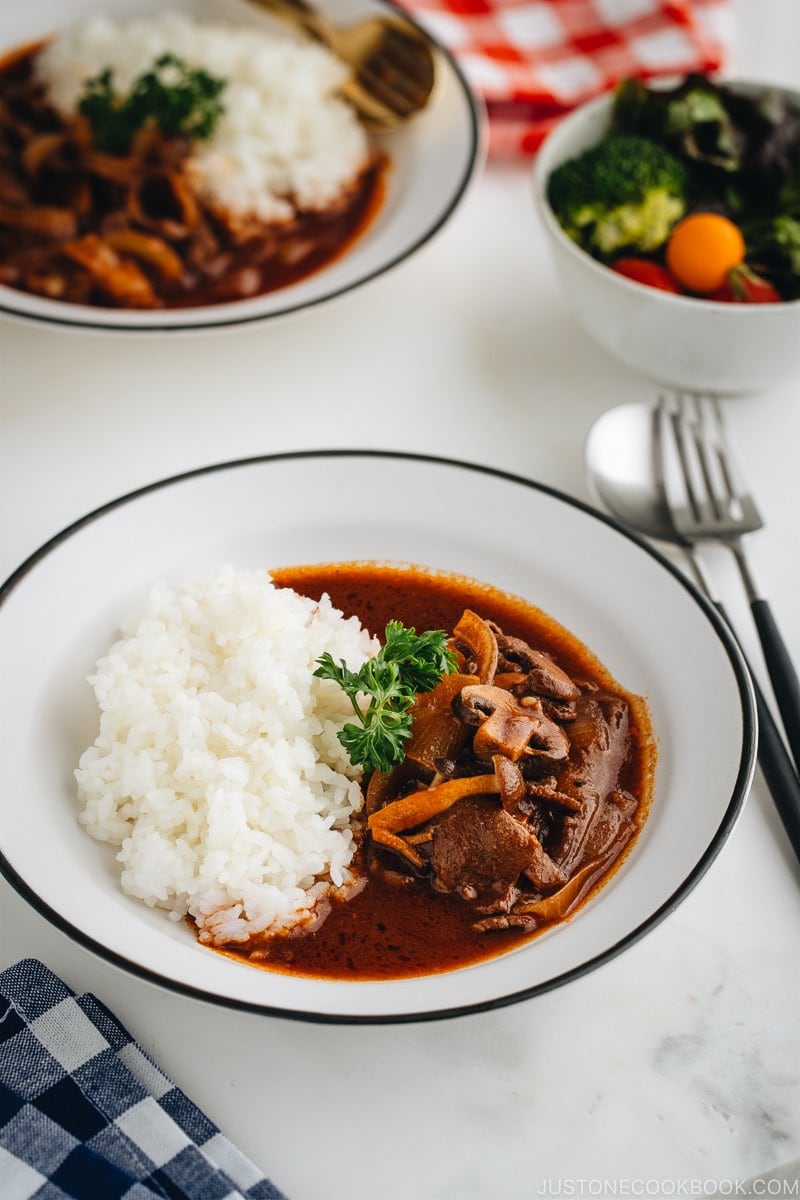 3 Useful Tips for Making Hayashi Rice
1. Get small bottles of wine and tomato juice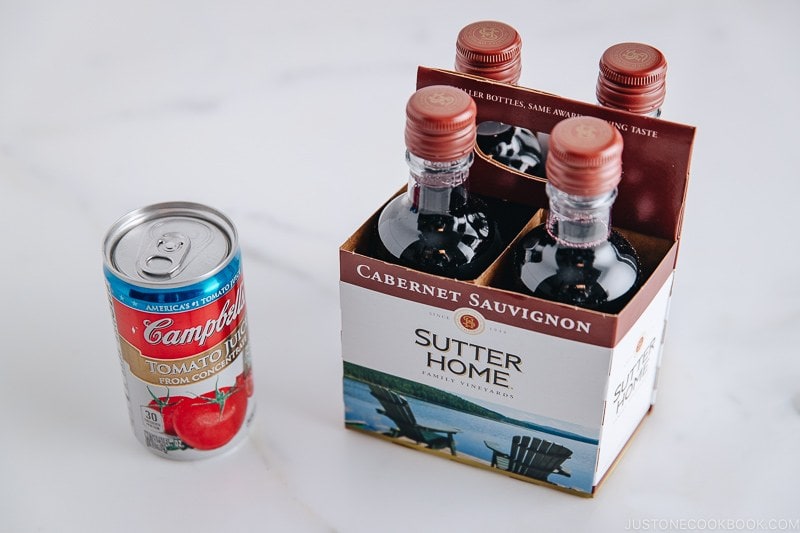 I use sake regularly in my cooking, but I don't use much red wine for cooking. Although Mr. JOC would be more than happy to open a really good wine to accompany this meal, we won't be able to finish a bottle in one night as I'm not much of a drinker. If you or your guests are not wine drinkers, I have a really good tip to share with you.
Get a 4-pack Sutter Home® Cabernet Sauvignon – as each bottle only contains 6.3 oz/187 ml, they are perfect for cooking!
The same goes for tomato juice. I am not a fan of tomato juice (although I love tomatoes); therefore, a small 5.5 oz/163 ml mini can of Campbell's Tomato Juice is great for this recipe.
2. Worcestershire sauce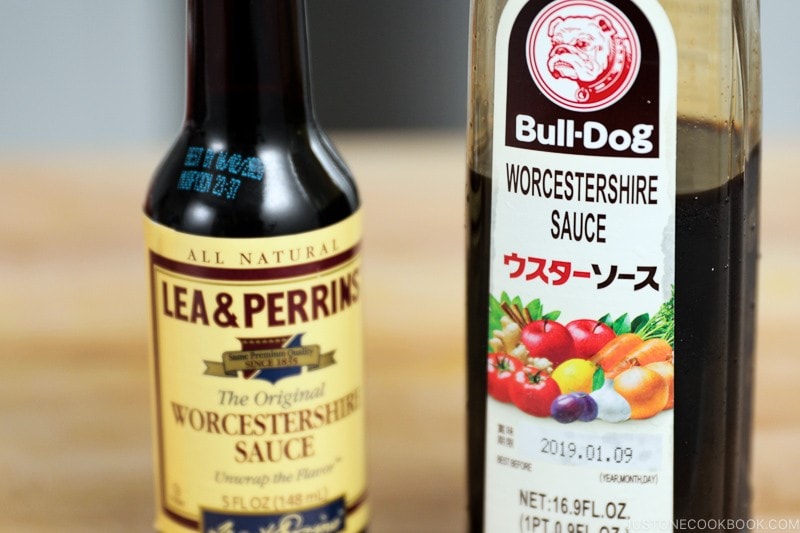 I keep both Japanese Bulldog Worcestershire sauce and Lea & Perrins Worcestershire sauce in my refrigerator and use each sauce for different recipes. Bulldog sauce is slightly sweeter and Lea & Perrins sauce has a tangy taste. For this recipe, I decided to use Bulldog sauce. If you use Lea & Perrins, increase the sugar to 1 tablespoon (instead of 2 teaspoons).
3. Where to find thinly-slice beef and DIY method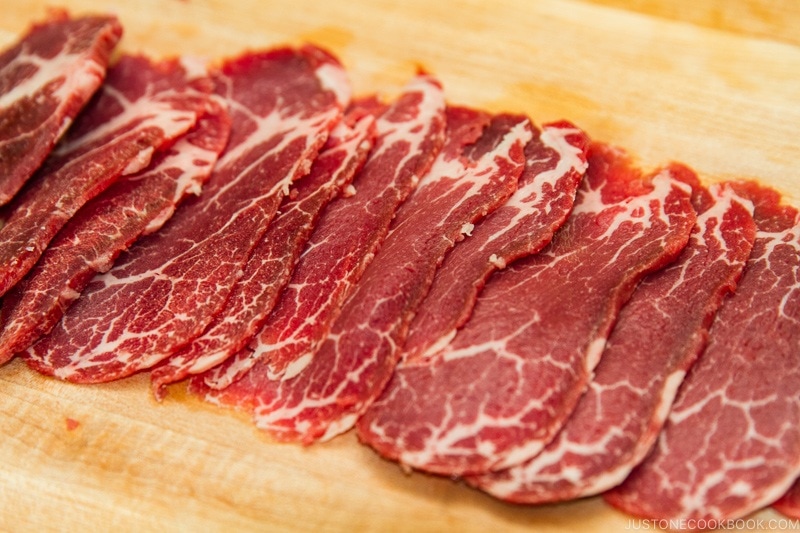 In a Japanese grocery store, most of the meat is cut into paper-thin and nicely packaged. For those of you who can't find pre-cut thinly sliced meat, you can easily do this at your own home. Follow this tutorial to cut the meat thinly, and once you master this skill, you can make Sukiyaki, Shabu Shabu, and many Japanese dishes that require thinly sliced meat.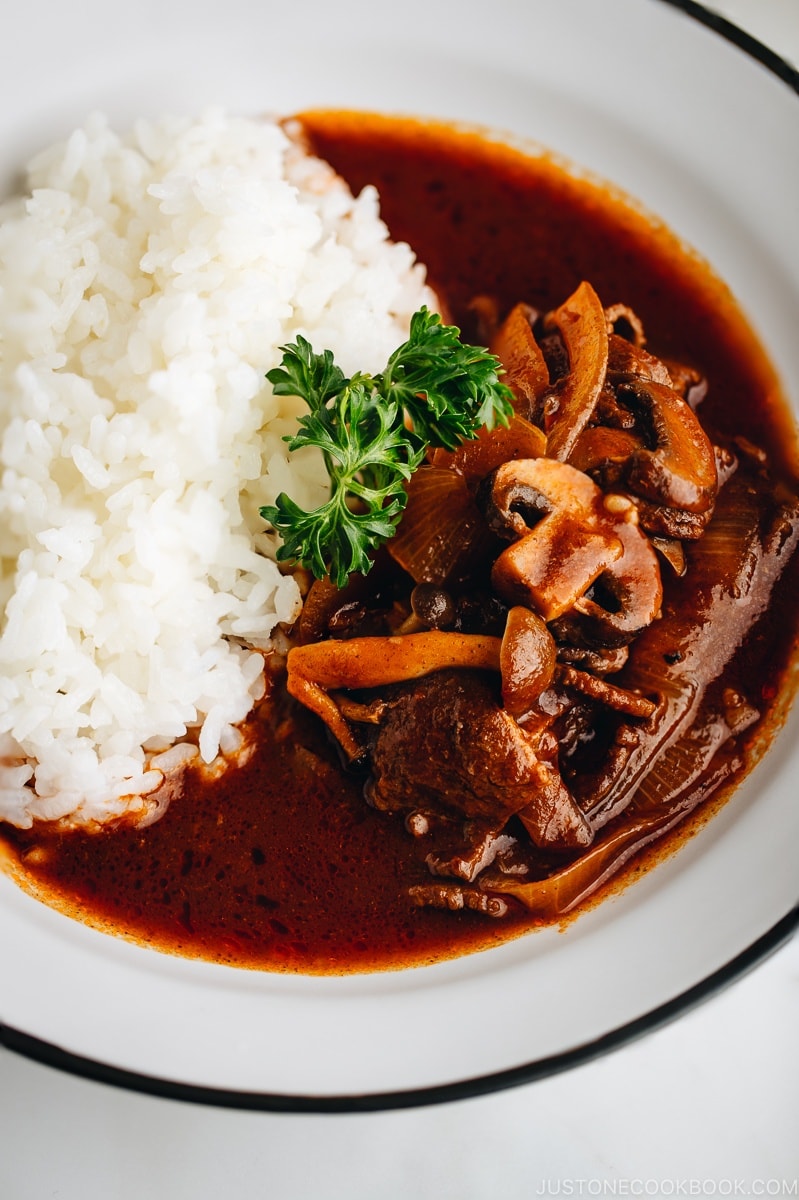 Homemade and Storebought Hayashi Rice Sauce Mix
I've been making Hayashi Rice for several decades but I have to admit that I never made everything from scratch (excluding beef broth) until this year.
When I was in college, Hayashi Rice was on my meal rotations. With the convenient "instant roux" (a box containing blocks of roux), Hayashi Rice was so easy and quick to make, just like Japanese curry. In fact, the ingredients for Hayashi Rice are simpler, so I probably made more Hayashi Rice than Japanese curry back in the day.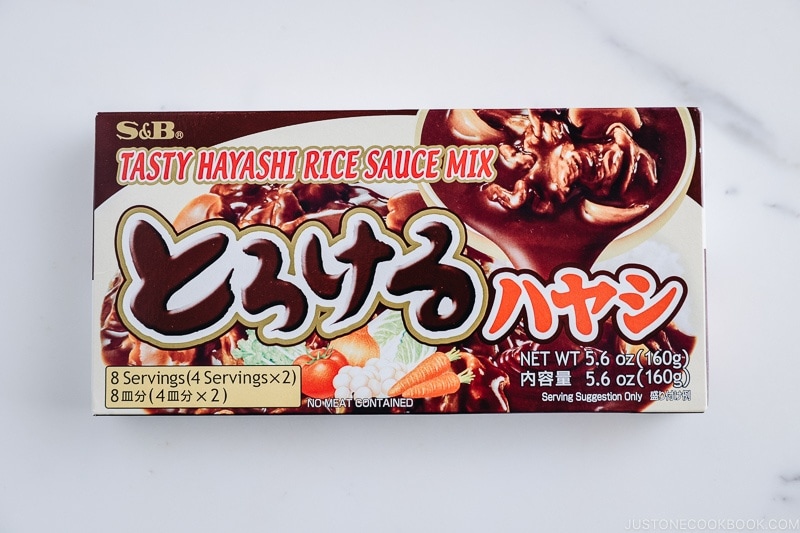 For the past 10 years, I've attempted to make Hayashi Rice for the kids without those MSG-packed instant roux packages. However, several versions of my so-called "shortcut" Hayashi Rice didn't get approval from my family. I tried to make demi-glace sauce by mixing various condiments to resemble the taste, which didn't turn out quite right.
I've also made a partially-homemade version using premade Demi-Glace Sauce in a can, which turned out okay. Heinz offers this canned demi-glace sauce only for the Japanese market. You can buy one from a well-stocked Japanese grocery store here in the U.S. or Amazon (but at a ridiculous price).
With a growing number of readers' requests for this recipe, I knew it was time for me to attempt Hayashi Rice from scratch, without using the instant roux and premade demi-glace sauce.
I'll be honest upfront. This recipe takes time, and it's definitely one of those dishes that you would cook on weekends or holidays. But I know for sure that those who try will come back to make it again and again because it is so darn good. My son even proclaimed the recipe was just as good as some of the yoshoku restaurants he has tried.
Making Hayashi Rice from scratch gave me a great sense of accomplishment, and I hope you feel the same when you make this delicious meal for your loved ones too!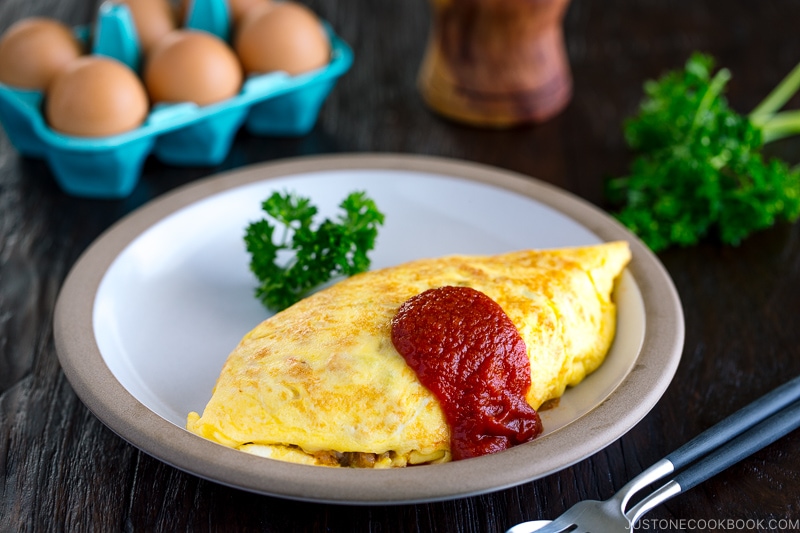 Hayashi Rice Leftover Ideas
If you have any leftovers, the sauce is great for serving over Omurice (omelet and rice) or Japanese-style hamburger steak (Hambagu). These dishes are common on the menu at Yoshoku-ya (western style diners).
Omuhayashi (Omurice + Hayashi Rice)
Japanese-style hamburger steak (Hambagu) with Hayashi Rice sauce on top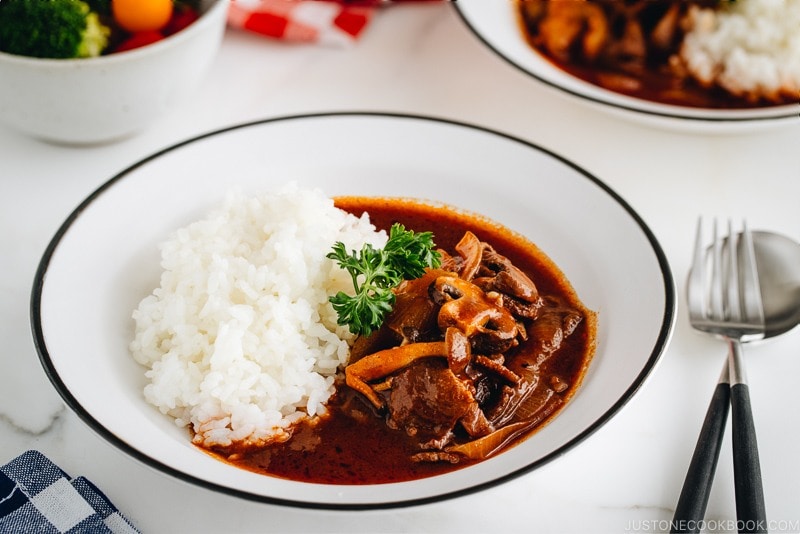 Wish to learn more about Japanese cooking? Sign up for our free newsletter to receive cooking tips & recipe updates! And stay in touch with me on Facebook, Pinterest, YouTube, and Instagram.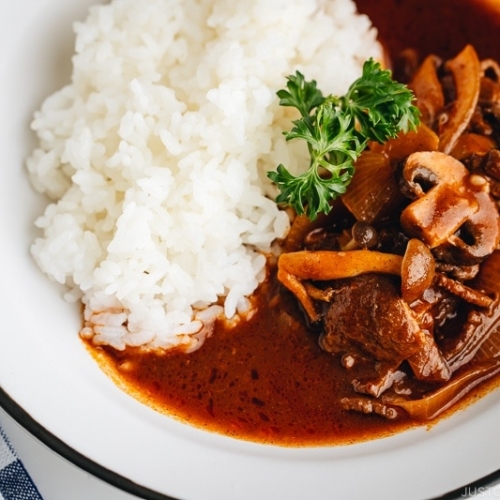 Hayashi Rice
Hayashi Rice, or sometimes called Hashed Beef, is a popular Western-style stew made with tender beef, onions, mushrooms in a demi-glace sauce.
Video
Ingredients
Seasonings
2

cloves

garlic

1

Tbsp

tomato paste

½

cup

red wine

4

Tbsp

Worcestershire sauce

(I used Japanese bulldog brand Worcestershire sauce. If you use another brand, add

1

Tbsp brown sugar instead of

2

tsp because it is tangier than the Japanese one.)

1

Tbsp

soy sauce

3

Tbsp

ketchup

2

tsp

brown sugar

1¼

cups

tomato juice

(

2

cans of 163-ml tomato juice)

3

cups

Homemade Demi Glace Sauce (prepare ahead of time using my recipe)

1

bay leaf

Diamond Crystal kosher salt

(to taste)
Japanese Ingredient Substitution:
If you want substitutes for Japanese condiments and ingredients, click
here
.
Instructions
Gather all the ingredients. Prepare the demi-glace sauce ahead of time using my recipe.
To Prepare the Ingredients
Place

1 lb thinly sliced beef (chuck or ribeye)

in a bowl and season with

2 Tbsp red wine

,

¼ tsp Diamond Crystal kosher salt

, and

freshly ground black pepper

. Set aside.

Cut

1½ onions

in half lengthwise, and cut each half into thin strips widthwise. Cut the end of

3.5 oz shimeji mushrooms

and separate them. Cut

4 button mushrooms

into thin slices.
To Cook the Hayashi Rice
Heat

1 Tbsp olive oil

in the Dutch oven over medium heat and add the beef.

Saute until no longer pink and transfer the beef to the bowl.

Melt

1 Tbsp unsalted butter

in the same pot.

Add the onion and

⅛ tsp Diamond Crystal kosher salt

. Saute until coated well with oil.

Crush or mince

2 cloves garlic

and add to the pot. Saute until tender.

Add

1 Tbsp tomato paste

and

½ cup red wine

.

Add

4 Tbsp Worcestershire sauce

and

1 Tbsp soy sauce

.

Add

3 Tbsp ketchup

and

2 tsp brown sugar

.

Add

1¼ cups tomato juice

and

3 cups Homemade Demi Glace Sauce

.

Add

1 bay leaf

and put the beef back in the pot.

Cover and bring it to boil.

Open the lid and taste the Hayashi Rice. If necessary, season with

Diamond Crystal kosher salt

.
To Serve
Serve steamed rice on one side of the plate and serve the Hayashi Rice on the other side. Enjoy!
To Store
You can keep the leftover in the refrigerator for 3 days or freeze for up to a month.
Nutrition
Nutrition Facts
Hayashi Rice
Amount per Serving
% Daily Value*
* Percent Daily Values are based on a 2000 calorie diet.
©JustOneCookbook.com Content and photographs are copyright protected. Sharing of this recipe is both encouraged and appreciated. Copying and/or pasting full recipes to any website or social media is strictly prohibited. Please view my photo use policy
here
.