Sweet and savory tomato-based fried rice wrapped in a soft thin omelette, this western-influenced Japanese dish Omurice or Omelette Rice is popular among Japanese people of all ages. Inspired by the Japanese drama – Midnight Diner.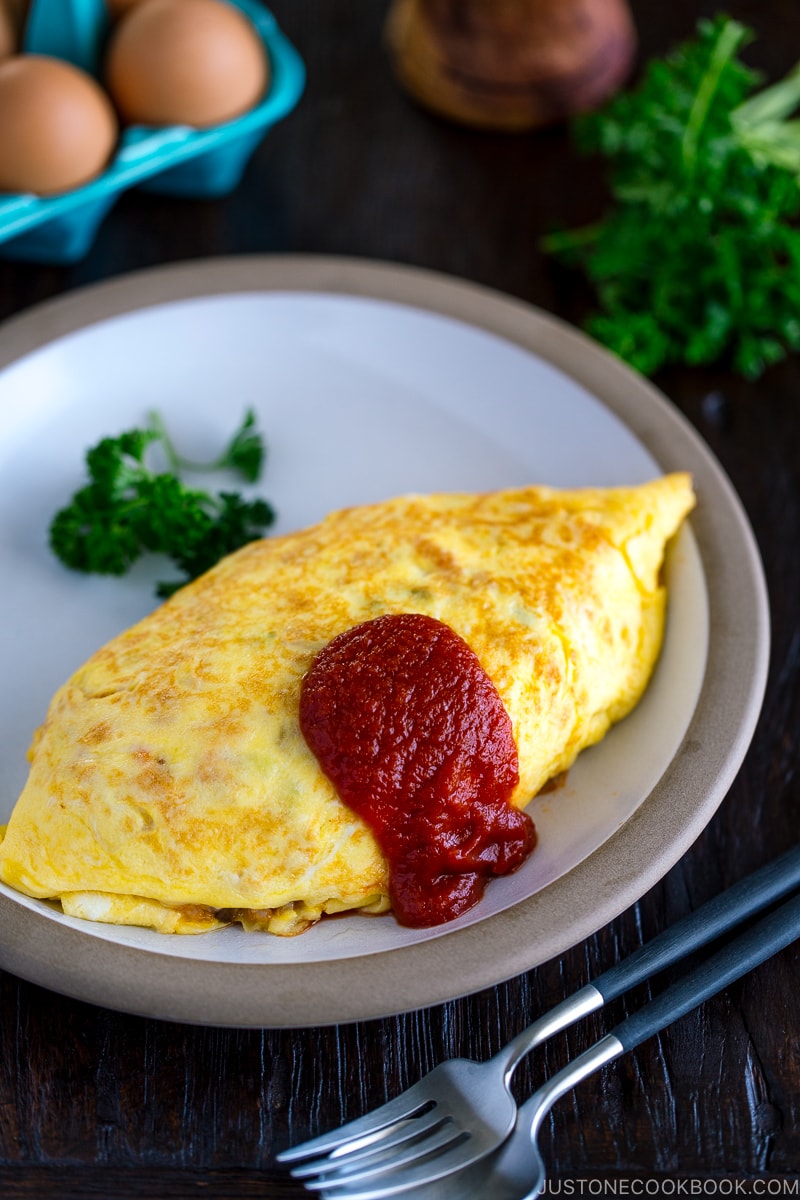 Fried rice flavored with the beloved American condiment ketchup and encased in a golden omelette pillow, Omurice (オムライス) or Omelette Rice may not be your typical choice when you visit your local Japanese restaurants. It's easy to mistake the dish as a fairly recent fusion invention of modern Japanese cuisine.
However, this humble dish has been a popular yoshoku (western-style Japanese food) for over a century. That's right! It is a Japanese rendition of 'mash-up' comfort food at its best. It's got grain, vegetables, proteins, and a big bright sunny disposition, enough to make a fried rice fiend wake up hungry.
This delicious Omurice was featured on the popular Japanese TV drama called "Shinya Shokudo (深夜食堂)" or "Midnight Diner: Tokyo Stories" which is available on Netflix.
Midnight Diner features dishes that are more representative of Japanese home-cooked recipes that you might not have seen in your local Japanese restaurants. "Omelette Rice" episode is Season 1, Episode 4 on Netflix.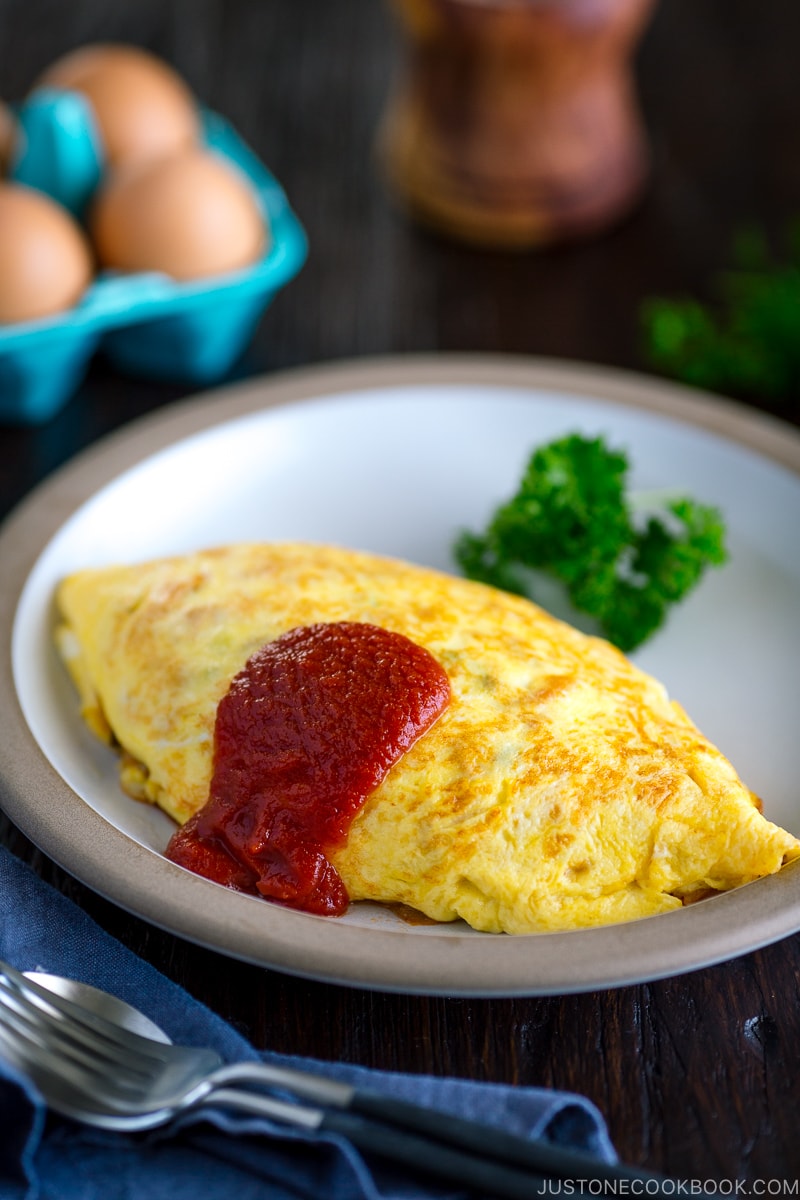 Omurice and Yoshoku
Omurice (オムライス) is a loanword from both Omelette (Omuretsu, オムレツ) and Rice (raisu, ライス). In this recipe, fried rice is seasoned with the sweet and sour flavor of ketchup and tomato puree, and tucked inside a thin blanket of a golden fluffy omelette. It's sweet and savory, the whole ensemble of Omurice is just so comforting to many Japanese people that it is considered one of the most popular yoshoku (western-style Japanese food).
Yoshoku started to appear around the Meiji Era (1868–1912) after Japan ended its isolationist foreign policy and opened the ports to the West. Tonkatsu, Korokke, Hambagu, Curry Rice, Doria (rice gratin), Cabbage Roll, Spaghetti Napolitan, and Omurice are just some of the familiar dishes in the category. They have katakana names to emphasize their foreignness, using the word "raisu" (ライス, rice) instead of "gohan" (ご飯, rice) for example. Another easy way to tell these dishes apart? They are often served with fork, knife, and spoons, instead of chopsticks.
At the time, foreign ingredients were difficult to find in Japan so people made yoshoku using local ingredients. Even though the dishes may look like western dishes, the taste is still distinctly Japanese. I think that has unintentionally made yoshoku dishes uniquely Japanese.
You may have noticed the abundant use of ketchup in western-style Japanese dishes. Brought in by the American army who came to Japan after World War II, ketchup was used in dishes to replace tomato sauce which was not easily accessible then. Since it is convenient and tasty, ketchup continues to become the mainstay in the Japanese kitchen pantry.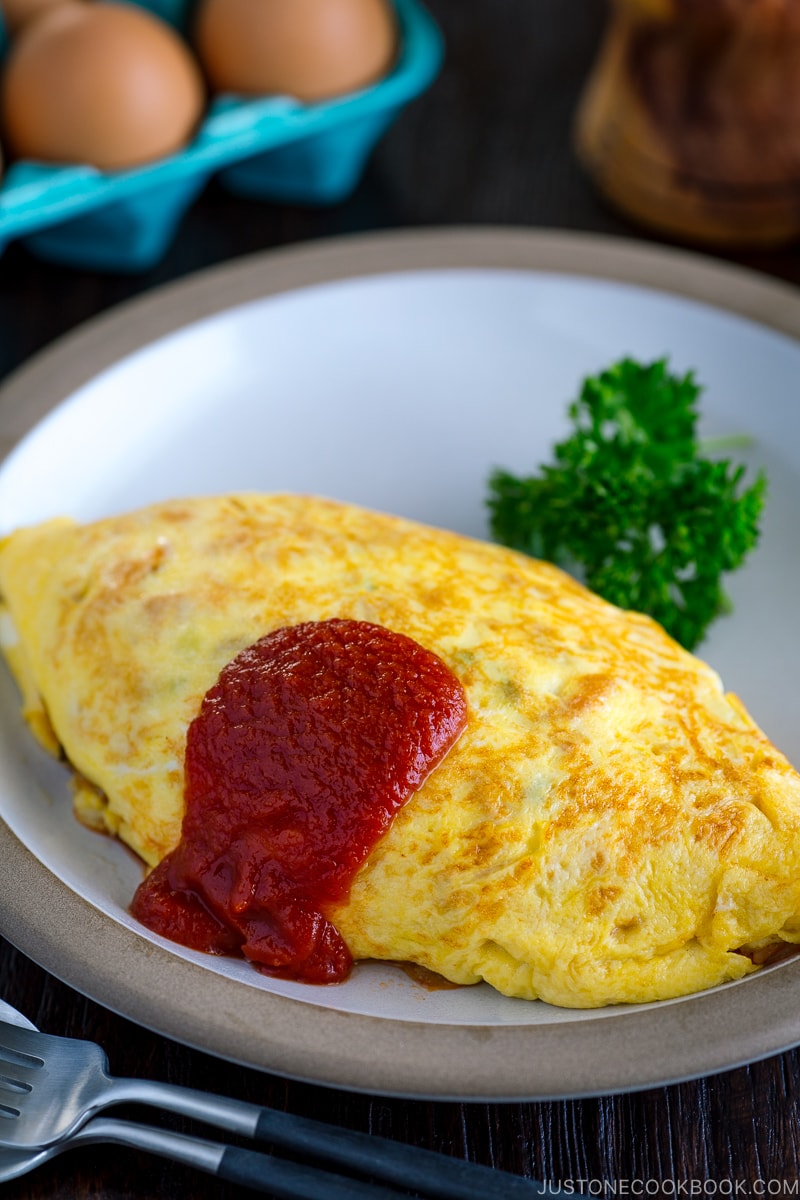 Who Invented Omurice?
There are 2 strong theories on Omurice's origin.
Theory 1: When the owner at a yoshoku restaurant Hokkyokusei (北極星) in Osaka learned about a regular customer who wasn't feeling well, he quickly cooked up simple fried rice with mushrooms and onion seasoned with ketchup, and carefully wrapped with omelette to serve the customer so he would regain his stamina. The customer loved it so much that he asked for the menu name. The sharp-witted owner came up with the name "Omurice". This Omurice is much closer to what Omurice is now.
Theory 2: Simple fried rice with egg, onion, minced meat was served as a meal for workers at Renga-tei (煉瓦亭) in Tokyo. Other customers were drawn by the vibrant egg fried rice that they started requesting for it, and that's how Omurice became an official restaurant menu.
Whichever story you prefer, I think it all started with Omurice's ability to hit the right spot, especially when you crave comfort food.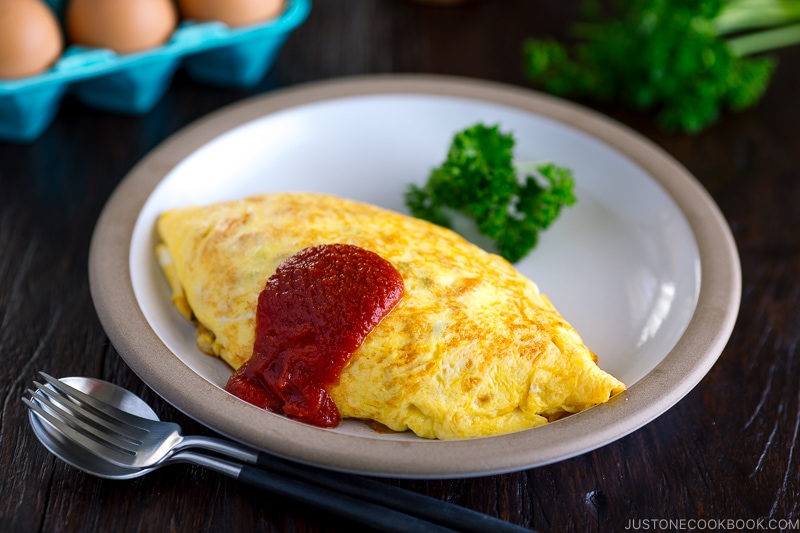 Omurice (Omelette Rice)

 – 2 Ways
In general, there are two ways to make Omurice. The original one called Ganso Omurice (元祖オムライス) is to wrap the fried rice with a thin omelette, like the one I shared today. Some people prefer light yellow omelette (no burn spot), but I personally prefer my Omurice to have a slightly golden color (which adds flavor) and the omelette is still creamy soft on the inside.
The second style of Omurice is called Fuwatoro Omurice (ふわとろオムライス). First, you make ketchup fried rice and transfer it to the plate. Then you make the omelette, and while it's fluffy (fuwa) and runny (toro), place it on top of the ketchup fried rice. Before serving, you slice the center of omelette and runny egg yolk to cover the fried rice. You might have seen this style of Omurice in the movie Tanpopo. Hence, it's also called Tanpopo Omurice (タンポポオムライス).
Which one is your favorite style?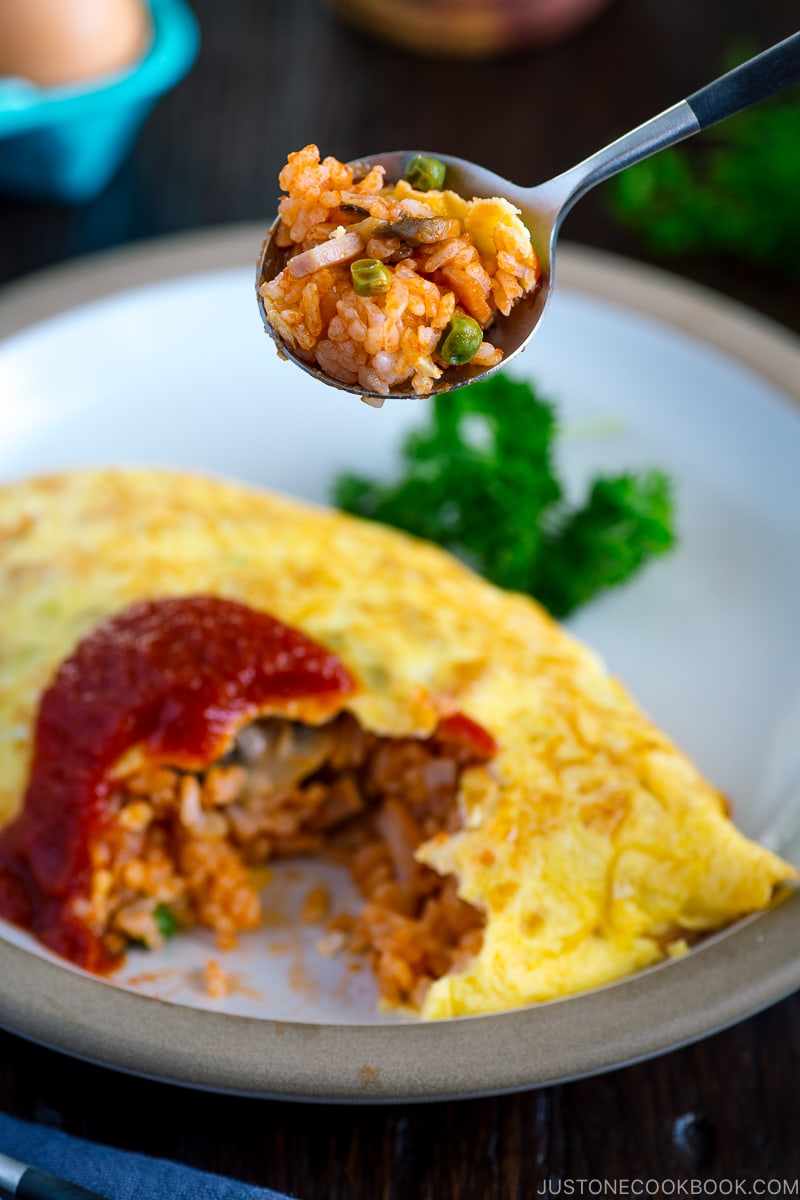 Variations of Omurice (Omelette Rice)
Here is the list of Omurice variations that I have seen or think of. As you can see, the possibility is endless. Feel free to take the liberties to use whatever ingredients you have in the fridge and make your own version. Creativity is welcome when comes to making Omurice!
Fried Rice Ingredients
Ham
Chicken
Seafood
Onion
Carrot
Green peas
Mushrooms
Fried Rice Flavor
Ketchup
Tomato sauce
Butter
Garlic
Salt & Pepper
Sauce over Omurice
Tomato Ketchup
Tomato Sauce (sometimes with extra tomatoes, mushrooms, seafood or more ingredients)
White Sauce / Bechamel Sauce (sometimes with seafood)
Japanese Curry Sauce
Hayashi Sauce
Demi-glace sauce
Ankake (starchy thick sauce)
Filling or Additions on top of Omurice
Cheese
Hambagu
Fried Fish
Korokke
Herbs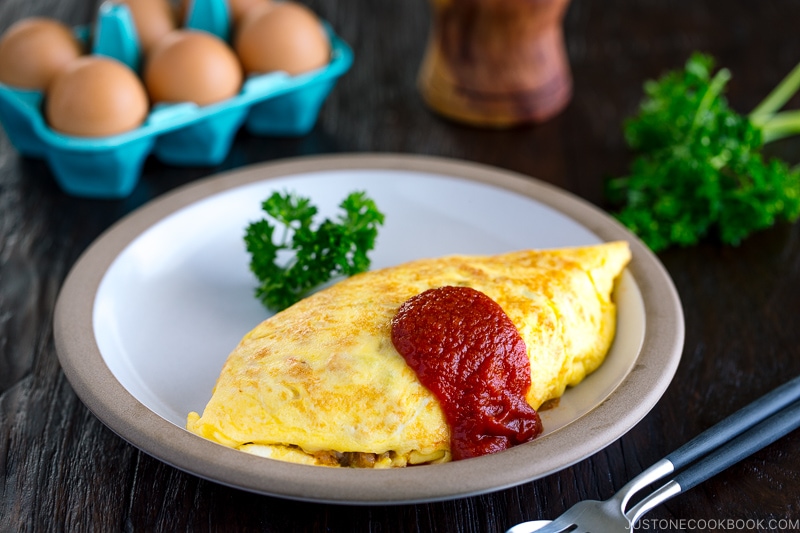 The cooking method for Omurice is really quite simple. It's a perfect quick one-dish meal for busy moms, college students, and singles as you can whip it up in a short time. Trust me, nothing beats good fried rice with fluffy egg. I hope you enjoy making Omurice at home!
Watch How To Make Omurice / Omelette Rice
Japanese Ingredient Substitution: If you want to look for substitutes for Japanese condiments and ingredients, click here.
Wish to learn more about Japanese cooking? Sign up for our free newsletter to receive cooking tips & recipe updates! And stay in touch with me on Facebook, Pinterest, YouTube, and Instagram.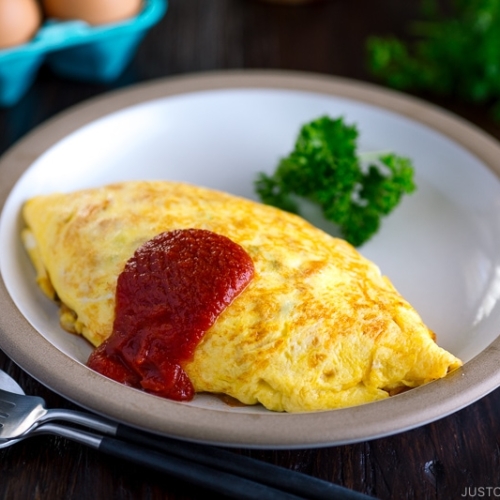 Omurice (Omelette Rice)
Sweet and savory tomato-based fried rice wrapped in a soft thin omelette, this western influenced Japanese dish Omurice or Omelette Rice is popular among Japanese people of all ages. Inspired by the Japanese drama – Midnight Diner.
Video
Ingredients
¼

onion

(2.1 oz, 60 g)

4

mushrooms

(1.8 oz, 50 g)

4

slices

ham

(2.8 oz, 80 g; or 2 thick slices)

1

Tbsp

neutral-flavored oil

3

Tbsp

green peas

(if frozen, defrosted and drained)

⅛

tsp

Diamond Crystal kosher salt

⅛

tsp

freshly ground black pepper

2

cups

cooked Japanese short-grain rice

(cook 1 rice cooker cup (180 ml), which yields roughly 2 servings (2 US cups); see how to cook short-grain with a rice cooker, a pot over the stove, an instant pot, or a donabe)

2

Tbsp

unsalted butter

(divided)
Tomato Sauce
3

Tbsp

ketchup

3

Tbsp

tomato paste

2

Tbsp

water
Egg Mixture
4

large eggs (50 g each w/o shell)

(divided)

2

Tbsp

milk

(divided)
Japanese Ingredient Substitution:
If you want substitutes for Japanese condiments and ingredients, click
here
.
Instructions
Gather all the ingredients.
To Make the Sauce
To make tomato sauce, combine ketchup, tomato paste, and water in a small saucepan and mix all together. Set aside.
To Make the Fried Rice
Clean the mushrooms with damp towel and slice them.

Slice the onion and dice into small pieces.

Cut the ham into small pieces.

In a 10-inch frying pan, heat 1 Tbsp vegetable oil and sauté onion.

Add green peas and mushrooms, and hams.

Season with pinch of kosher salt and freshly ground black pepper.

Add rice and break big chunks of rice into smaller pieces.

When combined well, add 3-4 Tbsp tomato sauce and mix well. Make sure to save some sauce for topping. Divide the fried rice in half.
To Make the Omurice (Makes 2 Omurice)
Start with the first omurice. Crack 2 eggs in a small bowl and add 1 Tbsp milk and pinch of salt. Whisk all together.

Heat another frying pan over medium high heat and add 1 Tbsp butter. Swirl around and when it's melted, add the beaten egg.

Quickly swirl around with chopsticks. When the mixture is set but still runny, add half of ketchup rice in the middle. If you feel the pan is getting too hot, remove the pan from the heat and put on top of the damp towel.

Wrap the ketchup rice both sides with egg omelette. It doesn't have to be perfectly wrapped, but make sure to create the "edge" around the fried rice with omelette.

Place the serving plate under the pan and flip the pan to transfer the omelette rice.

place a piece of paper towel and gently shape the omelettte into a football shape. Repeat this process to make the second omurice.

To serve, pour the tomato sauce over the Omurice. You can reheat the sauce or use room temperature sauce. Garnish the omurice with parsley. Enjoy!
To Store
You can keep the leftovers in an airtight container and store in the refrigerator for up to 3 days and in the freezer for a month.
Nutrition
Nutrition Facts
Omurice (Omelette Rice)
Amount per Serving
% Daily Value*
* Percent Daily Values are based on a 2000 calorie diet.
©JustOneCookbook.com Content and photographs are copyright protected. Sharing of this recipe is both encouraged and appreciated. Copying and/or pasting full recipes to any website or social media is strictly prohibited. Please view my photo use policy
here
.