This creamy, hearty, and delicious Japanese Cream Stew is a popular western-style (yoshoku) dish consisting of chicken and vegetables with a savory white sauce. Cooked in the Instant Pot, it's a true comfort food in cold winter months!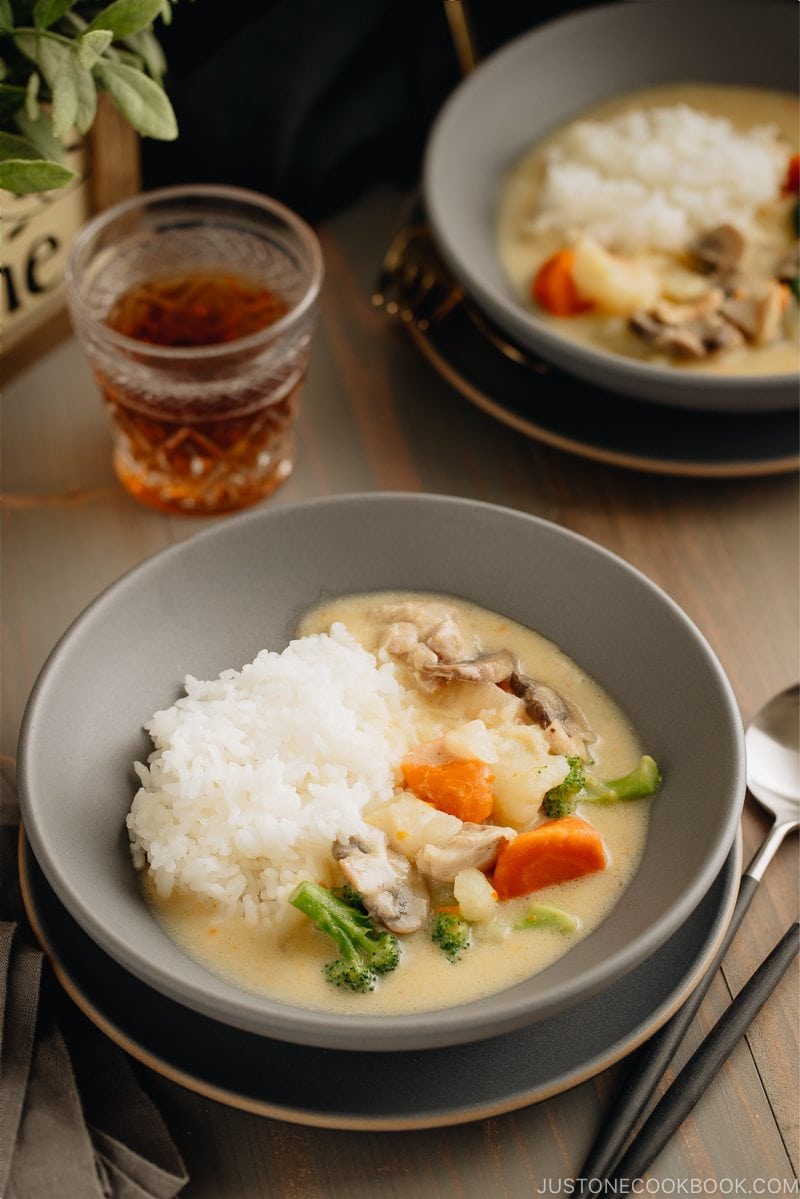 The Japanese have an affinity for western-influenced dishes like Japanese Curry, Tonkatsu, Korokke (Croquettes), and Hayashi Rice (recipe coming soon). Known as the Yoshoku (洋食), they inevitably play a big part in shaping what Japanese cuisine is today.
Cream Stew (クリームシチュー), or sometimes called White Stew (ホワイトシチュー), is one of those favorites you can find on the yoshoku menu. Many Japanese families with young children enjoy the dish frequently at both home and restaurants. Today we're making this delicious cream stew in my favorite Instant Pot!
No pressure cooker (Instant Pot)? Here's my Japanese Cream Stew recipe you can cook on the stovetop.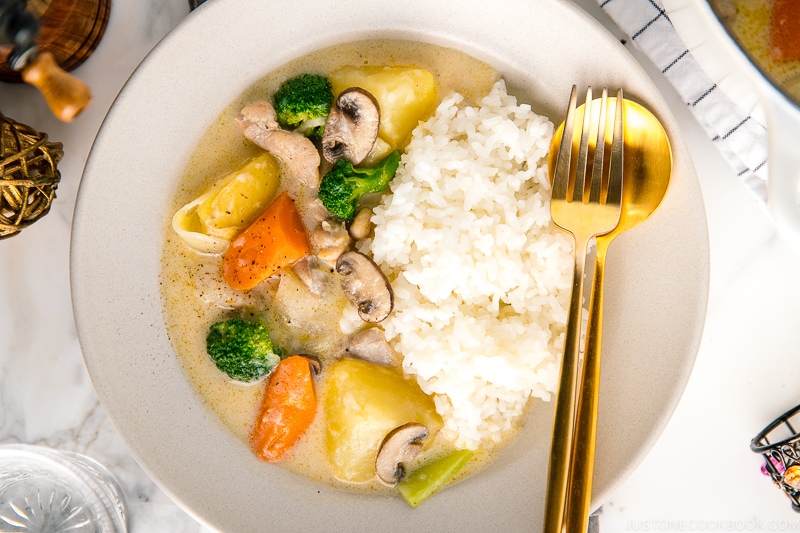 What is Cream Stew (White Stew)?
You probably have some idea of what Cream Stew tastes like. Interesting enough, there is no "Japanese" element in the recipe at all, yet it's a somewhat uniquely Japanese dish. Here, chicken (or pork), onions, carrots, and potatoes are cooked in chicken or vegetable broth, and the white sauce roux (bechamel sauce) is added to thicken the stew.
Why Cream Stew is such a family favorite? Aside from deliciousness, the cooking process is very similar to making Japanese Chicken Curry. Up until you add the roux (bechamel sauce), it's pretty much identical to the base for curry. That means you can decide whether to make a cream stew or curry at the last minute!
The Japanese love the convenience of using packaged Japanese Curry Roux or Cream/White Stew Roux. All you need to do is to dissolve the cubed roux in the pre-seasoned stew.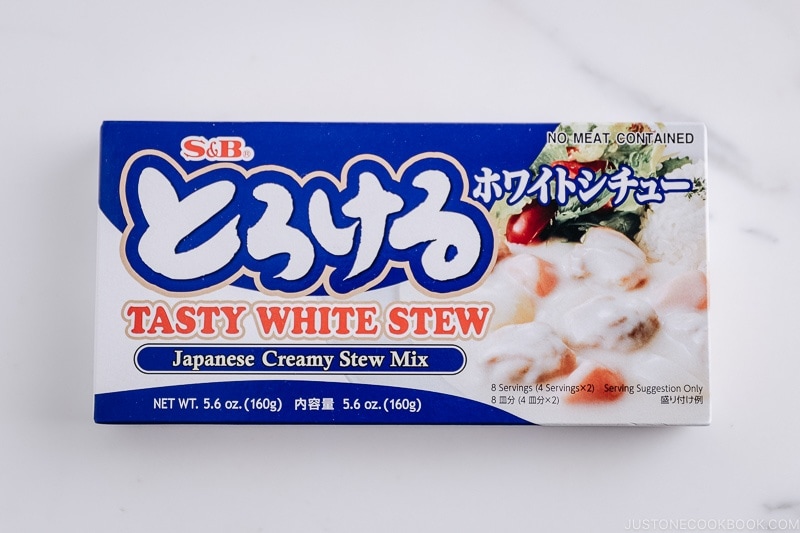 However, today, we'll make everything from scratch!
What is White Sauce (Béchamel) and How to Make It
White sauce (ホワイトソース), or also known as Béchamel sauce, is a classic all-purpose French sauce made from butter, flour, and milk. It pretty much forms the basis of French dishes, such as casseroles, cream croquettes, and savory soufflés. And it's pretty easy and simple to make at home.
Here are the 3 simple steps.
Warm up the milk in the microwave or in a pot over the stovetop.
Melt the butter, add flour, and whisk until flour is cooked.
Gradually add warm milk until thickened to the right consistency.
The Basic White Sauce Ratio
A roux is usually a mixture of an equal volume of butter and flour. Here in this recipe, I used 3 tablespoons (43 g) of butter and 3 tablespoons (23 g) of all-purpose flour. Besides butter, ghee, coconut oil or other fat can be used. You can also use gluten-free flour in place of all-purpose flour.
The roux then will be mixed with 2 cups of milk, and the amount can be adjustable based on how thick you want the sauce to be. In this recipe, I used 1 cup milk and 1 cup liquid from the stew.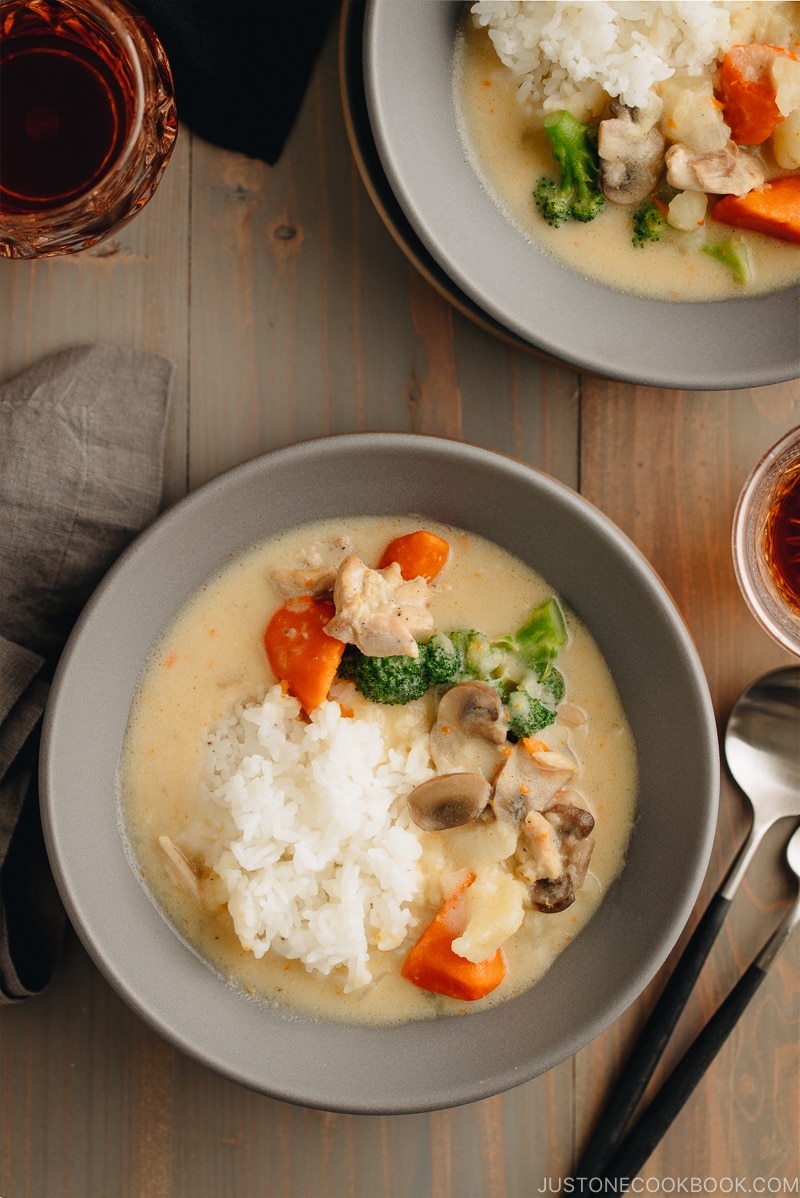 Cream Stew Ingredients and Substitutes:
1. Protein
Chicken and pork are typically used as the main protein, but feel free to substitute with other choices. I think seafood works beautifully in the stew. For vegetarian, you can skip protein and use just vegetables. Perhaps cauliflower or a variety of wild mushrooms as your main ingredient.
2. Vegetables
Onions, potatoes, and carrots are the basic vegetables in the cream stew. Most cream stew has some type of green vegetables; broccoli is a popular choice, then green peas and green beans.
For potatoes, Yukon Gold potatoes have a smooth, slightly waxy, and firm texture. Russet potatoes have a creamy, crumbly, starchy texture, but they don't hold their shape well. If you like to use this type, remember to cut it into bigger chunks as I did.
3. Mushrooms
Button mushrooms are commonly used but some people use Japanese mushrooms like shimeji mushrooms and maitake mushrooms. I don't recommend shiitake mushrooms as they have distinct flavors and fragrances that don't go well with this dish.
4. Stock
The packaged cream stew roux requires simple water, but when you make a homemade white sauce (bechamel sauce), I recommend using chicken or vegetable broth to create more depth and complexity in the flavors.
5. Other Commonly Used Ingredients
Heavy cream, corn, and cheese are common additions to the cream stew.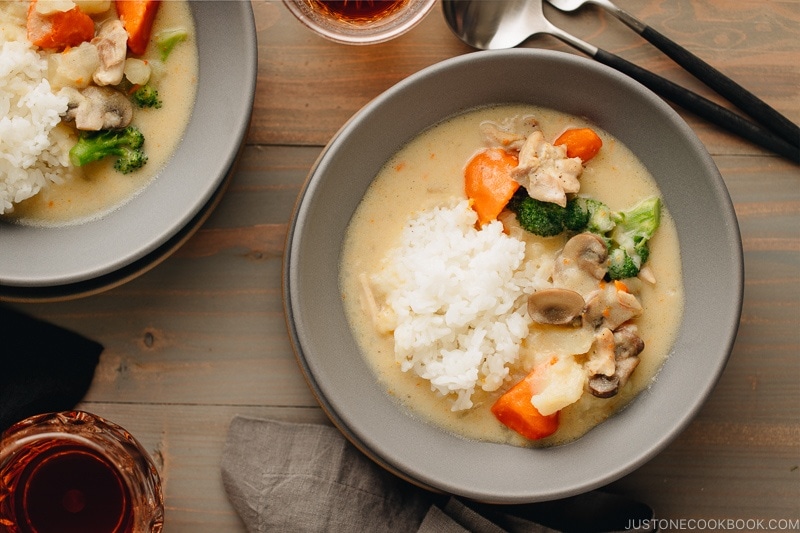 How to Cook Cream Stew without Instant Pot
If you don't own an Instant Pot, double the amount of chicken/vegetable broth (add more if broth doesn't cover the ingredients) and cook all the ingredients in the pot for 20 minutes. The rest of the process is the same.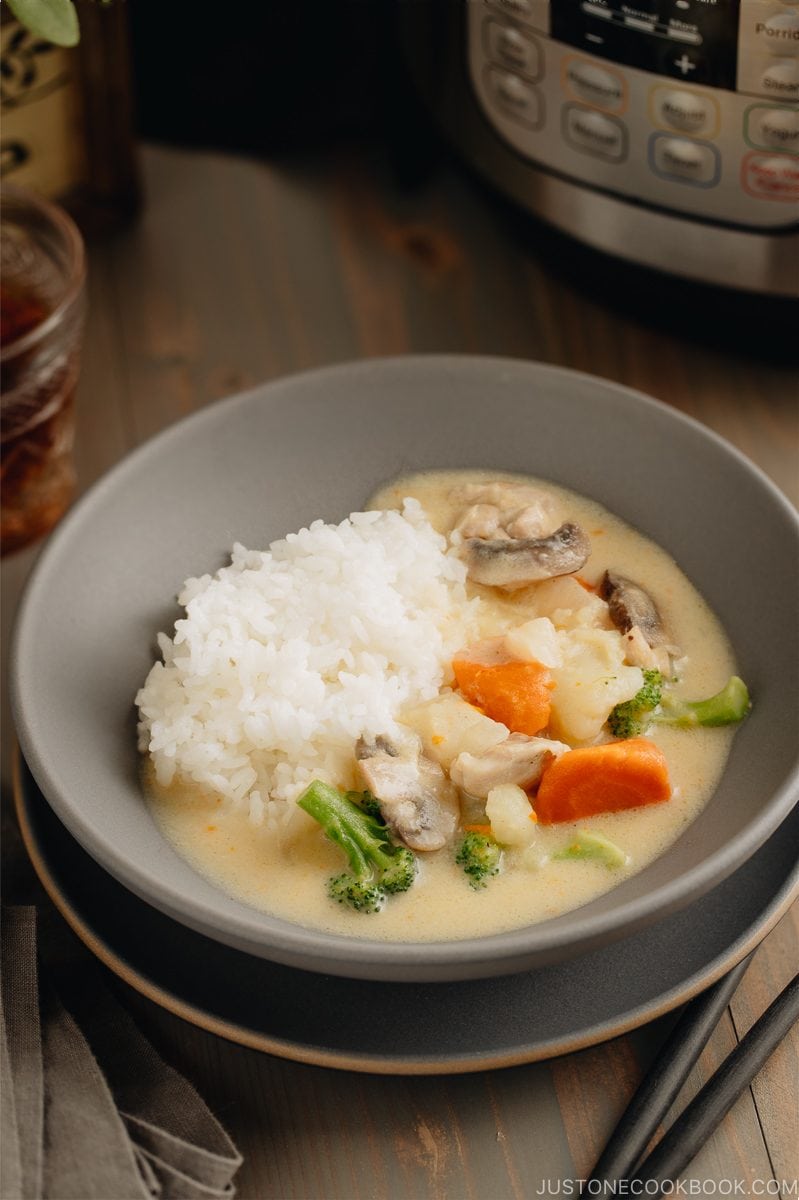 3 Tips to Make Instant Pot Cream Stew
1. Cut vegetables into uniform sizes or adjust the cutting size.
Each vegetable, whether hard or tender, must be cooked for the same amount of time in the Instant Pot. To achieve the perfect texture, you need to cut the vegetables into uniform sizes so they cook roughly at the same rate.
One trick to shorten the cooking time is to cut the tough vegetables into slightly smaller sizes so they cook faster.
If one vegetable tends to cook too fast, you may need to cut it into a slightly bigger size. In this recipe, that's Russet potatoes. If you cut the potatoes into the same size as other vegetables, these starchy potatoes will disintegrate into the stew.
2. Make the white sauce outside of the Instant Pot and add it after pressure cooking
Milk isn't so great in the Instant Pot as the high heat and pressure separate the milk proteins and lead to curdling. Although it is perfectly safe to eat, it doesn't look appetizing.
Therefore, you have to make the white sauce in a separate pot, and then add the sauce after you're finished pressure cooking. All you need to do is to combine and warm everything up on lower heat until the right consistency.
3. Add separately blanched green vegetables at the end.
Do not cook the green vegetables in the Instant Pot as they will change to dark and sad-looking greens. Instead, blanch the green vegetables of your choice in a separate pot, and add them to reheat together. This way, you retain the beautiful color in your dish.
I hope you add this instant pot cream stew to your family dinner rotation. Comforting, warm, and delicious, it could well be on its way to becoming your kids' nostalgic craving in the future.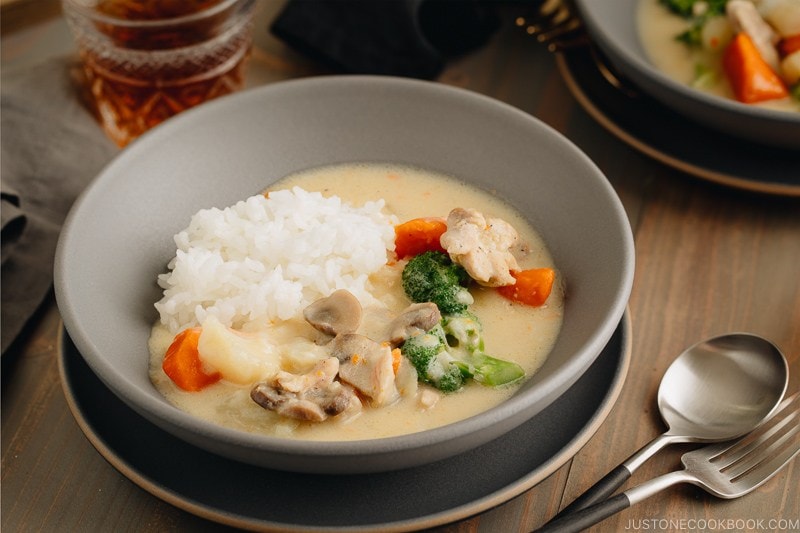 Wish to learn more about Japanese cooking? Sign up for our free newsletter to receive cooking tips & recipe updates! And stay in touch with me on Facebook, Pinterest, YouTube, and Instagram.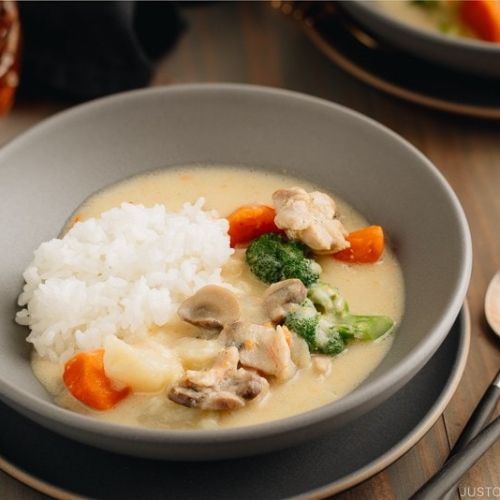 Instant Pot Cream Stew
This creamy, hearty, and delicious Japanese Cream Stew is a popular Western-style (yoshoku) dish consisting of chicken and vegetables with a savory white sauce. Cooked in the Instant Pot, it's true comfort food in the cold winter months! 
Video
Ingredients
1

lb

chicken thigh

(substitute with vegetables/mashrooms for vegetarian)

freshly ground black pepper

2

potatoes

(

14

oz,

397

g; you can use Yukon gold or russet potatoes; I used russets here)

1

carrot

(

4.5

oz,

128

g)

1

onion

(

10

oz,

280

g)

5

mushrooms

1

head

broccoli

(small)

1

Tbsp

olive oil

1

Tbsp

unsalted butter

1¾

cups

chicken stock/broth

(or vegetable broth)

1

bay leaf

1

box

Japanese Cream Stew Mix

(or make your own with my White Sauce/Bechamel Sauce recipe below)
For the White Sauce (Bechamel Sauce)
3

Tbsp

unsalted butter

3

Tbsp

all-purpose flour (plain flour)

⅛

tsp

white pepper powder

(highly recommend!)

½–1

tsp

Diamond Crystal kosher salt

1

cup

milk

(I used 2% lactose-free milk)

freshly ground black pepper
Japanese Ingredient Substitution:
If you want substitutes for Japanese condiments and ingredients, click
here
.
Instructions
Gather all the ingredients.
To Prepare the Ingredients
Peel and cut

2 potatoes

into large chunks (if you want to keep their shape when serving).

Peel

1 carrot

and cut into smaller chunks. I use the rangiri Japanese cutting technique.

Cut

1 onion

in half lengthwise, and then cut each half into 6 wedges. Finally, cut them in half widthwise.

Slice

5 mushrooms

and cut

1 head broccoli

into florets.

Cut

1 lb chicken thigh

into smaller pieces. I use the sogigiri Japanese cutting technique to create more surface area so the chicken pieces cook faster. Season the chicken with

½ tsp Diamond Crystal kosher salt

and

freshly ground black pepper

.
To Cook the Stew in the Instant Pot
Press the Sauté button on your Instant Pot and heat

1 Tbsp olive oil

and

1 Tbsp unsalted butter

.

When the pot is hot and the butter is melted, add the chicken.

Stir and coat the chicken with the oil.

Add the onion, carrot, mushrooms, and potatoes.

Add

1¾ cups chicken stock/broth

and

1 bay leaf

.

Close the lid and set to High pressure for 2 minutes. If you're making the homemade white sauce, wait until after pressure cooking is done to add it to the stew (see below). If you're using the packaged 

1 box Japanese Cream Stew Mix

, add it now; break it up into small cubes and place them ON TOP of the ingredients (DO NOT MIX). Then, close the lid to cook. Once the pressure cooking is done, stir and wait to see how it thickens. Add more cubes to achieve the consistency you like.

Make sure the steam release handle points at Sealing and not Venting. The float valve goes up when pressurized.
To Blanch the Broccoli
While pressure cooking, blanch the broccoli. Bring water to a boil in a small saucepan. Once boiling, add a pinch of salt and the broccoli florets.

Cook until tender but do not overcook. Transfer the broccoli to ice water to stop cooking further. Once cool, remove, drain, and set aside.
To Make the White Sauce (Bechamel Sauce)
In a saucepan, melt

3 Tbsp unsalted butter

on medium heat but don't let it brown. Microwave

1 cup milk

until it is warm to the touch and set aside.

Once the butter is melted completely, add

3 Tbsp all-purpose flour (plain flour)

.

Stir quickly and constantly with a whisk to combine. Cook the flour mixture for 3–4 minutes, without letting it brown.

Pour a small amount of the warm milk at a time, and stir as the sauce thickens.

Gradually add the rest of the milk by whisking continually until smooth. Cook, stirring constantly, until starting to bubble and thicken.

Lower the heat and add

⅛ tsp white pepper powder

and

½–1 tsp Diamond Crystal kosher salt

to taste.

Cook, stirring constantly, for 2 to 3 minutes. Remove from the heat and set aside.
Once Pressure Cooking Is Done…
When it's finished cooking, the Instant Pot will switch automatically to the Keep Warm mode. Let the pressure release naturally for 15 minutes and then proceed with the quick release by turning the steam release handle to the Venting position to let steam out until the float valve drops down. Tip: Hold a kitchen towel and do not place your hand or face over the steam release valve. There should only be a little bit of steam left after 15 minutes of natural release.

Open the lid and insert a skewer in the center of the potato to see if it's cooked through.

Using a ladle, take out 1 cup of soup broth from the stew.

Put the white sauce back on the stove and heat on low heat. Add several tablespoons of the soup and whisk well to combine.

Gradually add the rest of cup of soup, stirring constantly, to combine.

Pour the white sauce into the Instant Pot and gently mix the white sauce with the rest of the stew.

Press the Sauté button on your Instant Pot and press Adjust to set Less heat.

The stew will thicken as it's heated. Season with

freshly ground black pepper

and discard the bay leaf if you can find it.

Add the blanched broccoli and heat up. Serve steamed rice on one side of the bowl and pour the Cream Stew on the other side of the bowl.
To Store
You can keep the leftovers in an airtight container and store in the refrigerator for up to 4 days or in the freezer for up to 3 months (but remove potatoes as they will change the texture once frozen).
Nutrition
Nutrition Facts
Instant Pot Cream Stew
Amount per Serving
% Daily Value*
* Percent Daily Values are based on a 2000 calorie diet.
©JustOneCookbook.com Content and photographs are copyright protected. Sharing of this recipe is both encouraged and appreciated. Copying and/or pasting full recipes to any website or social media is strictly prohibited. Please view my photo use policy
here
.