Japanese Cream Stew, also known as White Stew, is rich and creamy without being heavy. It's a classic Yoshoku meal packed with tender chicken, bite-size vegetables, and served with steamed rice or crusty bread.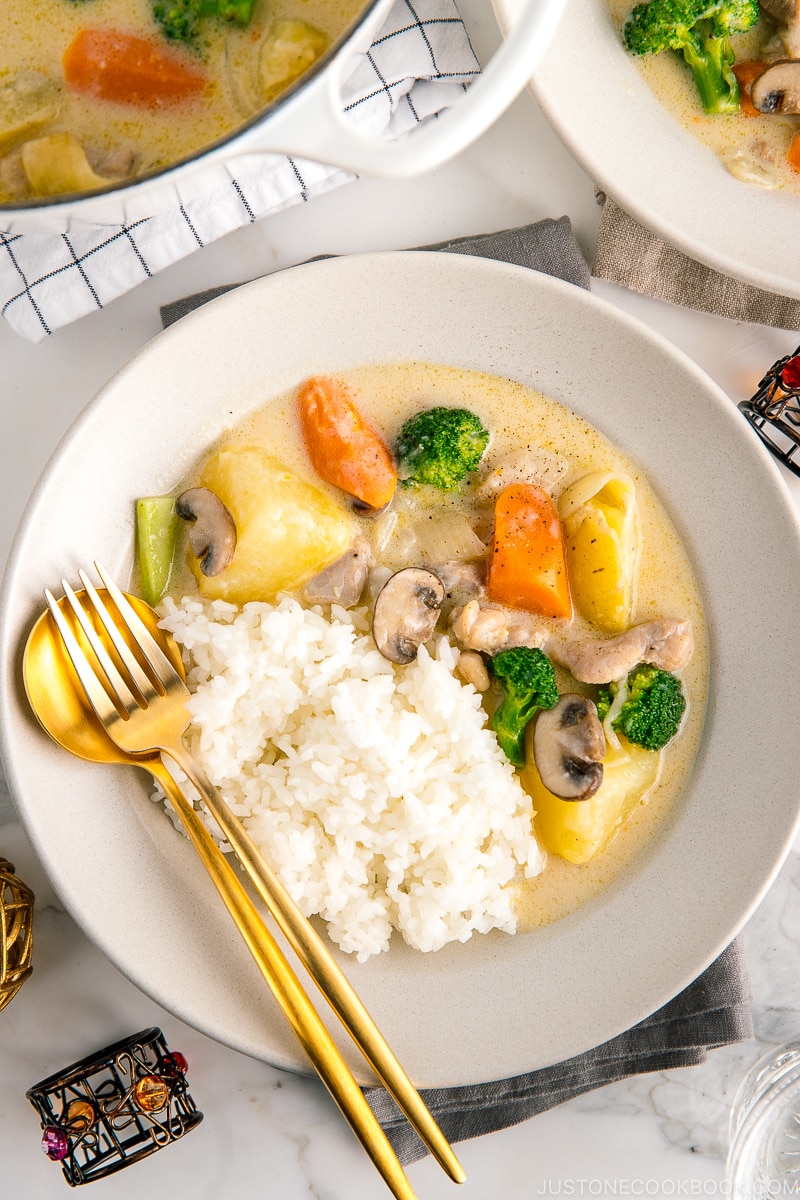 Japanese Cream Stew (クリームシチュー) is one of those meals that manages to hit the spot every time, especially on a chilly, winter evening. You may also see this dish referred to as White Stew (ホワイトシチュー), and it's easy to guess why. Bite-size pieces of tender chicken, mushrooms, and colorful vegetables simmer together in a creamy white sauce before being ladled over steamed rice. It's one of my favorite foods to make this time of year.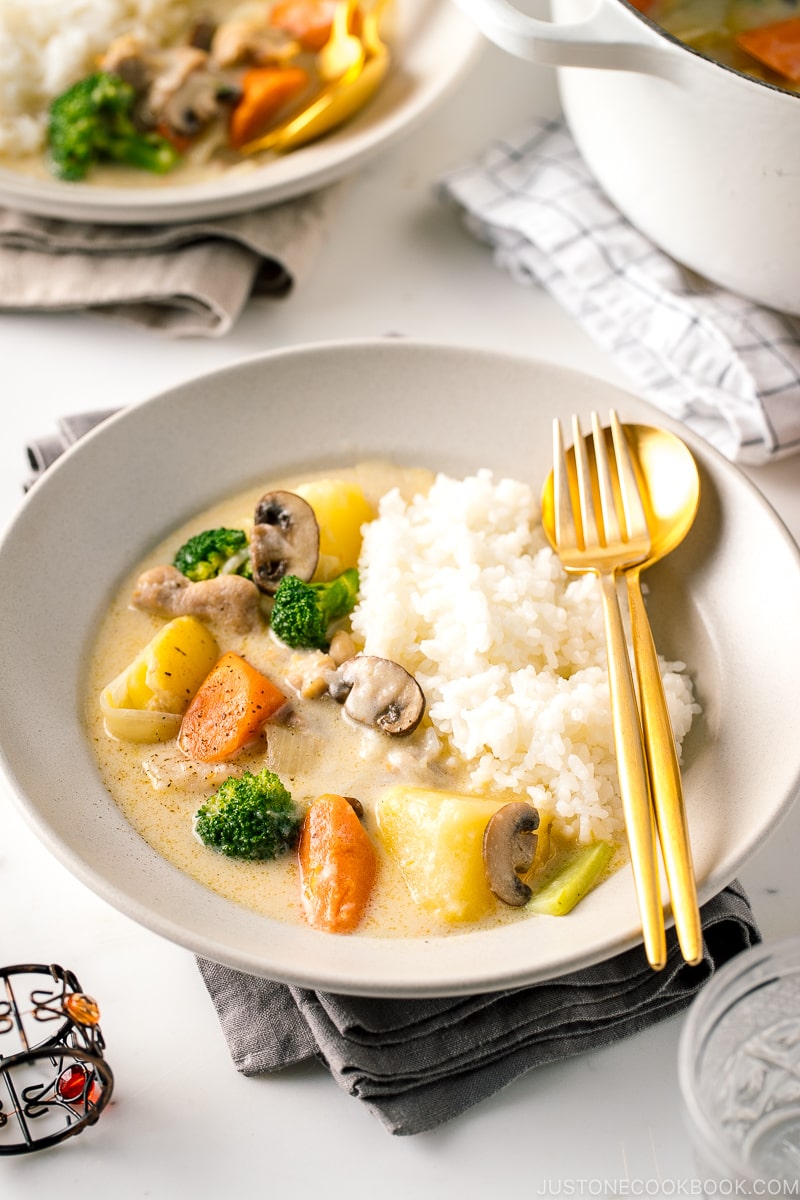 What Is Japanese Cream Stew (White Stew)?
Japanese Cream Stew is a simple meal to make, though the rich, savory flavors feel anything but. If you've ever had Japanese curry, this Cream Stew is not so different in terms of preparation and plating.
Flavor: The layers of flavor in this dish come from sautéed chicken, onions, carrots, potatoes, and mushrooms. For rich, savory thickness, we add béchamel, which is essential for this recipe.
Ease: After you chop the chicken and vegetables into bite-size pieces, all you have to do is throw everything into one pot and let it simmer. It doesn't get much easier than that!
Simmering: Once the meat and vegetables come to a boil, let it simmer for about 10 minutes before adding in your béchamel. Don't overcook—we want the vegetables to hold their shape!
Time: From start to finish, this meal takes no more than an hour.
Since its emergence in Japan in 1947 (more on this below), Cream Stew has become a classic Yoshoku dish, meaning it's "a Japanese adaptation of a western dish." Just like boxed curry, you can find Cream Stew Mix at Japanese grocery stores. But I guarantee you'll never reach for the box again once you realize how rewarding and delicious it tastes when made from scratch!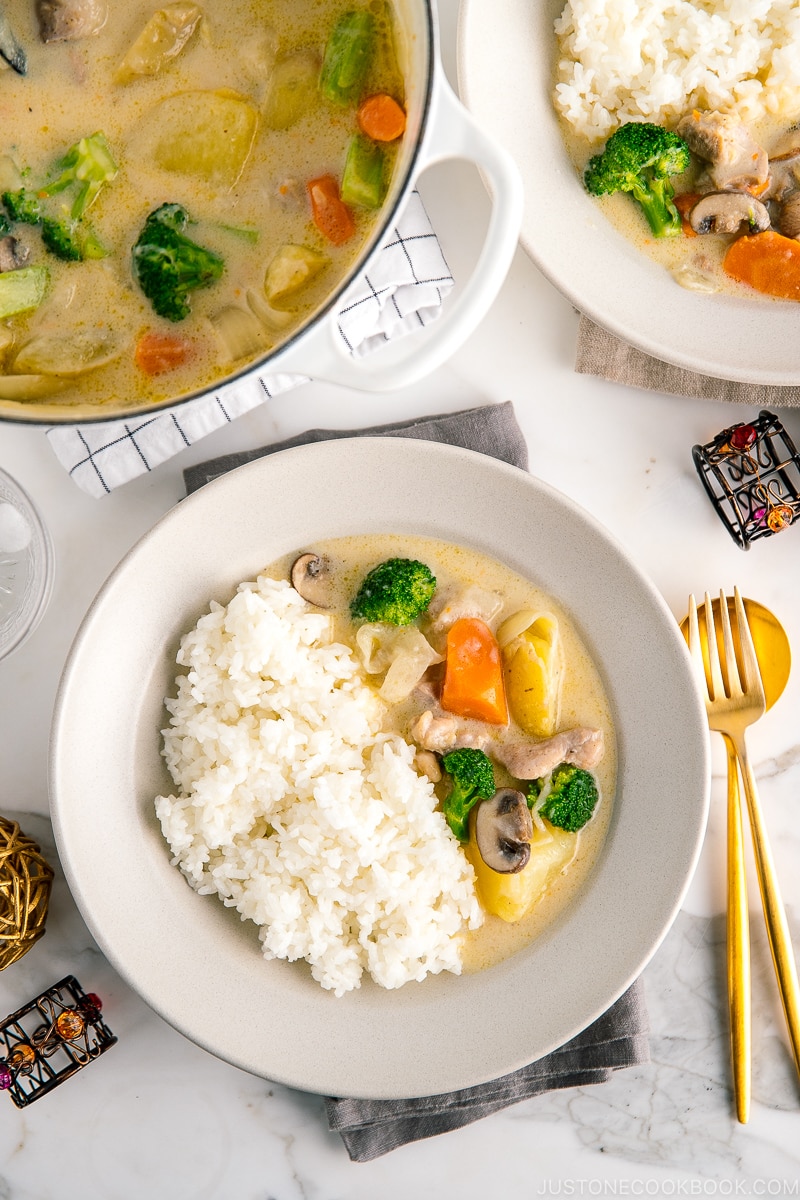 When Was Cream Stew Created?
While simmered dishes (Nimono 煮物), have been a part of Japanese cuisine for a long time (e.g., Kakuni, Oden, Satoimo no Nimono), it wasn't until Japan's Meiji Era (1868-1912) that simmered dishes began featuring poultry and other types of meat. (Until then, it was more common to have fish and vegetables in your Nimono.) The Cream Stew I'm going to show you how to make today did not exist in Japan until after 1945.
Powdered milk, supplied by the U.S. government, was thought to be a calcium-rich remedy for children's malnutrition after the war. This powdered milk was thickened with flour to make a white-colored stew with chicken and vegetables, and it soon became a popular part of Japan's school lunches.
Almost twenty years after Cream Stew (or White Stew) made its debut in Japan in 1947, it was made accessible for home-cooks, too, thanks to one of Japan's largest food manufacturers: House Foods. Similar to the boxed curry cubes you'd find in Japanese grocery stores, House Foods was the first to make Cream Stew Mix in boxes for quick, comforting meals at home.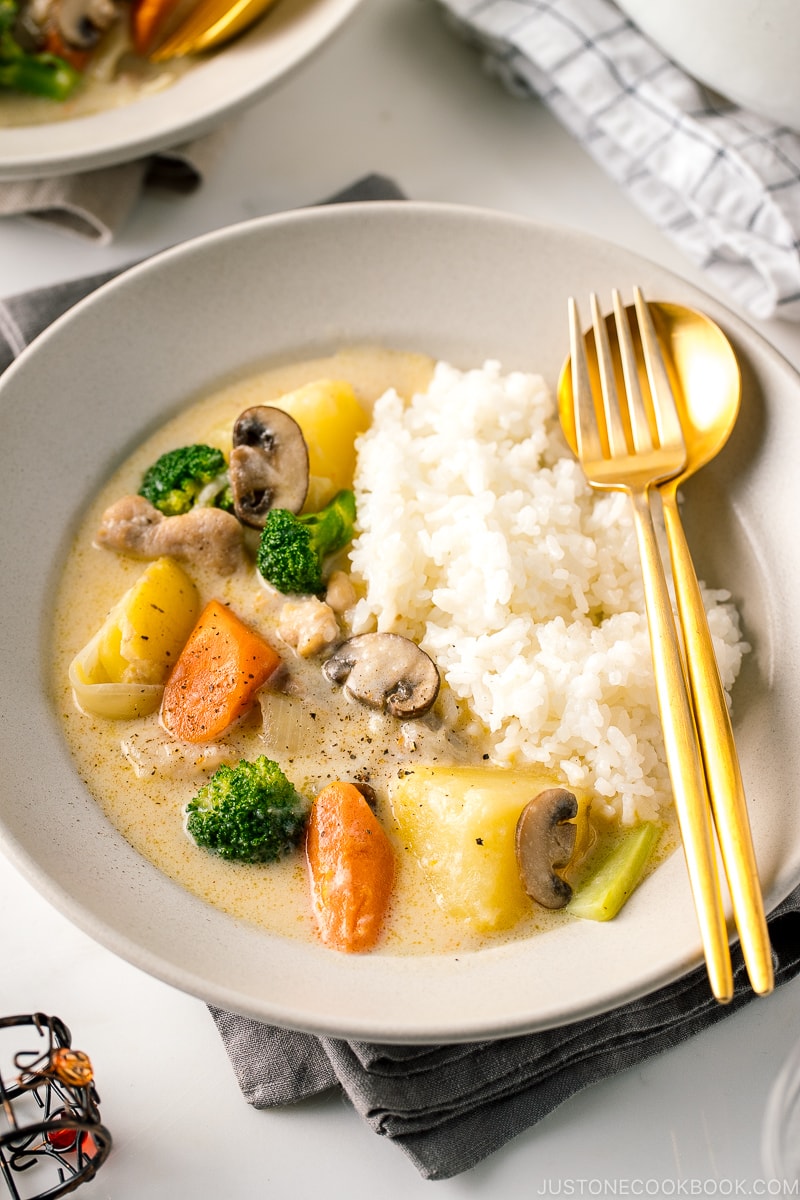 What You Need To Make Cream Stew
Béchamel Sauce
The silky texture and light color of Japanese Cream Stew are the results of a béchamel, which is a base made from flour, butter, and milk. Béchamel sauce is considered one of the building blocks of classic French cuisine. It not only thickens your sauce, it adds richness without making the dish heavy.
Dutch Oven/Large Pot
This meal comes together in one pot, making it the perfect dish for busy weeknights. Unlike other stews or braising recipes, there is no long simmering time required here. All you need is a Dutch oven (or any large pot) so that there's plenty of room to sauté your meat and vegetables before adding broth.
Chicken or Vegetable Broth
With broth as the base liquid for this stew, you get the added bonus of flavor and nourishment. If you prefer using vegetable broth over chicken broth (or if that's what you have on hand), it will work fine. Both options will be complementary to the meat and vegetables.
Meat and Vegetables
Prepping these ingredients in advance makes cooking this stew even easier. I like to have all my vegetables chopped and set aside so that once the chicken is almost fully cooked (80%), I just throw them in the pot.
This dish is fairly versatile when it comes to the vegetables, but if you're willing to try it, I highly recommend sticking to the ones I list in the recipe for that authentic, Japanese Cream Stew taste!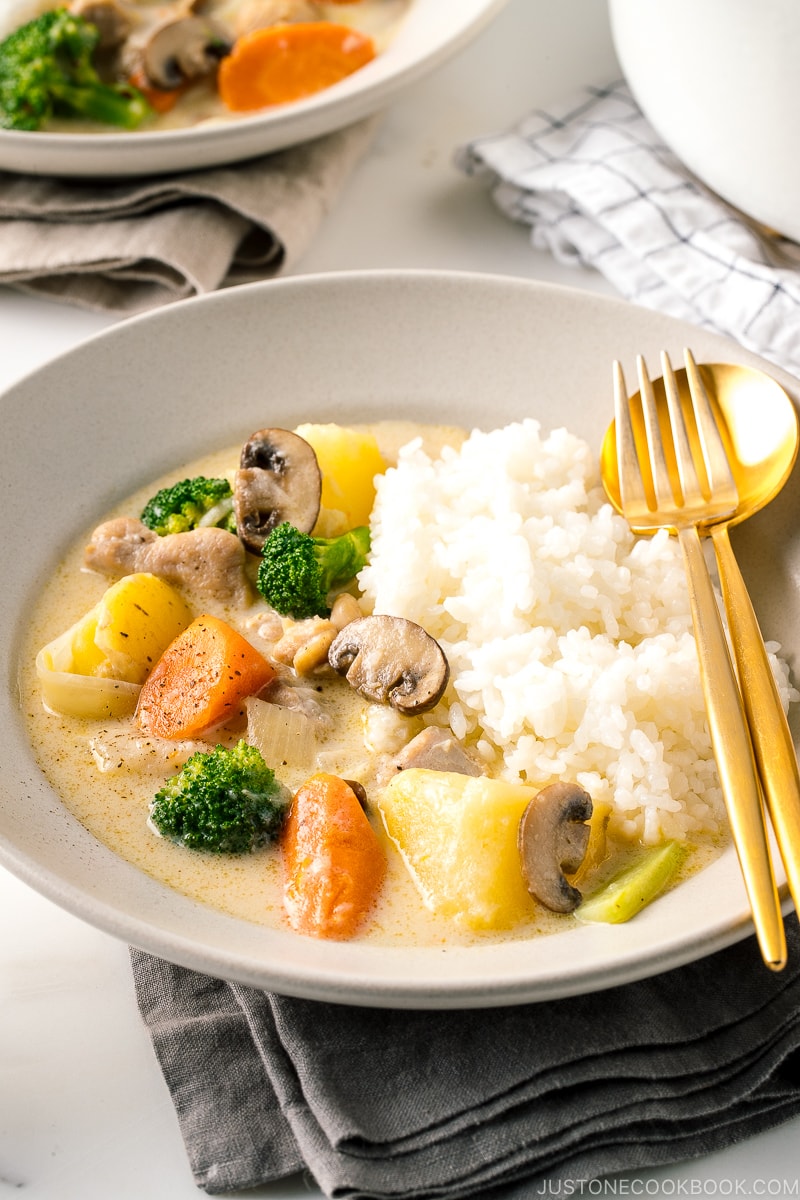 Shortcut: Storebought Cream Stew Mix (Roux)
In Japan, you can find Cream Stew Mix that looks like this.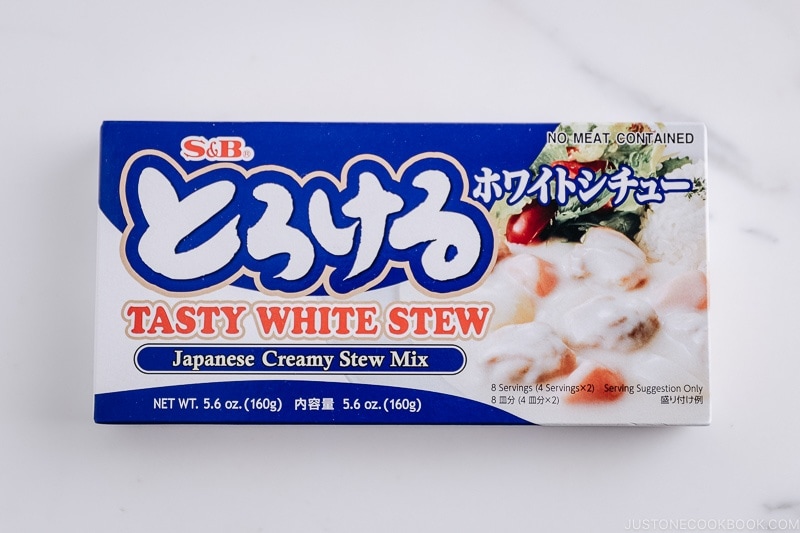 All you need to do is to add the cubed roux into the broth. All the kids learn how to cook Japanese Curry and Cream Stew this way. Even though it's not made with 100% "natural" ingredients, I'm not against using this. I personally think it's a great way to learn how to cook a home-cooked dish with the help of the pre-mixed roux, and in my opinion, it's better than buying fast food.
But, if you are up for it, making your own Bechamel sauce from scratch is always the best. My recipe below will show you exactly how.
How To Serve Cream Stew
Once your stew has finished simmering, let it cool till room temperature to really let the flavors meld and the sauce to thicken. Serve it in a wide bowl with freshly steamed rice and enjoy! This stew is also delicious with crusty bread—guaranteed to warm you right up.
If you want to freeze any leftovers, remove the potatoes (the texture changes once frozen) before you pack away your Cream Stew to save for another night.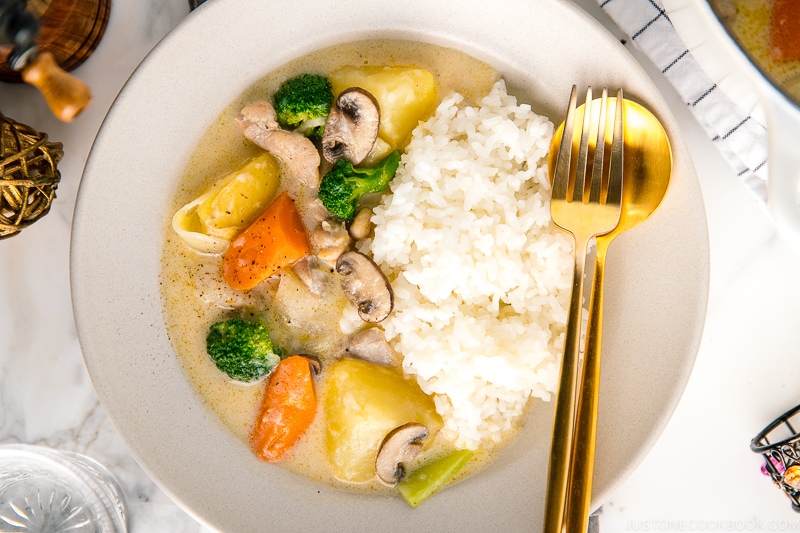 Japanese Ingredient Substitution: If you want to look for substitutes for Japanese condiments and ingredients, click here.
Wish to learn more about Japanese cooking? Sign up for our free newsletter to receive cooking tips & recipe updates! And stay in touch with me on Facebook, Pinterest, YouTube, and Instagram.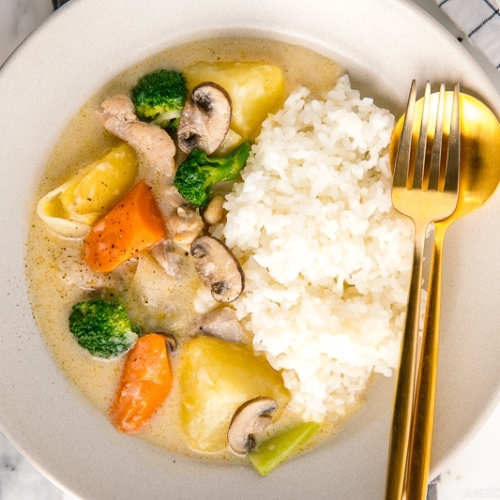 Japanese Cream Stew (White Stew)
Japanese Cream Stew, also known as White Stew, is rich and creamy without being heavy. It's a classic Yoshoku meal packed with tender chicken, bite-size vegetables, and served with steamed rice or crusty bread.
Servings:
6
(6 to 8 servings)
Ingredients
1

lb

boneless, skinless chicken thighs

(2-4 pieces; the cut really depends on the store, so go by weight)

½

tsp

kosher salt (Diamond Crystal; use half for table salt)

freshly ground black pepper

1

head

broccoli

(4 oz, 120 g)

1

tsp

kosher salt (Diamond Crystal; use half for table salt)

(for blanching broccoli)

1

onion

(11 oz, 312 g)

2

carrots

(9 oz, 255 g)

2

Yukon gold potatoes

(16 oz, 453 g; Yukon gold potatoes hold their shape better than Russet potatoes)

6

cremini mushrooms

(3 oz, 85 g)

1

Tbsp

unsalted butter

(for cooking)

1

Tbsp

extra virgin olive oil

(for cooking)

2

cups

chicken or vegetable stock

2

bay leaves

2

Tbsp

heavy whipping cream

(optional)

1

tsp

kosher salt (Diamond Crystal; use half for table salt)

(to taste)

1

box

Japanese Cream Stew Mix

(or make your own by following my Bechamel Sauce recipe below)
Bechamel Sauce (White Sauce)
3

Tbsp

unsalted butter

3

Tbsp

all-purpose flour (plain flour)

1

cup

whole milk

1

tsp

kosher salt (Diamond Crystal; use half for table salt)

⅛

tsp

white pepper powder

⅛

tsp

ground nutmeg
Japanese Ingredient Substitution:
If you want substitutes for Japanese condiments and ingredients, click
here
.
Instructions
Gather all the ingredients.
To Prepare the Chicken
Cut the chicken into 1 ½ inch pieces at a diagonal angle. The slanted surface gives each piece a flatter and more open surface so the chicken cooks evenly and faster. This cutting technique is called Sogigiri in Japanese.

Season the chicken with salt and freshly ground black pepper
To Blanch Broccoli
Cut off the broccoli florets and remove the tough skin of the stem and cut into small pieces.

Boil a pot of water and add salt. Start cooking the stem first for 1.5 to 2 minutes.

Then add the florets and cook for 2 minutes, or until almost tender but crisp. Remove from the water and let cool. You can shock the blanched broccoli in ice water to make it as bright green as possible, but since I add them to the stew anyway, I usually skip that extra step. But don't overcook as we will reheat them in the stew.
To Prepare Other Ingredients
Cut the onion in half lengthwise and then into wedges. Tip: Separate each layer at this step, then you don't have to do it in the pot later.

Peel and cut the carrots at an angle into 1 ½ inch pieces, after rotating 90 degrees each time. This cutting technique is called Rangiri in Japanese.

Cut the potatoes into 1 ½ inch pieces. For these Yukon gold potatoes, I did not remove the skin.

Cut the mushroom stem and slice caps.
To Cook Ingredients
In a large pot (I used a 4 ½ QT pot), heat 1 Tbsp butter and 1 Tbsp olive oil over medium heat. If you're using a non-stick pot, you can omit the olive oil.

Add the chicken and sauté until 80% cooked through.

Add the onion and stir to cook until the chicken is no longer pink.

Add the potatoes and carrots and coat well with oil in the pot.

Add the chicken broth and 2 bay leaves.

The chicken broth doesn't have to fully cover ingredients at this time as they will be eventually submerged when vegetables release moisture. Bring it to a boil on medium heat.

Once boiling, skim off the scum and foam and reduce heat to simmer.

Add mushrooms and simmer on a gentle heat, covered, for 10 minutes (set timer!).
To Make Bechamel Sauce (White Sauce)
Meanwhile (you have 10 minutes!), we make Bechamel Sauce. In a small saucepan, heat the butter and let it melt completely on medium-low heat. During this time, heat up the milk to warm to touch in the microwave or on the stove.

Add in the flour and stir constantly, without stopping.

The butter-flour mixture will swell and bubble. Continue to cook, stirring constantly, for the next 5 minutes. You want to make sure the flour is cooked and does not have raw flour taste.

Slowly and gradually add warm milk to the saucepan, one tablespoon at a time while you combine it with the butter-flour mixture.

Don't hurry, and NEVER add too much liquid. You do not want to create lumps and once you get them, they are hard to fix.

The goal is to blend the mixture COMPLETELY before you add more liquid.

Add salt, white pepper, and nutmeg, and mix all together. Turn off the heat and set it aside.
To Combine White Sauce and Broth
After 10 minutes of simmering, open the lid.

Check the doneness by inserting a skewer into a potato. It should be tender, but don't overcook. It should not break easily. Add 1 box of Japanese Cream Stew Mix. Break the mix and add 2 blocks at a time into the ladle and let them dissolved completely before adding more blocks.

If you made homemade bechamel sauce, scoop broth with a ladle and gradually pour the broth into the bechamel sauce while stirring to blend together completely.

Add another ladle of broth and combine well. Now pour the white sauce back into the pot. Gently mix to blend with the rest of the broth.

Add the heavy cream (if you're using it) and season with salt to taste.

Simmer, uncovered, for another 5-10 minutes on low heat. [Optional Step] To improve the flavor, I highly encourage you to let the stew sit at the stove or counter to let cool to room temperature (keep the lid open). The stew will naturally thicken as the moisture evaporate and let the flavors meld as it cools.

Right before serving, add the blanched broccoli to the stew to reheat. Simmer on low heat and do not boil. Once everything is nice and warm, serve the stew. Enjoy it with steamed rice or crusty bread.
To Store
You can store the leftovers in an airtight container and keep it in the refrigerator for up to 2 days. If you plan to freeze, remove the potatoes (their texture will change) and freeze for up to a month.
Notes
Recipe by Namiko Chen of Just One Cookbook. All images and content on this site are copyright protected. Please do not use my images without my permission. If you'd like to share this recipe on your site, please re-write the recipe and link to this post as the original source. Thank you.
Nutrition
Calories:
322
kcal
·
Carbohydrates:
29
g
·
Protein:
20
g
·
Fat:
15
g
·
Saturated Fat:
7
g
·
Polyunsaturated Fat:
1
g
·
Monounsaturated Fat:
5
g
·
Trans Fat:
1
g
·
Cholesterol:
96
mg
·
Sodium:
596
mg
·
Potassium:
903
mg
·
Fiber:
5
g
·
Sugar:
8
g
·
Vitamin A:
7552
IU
·
Vitamin C:
39
mg
·
Calcium:
117
mg
·
Iron:
2
mg
©JustOneCookbook.com Content and photographs are copyright protected. Sharing of this recipe is both encouraged and appreciated. Copying and/or pasting full recipes to any website or social media is strictly prohibited. Please view my photo use policy
here
.
Editor's Note: The original post was published on February 16, 2011. The post has been republished in December 2020 with a new recipe, new images, and updated content.