Are you ready for the dreamiest pancake for your Sunday brunch? This perfectly scented Matcha Souffle Pancake (抹茶スフレパンケーキ) is calling. It's super airy and fluffy like you're eating cottony clouds, only with a special touch of flavor! Enjoy it with homemade whipped cream and an extra sprinkling of matcha powder.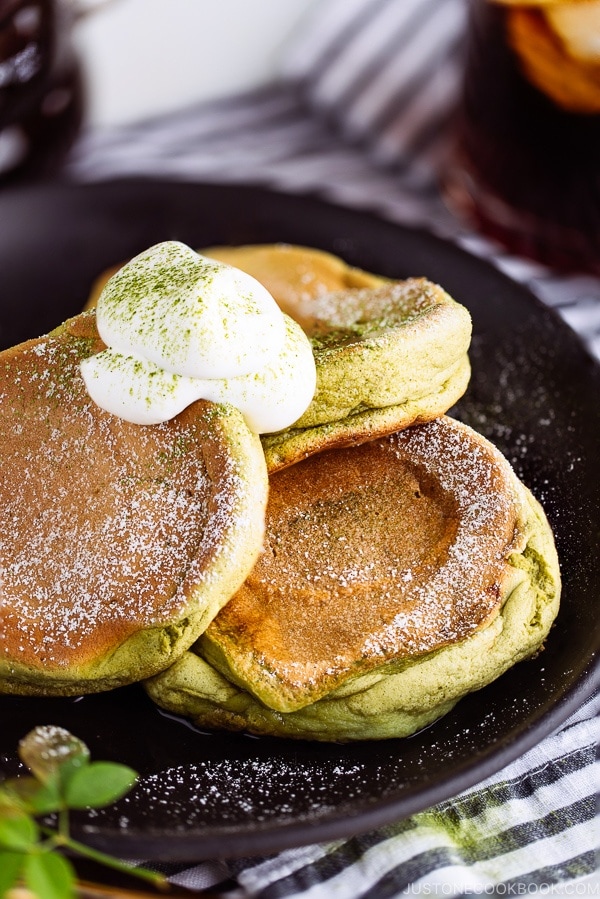 When I was testing the recipe for Japanese Souffle Pancake, I already couldn't wait to make Matcha Souffle Pancake (抹茶パンケーキ). Clearly, I have a long time obsession with matcha. It makes me happy that I get to share this passion with you on Just One Cookbook. If you're also a big fan of this green tea powder, you have to try out these matcha recipes.
Today's recipe is another one to love where I took a step further by flavoring the original souffle pancake with matcha to give it a brilliant green hue that stands out and a flavor boost that you can't stop eating.
What is Matcha Souffle Pancake?
Matcha is powdered green tea (or green tea powder) and souffle pancakes are fluffy, airy, and pillowy pancakes that are thicker than ordinary pancakes.
With an earthy, slightly bitter and distinctly vanilla-like flavor, matcha can do wonder when incorporated into desserts and baked goods. Thanks to the complexity of matcha, you will find this souffle pancake carries a wonderful depth and a subtle touch of savoriness in its sweet flavor.
What's the Difference between 

souffle pancakes and regular pancakes? 
The ingredients for souffle pancakes are similar to regular pancakes, so what makes them different?
Souffle pancakes are all about the eggs. Egg yolks and egg whites are separated, and the whites are beaten to make meringue. Just like how you would make savory/sweet souffles or chiffon cakes.  The egg whites are beaten until stiff peaks form, and then are folded gently and carefully into the rest of the batter.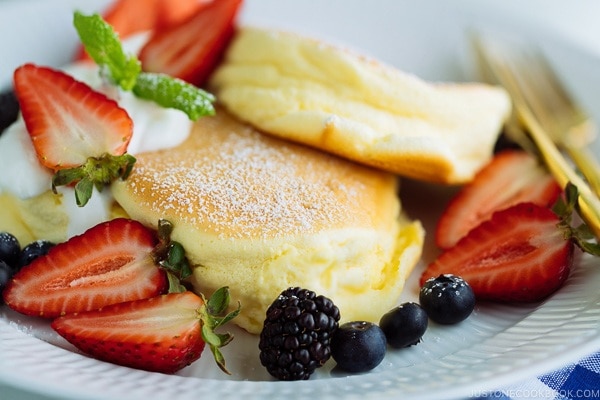 The souffle pancakes are extra fluffy because those air bubbles trapped in the egg whites expand, making the souffle rise and hold their shape from collapsing. As a result, the pancakes are super airy, like souffle. When you cut the pancakes, you can even hear the sound of air bubbles escaping!
Frankly speaking, making souffle pancake may not be as simple and easy as making regular pancakes. To make that fluffy and airy texture, souffle pancake requires meringue in the batter. If you don't make dessert often, making meringue might be a bit of challenging task. But with practice, you will know when to stop beating egg whites.
My Favorite: Super-Fine Unbleached Cake Flour from Bob's Red Mill®
This post was sponsored by Bob's Red Mill®. I couldn't be any more thrilled when I get to work with Bob's Red Mill® to develop this Matcha Souffle Pancake recipe.
When comes to baking and breakfast products, I highly recommend Bob's Red Mill®. Have you tried any of their flours or other products before? What I genuinely admire about the company is that they use honest ingredients and methods for all their wide range of products, which I think it's important for the consumers.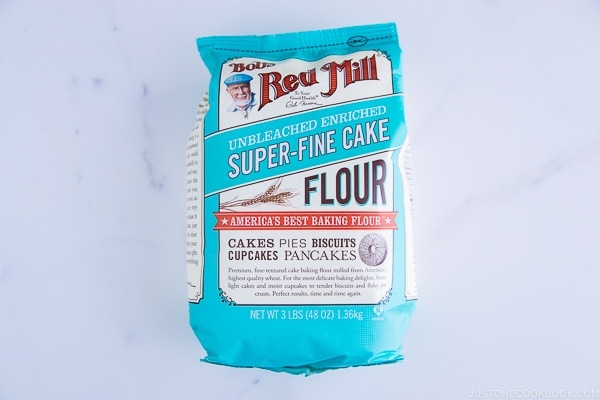 As an employee-owned company, Bob's Red Mill® uses high-quality whole grains to satisfy all vegan, paleo, and gluten-free friendly cooking and baking needs. From almond flour, cake mixes, coconut flour to various grains, it offers the largest lines of organic, whole grain foods in the country. You can be assured that all of its products are certified Kosher and made with ingredients grown from non-GMO seeds. If you're curious, you can go to the website and learn more about the founder, Bob Moore and his mission too.
To achieve the perfect light texture for the souffle pancake, I used Super-Fine Unbleached Cake Flour from Bob's Red Mill®. Because it is sifted to a very fine texture, the cake flour is fantastic for all sorts of cakes – especially delicate ones like souffle pancakes. You should be able to find the cake flour at any major grocery stores. Alternatively, you can also buy it on Amazon.
Find Matcha for Matcha Souffle Pancake
Good quality matcha green tea powder can be easily found in Japanese grocery stores but could be hard to find in Asian grocery stores (Chinese, Korean, etc). This brand of matcha powder can be found on Amazon. There are several grades, and my recommendation is Universal Quality or Culinary Quality (cheaper but lower quality).
When you buy matcha, make sure they are pure 100% matcha, not containing sugar or other ingredients. Some packages are for cold sweet matcha drink that you only need to add iced water. Matcha should be sold in a small container as you have to use it within 2-3 weeks.
As for the color of matcha, the higher grade it is, the more vivid green it will be. If your matcha doesn't have a nice deep green, then your final dish will not have the beautiful color. A dull yellow-ish green will not improve by cooking/baking with it.
Frequently Asked Questions
1. Can you make the souffle pancakes ahead of time?
Not for this recipe. As soon as the meringue is made, you need to fold into to the batter so that the air is incorporated into the mixture. While air bubbles are in the batter, make the pancakes.
2. Can you make more than 3 at a time?
You can, if you have an electric griddle with a lid like this because you will need the lid to steam cook the pancake. Otherwise, you can also use two frying pans.
3. Can you shorten cooking time?
It takes at least 20 minutes for souffle pancake specialized restaurants in Japan to make these pancakes. So, you do need some time if you want to enjoy these special pancakes. The key of making thick and fluffy pancakes is to brown the surface of the pancake first in order to achieve the nice crust, and then cover to slowly cook (steam) inside the thick batter on lowest heat.
4. Do we need cake flour?
Yes, to get that fine, soft, cakey-texture of pancakes, cake flour is highly recommended. I mentioned my favorite cake flour I use for this recipe above in this post.
5. Do the souffle pancakes hold their height and structure?
The souffle pancakes are the tallest and fluffiest right after you finish making. Then they slowly fall like souffles. That's just what they do. There's no structure to hold them up other than being inflated with hot air. As soon as they start to cool, they deflate.
For a visual guide, I include my video tutorial on how to make the best Japanese Souffle Pancake below:
Watch How to Make Japanese Souffle Pancake (Plain Version)
Super airy and fluffy, this Souffle Pancake (スフレパンケーキ) is like eating cottony clouds, but even better with homemade whipped cream and fresh berries!
I hope I've convinced you to skip the line and make your stay-in Sunday brunch with a stack of these Matcha Souffle Pancakes instead. Cozy jammies and bottomless coffee are all part of the deal.
Don't want to miss a recipe? Sign up for the FREE Just One Cookbook newsletter delivered to your inbox! And stay in touch with me on Facebook, Pinterest, and Instagram for all the latest updates.
Matcha Souffle Pancake
Are you ready for the dreamiest pancake for your Sunday brunch? This perfectly scented Matcha Souffle Pancake is calling. It's super airy and fluffy like you're eating cottony clouds, only with a special touch of flavor! Enjoy it with homemade whipped cream and an extra sprinkling of matcha powder.
Servings:
3
3-inch pancakes
Ingredients
2

large eggs (50 g each w/o shell)

2

Tbsp

whole milk

¼

tsp

pure vanilla extract

¼

cup

cake flour (If you're using a cup measurement, please follow this method to measure. Otherwise, the amount of flour tends to be more than you need. 1 cup should be 120 g; ¼ cup should be 30 g. You can make your Homemade Cake Flour.)

1

tsp

matcha (green tea powder)

(2 g)

½

tsp

baking powder

(2 g)

2

Tbsp

sugar

1

Tbsp

neutral-flavored oil (vegetable, rice bran, canola, etc.)

2

Tbsp

water

(for steaming)
Fresh Whipped Cream
½

cup

heavy whipping cream

1 ½

Tbsp

sugar
To Serve (Toppings)
1

Tbsp

confectioners' sugar/powdered sugar

maple syrup
Japanese Ingredient Substitution:
If you want substitutes for Japanese condiments and ingredients, click
here
.
Instructions
Gather all the ingredients. You will also need a 12-inch non-stick frying pan (large enough to cook 3 pancakes at the same time) with a lid.
Make Fresh Whipped Cream
Prepare ice bath by putting ice cubes and water in a large bowl and placing a clean and dry mixing bowl over.  Add heavy cream and sugar to keep cool.

Whisk on high speed until medium to firm peaks form. The whipped cream should not be runny, but soft and fluffy firm. Keep it chilled until you're ready to serve the pancakes.
Make Pancakes
Separate egg whites and egg yolks into two different bowls. Put the bowl with egg whites in the freezer for 15 minutes. Here's why (Read "1. Chill egg whites (What?!)").

In the meantime, add milk and vanilla to the egg yolks and whisk until thick and frothy.

Sift the cake flour and baking powder into the bowl. Because we add matcha powder, make sure to remove 1 tsp (3 g) cake flour after you measure ¼ cup.

Whisk to combine thoroughly (but do not over-mix) and set aside.

After 15 minutes, take out the bowl with egg whites from the freezer. The egg whites should be half frozen. Now start beating the egg whites.

When the egg whites turn frothy and pale white, gradually add in sugar. Continue to whip the egg whites.

The egg whites will become glossier and firmer. Stop beating when you lift up the hand mixer and the egg whites stand right up with soft peaks slightly bending over.

Heat the large non-stick frying pan to 300ºF (150ºC) over the lowest heat. Brush with cooking oil and lightly remove any visible oil (otherwise the pancakes will have a spotty pattern). Keep the heat on while you combine egg whites and egg yolk mixture.

Take 1/3 of egg whites and add into the egg yolk mixture. Whisk together (don't worry too much about breaking air bubbles at this step).

Next, take half of the egg whites and add to the egg yolk mixture. Gently fold in without breaking the air bubbles in the egg whites.

Now transfer the egg yolk mixture into egg whites. Carefully fold in two mixtures together without breaking the air bubbles. Make sure to gently mix the batter thoroughly!

Remember each pancake gets roughly 4 scoops of batter, so that's a total of 12 scoops for 3 pancakes. Now, scoop the batter and place on the frying pan. My recommendation is to use a small ladle (or a serving spoon that's bigger than a regular spoon) and make a tall pancake. Next, stack one more scoop to the first pancake. Then move on to the next two pancakes giving each 2 small scoops.

By the time all 3 pancakes have 2 scoops, the surface of the batter is slightly dry already, so you can stack one more scoop on top, keeping it up high. In the bowl, you should still have roughly 3 scoops left (if you have slightly more, that's okay).

Set timer for 6-7 minutes, add 1 Tbsp water in 3 empty spaces inside the pan, and cover with the lid. Water keeps the pancake moist. Please note: the suggested time is just a guideline and it's based on the stove and frying pan that I'm using.

After 2 minutes passed, open the lid, and add one more scoop for each pancake (or more scoops if you have more batter). Make sure to stack high, not wide. If the water has evaporated, add a little bit more. Cover with lid and cook.

After 6-7 minutes passed, using the offset spatula, lift the pancake VERY GENTLY. If you feel the pancake is stuck, don't touch it until they firm up a little. If you force it, the pancake will crack in the middle. When the pancake is ready, you can easily move the pancake. Slightly pull the pancake to create an empty space and gently flip over with a "rolling over" motion.

Add water in empty spaces and set the timer for 4 to 5 minutes to cook the other side on the lowest heat.

Once they are nicely browned, transfer the pancakes to your serving plates. Place fresh cream on the pancakes and top with berries. Dust the pancake with confectioners' sugar, a light sprinkling of matcha powder and drizzle with maple syrup. Enjoy!
Nutrition
Calories:
233
kcal
·
Carbohydrates:
21
g
·
Protein:
7
g
·
Fat:
13
g
·
Saturated Fat:
8
g
·
Polyunsaturated Fat:
1
g
·
Monounsaturated Fat:
4
g
·
Trans Fat:
1
g
·
Cholesterol:
152
mg
·
Sodium:
130
mg
·
Potassium:
85
mg
·
Fiber:
1
g
·
Sugar:
13
g
·
Vitamin A:
555
IU
·
Vitamin C:
1
mg
·
Calcium:
85
mg
·
Iron:
1
mg
©JustOneCookbook.com Content and photographs are copyright protected. Sharing of this recipe is both encouraged and appreciated. Copying and/or pasting full recipes to any website or social media is strictly prohibited. Please view my photo use policy
here
.