Eating in Kyoto Guide: Kyoto's cuisine has a long history and I love its unique characteristic of using seasonal ingredients without over flavoring the dish when eating in Kyoto.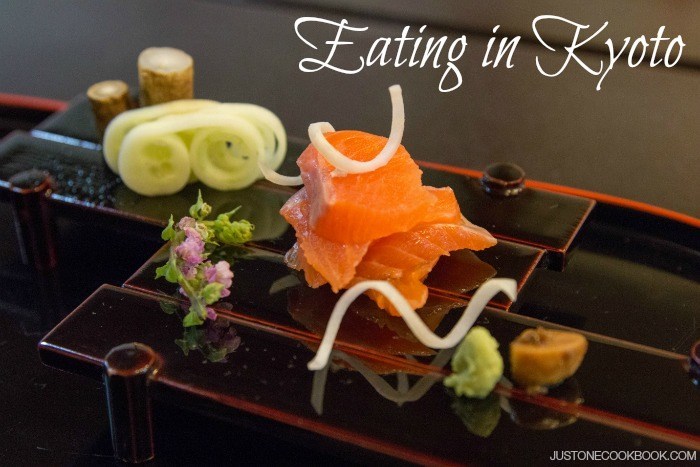 This is my final posts on my visit to Kyoto and the topic will focus on food. While walking around Kyoto and taking in the amazing sceneries, we also tried various types of specialty food in Kyoto. From Kobe Steak to Kaiseki Ryori, and to a traditional tofu shop that was founded 375 years ago, eating in Kyoto was just as interesting as the city itself.
After we checked into our hotel (Westin Miyako Hotel) the first night, it was already dinner time and since the children wanted to swim right after dinner we grabbed a bite nearby at Kiraku. Kiraku specializes in Okonomiyaki (お好み焼き) and some Teppenyaki (鉄板焼き) style food. Sure I make them at home, but it's nice having someone else do the prep work and cooking as well. At Kiraku, all the dishes were prepped and cooked at the open kitchen and we got to observe how our meal was created.
They have 2 sizes for Okonomiyaki: one is gigantic and the other is the normal size. Our family share 1 giant one and 1 standard size and that was enough for  2 adults and 2 children. Besides the Okonomiyaki, my son also loves grilled squid (bottom left) so we had that along with their house special omelette Tonpeiyaki (top right). The restaurant was great for a quick bite and our children ate happily and swam after.
Kyoto is famous for Kyo-ryori (京料理), which translates to Kyoto's Cuisine. The heart and soul of Kyo-ryori is to:
Bring out the flavor and elements of fresh and seasonal ingredients.
Use minimal seasoning.
Present the food beautifully.
Able to enjoy the food not just with flavor, but through sight, smell, and other senses.
One of Kyoto's specialty food which incorporate this spirit is Yudofu (湯豆腐), or simply hot tofu. We enjoyed our tofu meal near Kiyomizu-dera at Okutan (総本家ゆどうふ奥丹清水), a tofu restaurant that was founded more than 375 years ago in 1635.
The restaurant and the dining area is set in a beautiful green scenery that changes with the season. Since it's extremely popular, try making reservation beforehand or arrive around 11 AM to avoid a long wait. Okutan's tofu is made in the basement of the restaurant fresh every morning to be served that day.
What makes their tofu so special? It's made using natural ground water from Shiga Prefecture and uses natural coagulant, resulting in milder flavor and smoother texture. Besides using great ingredients, their soybeans are pesticides free. Depending on the course you order, the set meal range from USD$32 to $43. Most courses comes with sesame tofu, grilled tofu with sweet miso, tororo (grated yam, here it's soup), vegetable tempura, and of course yutofu.
Each dish was very enjoyable, not overly flavored and letting you taste the ingredient as they meant to be. The sweet miso with tofu had the perfect sweetness and does not overpower tofu's flavor. As for the main course yutofu, the restaurant recommends you to eat a piece first without any condiment to savor its flavor. After that, you can enjoy the rest by putting a little soy sauce on the tofu and garnish with green onion and Shichimi Togarashi. The tofu had amazing texture and flavor, and it was definitely one of the best yutofu I've ever had.
After you make your trek around Kiyomizu-dera and other sites around east side of Kyoto, head to Nishiki Market in the afternoon. This wonderful food arcade has been around since the 1600's and it's one of the main tourist attractions in Kyoto. The market closes at 5 pm so give yourself a bit of time. The market runs for about 4 blocks spanning about 1300 feet.
Though short in length, there are over 130 stores selling everything from tsukemono (Japanese pickles) to grilled unagi (eels), seafood vendors, Japanese pottery shops, and spice stalls. The shops vary in size from tiny stalls to large store fronts. It was fascinating for us as we stroll through the market checking out the various merchandise each merchant offers. Stop by and sample some flavors of Kyoto, perhaps bring home a souvenir or two to remember your trip to Japan.
As you finish browsing the market, head south 2 blocks and you'll be on Shijo Dori (四条通). This is the luxury and high end retail street in Kyoto, where you'll find department stores Daimaru and Takashimaya as well as global brands like Louis Vuitton. Browse around and then head east where you'll find a small alley called Ponto-chō (先斗町). Don't let the size of the alley deceive you, this area is one of the main geisha district and has an extensive restaurant selection.
The buildings along the alley tried to retain their history character and you feel as you are again transported to another time. The restaurants on the right side of the alley offer seasonal outdoor patio seating with a view of the Kamogawa River.
While looking the visitor's map from the hotel, I noticed an ad for Teppanyaki for award-winning Kobe beef. I mentioned to Mr. JOC and his eyes just lit up. For the past few trips to Osaka to visit my grandparents and relatives, he wasn't able to join and missed out on delicious teppanyaki-style steak from my late grandpa's restaurant New Matsusaka (read the post here).
The teppanyaki restaurant we decided to go was called Itoh Dining Kyoto and it is located in a small alley in Gion (祇園) district. We were seated at the back of the restaurant right next to a river (Shirakawa), and the setting was beautiful.
As we were waiting to be seated, there were autographs from numerous celebrities including Michael Bay and the Transformers cast, Michael Schumacher, and Yankee's Masahiro Tanaka. Our expectation was raised pretty high, celebrities and award-winning beef! 
The course meal came with katsuo (bonito) sashimi with ponzu and garlic flakes, cold kabocha soup with crispy Parmesan cheese, fatty tender pork belly with potato and tomato sauce, sea bass with truffle sauce, foie gras with daikon simmered in orange juice, grilled beef, and dessert.
Among the courses, the sea bass was quite exceptional; it was crispy on the outside while the flesh melted in your mouth. The daikon simmer in orange juice paired really well with the foie gras, cutting through the fattiness and soft root texture contrasted well with the crispy bread. The Kobe beef steak lived up to its expectation, full of juice and flavor while slightly crisp on the outside. The only disappointing part was the garlic chips they used as it tasted like they were from a pre-made package.
Finally, the highlight of our meals in Kyoto. While in Arashiyama (嵐山), we made reservation at Nishiki restaurant (京嵐山 錦), which served Kaiseki Ryori. In Kyoto, Kaiseki ryori can range anywhere from USD$50 to USD$300 per person. We selected a restaurant that offered the set course for USD$75 as we wanted our children to experience the meal, but didn't want to go overboard. After doing a bit of research Nishiki's pricing was in our range and received good reviews. Once again, the setting of the restaurant is really pretty as it sit on the small island off the Togetsukyo Bridge (渡月橋). We were provided a large private room with a view of the river from the window.
The Kaiseki meal was a 10-course meal, and some of the course contained multiple elements. What do I mean by elements? If you look at the sashimi dish below (top right), it not just sashimi served in a plate. It's decorated with cucumber and other ingredients which made the course a delight to look, and of course eat. I loved how each dish was exquisitely presented and the best part was that not only are the dishes pretty, everything was edible.
We started with deep fried tofu with Japanese mustard (top left). The tofu was tender and soft and flavor was enhanced by the soy sauce and mustard. The second dish was salmon sashimi with gobo, cucumber, shiso flower, and garlic (top right). It was decorated like a fishing pier in the Japanese countryside and it was absolutely gorgeous. Everything was edible including the shiso flower. We moved on to the miso soup with sesame tofu (middle left). The dashi for the soup was excellent and the soft jello like sesame tofu was flavorful and complimented well with red miso.
Then we had deep fried Kamo eggplant filled with miso flavored meat filling (middle right). Kamo eggplant (賀茂なす) is a highly prized Kyoto vegetable. I saw this vegetable in Tokyo area this past summer, but it's very rare for stores to carry and it's also quite expensive. Despite the humble appearance of this dish, the eggplant was juicy and very tasty.  The eggplant absorbed the flavor well from the miso and each bite was heavenly for me as I love eggplants. We also had a plate of teriyaki scallops with okra, hamo fish (pike eel) sunomono salad, and hamo fish in spicy miso vinaigrette (bottom left). Then we have Ayu Shioyaki (salt-grilled sweetfish).
As we enjoyed each course, we could see and feel the effort the chef made trying to extract the essence from each dish. Some of the dishe are interactive as well, like food are hidden inside the small wooden basket (bottom left). It represents a basket for fireflies, which we could see at night along the river nearby. It was like a game which made the meal entertaining.
Next the 2-tiered ojubako (traditional lacquer meal box) came where you find many different dishes inside (middle right). In the top tier, a small sushi was hidden under the roof of the boat and there are simmered tiny fish in a tiny pot. Inside the lantern the grilled salt-water eel was hidden. The bottom tier has several kinds of simmered dishes which include hijiki, a type of seaweed, tofu, and chicken. Each dish was meticulously crafted and works together to tell you a story.
When it was the course for rice, I was expecting to eat regular rice, but a soupy dish came (top). It was actually a porridge made with mozuku, a type of edible seaweed. I never had mozuku with rice, so it was definitely an interesting experience.
We finished the meal with 4 different kinds of desserts and our entire family was very satisfied. As you can see from the images below, Kaiseki ryori doesn't focus on quantity of food, but rather delicate preparation and presentation of the food which bring out the flavors.
I hope you enjoyed my brief culinary journey in Kyoto as well as the flavors I experienced. I get asked by readers quite frequently on where and what to eat when traveling in Japan. I'll offer some helpful tips on finding recommended restaurants in Japan in a future post. Stay tuned!
You love Yatsuhashi (八ツ橋) from Kyoto? Make it at home! Here's the recipe.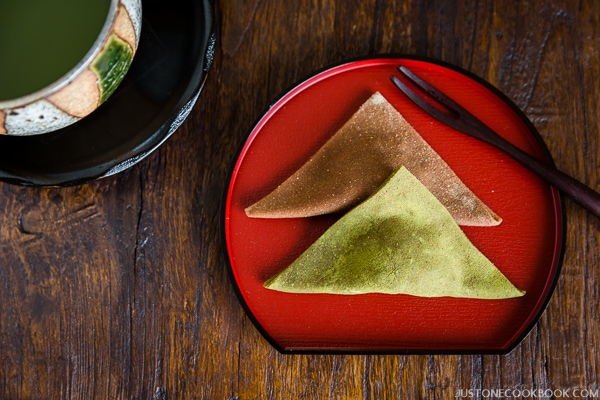 Don't want to miss a post? Sign up for the FREE Just One Cookbook newsletter delivered to your inbox! And stay in touch on Facebook, Google+, Pinterest, and Instagram for all the latest updates.
Update: Each month 20% of proceeds from selling my eBook will go to charity. For September, I donated to International Rescue Committie (for Ebola Crisis). Thank you for those who purchased the eCookbook!