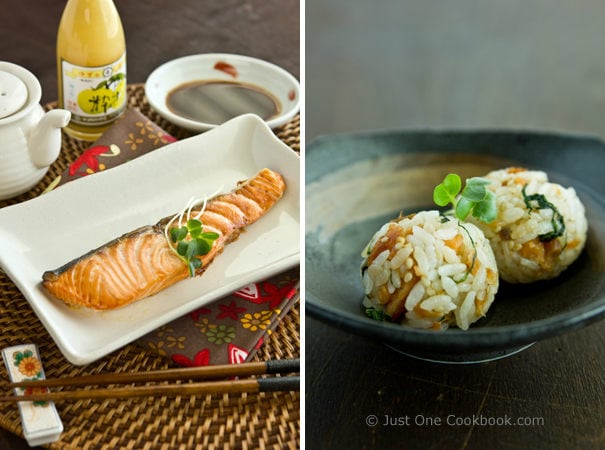 I have some very exciting news to share with everyone today.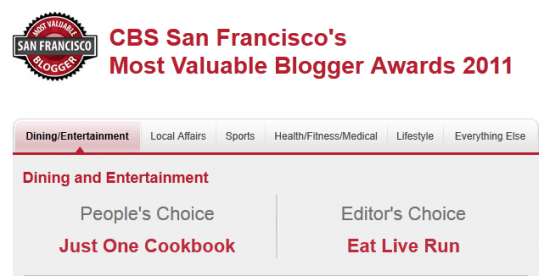 Just One Cookbook won People's Choice Award for CBS San Francisco's "Most Valuable Blogger" in the Dining/Entertainment category!! My husband and I were both shocked when we were selected as finalists and even more surprised when we actually won! Thank you so much for your love and support. I appreciate each and every one of you more than you will ever know. This recognition means a lot to me personally and inspires me to continue sharing more delicious recipes. Thank you everyone!! I will be giving away a $50 Amazon Gift Card soon, so stay tuned! 🙂
*****
Since my posts on Monday and Wednesday were focused on light meals, I will continue with the same theme and end this week with a healthy post. I hesitated to call this Broiled Salmon dish as a "recipe" because all that is required is to broil the fish in the oven toaster. This is my go-to recipe when I already have a meat dish available as the primary course and don't really have time to prepare another main dish from scratch.
After I married my husband I learned that the Chinese usually have several main dishes during a meal. I grew up in Japan where we typically have one main dish and the rest are considered all side dishes. We may have 2 main dishes once in a while but it is rather rare. So it was a surprise when my husband asked me if we are having other dishes besides one on the table after I started to cook for him. That was a big culture shock to me because Japanese cuisine is light and simple most of the time. To adapt to our mixed culture life, I've started to cook at least 2 main dishes for each meal and when I'm really busy I can always count on broiled fish as one of the main dish because it requires very little preparation.
This simple broiled fish is best served with yuzu soy sauce. Prepare a small dish with soy sauce and add a few drops of yuzu extract. It's simple yet very delicious and goes well with broiled fish (hamachi, salmon, or aji). A lot of our friends have tried this sauce and they are quite surprised how great it tastes.
Most of the time my children devour any broiled fish we serve, but once in a while, there is leftover. I usually make Salmon Onigiri (Rice Ball) using the leftover. Shiso adds a nice flavor and brings out a great appetite. I hope you will try this simple meal one day.
Have a great weekend!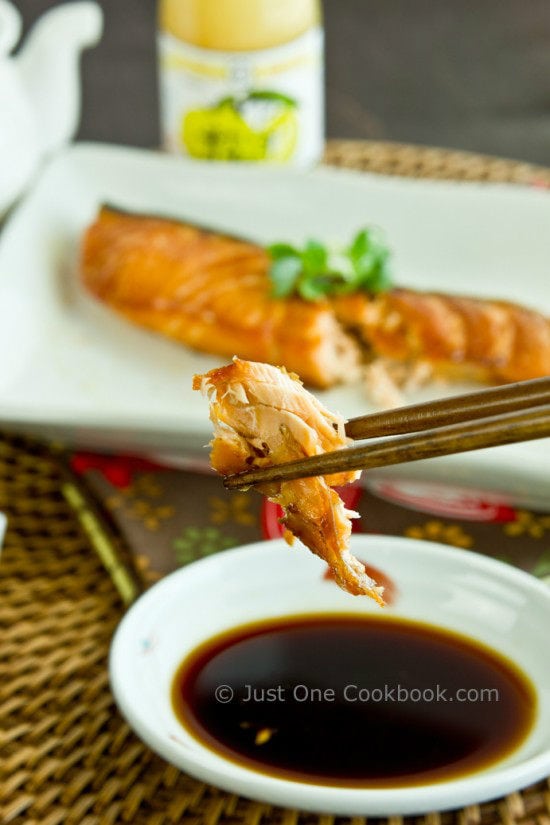 Wish to learn more about Japanese cooking? Sign up for our free newsletter to receive cooking tips & recipe updates! And stay in touch with me on Facebook, Pinterest, YouTube, and Instagram.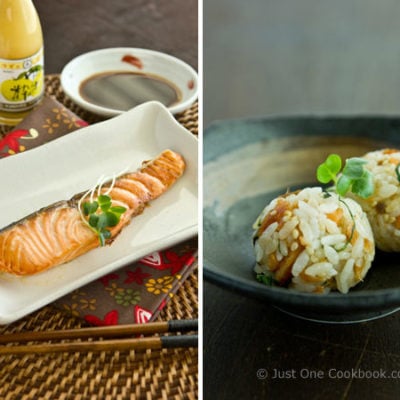 Broiled Salmon and Salmon Onigiri (Rice Ball)
This simple broiled fish is best served with yuzu soy sauce. Prepare a small dish with soy sauce and add a few drops of yuzu extract. It's simple yet very delicious and goes well with broiled fish (hamachi, salmon, or aji).
Ingredients
For Broiled Salmon
2

skin-on salmon fillets

(each fillet is roughly ½" (1.3 cm) thick; we make two fillets and keep one fillet for making rice balls)

1

Tbsp

soy sauce

(for dipping sauce)

1

tsp

yuzu juice (extract)

(for dipping sauce)
For Making Salmon Onigiri
Japanese Ingredient Substitution:
If you want substitutes for Japanese condiments and ingredients, click
here
.
Instructions
To Broil (Recommended)
Preheat the broiler* with a rack placed about 6" (15 cm) away from the top heating element (in the center of the oven) for 5 minutes. When broiling, you don't control the temperature in the oven; instead, you control the distance between the broiler and the surface of the food. It's similar to using hotter and cooler zones on your grill. *Broiler setting: Low (450ºF/232ºC), Medium (500ºF/260ºC), and High (550ºF/288ºC). I usually use medium (6" away) or high (8" away).

Line a baking sheet with foil for easy cleaning. Place the salmon on the foil, skin side up (for crispy skin!). Broil the salmon at medium (500ºF) or high (550ºF) for 8-10 minutes. Please remember the cooking time varies depending on the thickness of the fish and the distance between the broiler and the food. Japanese salted salmon is cooked till well done (more dry and flaky). You do not need to flip it.
To Bake (Optional)
Preheat the oven to 425°F (218ºC) with a rack placed in the center and bake the salmon on parchment paper for 10-12 minutes. Japanese salted salmon is cooked till well done (more dry and flaky).
To Serve & Store
Prepare a small plate/bowl with soy sauce and yuzu extract. I use this brand of yuzu and dip salmon in the sauce to enjoy. Goes very well with white rice. You can keep the leftovers in an airtight container and store in the refrigerator for up to 3 days or in the freezer for a month.
★ Salmon Onigiri
Cook steamed rice first. Once cooked, transfer to a large bowl.

In a non-stick frying pan, heat 2 tsp oil and add broiled salmon. With a wooden spatula, break up the salmon into smaller pieces.

Add the rest of the ingredients (ginger, sake, sugar, soy sauce, sesame seeds, and shiso leaves) to the pan and mix all together.

Pour the mixture into the bowl of cooked rice. Mix all together.

While the rice is warm, make rice balls with wet hands. See how to make onigiri in this post.
To Store
Onigiri (or any rice dish) gets hard when you refrigerate. The cold air makes the rice dry and hard (which is perfect for fried rice!). I don't recommend making onigiri ahead of time. But if you really need to, my trick is to wrap the onigiri with thick kitchen towels and store in the fridge. Onigiri will be cool and safe, but should not be cold.
Nutrition
Calories:
606
kcal
·
Carbohydrates:
61
g
·
Protein:
41
g
·
Fat:
20
g
·
Saturated Fat:
3
g
·
Polyunsaturated Fat:
9
g
·
Monounsaturated Fat:
6
g
·
Trans Fat:
1
g
·
Cholesterol:
94
mg
·
Sodium:
796
mg
·
Potassium:
925
mg
·
Fiber:
1
g
·
Sugar:
4
g
·
Vitamin A:
69
IU
·
Vitamin C:
1
mg
·
Calcium:
101
mg
·
Iron:
5
mg
©JustOneCookbook.com Content and photographs are copyright protected. Sharing of this recipe is both encouraged and appreciated. Copying and/or pasting full recipes to any website or social media is strictly prohibited. Please view my photo use policy
here
.