Our family's favorite rice ball combination is Salmon and Shio Kombu Onigiri. For this Japanese bento classic, I use salmon flakes for savory protein and salted kelp strips for their deep briny flavor. I also mix in refreshing shiso and myoga ginger along with crunchy toasted sesame seeds. It's a delicious umami flavor bomb that's perfect for lunch at home, work, school, or a picnic.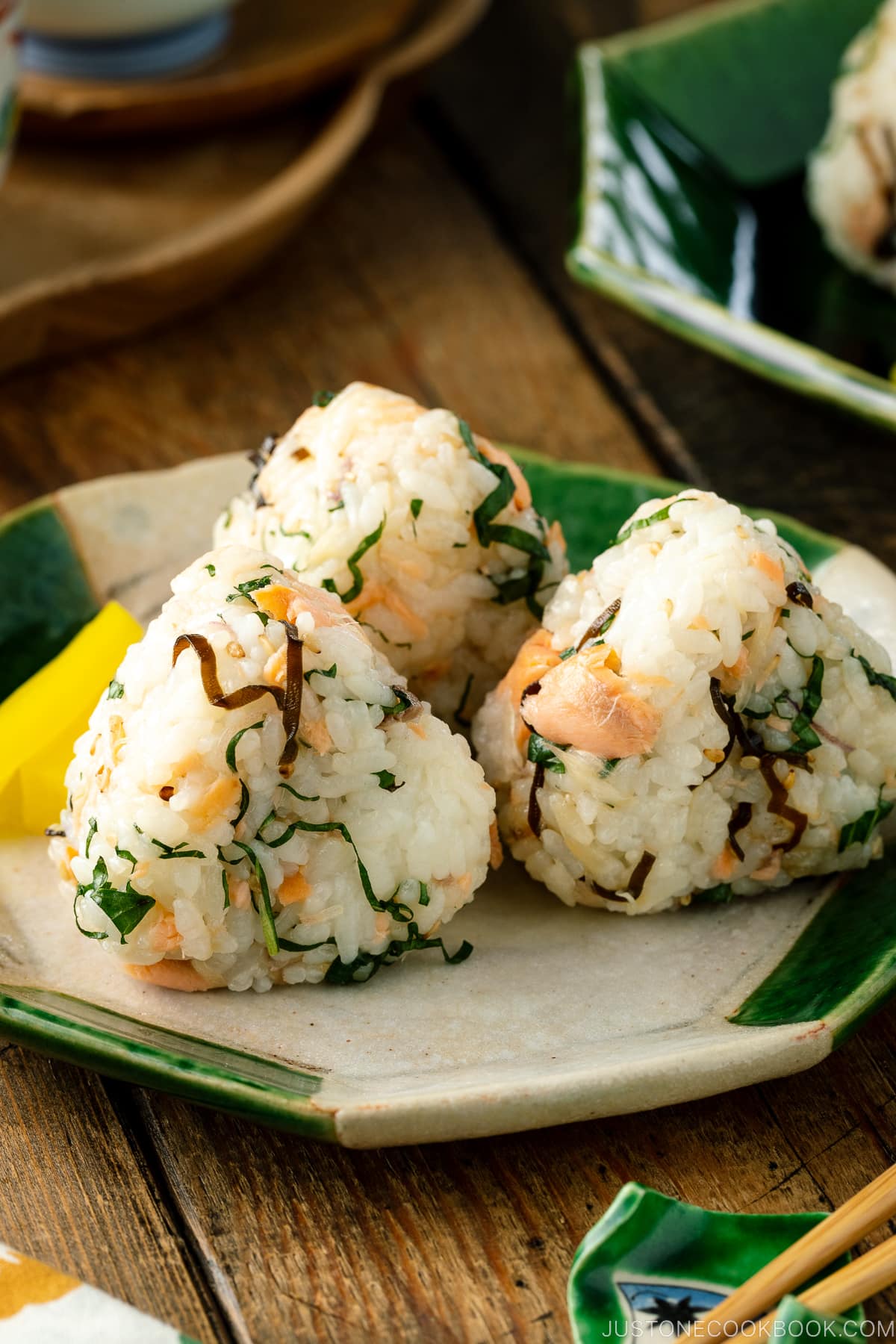 My bento-making journey has evolved since I started to make bento for kids in elementary school. Now that both kids are in high school, they want to eat something quickly as they get busy with club meetings during their short lunch break. JOC fans and my local friends have always asked me what kind of lunch I pack for my kids these days, so here I am sharing what I make for their lunch recently.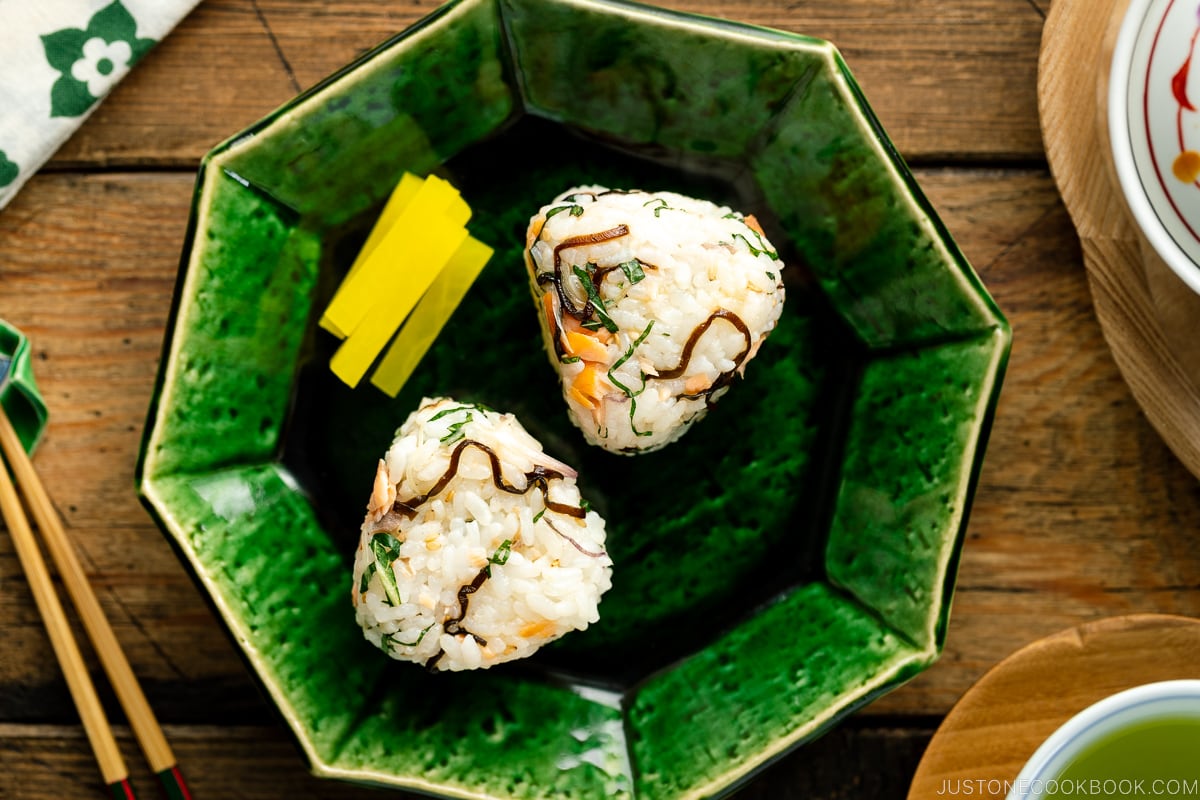 What is Onigiri?
Onigiri (おにぎり), sometimes called Nigirimeshi (握り飯) or Omusubi (おむすび), is a Japanese rice ball. Typically shaped into a triangle, but sometimes a cylinder or round shape, onigiri has been Japan's lunch and snack options for centuries.
Onigiri's rich history can be dated back almost 2,000 years to the Yayoi Period (200 B.C. to A.D. 250) when we see reference to grilled rice balls made from sticky rice. In the Nara Period (710-794), the word nigiri-ii (握飯) is used for packed rice. Tonjiki (屯食) refers to rice balls for picnics during the Heian Period (794-1185), and this is the origin of the present onigiri shape. Samurai ate umeboshi (pickled plum) rice balls during the Kamakura Period (1185-1333). We don't see nori being used as a wrapper until the Edo Period (1603-1868).
The Japanese eat countless onigiri growing up and still continue to eat as an adult: It's a true comfort food to many.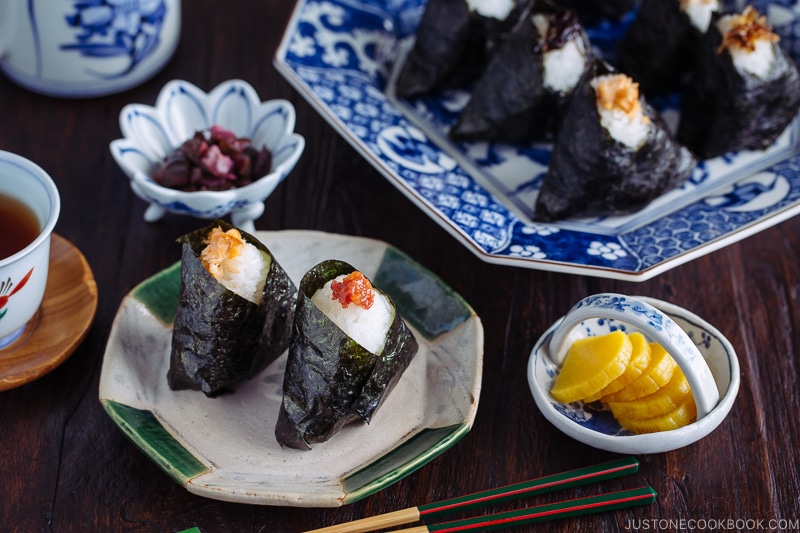 Various Onigiri Flavors
Just like sandwiches, we make onigiri with all sorts of ingredients. Traditional fillings include Japanese pickled plum (umeboshi), bonito flakes and soy sauce (okaka), salted salmon (sha-ke), simmered kombu seaweed, (spicy) salted cod roe (mentaiko or tarako), a mixture of tuna and Japanese mayonnaise (tsuna mayo).
👉🏻🍙 If you're new to making Japanese rice balls, head over to this post to learn the basics of onigiri.
In today's recipe, I am sharing our family's favorite, and the one that my kids said they can eat every day. The combination is salmon flakes, shio kombu, shiso leaves, myoga ginger, and sesame seeds.
What is Shio Kombu?
Shio kombu (塩昆布) is strips of kombu that have been boiled in soy sauce and other ingredients, dried, and then cut into pieces.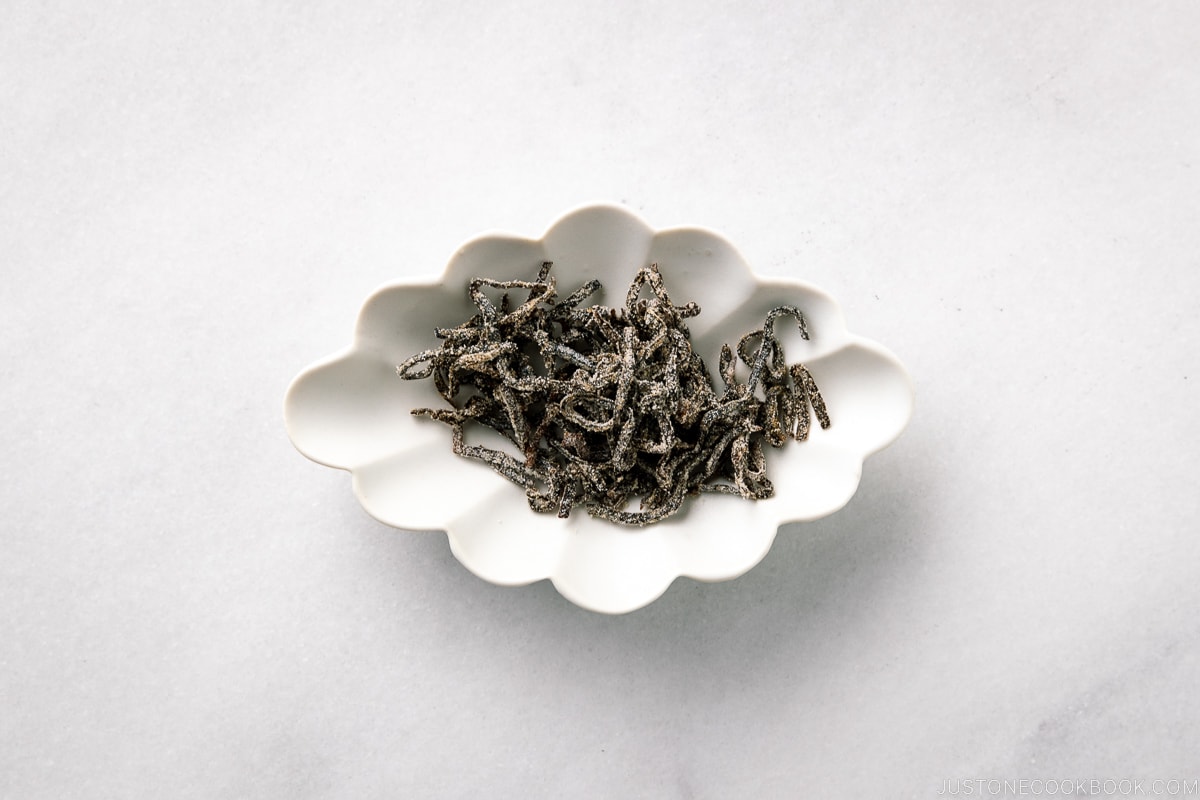 These kombu strips are often used as an accompaniment to rice. But more and more, chefs both in Japan and overseas are using shio kombu in a wide range of dishes, from stir fries to omelettes to salads. I started to see more restaurants in San Francisco utilizing this ingredient. If you happen to see it during your next grocery shopping, grab a package and give this recipe a try!
Where to Buy Shio Kombu
My favorite shio kombu is Matsunoha Kombu from Hana Nishikido in Osaka. My foodie friend in the neighborhood got it for me from Osaka and the package looks like this.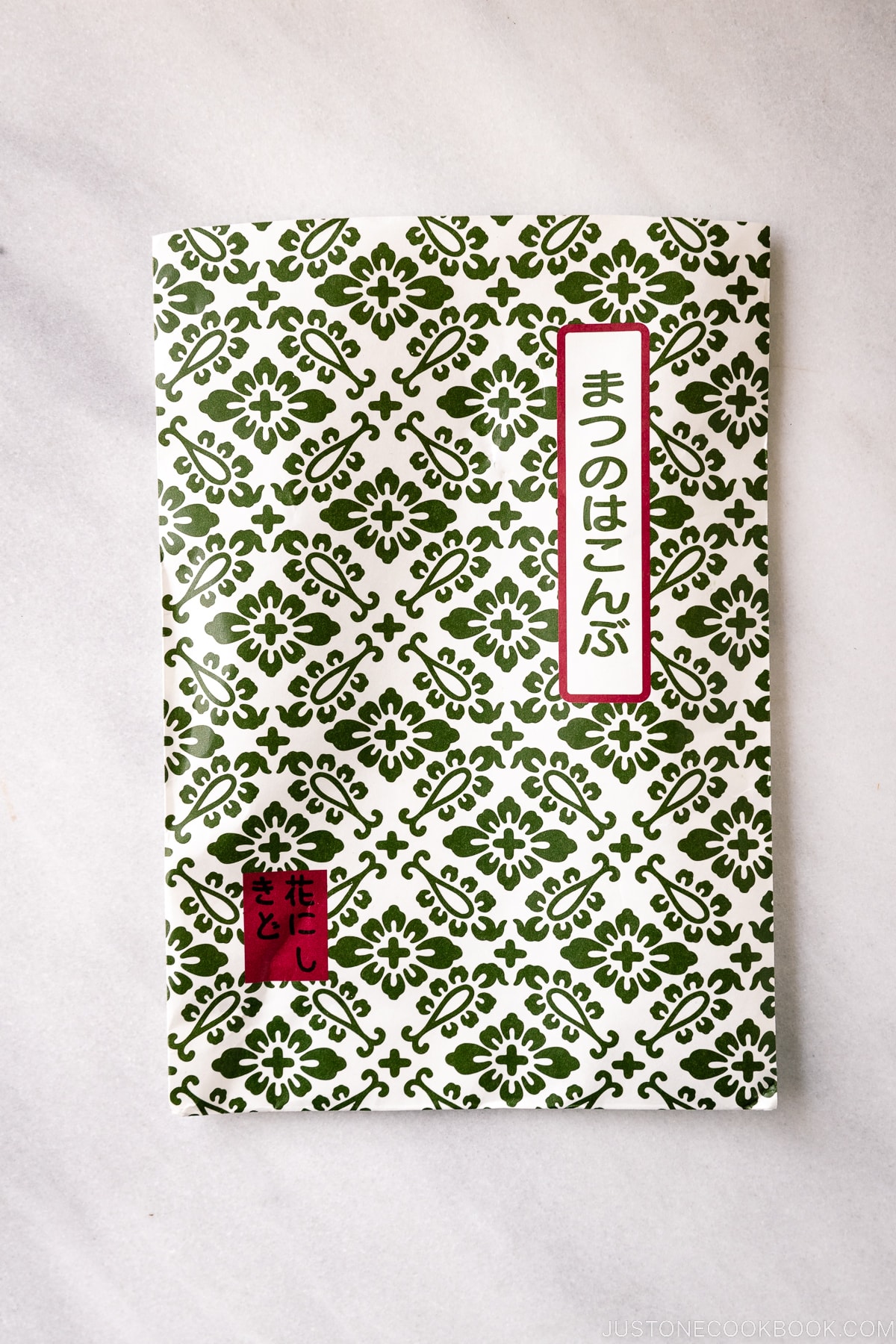 You can also buy shio kombu from Japanese markets or on Amazon (this one or this one).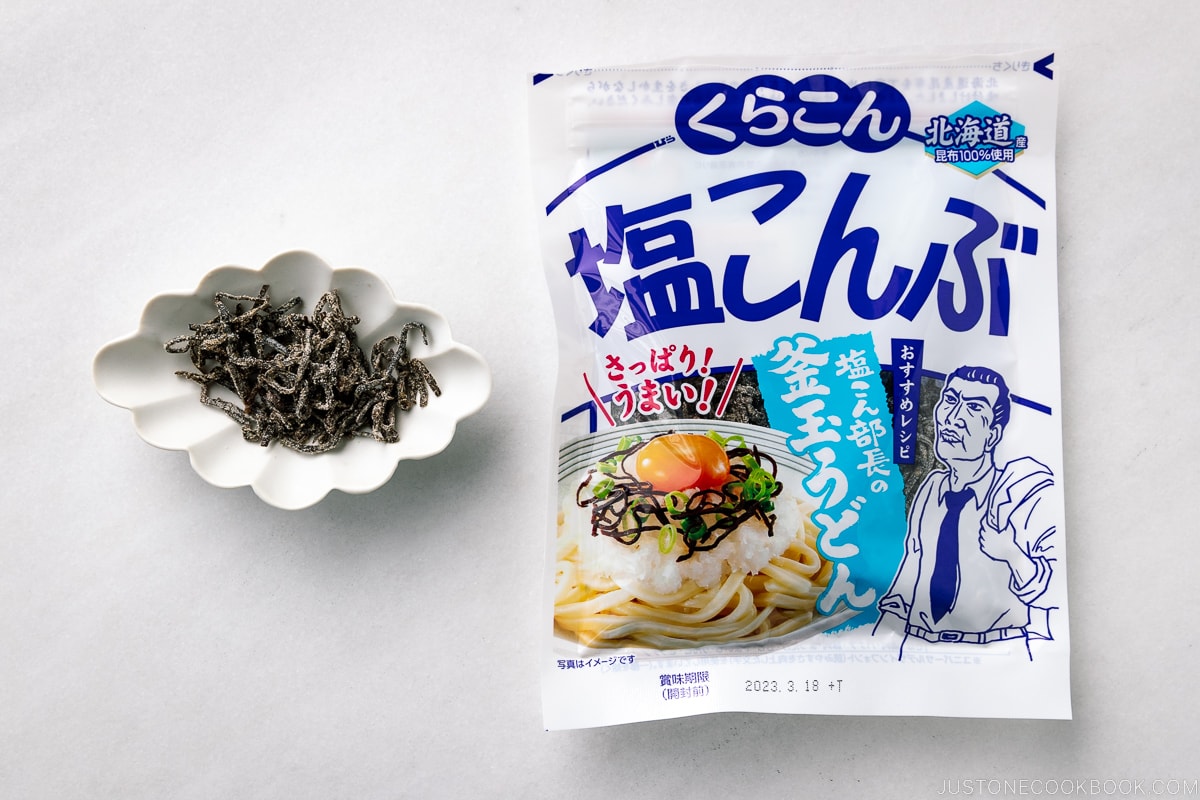 How to Make Salmon and Shio Kombu Onigiri
Ingredients You'll Need
Short-grain Japanese rice (cooked) – To make rice balls, the rice kernels have to stick together. Japanese rice has the right stickiness. You can't make onigiri with other types of rice or else it will fall apart. Also, it's important that the rice is hot or warm.
Salmon (cooked) – I usually have leftover salmon (such as Salted Salmon and Miso Salmon) in the freezer, so I just need to defrost in the refrigerator overnight, and reheat it in the microwave before using.
Shio kombu – More about it above, in case you missed it.
Shiso leaves – My favorite Japanese herb that I can't get enough of.
Myoga ginger – This uniquely Japanese ingredient is usually available fresh during the summer months. It has an amazing fragrance and taste. If you're interested, try finding it at a local well-stocked Japanese grocery store.
Toasted white sesame seeds – Add nice texture and flavor to your onigiri.
Overview: Cooking Steps
Mix all the ingredients with cooked rice. When mixing, try not to mash the rice; the key is to use a slicing motion with a rice paddle.
Scoop the rice mixture and mold it into a triangle shape in your hands. More tips can be found in the recipe card below.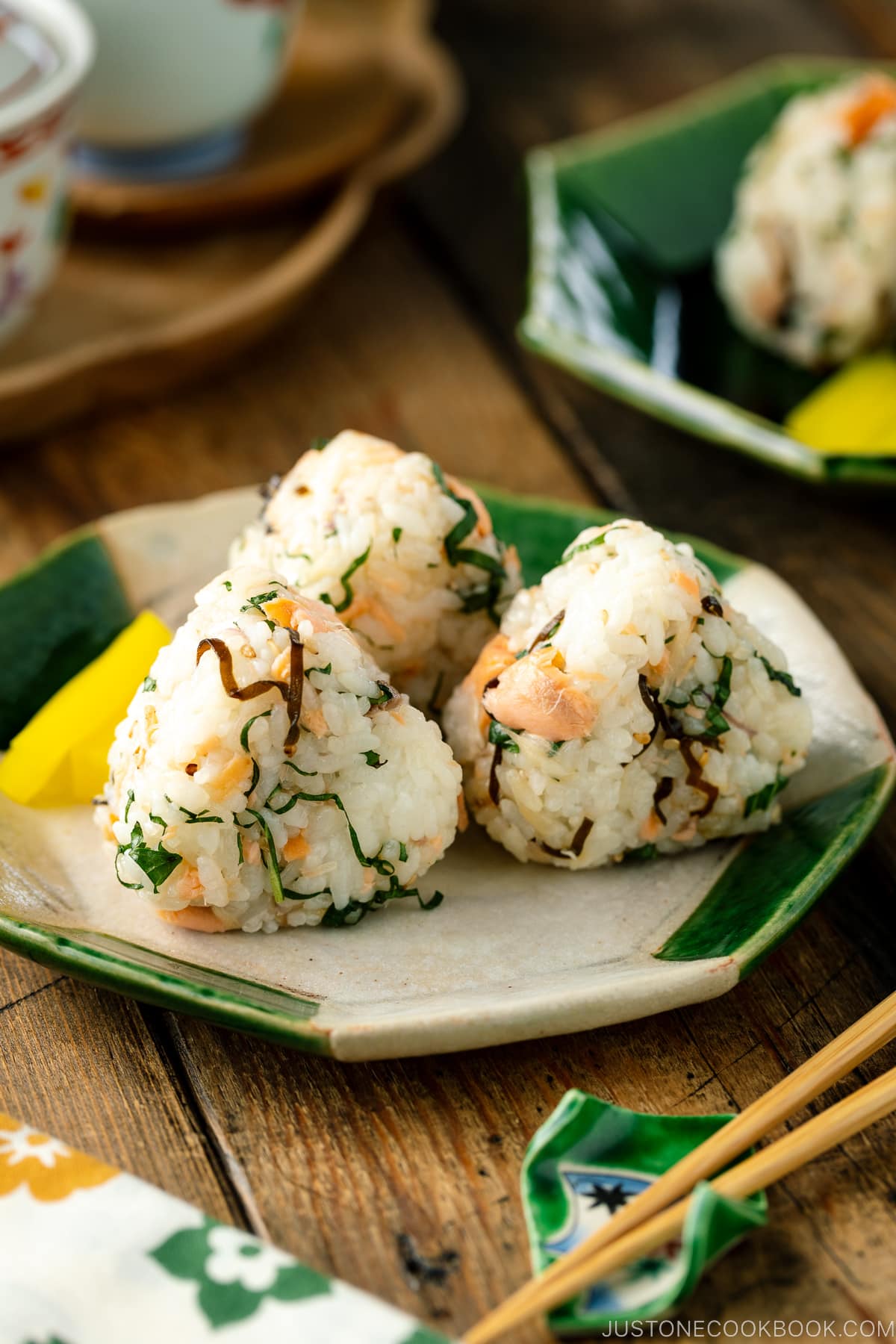 3 Tips to Make Fluffy Triangle Rice Balls
Tip 1: Use hot (warm) rice. Never use cold or day-old rice.
Cold, hardened rice won't work. It's recommended to use hot rice; however, don't burn your hands with steam. You can let it cool a little bit but do not wait too long.
Tip 2: Use salt for preserving purposes.
Wet your hands with a little water and spread it on your palms. Dip your 2-3 fingers in salt, put it on your palm, and spread it evenly. Salt is not only used for lightly seasoning the rice ball, but it also helps to keep the rice ball safe at room temperature.
Tip 3: Lightly squeeze the rice.
Don't worry too much about the shape of the rice when you start shaping. Bend the palm and fingers of your upper hand at an angle, then receive and rotate it with your lower hand to form a triangular grip. Squeeze a few times, but do not use too much force. Flatten the sides of the rice ball once on your palm by gently pressing the triangle-shaped sides of the rice ball to shape it. Finally, gently squeeze the rice ball again to complete it.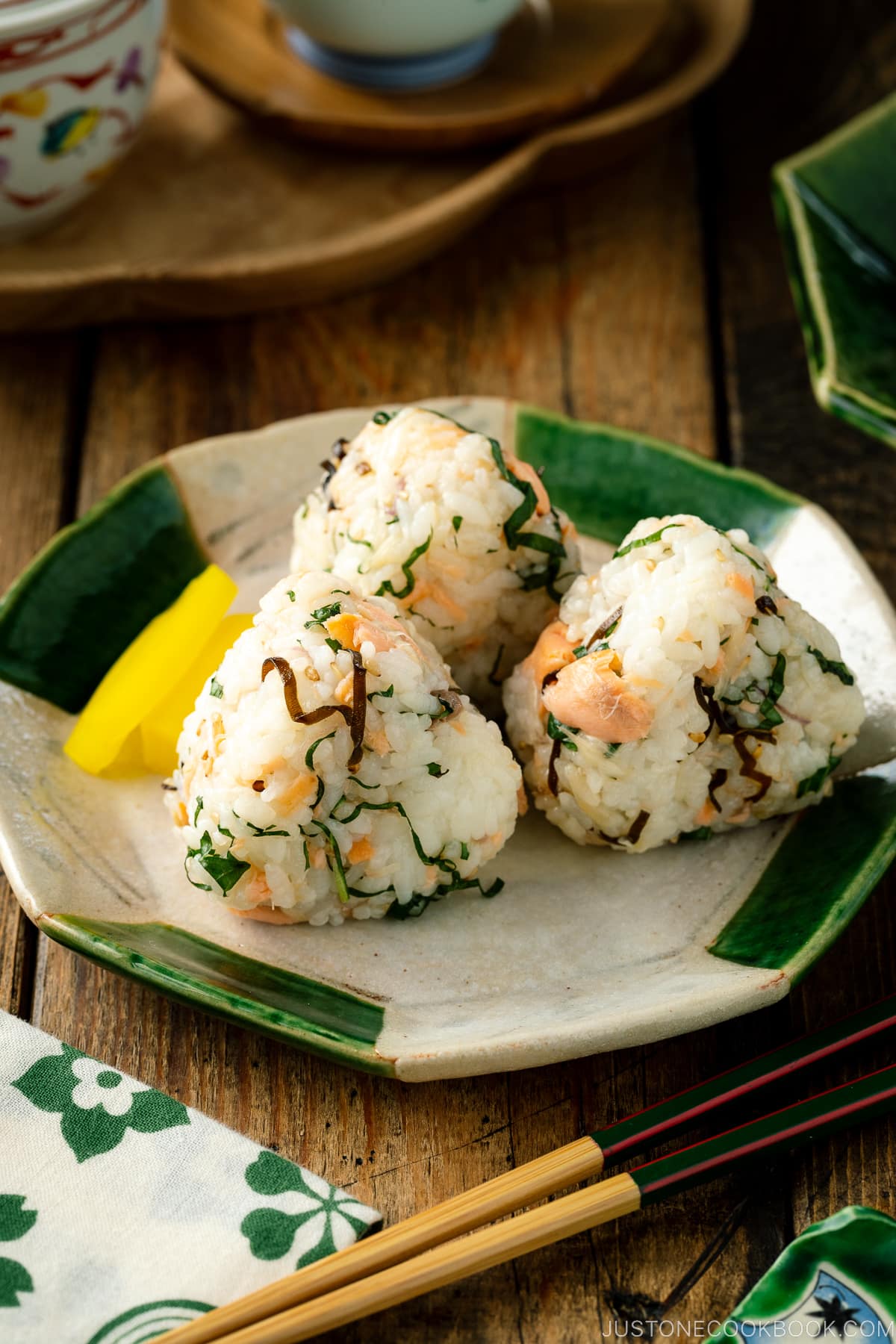 What to Serve with Salmon and Shio Kombu Onigiri
I usually pack 3 of these onigiri in the bento box for my kids, and that's it! They don't get much time to enjoy their lunch, so these will sustain them for the entire school day. But if you wish to pack a more substantial and wholesome bento lunch box, you can pack tamagoyaki and veggies alongside.
You can also enjoy the onigiri as a meal at home with these recipes: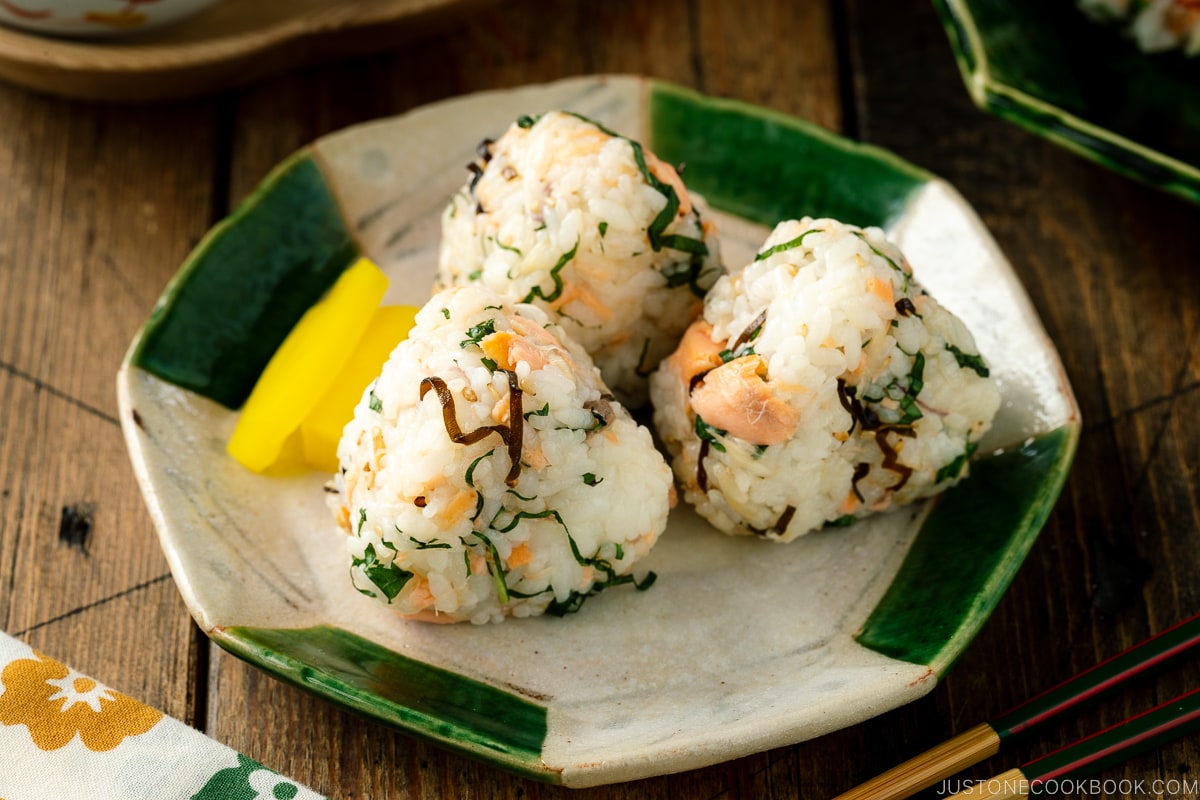 Wish to learn more about Japanese cooking? Sign up for our free newsletter to receive cooking tips & recipe updates! And stay in touch with me on Facebook, Pinterest, YouTube, and Instagram.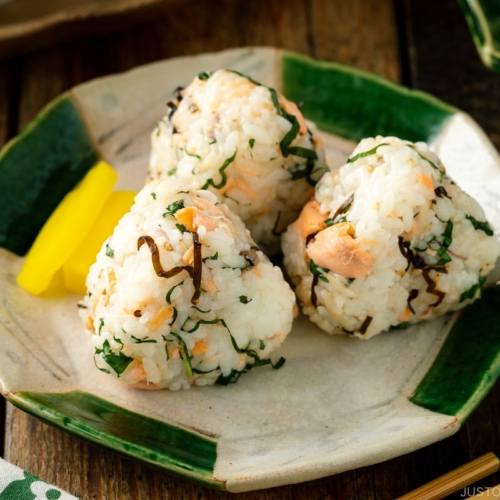 Salmon and Shio Kombu Onigiri
Our family's favorite rice ball combination is Salmon and Shio Kombu Onigiri. For this Japanese bento classic, I use salmon flakes for savory protein and salted kelp strips for their deep briny flavor. I also mix in refreshing shiso and myoga ginger along with crunchy toasted sesame seeds. It's a delicious umami flavor bomb that's perfect for lunch at home, work, school, or a picnic.
Servings:
6
medium-sized rice balls
Ingredients
3

cups

cooked Japanese short-grain rice

(hot, either freshly cooked or previously frozen; 1⅛ cups of uncooked rice are 1½ rice cooker cups (8 oz, 270 ml) and yield roughly 3 US cups (2⅝ cups, 495 g) of cooked rice or 6 medium-sized rice balls)

4

oz

cooked salmon

(roughly

½

cup; leftover Salted Salmon, Miso Salmon, and Salmon Flakes will work here)

3

myoga ginger

(optional; skip if you can't find it; typically available during summer months or sold frozen at Japanese grocery stores)

1½

Tbsp

shio kombu

2

tsp

Diamond Crystal kosher salt

(for shaping the rice balls)
Japanese Ingredient Substitution:
If you want substitutes for Japanese condiments and ingredients, click
here
.
Instructions
Gather all the ingredients. Break

4 oz cooked salmon

into smaller pieces with chopsticks or a fork. Transfer

3 cups cooked Japanese short-grain rice

(hot) to a large tray or bowl so that you have plenty of room to easily and thoroughly mix it with the other ingredients. Allow the rice to cool slightly as you prepare the other ingredients; you don't want to burn your hands when shaping the onigiri.
To Prepare the Ingredients
Cut off the stems of

5 shiso leaves (perilla/ooba)

and roll them up from the stem side. Cut into julienned strips. Loosen them up with your hands and set aside.

Cut

3 myoga ginger

(optional) in half lengthwise and then cut it into thin slices.

Distribute the shiso and myoga ginger over the hot steamed rice.

Distribute

1½ Tbsp shio kombu

,

2 tsp toasted white sesame seeds

, and the cooked salmon over the rice.

Using a rice paddle, use a slicing motion to gently mix all the ingredients into the rice. Take care not to mash the rice grains.
To Shape the Rice Balls with Your Hands
First, wet both of your palms with a bit of water to prevent the rice from sticking to your hands.

Dip 2–3 fingertips into

2 tsp Diamond Crystal kosher salt

. If you are using table salt, use half the amount as it's saltier than kosher salt.

Then, rub and spread the salt onto your palms.

Scoop a handful (about ½ cup) of the slightly cooled but still hot rice mixture into one hand. Bend your other hand slightly to form a "mountain" shape and place it on top of the rice. Gently press the rice with your hands to form it into a triangle.

I use three fingers (thumb, index finger, and middle finger) to make a triangle corner. Rotate the rice ball a few times in your bottom hand to gently press and form each triangle corner. Then, turn the rice ball on its side and press it gently to flatten it; repeat on the other side.

Your hands should be just firm enough so the onigiri doesn't fall apart. Try to keep the density of the rice ball as airy as possible. You don't want to squeeze the rice too tightly.
To Shape the Rice Balls with Plastic
Use this method when you are serving onigiri for later or packing it for lunch. 

Prepare a sheet of plastic, about 10 x 12 inches. Sprinkle some kosher salt (remember, salt is used here to preserve the rice for a long time) in the middle of the plastic. Scoop the rice mixture and place it in the center of the plastic wrap on top of the salt. Gather the corners of the plastic wrap and twist the plastic a few times to tighten it around the rice. Tip: Onigiri should weigh about 3–4 oz (85–113 g) each. I usually make three 3 oz (85 g) rice balls to fit into my kids' lunch boxes.

Form the rice into a triangle shape in the same manner that I described above.
To Serve
Serve the onigiri warm or at room temperature.
To Store
If you'd like to pack the onigiri for your lunch, keep it cool and consume it within 6 hours. Onigiri (or any rice dish) gets hard when you refrigerate it. The cold air makes the rice dry and hard, which is perfect for fried rice. I don't recommend making onigiri ahead of time. If you really need to, my trick is to wrap the onigiri with thick kitchen towels and store it in the fridge. The onigiri will be cool and safe but should not get cold.
Nutrition
Nutrition Facts
Salmon and Shio Kombu Onigiri
Amount per Serving
% Daily Value*
* Percent Daily Values are based on a 2000 calorie diet.
©JustOneCookbook.com Content and photographs are copyright protected. Sharing of this recipe is both encouraged and appreciated. Copying and/or pasting full recipes to any website or social media is strictly prohibited. Please view my photo use policy
here
.