From soothing soups to salad dressings to savory marinade, miso is the secret ingredient that can shake up flavors in everything you cook. Here are some delicious miso recipes you want to make over and over again.
Miso 味噌, or fermented soybean paste, is an indispensable staple in Japanese cooking. We love it for its umami-packed flavor, all-purpose uses and healthy probiotic. In Japan, miso comes in many varieties and it is usually categorized by the ingredients, color and taste.
With its exceptional versatility and long shelf life (yes, most miso can be stored up to one year), miso is like the one secret ingredient that can transform any weak, bland dish. One spoonful is all you need to add complexity and richness. Whether you're using it as a key flavor or complementary booster, miso works well in soups, salad dressings, sauces, dips, roasted vegetables, grilled meats and much more.
If you already have a tub of miso in the back of the fridge, it is time to scoop this fermented goodness out and make the most out of it. Here are 15 delicious miso recipes on how you can use every spoonful of the miso you have!
15 Delicious

Miso Recipes


Do you agree that we all need more easy chicken recipes in the rotation? If you prefer lean breasts, this Grilled Miso Chicken recipe will a reliable one to lean on. The key is to pound the breast fillets thinly so they cook faster and evenly. Brush with ginger miso marinade, it will be no lack of flavors!
Tired of plain rice? Switch it up with Takikomi Gohan. This nutritious Japanese rice dish is adorned with vegetables, meat, and mushrooms. The added miso brings another layer of depth.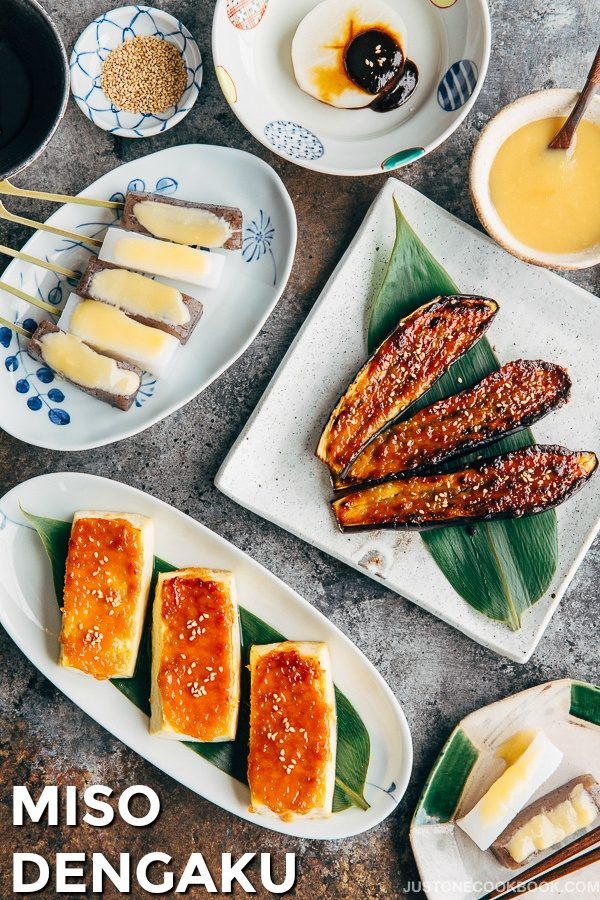 Slathered in sweet & savory miso glaze, Miso Dengaku with tofu, eggplant, daikon, or konnyaku has been enjoyed in Japan since the 1500's. They make a delightful vegetarian spread on the dinner table.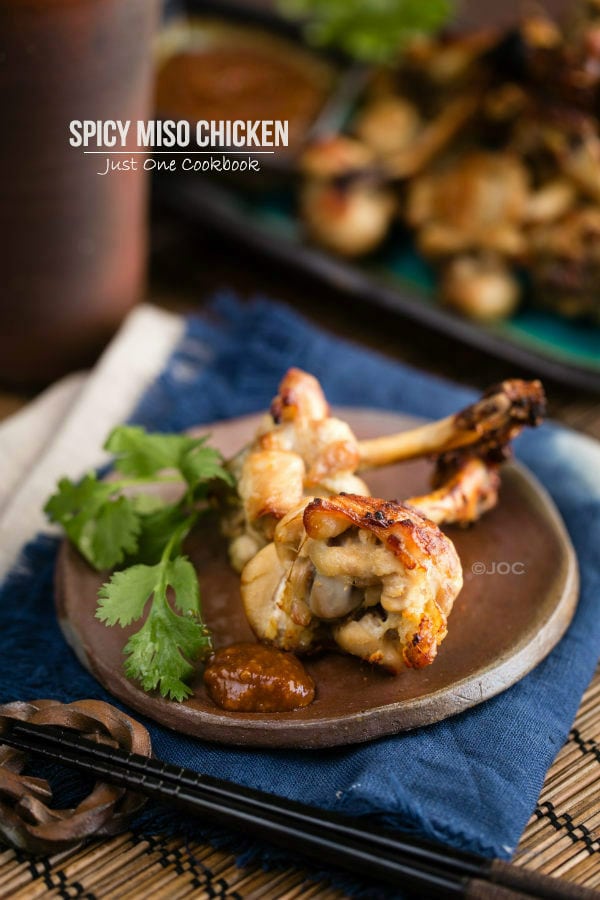 Made into attractive 'tulip' shape, these spicy miso drummettes will be a hit at your summertime parties. Doused in spicy sriracha sauce and savory miso, the flavor is bold and unforgettable. Make a large batch because they will be gone in seconds!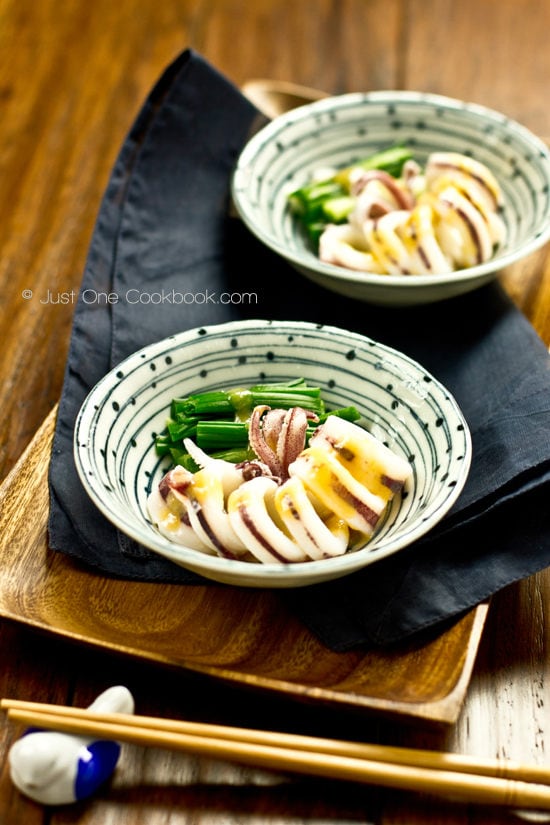 Tender squid dressed in a sweet-tart miso vinaigrette, this Japanese-style tapas dish makes a great appetizer for backyard party or movie night. Bring out the beer or white wine to enjoy!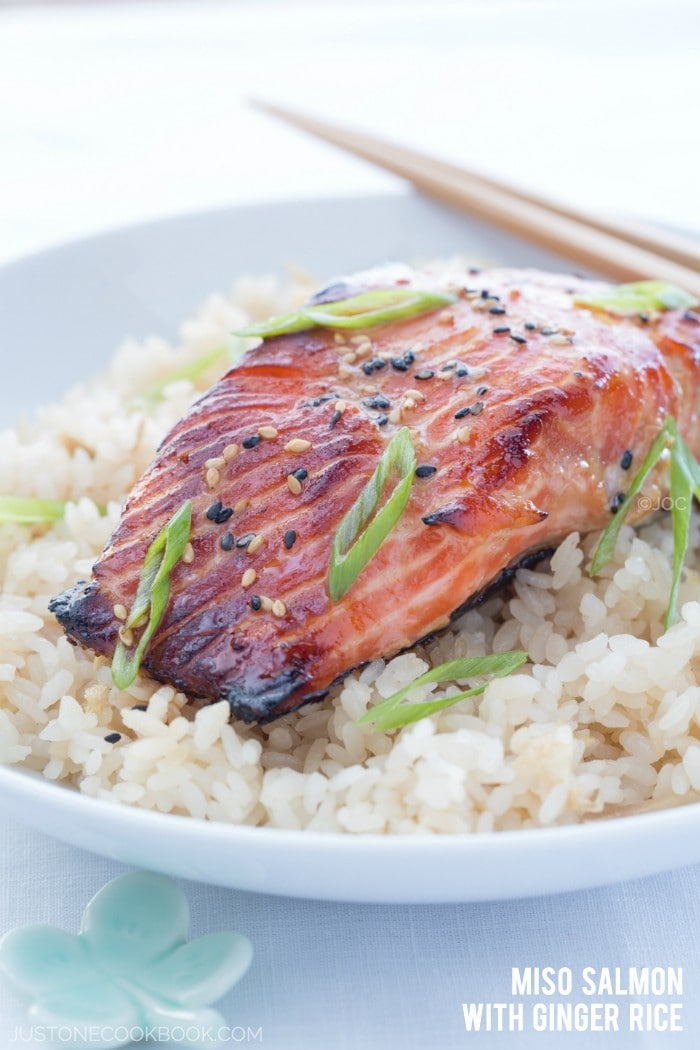 Wild salmon fillet marinated in a sweet and savory miso marinade, this Miso Salmon is as simple as it can be to get your Omega 3 intake any night of the week. Enjoy with the aromatic ginger rice!
The Japanese drink miso soup almost every day with different ingredients. This homemade miso soup recipe shows you how you can make it the  authentic Japanese way.
Eggplant, so good on its own, but when it's glazed with miso and grilled until lightly charred, the vegetable can really shine. Use the long, slender Japanese/ Asian eggplant if possible.
Who could possible say no to crunchy deep-fried pork cutlet? This Miso Katsu (味噌カツ) – a Nagoya specialty, will be your new family favorite!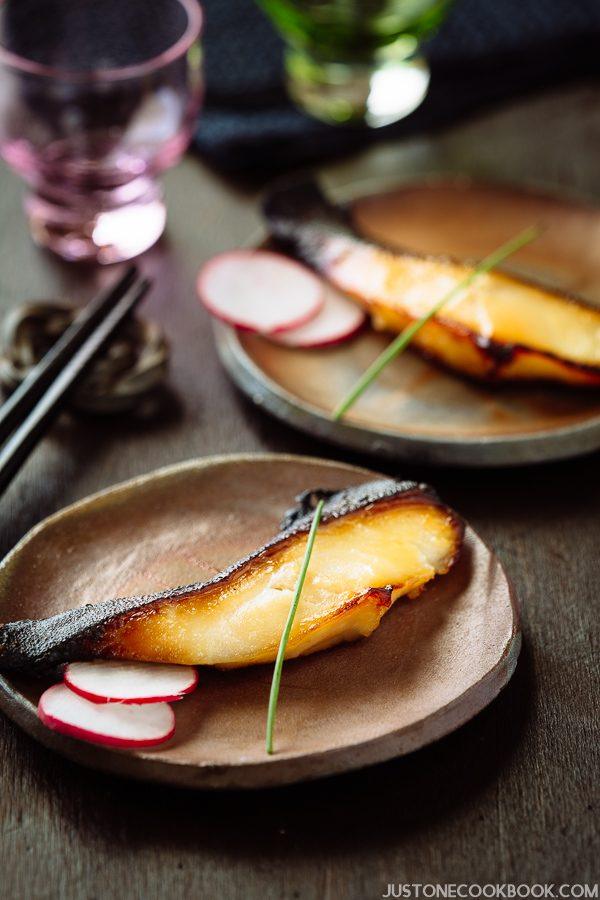 If you are looking for a classic Japanese recipe for serving dinner guests, this Miso Cod will make a pretty impressive main dish. Prep it ahead, have a quick broil in the oven, and dinner is ready. Easy but no lack of elegance.
Spring Salad Mix with Sweet Miso Dressing is possibly the easiest salad you can make for your family. The leftover dressing even goes well with steamed vegetables or chilled/grilled tofu!
When the cold weather calls for a nourishing soup, a hot bowl of Tonjiru will warm you from the inside out. Root vegetables such as gobo (burdock root), daikon and carrots are used in this pork based soup stock for an umami-pack flavor.
Flavored with pork and chicken broth with a mix of toppings , this steamy bowl of Miso Ramen is going to satisfy your noodle craving.
Corn on the cob grilled until nicely charred and brushed with sweet miso honey butter – this is going to be your favorite of enjoying the summer time must-have.

Negi is a type of giant Japanese green onion. You can use both leeks and scallion/green onion as a substitution to make the delicious sauce that go with the pan seared chicken. Once you taste the savory, umami flavor, you'll want to make this chicken recipe over and over again.

Learn More Miso for your Miso Recipes?
Have fun experimenting with miso in your everyday cooking! If you wish to learn more about miso, click here. Thank you so much for reading and till next time!
Don't want to miss a recipe? Sign up for the FREE Just One Cookbook newsletter delivered to your inbox! And stay in touch with me on Facebook, Google+, Pinterest, and Instagram for all the latest updates.