Make Homemade Miso from scratch with just 4 ingredients and a little patience. My simple step-by-step instructions on How to Make Miso will guide you through this process. Once miso paste is made, you can use it for many delicious Japanese dishes!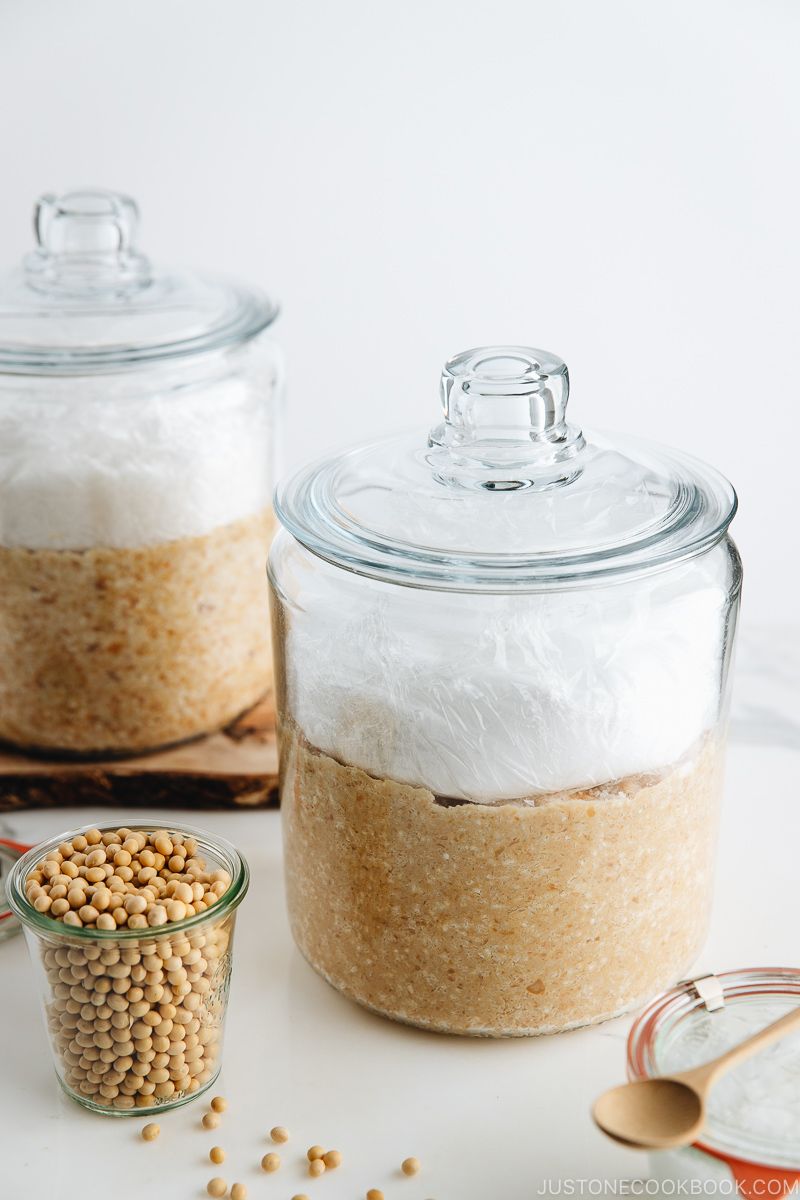 As a home cook and a Japanese cuisine advocator, I want to be able to share not just the recipes, but also to uphold the tradition of making food from scratch. I believe there is a beauty in preserving the heritage integral to our food culture. Do you agree? This year I've taken up a few cooking projects that I'd like to accomplish, and making miso paste from scratch is one of them.
This is my first time making miso, and I can't be any more excited to share the experience with you!
What is Miso?
Miso (味噌) is a Japanese seasoning produced by fermenting soybeans with salt and koji. It has been used in Japanese cuisine since 1200 AD (a precursor of miso arrived in Japan from China around 600 AD).
As one of Japan's superfoods, miso is well recognized for its many great health benefits. It is rich in essential minerals and a good source of various B vitamins, vitamins E, K, and folic acid. As a fermented food, miso is full of probiotic that provides the gut with beneficial bacteria that help us to stay healthy.
You might have seen various types of miso available at the grocery stores, but in general, miso can be categorized by 3 factors: ingredients, color, and taste. In Japan, miso can also be categorized by regions.
* To learn more about miso and its different types, please read this detailed miso post on my blog.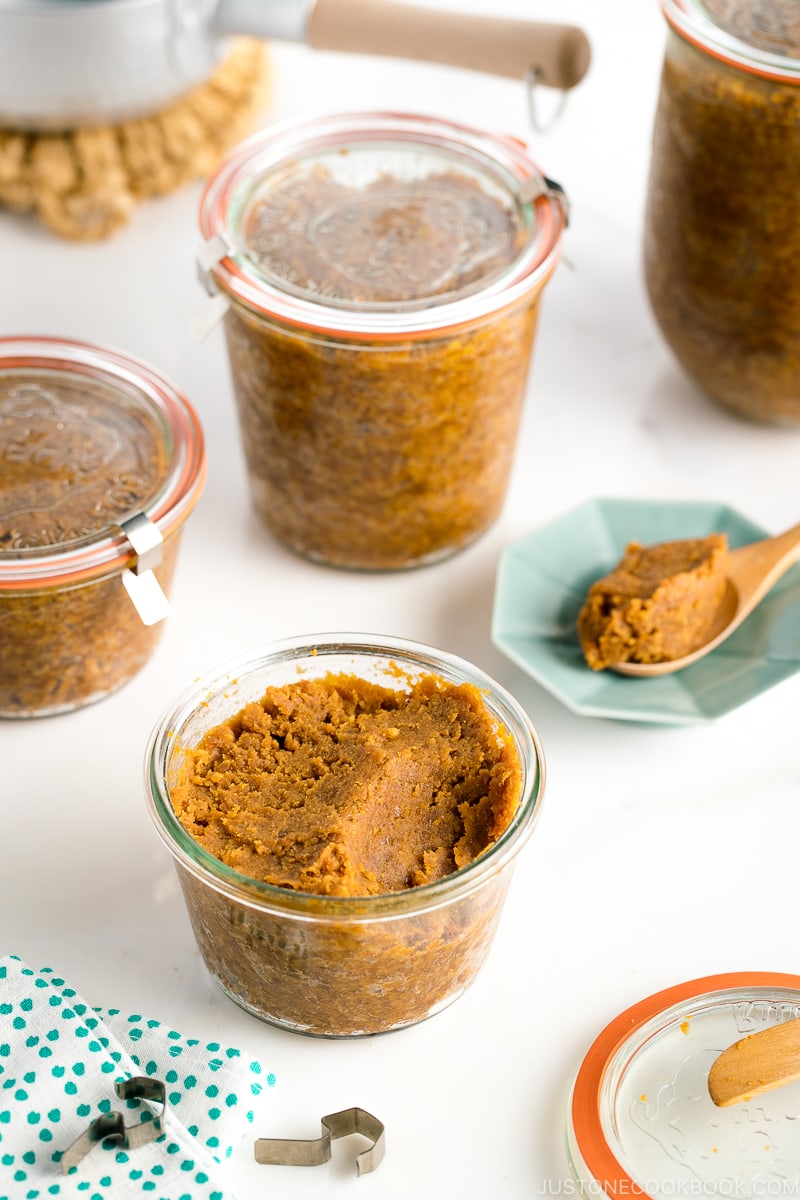 My Miso Making Journey
When I get home from a long trip, I often crave simple homemade miso soup (and onigiri is a plus!). Even though miso is entirely indispensable in my diet and cooking, I realized that I had never made it from scratch before. Like making your own mochi or plum wine, it struck me that there was something special about making your own miso, and I really wanted to do just that!
So if you're with me, wishing to make this Japanese condiment from scratch, try making your own miso! This miso recipe is based on this Japanese miso company's tutorial which I found upon my research. I'll be trying different recipes in the future, and I will update/modify this recipe based on my own experiment.
Easier Than You Think…
Before we start, I wanted to reassure you that making your homemade miso is easier than you think. You will only need a few simple ingredients and a little patience.
Quick Overview of Miso Making
The process of making miso takes 2 days, but it is not until 6 months later only you get to use the product. Umm… are you still here?
It may sound daunting, but the method is actually simple and the result is totally worth the effort!
In my recipe below, I included both Instant Pot and Stove Top options for cooking the soybeans.
Day 1
Wash soybeans
Soak soybeans for 18 hours (don't cut it short!)
Day 2
Cook soybeans (pressure cook – 20 mins; simmer – 3 to 4 hrs)
Mash soybeans
Combine soybeans, salt, and koji
Pack the mixture into a jar
Store the miso and wait for 6 months…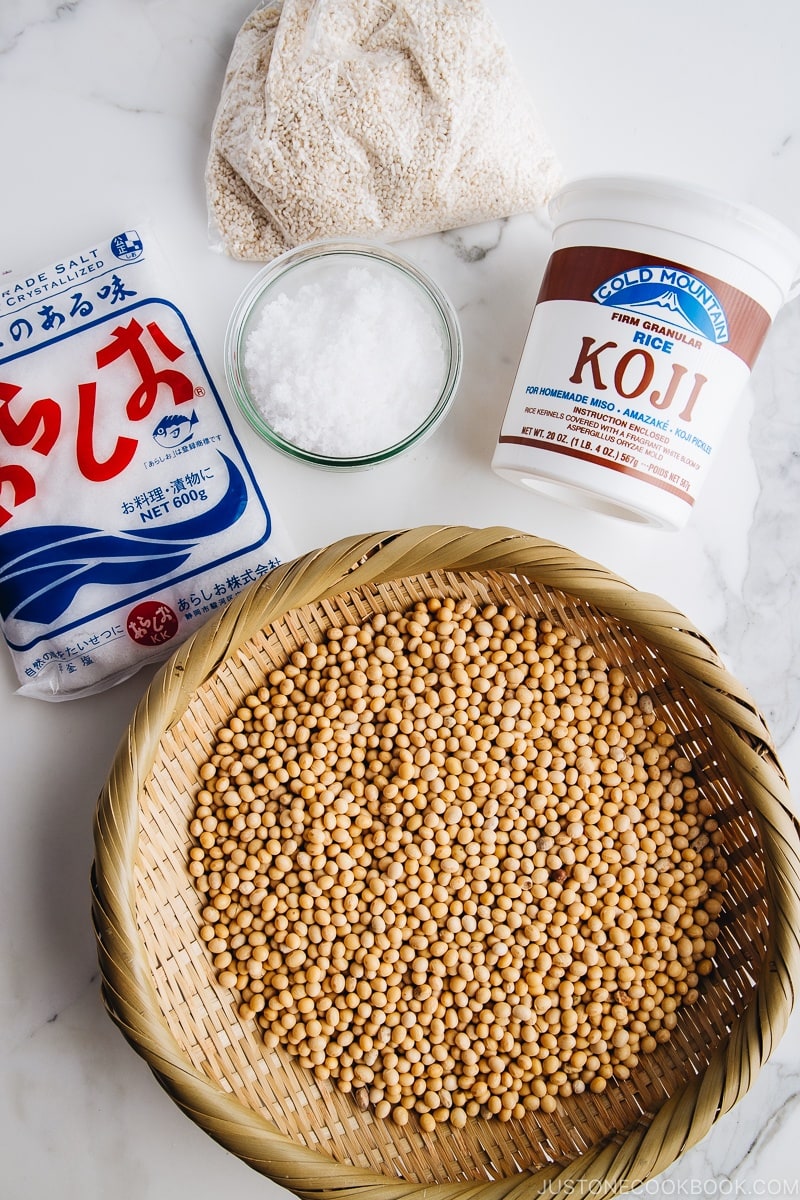 What You Need for Making Miso – Ingredients & Tools
4 Simple Ingredients
1. Organic soybeans
I purchased organic American soybeans from WholeFoods where you can get the exact amount of soybeans you need from a dispenser. You can also look up Laura Soybeans or purchase them on Amazon.
2. Fine sea salt
I used fine sea salt for my miso because it yields the best flavor and is rich in minerals.
3. Rice koji
Rice koji is steamed rice (and sometimes with other grains such as barley) that has been treated with a fermentation culture, Aspergillus oryzae, koji-kin (麹菌). The enzymes found in the koji work to break down carbohydrates and proteins into amino acids, fatty acids, and other nutrients during the fermentation process.
In the US, you can find Cold Mountain brand of rice koji for sale. You can also buy rice koji from Anything from Japan which ships internationally.
4. Filtered water
Quality of water plays an important role in making good miso paste, so be sure to use filtered water that is safe and has removed most of the impurities.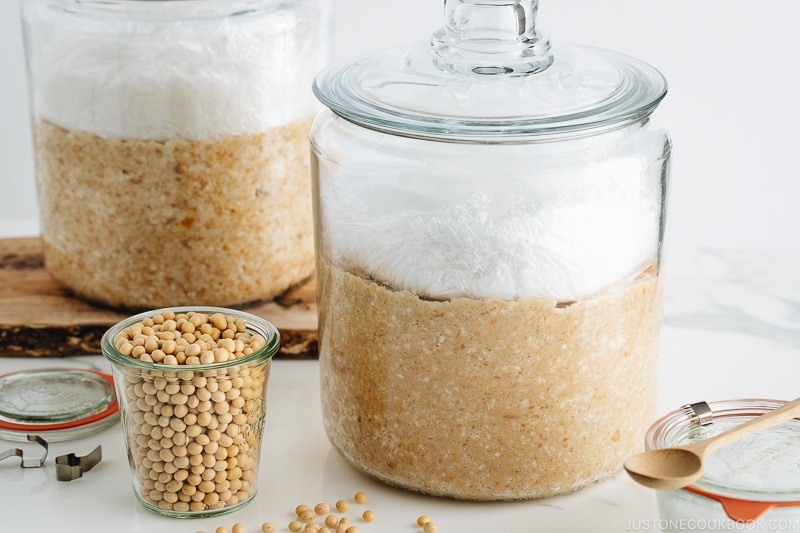 Tools
1. Kitchen scale
I recommend getting a kitchen scale (I've been using this kitchen scale which I got from Amazon years ago) and measure correctly when you make miso. I usually use the gram measurement for my baking and other traditional Japanese recipes like Tsukemono.
2. One-gallon container
You can use any container but I highly recommend the glass one so you can see the miso making progress from the side. I bought a 1-Gallon Biscotti Jar (large) from William Sonoma but you can get an Anchor Hocking Glass Storage Jar from Amazon. Other choices include a stoneware crock or a large plastic bucket.
3. Heavy object
Use any heavy object that would fit in your 1-gallon container. A plastic bag of table salt works well. The weight should be 1/3 of the miso weight. In this recipe, the miso weighs 3 kg (6.6 lb) so it should be 1 kg (2.2 lb) salt.
4. Large bowl
You will need a large mixing bowl (or a large serving bowl) to combine mashed soybeans and the mixture of koji and salt.
5. Plastic wrap
Tightly covered miso with plastic wrap will prevent mold growth.
6. Shochu (vodka) and clean towel
We use alcohol to disinfect the container, which will prevent mold growth.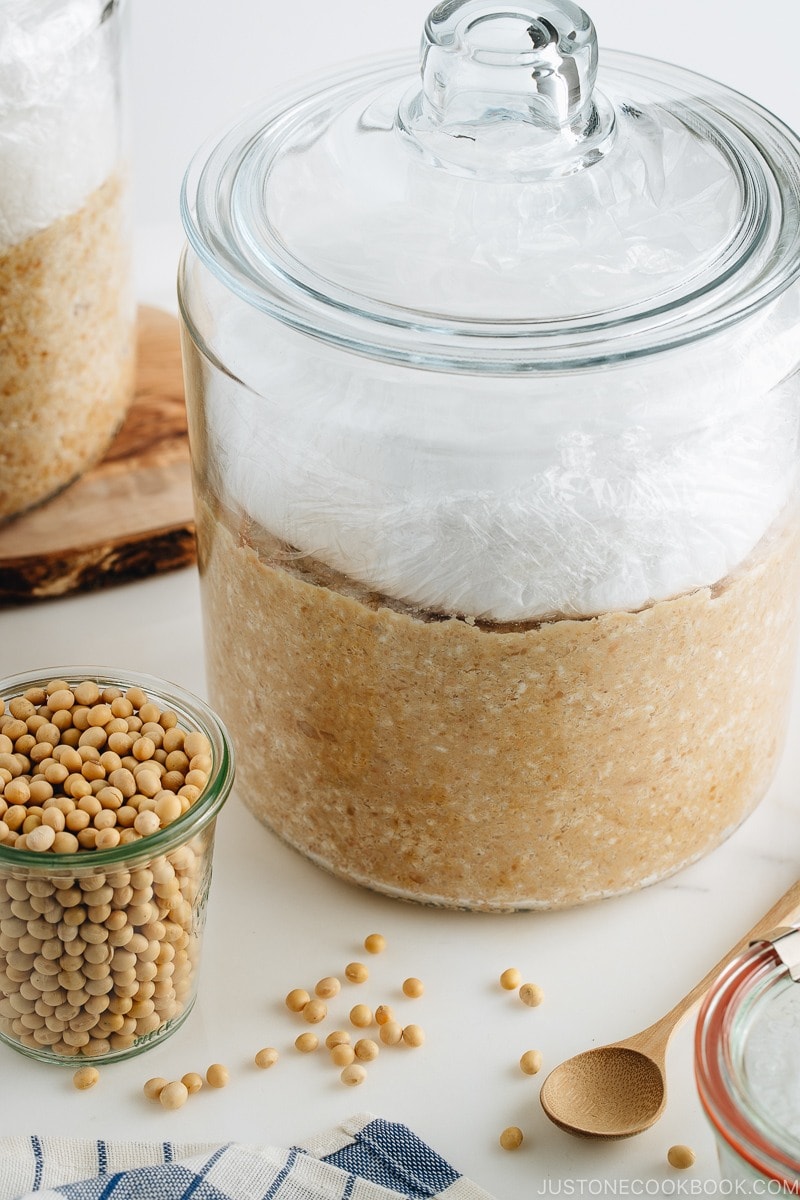 5 Key Points on Making Miso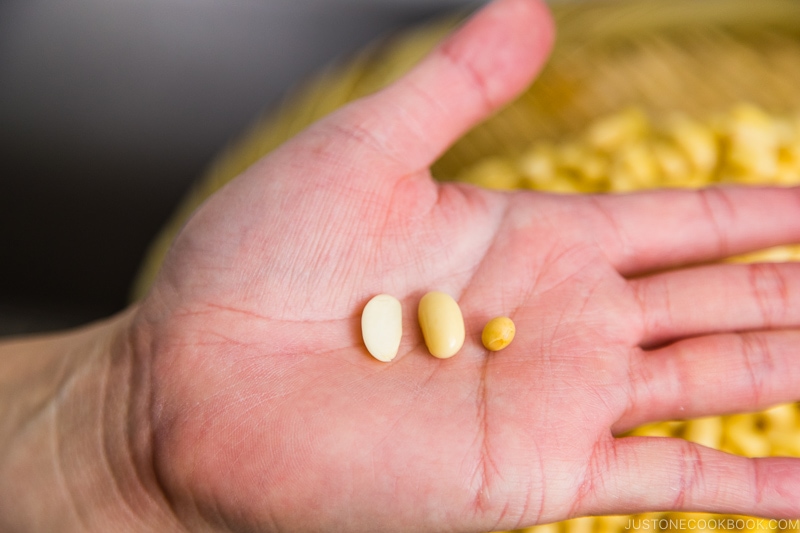 1. Soak soybeans for 18 hours
Dried soybeans take time to absorb moisture (See above photo: 18-hour soaked bean on left vs dried bean on right). To make sure the soybeans are cooked through to the core, you need to soak the soybeans for 18 hours. If you want to start cooking (pressure cook/simmer) soybeans from 10 am, you need to start soaking the soybeans at 4 pm on the previous day.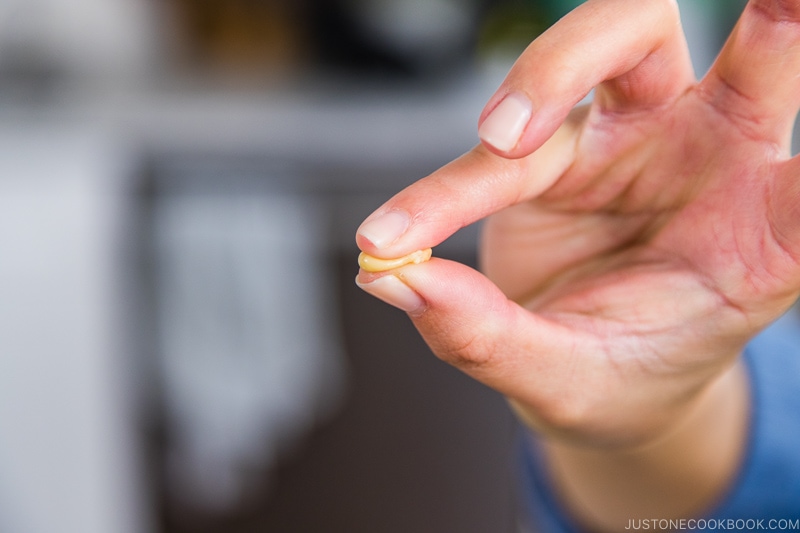 2. Doneness check by crushing soybeans with fingers
Pressure cook or simmer soybeans until they are soft enough to easily crush between your thumb and pinky.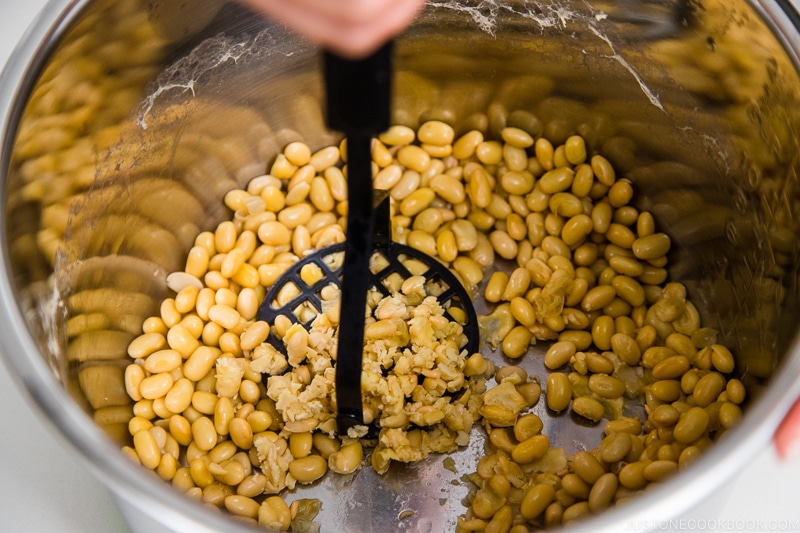 3. Smash soybeans well
Mash a small amount of hot soybeans at a time to make sure they are pounded to an even consistency. It's okay to have a small number of chunky soybeans here and there, but you should try your best to mash most of them nicely.
Alternatively, you can use your food processor if you have one, which will definitely speed up the process.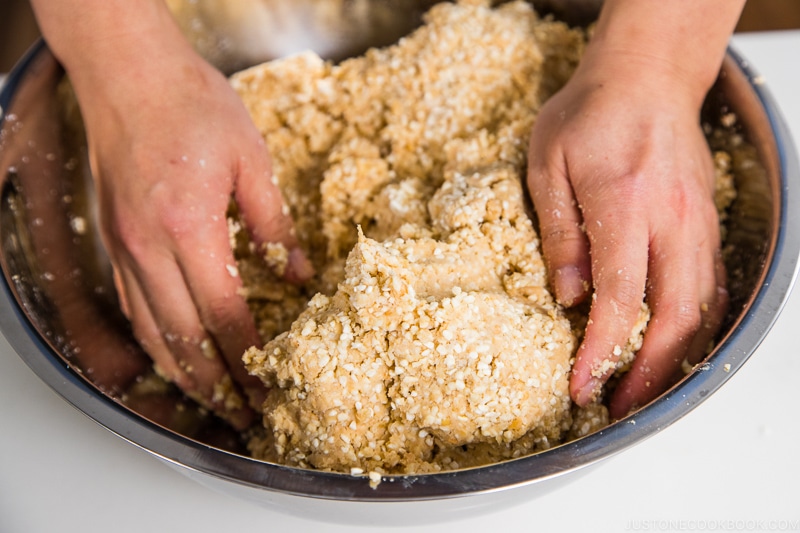 4. Knead the mixture well
Mashed soybeans must be warm or at room temperature when you combine with koji and salt mixture. Knead well to distribute the koji to facilitate good fermentation throughout.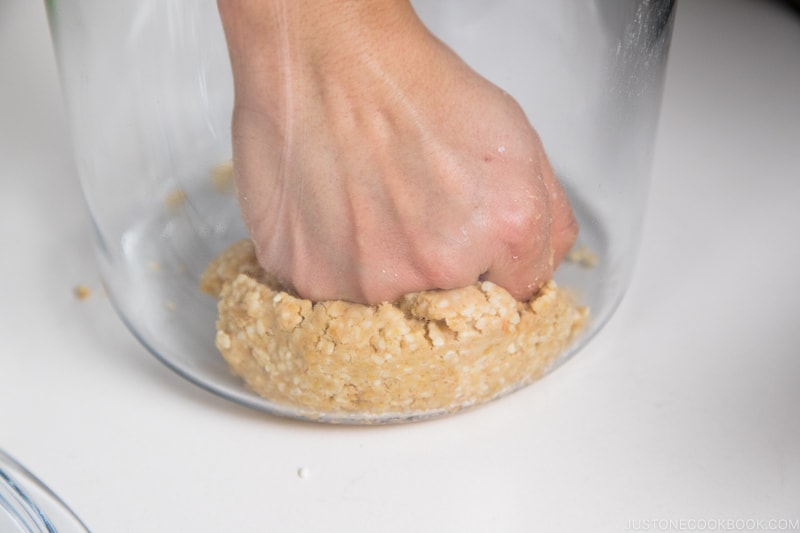 5. Remove air pockets completely
Pack the soybeans in a jar by pressing down each ball of the mixture as firmly as possible to remove any air pockets. This will prevent unwanted mold growth.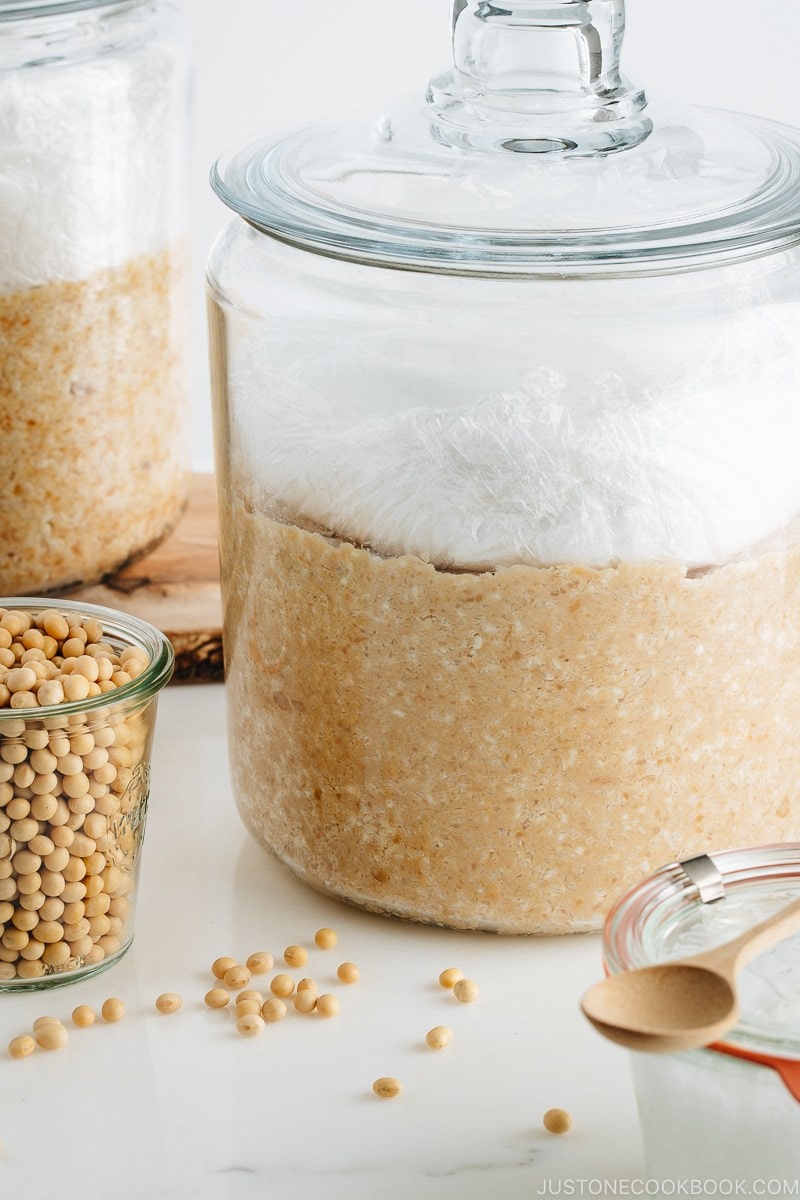 The BEST time to Make Miso
You can make miso year-round, but for the best result, I recommend making miso in late fall to winter as miso fermentation works great from a cold winter, to a cool spring, and hot summer. Other reasons why fall and winter months are best for making miso at home:
The air is less humid and less prone to contamination.
Miso ferments slower in the lower temperatures which helps to develop a deeper flavor.
Rice and soybeans are harvested in late fall, so you get to use freshly harvested ingredients to make your miso.
The timing/season matters for the speed of fermentation and maturation. For example, miso prepared in summer will be ready in 3-4 months. On the other hand, if it's prepared in winter, it takes more time to ferment and mature, roughly 6 months.
Keep checking the progress and taste your miso. If the miso reaches the flavor profile you like, store it in the refrigerator as it slows down the speed of maturation, discoloration, and flavor changes.
Frequently Asked Questions Regarding Miso Making
1. Can I halve the recipe?
Yes, you can.
2. What type of miso are we making here?
Since we're using rice koji, the type of miso in this recipe is considered Kome Miso (米味噌). However, the process and length of fermentation will determine the final color and taste of the miso.
White miso requires a shorter fermentation time (6 months) and you'll get a sweeter flavor and smoother texture. To make red miso, you can leave the miso to ferment up to 1-1.5 years as the color darkens and the flavor develops stronger.
Having said that, there is a lot more to it than simply categorizing them by the type. The method of preparing the soybeans and the ratio of ingredients also play a part in the end product. There is why there are SO MANY types of miso in Japan.
3. Where can I buy rice koji?
In the US, you can find Cold Mountain brand of rice koji for sale. If you live outside of the US, you can buy rice koji from Anything from Japan which ships internationally.
If you live in Oakland, a reader shared that you can buy fresh koji from this shop called Preserved Goods.
4. Can I use a mix of soybeans with other beans like garbanzo (chickpea)?
Yes! If you're willing to experiment, feel free to mix the soybeans with other types of beans or grains. We have readers who have tried it with garbanzo and northern beans with success. However, the soaking time for garbanzo should take just about 10-12 hours.
5, What should I do if I spot some mold growth during the fermentation?
Mold can be quite normal, especially if you live in a humid climate. Gently scrape them off and transfer the miso into a different container. Make sure to keep an eye on them.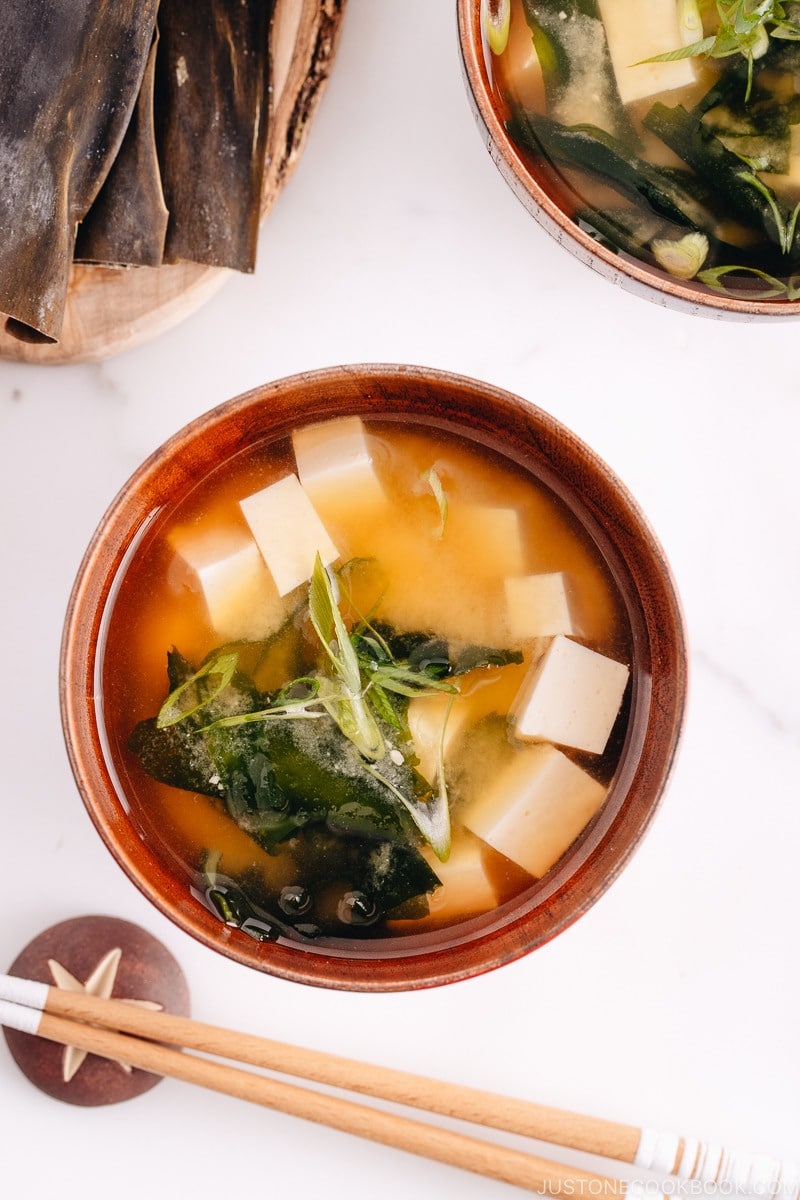 How to Enjoy Homemade Miso
The first thing you should make with your homemade miso is of course some delicious homemade miso soup. But miso has so many more uses you can think of! It's essentially the most versatile seasoning you can have in your pantry. Think marinades, sauces, glaze, compound butter to baked goods!
Here are just some of my popular miso recipes you can dream of using when you have the jar of miso ready to be enjoyed:
Share Your Miso Making Journey With Us
I wish you plenty of success in making your own miso! If you have gone ahead and tried my recipe below, please share your experience with us in the comment below. How long did you leave it for? Did you make any adjustments to the ratio? I'd love to hear from you.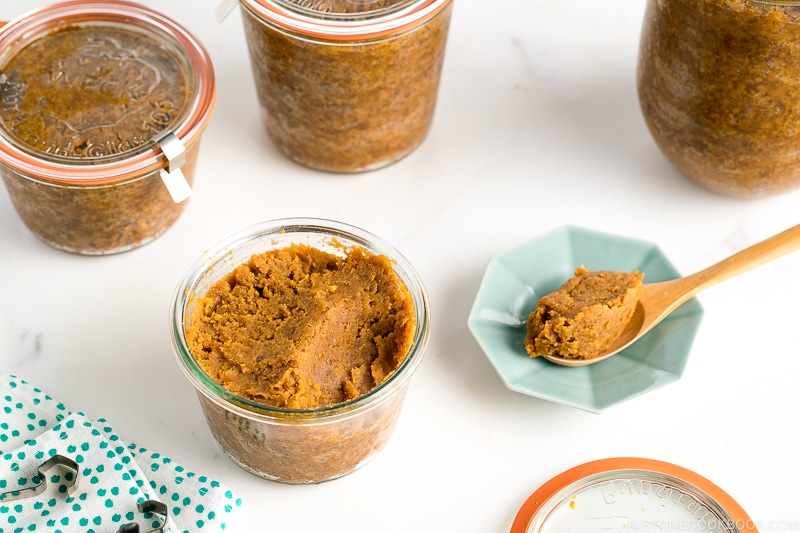 Sign up for the free Just One Cookbook newsletter delivered to your inbox! And stay in touch with me on Facebook, Pinterest, YouTube, and Instagram for all the latest updates.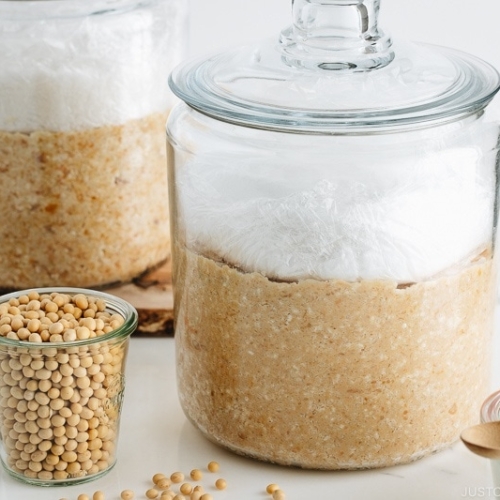 Homemade Miso
Make Homemade Miso from scratch with just 4 ingredients and a little patience. My simple step-by-step instructions on How to Make Miso will guide you through this process. Once it is made, you can use the amazing fermented paste for many delicious Japanese dishes!
Japanese Ingredient Substitution:
If you want substitutes for Japanese condiments and ingredients, click
here
.
Instructions
January/February
Gather all the ingredients. Besides this, you will need 2 large bowls (one should be a very big one), 1 strainer, Instant Pot (or pressure cooker or a large pot), a clean cloth, alcohol (shochu or vodka), a potato masher (or a food processor), a 1-gallon glass jar to put miso in, and a bag of 1 kg (2.2 lb) table salt.

Gently wash the soybeans thoroughly several times under running water. P.S. The foam seen in the images here is not soap.

In a large bowl, add the rinsed soybeans and fill the bowl with filtered water to about 5 inches (10 cm) above the beans. Soak the soybeans for 18 hours.

Drain the beans. Look how large the beans are now. The right soybean is before soaking, and the left two soybeans are after 18 hours of soaking. After soaking, total soybeans weigh 1435 g.

Add the soybeans into the inner pot of Instant Pot. Fill the pot with filtered water to about ½ inch (1.2 cm) above the beans (roughly 8 cup line of the pot).

Close the lid and set HIGH pressure for 20 minutes. Make sure the steam release handle points at "sealing" and not "venting".

STOVETOP OPTION: Alternatively, you can cook the beans on the stovetop. Bring to a boil over high heat, skim off the surface scum, lower to a simmer, and cook for about 3-4 hours, uncovered, until the beans are soft. Add water as needed during simmering. You want to keep the soybeans submerged in just enough water.

Meanwhile, in a large bowl (you will add mashed soybeans in this bowl, so use your largest bowl/pot/container/dish), combine the rice koji and salt with your hands.

Also, put some alcohol (shochu, vodka, soju, sake, etc) on a clean cloth and wipe inside the jar you will put miso in.

Once the pressure cooking is finished, release the pressure naturally. It will take about 30 minutes till pressure comes down completely and you can open the lid.

Test if the beans are done, by pressing a bean between a pinky and thumb. If it is mashed nicely, it's ready. Drain the soybeans over a bowl to capture the cooking liquid. NOTE: When you are mashing the beans, you may need some cooking liquid, so save about 1 cup just in case. Ideally, it's best not to use the cooking liquid at all (for this particular recipe, which is designed to make miso without adding cooking liquid). Water in the miso has a higher risk of potentially causing mold growth in the miso.

While the soybeans are still hot, transfer some of the soybeans back to the Instant Pot inner pot and mash them with a potato masher (pestle or bottle, etc). Do this process in batches so it's easier to mash nicely.

If you have a food processor, process some soybeans until they are in paste form. Do this process in batches so it's easier to process.

ONLY if the soybeans look really dry, add a small amount of cooking liquid. As I mentioned earlier, it's best if you don't add liquid according to this recipe, but I used a little bit. Scoop out the paste and continue with the next batch.

Mashed soybeans must be warm/room temperature (NEVER hot) before combining them with the koji because hot soybeans can kill koji mold. Mashing takes time unless you make a small batch, so you don't need to worry about the soybeans being hot in this recipe.

Add the warm (not hot!) mashed soybeans into the bowl with the koji and salt mixture.

Knead well to distribute the rice koji and salt with mashed soybeans. Take time to do this process until it's mixed well. Add a small amount of the reserved cooking liquid, if necessary.

Using your hands, form tennis ball-sized balls with mashed soybeans.

Put each ball into the container and mash it with your fist and knuckle to ensure that all air pockets have been eliminated. Do one layer at a time, and make sure to press down tightly. If you have a glass jar, you can see if you miss any pockets by looking from the side of the jar.

Repeat this process until all the balls are pressed tightly in the jar. Pat down the surface with the flat of your palm or knuckle to smooth out. Make sure you have a space left for the weight on top of the miso. If your jar/container is too small, use another container. Clean the inside surface walls of the container with a shochu-soaked cloth/paper towel to deter mold.

Sprinkle ½ Tbsp of sea salt on top of the surface.

Place a plastic wrap on top of the surface and make sure to cover nicely. I use my adjustable drop lid (otoshibuta) to hold down the plastic wrap while I work on covering the edges and remove it when I was done.

Put heavy objects (or rocks) on top of the miso. I put 1 kg (2.2 lb) of table salt (cheaper than the sea salt) in a plastic bag and put it on top.
To Store
Write down the date on masking tape and put it on a jar. Place the miso in a dark and cool place for at least 3 months (I put in a storage underneath the stairs). You can also use a dark pillowcase and try to find a darker spot in the house.
After 3 Months (April/May)
Stir the miso from the bottom up to avoid mold forming. When checking the miso, do so quickly to avoid exposure to air. If you see any mold on the surface, carefully scrape it off. Clean the inside surface walls of the container with a shochu-soaked cloth to deter mold. Smooth the surface, place a new plastic wrap on top, and put the weight back on top. Place the container back in a dark and cool place for another 3 months.
After 3 More Months (July/August)
During summer months, the fermentation will be faster but the chances of getting mold are higher. Stir the miso from the bottom up every 2-3 weeks and check your jar regularly and remove any mold appearing on the surface. Even if a layer of mold covers the entire surface, the miso below should be fine. Just scrape off the surface to a sufficient depth where only mold-free miso can be seen. Clean the inside surface walls of the container with a shochu-soaked cloth to deter mold. Smooth the surface, place a new plastic wrap on top, and put the weight back on top. Place the container back in a dark and cool place.
When Miso is Done (September)…
Because San Francisco is always a cool climate and does not get hot, I waited for about a year to mature my miso to be red miso. Remove the weights once the miso is done.

Divide the miso into smaller containers so they will fit in your refrigerator. Store it in the refrigerator to prevent over-fermenting. Now you can enjoy your own miso paste made with patience, love, and perseverance. 
Nutrition
Nutrition Facts
Homemade Miso
Amount per Serving
% Daily Value*
* Percent Daily Values are based on a 2000 calorie diet.
©JustOneCookbook.com Content and photographs are copyright protected. Sharing of this recipe is both encouraged and appreciated. Copying and/or pasting full recipes to any website or social media is strictly prohibited. Please view my photo use policy
here
.