Shochu refers to Japanese distilled liquor. The base can range from rice, potato, sweet potato, barley, corn, or sugar cane. Drink as is or use to make fruit infusions, such as umeshu plum wine.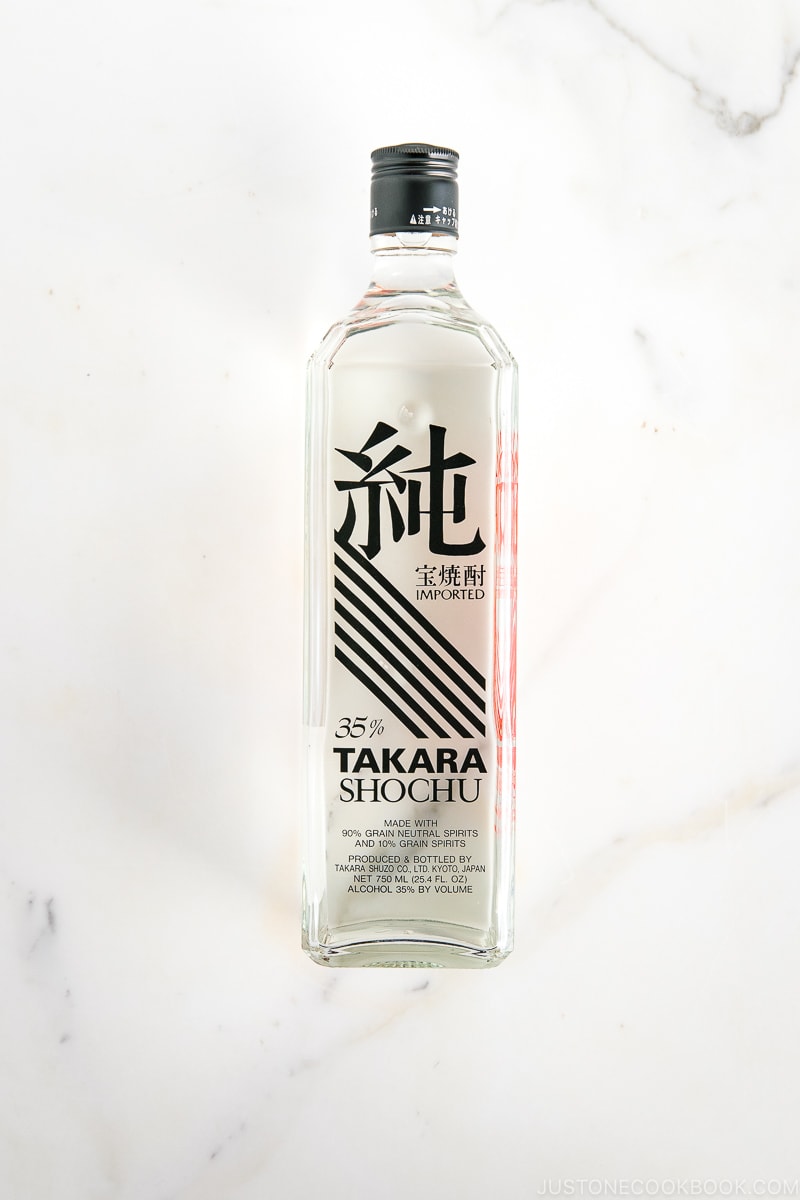 Shochu 焼酎 is a traditional Japanese hard liquor very popular in Japan. Even though sake is better known outside of Japan, shochu outpaces sake in domestic consumption. It has a complex flavor and aroma profile.
It is produced around Japan, especially in Kyushu (southern Japan). Kagoshima prefecture in Kyushu is famous for its sweet potato shochu, and Kumamoto for its rice shochu.
What Is Shochu
Shochu is a distilled alcohol made from grains and starch such as barley, sweet potato, rice, buckwheat, and sugar cane. It's fermented with koji, the same fungus that makes soy sauce, miso, and other Japanese culinary staples. Depending on its ingredients and regional style, it can vary in taste.
Shochu is sometimes referred to as Japanese vodka, but connoisseurs and drinkers would argue that they are not close comparisons. Vodka has a higher alcohol content, around 40%, and undergoes multiple distillations.
If you have a chance to visit Japan, try it! Some of the best places to try are in izakaya (Japanese pubs), where casual dining goes well together with drinking. Otherwise, you would have a better chance of trying it at trendy or upscale Japanese restaurants.
Varieties of Shochu
There are many types, and the three dominant styles are sweet potato, barley, and rice. Other ingredients such as sugar cane, buckwheat, chestnut, brown sugar, corn, potato, and shiso leaves are minor.
Cheap shochu consists of a mixture of different grains.
What Does It Taste Like
Shochu comes in a vast range of flavors and overtones.
Sweet potato shochu/imo-jochu (芋焼酎) tastes fruity and sweet with a round finish
Barley shochu/mugi-jochu (麦焼酎) tastes clear and sharp
Rice shochu/kome-jochu (米焼酎) tastes mildly sweet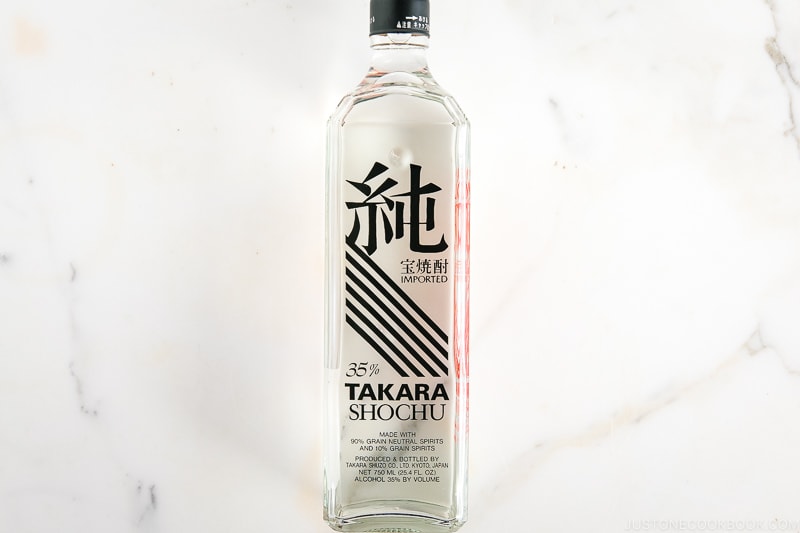 How To Use
Try it straight, on the rocks, with soda, or diluted with hot water (oyuwari お湯割り) or cold water (mizuwari 水割り). You could also use it as a base for chuhai and highballs.
Shochu for Japanese Plum Wine
To make Japanese Plum Wine, we need neutral, colorless, and near-flavorless distilled spirits to bring out the flavor of ume. You want to use shochu with a higher alcohol level of over 35%. Otherwise, the plum wine could quickly spoil. I use Takara shochu to make plum wine.
Where To Buy
You can find it at Japanese and Asian grocery stores and well-stocked liquor stores.
How To Choose The Best
If drinking sochu as is, look for honkaku shochu (本格焼酎, "authentic shochu"). This high-quality spirit undergoes a single distillation and retains the characteristics of the base ingredient.
How To Store
Distilled spirits are known for their long shelf life. So long as you store it properly, the bottle upright, with consistently low temperature, and away from direct sunlight, it will keep almost indefinitely.
Substitutions
You can use spirits like vodka, gin, whiskey, brandy, and rum to make fruit infusions like plum wine.
FAQs
Q: What are the differences between shochu, sake, awamori, and soju?
Shochu is a distilled alcoholic beverage that undergoes distillation for a clear liquid. The ingredients include barley, rice, sweet potato, corn, and sugar cane. The alcohol content is around 25-37%. It uses white (aspergillus kawachii), black, and yellow (Aspergillus oryzae) koji.
Sake or nihonshu is rice-based fermented alcohol consisting of Japanese short-grain rice, koji, and yeast. The alcohol content is lower, around 15%. It's lower in alcohol and higher in umami and sugar.
Awamori is a distilled alcoholic beverage made of imported long-grain Thai rice from Okinawa. It has a 30-43% alcohol content and uses black koji mold (Aspergillus awamori) indigenous to Okinawa. However, under the Japanese liquor tax law, awamori is legally classified as a type of shochu.
Soju is a distilled alcoholic beverage originating from Korea. It's made of grains and starches, such as wheat and sweet potatoes. It tends to be flavored or sweetened with additives and sold in green bottles.
---
Wish to learn more about Japanese cooking? Sign up for our free newsletter to receive cooking tips & recipe updates! And stay in touch with me on Facebook, Pinterest, YouTube, and Instagram.