Crunchy, bright, fresh, and satisfying. This Asian Cabbage Salad is an absolute star for all your summer cookouts and dinners. The 3-ingredient miso dressing is simple but punchy. Everyone will be obsessed!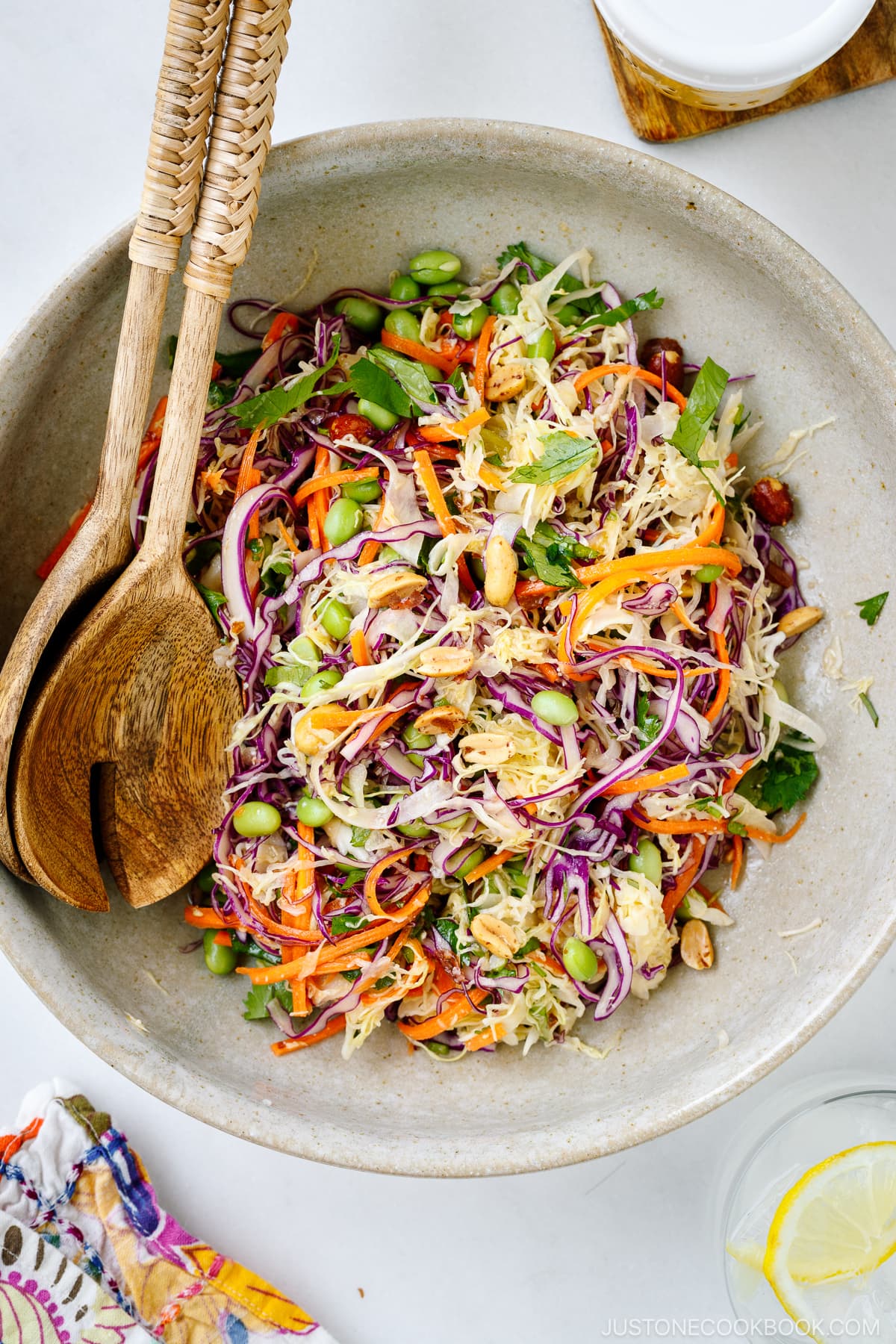 Whenever we have a BBQ cookout, my husband would put on his commodore hat and take charge of the grill. This is the time he shines and his meat dishes like smoked chicken wings and baby back ribs would get all the attention. While I enjoy taking the sidelines, I make it a point to put out a few sides that will draw equal love from everyone at the table. One of them that truly lives up to the spotlight is this gorgeous Asian Cabbage Salad.
Loaded with texture and fresh bright flavors, it has become the standout dish that everyone talks about. The colors are so vibrant that you naturally want to dig your spoon in it.
Give it a try, and it might well be your next signature slaw.
Why You'll Love This Recipe
Refreshing, healthy, and mood-lifting. Its bright, bracing freshness will brighten up any meal and your mood. The big plus: it's rich in fiber, minerals, and protein (thanks to edamame)!
A perfect partner for a great variety of dishes. You can serve this cabbage salad as a side dish to complement a cookout spread or tuck it into a pulled pork sandwich, or layer it over your salmon burger or top it over your cold noodle.
Holds up well and is fantastic for all seasons. Prep ahead and enjoy a good salad for a week. Since the ingredients are available year-round, you can make it anytime of year too.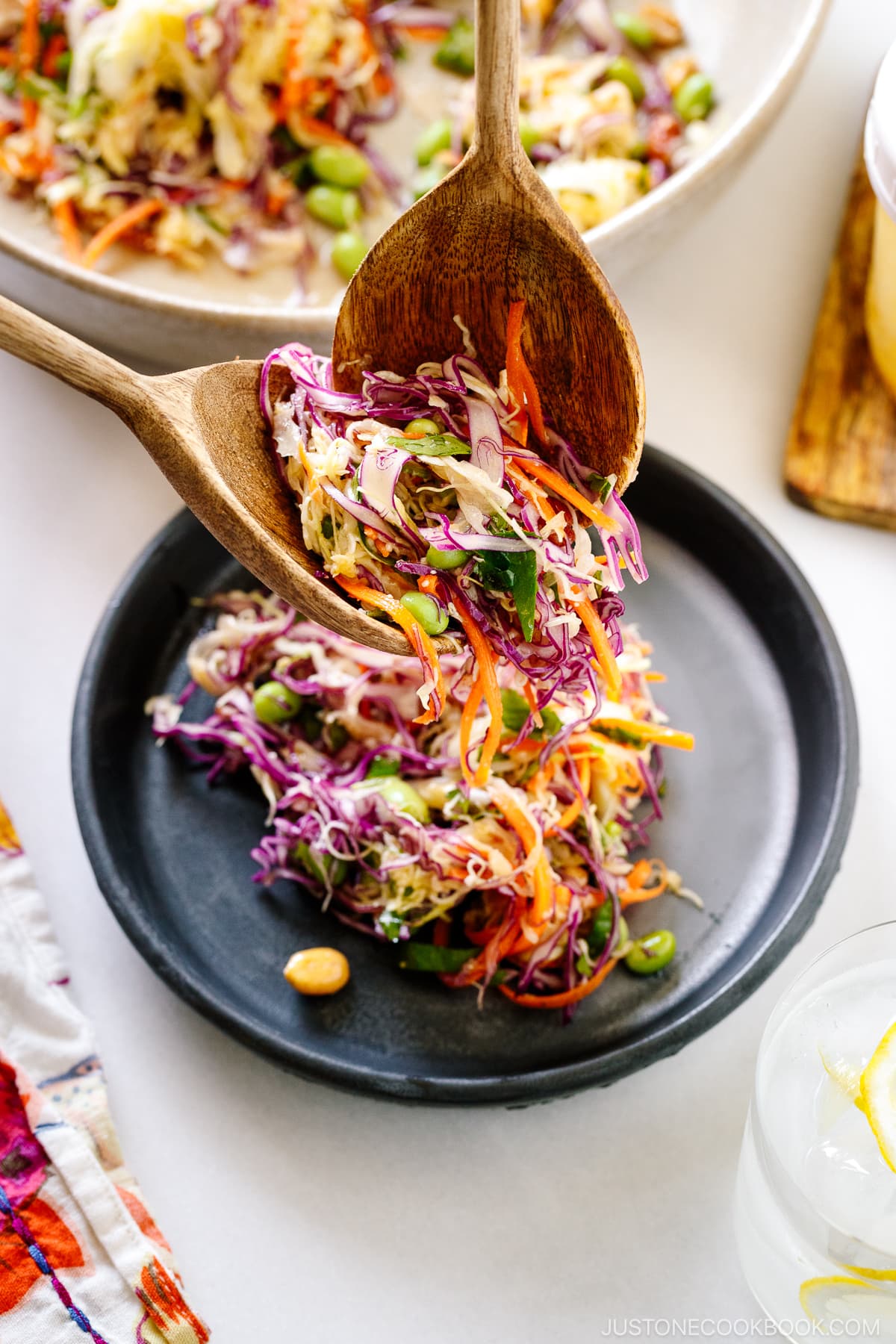 How to Make Asian Cabbage Salad
The Ingredients You'll Need
Cabbage – You'll need roughly half of a small head of cabbage (or a quarter if it's a medium head). I use both green and red cabbage for color.
Carrots – I always keep whole carrots in my fridge for regular Japanese cooking, so I shred the carrots myself. I think they look and taste fresher than pre-shed carrots sold in a bag.
Shelled edamame – You can use a bag/container of cooked, shelled edamame, or you can cook frozen or fresh edamame yourself and shell them. Just ½ cup of these soybeans a day punches up the vitamin and mineral content of the diet needed by our bodies!
Fresh cilantro or green onion – Adds color, zippy flavor, and freshness!
Nuts – They add crunch and dimension to your salads! I used salted peanuts today, but they can be slivered or sliced almonds, or any type of nuts or seeds like sunflower seeds that I love.
3-Ingredient Miso Dressing – Miso, neutral-flavored oil, and rice vinegar.
Substitution Tips and Variation
Don't feel restricted to use the exact same ingredients I listed above. For vegetables, you can just use green cabbage or napa cabbage, broccoli, bell pepper, snap peas, green beans, or asparagus.
Tip: If you switch things up, consider the colors and textures.
The Cooking Steps
Make the 3-ingredient miso dressing by combining the ingredients together.
Shred the cabbages and carrots into long thin strips and finely chop cilantro leaves.
Right before serving, toss all the ingredients together with the dressing.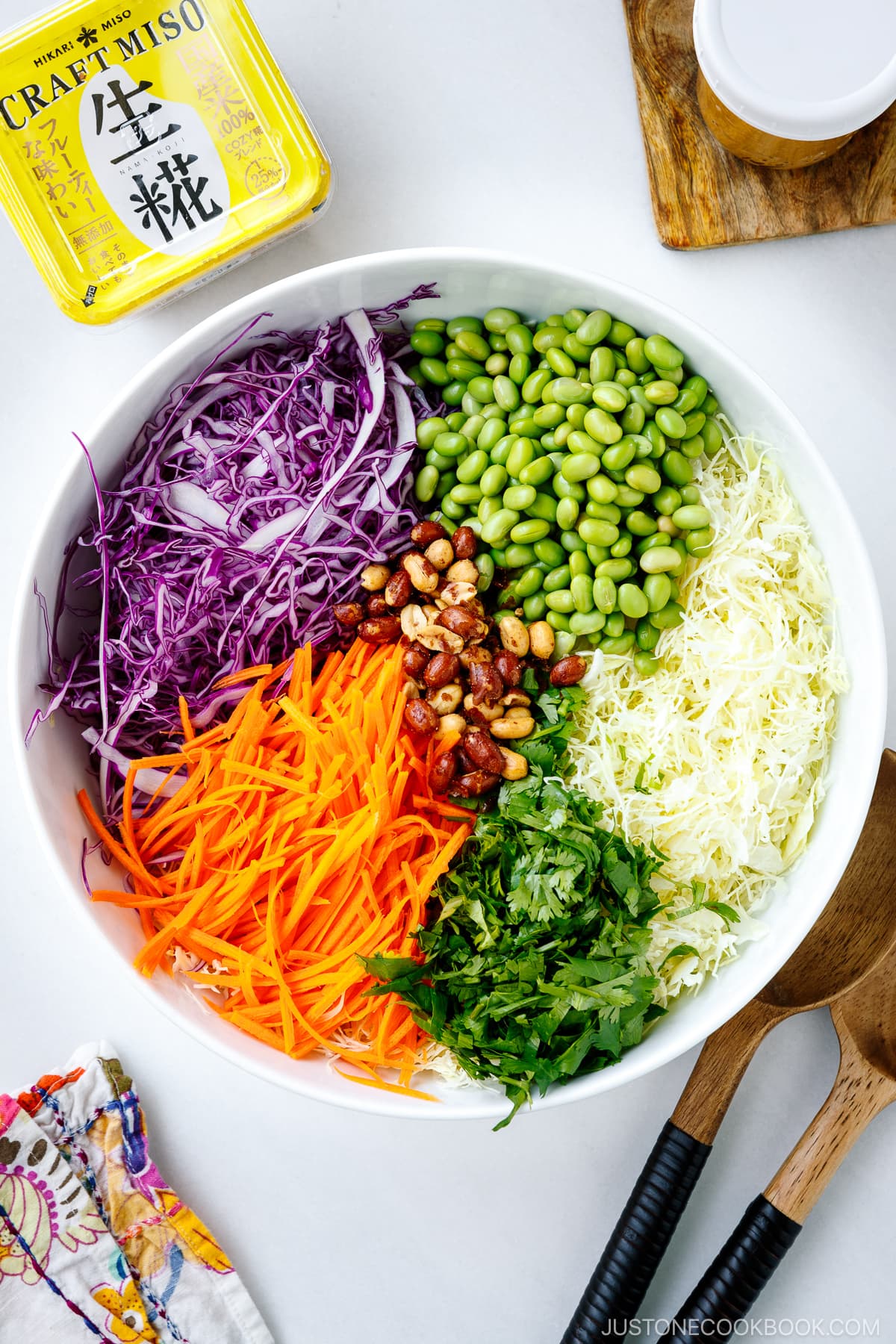 Craft Miso Nama Koji by Hikari Miso
For the miso dressing, I used CRAFT MISO NAMA-KOJI by Hikari Miso.
Unlike ordinary miso, this miso has a fresh fruity taste! It's less salty (25% less than the other miso products) and has a large amount of koji. Because of that, it's naturally sweet, juicy, and soft. I serve this miso in a small bowl with vegetable sticks (cucumber, carrot, celery, etc) and my kids enjoy them as a snack.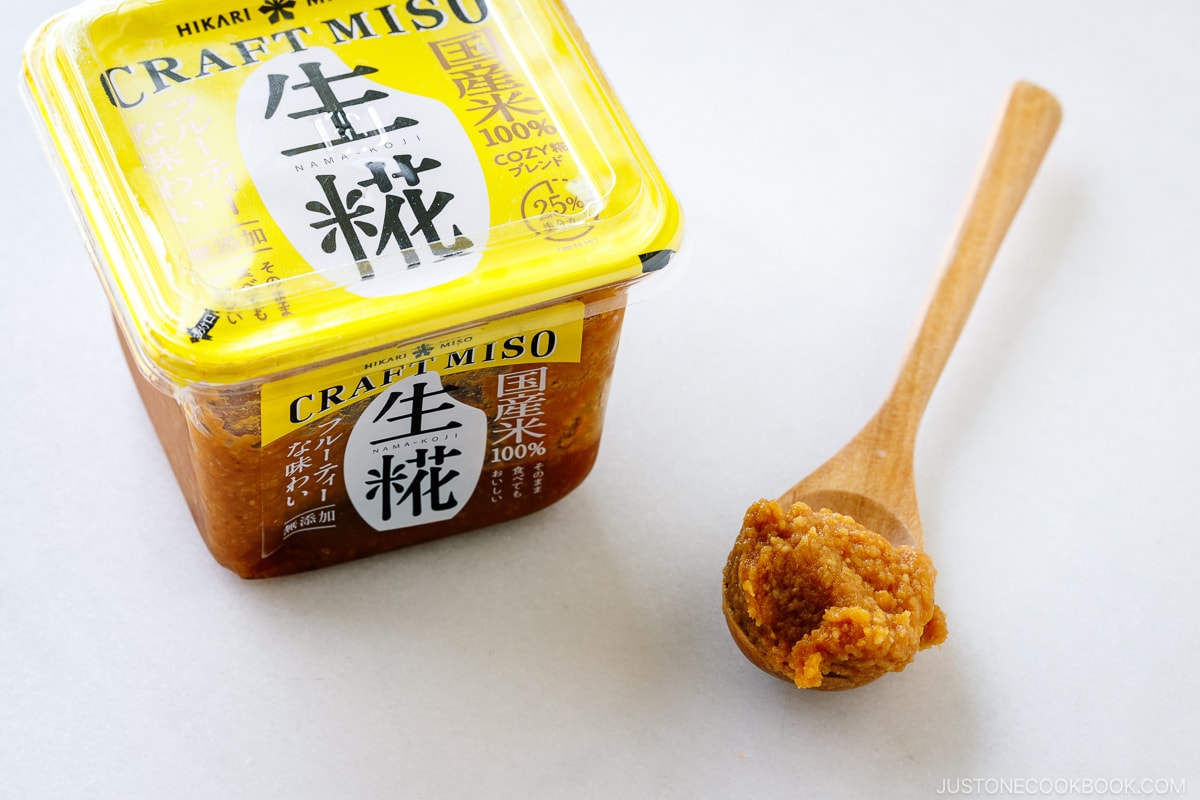 I find this miso the perfect choice for making a quick dressing. Just mix 3 ingredients: CRAFT MISO, neutral-flavored oil like avocado oil, and rice vinegar. Voila! It's so flavorful and has such a complex taste that no one would guess that it takes only 3 ingredients to make.
This miso is vegan and gluten-free. You can purchase it from Japanese grocery stores and some Asian grocery stores.
Tip: If you can't find CRAFT MISO, use your favorite miso and add a little bit of sugar as a quick substitution.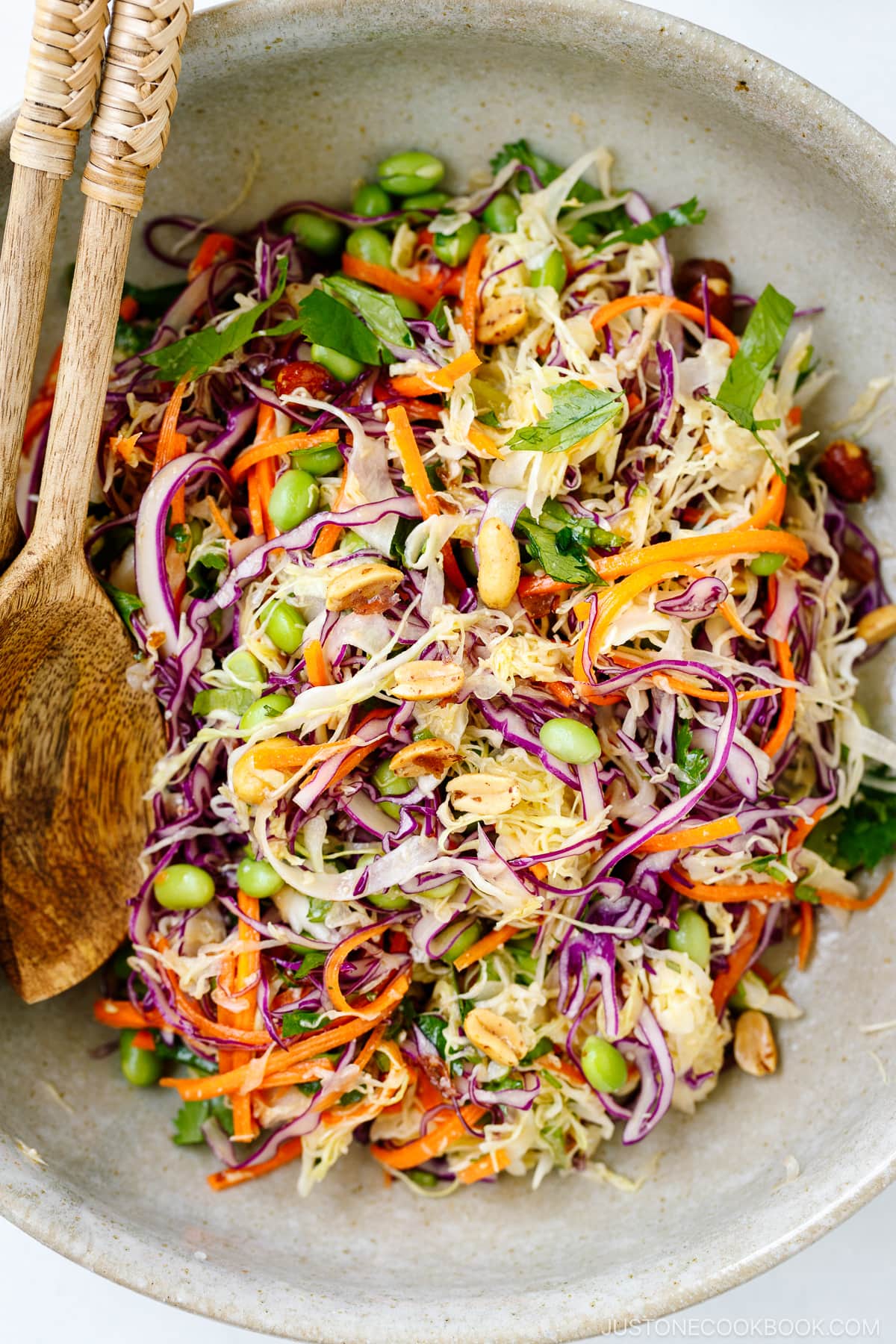 Recipe Tips and Techniques
Cut the salad ingredients into similar shapes and lengths. Imagine cabbages are thinly shredded, but carrots are sliced into round coins. When you scoop or pick up the salad with a fork, most likely, the carrot coins will fall off as they are not incorporated well into the other ingredients.
Fresh veggies VS coleslaw mix. If you're really in a hurry, you can use a bag of coleslaw mix but you will not get the maximum freshness.
Add the dressing 10 minutes before serving. To keep everything vibrant and fresh, pour the salad dressings before serving and mix at the table. Keep the salad and dressing chilled for the best taste.
Storage Tips
To Make Ahead: Cut all the vegetables, cover them with plastic (or place them in an airtight container), and refrigerate for up to 24 hours. You can also prepare the miso dressing ahead of time, keep it in a jar, and store it in the refrigerator. Take out the dressing 30 minutes in advance if the oil is solidified.
To Store Leftovers: Place the Asian cabbage salad in an airtight storage container and store it in the refrigerator. If dressed already, the salad lasts for a day (if longer, it gets wilted). If not dressed yet, it can last a bit longer. I recommend keeping the salad and dressing separately and mixing the amount you'll consume.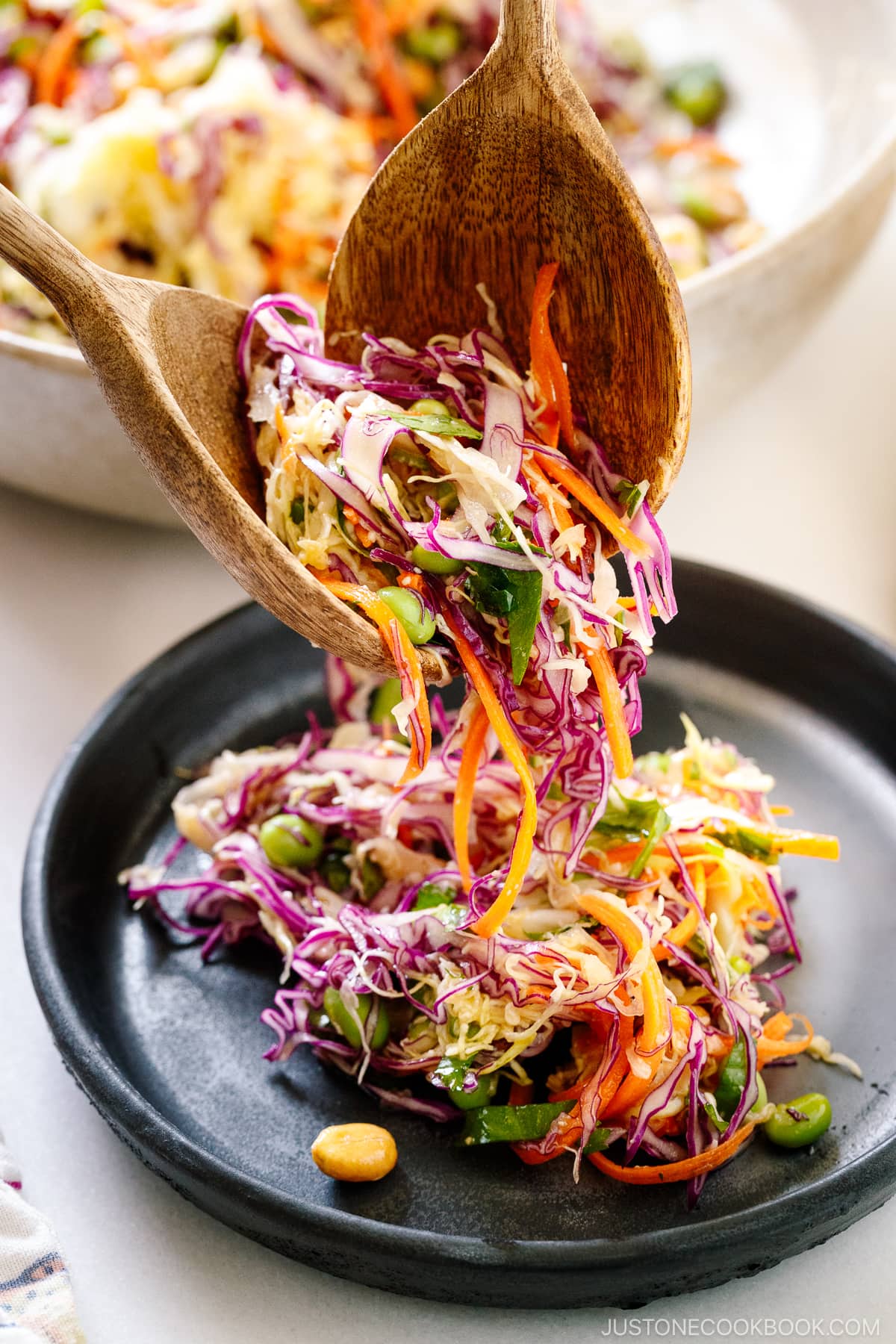 What to Serve with Asian Cabbage Salad
Recommended Tools to Make This Recipe
Cabbage slicer – One of my favorite tools! My mom first introduced this to me and I have since been using it to make shredded cabbage to serve with Tonkatsu, Chicken Katsu, and Japanese Croquettes (Korokke). It shreds the cabbage into super fine strips—like fluffy shreds! If you prefer to taste the crunch, I recommend slicing the cabbage on your own to your preferred thickness.
8-oz Mason Jar and plastic lid – I keep a bunch of these glass jars in my kitchen for mixing salad dressings and sauces. We can keep the leftovers in the jar and store them nice and clean in the refrigerator.
Leave us a comment below if you tried this Asian Cabbage Salad recipe, and let me know how you like it!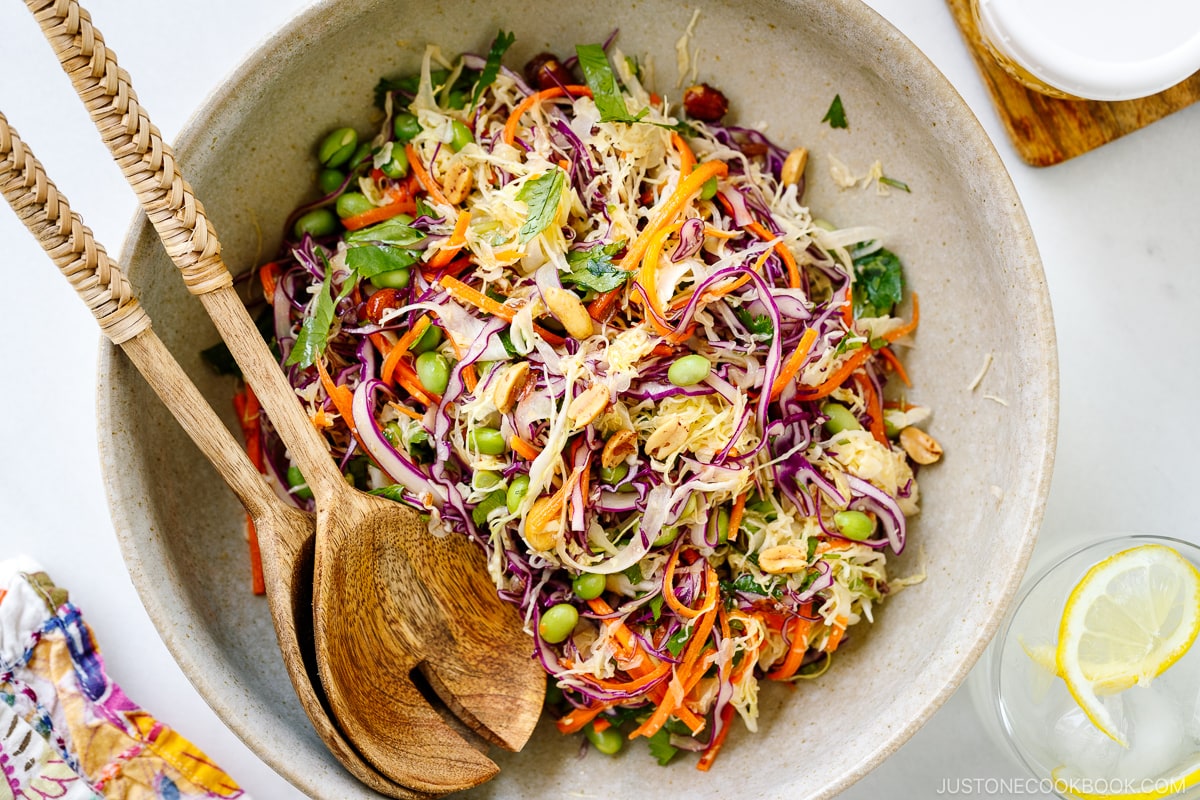 Wish to learn more about Japanese cooking? Sign up for our free newsletter to receive cooking tips & recipe updates! And stay in touch with me on Facebook, Pinterest, YouTube, and Instagram.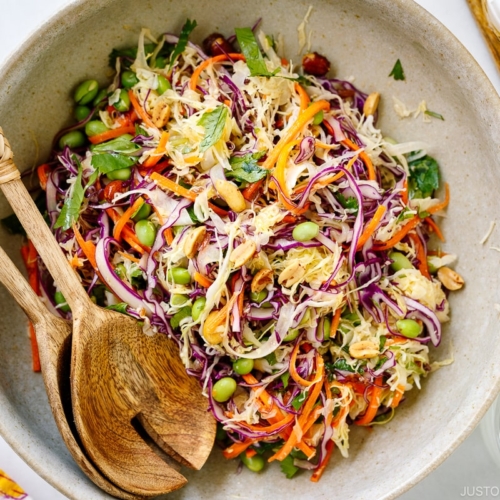 Asian Cabbage Salad
My delicious Asian Cabbage Salad with a simple 3-ingredient miso dressing is ready in a snap. Crunchy and refreshing, it's super easy to put together in just 20 minutes! This light but satisfying salad is the perfect make-ahead dish for your next dinner or potluck get-together.
Video
Ingredients
For the Cabbage Salad
¼

head

green cabbage

(medium; 13.4 oz, 380 g for 6 servings)

¼

head

red cabbage

(medium; 8.8 oz, 250 g for 6 servings)

2

carrots

(medium; 5.6 oz, 160 g for 6 servings)

10

sprigs

cilantro (coriander)

1

cup

shelled edamame

¼

cup

peanuts

(or any nuts or seeds of your choice)
Japanese Ingredient Substitution:
If you want substitutes for Japanese condiments and ingredients, click
here
.
Instructions
Gather all the ingredients.
To Make the Miso Dressing
In a small mason jar, combine

3 Tbsp miso

,

6 Tbsp neutral oil

, and

2 Tbsp rice vinegar (unseasoned)

. If you are not using naturally sweet CRAFT MISO by Hikari Miso, add ½ tsp sugar per 3 Tbsp miso of a different type. Then, close the lid tightly and shake well until the miso is completely dissolved. Store in the refrigerator until ready to use.
To Make the Cabbage Salad
Discard the core of

¼ head green cabbage

. Thinly slice the cabbage or shred it using a cabbage slicer.

Discard the core of

¼ head red cabbage

. Thinly slice the cabbage or shred it using the cabbage slicer.

Peel

2 carrots

. Using a julienne peeler, make long, thin julienned strips with the carrot. When they are too long, cut the long strips in half or thirds into 2-inch pieces. If you have a regular vegetable peeler, peel the carrot into thin sheets, then cut the sheets into long, thin julienned strips.

Chop

10 sprigs cilantro (coriander)

and discard the stems.

In a large salad bowl, place the green cabbage, red cabbage, carrot, cilantro,

1 cup shelled edamame

, and

¼ cup peanuts

. If you're not serving the salad right away, cover it with plastic and refrigerate it for up to 24 hours.
To Serve
About 10 minutes before serving, take out the Miso Dressing from the refrigerator and shake well. Drizzle two-thirds of the dressing over the salad and toss together. Taste the salad and add more dressing, if needed.
To Store
You can keep the leftovers in an airtight container and keep them in the refrigerator. If dressed already, the salad lasts for a day (if longer, it gets wilted). If not dressed yet, it can last a bit longer. I recommend keeping the salad and dressing separately and tossing only the amount you'll consume.
Nutrition
Nutrition Facts
Asian Cabbage Salad
Amount per Serving
% Daily Value*
* Percent Daily Values are based on a 2000 calorie diet.
©JustOneCookbook.com Content and photographs are copyright protected. Sharing of this recipe is both encouraged and appreciated. Copying and/or pasting full recipes to any website or social media is strictly prohibited. Please view my photo use policy
here
.