These juicy, succulent, and flavorful smoked beef ribs are super easy to make at home. You'll just need three simple ingredients and a smoker to make this summer favorite.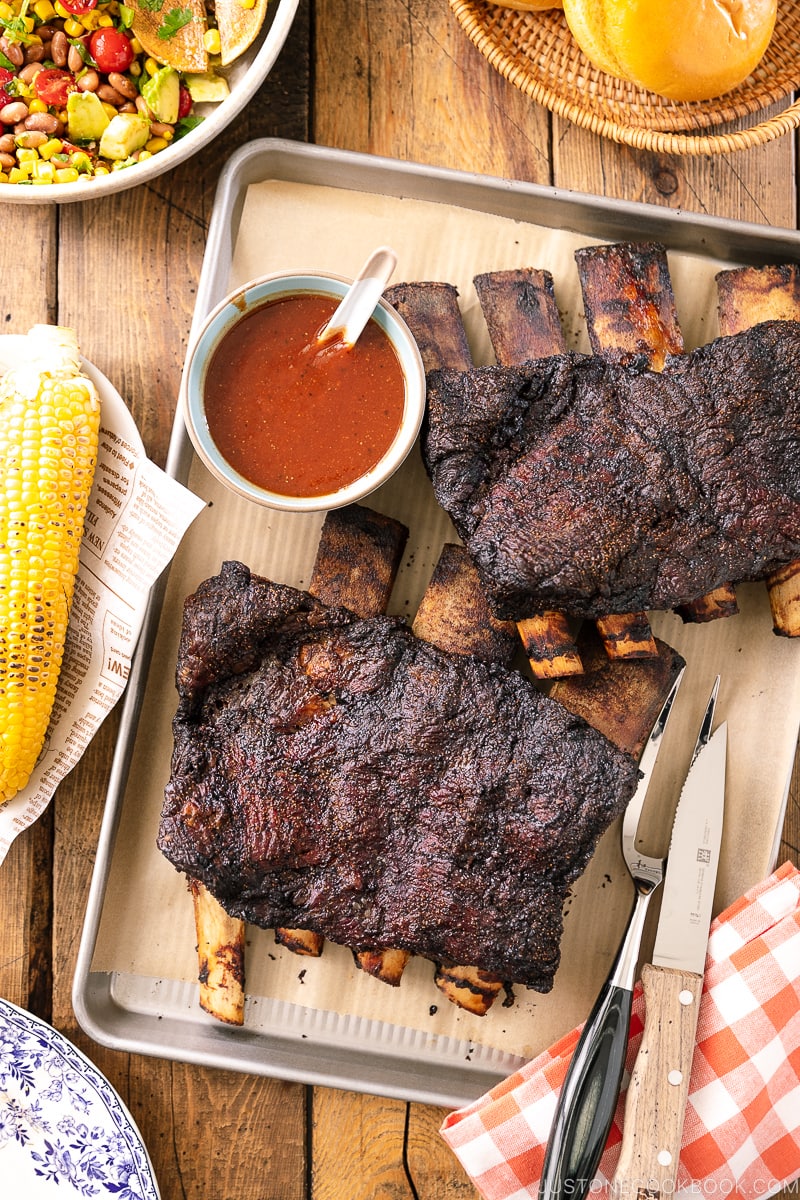 Have you ever had tender smoked beef ribs? It's one of the items we look forward to the most when we eat at Brazilian barbecues. When the ribs cart comes around, our mouths are already drooling and we couldn't wait to devour them. Tender pieces of ribs that become more flavorful with each bite!
When we looked into how to make the best smoked beef ribs at home, we were really surprised by how easy it was and how tasty they turned out. Just 10 min of prep time and a bit of patience, and you will have plenty of delicious beef ribs to share with friends and family.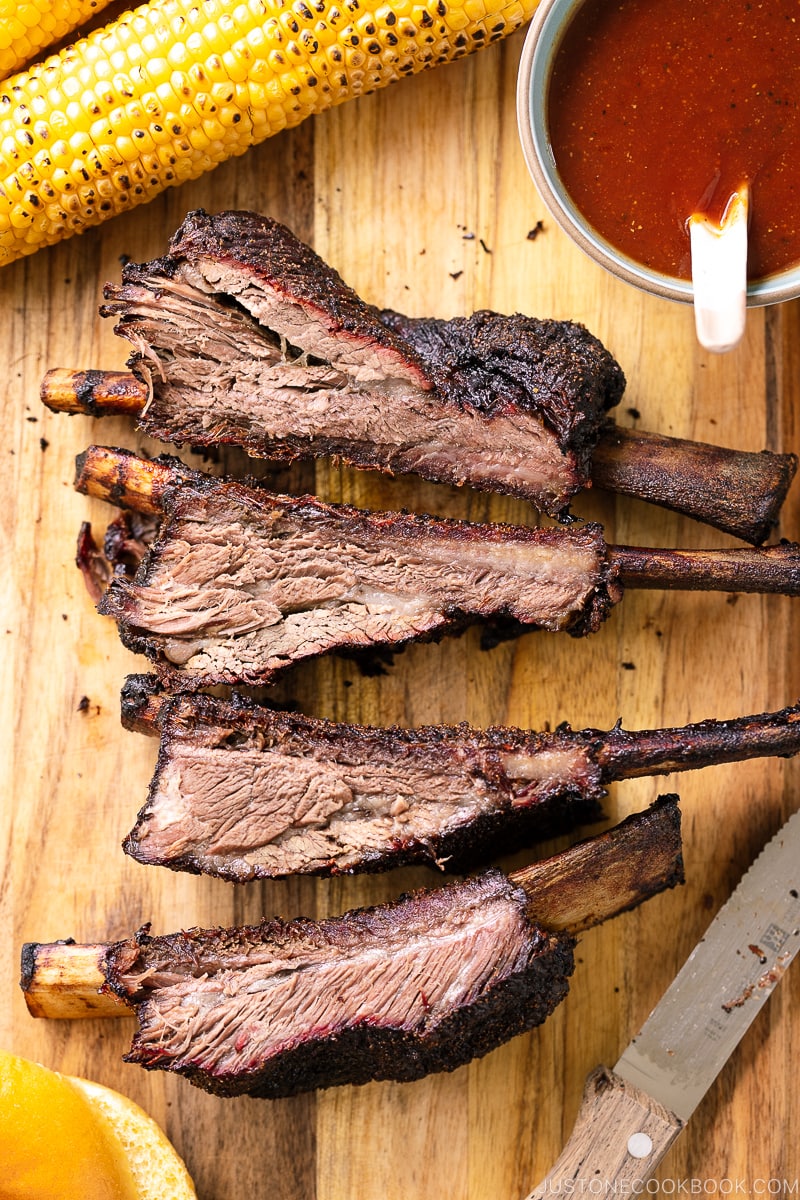 Why You Should Make These Smoked Beef Ribs
These smoked beef ribs are the same tender cuts of beef used for Korean short ribs (flanken style) or English cut short ribs. They come from the beef chuck and usually have 3 or 4 pieces of rib bones in a rack.
Short ribs are perfect for smoking because they have plenty of meat and fat on them. It is known for its tenderness when cooked low and slow, letting the fat and collagen integrate into the ribs. Do not confuse these with beef back ribs which have much less meat.
Lastly, don't let the large cut of meat deter you from making these ribs. It's super easy and the results are to die for.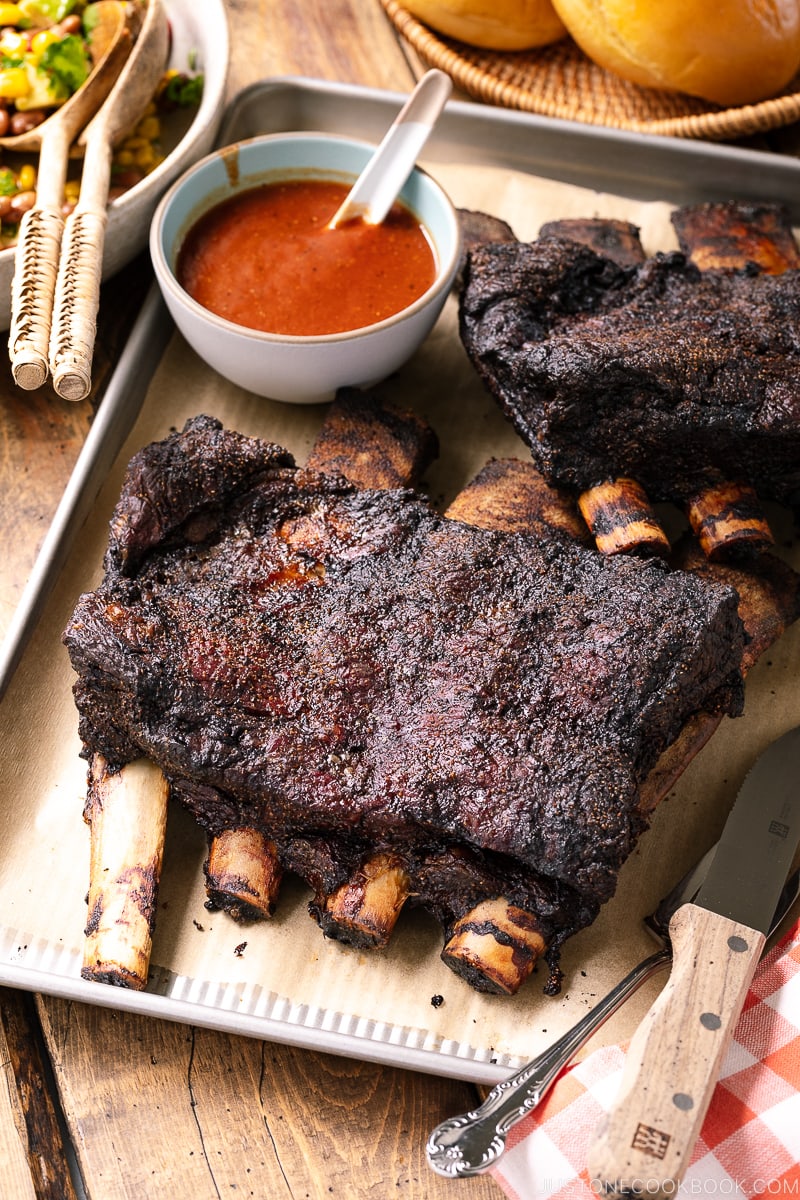 How to Make Smoked Beef Ribs
So how easy is it to make these smoked beef ribs? Besides the meat, you'll only need: Sriracha sauce, kosher salt, black pepper, and apple cider vinegar.
Ingredients You'll Need
Beef ribs – short ribs with 3-4 bones (2½ to 3 lbs per rack trimmed)
Sriracha sauce
Salt – Diamond kosher salt
Black pepper – 16 mesh black pepper
Apple cider vinegar
Instead of using dry rubs, we apply the spicy, savory, and slightly garlicky Sriracha sauce to boost the flavors of the ribs. It is really simple yet packs a lot of punch. And you're guaranteed the most gorgeous crusty bark once the ribs come out from your smoker.
What Cut of Beef Ribs
Let's talk about the cut of beef ribs you'll need for this recipe. Here, we used a 4-bone section of chuck ribs, which is a thick-cut style rib for smoking. You can sub it with plate ribs but they have less meat on them. Avoid using beef back ribs that have hardly any meat.
If you have only seen your butcher offering English cut short ribs or Korean style thin cut short ribs instead of an entire rack, they likely have a full rack of beef ribs in the back. You just need to ask if they have full racks for purchase or they may be able to order them for you as well.
We highly recommend buying from your local meat shop since they can remove the silver skin and membranes. We've purchased the short ribs with bones online and they were not trimmed. It was quite a bit of effort to trim the silver skin and remove the membranes ourselves. The short ribs lose about 15-20% of the weight after trimming. If you're doing it yourself, use a butter knife and gently slice underneath the membranes, grip it with the paper towel, and with steady pressure pull the membrane off, then pull it off.
Overview: Cooking Steps
Remove silver skin and membrane from beef ribs.
Rub Sriracha sauce all over the ribs, then sprinkle kosher salt and black pepper.
Smoke at 285ºF (140ºC) for approximately 4.5 hours.
Check the temperature of the ribs and spritz apple cider vinegar. Continue to smoke for another 30 minutes or until the ribs are 200ºF (93ºC). Do not overcook!
Remove the ribs and let them rest. Slice the racks into individual portions and serve with your favorite bbq sauce.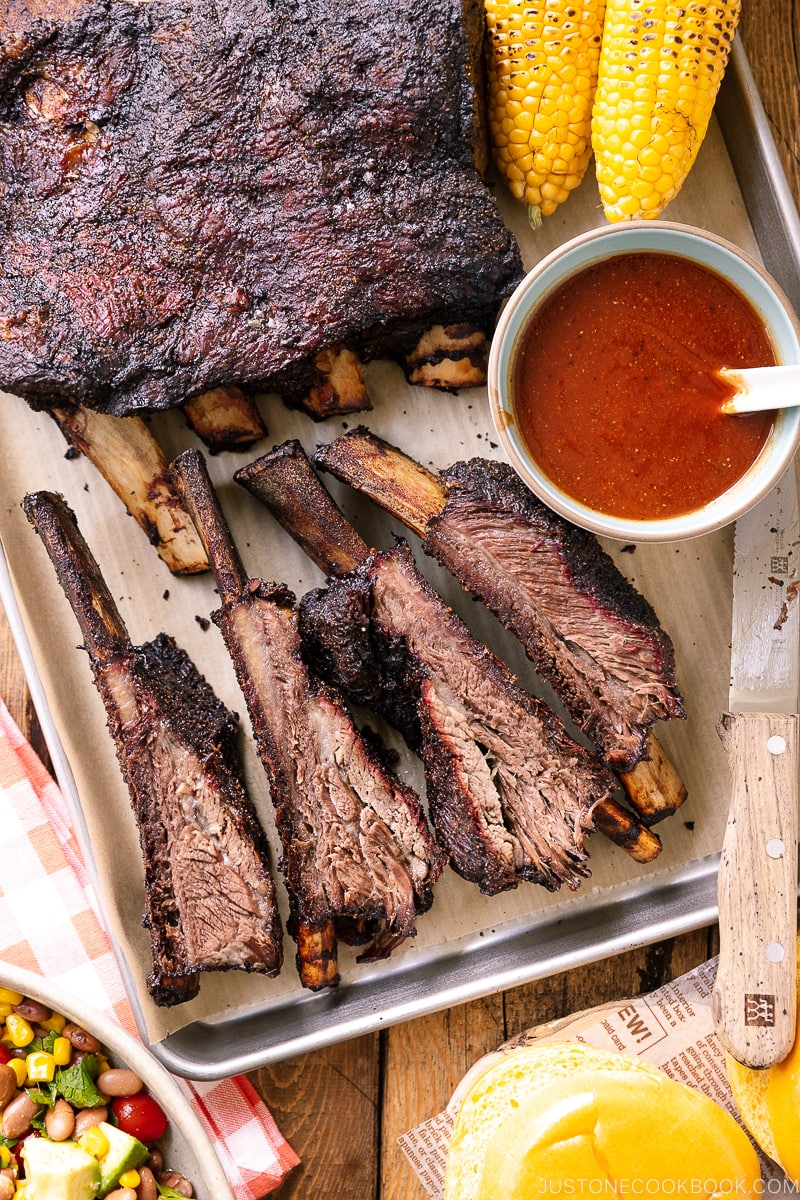 5 Tips to Make Delicious Smoked Beef Ribs
Trim the beef! It's important to trim the beef correctly so the seasoning can be absorbed. If the silver skin remains on the ribs, it will prevent the ribs from absorbing the smoke and seasoning.
Season the ribs the night before smoking. They can go into the smoker straight from the fridge and be done in time for lunch. They don't need to be smoked overnight compared to briskets and other large cuts of beef.
No ribs are the same size, always monitor the temperature of the smaller rack. We've overcooked the smaller beef ribs in the past because we were not paying close attention.
Be patient and don't open the smoker until almost done. Trust the process.
Use oak wood chips for the best results. Other wood chips we would suggest using are hickory or a blend with oak wood chips.
FAQs About Smoking Ribs
Q: Should I wrap the ribs with aluminum foil or butcher paper?
It really comes down to the quality or grade of meat you use. For smoked recipes like this, we prefer to get quality USDA Prime beef with a beautiful amount of marbling and fat so we usually skip the wrapping entirely. If you use lower quality or leaner beef, then I'd recommend wrapping them to prevent drying.
Q: How long does it take to smoke a rack of beef ribs? How do I know when the ribs are done?
There are different factors that determine the smoking time: the size of your ribs, how hot your smoker is, and the way you cook them. Ultimately, it is all about the internal temperature, not the specific time. We use a Traeger pellet grill and it takes 5 hours (including rest time) for the meat to be ready to serve.
The best thing to have by your side when smoking meats is an instant-read thermometer. When the internal temperature of the thickest part of the meat reaches 200-205ºF (93.3-96.1ºC), your ribs are done.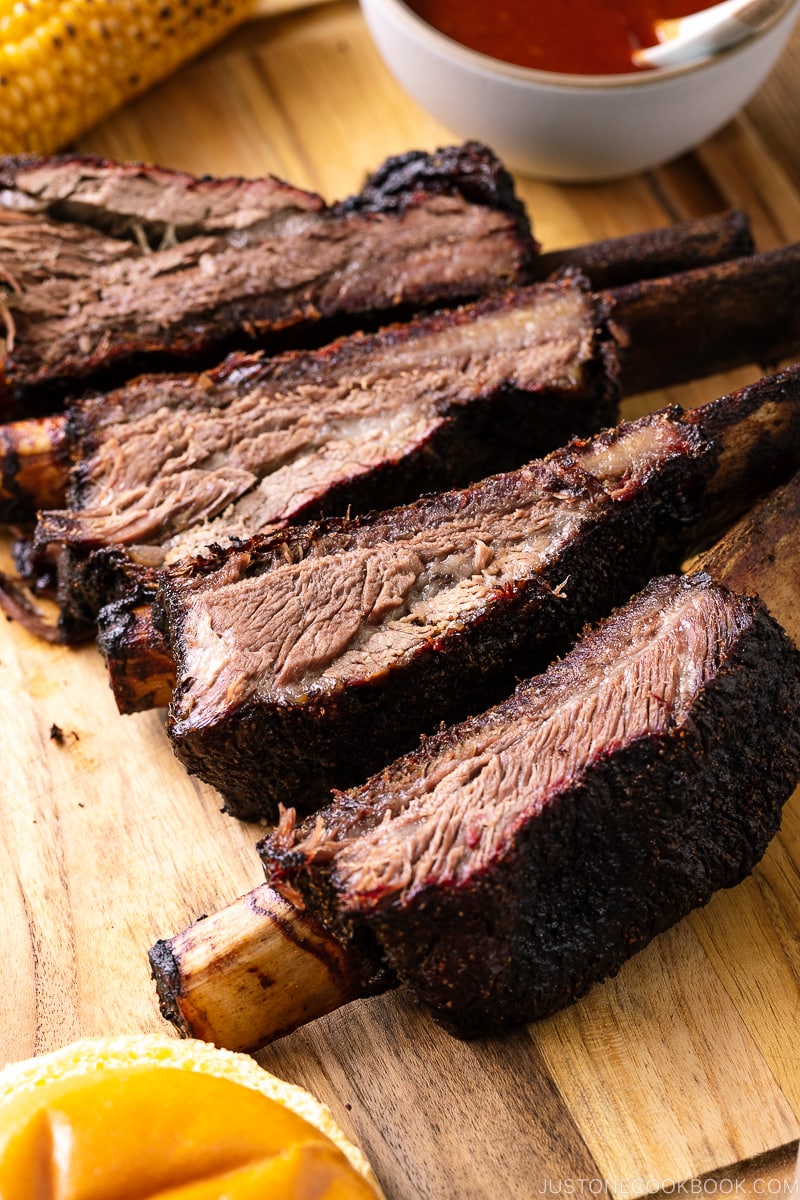 About the Traeger Pellet Grill
We've always used Traeger pellet grills for smoking food. They are very dependable and produce consistent results. We especially love the wifi capability since it tells us how the cooking is going without having to go outside to check. Our current model is Ironwood 885 and we love it for its large pellet capacity and spacious cooking surfaces.
What to Serve with Smoked Beef Ribs
More Smoked Recipes You'll Enjoy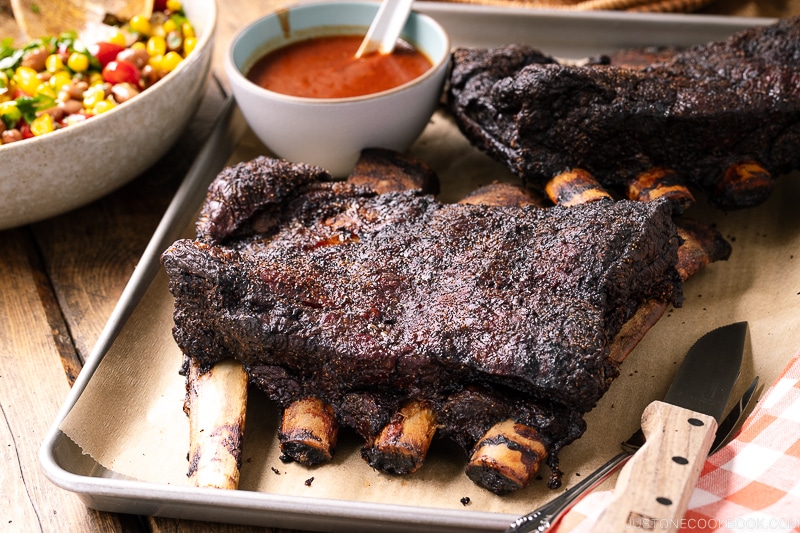 Wish to learn more about Japanese cooking? Sign up for our free newsletter to receive cooking tips & recipe updates! And stay in touch with me on Facebook, Pinterest, YouTube, and Instagram.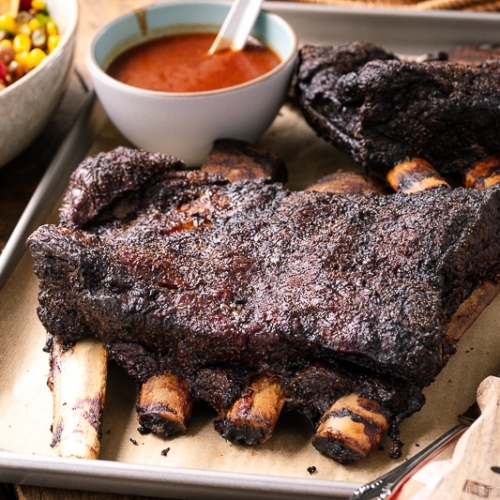 Smoked Beef Ribs
These juicy, succulent, and flavorful Smoked Beef Ribs are super easy to make at home. I use meaty and well-marbled beef short ribs in this recipe for the most tender and irresistible results. You'll just need four seasoning ingredients and a smoker to make this summertime barbecue favorite. 
Video
Japanese Ingredient Substitution:
If you want substitutes for Japanese condiments and ingredients, click
here
.
Instructions
Before You Start…
I like to prep and season the ribs the night before to give the meat a chance to absorb the seasonings. The next morning, the ribs can go straight from the refrigerator into the smoker and be done in time for lunch.
To Prepare the Ribs
The night before you plan to cook (or several hours ahead), prep and season

2 racks beef short ribs

. Gather all the ingredients. You won't need the apple cider vinegar until the ribs are almost done cooking, so set it aside for now.

If your beef ribs are not trimmed, remove the excess fat and silver skin from the meat side. Remove the silver skin (membrane) from the bone side. The fat and silver skin make up 15–20 percent of the weight of the ribs. Pat dry if needed.

Drizzle and rub about half of the

6 Tbsp sriracha sauce

on the meat side of the ribs. For this step (and the next), I wear gloves and use my hands to thoroughly distribute the sauce all over the racks.

Drizzle and rub the remaining sriracha sauce on the bone side and along the edges.

Next, generously sprinkle

1 Tbsp Diamond Crystal kosher salt

and

1 Tbsp 16-mesh ground black pepper

on both the meat and bone sides of the ribs (I absolutely love using a sifter for this).

Make sure to sprinkle some salt and pepper on the edges of the racks as well. Place the racks on a large tray, cover, and refrigerate overnight (or several hours) until you're ready to cook.
To Cook in the Smoker
Preheat the smoker to 285ºF (140ºC). After the smoker is up to temperature, place the rib racks in the center of the smoker. Close the cover and set a timer for 4½ hours. Don't open the smoker cover during this time.

Fill a small spray bottle with

3 Tbsp apple cider vinegar

. After 4½ hours, open the smoker and gently spray the ribs with the apple cider vinegar. Using an instant-read thermometer, check the temperature of the meat. You're looking for an internal temperature of 200–205ºF (93.3–96.1ºC). Close the smoker.

Monitor the ribs carefully over the next 30 minutes. Pay special attention to the smaller rack, as it tends to cook faster than a larger rack. Once the internal temperature of the meat reaches 200–205ºF (93.3–96.1ºC), they are done. Remove the racks from the smoker and let rest for 20 minutes.
To Serve
Slice the racks into individual rib portions. Serve with your favorite barbecue sauce. Something with a bit of acidity goes well with the ribs since they're pretty fatty and rich. Enjoy.
To Store
You can keep the leftovers in an airtight container and store in the freezer for up to 1 month. To reheat the ribs, preheat the oven to 250ºF (121ºC) for 30 minutes or until warmed through.
Nutrition
Nutrition Facts
Smoked Beef Ribs
Amount per Serving
% Daily Value*
* Percent Daily Values are based on a 2000 calorie diet.
©JustOneCookbook.com Content and photographs are copyright protected. Sharing of this recipe is both encouraged and appreciated. Copying and/or pasting full recipes to any website or social media is strictly prohibited. Please view my photo use policy
here
.