If you're craving a flavorful, tender, juicy Tri-Tip, you've come to the right place. Today we're going to show you how you can cook up Smoked Tri-Tip with stovetop smoker to perfection. And yes,  you can do that over the stove in just 30 mins!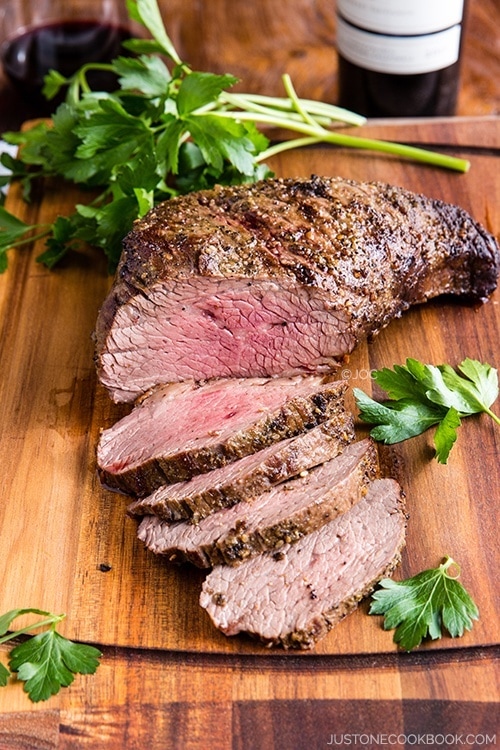 Our family is a huge fan of smoked meat, especially smoked tri-tip. Our eyes light up whenever our friend John invites us for his awesome smoked baby back ribs, or when our neighbor Jim treats us to his various smoked meats. I have suggested Mr. JOC on multiple occasions to get a smoker in our backyard so that we can enjoy our favorite smoked meats any time we want.
Make Smoked Tri-tip Indoors
Well, even after dropping many hints about the smoker, it doesn't seem like it's happening soon (yet). To move things forward, I've decided to go ahead and buy a smoker myself. No, not the big, backyard one, the stovetop smoker.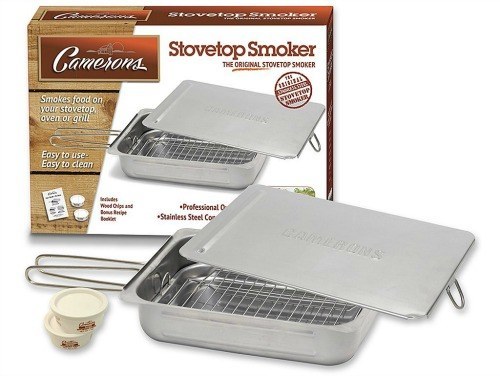 Can this tiny stovetop smoker work? I was curious to test it out myself. The good news is that it costs much less than a large smoker, and I saw some nice stovetop smoker recipes from my friends Akemi's and MJ's blogs. I was excited to test it out!
It's actually very simple and easy to use. Mr. JOC came on board with this experiment and we decided to use our favorite tri-tip for the first smoking experiment. We used the secret dry rub we received from Sequoia Grove Winery for the tri-tip, and paired it with their Sequoia Grove's 2011 Cabernet Sauvignon.
Watch How To Make Smoked Tri-Tip with Stovetop Smoker
Flavorful and tender Smoked Tri-Tip made easy with stovetop smoker! Experiment with different types of wood chips and dry rub for best flavors.
The result was pretty amazing. It's hard to believe we could make the smoked tri-tip over the stove in just short 30 min. Just FYI, this stovetop smoker can go on a stove, oven, or even on the grill. The design is simple and looks pretty durable. The best part? It's dishwasher safe.
Smoked Tri-tip

is Super Easy to Make

Do I recommend this to my readers? Sure! If you are like me, who relies on their husband or boyfriends to grill, this stovetop smoker will add an additional "smoked" recipes to your repertoires. It might not be as good as smoker outside, but we were very satisfied with the result and we can't wait to try smoking seafood and other types of meat!

If you are curious what kind of rub you can use on the smoked tri-tip, the answer is either you can make your own or just buy a ready made one. At the supermarkets near my house, they carry at least 10-15 different kinds of steak and seafood rub so experiment and find your favorite one. I'll share a secret though, my neighbor Jim uses Pappy's rub for his meats and they are amazingly good.
With smoked meat, there is probably nothing that goes better with it than great wine or tasty full-bodied beer. For this tri-tip recipe, we used the rub from Sequoia Grove recipe and learned from them about how to pair food with cabernet. Regardless of what you're making, keep in mind the following three principles when making food to go with cabernet.
1. Cut out the sugar (sugar will make the Cabernet undrinkable)
2. Add some salt
3. Add some acidity (adding a splash of lemon will make the wine much smoother)
We couldn't quite tell what was in their rub and they don't share the secret, but it tasted amazing and follows the above tasting principles. The best part??? The 2011 Cabernet that we paired the tri-tip with was phenomenal. Most of the times the wines we review are fun wines that you can enjoy for fun or with a meal. This particular wine is not one of those fun wine; it's more suitable to enjoy with a fine piece of steak.
To start off, the wine smelled as if you are standing in a field of grass with a bucket of freshly picked grape. As you take a first sip, you immediately notice the spice and the intense flavors. There are hints of berries, pepper, and aged balsamic vinegar. The wine is smooth, yes ruthless and filled with so many flavor as you slowly enjoy it. The finish is a bit dry on the tongue, but shouldn't be an issue as you take a big bite of the juicy smoked tri-tip. If you are going to enjoy a nice piece of steak, I highly recommend the Sequoia Grove Cabernet.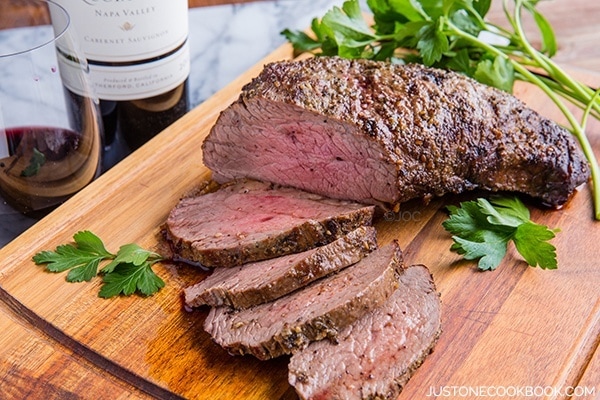 Don't want to miss a recipe? Sign up for the FREE Just One Cookbook newsletter delivered to your inbox! And stay in touch on Facebook, Google+, Pinterest, and Instagram for all the latest updates. Thank you so much for reading, and till next time!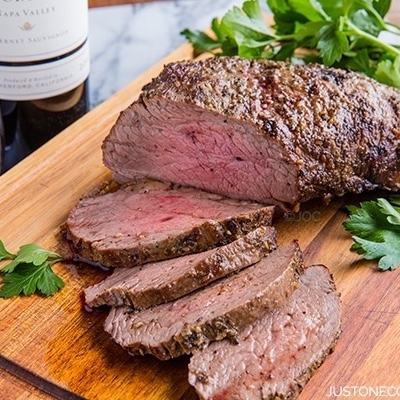 Smoked Tri-Tip with Stovetop Smoker
If you're craving a flavorful, tender, juicy Tri-Tip, you've come to the right place. Today we're going to show you how you can cook up Smoked Tri-Tip with stovetop smoker to perfection. And yes, you can do that over the stove in just 30 mins!
Video
Ingredients
2

lb

tri-tip

(at room temperature; a good cut of tri-tip is 3-inch thick and 8 inches long, 2 to 2.5 lb, and a triangular shape)

freshly ground black pepper

dry rub of your choice

(I used Sequoia Winery – A Taste for Cabernet Seasoning Rub)
Japanese Ingredient Substitution:
If you want substitutes for Japanese condiments and ingredients, click
here
.
Instructions
Gather all the ingredients. Bring the meat to room temperature (important!). I use this stovetop smoker.

Season both sides of the meat with salt and pepper and then sprinkle generously with dry rub. Allow to season at room temperature for at least 1 hour. It can also be covered and refrigerated for 6-10 hrs. If you do so, be sure to bring the meat back to room temperature.

Place 2 Tbsp of wood chips (hickory, oak, etc) in the center of the smoker pan, covering an area roughly the size of your burner. Then place the drip pan lined with a sheet of aluminum foil (easy cleanup!).

Place the tri-tip on the rack. Make sure to leave space between the tri tip and the sides of the smoker.


Bring the smoker to the stove and center the smoker over a large burner. Close the lid but leave a 1 inch gap. Turn the heat to medium. When you see the first signs of smoke rising from the pan, close the lid securely and start timing. Smoke a 2 lb tri-tip for 30 minutes (2.5 lb tri-tip for 40 min).

When it's almost done, preheat the oven broiler to high. Remove the lid off the smoker. Transfer to the oven and broil for 4 minutes on each side to add a nice char on the outside. Make sure the meat is about 6 inches away from the heat source otherwise it will burn easily. After broiling, the internal temperature should be 130-140ºF (54-60ºC) for medium-rare.

Let the meat rest for 10 minutes (important!). Slice against the grain and serve.
To Store
You can keep the leftovers in an airtight container and store in the refrigerator for up to 3 days.
Nutrition
Nutrition Facts
Smoked Tri-Tip with Stovetop Smoker
Amount per Serving
% Daily Value*
* Percent Daily Values are based on a 2000 calorie diet.
©JustOneCookbook.com Content and photographs are copyright protected. Sharing of this recipe is both encouraged and appreciated. Copying and/or pasting full recipes to any website or social media is strictly prohibited. Please view my photo use policy
here
.
Please note: We received no compensation for this review. We received a bottle of Sequoia Grove and Cabernet Rub from Jarvis Communication free of charge to use in exchange for an honest review.