Learn how to make juicy and flavorful Santa Maria Tri-Tip in this recipe. You'll need just a few hours in a sous vide machine for an amazing result!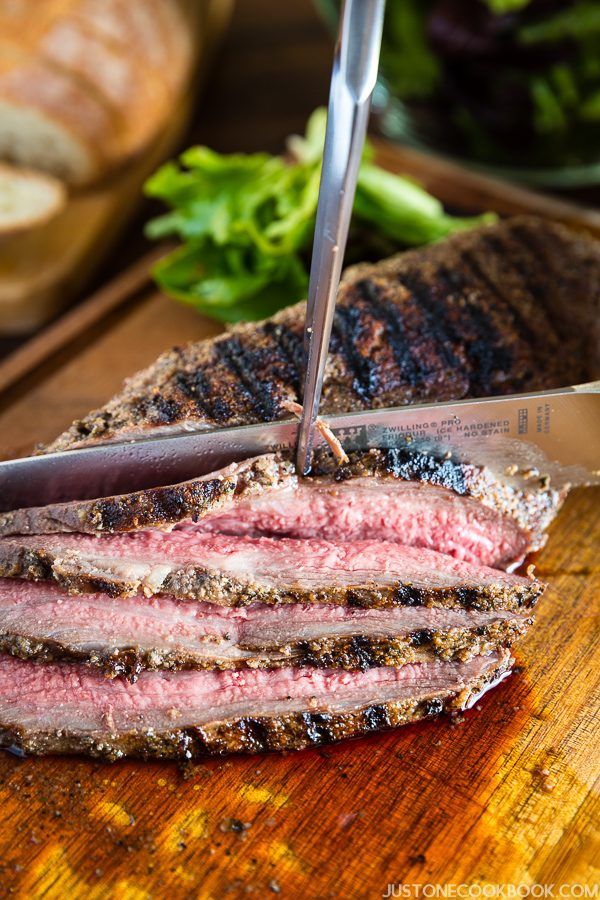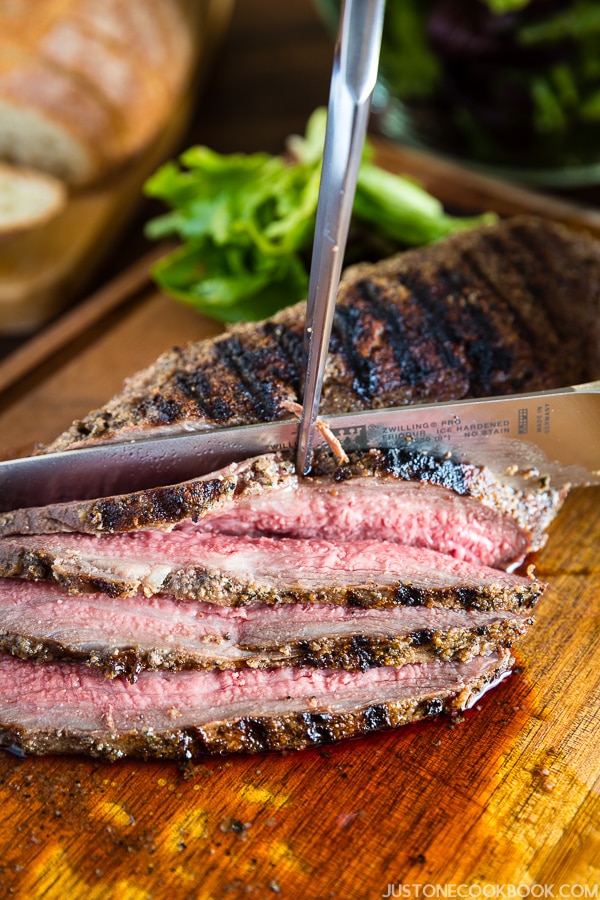 Mr. JOC doesn't usually cook in the kitchen, but he loves grilling and takes over my cooking duty in the summer time when the weather is perfect for grilling. This Santa Maria Tri-Tip is one of our favorite steaks to grill, and we can't wait to share this recipe so you can try it out this summer.
What is

Santa Maria Tri-Tip

?
Santa Maria is a name of a town in Central California. It's famous for their BBQ beef tri-tip, seasoned with black pepper, salt, and garlic salt. It's usually charcoal-grilled over native coastal live oak and red oak wood. We were introduced to this delicious steak by our friend Brian, who grew up in, you've guessed it – Santa Maria. The first time I tried this steak it took me by surprise because tri-tips are usually not very flavorful unless you pour sauce all over it.
With this recipe, the steak absorbs all the seasoning while being marinated, and the simple mixture of garlic, parsley, salt, and black pepper brings out the natural flavor of the meat. The traditional accompaniments for Santa Maria Tri-Tip are pinquito beans, fresh salsa, tossed green salad, and grilled French bread dipped in sweet melted butter.
What is the cut "Tri-Tip"?
If you don't live in the US, you might have not have heard of "tri-tip". It is a cut of beef from the bottom sirloin, since it's triangle-shaped hence the name "tri-tip". Until I started blogging, I didn't know that tri-tip was hard to find outside of California as we could buy it in almost all supermarkets' meat department (even Costco).
If you can't find it where you live, you can replace it with 2 inch (5 cm) sirloin steak instead. The tri-tip cut is not as refined as most filet or other steak cuts; therefore there is less marbling and meat tends to be tougher. I recommend slicing thinly to enjoy.
Santa Maria Tri-Tip Rub
A basic Santa Maria Tri-Tip Rub has salt, black pepper, and either garlic salt or garlic powder. We used Lawry's garlic salt per Brian's recommendation which already includes dried parsley. If your garlic salt does not include dried parsley, add 2 tsp. dried parsley. If you use garlic powder, add salt. To make the recipe easily, we used only 2 ingredients: Lawry's garlic salt with parsley and black pepper. You can make your own rub by adding cayenne pepper for spicy kick and other kinds of herbs based on your preference.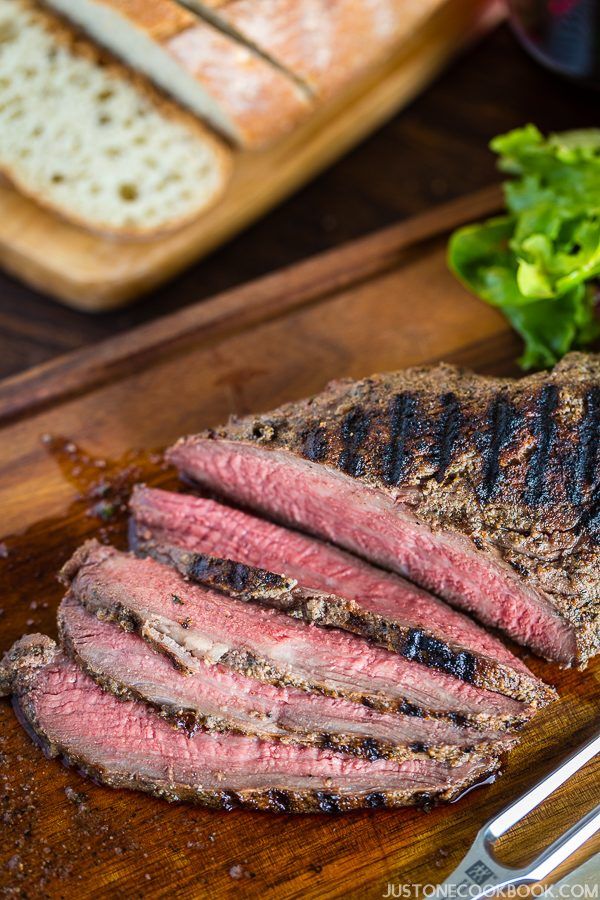 Grilling vs. Sous Vide
We made this recipe many times on the grill. As the steak requires 20-35 min of grilling time depending on the thickness, do not cook over direct heat. The outside will burn while the inside is still completely raw. Make sure to use the indirect grilling method after searing the sides.
As we have been enjoying sous vide steak different ways, this uneven cut of steak was the perfect for testing in our sous vide. Like I said before (many times), you won't over/undercook the meat if you use sous vide cooking.
The result was simply amazing! The steak was juicy, the seasoning was completely soaked up by the steak during the water bath process, and we all enjoyed it so much! The liquid smoke gave it a bit of charcoal flavor and finishing it on the grill gave it a nice char mark.
If you don't own a sous vide machine, don't worry. I've shared Brian's original recipe for grilling method below.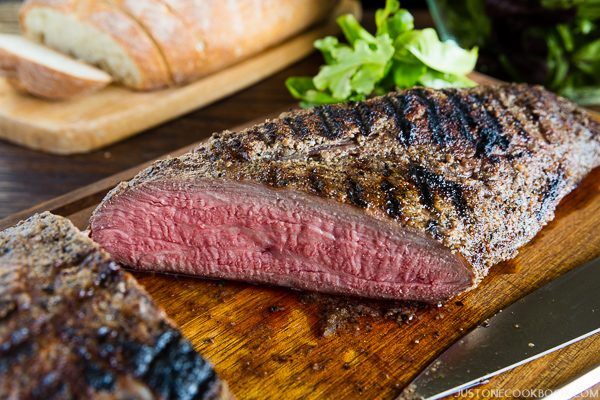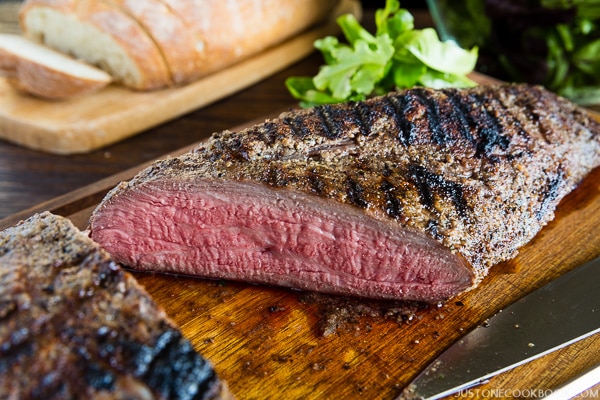 I hope you will enjoy making this Santa Maria Tri-Tip recipe as well! If you try it, don't forget to share your picture on Instagram, Facebook, or Twitter with #JustOneCookbook. Thank you so much for reading, and till next time!
Similar Recipes:
Don't want to miss a recipe? Sign up for the FREE Just One Cookbook newsletter delivered to your inbox! And stay in touch with me on Facebook, Google+, Pinterest, and Instagram for all the latest updates.
Santa Maria Tri Tip
Learn how to make juicy and flavorful Santa Maria Tri-Tip in this recipe. You'll need just a few hours in a sous vide machine for an amazing result!
Ingredients
1 ½

Tbsp

garlic salt with dried parsley

(Lowry's garlic salt already has dried parsley included. If your garlic salt does not include dried parsley, add 2 tsp dried parsley.)

1

Tbsp

freshly ground black pepper

2 ½

lb

tri-tip

(Tri-tip ranges from 2 ½ to 4 lb. You'll need ½ lb. per person. You can substitute tri-tip with a thick sirloin steak or London broil.)

1

Tbsp

extra virgin olive oil

(I used grapeseed oil today)

1

tsp

liquid smoke
Japanese Ingredient Substitution:
If you want substitutes for Japanese condiments and ingredients, click
here
.
Instructions
Gather all the ingredients.
Prepare Sous Vide Method:
Preheat water to your desired temperature. For medium-rare, set to 135°F (57°C).
Prepare Grilling Method:
Stab the tri-tip with fork multiple times all over so the seasoning will be absorbed, you can skip this step for Sous Vide method.
Seasoning For Both Grilling & Sous Vide Method:
Freshly grind black pepper. Combine the garlic salt and black pepper (and parsley) in a small bowl.


Generously sprinkle the seasonings all over the tri-tip on both sides.

For Grilling Method:
Put the meat in a plastic bag and keep it in the refrigerator for at least 10-12 hours. Preheat the grill to medium-high (400ºF/205ºC).

Remove the steak from the refrigerator until it's room temperature. Grill each side over direct heat for 2 min to sear the steak, then move to indirect heat and grill for 10-15 min for each side depending on how thick the steak is. I recommend keeping the lid of the grill on during grilling to maintain consistent temperature.

When grilling is done, rest the steak for 5 min before slicing.
For Sous Vide Method:
This is the best part of sous vide cooking, no need to marinate the meat and wait. Create a bag with a vacuum sealer if you have one, otherwise you can use a temperature tolerant zip lock bag.


Put the seasoned meat in the bag, add the oil and the liquid smoke (for sous vide and gas grill). If you are using charcoal grill you can skip the liquid smoke.


Seal the top of the bag. Make sure you select "moisture" option if available for the vacuum sealer as we have the oil inside. Place the bag into the preheated water. A one-inch-thick steak will be ready to eat in 1 hour, the general rule is 1 inch per hour of cooking for steak.

The best part about sous vide is that it should never overcook, so it can be in the water for up to 6 hours without degrading quality as long as the water stays at the same temperature. After 6 hours the protein slowly breaks apart and the texture is not optimal.

When the tri-tip is almost done with sous vide cooking (2 hours for 2-inch steak), start heating up the grill to 400ºF (205ºC). When the grill is ready, pick up the bag and cut open the vacuum package.

If you are not planning to eat the meat immediately after sous vide cooking. Soak in iced water (½ ice and ½ water) for 30 minutes to chill, and then transfer to the refrigerator to store and enjoy later.

Sear the meat on both sides for 1 minute. For the sous vide method, you do not need to wait for the meat to sit, immediately slice the meat and enjoy.
Nutrition
Nutrition Facts
Santa Maria Tri Tip
Amount per Serving
% Daily Value*
* Percent Daily Values are based on a 2000 calorie diet.
©JustOneCookbook.com Content and photographs are copyright protected. Sharing of this recipe is both encouraged and appreciated. Copying and/or pasting full recipes to any website or social media is strictly prohibited. Please view my photo use policy
here
.