Vegetable Yakisoba is a Japanese stir-fried noodle dish featuring shiitake mushrooms, tofu, cabbage, and onion and it's bursting with a sweet and tangy flavor. This quick and easy noodle wonder is perfect for a weeknight meal. You don't have to be vegetarian or vegan to enjoy this savory veggie yakisoba!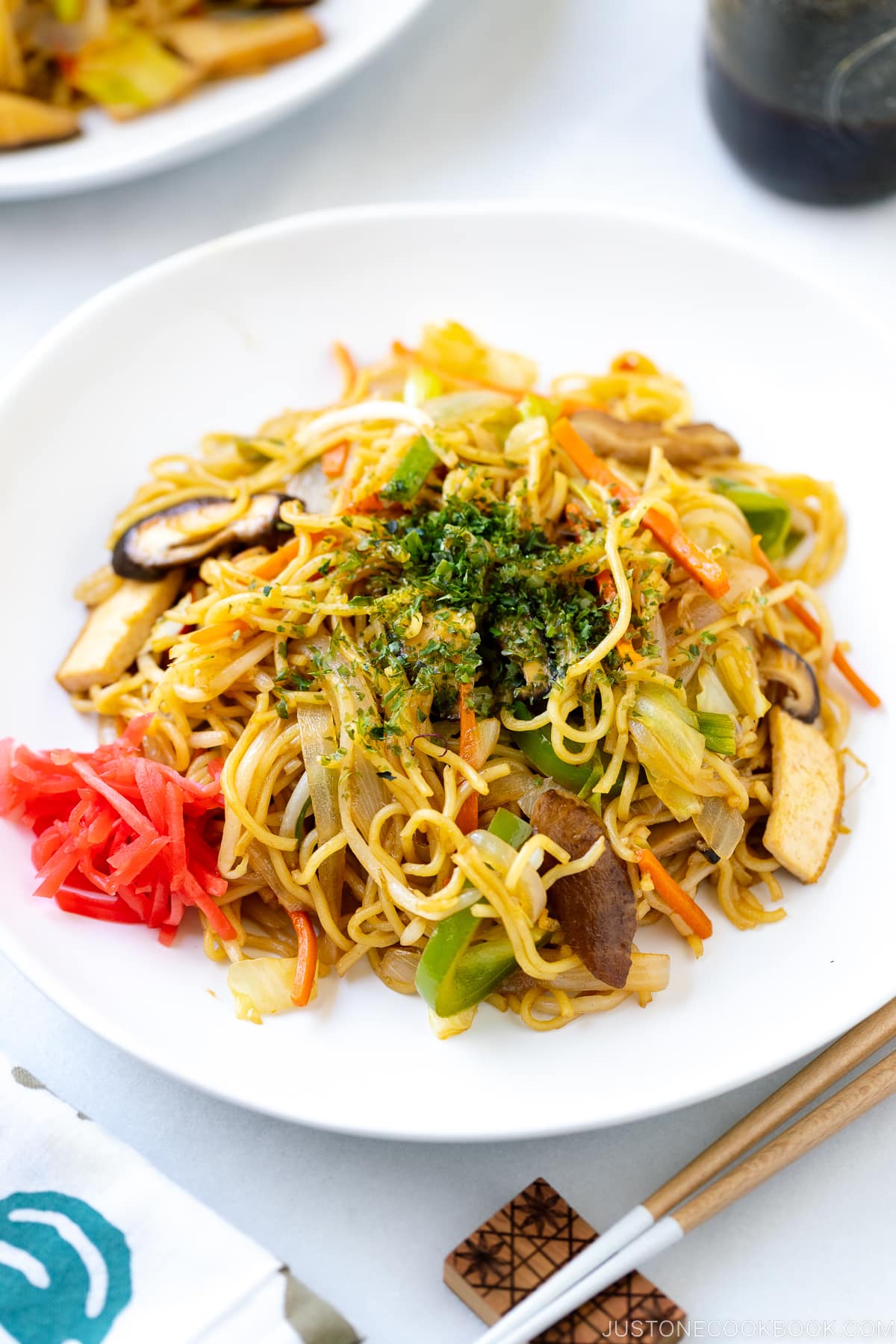 Fast and easy? Delicious and ultra comforting? I have this Vegetable Yakisoba for you! This iconic Japanese street food checks all the boxes for the ultimate back pocket stir fry noodles. Here we have chewy noodles tossed in a savory sauce, and all the colorful veggies. Plus, it's adaptable.
My recipe will show you how to make authentic, vegetarian-friendly yakisoba when you want to incorporate more meatless meals into your week.
What is Yakisoba
Yakisoba (焼きそば), or grilled noodles, is a much-adored Japanese stir fry dish that can be found all over Japan at matsuri (festivals), sporting events, snack shops or Japanese diners. Made of Chinese-style wheat noodles, thinly sliced meat, crisp vegetables, and a sweet and tangy sauce, yakisoba is full of texture and homey Japanese flavor!
We enjoy yakisoba just about anytime—as snack or as a meal completely on its own. There's so much joy a plate of yakisoba can bring. It often reminds me of the excitement of watching the noodles sizzling away on the giant griddles as the skilled cooks work their magic with their metal spatulas.
While we may never get to create that sort of lively action at home, Japanese home cooks still enjoy making this noodle dish right from their own kitchen as it is simple to make and a great one to use up any odds and ends in the refrigerator.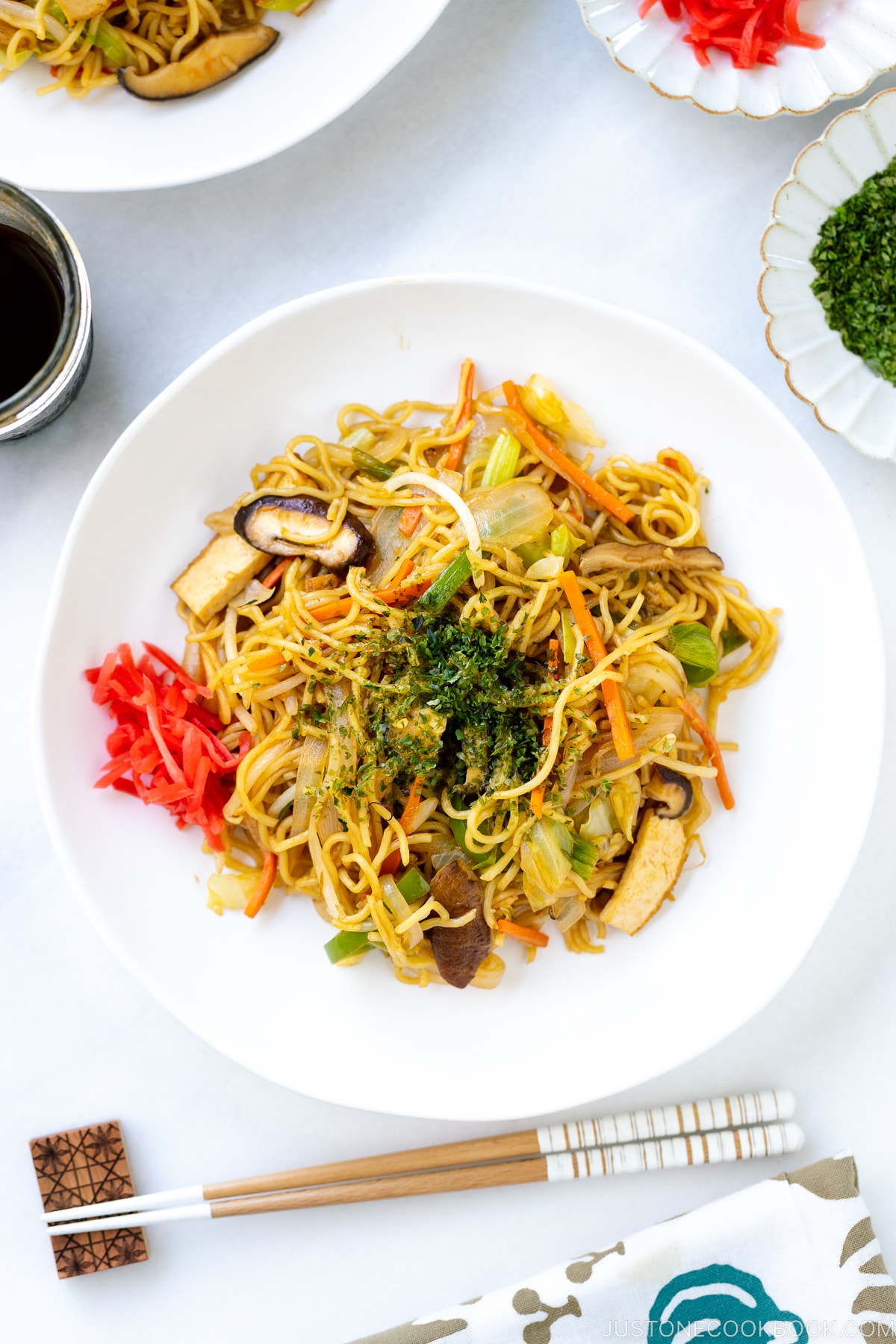 Vegan/Vegetarian-Friendly Vegetable Yakisoba
A classic yakisoba typically includes bits of pork or other protein, but you can certainly make it vegetarian or vegan-friendly. You can customize it to your tastes as well as what you have available.
There are also other variations as well, which I've shared more in my classic yakisoba recipe.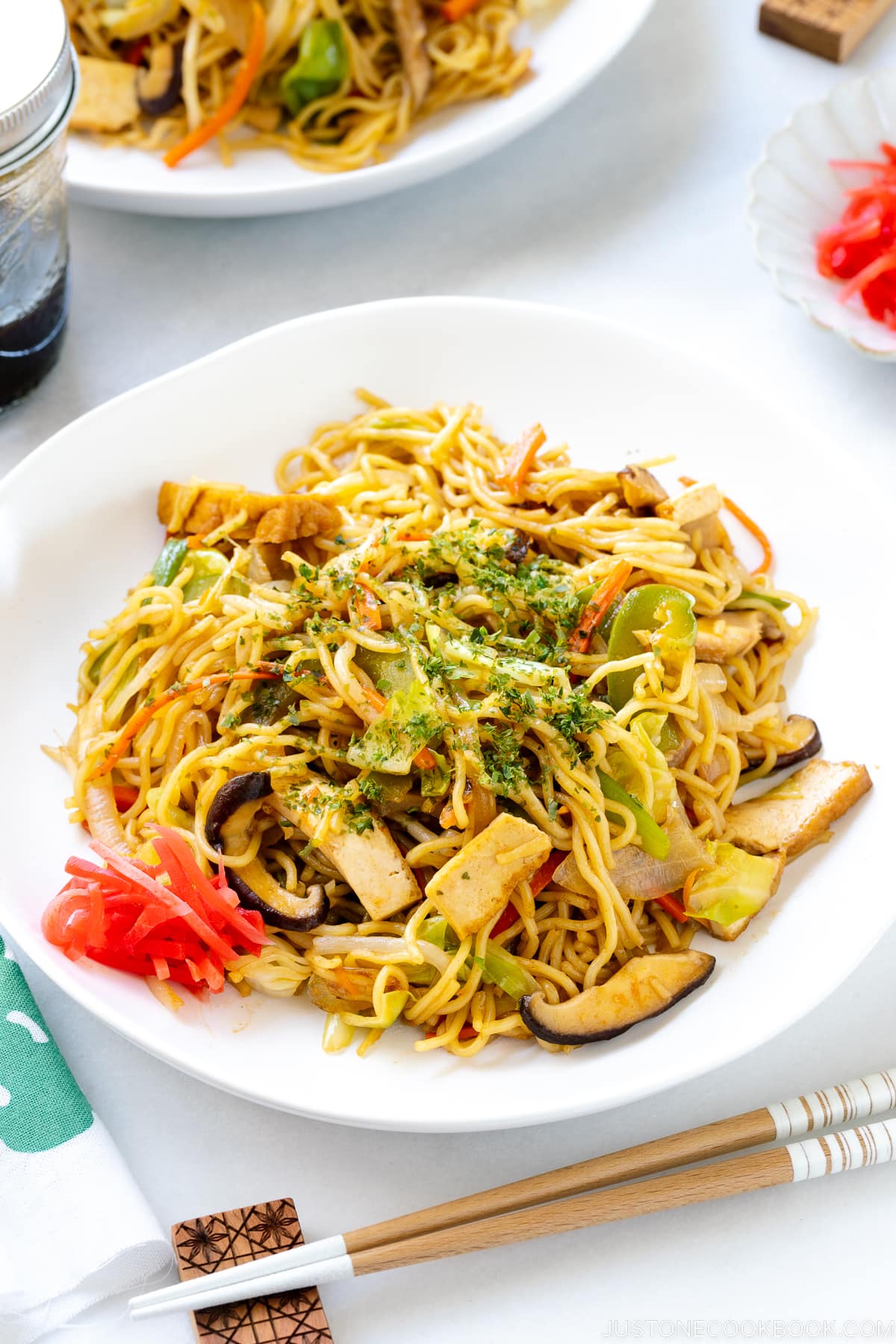 About Yakisoba Noodles
Yaki soba literally translates to fried buckwheat, however the noodles used for yakisoba do not contain buckwheat (soba) at all. Instead, yakisoba noodles are called mushi chukamen (蒸し中華麺 or steamed Chinese-style noodles). They are yellowish noodles made of wheat flour, kansui, and water, and have a texture similar to ramen noodles. Do not mistake them for egg noodles.
Here in the US, we have two major companies that sell yakisoba noodles—Myojo and Maruchan. They are sold pre-steamed so they are ready for a quick reheat.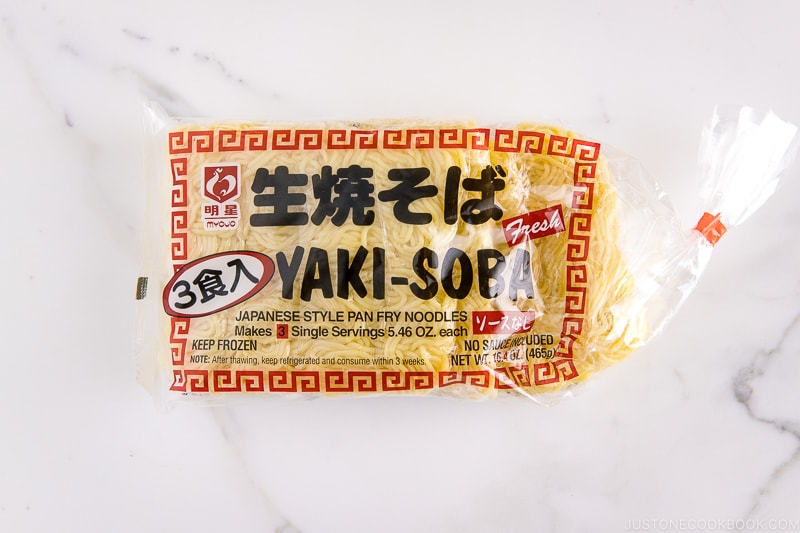 Myojo yakisoba noodle packages come with or without the seasoning package. I always make my sauce so I get this package without the sauce.
The other brand is called Maruchan. Both packages have very similar packaging. You can see the different logo at the top left corner.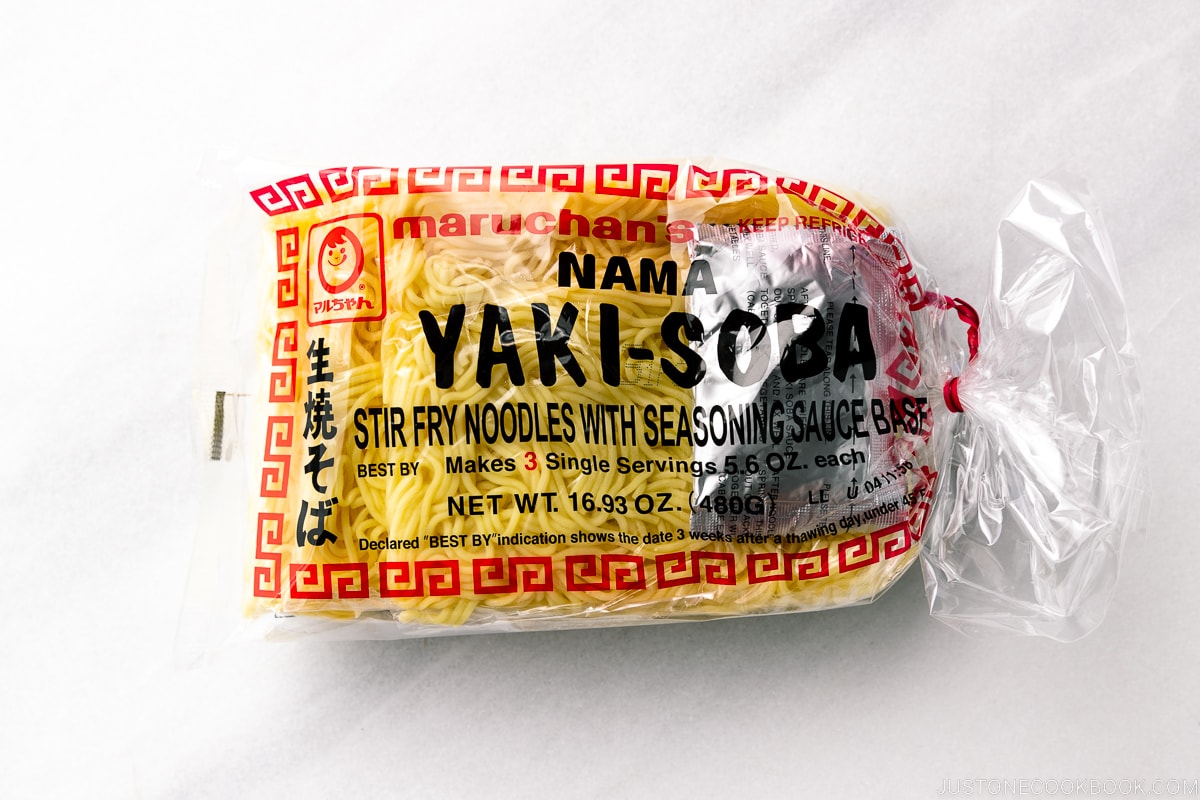 Maruchan's noodles are slightly thinner than Myojo ones and I feel they tend to break easily, especially when the noodles are frozen and then defrosted. In Japan, these noodles have never been frozen, so I find the texture of these noodles sold in the US quite different when compared to the same brands in Japan.
Where to Buy Yakisoba Noodles
Big Japanese grocery chains usually carry both brands, so if you can get them, try both and see which one you like best.
Unfortunately, these noodles are refrigerated/frozen and you won't be able to buy them on Amazon. Check Weee! to see if your area can get delivery service.
About Yakisoba Sauce
The sauce gives yakisoba its appetizing golden brown color.
There are not too many brands of yakisoba sauce bottles available here in the US. You can probably find Otafuku brand yakisoba sauce at Japanese or Asian grocery stores. It's 100% vegan so you can decide to use the bottled one or homemade one which I shared below.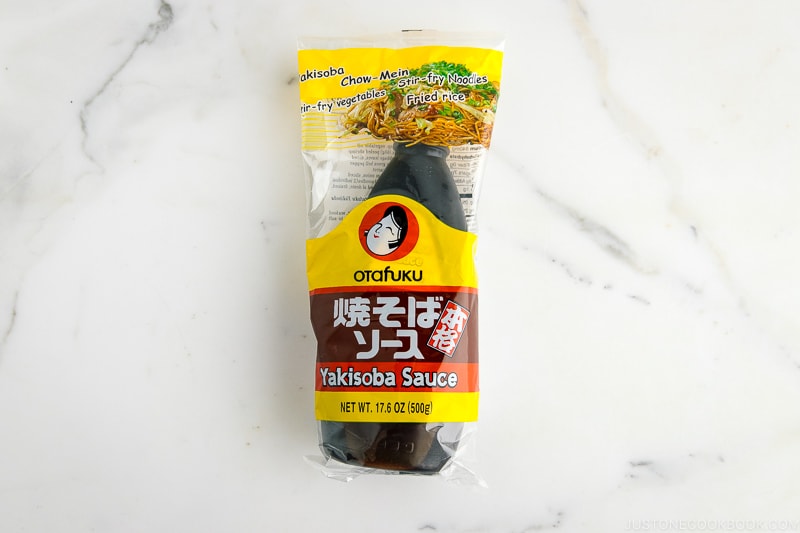 For those of you who live far from an Asian grocery store, Amazon also carries it.
Homemade Yakisoba Sauce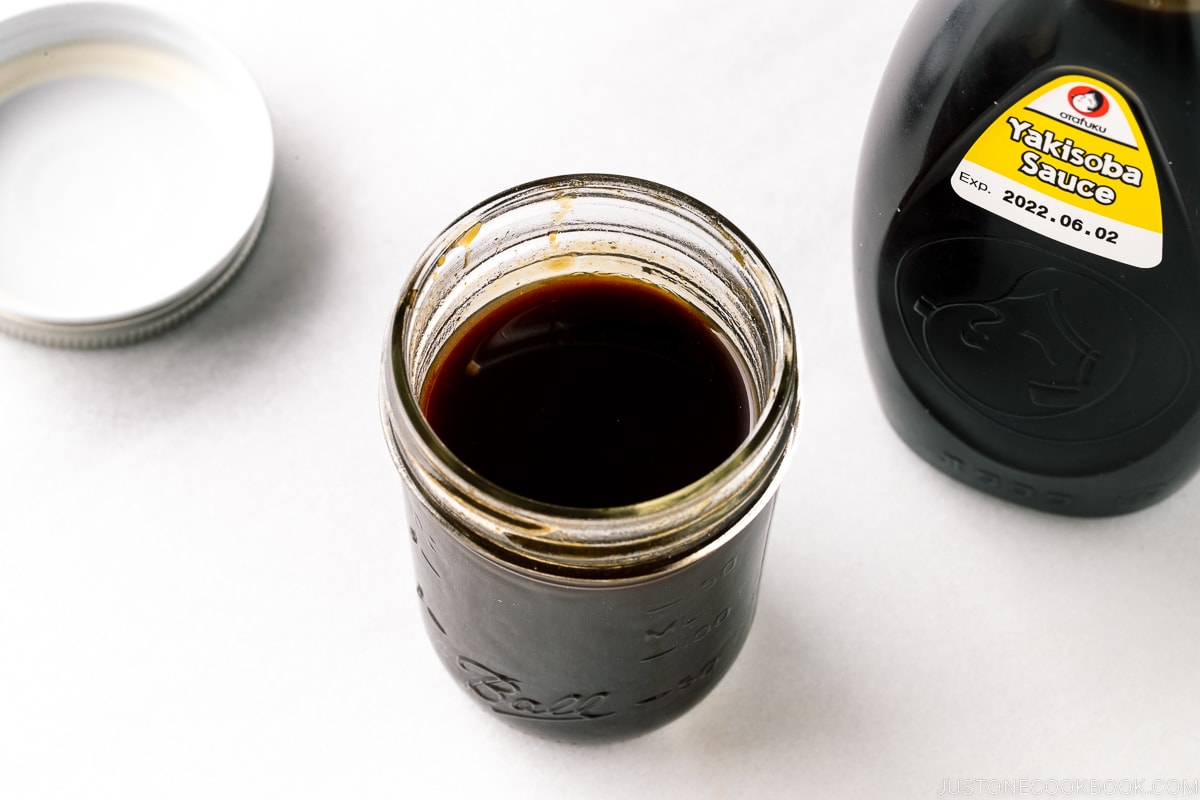 If you prefer to make homemade yakisoba sauce, I shared the recipe in the recipe card below, or you can follow this yakisoba sauce recipe.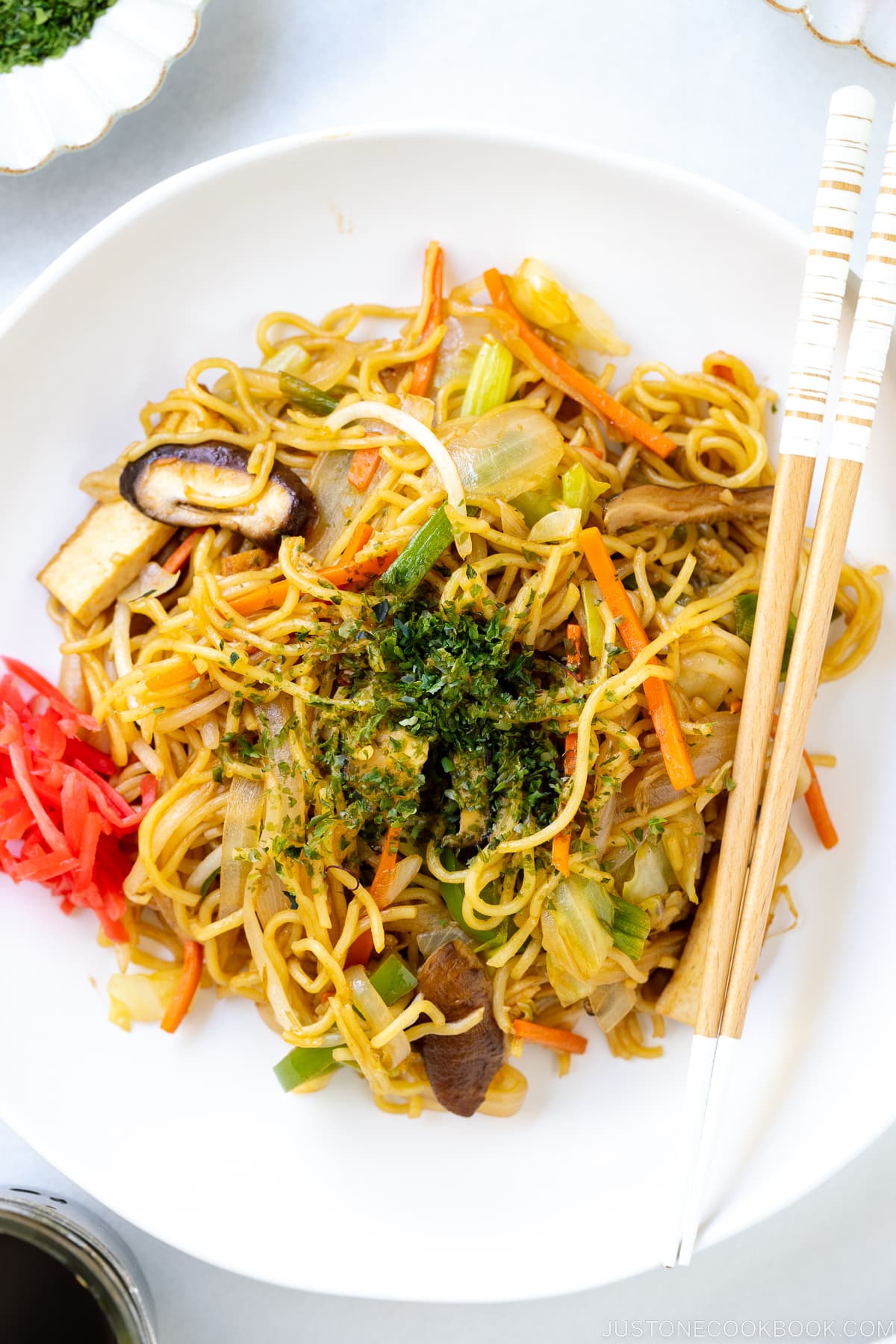 How to Make Vegetable Yakisoba
Ingredients You'll Need
Yakisoba noodles – This is different from ramen noodles. The packaged yakisoba noodles are pre-steamed and ready to go. You just need to reheat it.
Vegetables: onion, bell pepper, carrot, cabbage, and bean sprouts
Shiitake mushrooms – You can use other mushrooms.
Fried tofu – Fried tofu or crispy fried puffed tofu are more durable for stir-fry.
Yakisoba sauce (store-bought or homemade)
Homemade yakisoba sauce: Worcestershire sauce (vegan-option available), ketchup, oyster sauce (vegetarian version), soy sauce, and sugar
Substitute
You can add any vegetables you have on hand. Just remember to stir fry the veggies in stages starting with denser types as they take longer to cook through. Here are some ideas:
Asparagus
Broccoli
Garlic chives (Chinese chives)
Snowpeas
Komatsuna
Corn
I don't recommend adding "salad" type leafy vegetables.
Overview: Cooking Steps
Cut all the ingredients.
Stir fry onion, then the rest of the veggies.
Add noodles and let it steam.
Stir to mix everything.
Season the noodles with yakisoba sauce. Serve immediately.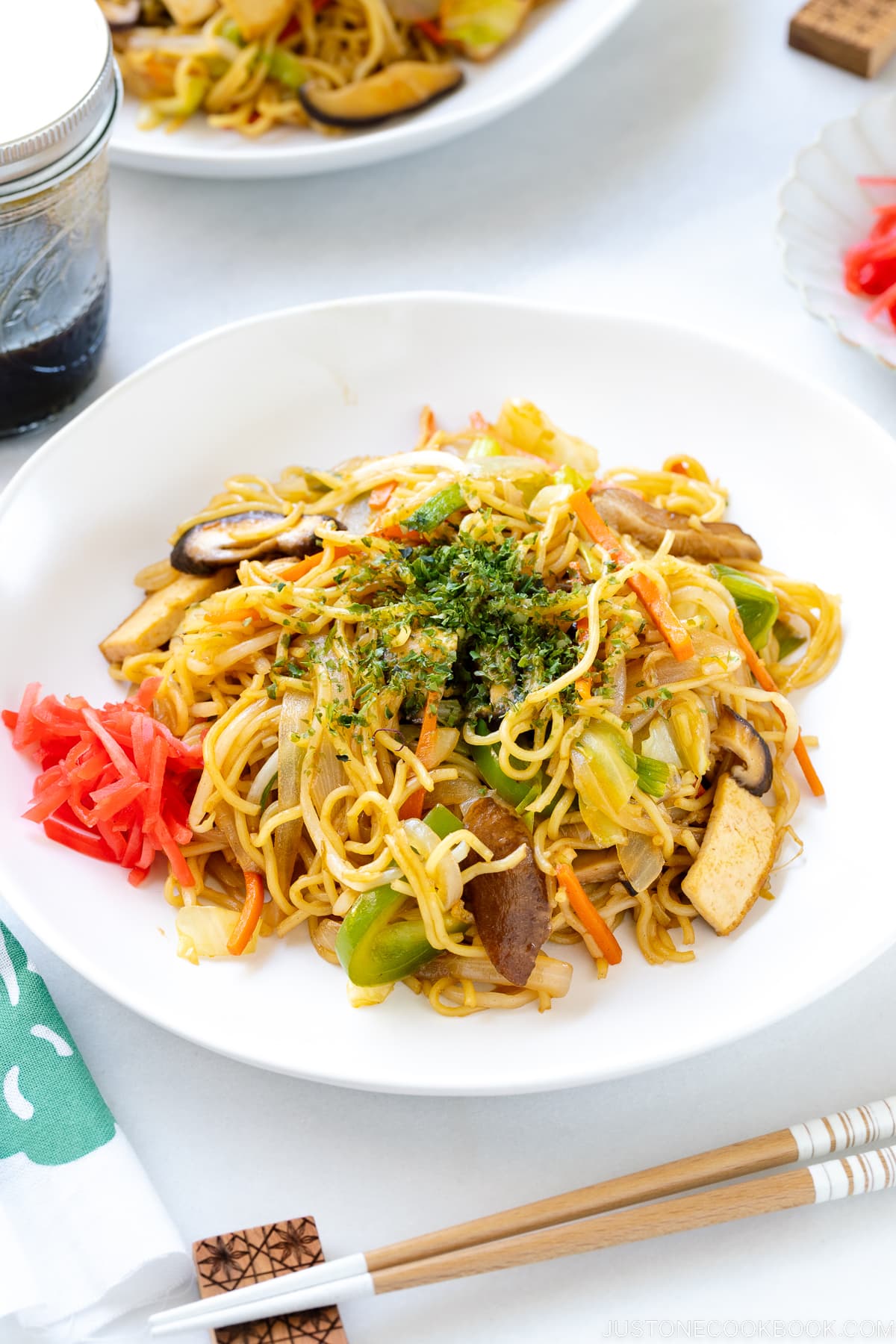 Cooking Tips for Vegetable Yakisoba
Cut the ingredients in uniform shapes and thickness. The noodles and ingredients should be nicely mingled. Therefore, I recommend cutting ingredients into thin strips in general, except for the cabbage, which is always a square shape for yakisoba.
Think about the cooking order of the vegetables. The key is to cook the vegetables without overcooking or undercooking them. To do that, it's important to know how long each type of vegetable requires to cook. Cook a group of similar vegetables at a time, starting with denser vegetables.
Cover the yakisoba noodles with vegetable mixture to steam. Yakisoba noodles are already pre-cooked (steamed) and packaged. All you need to do is to reheat. They tend to be more fragile than other types of noodles, so be careful when stir-frying.
What to Serve with Vegetable Yakisoba
You can enjoy this vegetable yakisoba as a meal by itself, but here are some sides that go well with the stir-fried noodles: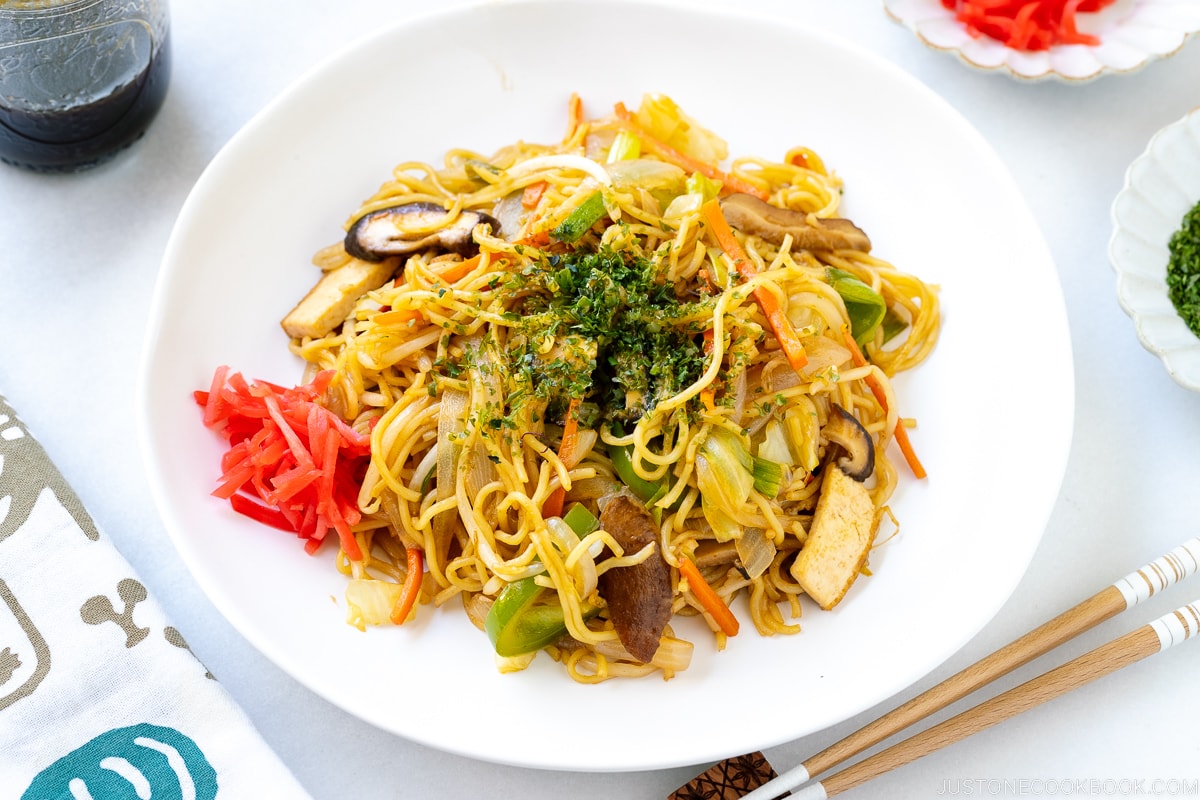 Wish to learn more about Japanese cooking? Sign up for our free newsletter to receive cooking tips & recipe updates! And stay in touch with me on Facebook, Pinterest, YouTube, and Instagram.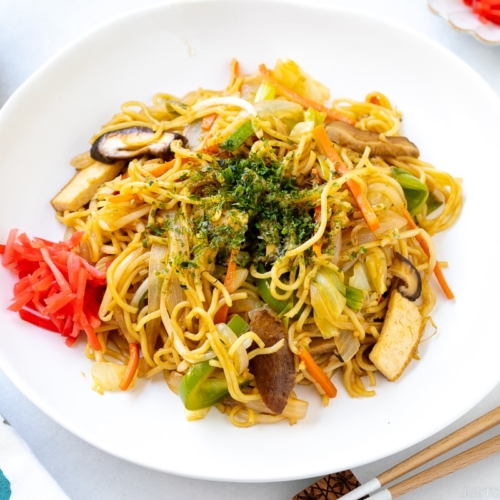 Vegetable Yakisoba
Vegetable Yakisoba is a Japanese stir-fried noodle dish featuring shiitake mushrooms, tofu, cabbage, and onion that's bursting with a sweet and tangy flavor. This quick and easy noodle wonder is perfect for a weeknight meal. You don't have to be vegetarian or vegan to enjoy this savory veggie yakisoba!
Video
Ingredients
For the Toppings (optional)
For the Yakisoba Sauce (Makes
¾

cup,

180

ml)
Japanese Ingredient Substitution:
If you want substitutes for Japanese condiments and ingredients, click
here
.
Instructions
Gather all the ingredients. If you're making the homemade yakisoba sauce, gather the additional condiments (see the image on the right).
To Make the Homemade Yakisoba Sauce
In a mason jar, combine

2 Tbsp oyster sauce

,

2 Tbsp ketchup

,

1½ Tbsp soy sauce

, and

1½ Tbsp sugar

for the sauce (don't add the Worcestershire sauce yet). Mix well together. Make sure that each ingredient is well incorporated.

Add

7 Tbsp Worcestershire sauce

and whisk it all together. Set aside.
To Prepare the Ingredients
Thinly slice

½ onion

and

¼ green bell pepper

. If the bell pepper is tall, cut the slices in half crosswise.

Discard the tough core of

6 oz green cabbage

leaves. Cut the leaves into pieces 1 inch (2.5 cm) square.

Cut

2 oz carrot

into 2-inch (5-cm) lengths and slice into thin slabs. Then, cut them into julienned strips.

Cut

3 green onions/scallions

into 2-inch (5-cm) lengths and cut the thick bottom parts in half lengthwise.

Cut off and discard the stems of

6 shiitake mushrooms

and thinly slice the caps.

Slice

½ deep-fried firm tofu cutlet (atsuage)

and cut the slices in half lengthwise to make thin strips.
To Cook the Yakisoba
Heat a wok (or large frying pan) on medium-high heat. Once it's hot, add

1–2 Tbsp neutral oil

and swirl it around to make sure it coats the entire surface of the wok.

Add the onion and the white part of the green onions. Cook, stirring often, until the onion slices are translucent.

Add the bell pepper, cabbage, and carrot. Stir to cook until they are mostly wilted.

Add the shiitake mushrooms, green part of the green onions, and tofu. Mix all together.

Add

4 oz bean sprouts

and mix everything. I like to keep the texture of the vegetables tender but not too soft, so I move on to the noodles when the vegetables are 80–85% cooked through.

Place the squares of

3 packets yakisoba noodles

in the pan on a bed of the stir-fried vegetables. Cover the noodles with the vegetables from the sides of the pan. Then, lower the heat and let the noodles steam for 2–3 minutes.

Increase the heat back to medium or medium high. Gently loosen up the noodles and toss all the ingredients together using a spatula and/or tongs in each hand.

Drizzle

6 Tbsp yakisoba sauce

over the ingredients, saving some in case you wish to add more later. Toss everything together and taste; add more sauce if desired.
To Serve
Serve the Vegetable Yakisoba on individual plates and garnish with

aonori (dried green laver seaweed)

and

pickled red ginger (beni shoga or kizami beni shoga)

.
To Store
You can keep the leftovers in an airtight container and keep them for 3 days in the refrigerator or for up to a month in the freezer.
Nutrition
Nutrition Facts
Vegetable Yakisoba
Amount per Serving
% Daily Value*
* Percent Daily Values are based on a 2000 calorie diet.
©JustOneCookbook.com Content and photographs are copyright protected. Sharing of this recipe is both encouraged and appreciated. Copying and/or pasting full recipes to any website or social media is strictly prohibited. Please view my photo use policy
here
.