With savory and juicy sliced beef served over steamed rice, this delicious Yoshinoya Beef Bowl (Gyudon) is a keeper for a weeknight meal!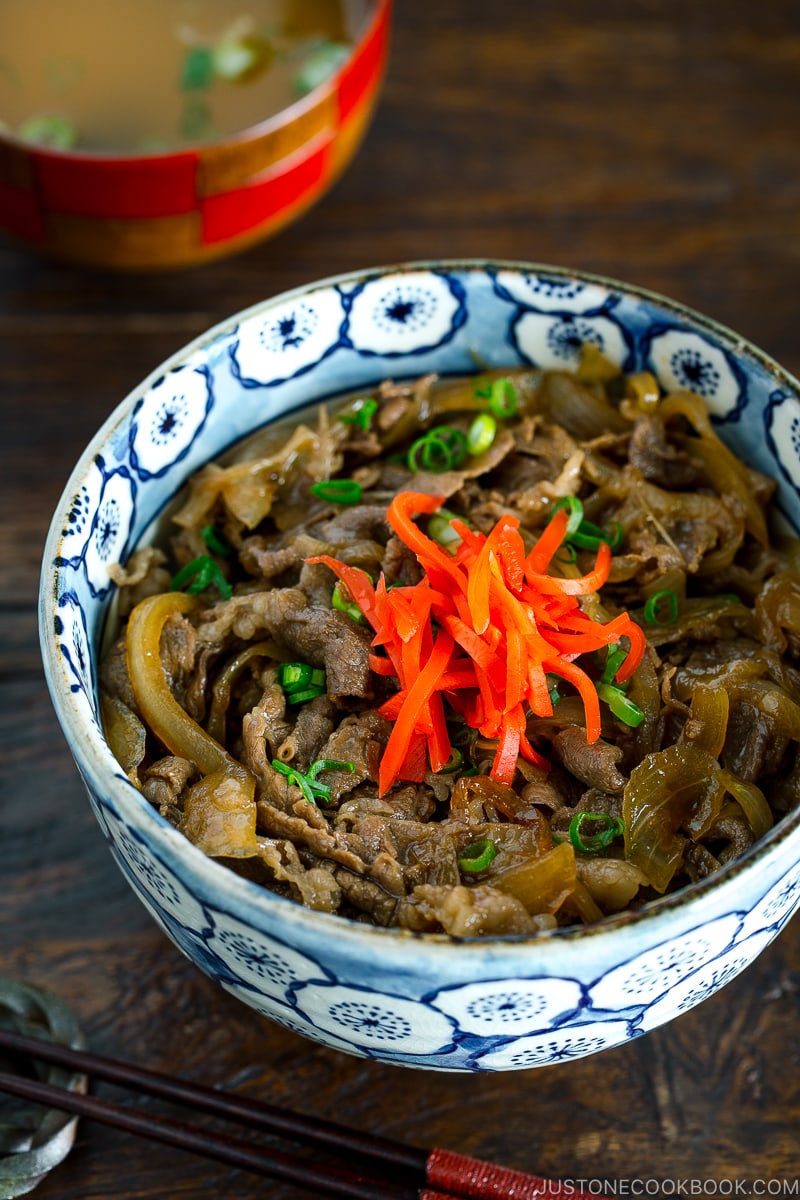 Gyudon (牛丼) or Beef Bowl is a popular quick meal in Japan. It consists of a bowl of steamed rice topped with thinly sliced beef and tender onion, simmered in a sweet and savory dashi broth seasoned with soy sauce and mirin.
What is Beef Bowl (Gyudon)?
Thanks to Yoshinoya (吉野家), the largest beef bowl restaurant chain, Japanese gyudon became known as the "beef bowl" and is enjoyed by many people all around the world. You might wonder when the Japanese started to enjoy gyudon.
The Japanese adopted Western customs like eating beef between the late 1800s and early 1900s and these customs eventually spread throughout Japan.
Gyudon originated from another dish, Gyunabe (牛鍋) and Sukiyaki (すき焼き) where thin slices of beef are cooked with vegetables in a pot. At some point, it was served over rice in a bowl as "donburi" (rice bowl).
In 1899, the first Yoshinoya restaurant opened in Tokyo's Nihonbashi district. The use of cheaper beef cuts helped lower the cost, and ultimately drove the success of Gyudon. Today, it continues to be a popular quick, and inexpensive lunch menu for salarymen.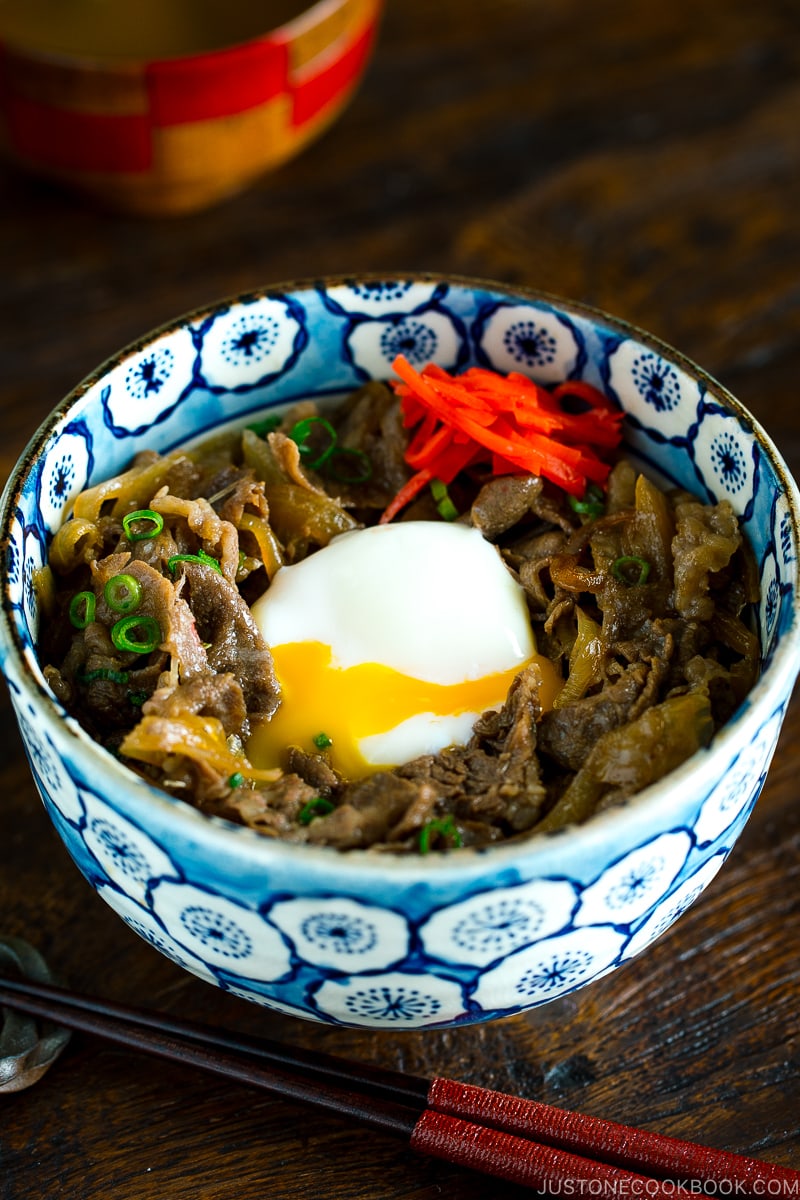 How to Make Yoshinoya Beef Bowl
In Yoshinoya's gyudon, they simmer onion and thinly sliced beef in dashi broth and other seasonings. Every household makes gyudon slightly different, so feel free to adjust the flavor as you like.
Ingredients You'll Need
Thinly Sliced Beef: If you don't eat beef, you can make this dish with thinly sliced pork as well. Just make sure the meat is thinly sliced. Japanese, Korean, and Chinese grocery stores carry thinly sliced meat (both pork and beef), but if you can't find it in the refrigerated or frozen meat sections, you can purchase a block of meat and slice them on your own. I've added the instructions in the recipe below.
Onion: If you really do not like onion, you can skip it; otherwise, please include it. Cooked onions are tender and give sweetness to the sauce. I consider the onion just as important as the meat in this recipe. You can use regular yellow onion, sweet onion, or even purple onion (if the color doesn't bother you).
Shirataki Noodles (Optional): I usually cook gyudon at the very last minute (not planned) so I don't have shirataki noodles in my fridge. However, it's a great addition to gyudon and it's a smart way to add the volume of the food without adding more meat. The texture also improves with shirataki noodles.
Dashi: This recipe requires dashi. We cook the beef and onion in the dashi-based sauce. You can make dashi in 3 ways if you're not sure how to make it.
Seasonings: This recipe requires basic Japanese condiments—sake, mirin, soy sauce, and sugar.
Steamed rice: You will need a little bit more amount of steamed rice than the usual rice bowl amount.
Pickled Red Ginger (beni shoga): Typically, pickled red ginger is served on top of gyudon, and it gives a nice refreshing break to your palate. Similar to how sliced pickles are added inside juicy burgers. I personally like every bite to include a bit of pickled ginger but the amount is entirely up to you.
Shichimi Togarashi (Japanese seven spice): If you like it spicy or got bored eating the same gyudon, sprinkle some shichimi togarashi on top. It's a mixture of seven different kinds of spices and adds layers of flavors.
Overview: Cooking Steps
Prepare the ingredients by cutting the onion, green onion, and beef. Make dashi if you haven't already.
Cook the onion till tender in the dashi and seasonings mixture.
Add the beef and simmer with the onion.
Serve the gyudon over steamed rice.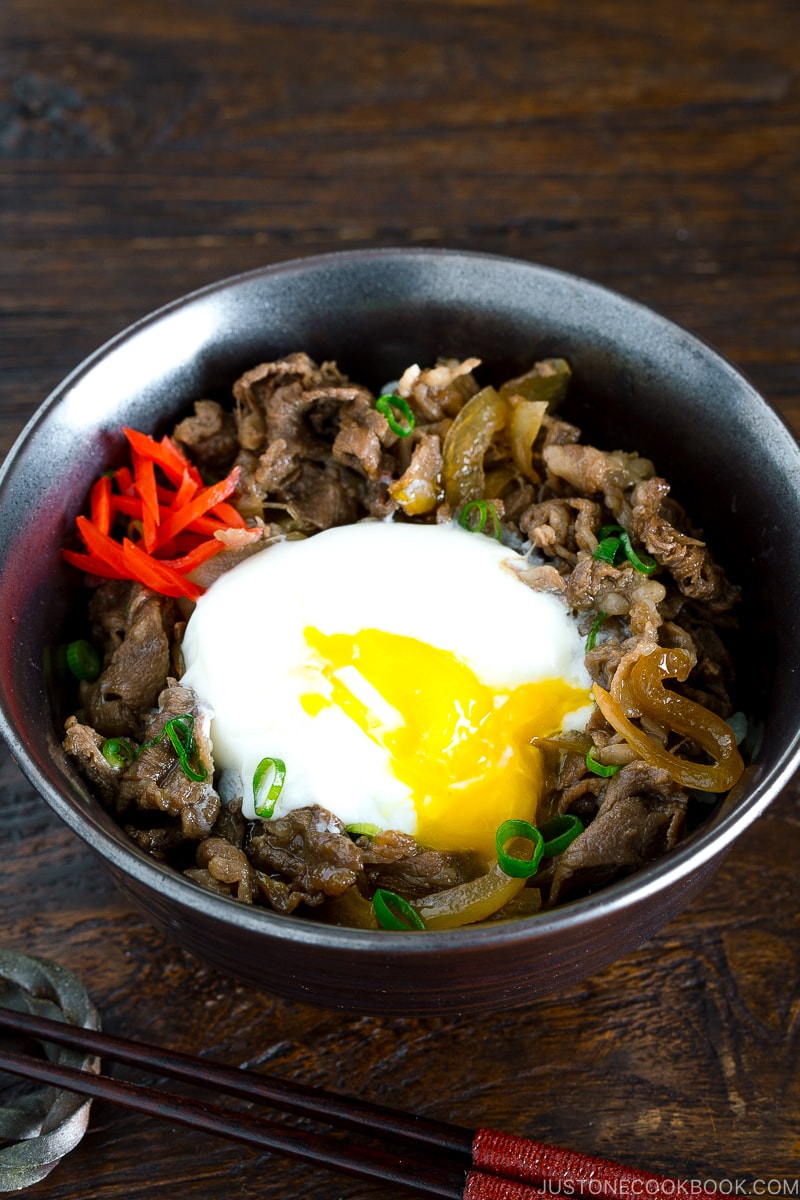 What to Serve with Yoshinoya Beef Bowl
We almost always serve donburi or rice bowl dish with miso soup. As you're required to make dashi for this gyudon recipe, you might want to make a big pot of dashi. Take out some of the dashi for gyudon and keep the rest for miso soup.
Delicious Side Dishes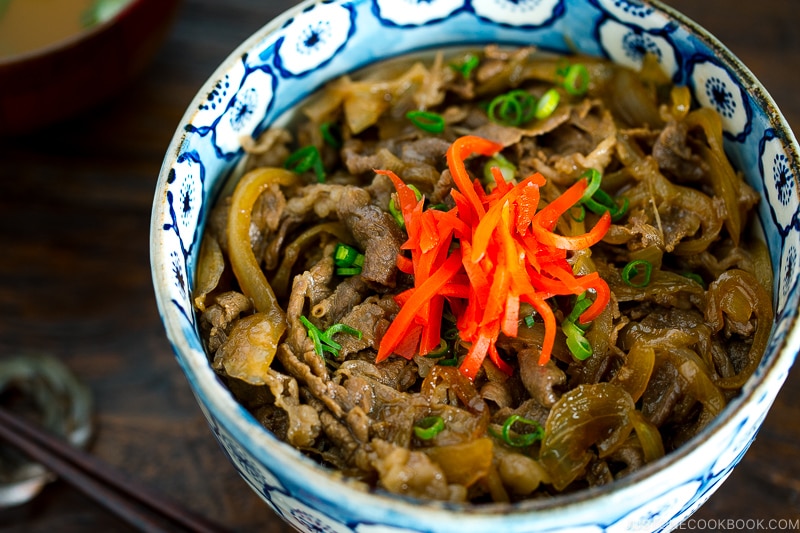 Wish to learn more about Japanese cooking? Sign up for our free newsletter to receive cooking tips & recipe updates! And stay in touch with me on Facebook, Pinterest, YouTube, and Instagram.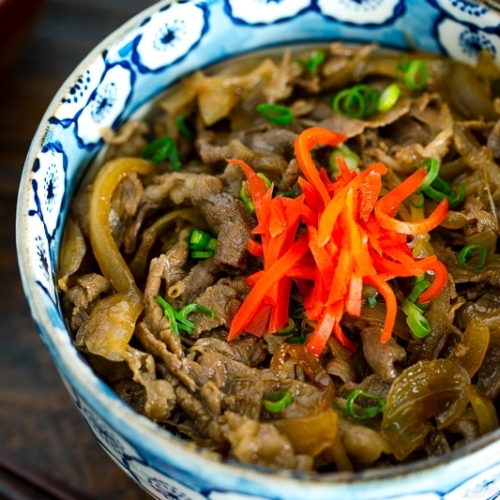 Yoshinoya Beef Bowl (Gyudon)
With savory and juicy sliced beef served over steamed rice, this delicious Yoshinoya Beef Bowl (Gyudon) is a keeper for a weeknight meal!
Video
Ingredients
For Serving
2

servings

cooked Japanese short-grain rice

(typically 1⅔ cups (250 g) per donburi serving)

2

onsen tamago

(optional)
Japanese Ingredient Substitution:
If you want substitutes for Japanese condiments and ingredients, click
here
.
Instructions
Before You Start…
Gather all the ingredients. For the steamed rice, please note that 1½ cups (300 g, 2 rice cooker cups) of uncooked Japanese short-grain rice yield 4⅓ cups (660 g) of cooked rice, enough for 2 donburi servings (3⅓ cups, 500 g). See how to cook short-grain rice in a rice cooker, pot over the stove, Instant Pot, or donabe.

For the beef, I use assorted thin sliced beef labeled "komagire" from my Japanese market and cut the slices further into smaller pieces. It works great for Gyudon. For higher quality, use shabu shabu beef. If you cannot find thin sliced beef in your local grocery store, you can slice your own meat. Freeze a block of fresh chuck or rib eye beef for 1–2 hours and then slice. If the pieces are too large after slicing, then cut them in half. See my tutorial for detailed instructions.
To Prepare the Ingredients
Cut

½ onion

into thin slices and slice

1 green onion/scallion

into thin rounds. Set aside.

Heat a large frying pan over medium-high heat and add

½ cup dashi (Japanese soup stock)

,

1 Tbsp sake

,

1 Tbsp sugar

,

2 Tbsp mirin

, and

2 Tbsp soy sauce

. Tip: Add more sugar, if you prefer a sweeter taste. I don't recommend reducing the amount, as you need to counterbalance the salt in the soy sauce.

Cover the pan with a lid and bring the sauce to a boil. Once the sauce is boiling, add the sliced onions and spread them out in a single layer. Cover to cook until tender (make sure you cover the pan, otherwise the sauce will evaporate).
To Serve
Divide

2 servings cooked Japanese short-grain rice

into individual serving bowls. Serve the simmered meat and sauce over the steamed rice.

Top with the sliced green onions and

2 Tbsp pickled red ginger (beni shoga or kizami beni shoga)

. If you'd like to top each bowl with an egg (optional), serve with

2 onsen tamago

. Alternatively, you can pour beaten egg over the meat when it's almost finished cooking in the pan (see how I do it in my other Gyudon recipe).
To Store
You can keep the leftovers in an airtight container and store in the refrigerator for up to 3–4 days or in the freezer for a month.
Nutrition
Nutrition Facts
Yoshinoya Beef Bowl (Gyudon)
Amount per Serving
% Daily Value*
* Percent Daily Values are based on a 2000 calorie diet.
©JustOneCookbook.com Content and photographs are copyright protected. Sharing of this recipe is both encouraged and appreciated. Copying and/or pasting full recipes to any website or social media is strictly prohibited. Please view my photo use policy
here
.