Originated in Hokkaido, Japan, Butadon is a rice bowl dish featuring grilled pork slices with caramelized soy sauce. The sweet and savory flavor is a major win! Easy to make and ready in 15 minutes.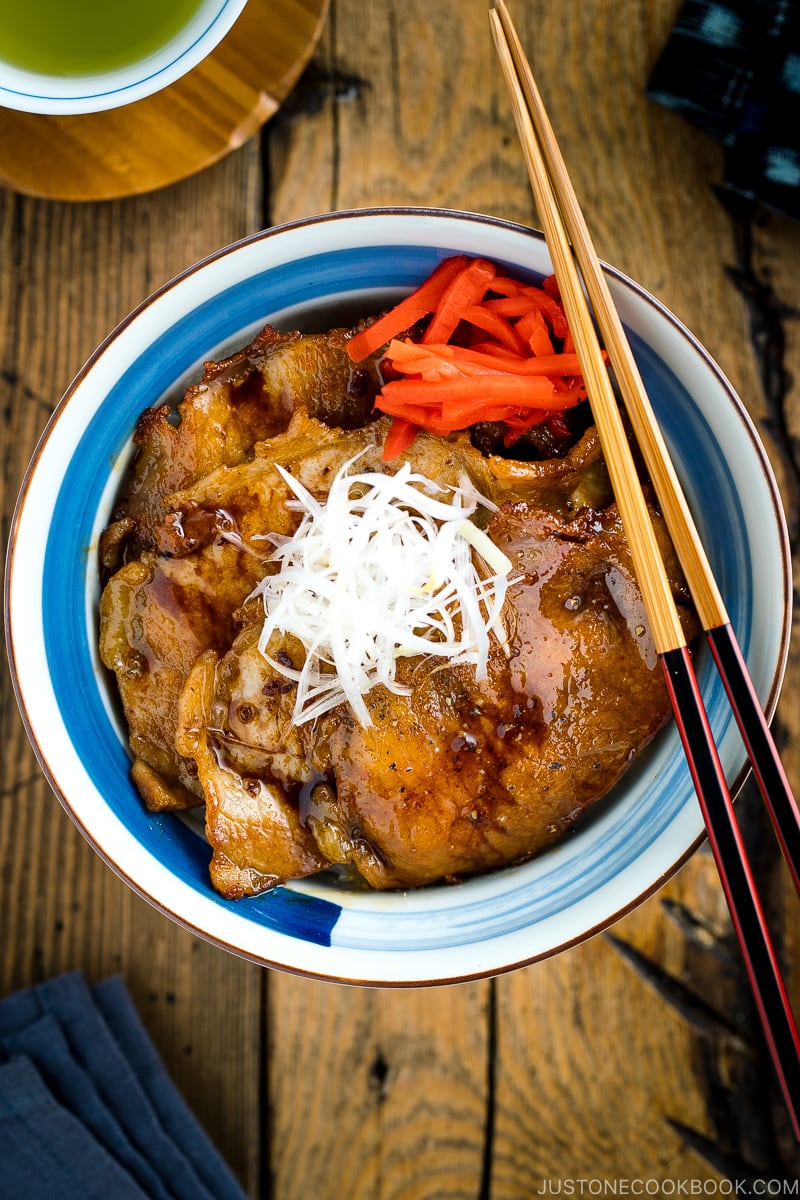 Like many home cooks, I often rely on quick and budget-friendly dinners that actually taste delicious. And this Butadon (豚丼) or Pork Bowl couldn't be easier.
It is one of the many donburi (rice bowls) that I enjoy making when I am reluctant to cook a full spread Japanese meal. Partner the rice bowl with miso soup and a simple salad or meal prep sides, you'd get a complete and nutritious dinner!
What is Butadon?
Hailed from Tokachi (十勝) region in Hokkaido, Butadon is a popular specialty food that you want to check out when you visit the northern island of Japan.
Topped with grilled thin-sliced pork, the rice bowl is true comfort food at its best! The dish is all about the quality of pork (known in Tokachi region) and rice grown in Hokkaido, and delicious sweet and savory "tare" sauce.
The thin pork loin slices are grilled (over binchotan charcoal) till tender, and dipped in or brushed with the sauce layer after layer. They are then served over fluffy steamed rice with a generous helping of sauce drizzled over the meat for one last time.
The juicy meat, amazing sauce and hot steamy rice will make you craving for more.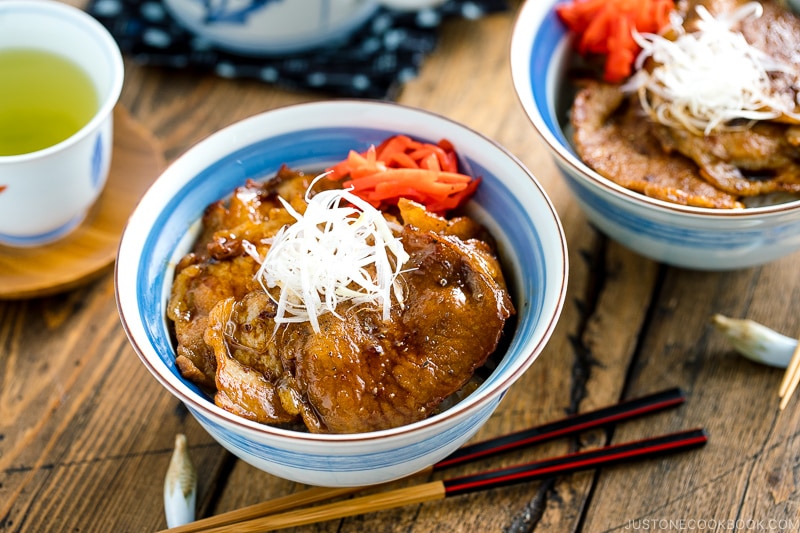 The Ingredients You'll Need for Butadon
1. Thinly Sliced Pork Loins
You can get these thinly sliced pork loins from a Japanese, Korean, or Chinese grocery store. It is a popular cut in our cuisines and is often used for hot pots and stir-fries.
In the refrigerator section of the Japanese market, there are typically 2 kinds. Paper-thin slices for "Shabu Shabu" or medium-thin slices for "Shoga Yaki" or "Ginger Pork". For the Butadon recipe, you'd want to go with the medium-thin slices.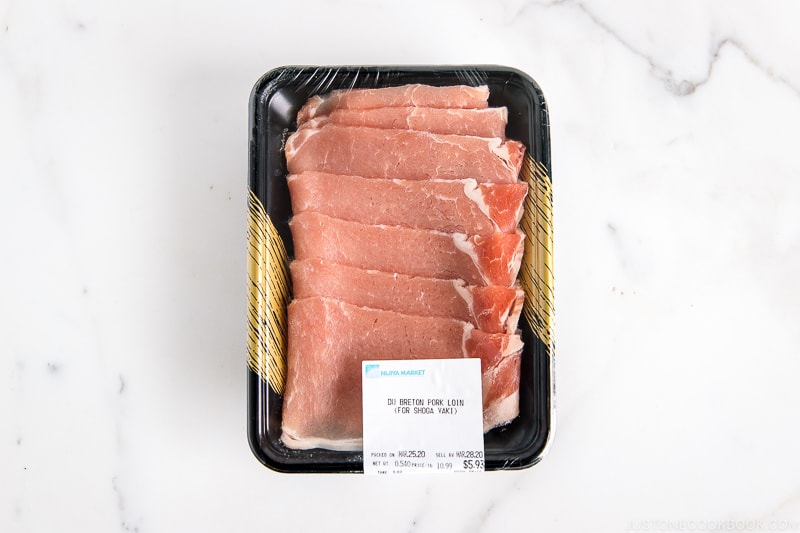 Substitute: If you don't eat pork, you can use chicken, beef, fish, shrimp, firm tofu, zucchini, eggplant, or king oyster mushrooms. If you can't get thinly-sliced pork, you can put the pork loin in the freezer for one hour (or more) until firm on the outside and slice it thinly (see my tutorial here).
2. Japanese Short-Grain Rice
When you make Japanese donburi or rice bowl dishes, I recommend using Japanese short-grain rice. The steamed rice stick to each other and is not in loose form, so you can pick up small chunks of steamed rice, and thin-sliced pork, and garnish all with chopsticks.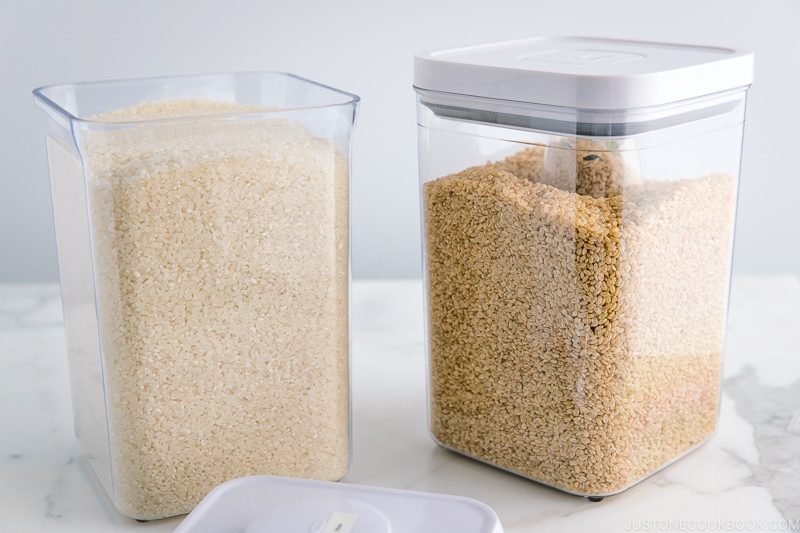 Substitute: Korean brands of short-grain rice are similar to Japanese short-grain rice. If you plan to make more Japanese dishes, I highly recommend getting short-grain rice. Here's more about Japanese short-grain rice.
3. Simple "Tare" Sauce
To make the delicious sauce, you would need just three simple ingredients: sugar, soy sauce, and sake. I really like how simple it is. Instead of mixing all the ingredients, we actually make the caramel sauce first, then add soy sauce and sake.
When the sugar turns darker in color and tastes nuttier with a slightly bitter note, it adds another layer of complexity to the sauce.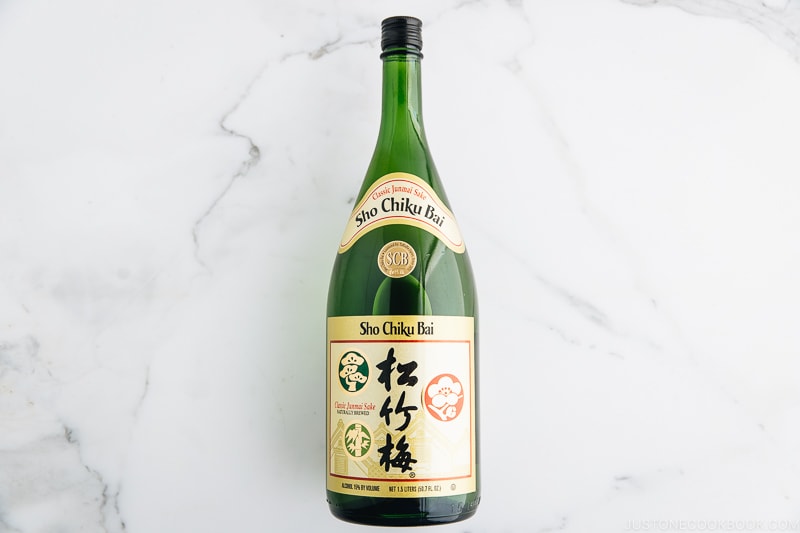 I use regular drinking sake in all my recipes. This Sho Chiku Bai is for drinking, just a bit less expensive than what we would normally choose for drinking. For this big bottle, it only costs us $10 or so at an Asian grocery store or Japanese supermarket.
Substitute: You can use Chinese rice wine or dry sherry if you can't find sake. There are other brands that I mentioned on my Sake Pantry Page.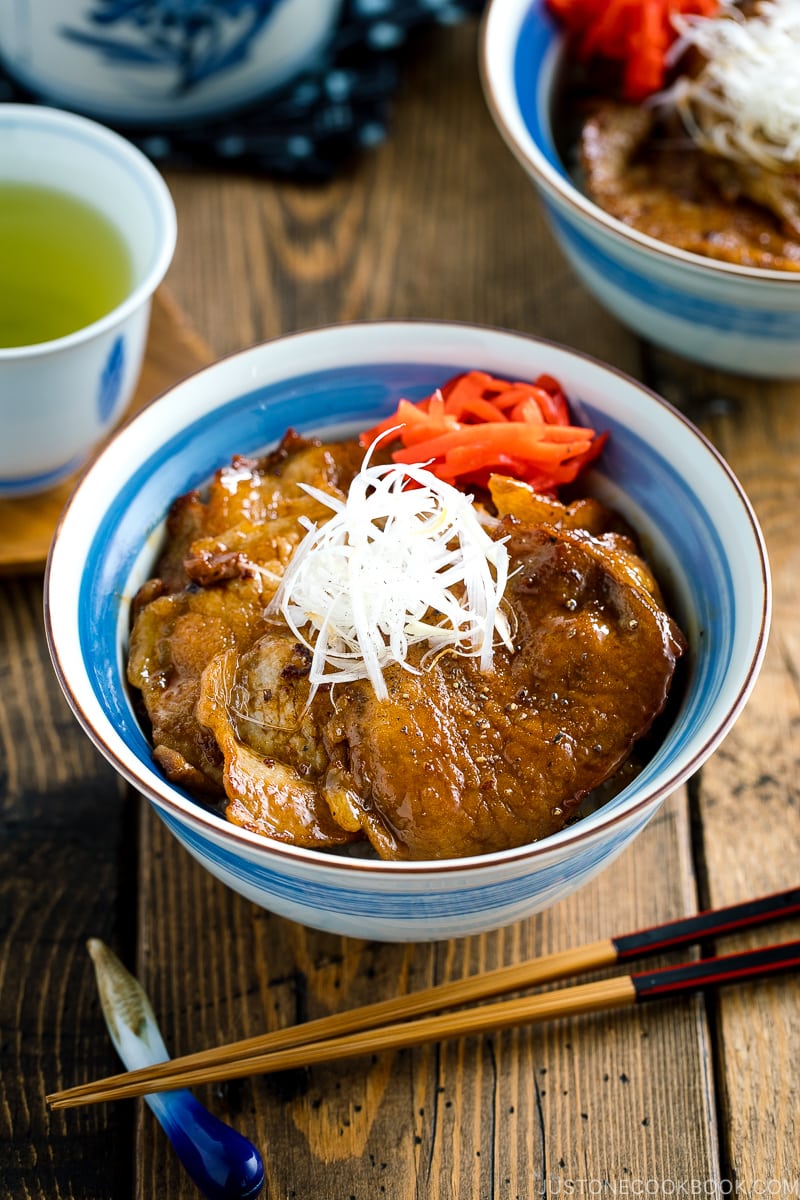 3 Butadon Cooking Tips
Make several slits for the meat. Make several slits on the connective tissue between the meat and fat. The reason why you do this is that red meat and fat have different elasticity, and when they are cooked they will shrink and expand at different rates. This will allow the meat to stay nice and flat and prevent it from curling up.
Make caramel for the sauce. Read the tips on how to make caramel below and in the recipe. Read the instructions first, as you need to pay full attention to the process once you start.
Thicken the sauce (optional). If you like your sauce to be thicker, you can coat your pork slices with potato starch or flour (all-purpose flour would do) before pan-frying. Pan-fry the same way, following my recipe. This extra coating will thicken the sauce as you pour it into the pan. Lower the heat and quickly coat the meat with the sauce.
3 Caramel Making Tips
Use a heavy bottom pot. The heavy bottom pot helps cook the sugar evenly. Make sure the pot is big/tall since the caramel will bubble quite a bit once the boiling water is added. Non-stick or coated pans are not recommended because the sugar can pull the coating off the pan.
Add boiling water to stop caramelization. To stop the caramel from cooking further, add boiling water. Why boiling water? As the boiling water temperature is close to the caramel, it splutters less. This should be done very carefully, as the liquid will hiss and sputter. This brings us to the next tip.
Protect your fingers from splatters. While you're making caramel sauce, you're required to pour boiling water. It's so important to protect your fingers and face from splatters. When you pour boiling water, protect your hand that you're pouring water with a kitchen glove. Hold a lid with the other hand to minimize the splatter.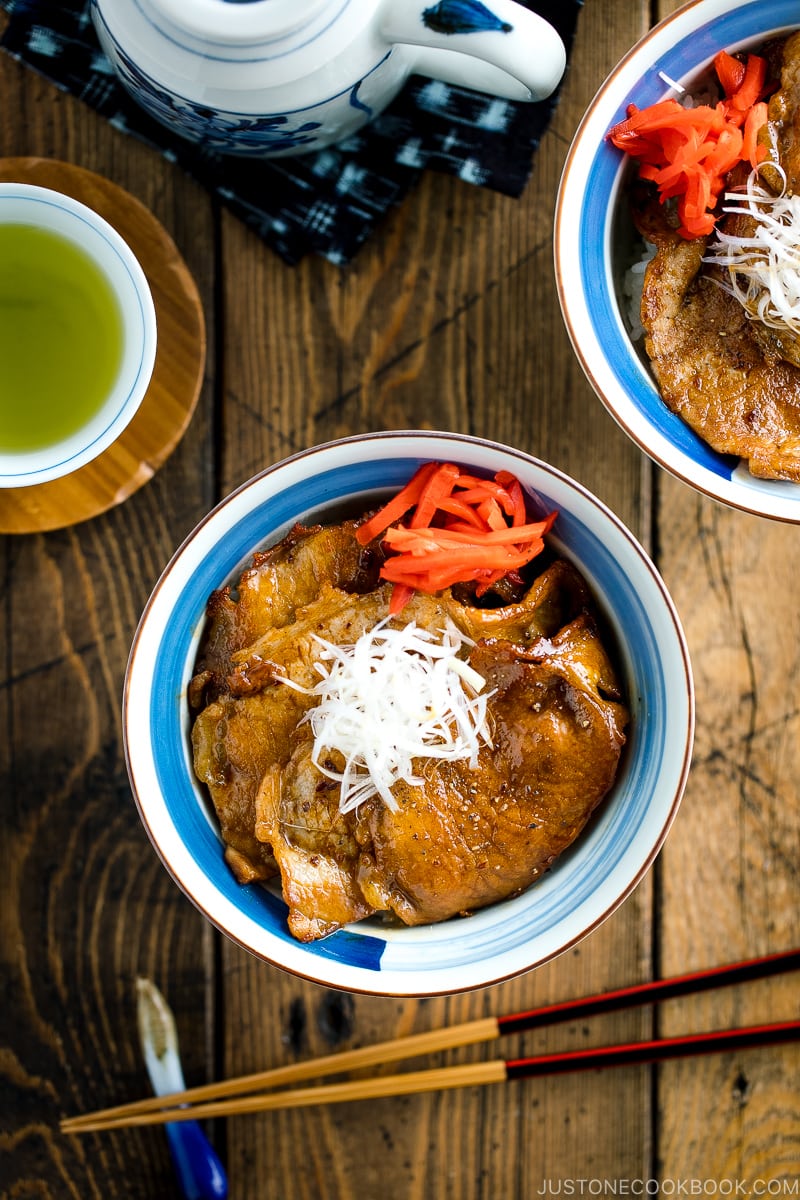 What to Serve with Butadon
Serve the Butadon with miso soup and small sides of vegetables that you can make in advance. Here are some of my recommendations.
More Delicious Rice Bowl Recipes You'll Love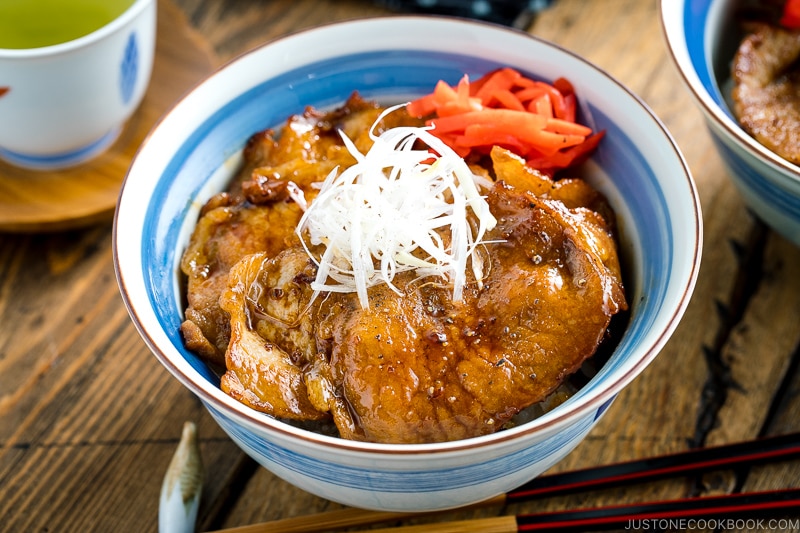 Wish to learn more about Japanese cooking? Sign up for our free newsletter to receive cooking tips & recipe updates! And stay in touch with me on Facebook, Pinterest, YouTube, and Instagram.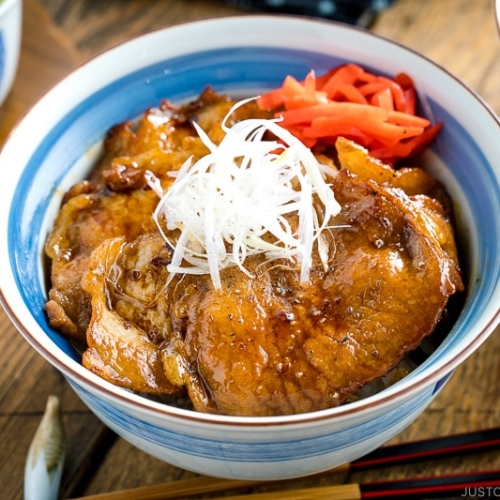 Butadon (Pork Donburi)
Originated in Hokkaido, Japan, Butadon is a rice bowl dish featuring grilled pork slices with caramelized soy sauce. The sweet and savory flavor is a major win! Easy to make and ready in 15 minutes. 
Ingredients
For the Sauce
For the Pork
½

lb

thinly sliced pork loin

(labeled "for Ginger Pork/Shogayaki" at the Japanese market)

1

Tbsp

neutral oil

2

servings

cooked Japanese short-grain rice

(typically 1⅔ cups (250 g) per donburi serving)
Japanese Ingredient Substitution:
If you want substitutes for Japanese condiments and ingredients, click
here
.
Instructions
Before You Start…
For the steamed rice, please note that 1½ cups (300 g, 2 rice cooker cups) of uncooked Japanese short-grain rice yield 4⅓ cups (660 g) of cooked rice, enough for 2 donburi servings (3⅓ cups, 500 g). See how to cook short-grain rice with a rice cooker, pot over the stove, Instant Pot, or donabe.

Gather all the ingredients. Make sure 

4 Tbsp boiling water

 is ready before you start. 
To Make the Sauce
In a heavy-bottom, high-sided saucepan, combine

3 Tbsp sugar

and

1 Tbsp water

. Turn the burner on to medium heat. Cook, stirring at the beginning with a wooden spoon or silicone spatula, until sugar dissolves. Once the sugar is dissolved and the mixture is beginning to bubble, stop stirring. Let the sugar and water cook together. As the water continues to evaporate and the heat of the sugar rises, the sugar begins to caramelize. You can gently swirl the pan to achieve even caramelization. Watch the pan closely as the process moves quickly.

When your caramelized sugar has reached its amber color, turn off the heat. Add

4 Tbsp boiling water

with one hand (wear a kitchen mitten) and hold a lid with the other hand to protect yourself from splattering as you pour boiling water. Once splatter stops, turn the stove back on and mix well. If there is crystallized sugar, it will melt again.

Add

3 Tbsp soy sauce

and

2 Tbsp sake

and bring it to simmer, then turn off the heat.
To Prepare the Garnish and Pork
If you can get negi (long green onion) from a Japanese grocery store, you can garnish the donburi with "Shiraganegi". Cut

4 inches Tokyo negi (naga negi; long green onion)

and make an incision lengthwise to remove the green core. We only use the white outer layers. Cut them to julienned pieces and soak in water to get rid of the bitterness. Soaking in water also curls up the julienned pieces.

With

½ lb thinly sliced pork loin

, make several slits on the connective tissue between the meat and fat. The reason why you do this is that red meat and fat have different elasticity, and when they are cooked they will shrink and expand at different rates. This will allow the meat to stay nice and flat and prevent it from curling up.
To Cook Butadon
In a large frying pan, heat

1 Tbsp neutral oil

over medium to medium-high heat. When it's hot, add the pork slices in a single layer. Because the frying pan won't fit all the meat, we need to pan-fry the pork in batches.

Flip the meat only after the bottom side is nicely brown. We only flip once. When both sides are nicely brown, remove the meat to a plate. DO NOT overcook the meat, as you will cook in the sauce later again. Here you only need to sear the meat.

Add the new slices of pork.

Pour the sauce to the pan, reserving some for drizzling over the steamed rice and the meat.

Coat both sides of the meat with the sauce.
To Serve
Divide

2 servings cooked Japanese short-grain rice

into individual large bowls (donburi bowls) and drizzle some sauce. Place the meat on top, layering the slices.

Drizzle more sauce (if you prefer), and season with

freshly ground black pepper

on top.

Garnish with Shiraganegi and

pickled red ginger (beni shoga or kizami beni shoga)

. Serve immediately.
To Store
You can store the grilled pork loins in the airtight container and keep in the refrigerator for up to 2–3 days or in the freezer for up to a month.
Notes
Recipe by Namiko Chen of Just One Cookbook. All images and content on this site are copyright protected. Please do not use my images without my permission. If you'd like to share this recipe on your site, please re-write the recipe and link to this post as the original source. Thank you.
Nutrition
Nutrition Facts
Butadon (Pork Donburi)
Amount per Serving
% Daily Value*
* Percent Daily Values are based on a 2000 calorie diet.
©JustOneCookbook.com Content and photographs are copyright protected. Sharing of this recipe is both encouraged and appreciated. Copying and/or pasting full recipes to any website or social media is strictly prohibited. Please view my photo use policy
here
.