Chukadon is a Chinese-style rice bowl dish made of stir-fried seafood, meat, and vegetables. Cooked in a soy-infused sauce, it has all the flavors of your favorite take-out!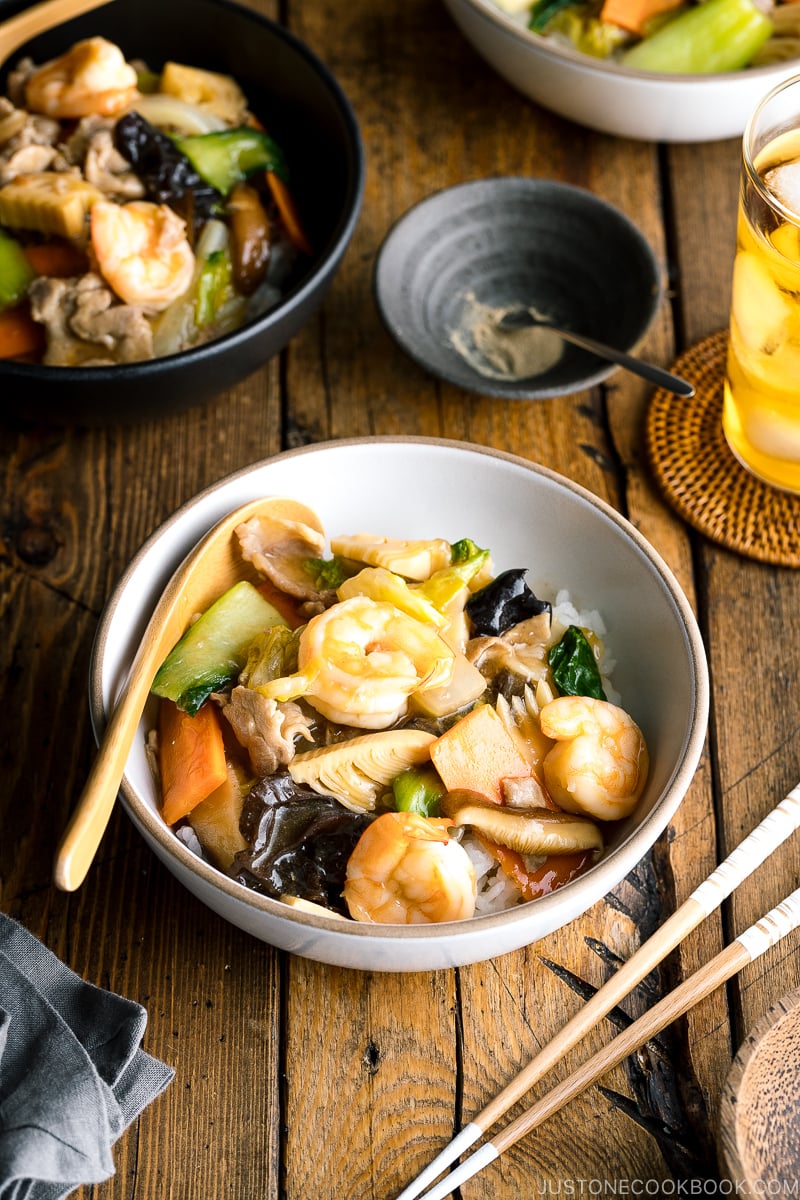 Chukadon (中華丼) is one of those dishes that provide both comfort and satisfaction at the end of a long day. Flashed cooked in a wok and served over a bowl of steamed rice, it meets my hallmarks of 'easy cleanup' and 'one-pot favorites.'
What is Chukadon
Chukadon (中華丼) literally means "Chinese style Rice Bowl" in Japanese. It's a donburi (don for short) that consists of stir-fried ingredients served over rice. It is believed that chukadon originated in the 1930s from a Chinese-style restaurant in Tokyo.
The colorful stir-fry that sits atop of the rice is actually a well-known dish itself and it's called Happosai (八宝菜) in Japanese. It came from the Cantonese "Eight Treasure" (八宝) dish.
Happosai served over steamed rice is called Chukadon, and when it's served over crispy noodles, we call it Ankake Yakisoba or Gomoku Yakisoba, similar to Sara Udon.
The number from "Eight Treasure" doesn't necessarily mean the dish contains 8 ingredients. It just implies an abundance of ingredients from seafood (shrimp and squid) to meat (typically pork), to sliced vegetables that are all stir-fried quickly in a wok (or pan).
Happosai (Japanese-style Eight Treasure) is mainly seasoned with both soy sauce and oyster sauce, along with additional and optional condiments. To finish, slurry sauce (starch and water) is added to create a thick saucy dish that goes perfectly over steamed rice. When the stir fry is thickened, we call the dish Ankake (あんかけ) in Japanese.
Not only Chukadon can employ a variety of nutritioius ingredients, it's one of popular fast foods at Japanese fast food diners. Today let's make it in our own kitchen!
How to Make Chukadon
Basic Ingredients You'll Need
Pork
Shrimp
Carrot
Napa cabbage
Bok choy
Shiitake mushroom
Bamboo shoot
Wood ear mushroom
Condiments: chicken stock, soy sauce, oyster sauce, sake, sesame oil, potato starch (cornstarch)
Steamed rice
Don't have all the ingredients? Don't worry, you can swap or leave out some of them. No napa cabbage? Use regular cabbage. Look in the fridge to see what works.
The only tip I have is that I do not recommend fragile leafy ingredients (like spinach) as stir-frying will cook them too fast and cannot withstand the heat for a longer time.
---
Quick Overview on Cooking Process
Prepare ingredients – rehydrate, chop, and marinade.
Stir fry pork and shrimp and set them aside.
Stir fry dense vegetables and then leafy vegetables.
Put back the pork and shrimp and toss them all together.
Season the ingredients, add the slurry sauce, and give everything a good final toss!
---
Stir-Frying Tips
Cut into similar shapes and sizes. This will cook the ingredients evenly.
Heat the wok (or frying pan) till hot before adding ingredients.
Don't be shy with the oil. Add the oil after the wok/pan is heated, so the oil will be distributed easily.
Stir fry ingredients in stages for best texture. Start with the proteins then set aside before you cook the vegetables. You'll add in the proteins back later.
Maintain high heat throughout cooking.
Mix slurry sauce really well right before you drizzle.
How to Serve Chukadon
Obviously this is a donburi (rice bowl) dish so we serve the medley of stir fry over a bowl of rice. The simple yet flavorful combo has everything you need!
However, if you want to serve it as a main dish without rice (the dish will be called Happosai), or a small portion as a side dish along with other Chinese-style dishes, you can definitely do that!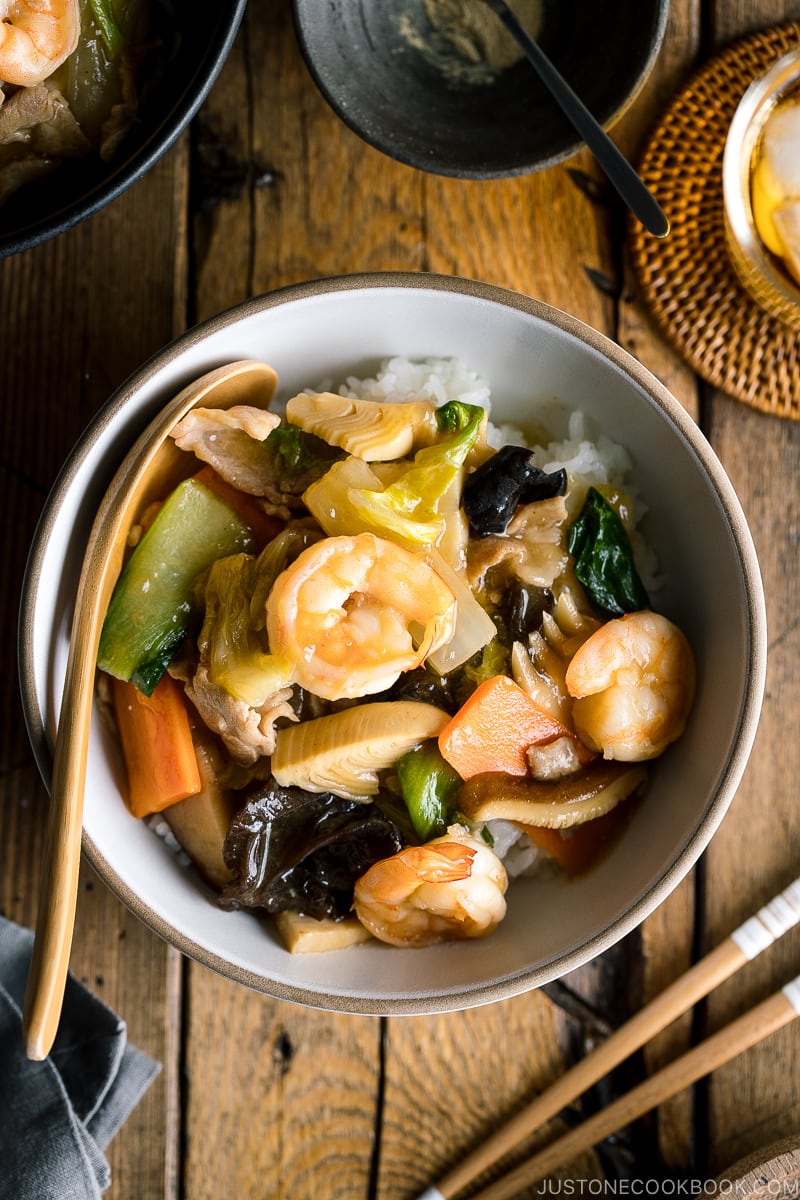 Other Chinese-Style Dishes You'll Enjoy: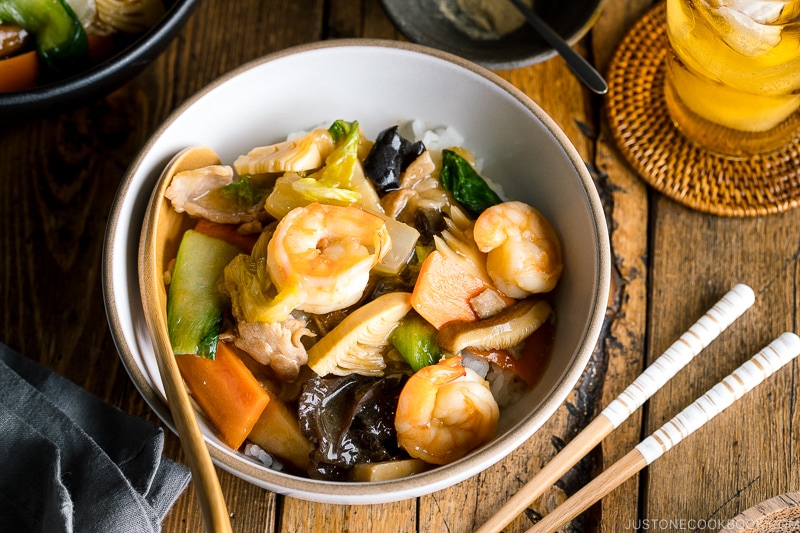 Wish to learn more about Japanese cooking? Sign up for our free newsletter to receive cooking tips & recipe updates! And stay in touch with me on Facebook, Pinterest, YouTube, and Instagram.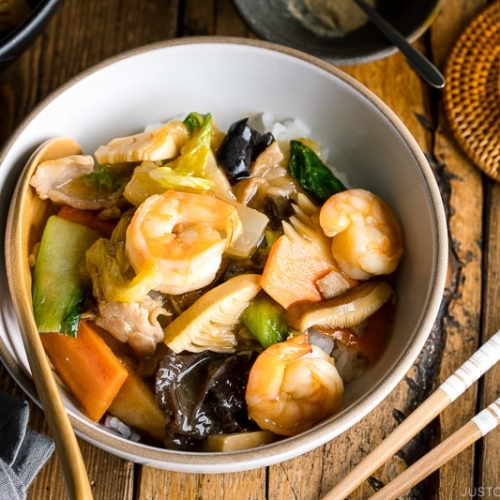 Chukadon (Chinese-Style Rice Bowl)
Chukadon is a Chinese-style rice bowl dish made of stir-fried seafood, meat, and vegetables. Cooked in a soy-infused sauce, it has all the flavors of your favorite take-out!
Servings:
3
(4 for smaller bowls)
Ingredients
For Seasonings for Shrimp & Pork
1

Tbsp

sake

¼

tsp

kosher salt (Diamond Crystal; use half for table salt)
For Cooking
2

Tbsp

neutral-flavored oil (vegetable, rice bran, canola, etc.)

(divided; 1 Tbsp for pork and shrimp and 1 Tbsp for veggies)
For Serving
4

servings

cooked Japanese short-grain rice

 (2 rice-cooker-cups (180 ml x 2 = 360 ml) yields roughly 4 servings (3 ½ US cups); see how to cook short-grain rice with a rice cooker, a pot over the stove, an instant pot, or a donabe)

white pepper powder

(optional)
Japanese Ingredient Substitution:
If you want substitutes for Japanese condiments and ingredients, click
here
.
Instructions
Gather all the ingredients.
To Prepare Ingredients
In a small bowl, soak dried wood ear mushrooms in water for 15 minutes and cut into smaller pieces. If you have time, soak for 6 hours; they'll be close to fresh wood ear mushrooms.

Cut the carrot into 2-inches (5 cm) in length and slice into thin slabs. If each slab is too wide, cut in half so it's bite-size pieces.

Cut and discard the bottom end of the bok choy. Then cut it into 2-inch (5 cm) pieces. Wash the bok choy again if you find the dirt between layers.

Cut the napa cabbage into 2-inch (5 cm) pieces widthwise. Then cut into bite-size pieces.

Cut the bamboo shoot in half widthwise and cut into thin slices. The key is to have ingredients that are uniform in shape and equal-thickness for a great stir fry.

Remove the stem of the shiitake mushroom and cut the cap into thin slices.

Prepare all the ingredients in a tray/plate so when you start stir frying, it's easy to throw them into the wok.

Remove and discard the shell from the shrimp. Using a knife, cut along the outer edge of the shrimp's back, about ¼-inch (6 mm) deep. If you can see it, remove and discard the vein that runs along right under the surface. If you can't see the vein, don't worry.

In a medium bowl, add shrimp, pork, sake, salt, and potato starch (cornstarch). Rub the meat and shrimp with seasonings.

In a small bowl, combine potato starch (cornstarch) and water and mix well together. You will need to mix again right before pouring.
To Stir Fry
Heat the wok (or large frying pan) over medium-high. When it's hot, add 1 Tbsp oil and wait until the smoke starts to come off from the edge of the pan. Then add the shrimp and pork to the wok.

Spread out the pork and shrimp so they have good contact with the hot wok surface. Cook until the pork is no longer pink and shrimp changes its color.

Transfer the pork and shrimp to a plate. Add 1 Tbsp oil to the wok/pan and heat until hot.

Add dense ingredients such as carrot, bamboo shoot, wood ear mushroom, and bottom part of napa cabbage and bok choy. Stir fry until 50% cooked through.

Add leafy vegetables and shiitake mushrooms. Quickly stir fry, about 1-2 minutes.

Add chicken stock and water into the hot wok.

Add sugar and sake and toss all together. Bring it back to a simmer and cook for 3-4 minutes.

When all the ingredients are nicely tender but still crisp, add the pork and shrimp back to the wok and toss them all together.

Add oyster sauce and soy sauce and combine well with the ingredients.

Add white pepper powder and sesame oil.

Give the slurry sauce another stir to loosen it up. With a fast motion, drizzle slurry sauce around the wok to evenly distribute and give everything a final toss together. Tip: If you feel the starch is too thick, you can add some water to loosen it up. The thickness of the sauce varies depending on how much cooking liquid has been evaporated during the cooking process.

Serve the stir fry over steamed rice. You can sprinkle white pepper powder if you like. Enjoy!
To Store
You can keep the leftovers in an airtight container and store in the refrigerator for up to 3 days or in the freezer for a month.
Nutrition
Calories:
669
kcal
·
Carbohydrates:
51
g
·
Protein:
20
g
·
Fat:
42
g
·
Saturated Fat:
19
g
·
Cholesterol:
143
mg
·
Sodium:
1142
mg
·
Potassium:
600
mg
·
Fiber:
3
g
·
Sugar:
4
g
·
Vitamin A:
7263
IU
·
Vitamin C:
36
mg
·
Calcium:
171
mg
·
Iron:
4
mg
©JustOneCookbook.com Content and photographs are copyright protected. Sharing of this recipe is both encouraged and appreciated. Copying and/or pasting full recipes to any website or social media is strictly prohibited. Please view my photo use policy
here
.