Deep-fried to golden brown deliciousness, these Shrimp Egg Rolls are a great appetizer to start your meal or a weekend party. Dip in a leek and miso sauce (Negi Miso) to enjoy!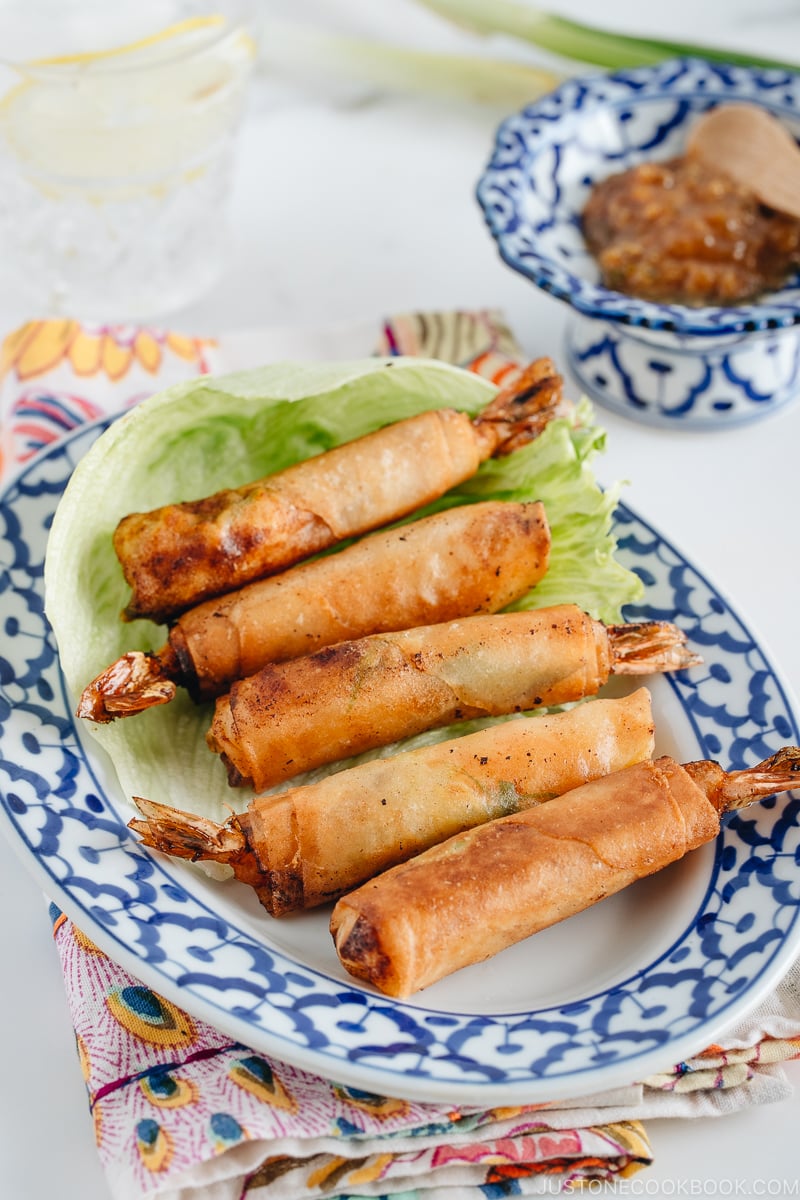 Raise your hands if you love some crispy juicy egg rolls? These Shrimp Egg Rolls are for you today! Here, sweet juicy shrimp are rolled into wheat flour wrapper and deep-fried to golden brown perfection. So good and addictive that you must make them at home!
I know you may want to hide under the sink when I say the word fry. But trust me, egg rolls are not just restaurant foods. Follow my recipe and you'll be able to deep fry them with confidence and enjoy anytime you like! Serve the shrimp egg rolls with the all-purpose Negi Miso (Leek and Miso Sauce).
Shrimp Egg Rolls For Family Dinner and Potluck Party
When we make deep fry foods like these shrimp egg rolls at home, they are usually reserved for a special occasion like a potluck party. But I also like to surprise my family once in a while with crunchy treats like these on a Friday night or a weekend family dinner. It is a good time to bond over delicious fried food. And I get extra hugs from the kids when I serve these on the table!
These egg rolls are also extra special because of its unique presentation and flavors. The shrimps appear long and stick-straight and are hugged snuggly in the spring roll wrap. The tails stick out which makes them the perfect finger food. Inside the rolls, you'd taste the aromatic ginger and negi (Japanese long onion) along with a savory miso sauce! It's a simple combination, but the whole combo makes for super tasting egg rolls.
At a potluck party, wou can expect them to be the first food your guests would walk and munch away with their hands.
3 Tips when Getting Ingredients for Shrimp Egg Rolls
For a simple recipe like this Shrimp Egg Roll, you'll need to make sure to use good ingredients for a successful result. Here are some tips when you go grocery shopping.
1. Use quality spring roll or egg roll wrappers
There are different brands of egg rolls and spring roll wrappers out there. The key is to find the ones that are super thin and not doughy tasting. I recommend the Spring Home brand "TYJ Spring Roll Pastry" which can be found at most of the Asian grocery stores. You can find them in the frozen section, along with egg pancake, paratha or naan.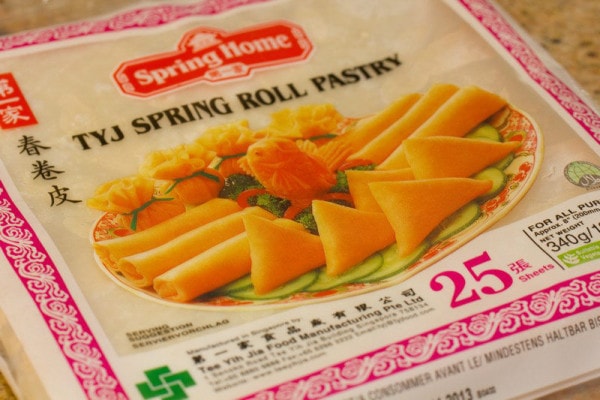 What I like about this spring roll pastry (egg roll wrappers) is that each sheet is very thin and larger in size compared to some other brands. The thin sheets make the egg roll very crisp and light. Since it is large enough, you can easily roll the shrimp up without any issues.
For this recipe, I didn't get a chance to go to an Asian grocery store, so I used a Ryshobo (隆祥房)'s harumaki (egg roll/spring roll) wrapper that I got from a Japanese grocery store Nijiya.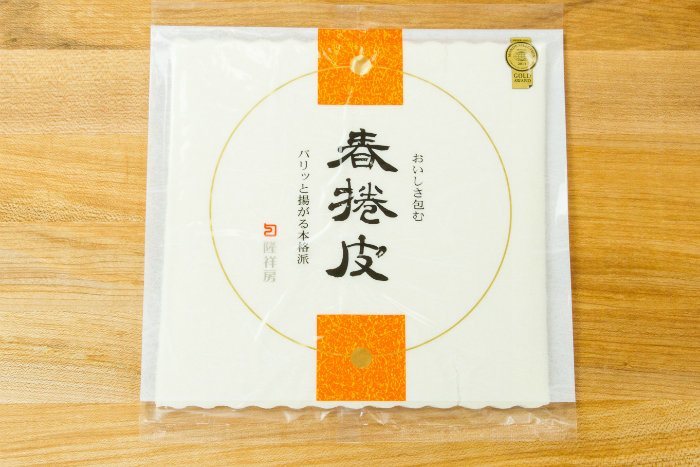 2. Use of Negi Miso (Leek & Miso Sauce)
I apply negi miso inside the egg rolls and serve it as a dipping sauce for extra flavor. I personally don't need to dip my egg rolls into the sauce because there is plenty of flavors already. If you want to keep your Shrimp Egg Rolls plain for your guests, serve the Negi Miso on the side as an option.
To make this Negi Miso, I use #1 selling miso from Hikari Miso® called Kodawattemasu. Made of organic soybeans and rice, it is free of additives and preservatives. In terms of taste, this miso has a rich and mature flavor with the full-bodied umami of soybeans and the sweetness of rice.
Where can I buy Kodawattemasu by Hikari Miso®: 
Japanese grocery stores (Nijiya, Mitsuwa, Marukai, local mom-pop shops, etc)
Asian grocery stores (including Chinese/Korean grocery stores)
Tokyo Central Online ($7.48)
3. Get shrimp with tail
For this recipe, get the shrimp with tail on. You won't be eating the tail, but it's for the presentation. To show off the pretty red tails, you will need to clean them carefully. Please do not skip this process or take a short cut.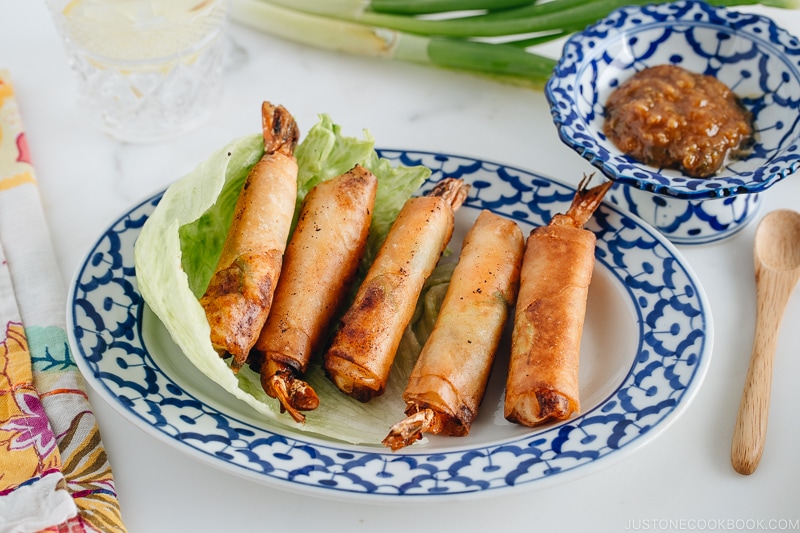 You will need to straighten the shrimp so the egg rolls will be a log shape. We use the same straightening technique that we use for Shrimp Tempura and Ebi Fry.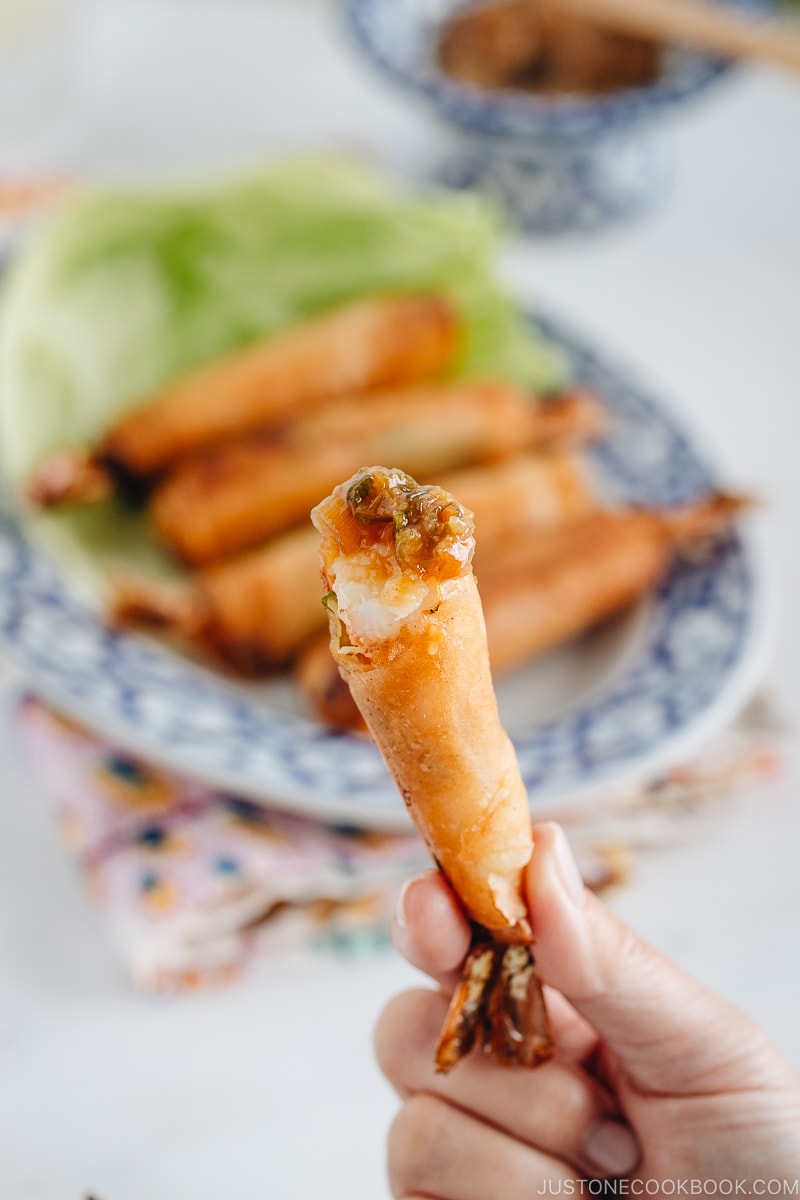 Yes, they take a bit of work, but you won't regret making these rolls! Everyone will go wild for it.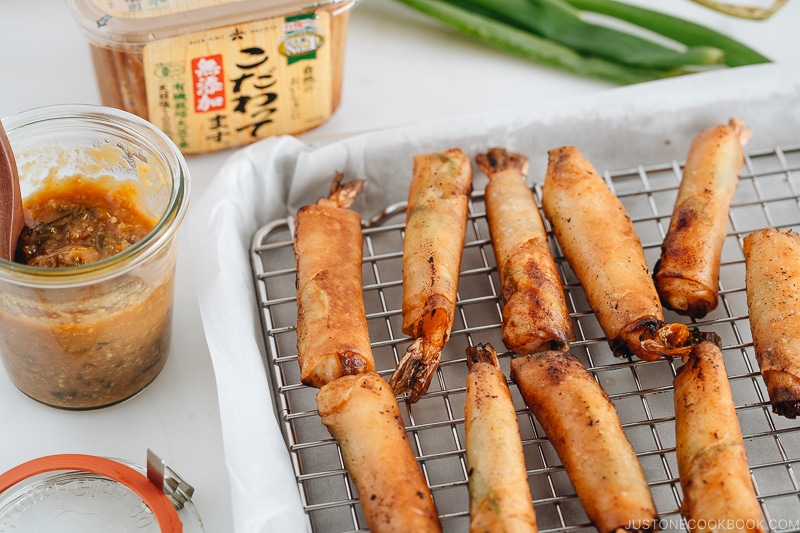 Japanese Ingredient Substitution: If you want to look for substitutes for Japanese condiments and ingredients, click here.
Wish to learn more about Japanese cooking? Sign up for our free newsletter to receive cooking tips & recipe updates! And stay in touch with me on Facebook, Pinterest, YouTube, and Instagram.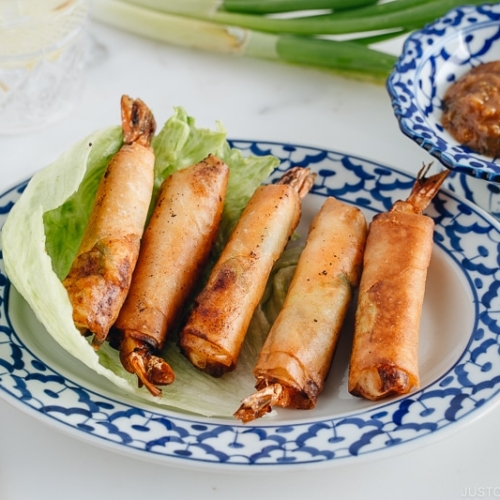 Shrimp Egg Rolls
Deep-fried to golden brown deliciousness, these Shrimp Egg Rolls are a great appetizer to start your meal or a weekend party. Dip in a leek and miso sauce (Negi Miso) to enjoy! 
Ingredients
Flour mixture "glue"
1

tsp

all-purpose flour (plain flour)

1

tsp

water
Japanese Ingredient Substitution:
If you want substitutes for Japanese condiments and ingredients, click
here
.
Instructions
Gather all the ingredients.
To Prepare Ingredients
Pull off the head if it is still attached. Pull off the outer shell. Devein the back of shrimp with a skewer. The vein runs right along the back. Insert the tip of skewer sideways about ½ inch down from the head of the shrimp and pull the skewer tip up towards you. This will lift up the vein and you can pull off the vein with the skewer or with your hand. If the vein is broken, then insert again a bit lower towards the tail. If you can't find the vein, then don't worry about it. [Recommended] Clean the shrimp with a pinch of salt, 1 Tbsp potato/corn starch, and 2 Tbsp water in a bowl and rub until you see dirty water. Rinse until clean.

Cut the tip of the tail diagonally (as you see below).

Remove dirty water in the tail by holding the tip of the knife down on the tail and moving it from left to right squeezing the water out from the cut tip. If you skip this process, water retained in the tail might create splatter in the oil.

Now all the tail is almost translucent.

Make a couple of slits diagonally underside of the shrimp.

Hold the shrimp with both hands and straighten it as much as possible in order to get the desired shape.

In a small bowl, put the shrimp, sake, and salt and mix well together. Let it marinate until you're ready to use them.

Peel the ginger skin and cut it into julienned strips.

Cut the negi diagonally into thin slices.

Cut the egg roll wrappers in half and peel off one egg roll at a time to separate them (now you have 10 wrappers!).

Prepare the flour mixture by mixing flour and water in a small bowl. Put the Negi Miso in a small bowl.
To Wrap
Place an egg roll wrapper in front of you with one point of the long side of the wrapper towards you. Place the Negi Miso and shrimp (tail sticking out ½ of the way onto the wrapper on the long side.

Put julienned ginger and negi on the shrimp. Fold bottom edge of the wrapper over the shrimp.

Fold the side edge over to meet the shrimp, and begin to roll.

Continue rolling until you meet the end of the wrapper. Place a small dollop of the flour mixture on the edge of the wrapper. Repeat wrapping until all shrimp and wraps are done.
To Deep Fry
In a large frying pan or medium saucepan, place ½ inch of oil. Heat on medium heat until hot and begins to have tiny bubbles when a chopstick tip is placed in the oil.

Slowly place egg rolls in the pan. Do not crowd. Cover with the splatter guard if you have one. Cook until golden brown and shrimp is fully cooked. About 3 minutes on each side.

Remove from pan and place on paper towel to catch any excess oil. Serve with Negi Miso.
Nutrition
Nutrition Facts
Shrimp Egg Rolls
Amount per Serving
% Daily Value*
* Percent Daily Values are based on a 2000 calorie diet.
©JustOneCookbook.com Content and photographs are copyright protected. Sharing of this recipe is both encouraged and appreciated. Copying and/or pasting full recipes to any website or social media is strictly prohibited. Please view my photo use policy
here
.