Print Recipe
Jump To Recipe
I really really enjoyed these Mango Lassi Popsicles and if you love mango, you will love these popsicles.  And I wish that I can taste these again…  Recently, my relationship with my beloved mangoes ended, and it came all of the sudden without warning.
It may happen to anyone, just like it happened to me, so here's the story.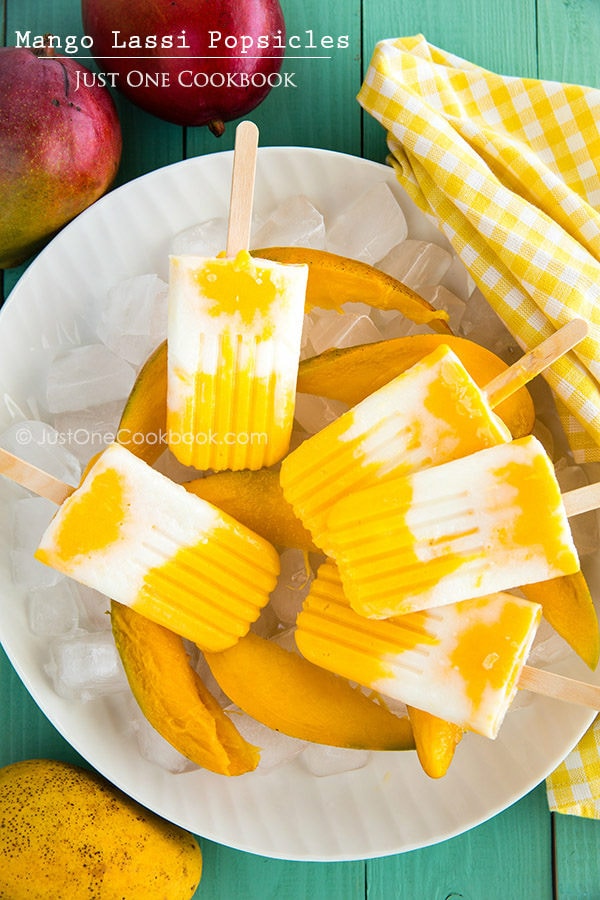 It happened on one Thursday night.  My family is really into mango, so we always have mangoes at home during mango season. I cut three mangoes after dinner and my children ate some while I was cleaning up the kitchen.  After they went to bed, I came downstairs and saw some leftover mangoes on the plate, so I ate a few pieces and kept the most of them for my husband.  Shortly after, all the sudden I felt a big knot form in my throat.
I knew something was strange was happening.  It seemed like a lump had grown out of nowhere in my throat and I couldn't really swallow my saliva.  I informed my husband about discomfort and he told me to take allergy medicine right away.  We looked up on Internet and found out that some people can get allergic reaction to mangoes that their lips get swollen.
My lips were fine, and I looked normal from outside.  But when I opened my mouth, it looked like my inside cheeks were also swollen and I couldn't feel my mouth when I brushed my teeth.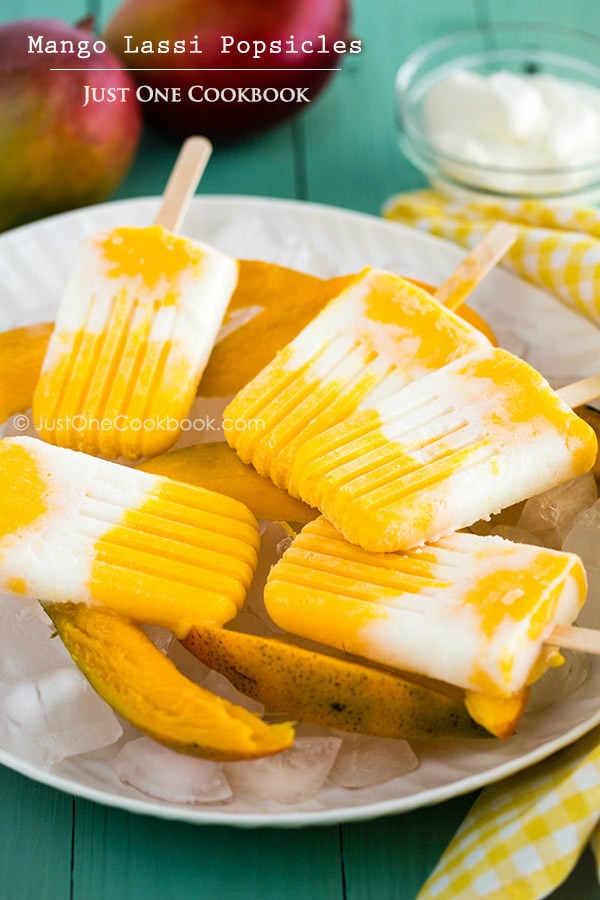 Next day I went to see my doctor to make sure I didn't get food poison, and she told me the worst news ever: I am now allergic to mangoes.  In fact I was the second patient that week who came to see her due to mango allergy.  Really?  I am now allergic to mangoes all of the sudden after eating mangoes for YEARS!?!?
The doctor told me, "No more mangoes for you.  You were lucky this time."  She said the condition could be deadly if my throat got too swollen and blocked the airway for breathing.
I was in shock.  I couldn't believe that I could have been dead just from eating my favorite mangoes and that I cannot eat them anymore, for the rest of my life.
So long, my favorite Mango Lassi Popsicles!  I really wished that I had 100 of these before I got allergic to mangoes.  Big mistake.
So try making these and have them as many as possible while you can… 🙂  Yes, they are worth it!
Don't want to miss a recipe? Sign up for the FREE Just One Cookbook newsletter delivered to your inbox! And stay in touch on Facebook, Google+, Pinterest, and Instagram for all the latest updates. Thank you so much for reading, and till next time!
Mango Lassi Popsicles
Ingredients
2

mangoes

1

cup

Greek yogurt

1

cup

plain simple syrup

(1 cup = 1 cup water : 2 cups sugar)
Instructions
Gather all the ingredients.

Cut the mangoes into chunks and put in in the blender. Add 1 Tbsp. of simple syrup and puree until it turns creamy.


In a large measuring cup, add 1/3 cup of Greek yogurt. Then pour the mango puree on top.


Add enough simple syrup to the mixture so that you have 2 cups total.


Pour into a large bowl and whisk it all together.


In a separate bowl, whisk together 2/3 cup Greek yogurt and the leftover simple syrup.


Now you have yogurt mixture and mango mixture. Place both mixtures in the refrigerator for 30-60 minutes until they are a little more firm (for nice marbling).


Add the mixture to your popsicle mold/cup, alternating between the mango mixture and the yogurt mixture. Wrap each mold/cup with plastic wrap.


Snip the plastic wrap on top of molds with scissors and insert craft sticks into each mold/cup. Place in the freezer for 4-5 hours until firm.


To remove the Popsicles from the molds/cups, run under hot water until they are easily released. Enjoy!
Recipe Notes
Equipment you will need:
I use these Tovolo Groovy Ice Pop Molds and paper cups.
Recipe adapted from Cooking Stoned.

All images and content on this site are copyright protected. Please do not use my images without my permission. If you'd like to share this recipe on your site, please re-write the recipe in your own words and link to this post as the original source. Thank you.