Print Recipe
Jump To Recipe
Popular Japanese appetizer with a delicious kick! This Chicken Karaage with Sweet Chili Sauce is bite size chicken thighs deep fried to golden brown and coated in a delightful sweet chili sauce. You'd be bowled over by this sweet and spicy version of Japanese fried chicken.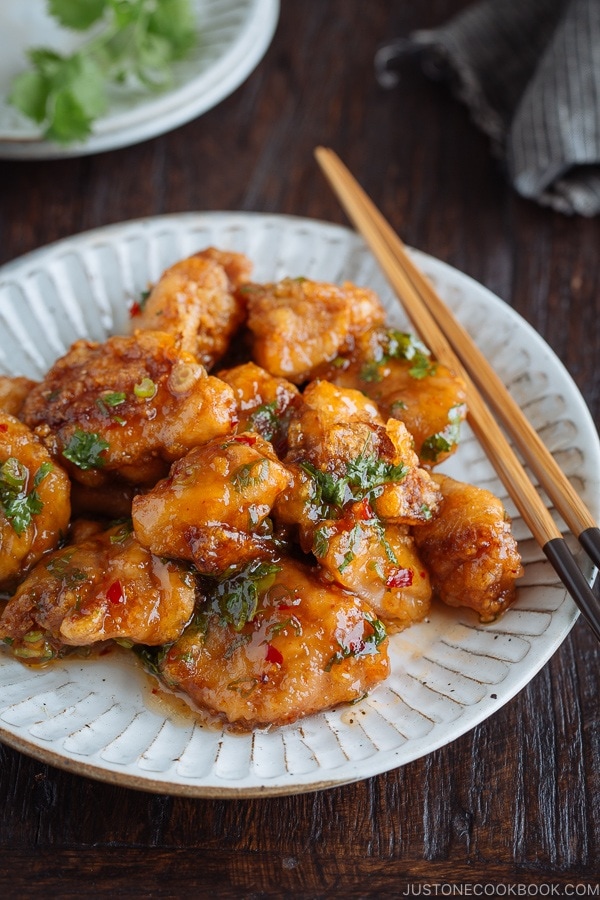 This Chicken Karaage with Sweet Chili Sauce (スイートチリソースの唐揚げ) is a popular variation of chicken karaage in our household.  The bite size chicken thighs are deep fried to perfection and coated with sweet chili sauce.
Chicken Karaage with Sweet Chili Sauce – Family's Favorite
Now that my children are older, they have been enjoying more spicy food so I try to incorporate spicy condiments, sauces, and various spices into Japanese foods whenever I can. Even though Japanese food is not known as a cuisine laden with spices and spicy flavors, it is still fun to play with different seasonings and spice things up a little.
What is Sweet Chili Sauce?
There are a few brands of sweet chili sauce in the market and you can definitely use your favorite brand. The one that I always keep in my pantry is Mae Ploy Thai sweet chili sauce, also known as nam chim kai in Thailand. It has a slight heat to it, but I would not consider it spicy at all. So it's perfect for someone who appreciates bolder flavor but overly spicy.  You can find Mae Ploy Thai sweet chili sauce being sold in bottles in major grocery stores or Asian grocery stores.  If you're tempted to make your own sweet chili sauce, you can follow the recipe in my Grilled Lemongrass Chicken post.
The sweet chili sauce comes in handy whenever you feel like adding a little kick to your dish or just to up the ante. The nice blend of mild spicy and sweet flavor just makes everything better. The classic chicken karaage is commonly served with a wedge of lemon and some side condiments such as Japanese mayo for dipping. With the addition of the sweet and spicy sauce, the classic Japanese fried chicken is now packed a serious flavor punch and extra vibrancy.
Chicken Karaage with Sweet Chili Sauce – Too Spicy for Children?
If you have small children who are not used to spicy food yet, you can serve the chicken karaage as it is, and then coat the rest of the karaage with sweet chili sauce for yourselves. For a more garlicky flavor of chicken karaage, you want to check out this recipe.
Chicken karaage is pretty tasty on its own already, but I am certain you will thoroughly enjoy this fun and zingy version as well. So head for the kitchen and make this Chicken Karaage with Sweet Chili Sauce tonight!
Don't want to miss a recipe? Sign up for the FREE Just One Cookbook newsletter delivered to your inbox! And stay in touch with me on Facebook, Google+, Pinterest, and Instagram for all the latest updates.
Chicken Karaage with Sweet Chili Sauce
Ingredients
1

lb

boneless skinless chicken thighs

(1 lb = 453 g = roughly 4 pieces)

2

Tbsp

sake

2

Tbsp

soy sauce

1

knob

ginger

1

cup

potato/corn starch

(more or less)

3

cups

neutral flavor oil (vegetable, canola, etc)

(for deep frying)

2

green onions/scallions

¼

cup

cilantro
Instructions
Gather all the ingredients.

Remove and discard extra fat and skin, and cut each skin-on chicken thigh into 5 to 6 pieces, about 1 ½ inch (4 cm) pieces.

Peel the ginger skin and grate it. Cut the green onion/scallions and cilantro into small pieces.

In a medium bowl, combine sake, soy sauce and grated ginger, and add the chicken pieces to marinate. Keep in the fridge for 30 minutes. Tip: You may have noticed already but in Japanese cooking, common marinade time is between 20 and 30 minutes to preserve the ingredient's original taste.

In the tray or bowl, prepare corn starch/potato starch. In a deep fry pot, heat the oil to 340 ºF (170 ºC). Use a thermometer or wooden chopsticks to see if the oil is ready (See How to Deep Fry Foods). Tip: You put a chopstick in the oil and when you see the bubbles around it, it's ready!

When the oil is hot, drain the chicken well from the marinade and coat each piece with the corn/potato starch. Make sure the chicken is all covered by the starch so when you put the chicken into the oil, it won't splatter.

Slowly place 4-6 chicken into the wok (Work with a few pieces at a time, so the oil temperature won't drop quickly). Deep fry the chicken for 90 seconds, or until the chicken is light golden color. Transfer the chicken to a wire rack or paper towel to drain excess oil. Let the chicken cook with remaining heat while you work on the rest of chicken.

Once the chicken is all deep fried for the first round, use a fine mesh sieve to pick up crumbs to keep the oil clean.  If you don't do this step, the crumbs get darker and then the oil gets darker. Increase the heat and bring the oil to 350 ºF (180 ºC). Deep fry the chicken for the second time for 45 seconds or until crispy and golden brown.

Transfer the chicken to a wire rack to drain excess oil.

In a frying pan, combine the sauce ingredients.

Add green onion and cilantro, and mix over medium heat.

When the sauce is bubbling, add the chicken and quickly coat well with the sauce. Don't leave in the pan for no more than 15 seconds. Transfer to a serving plate.
Recipe Notes
Recipe by Namiko Chen of Just One Cookbook. All images and content on this site are copyright protected. Please do not use my images without my permission. If you'd like to share this recipe on your site, please re-write the recipe and link to this post as the original source. Thank you.
Editor's Note: This post was originally published on January 5, 2011.  The post has been updated with new images and content.